Free Halloween Memory Game Printable
Looking for engaging and entertaining Halloween activities for kids? Look no further! Our free Halloween memory game printable is a fantastic way to keep the little ones entertained and excited during the spooky season.
There are 12 different Halloween themed images to print out, and you can design the back however you want.
There are images of skeletons, wizards, vampires, ghouls, and more.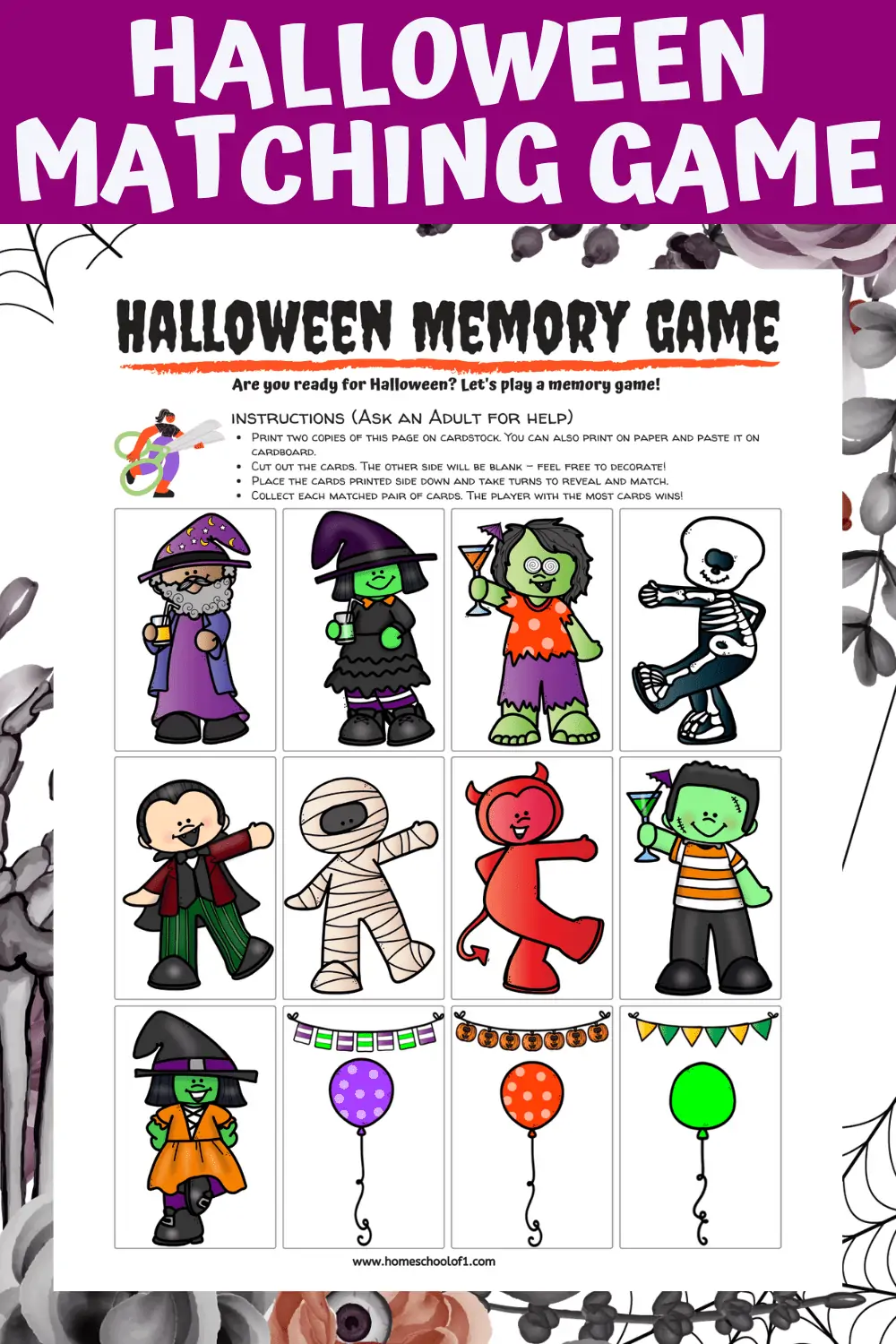 **There may be affiliate links in this post. You can read my full disclosure at the bottom of the page.**
What are the benefits of playing memory games?
Playing memory games with kids (and adults) offers a wide array of benefits that contribute to their cognitive, emotional, and social development. Here are some of the key advantages:
As the name suggests, memory games are specifically designed to enhance memory skills. Regular practice with these games strengthens a child's ability to remember and recall information, which can have a positive impact on academic performance.
Memory games require sustained attention and focus. Engaging in these activities helps children improve their concentration and develop the ability to pay attention to details for longer periods.
Memory games stimulate cognitive functions like problem solving, critical thinking, and strategy development. Children learn to analyze patterns, make connections, and develop effective strategies to remember and match pairs.
Matching cards or images in memory games promotes visual discrimination, where children learn to differentiate between similar and distinct elements. This skill is crucial for various tasks, including reading, writing, and everyday decision-making.
Regular engagement with memory games helps children strengthen their short-term memory capacity, enabling them to hold and manipulate information in their minds for better problem-solving and learning.
Overall, playing memory games with kids offers a holistic approach to learning and development. These games are not only enjoyable but also lay a strong foundation for various cognitive, social, and emotional skills that children can carry with them throughout their lives.
Memory Game Bundle with 25 different matching games that the kids will love

Halloween Matching Game Printable
This free printable Halloween matching game is super easy to play. It also makes a great addition to any kid's Halloween parties!
Supplies needed:
How to download and print the Halloween game
Unlock the excitement of our free Halloween memory game with these simple steps. This fun activity is designed to provide hours of entertainment for personal or classroom use.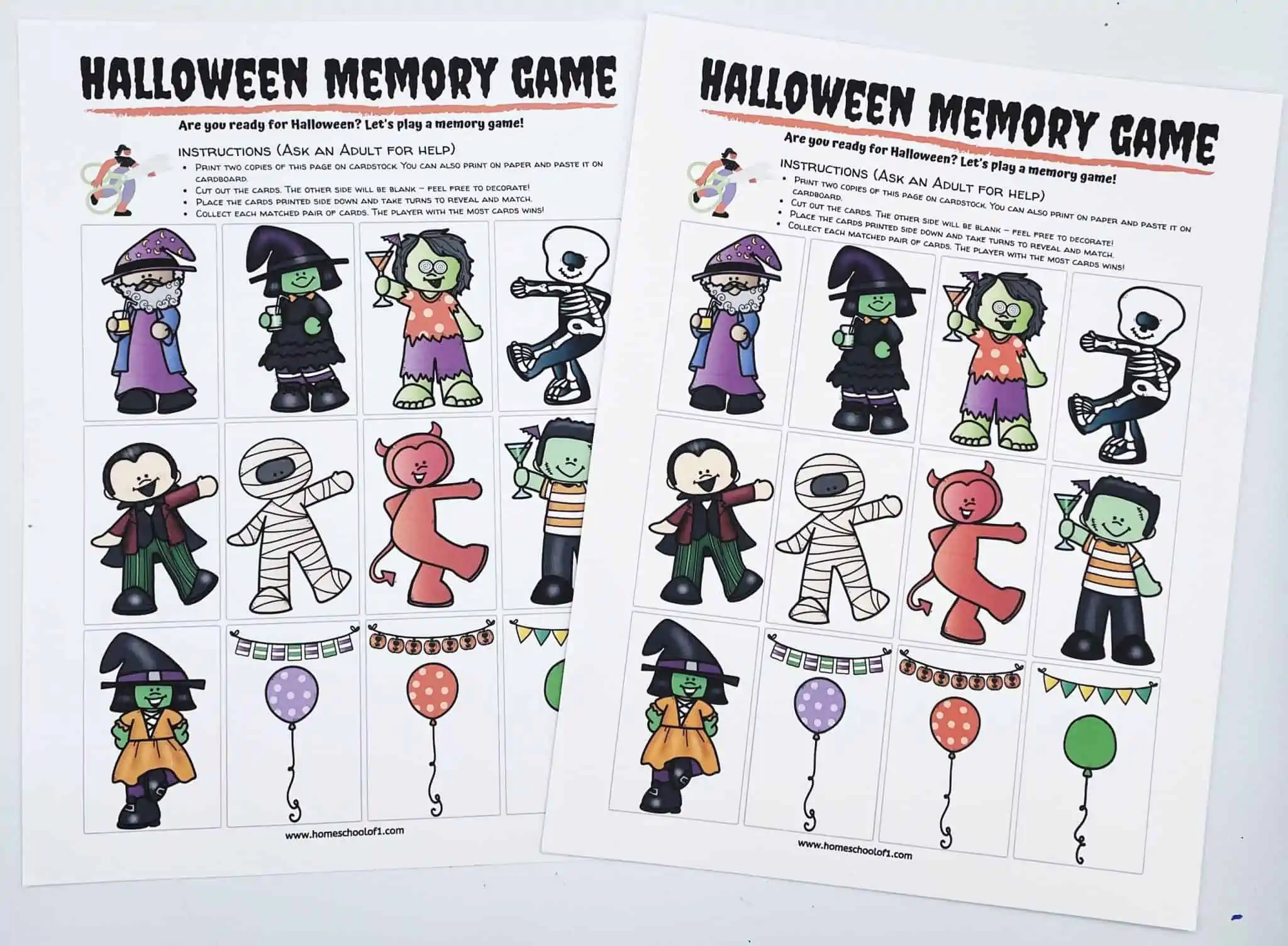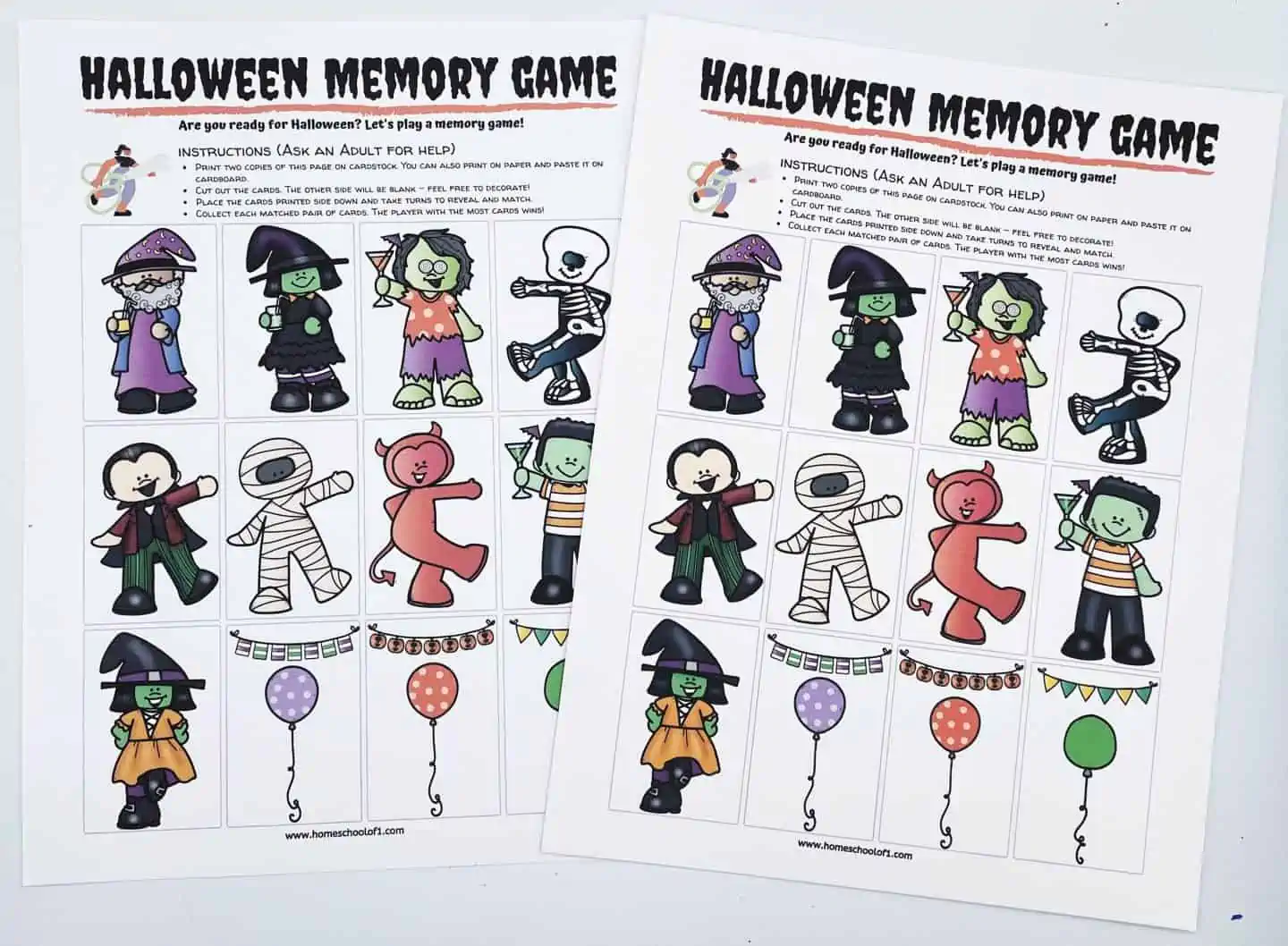 Navigate to the bottom of the page to find the download link for the Halloween printable memory game in PDF format.
Click on the provided link in your email to initiate the download of the Halloween printable memory games. This file contains the delightful images that will become the heart of your Halloween memory challenge.
Before printing, take a moment to ensure your printer settings are optimized for the best results. Double-check the orientation settings to ensure that the images will be printed in portrait mode.
To fully enjoy the Halloween memory game, you'll need to print the page twice. This allows you to create two sets of the 12 different images, essential for the matching aspect of the game.
If you wish to add a decorative touch to the back of the memory cards, now's the perfect time to do so. Consider adding spooky patterns, Halloween motifs, or even a ghostly glow to enhance the overall experience.
For those planning on using the game multiple times or with several players, consider laminating the printed sheets. This protective step ensures the longevity of the cards and prepares them for countless rounds of Halloween fun.
Once the images are ready, carefully cut them out. While scissors will do the trick, a paper cutter can streamline the process, making it quicker and more accurate.
By following these steps, you'll now have two sets of 12 distinct images, totaling 24 images in all. This prepares you for a thrilling memory challenge that engages young and old alike.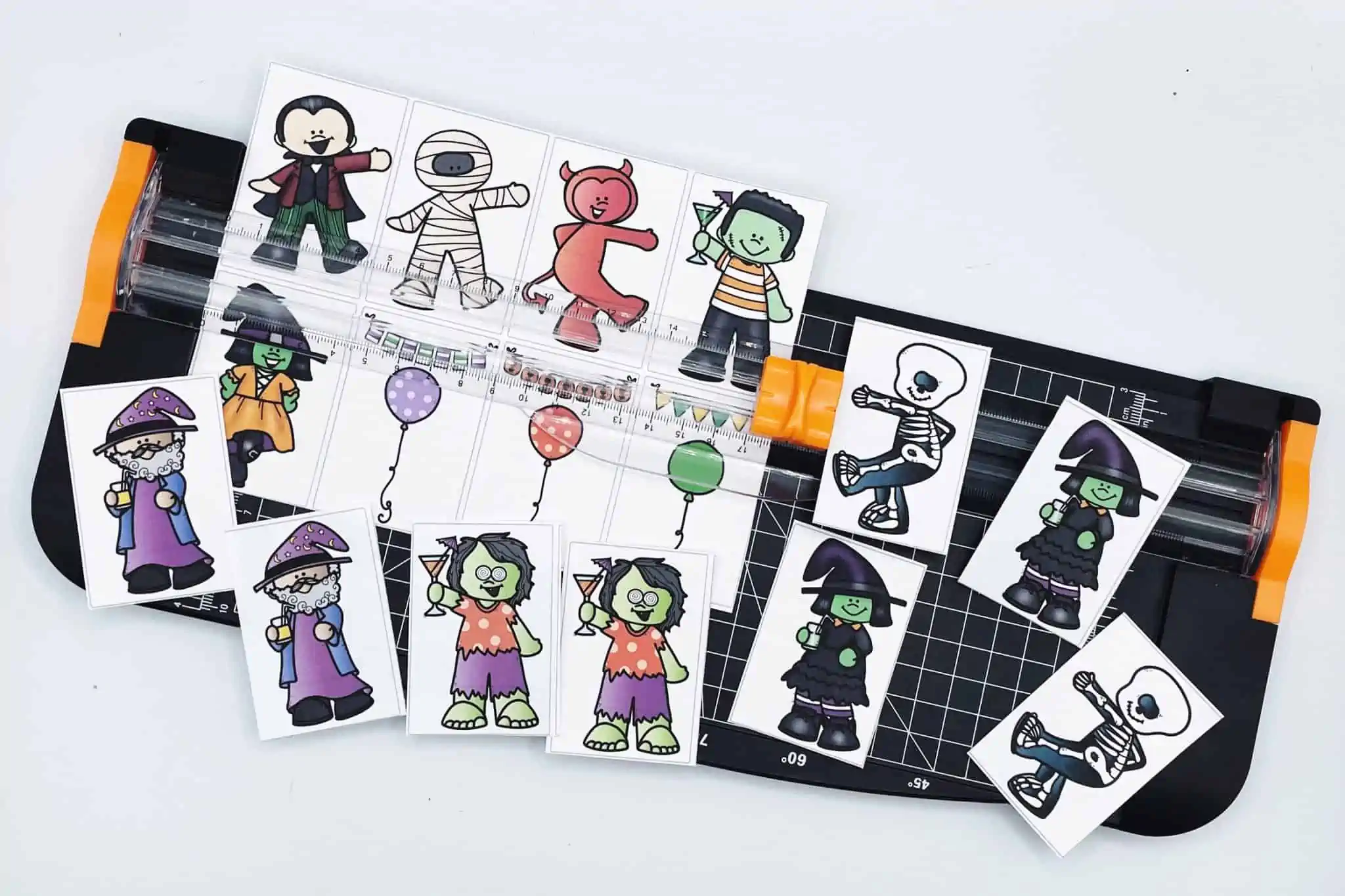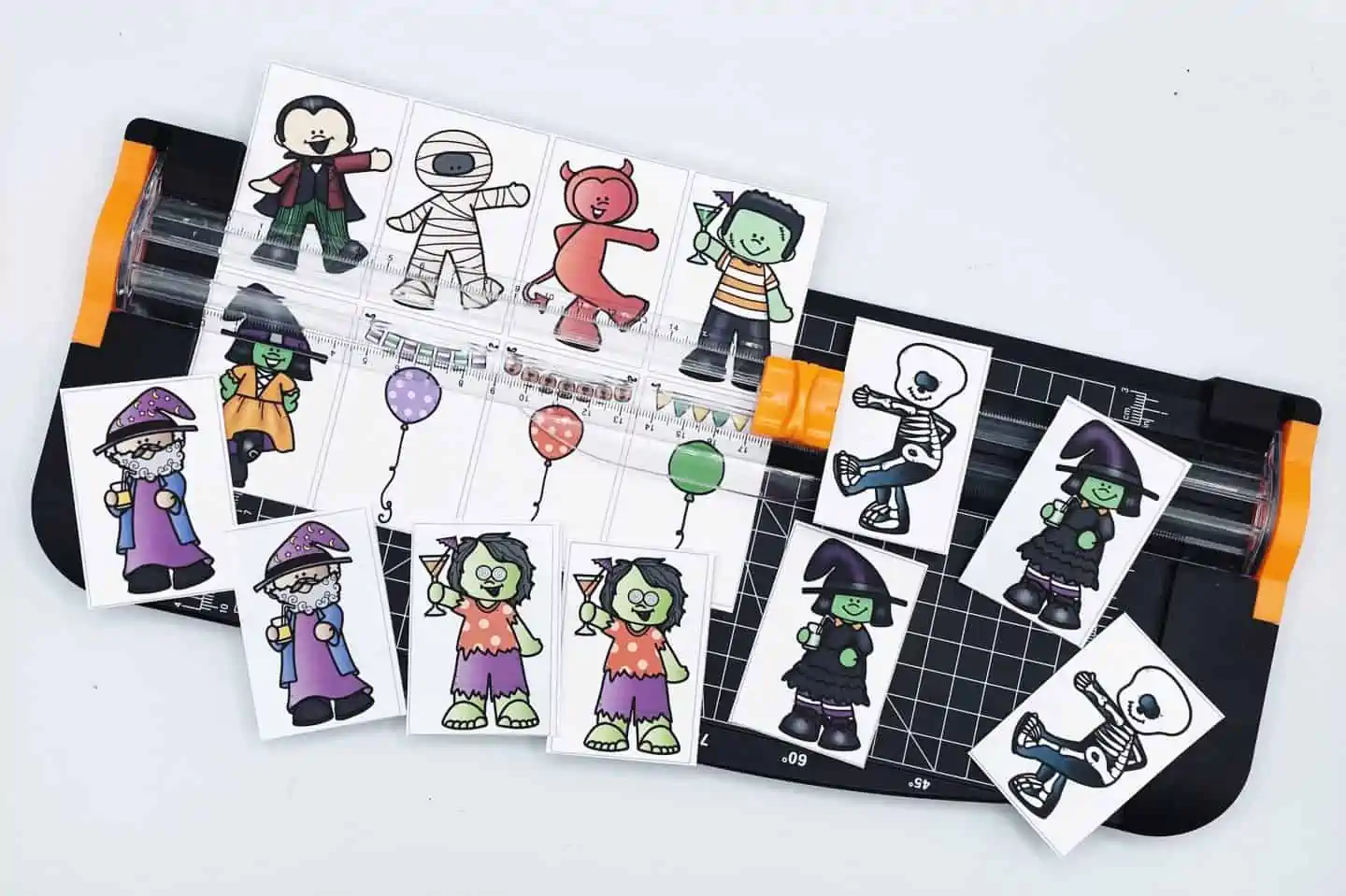 Hasbro Gaming Sorry! Board Game: Disney Villains Edition
Ravensburger Cute Monsters Memory Game for Boys & Girls
Matching Memory Game for Kids – 32pc Summer
I Spy Book for Kids Ages 2-5 Halloween:
How to play the Halloween memory game
Prepare for a hauntingly good time with our Halloween memory game. Follow these easy steps to embark on a captivating memory-matching adventure that's perfect for players of all ages.
Shuffle the Halloween-themed cards and lay them face down on the table. You have the option to arrange them in rows to make the game more manageable, or for an added challenge, scatter them randomly across the table.
If opting for rows, consider organizing 6 rows with 4 images in each for optimal gameplay.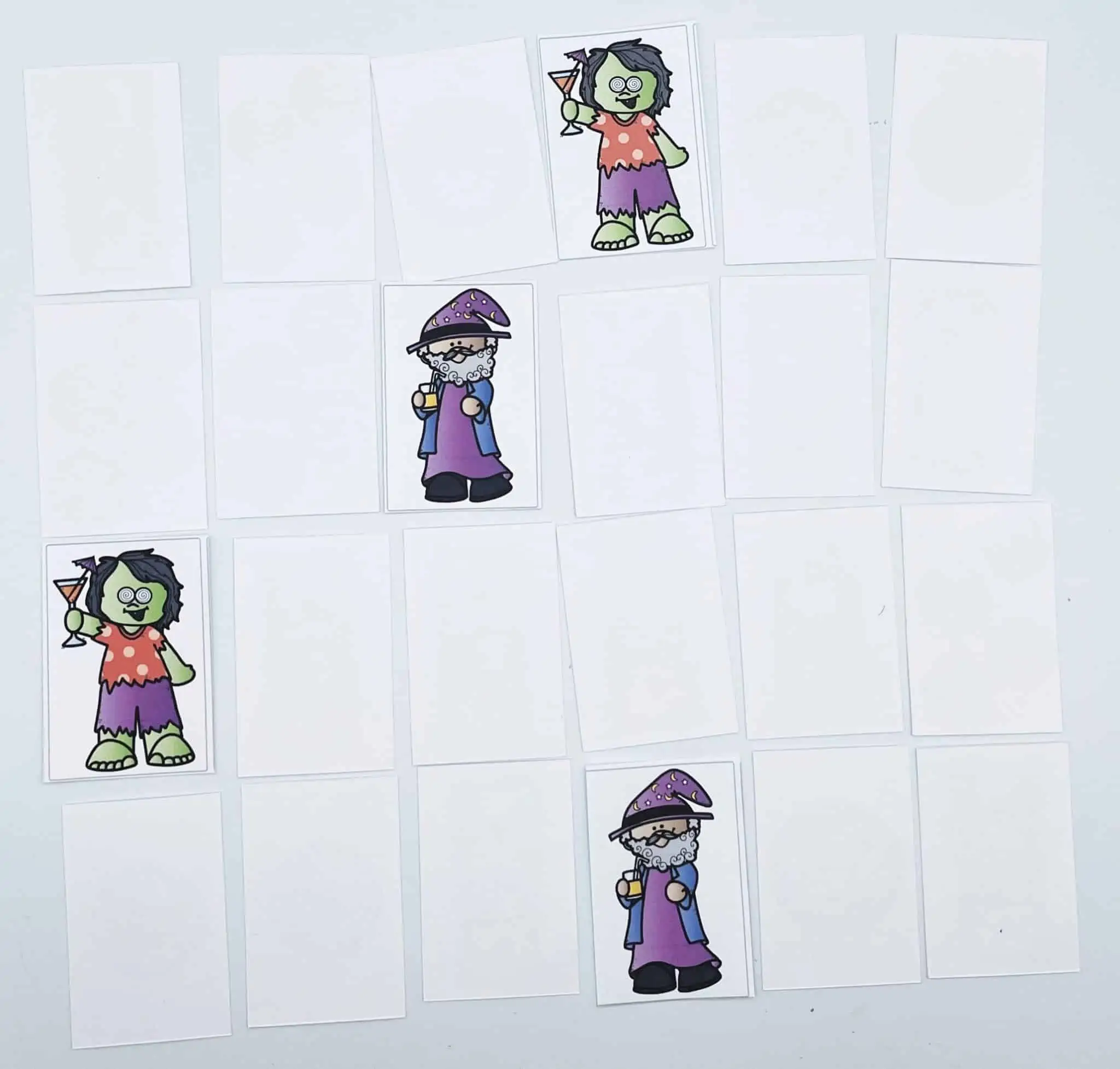 Playing the Halloween memory game is refreshingly straightforward. Players take turns revealing only two cards at a time.
The goal is to find matching pairs of Halloween images. If a player successfully uncovers two identical cards, they have a choice. They can either remove the matched pair from the game and place them in front of them as trophies of their victory, or they can leave the cards face up, showcasing their achievement.
Should the cards flipped by a player not form a matching pair, the cards are turned face down again. The game continues as players take turns, eagerly anticipating the next discovery.
As the game progresses, players accumulate matched pairs in front of them.
Celebrate the ultimate champion with a special Halloween sticker.
Additional fun Halloween activities
Looking for more ways to infuse your Halloween celebrations with excitement? Check out these additional thrilling activities that promise endless entertainment and holiday spirit:
Experience the classic game of bingo with a spooky twist. Our Halloween bingo printable cards add a touch of magic to your gatherings, making every round an adventure in suspense and delight.
Unleash the thrill of the hunt with our Halloween treasure hunt clues. Engage participants in an exhilarating quest as they solve riddles, follow clues, and unearth hidden treats, creating unforgettable memories in the process.
Ignite young imaginations with our free Halloween coloring pages. Featuring a range of eerie and enchanting scenes, these pages invite kids to add their personal touch of creativity to the Halloween festivities.
Sharpen observation skills and engage in a delightful visual challenge with our Halloween spot the difference activity. Explore enchanting scenes as you seek out subtle discrepancies and uncover the hidden mysteries.
Download the free printable Halloween memory game
Make sure you choose the correct paper size and click on the shrink to fit button. All of our free printables for kids work better when printed on cardstock (this is the one we use and love.)
Last Updated on 23 August 2023 by homeschoolof1