Sonlight History Lap Book Review | American History
I can't believe I am going to admit this, but my son is in 7th grade and we have never used a lap book! I know it's crazy, and I now have to say it is the biggest mistake, I didn't know I made in our homeschool journey.
Whether you are in the same boat or have been using them for years, you will love this history lap book for American history.
This history lapbook is from the best homeschool history curriculum, Sonlight.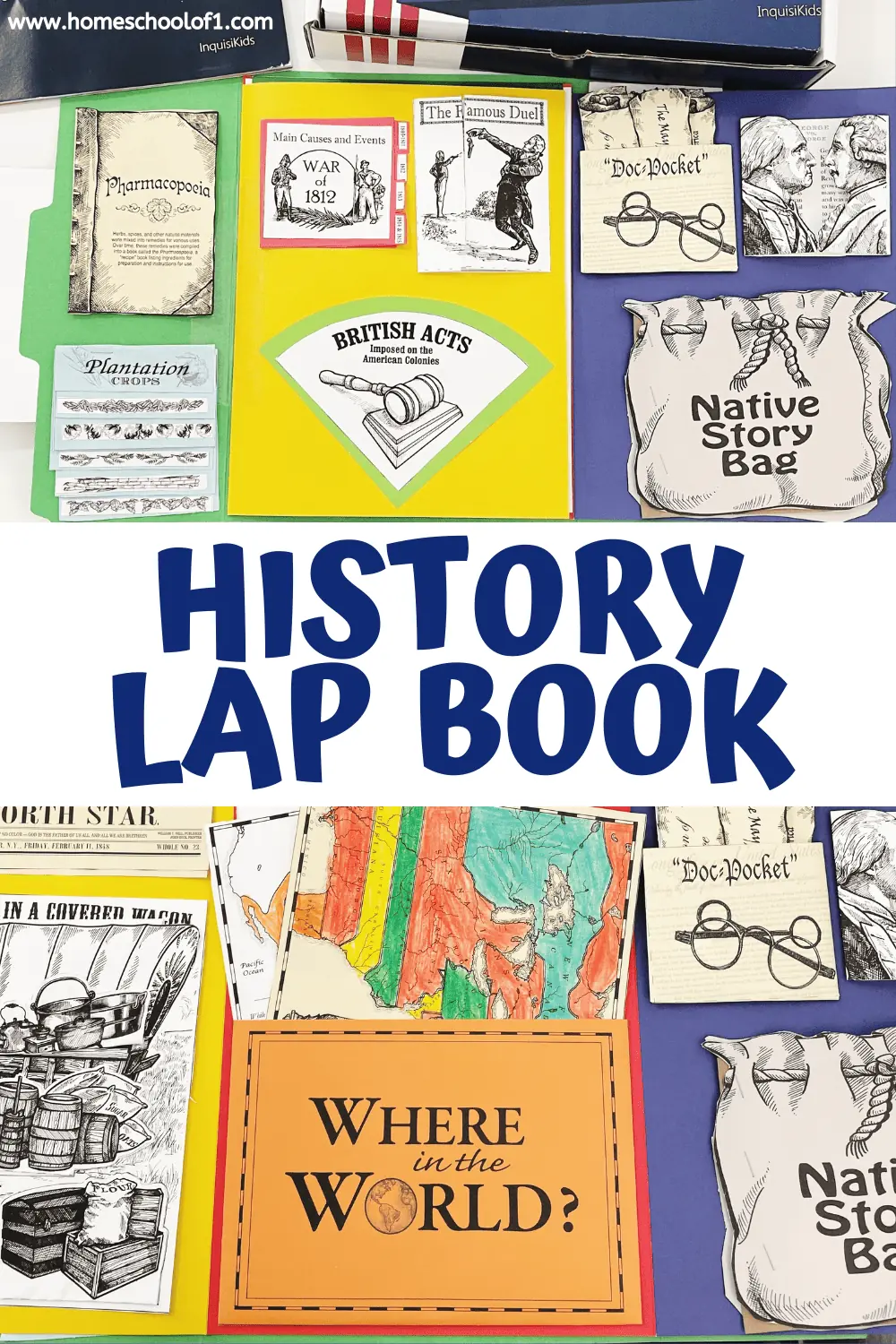 **Disclosure: I was compensated for my time to write this post. As always, all thoughts and opinions are my own. I only share resources that I would use with my own family and those that I believe other homeschool families will enjoy. There may be affiliate links in this post.**
You can read our previous Sonlight review, but I want to say before I go any further they are a Christian resource. We are secular homeschoolers, and we love the curriculum so much that we have decided to work around it.
What is a lap book?
A lap book is basically a hands-on learning tool that combines creativity with education.
It's like a mini scrapbook, but with a purpose.
You create a lap book by folding a file folder in half and then filling it with all sorts of interesting information, illustrations, and interactive elements related to a specific topic.
Simple as that!
What are the benefits of using a lap book?
Using a lap book with kids offers several benefits for their learning and engagement. Here are some of the advantages:
Lap books provide a hands-on learning experience that actively involves children in the educational process. By creating and assembling the lap book themselves, kids become active participants in their learning journey, fostering a deeper understanding of the subject matter.
Lap books incorporate visual and tactile elements, making learning more engaging and memorable. Children can include illustrations, diagrams, maps, and interactive elements like flip-ups, pull-outs, or pockets. These visual and tactile features help children visualize concepts, retain information, and make connections.
Lap books provide a structured and organized way for children to collect and review information. The different sections or pockets in the lap book can be dedicated to specific topics, making it easier for children to revisit and review key concepts later. This organizational aspect reinforces knowledge retention and supports effective study habits.
Lap books can incorporate various subject areas, promoting multidisciplinary learning. For example, in an American history lap book, children can explore geography, culture, language arts, and even science through related topics like navigation tools or plantation crops.
As children create their lap books, they demonstrate their understanding of the material by selecting and organizing relevant information.
Lap books can be used in group settings, fostering collaboration and communication among children. Group projects involving lap books promote teamwork, discussion, and the sharing of ideas. Children can present their lap books to their peers, encouraging public speaking skills and the ability to articulate their knowledge.
Lap books serve as a long-term reference tool that children can revisit throughout their learning journey. They provide a visual and tangible representation of the concepts learned, making it easier for children to recall information when needed.
Sonlight History Lap Book Review
The Sonlight American History Lap Book is absolutely fantastic, and I am so glad we have finally been introduced to lap books.
We will also continue adding an interactive element to our history curriculum next year. My son thoroughly enjoyed it. As he is 13 years old he completed it independently, but if you are working with younger students you will need to help a little.
That being said, the included instruction booklet is so easy to follow, with pictures that I am sure an advanced 4th grader could do it independently too.
What grades is the history lap book aimed at?
The American History I Lap book which we are reviewing is aimed at students in grades 4-7.
There is also an American History II lap book for grades 8-10 which we are definitely ordering for next year.
What topics are covered?
The topics covered in these American history studies include:
Explorer Profiles
Mapping the Routes of Columbus
5 Reasons for Exploration
Native American Tribes
Native Story Bag
Real-Estate Brochure
Doc-Pocket
European Exploration & Colonization
Navigational Equipment
Slavery in America
Mitchell Map
Plantation Crops
George vs. George
British Acts
Monarchy vs Republic
Bad News in Boston
Soldiers of the Revolution
The Famous Duel
The Growth of the United States
Lewis & Clark
The War of 1812
The Erie Canal
The North Star
Covered Wagon
Pharmacopoeia
What's included in the lap book kit?
The kit includes instructions, in fact, a 38 page instruction booklet, with full-color photos that illustrate each project
Lap book folder
Different color paper (white, yellow, tan, blue, green, red, orange) for cardstock, regular printer paper, and tissue paper.
All the pre printed materials necessary to complete the lap book
Additional materials: double-sided tape, 2 glue sticks, 1 bottle of glue, several toothpicks, 1 piece of burlap, one extra small brown paper bag, a cotton ball, a brad, a piece of velcro, and several sheets of thin plastic.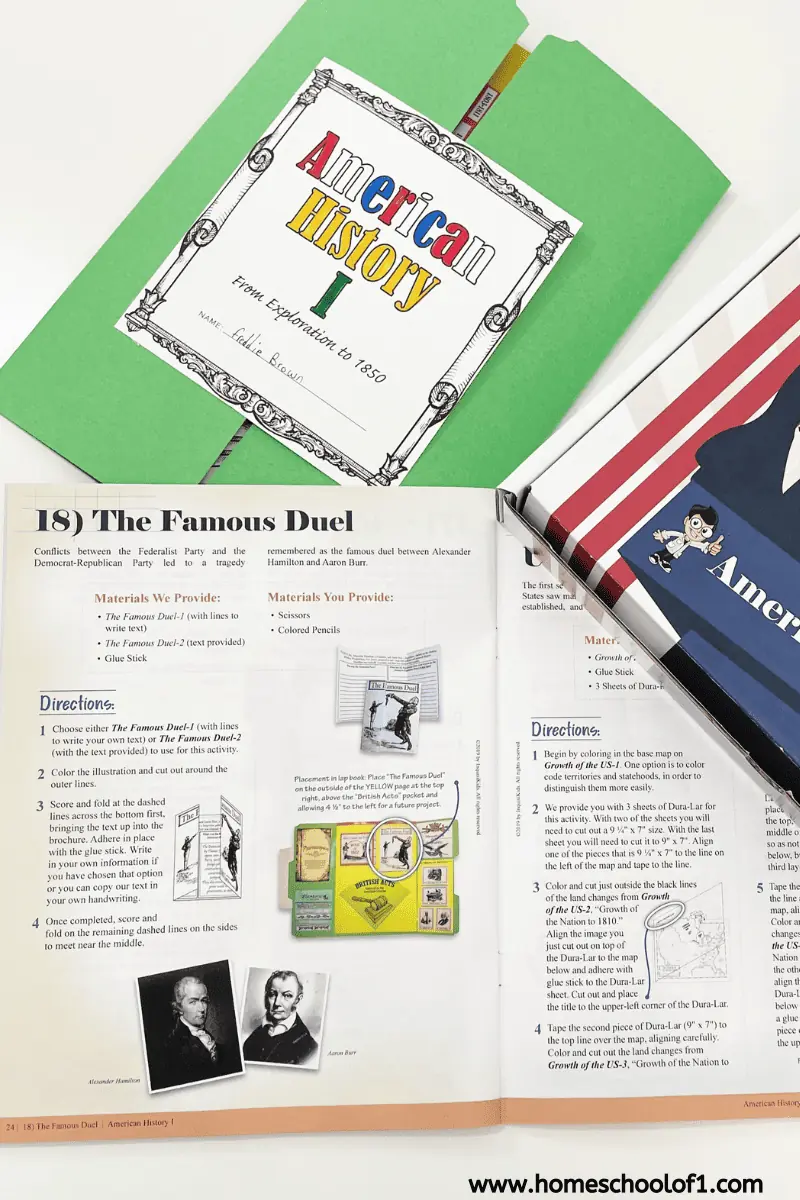 What supplies will you need to provide?
Sonlight has included everything you need apart from a few items that you will already have in your home:
colored pencils,
permanent markers
sticky tape,
scissors,
stapler,
granulated sugar (optional)
uncooked rice (optional)
What did we actually think of the Sonlight lap book?
I can't stress enough how much my son loved this history lap book. Now full disclosure, history is his 2nd favorite subject, but I think if you had a child who didn't love history this would be even better for them.
The reason we had never even considered a lap book before, is my son loves to read. So our history curriculum (again we use Sonlight) is literature based. We also go to a lot of museums to supplement it but had never thought about adding anything else.
The instructions were excellent, and everything is included apart from a few supplies that you will probably already have in your home.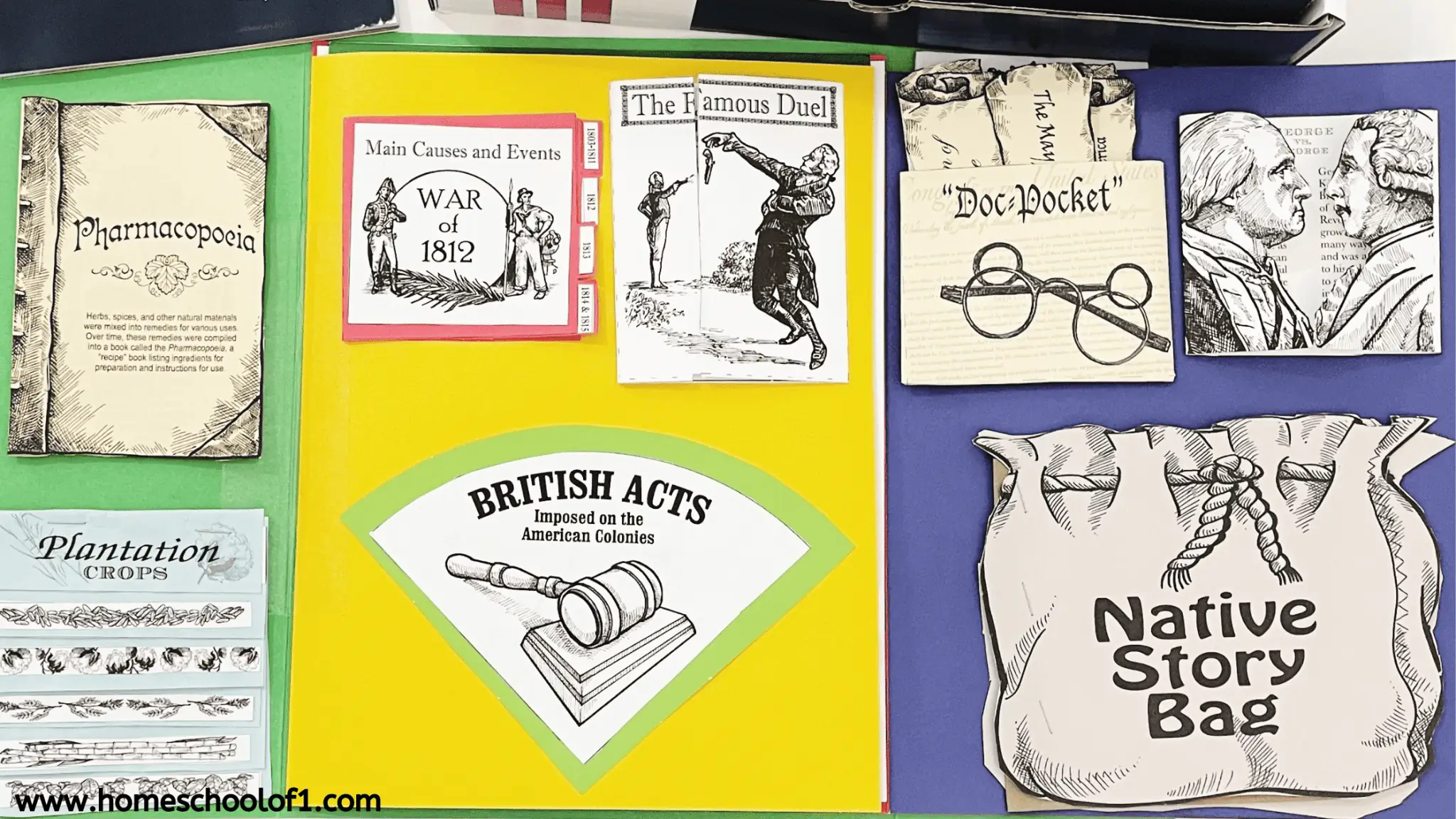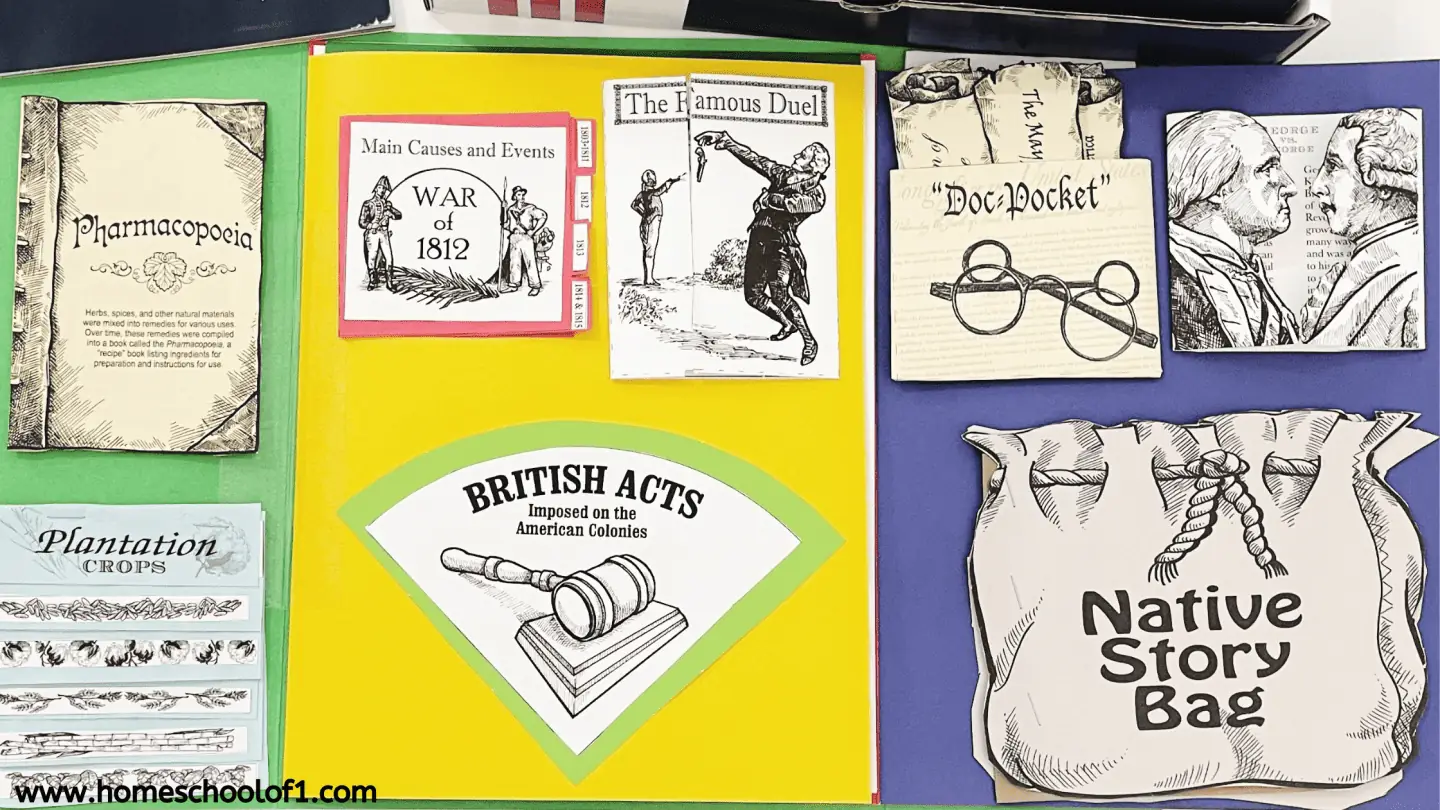 User Tips and Hacks
There are a few ways you can use this history lap book:
You can use it as a supplement to your history curriculum. This is what we did and on a Friday rather than use our curriculum my son did the lap book instead. This was a great end to the week and something he actually looked forward to doing.
You can use it like a unit study and spend an hour a day for about 6 weeks just focusing on the lap book.
Use it as a full history curriculum. I honestly believe this could be used for students in 4th and 5th grade as a full year history curriculum, if you add in some relevant books and videos. For example, when doing the Lewis and Clark topic add in the Lewis & Clark Expedition book and watch a documentary.
Other Lap Books
If you are looking for even more lap books I highly recommend these:
Last Updated on 2 November 2023 by homeschoolof1