Best Online Public Speaking Classes For Kids
I don't know about you, but I absolutely HATE public speaking, in fact, I will actively avoid it.
Now as a homeschool mom this is fine, but when I was working as a Finance Director this was a problem.
If only I had learned strategies earlier in life as to how to overcome this fear!
We have recently been introduced to an amazing company, The Oracy Hub, which teaches young children just this.
Their public speaking classes for kids are fantastic and would be a great addition to any homeschool co-op or community group.
I have been offered an exclusive 50% discount code just for the readers of Homeschool of 1, scroll down to the bottom of the post to grab the code. This is only available for the first 20 subscribers though, so please be quick!
**There may be affiliate links in this post. You can read my full disclosure at the bottom of the page.**
The reason we were looking for public speaking classes in the first place, was that my son had a very last-minute piano recital.
He wasn't at all worried about playing the piano in front of hundreds of people, he was more worried about introducing himself! Yes, a five-second introduction got him so worked up he nearly had a full-blown panic attack. "I can't do it, they will all laugh at me, I am not prepared…."
When he eventually calmed down, we went straight into the Oracy Hub course on managing nerves. He learned some amazing confidence-building techniques that made the recital go without a hitch.
Before I go into the course in more detail, I want to share with you the benefits of public speaking for kids.
Public Speaking For Kids
Public speaking is just something that we all have to deal with at some point in our life.
Whether it be for a job, an interview, or even at a wedding, we just can't avoid it.
With the majority of adults having a fear of public speaking, learning this life skill at an early age is the only way to conquer this fear.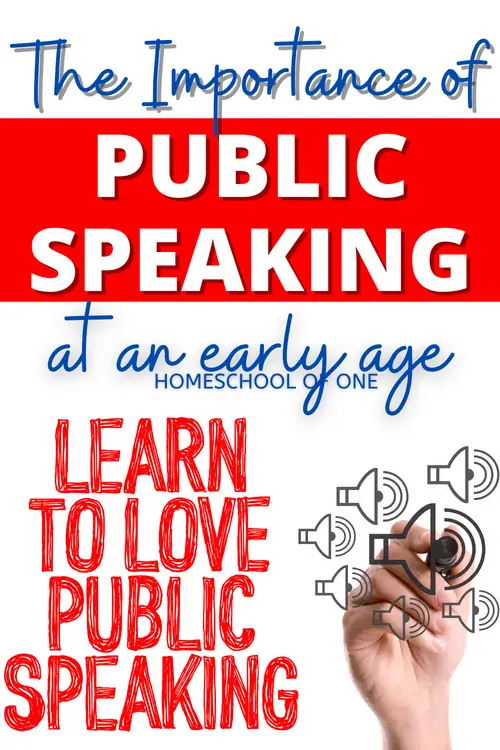 The Benefits of Public Speaking For Kids
Improve pronunciation
Personal development
Improve communication skills
Boost confidence
Increase power of persuasion
Ability to express thoughts in a clear manner
Improved academic performance
Improve listening skills
Preparation for the future
These important life skills can be taught to kids from a very early age, and Oracy Hub has created a full 14 course curriculum for kids aged 5-12.
Public Speaking Classes For Kids
Oracy Hub has you covered. Not only do they have incredibly engaging student videos they have teachers' resources to assist you to teach the public speaking classes.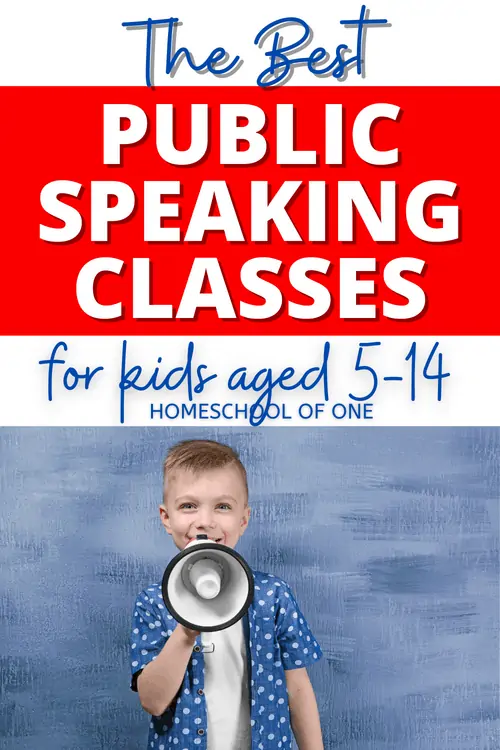 Teaching Public Speaking to Kids
There are six short videos (all under 10 minutes) and downloadable notes to help you make the student lessons as engaging as possible.
This is a teacher-led course and the teacher's notes are critical to a successful lesson.
The lessons have all been curated and taught by Mimi Hughes, who holds a Teaching Diploma in Public Speaking and Communication from the London Guildhall School of Music and Drama, along with degrees in Medical Sciences and Psychology.
These lessons have been designed in such a way that they are best to teach in a homeschool co-op or group sessions, or if you are a large homeschool family though this is the perfect class for you.
In our homeschool of one though, we made it work really well. I played the role of both the teacher and the student!
Now actually, this was fantastic, I made a complete fool of myself, and we had so much fun! So although these public speaking classes are best in a group setting, they absolutely worked well for us.
Oracy Hub also offers an interactive coaching tutorial for homeschool parents.
Public Speaking Classes for Kids Online
What I love about Oracy Hub is these classes are taught as if the teacher were in the room with you.
The online lessons allow for pause breaks and in fact, encourage you to. Below is a screenshot of one of the videos on how to feel confident.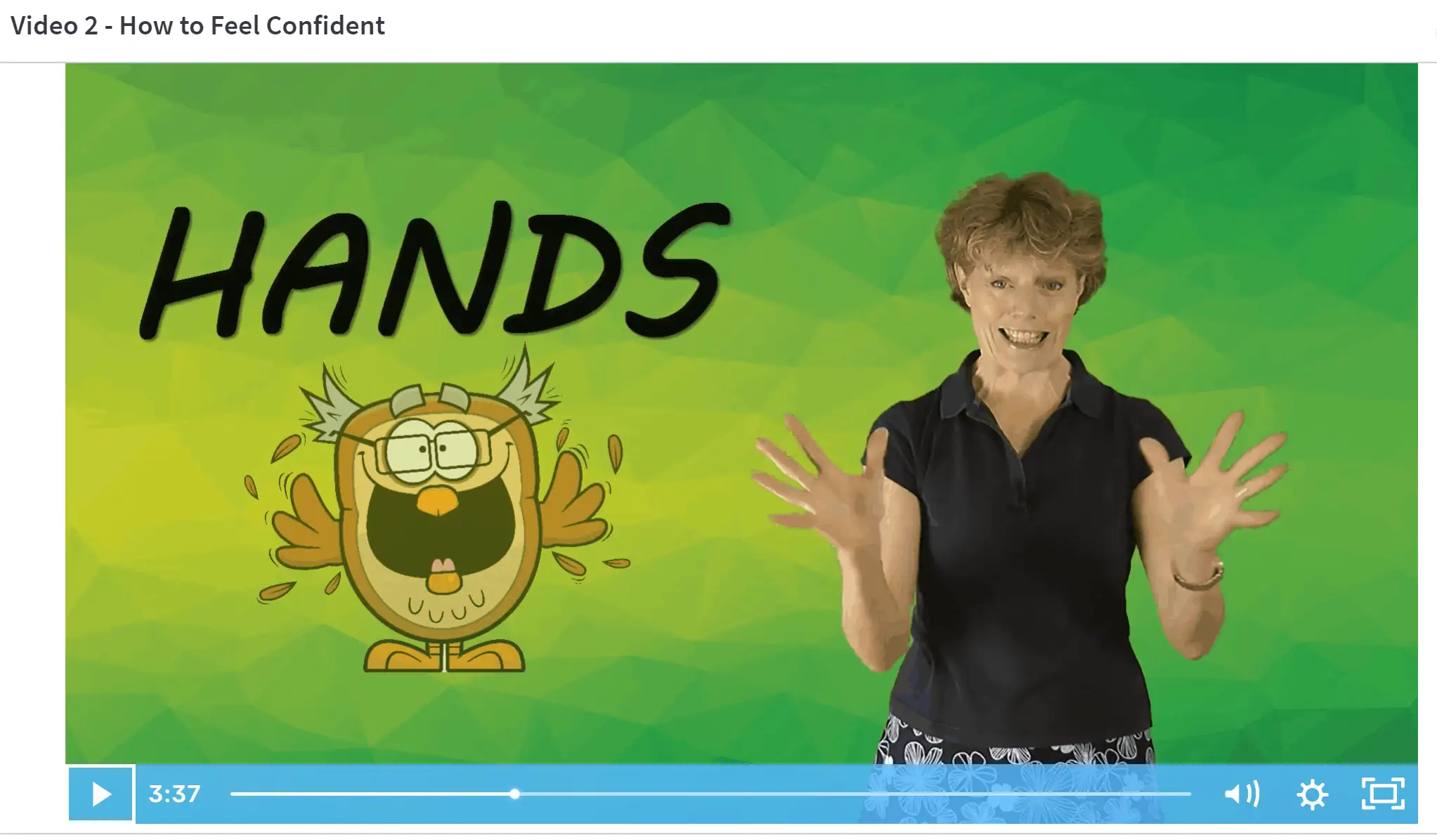 In these public speaking classes for kids, Mimi (the instructor) is talking to the children in all of these videos. It really is like she is there with you.
Predicting what the kids might be saying, and explains why she is telling them to do things in a language that they will understand.
The public speaking course is split as follows:
1 – What is Speaky – An Introduction
2 – How to Feel Confident
3 – First Impressions
4 – Managing Nerves
5 – How to Warm Up
6 – Maintaining Composure
7 – Organising Your Thoughts
8 – Using Notes
9 – How To Use Your Eyes
10 – Voicing Your Opinion
11 – Introduction to Debating
12 – How to be Persuasive
13 – Listening Well
14 – How to Rebut Effectively
As a homeschool curriculum, I would plan for this to take 14 weeks of 1 lesson each week (or if you are in a hurry for a special recital, like us, it can be done quicker.)
Online Public Speaking Classes For Kids
We highly recommend Oracy Hub as a full homeschool curriculum for public speaking for kids. It really has helped my son, we have been using it for the last 3 weeks.
It certainly helped his confidence with his piano recital, and in fact, when he wants something he knows the best way to ask! Actually, his debating skills were pretty good to begin with but now, oh dear!!
Check them out for yourselves, you might have two regrets though!
1 – Your children become so good at debating with you!
2 – You didn't do it sooner!
But in all seriousness, we absolutely loved taking these public speaking classes, and highly recommend them. Check it out for yourselves here.
I also have some great news, I have just found out I can offer a huge 50% off for the first 20 subscribers from Homeschool of One with the discount code homeschoolof1.
If you are looking for online etiquette classes check out our favorites.
Last Updated on 13 August 2023 by homeschoolof1