15+ Best Homeschool Planners for a More Organized Homeschool
I don't know about you, but I like to be super organized. So at the start of every new homeschool year, I check out the best homeschool planners.
I actually use two, a digital one for me that I use for planning and a paper one that my son uses every day to list what he has done in the day. He's just about to start middle school, and he has been doing this for about 2 years. It works really well for both of us.
As we use both digital homeschool schedules and paper homeschool planners, I thought I would share the best ones we have found.
If you are looking for something fun to do on your first day of homeschool check out our top tips.
Let's get organized this school year with our free printable homeschool planner. There are 13 pages included.
You are also going to love our 2023 printable monthly calendar with holidays.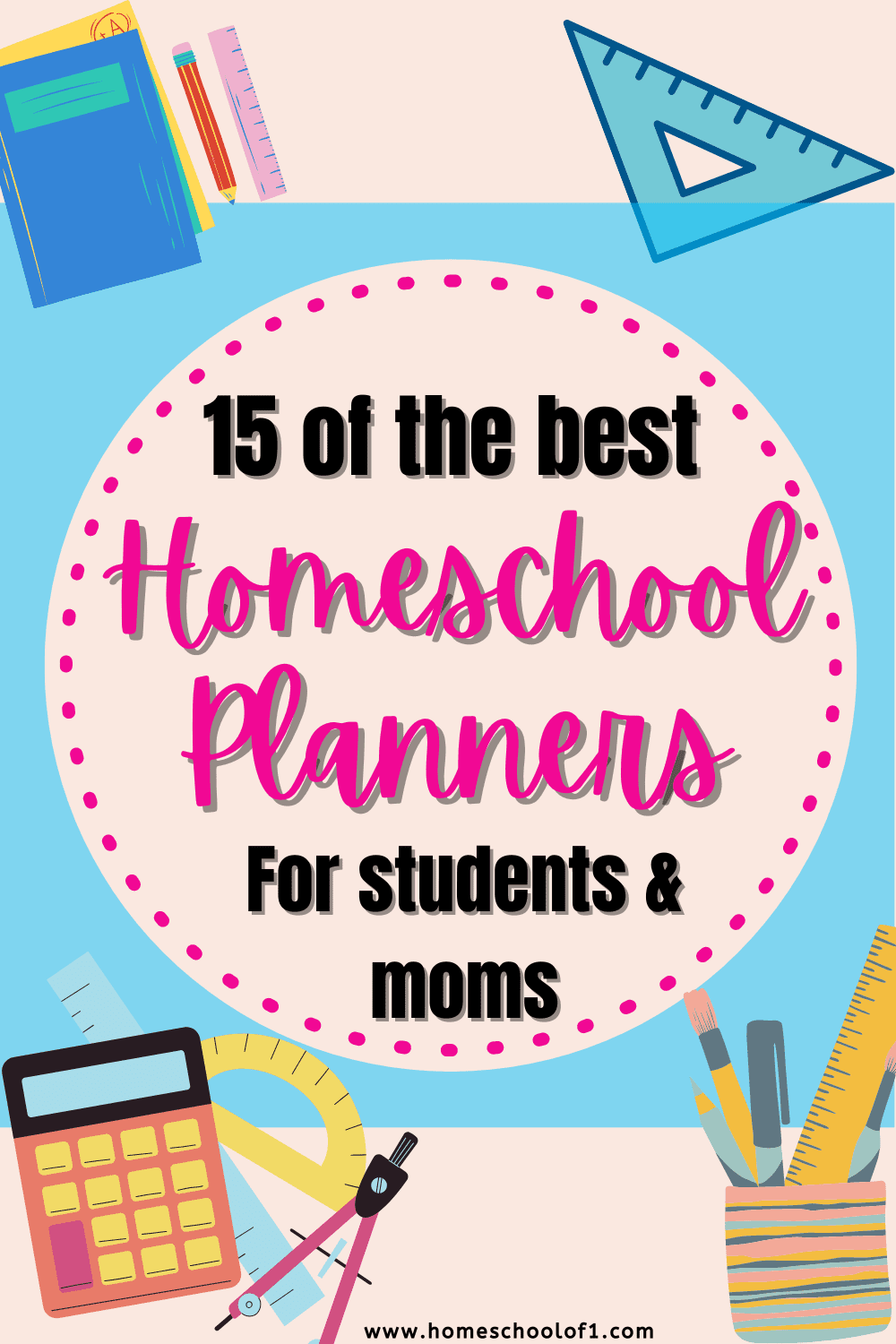 **There may be affiliate links in this post. You can read my full disclosure at the bottom of the page.**
Why use a homeschool planner?
A homeschool planner is a useful tool for parents who have chosen to homeschool their children. Here are some reasons why:
A homeschool planner helps you stay organized and keep track of your homeschooling schedule, curriculum, assignments, and activities.
A planner helps you plan and organize your day, which can make homeschooling more efficient and effective. You can plan out your lessons, activities, and breaks in a way that maximizes learning while minimizing stress and burnout.
A homeschool planner can help you stay accountable to yourself and your children. By setting goals and tracking your progress, you can ensure that you are meeting your objectives and that your children are making progress.
Homeschool planners can be customized to fit your specific needs and goals. You can choose the format that works best for you and your family, whether it's a digital planner, a physical planner, or a combination of both.
A homeschool planner can serve as a record keeping tool. You can track attendance, grades, and other important information that may be required by your state or local education authority.
Overall, using a homeschool planner can help you stay organized, efficient, accountable, and flexible, while also providing a record-keeping tool for your homeschooling journey.
How to find the ultimate homeschool planner?
Finding the best homeschool planner is no easy task.
We use them every day to plan and stay on track. So I wanted to put together the best homeschool planners we have used over the years.
Included in this list are planners for homeschool moms and academic planners for the kids.
I would be lost without my homeschool lesson planner, but as both myself and my son have one I am going to break this down list further, as moms and students will want different-looking planners.
I know that my son wouldn't appreciate pink pretty flowers on his planner! Equally, I would not want a Star Wars or Harry Potter one!
I have listed the student academic planners first, and then the homeschool mom teacher planners.
If you would prefer a digital homeschool planner no problem, after the paper planners I have listed our favorite digital planners.
Best Homeschool Planner
I will list all of the homeschool planners we have either used previously or are highly recommended by homeschool moms.
This, however, is the best homeschool planner! The personalized teacher lesson planner from Erin Condren is the absolute best, the quality is exceptional and I love that I can personalize the front cover.
Best Academic Planners for Students
The homeschool student planner we use is a really plain and boring planner! But it is cheap and it serves its purpose!
This is perfect for middle school and we mainly use it to record work done on any day rather than actually planning!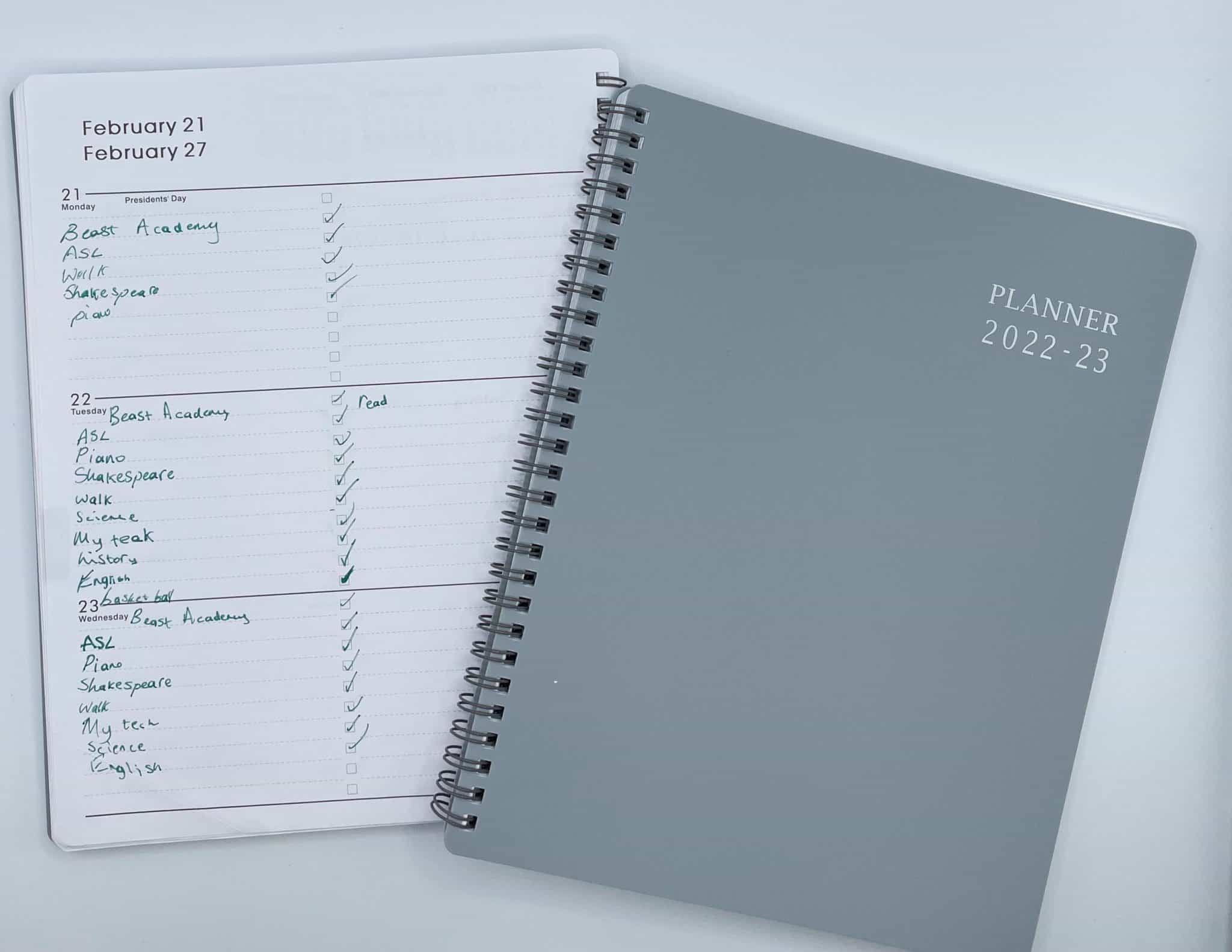 Harry Potter Academic Planner is an undated 12-month mini planner that is perfect for Potter fans. If you are looking for a digital Harry Potter digital planner check this one out too it is awesome!
Bluesky Student Planner gets great reviews on Amazon for their paper academic planners. They have lots of different ones to choose from and they are very reasonably priced. In fact, I use the BlueSky teacher planet (see below) and I love it.
Erin Condren Academic Planner
This academic planner from Erin Condren is the absolute best of the best, there are over 75 different covers to choose from including Star Wars. The cover can be personalized for that extra special touch too.
Weekly, Monthly & Yearly Planning
Organize Classes, Log Assignments & Keep Track of Projects & Exams
4 Note Pages After Each Month
Thick, Rich 80# Text Weight Paper (Resists Ink Bleeding)
2 Sizes: 7″ x 9″ or A5 (5.8" x 8.3")
2 Binding Options: Coiled or Softbound (Lay-Flat)
Add On Extra Lined Note Pages
Student Planner Plum Paper
Plum Paper also has amazing homeschool planners. The homeschool student planners come in different ages, from elementary, middle, high school, and college. The middle school and high school planners include these pages as standard:
Student overview
Class schedule
Final exams schedule
Community service
States & Presidents
English, grammar, math, and science references
Stickers (2 pages)
Best Planner for Homeschool Moms
There are many different types of planners available for homeschool moms. So it really depends on your specific needs and preferences.
Ultimately, the best planner for you will depend on your individual needs and preferences. Consider what features are most important to you, whether you prefer a physical or digital planner, and how much you are willing to spend.
Erin Condren Homeschool Planner
If you are looking for the very best teacher planner then look no further than Erin Condren. There are hundreds to choose from and they can be personalized too.
8.5″ x 11″
12 months
210 total pages
Interior pages Mohawk 80# text weight, Plated aluminum coil, Overall weight: 2.40 lb
Made in the USA
Personal info, Communication log, Mini months
Graph sheets
Monthly notes and dates to remember, Dated monthly, weekly spreads
Additional notes after each month/weeks, 7 checklist pages included
4 colorful sticker sheets, 3 holiday sticker sheets
1 Keep It Together Folder, 1 sheet protector, Sturdy laminate cover, Snap-in ruler
Homeschool Planners for Mom
Blue Sky Academic Teachers Planner July – June stylish day planner with 12 months of monthly and weekly pages for easy academic planning and scheduling; 3 bonus monthly pages (April – June) are included.
This is the planner I use, it doesn't have the bells and whistles of the Erin Condren planner. However, it is significantly cheaper and it serves its purpose!
Happy Planner gets planning. This teacher planner will help you keep track of all your classes, assignments, and exams.
This 12-month planner comes in a big size (Dimensions: 8.5" x 11") which is perfect for commutes from your home to school. This dated planner spans an academic calendar and runs from August -July.
The A+ Homeschool Planner plan, record, and celebrate up to 6 child's progress. It is an undated planner so can be started at any time in the year.
Plum Paper Homeschool Planner
Plum Paper. Has the most beautiful customizable homeschool mom planners. The prices start from as little as $20 and they do ship internationally. You can even personalize the cover, they are absolutely stunning.
The Plum Paper planner comes with these pages as standard and comes in three different sizes.
This year's goals, year at a glance
Classroom resources, homeschool supplies
Attendance record
Reading log, grading log, field trip log
Extracurricular activities
Next years goals
Checklists
Stickers (2 pages)
Digital Homeschool Planner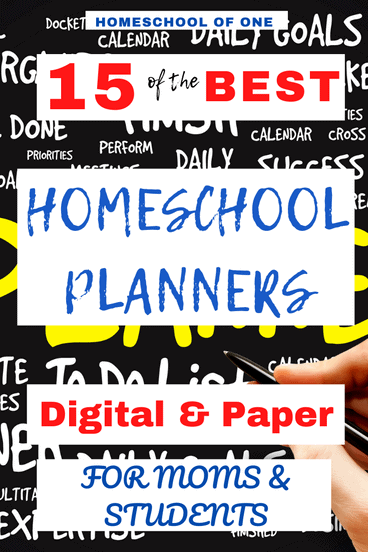 Homeschool Planet Digital Planner
It gets amazing reviews from other homeschoolers, we haven't used it yet. But we are certainly thinking about it.
It is so easy to add lesson plans, buy pre-made plans for different curricula, and move things around when life happens. You can automatically reschedule assignments, home, school, and work schedules all in one place and daily or weekly reminders!
They offer a FREE 30 day trial with a free lesson plan, with an annual price of $69.99 it is the most expensive digital homeschool planner. Go and check it out, and see if you agree with the thousands of other users.
Schoolhouse Teachers
Provides an extensive pdf printout each year, it includes hundreds of really useful pages. Check out School House Teacher's full curriculum membership, and you get access to EVERYTHING, including the digital homeschool planner.
Homeschool Tracker
Again is another digital homeschool planner that is trusted by thousands of homeschoolers. It is completely flexible and helps with record-keeping, reporting, and planning. Rescheduling is easy with drag and drop. The price of Homeschool Tracker is $65 per annum.
Etsy Digital Planners
There are lots of homeschool planners on Etsy, that are instant downloads.
Trello
We currently use Trello for our homeschool planning, I don't plan too far in advance.
Apart from deciding on what homeschool curriculum I will use for the year.
The actual homeschool planning happens on a Sunday night by me, and then daily by my son.
I love the fact that it's FREE to use and really easy to move things around. Check out my Trello for homeschool review to find out more.
Homeschool Minder
Is a digital homeschool planner and grade book all in one. Also, it keeps track of attendance. Check out Homeschool Minder, the annual price is $39.99.
Planbook
Is another online lesson planner. It is not designed for homeschoolers but looks like it would work perfectly. They offer a 30-day free trial and the annual cost is only $15. Check out Planbook here.
Check out our FREE 2022 printable monthly calendar with holidays.
Last Updated on 27 May 2023 by homeschoolof1