15 of the Best Homeschool Planners for a More Organized Homeschool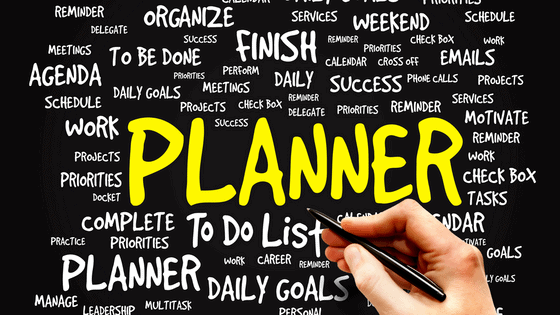 I don't know about you, but I like to be super organized. So at the start of every new homeschool year, I check out the best homeschool planners.
I actually use two, a digital one for me that I use for planning and a paper one that Freddie uses every day to list what he has done in the day. He's just about to start middle school, and he has been doing this for about 2 years. It works really well for both of us.
As we use both digital homeschool schedules and paper homeschool planers, I thought I would share the best ones we have found.
If you are looking for something fun to do on your first day of homeschool check out our top tips.
**Disclosure – there may be affiliate links included in this post**
Digitial Homeschool Planner
Homeschool Planet
It gets amazing reviews from other homeschoolers, we haven't used it as yet. But we are certainly thinking about it. It is so easy to do lesson planning, buy pre-made plans for different curricula, and move things around when life happens. You can automatically reschedule assignments, home, school, and work schedules all in one place and daily or weekly reminders! They offer a FREE 30 day trial with a free lesson plan, with an annual price of $69.99 it is the most expensive digital homeschool planner. Go and check it out, and see if you agree with the thousands of other users.
Homeschool Tracker
Again is another digital homeschool planner that is trusted by thousands of homeschoolers. It is completely flexible and helps with record keeping, reporting, and planning. Rescheduling is easy with drag and drop. The price of Homeschool Tracker is $65 per annum. Check them out here.
Schoolhouse Teachers
Provides an extensive pdf printout each year, it includes hundreds of really useful pages. Check it out here. This is full curriculum membership, but you get access to EVERYTHING, including the digital homeschool planner.
Trello
We currently use Trello for our homeschool planning, I don't plan too far in advance. Apart from deciding on what curriculum I will use for the year. The actual homeschool planning happens on a Sunday night by me, and then daily by Freddie. I love the fact that it's FREE to use and really easy to move things around. Check out my homeschool scheduler review to find out more.
Homeschool Minder
Is a digital homeschool planner and grade book all in one. Also, it keeps track of attendance. Check them out here, the annual price is $39.99.
Planbook
Is another online lesson planner. It is not designed for homeschoolers but looks like it would work perfectly. They offer a 30-day free trial and the annual cost is only $15. Check them out here.
Esty
There are lots of homeschool planners on Etsy, that are instant downloads.
Paper Homeschool Plannners
I am going to break this down further, as moms and students will want different-looking planners. I know that Freddie wouldn't appreciate pink pretty flowers on his planner! Equally, I would not want a dark and miserable-looking one.
Homeschool Student Planners
Plum Paper -Is featured in this section and the moms section, as they are just amazing homeschool planners. The homeschool student planners come in different ages, from elementary, middle, high school, and college. The middle school and high school planners include these pages as standard:
STUDENT OVERVIEW
CLASS SCHEDULE
FINAL EXAMS SCHEDULE
COMMUNITY SERVICE
STATES & PRESIDENTS
ENGLISH REFERENCES
GRAMMAR REFERENCES
MATH REFERENCES
SCIENCE REFERENCES
STICKERS (page 1)
STICKERS (page 2)
Harry Potter Academic Planner check it out here, if you are looking for another Harry Potter digital planner check this one out too it is awesome!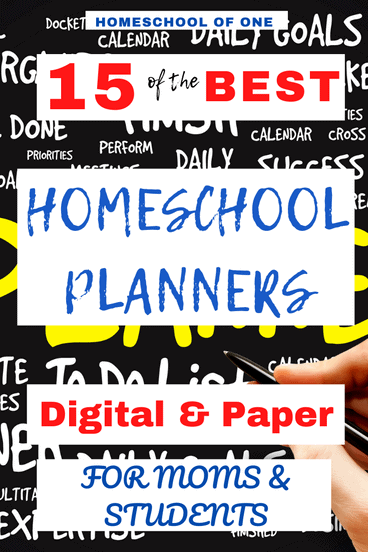 Academic Planner 2021/22 back to school homeschool planner
Bluesky Student Planner – Academic Year Weekly & Monthly Planner
Undated school academic planner
Homeschool Mom Planner
Plum Paper – Has the most beautiful customizable homeschool mom planners. The prices start from as little as $20 and they do ship internationally. You can even personalize the cover, they are absolutely stunning. The planner comes with these pages as standard and comes in three different sizes.
THIS YEAR'S GOALS
YEAR AT A GLANCE
CLASSROOM RESOURCES
HOMESCHOOL SUPPLIES
ATTENDANCE RECORD
READING LOG
EXTRACURRICULAR ACTIVITIES
GRADING LOG
FIELD TRIP LOG
NEXT YEAR'S GOALS
CHECKLISTS
STICKERS (page 1)
STICKERS (page 2)
Blue Sky Academic Teachers Planner July 2021 – June 2022 stylish day planner with 12 months of monthly and weekly pages for easy academic planning and scheduling; 3 bonus monthly pages (April 2021 – June 2021) are included.
Happy Planner GET PLANNING: This teacher planner will help you keep track of all your classes, assignments, and exams. This 12-month planner comes in a big size (Dimensions: 8.5" x 11") which is perfect for commutes from your home to school. This dated planner spans an academic calendar and runs from August 2021-July 2022.
Erin Condren This teacher planner is expensive but beautiful. If you are wanting to treat yourself this is the one to go for!
The A+ Homeschool Planner Plan, Record, and Celebrate Each Child's Progress
Which homeschool planners do you recommend? Let me know in the comments below I would love to know.
Last Updated on 20 October 2021 by homeschoolof1