The Funniest Mad Libs for Halloween – Free Printable
Are you wanting to do something fun, but educational this holiday? If so check out our free printable mad libs for Halloween.
What I love about mad libs is, not only are they educational, they can be absolutely hilarious. Especially in our house, we always end up with bathroom humor! Yes I know, very childish, but we laugh so hard. It is totally worth it.
We can spend hours playing with mad libs, and I love the fact, he is learning, without knowing it! I will do anything to encourage his creativity and understanding of parts of speech.
**Disclosure, there may be affiliate links in this post.**
Mad Libs for Halloween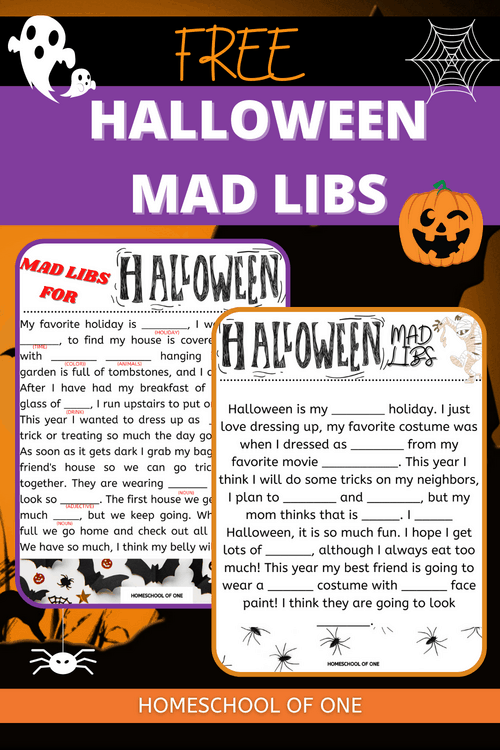 If you prefer to buy a book on mad libs for Halloween check out these suggestions, they would make a perfect Halloween treat.
Please feel free to print out our mad libs for kids and have fun. This can be done at any time, and in fact, we always print them out and give them to the trick or treaters along with their candy. It is such a personal touch, and trust me the parents love it too!!
As we homeschool we tend to have a "play day" on Halloween, and we play mad libs, word searches, bake scary-looking cakes, and just generally have fun. So I hope you enjoy these free printables and have lots of fun too. To get access to this free printable and all of our others subscribe below and you will get FULL access.
We have lots of other FREE printables on this blog, our favorites are:
We hope you enjoy our free printable, let me know in the comments what your kids came up with!!
Last Updated on 24 October 2021 by homeschoolof1