Free 2024 Printable Monthly Calendar With Holidays
I don't know what it is about a paper monthly calendar, but I would be lost without it. I don't care how many times people tell me to put it on my phone and set up reminders! I'm definitely old school! This year I thought I would share with you my 2024 Printable Monthly Calendar with Holidays for you to use for FREE.
I always have a copy of this in the kitchen and scribble literally everything on it! Including all birthdays (I have a memory like a sieve!), appointments, social events, etc. If it is not on this calendar it won't happen!
Every morning, I check to see what holiday activities for kids the day and the week have to offer. I don't use this for homeschool planning, HOWEVER, as I have included the holiday days on the calendar I can see what is coming up. So I know what to prepare for.
I have linked all of the resources we have for each of the holidays included.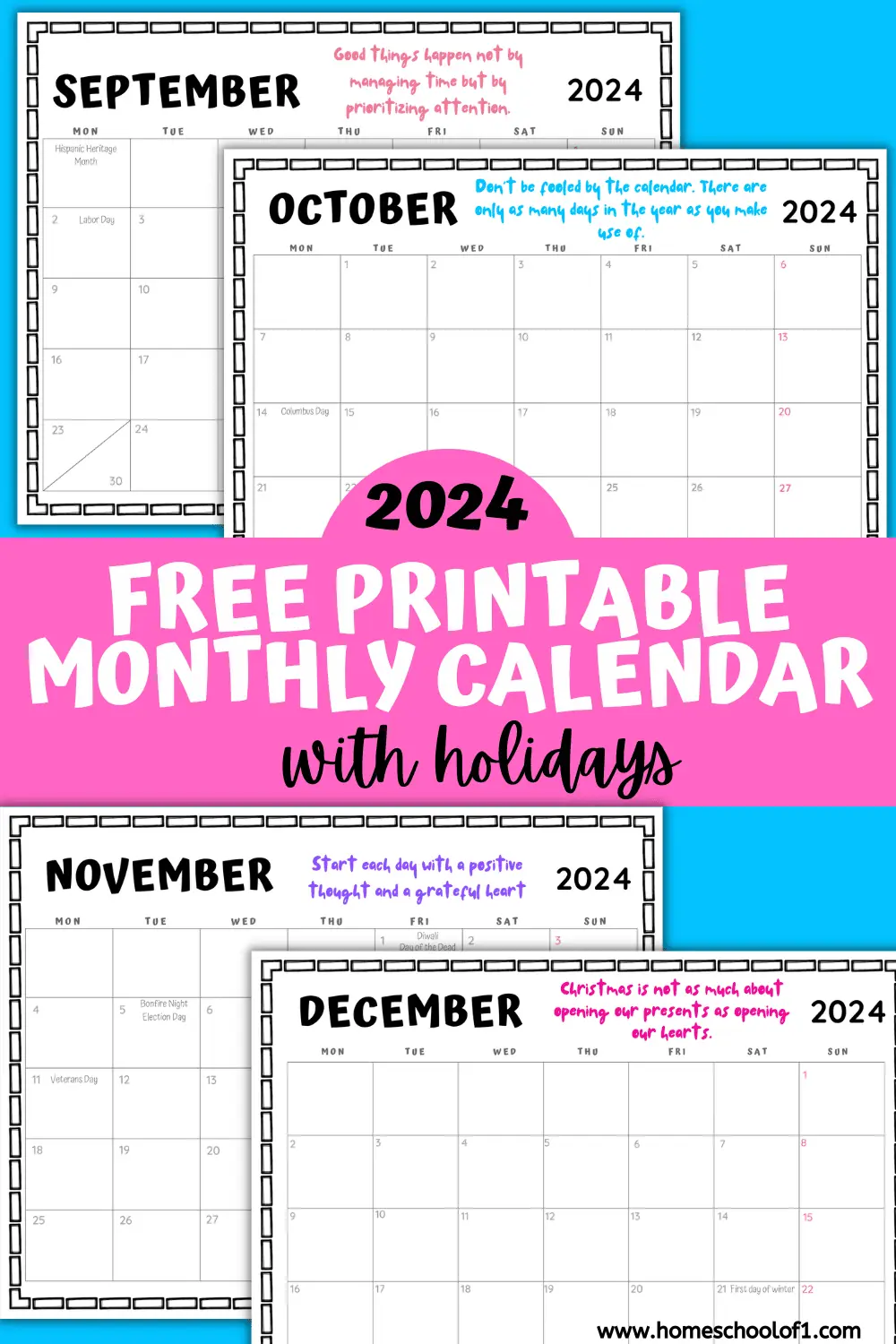 2024 Printable Calendar with Holidays
I have added the following holidays throughout the year so you have plenty of time to plan:
January Holidays
If I had my way, I would remove January from the calendar altogether and have an extra July instead.
February Holidays
Aim to finish it today. Because tomorrow may not show up on your calendar.
March Holidays
You cannot change the circumstances, the seasons, or the wind, but you can change yourself.
April Holidays
April is a promise that May is bound to keep.
May Holidays
Each day offers a reason to celebrate. Find it and experience true bliss.
June Holidays
To travel is to take a journey into yourself.
July Holidays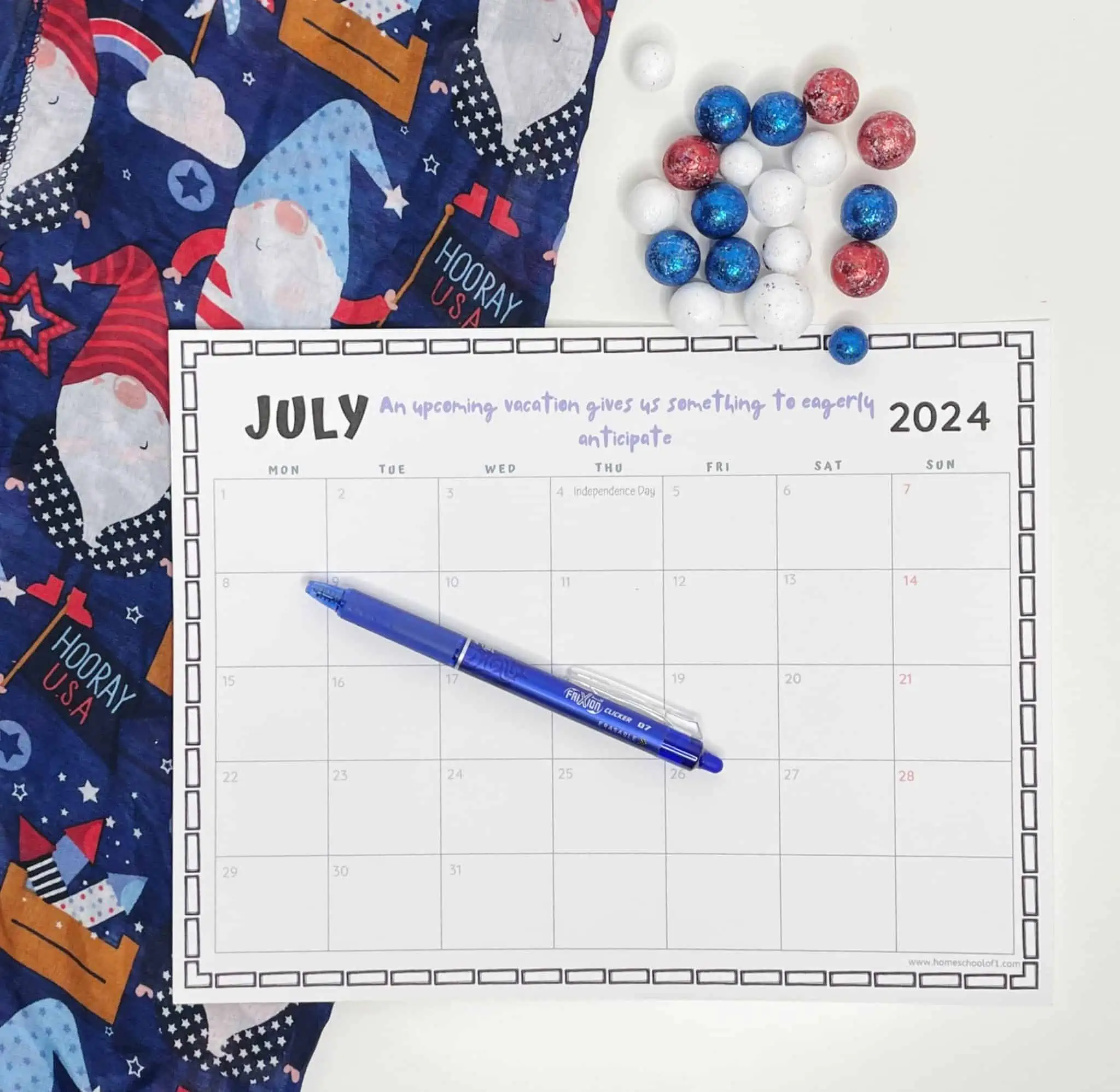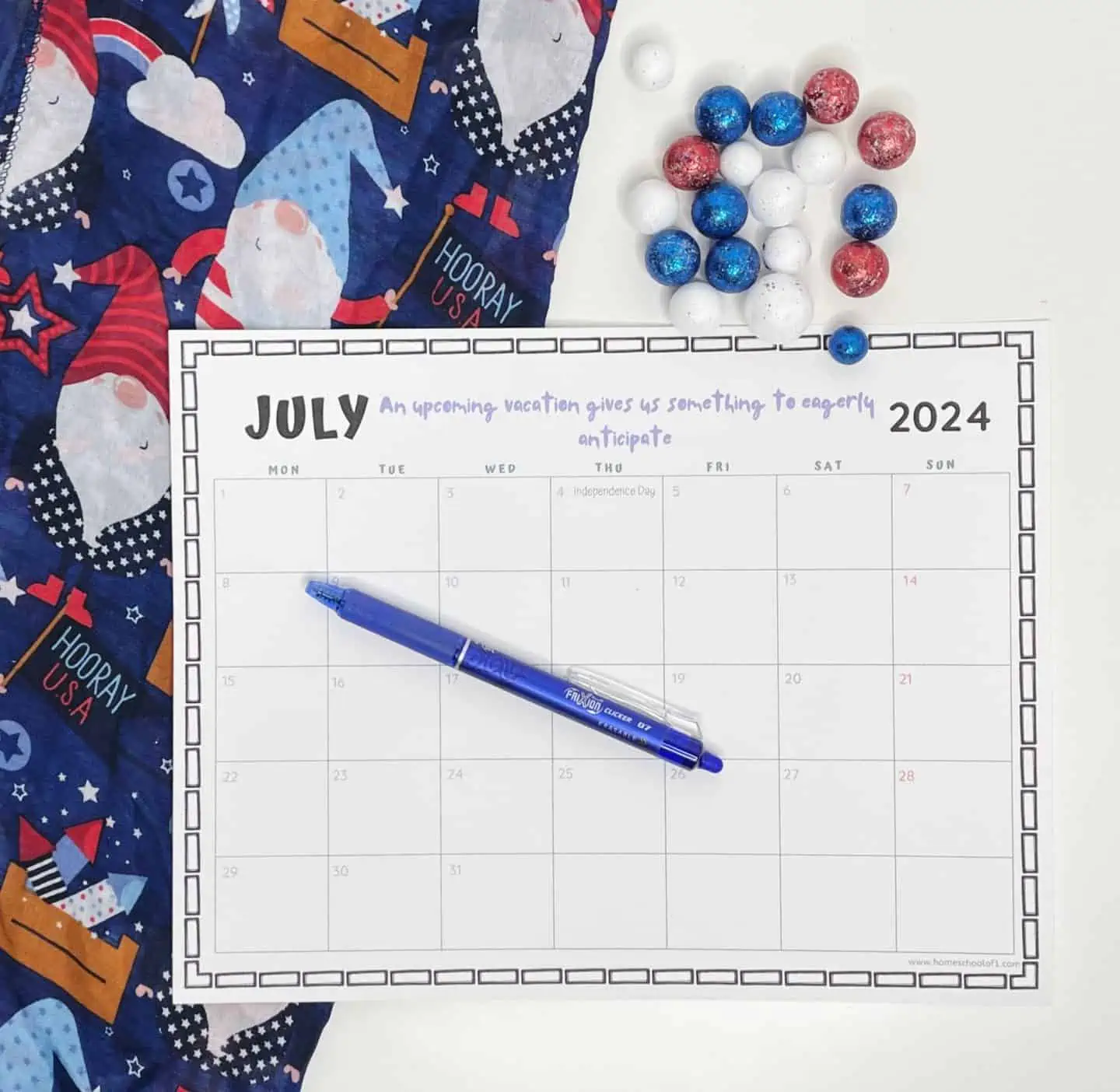 An upcoming vacation gives us something to eagerly anticipate
August Holiday
The calendar moved forward; why not you?
I haven't added a date as it is different for everyone, but you will love these first day of school worksheets.
September Holidays
Good things happen not by managing time but by prioritizing attention.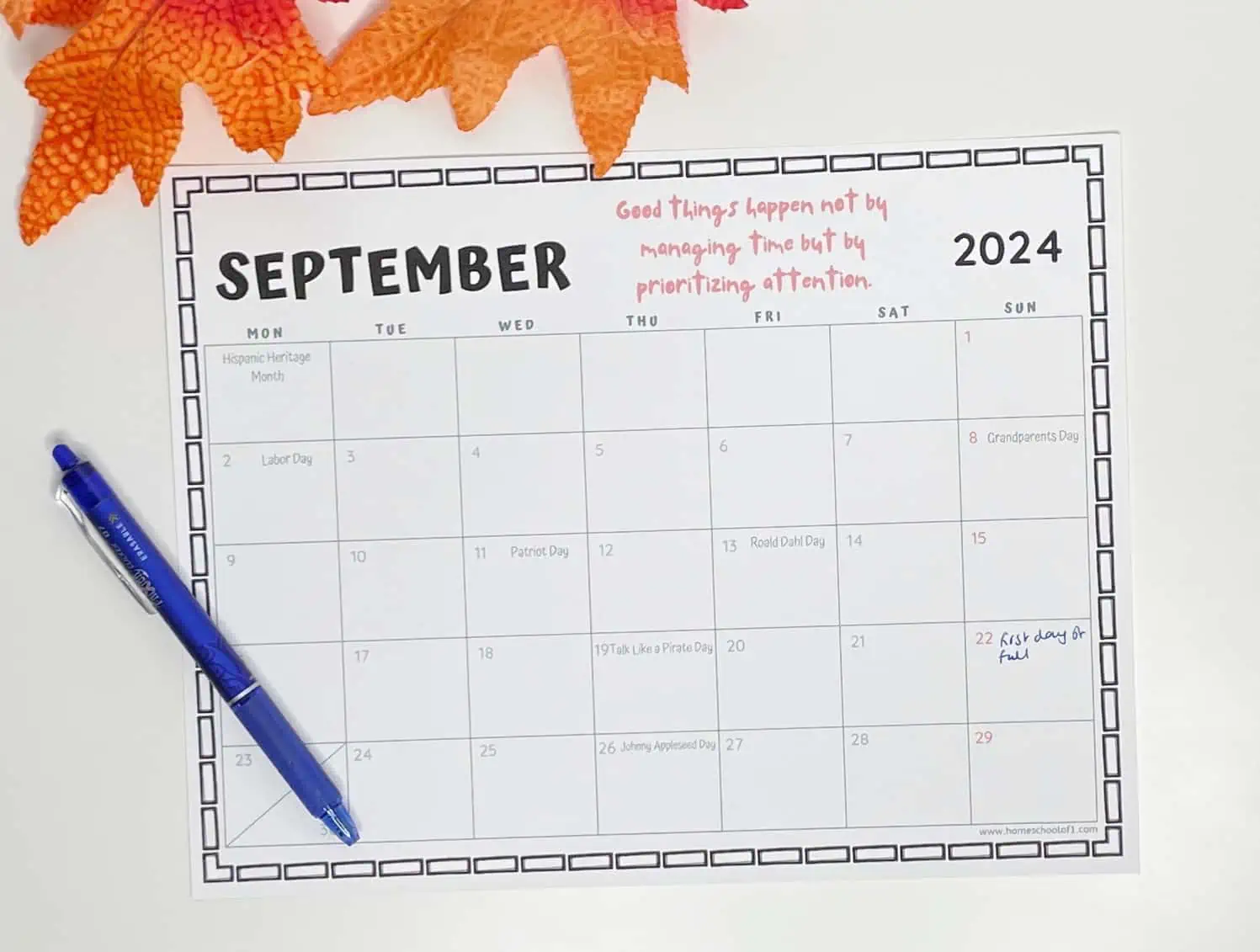 October Holidays
Don't be fooled by the calendar. There are only as many days in the year as you make use of.
November Holidays
Start each day with a positive thought and a grateful heart
December Holidays
Christmas is not as much about opening our presents as opening our hearts.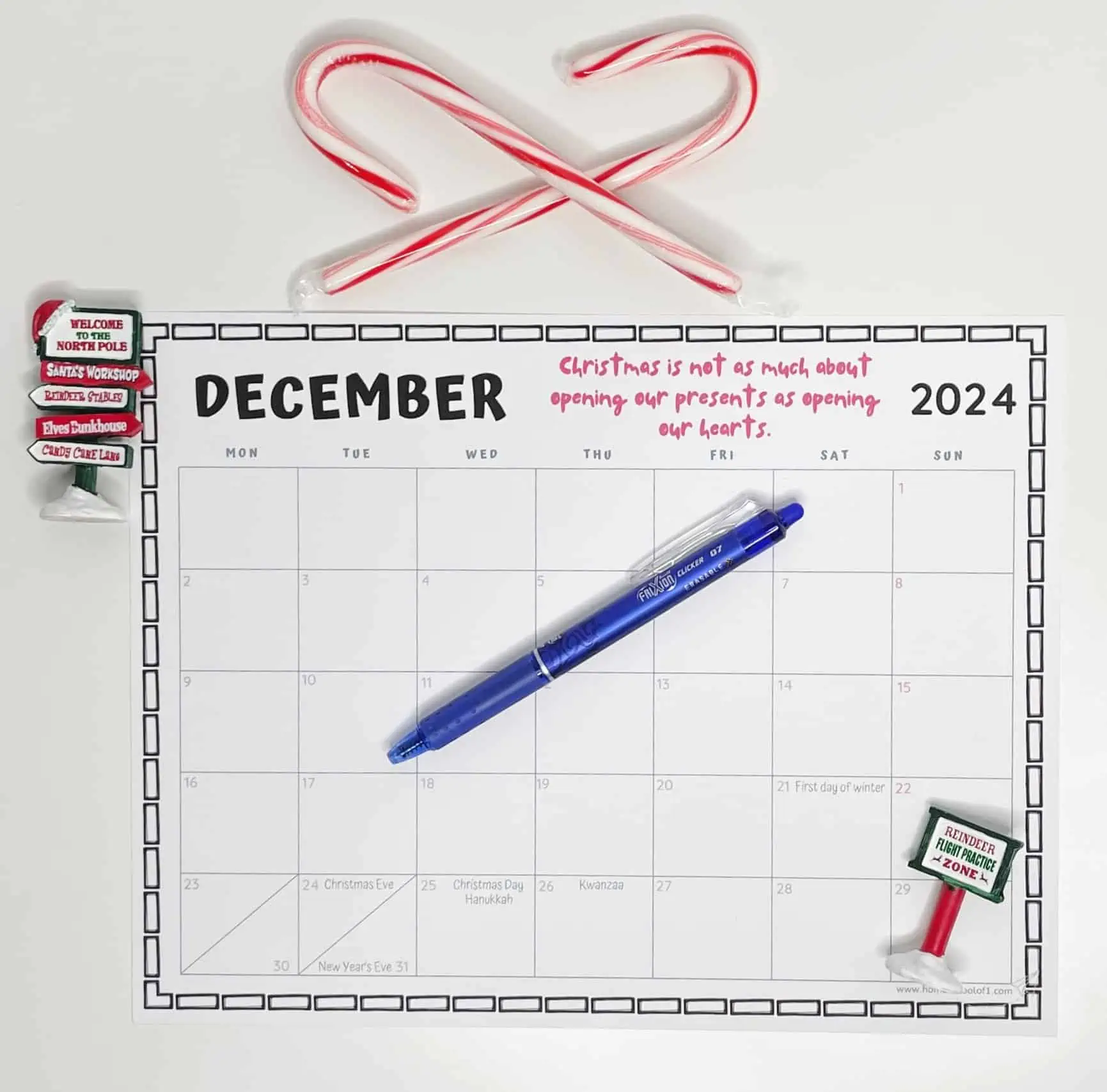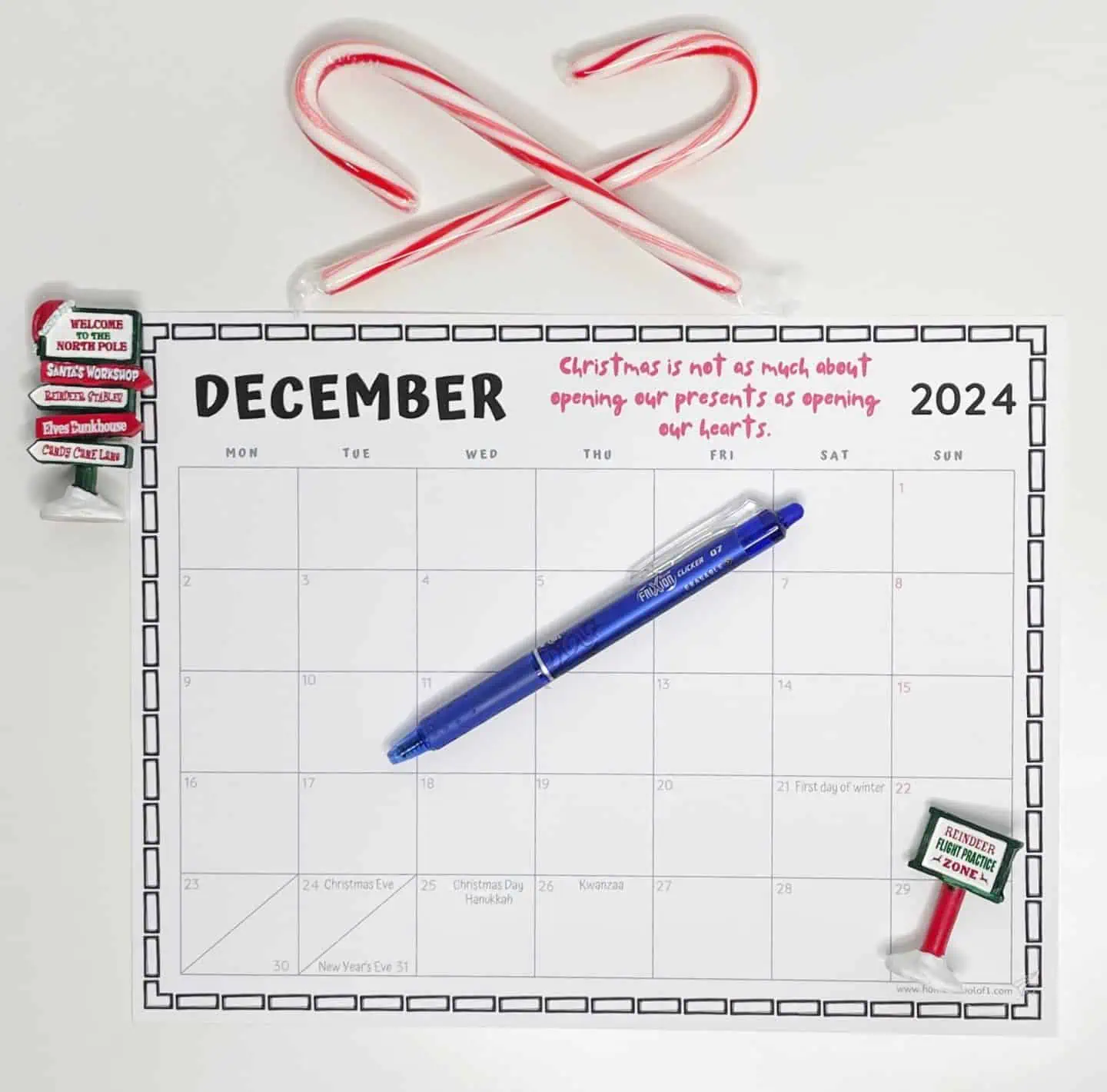 **There may be affiliate links in this post. You can read my full disclosure at the bottom of the page.**
Tips for downloading the free files
Below you will see a large sign-up box where you need to add your name and email address, and press I NEED THIS NOW!
Within minutes you will be sent the free PDF directly to your email address, so you can print it out and start using it immediately.
Sometimes emails get a little wonky, so if you can't see it, please check your spam folder where I am sure it is hiding.
Download the printable monthly calendar 2024 with holidays here
Make sure you choose the correct paper size and click on the shrink to fit button. All of our free printables for kids work better when printed on cardstock (this is the one we use and love.)
If these aren't quite what you are looking for, Etsy has lots of printable monthly calendars too!
Last Updated on 25 November 2023 by homeschoolof1