Best Creative Homeschool Room Ideas for Every Room
Although we homeschool year round, in the summer months I always think about new homeschool room ideas to see if we can improve our setup. We currently have a desk in our son's bedroom and utilize the kitchen table!
There is absolutely no requirement to have an office if you home educate as this can be done just as well from a dining table or a small desk in the bedroom.
If you have a spare room in the house for homeschooling then perfect, but most of us don't. So I have listed different spaces below that are perfect homeschool room ideas for any home.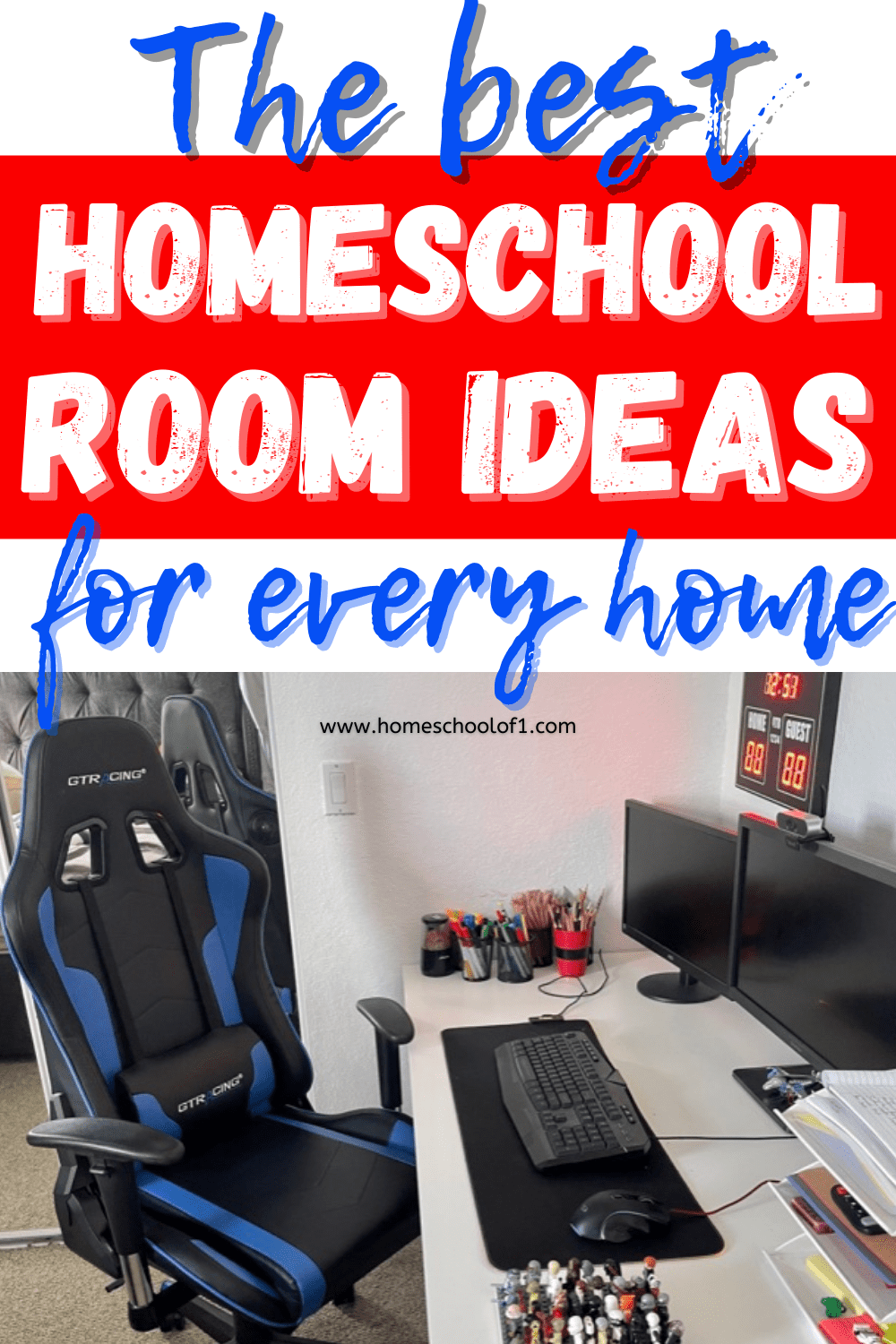 **There may be affiliate links in this post. You can read my full disclosure at the bottom of the page.**
Get the Kids Involved
The one thing we have learned in our years of homeschooling is to get the kids involved!
When we first started the space he used for homeschool looked like a typical classroom. Although it looked cute and colorful it was completely impractical, and actually made him think he was in school.
This was ok when he was younger, but now he is 11 and has been homeschooled for a number of years he wants "full" control of his space. As to be fair he is the one who will be in it.
So we have a desk in his bedroom, where he does all of his online classes and any online curriculum, like Generation Genius. He has a computer, two screens (as he likes to game as well!!), a gaming chair, pen holders and some stacking shelves.
We have put a bookshelf in his closet with his homeschool curriculum in it. He has another bookshelf in his bedroom with his reading books on, check out his favorite book lists.
At the end of this post, I have added links to all the items we have.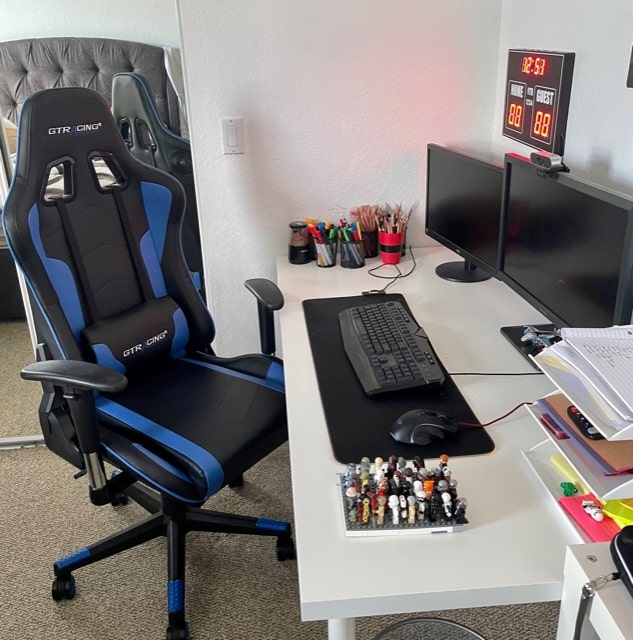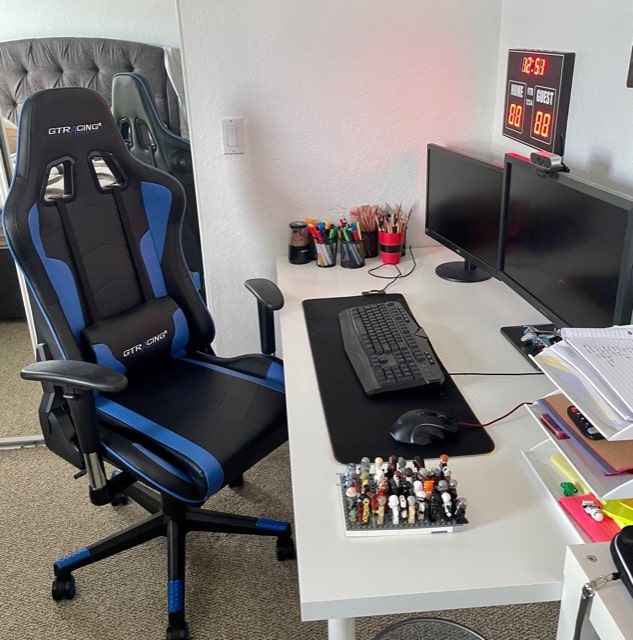 Homeschooling Set Up Ideas
Now as I have already said, you don't need to have a homeschool room at all. Learning happens everywhere, however, if you would like a homeschool room but don't know where to put it in your house, I have some ideas:
Homeschool Bedroom
This for us was the easiest option. He had enough room in his bedroom for a desk and enough room in his closet for a bookshelf. We have a bookshelf in his actual room, but his homeschool curriculum lives in his closet!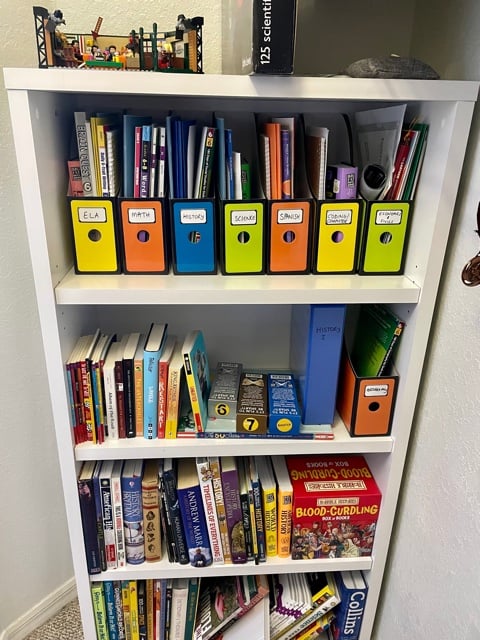 Garage
Is your garage full of rubbish and only used for storage? Well, why not clear it out and set it up as your homeschool room?
Now we live in Florida, so that is just not possible for us, but if you live anywhere else, with a bit of heating this could work really well.
Under Stair Cupboard
Just throw your shoes in your cupboard? Why not create some space and add a small table and some high shelves? This would make for a great little office.
Landing / Hallway
Have you got some spare space here? If so why not add utilize this space and create a great homeschool area?
Laundry Room / Utility room
Can you move your washing machine somewhere else? Maybe in the kitchen or in the garage. If so why not use this space as a small office for your kids?
Kitchen
Although we have a dedicated homeschool room, we spend so much time in the kitchen, we could easily turn this into an office. If you have a dresser or a spare kitchen shelf, why not fill it with art supplies instead?
In fact, all we do is when he is working with his workbooks, he comes and sits at the kitchen table.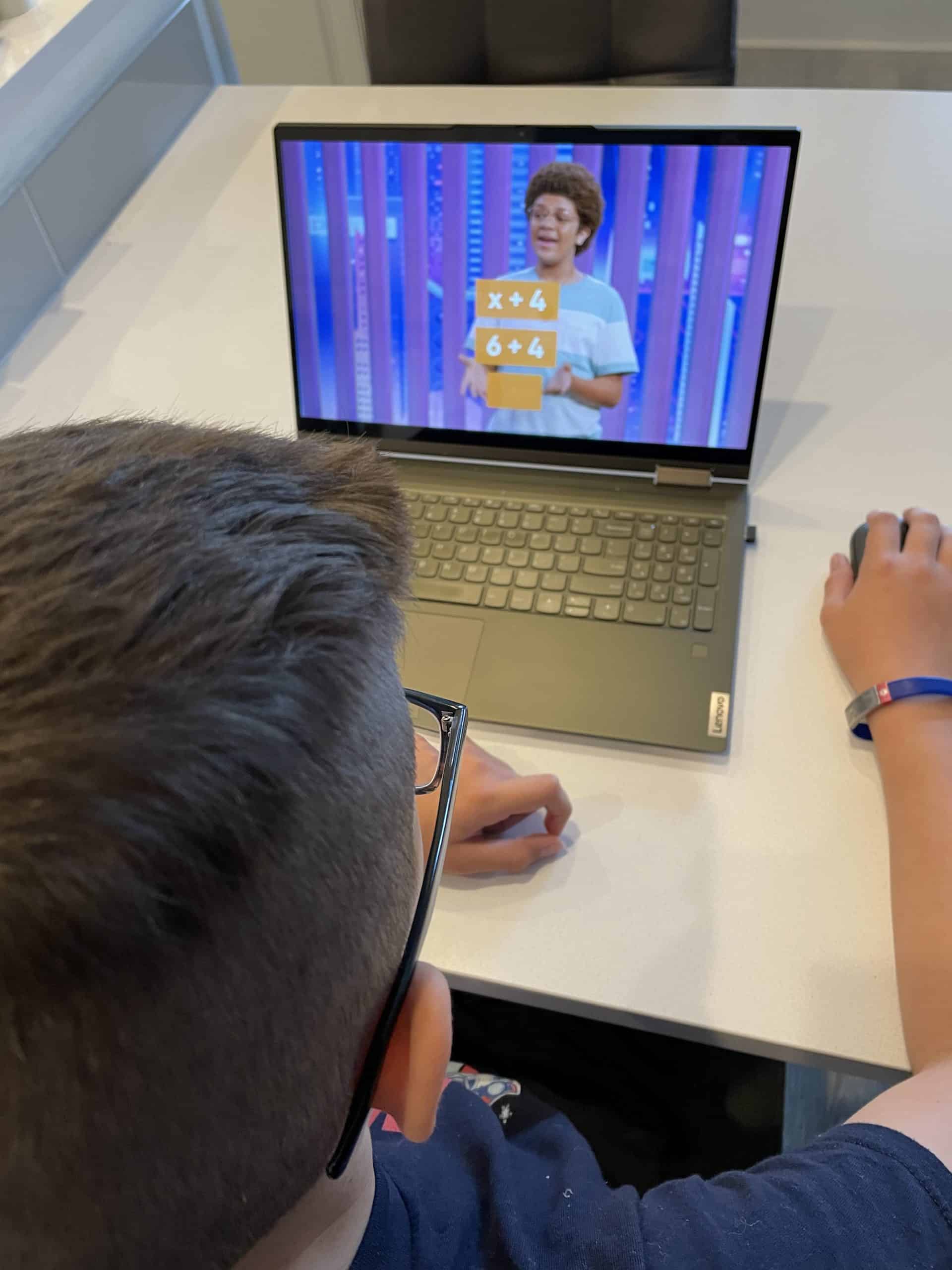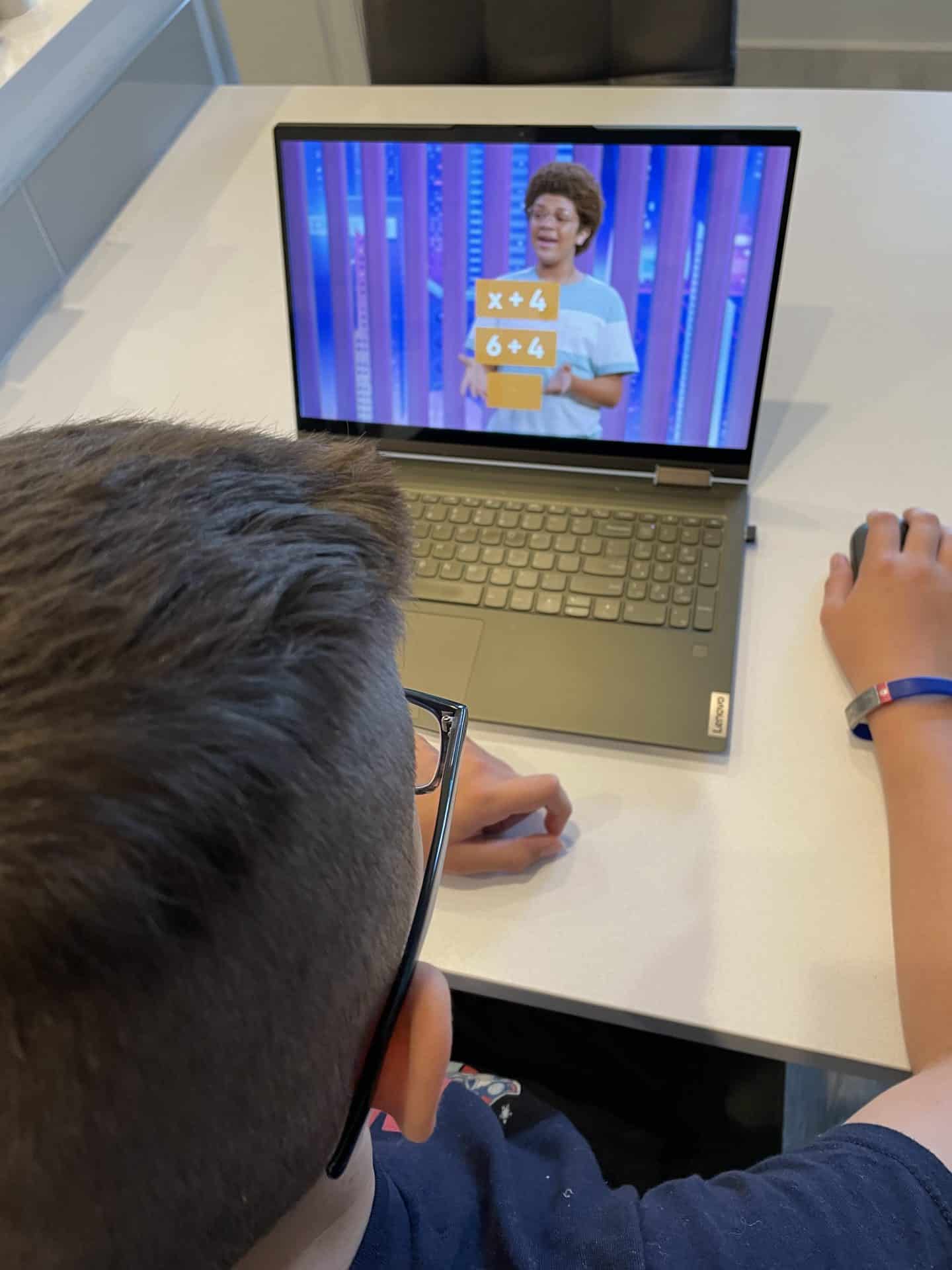 Homeschool Office
If you are lucky enough to have a home office, why not consider adding a table and chair for your homeschooler? The room is already set up as an office, so it could be perfect. I would only suggest this though for older kids!
If you are looking for a secular homeschool curriculum check out our top picks.
Homeschool Bedroom Ideas
These are the things we have added to our homeschool set up to make it more usable every day. I have included everything from where we got our gaming chair to what we have on the walls.
Gaming Chair – Freddie got this for Christmas, so it was a win-win. In fact, a lot of our homeschool room supplies were either birthday or Christmas gifts.
Gaming Mouse – this is awesome and lights up. It is a great addition to his homeschool setup, and he loves it.
Gaming Keyboard this lights up and again he received it for Christmas last year.
Gaming Mouse pad Large – this is so cool, you can either have it on one solid color or multicolored.
We absolutely love traveling and so a map of the world is a must for us.
Cork Board This idea was actually taken from a homeschool mom I am friends with, and it looked so great I copied it! It is a great visual way for Freddie to see the topic we are currently working on. In this case, we had just started looking at Mauritius (as that is where we went on holiday).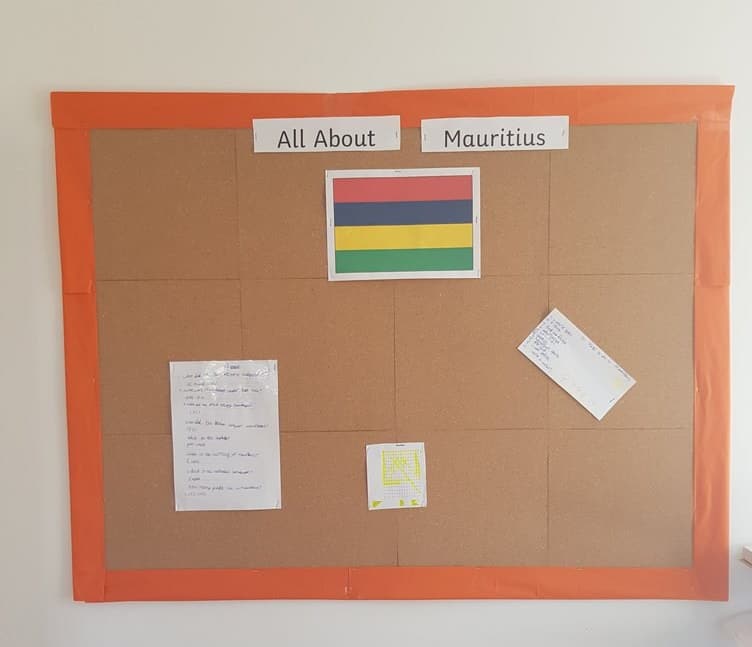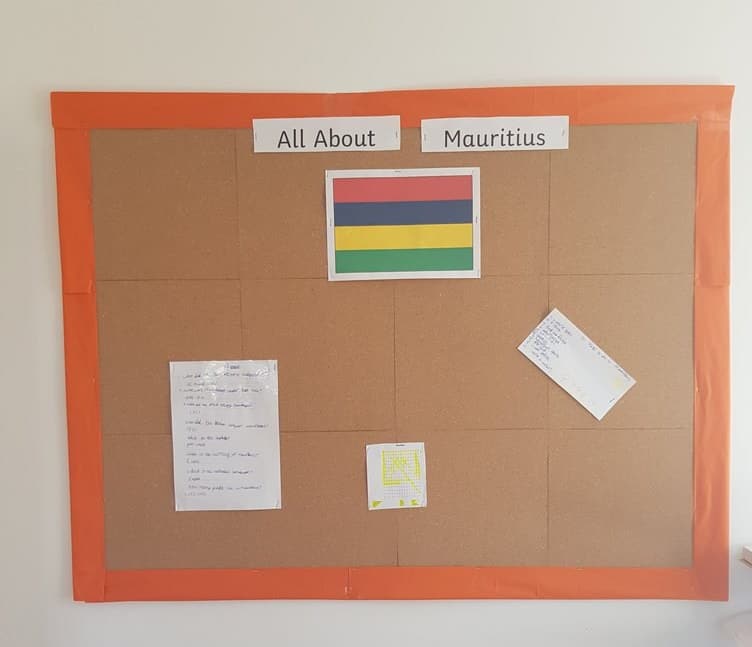 White Board – This I would say is a must, well certainly for us. We use it to plan what topics we are going to cover in the week. We have also started using it to show what we might be doing in the day. It is a great visual reminder of what we have planned. Chalk markers work great on whiteboards too, check out our best chalk marker ideas the kids will love this summer.
If you have watched the film Gifted you will know what the Trachtenberg method is, and I am hoping to try and teach it to Freddie. His favorite subject is math, so wish me luck!!!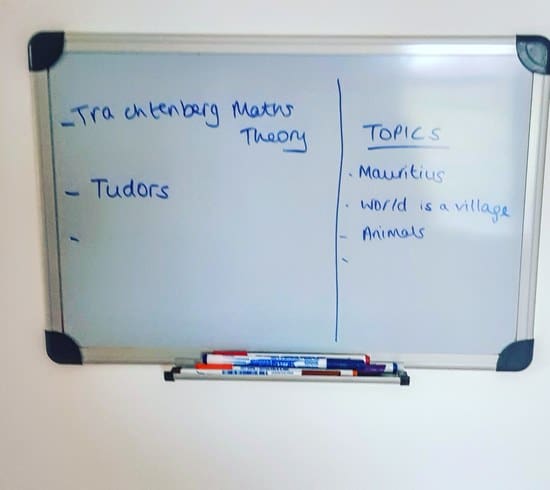 What homeschool room ideas do you have? Let me know in the comments, I'm always looking for new suggestions.
Last Updated on 22 January 2023 by homeschoolof1