Free Letter R Worksheets for Preschool
Letter r worksheets for preschool are a fantastic way to engage kids as they learn the alphabet.
These fun and educational alphabet preschool worksheets provide an excellent introduction to the letter R, allowing children to practice recognition, tracing, and writing.
From rainbows to reindeer, these worksheets offer a variety of activities that enhance fine motor skills and early literacy.
By incorporating letter R worksheets for preschool into your curriculum, you can create an enjoyable learning experience for kids. Helping them develop essential skills while having fun.
**There may be affiliate links in this post. You can read my full disclosure at the bottom of the page.**
Letter R Worksheet
This free printable letter R coloring page is a fantastic way for preschoolers to learn about the letter R. It features an uppercase R to color, along with images starting with R.
It's not only a creative activity but also a valuable educational tool.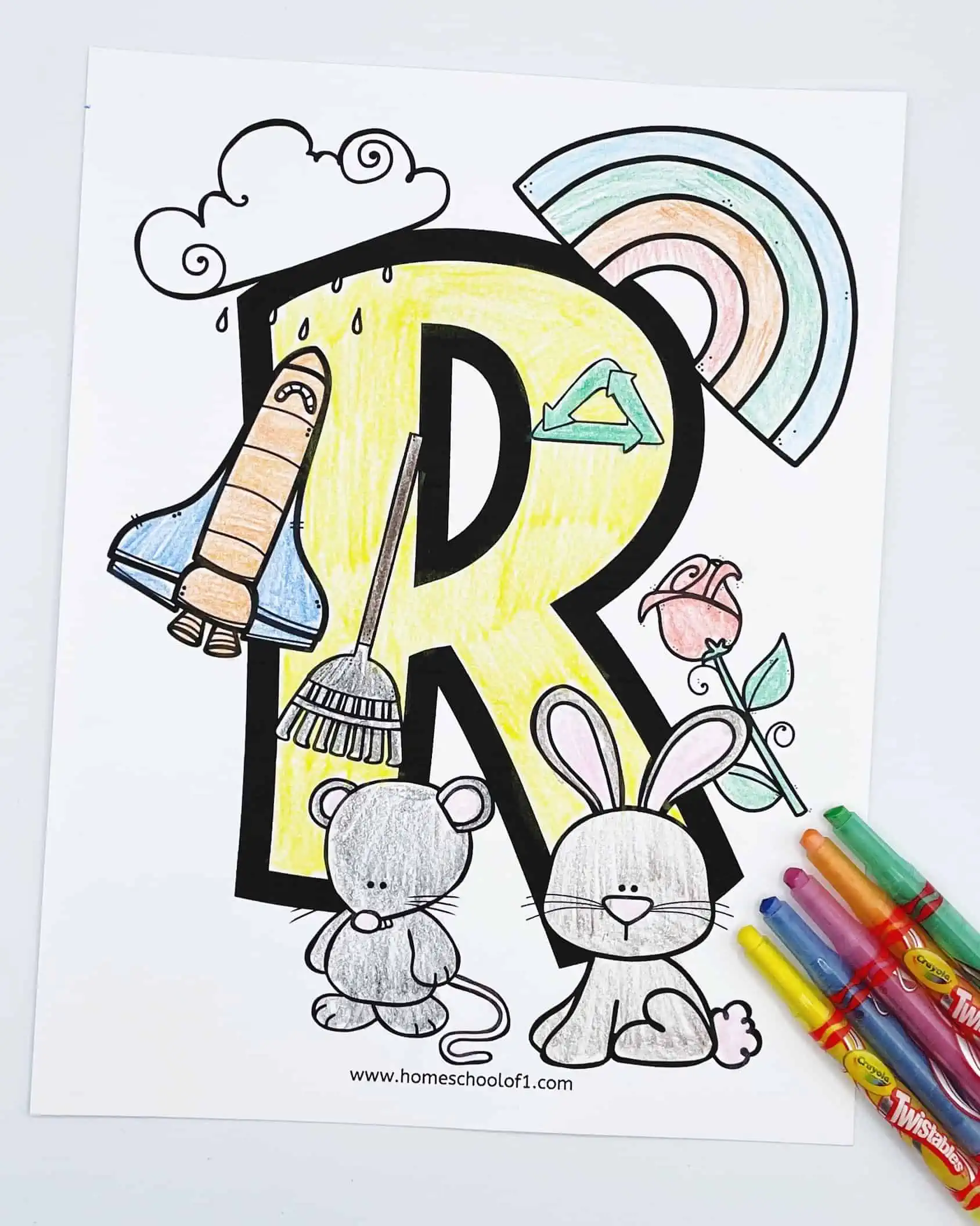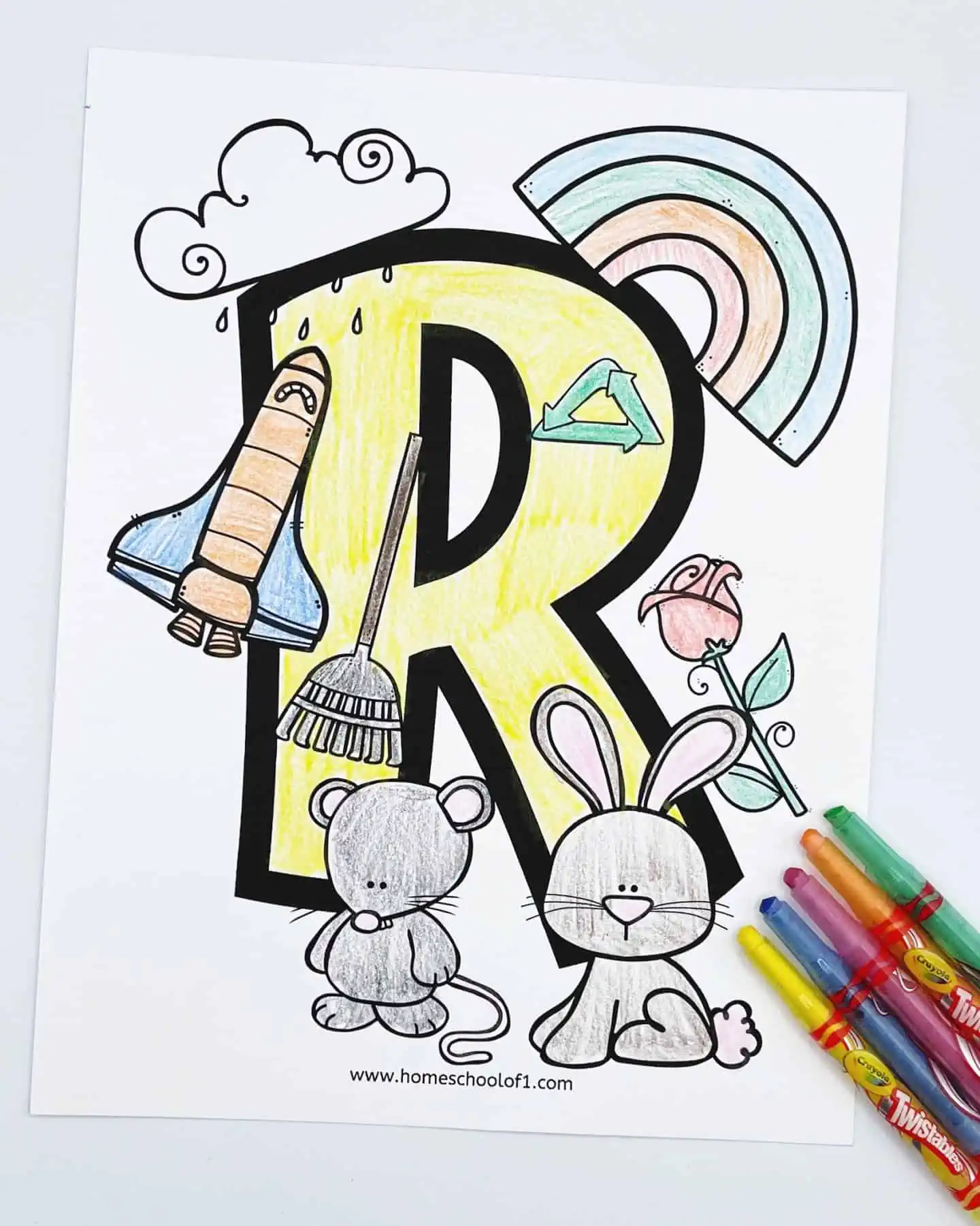 AlphaTales Box Set: A Set of 26 Irresistible Animal Storybooks That Build Phonemic Awareness & Teach Each letter of the Alphabet
School Zone – Alphabet Workbook – 64 Pages, Ages 3 to 5, Preschool, ABC's, Letters, Tracing, Alphabetical Order, and More (School Zone Get Ready!™ Book Series)
Crayola Preschool Workbooks Set — 5 Pre-K Learning Workbooks for Preschoolers and Reward Stickers (Alphabet, Counting, Colors, Shapes and More) (Preschool Set)
The Alphabet Book (Bright & Early Board Books(TM))
Eating the Alphabet
Chicka Chicka Boom Boom
R is for rabbit worksheets
Embark on an educational adventure with our parts of a rabbit worksheet. Designed for young learners, this free printable science resource introduces kids to the fascinating world of rabbits. The worksheet highlights six crucial parts of a rabbit: forelegs, body, tail, eyes, hindlegs, and whiskers.
Choose from three different activities, including labeling, writing, or matching, to engage your students. Additionally, a black and white rabbit illustration is included for coloring creativity.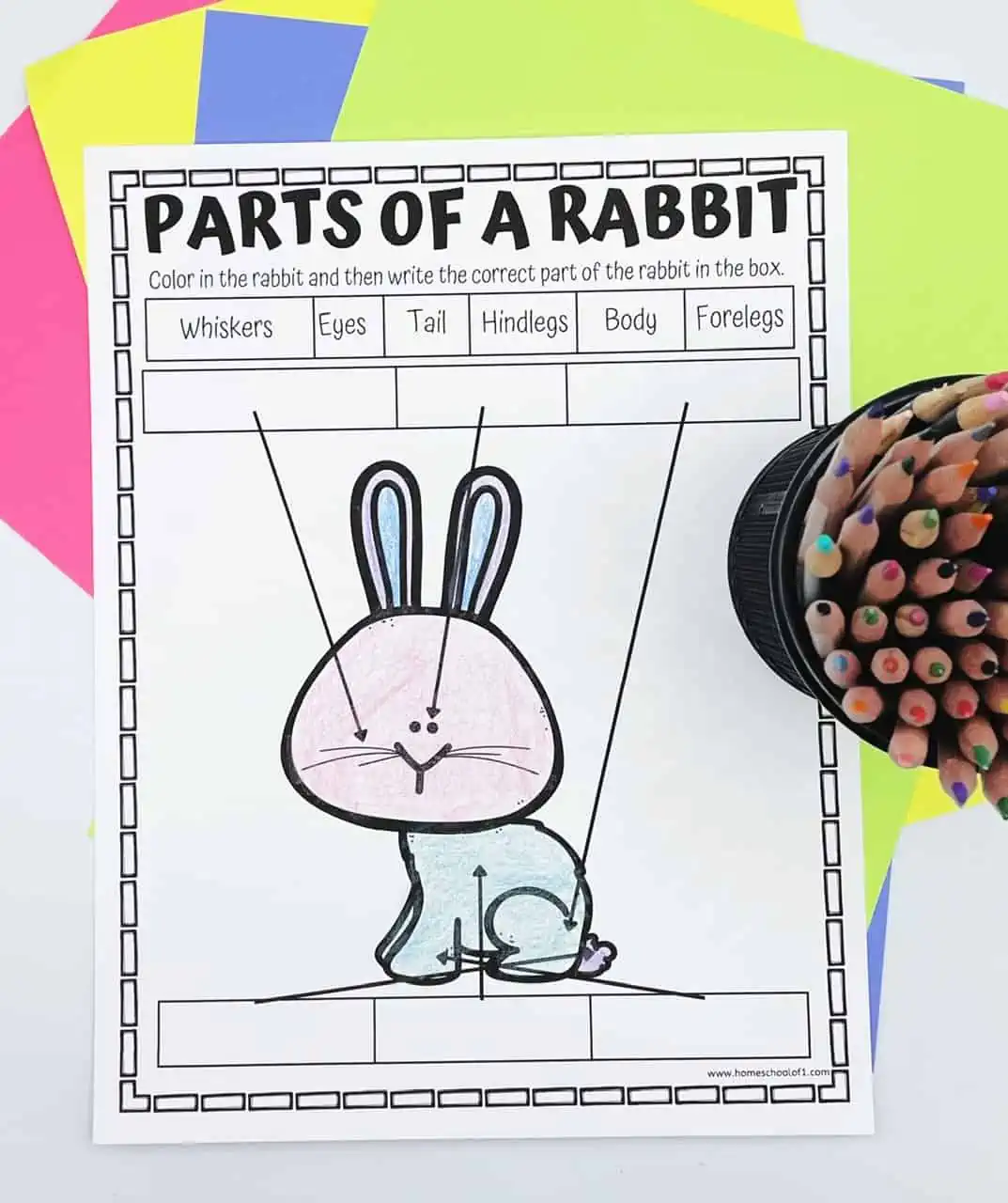 Explore the world of the letter R and adorable rabbits with our free R is for rabbit handprint craft. It's a delightful and educational activity for preschoolers. Let your kids get creative and messy with paint as they create their rabbit handprints.
R is for reindeer worksheets
Elevate your holiday season with free reindeer worksheets for preschoolers. These engaging printables are perfect for homeschooling, pre-kindergarten, and kindergarten students.
With a focus on literacy, counting, and the alphabet, these six worksheets offer fun learning opportunities. Children can enjoy coloring and developing fine motor skills, practice letter recognition and letter sounds, and improve counting abilities. Plus practice writing the uppercase letter and lowercase letter.
There's even a delightful reindeer color by number activity to spread festive cheer.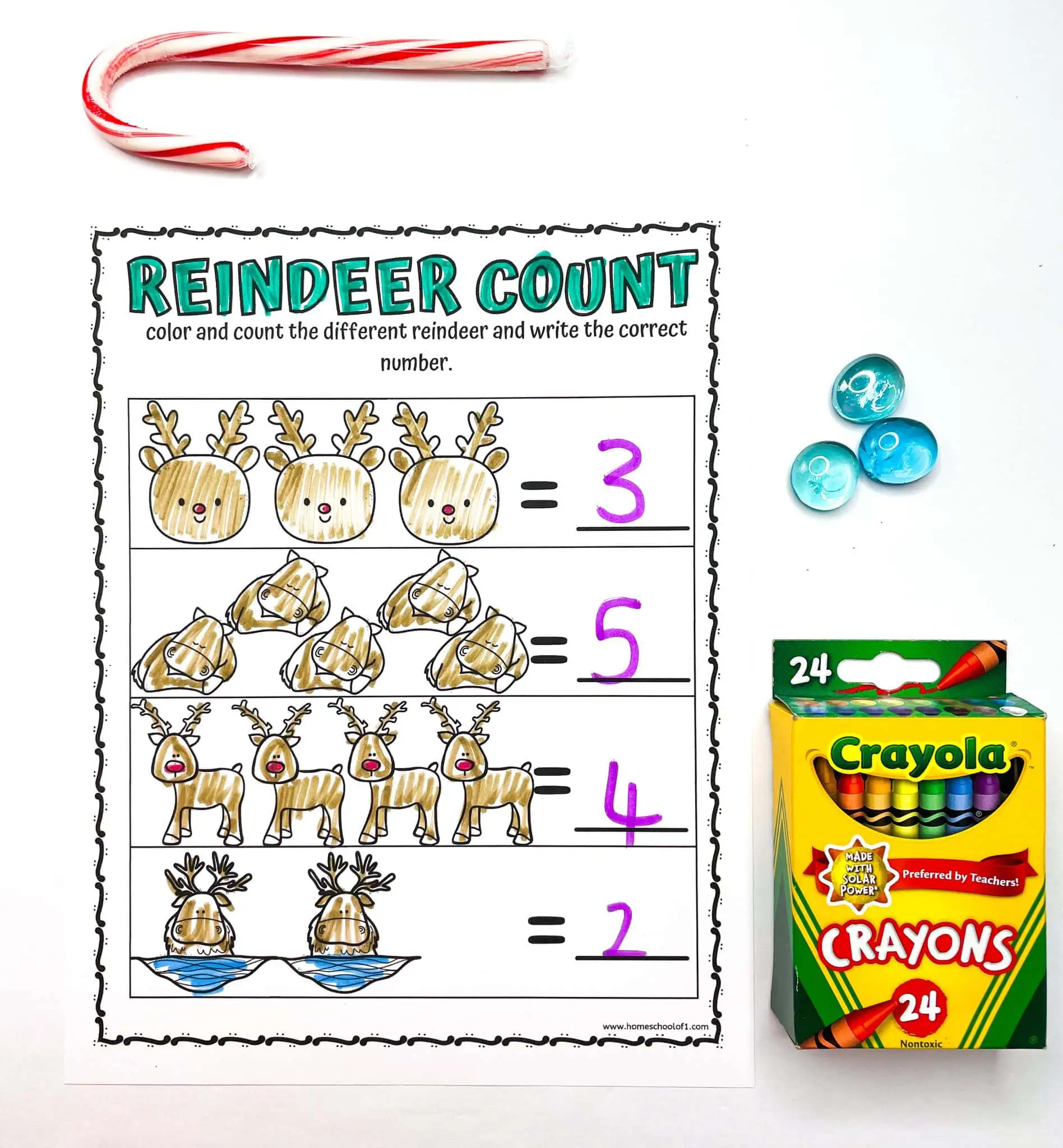 Embark on a learning adventure with our parts of a reindeer worksheet.
This free printable science resource introduces curious minds to the fascinating world of reindeer.
The worksheet delves into the essential components of reindeer anatomy, including their ears, antlers, muzzle, tail, legs, and hooves.
Children can choose from three different activities, which involve labeling, writing, or matching the parts. To add a creative touch, a black and white reindeer illustration is included for coloring.
Add enchantment to your Christmas Eve night with our free reindeer food printable. Let children create their own special blend of oats and glitter to leave out on Christmas Eve, ensuring a magical visit from Santa's reindeer.
The sparkle in the reindeer food makes it visible to the flying reindeer as they pass over your home. You can add this magical reindeer food to your Christmas Eve box or sprinkle it on the lawn.
Making it is a breeze with oats, sprinkles, and edible glitter. Just mix everything together, and you're ready to make Christmas Eve even more enchanting.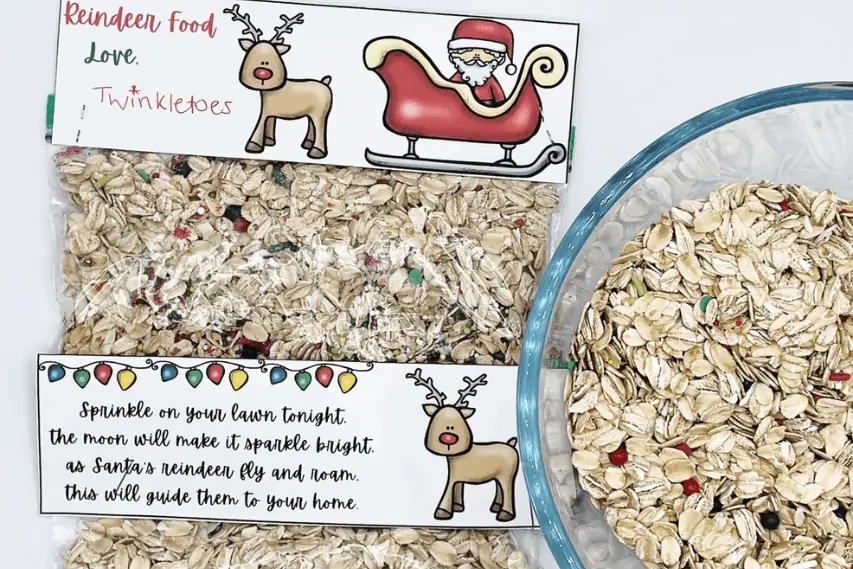 Have some fun with our reindeer scavenger hunt clues too!
Unwrap the magic of the holiday season with the Reindeer and Rudolph activities. This free resource is designed to engage your little ones in a range of pre-writing, scissor skills, letter recognition, and coloring activities.
All centered around the beloved Rudolph the Red-Nosed Reindeer. The pack offers hours of fun and learning for toddlers and early preschoolers.
R is for rocket worksheets
Embark on an intergalactic adventure with free rocket coloring pages for kids.
Along with the fun of coloring, discover some fascinating rocket facts, like rockets powered by gunpowder before 1926 and their incredible speeds. Let your imagination soar as you color rockets and create your own space-themed designs.
Enhance your children's number skills with free printable rocket counting worksheets. If you're working on counting skills with your little ones, these worksheets are a fun and engaging way to help them practice.
The space-themed activity sheets offer opportunities for coloring, tracing, and writing numbers from 1 to 10.
Books about the letter R
Have fun learning more about the letter r with our favorite preschool books:
Rainbow: Ready-to-Read Level 1 (Weather Ready-to-Reads)
The Rainbow Fish
Pete the Cat: Robo-Pete
National Geographic Readers: Robots
How to Catch a Reindeer
The Rabbit Listened
Robots, Robots Everywhere! Is a captivating picture book that takes young readers on a robotic adventure through a world filled with mechanized wonders.
The Rabbit Listened. Is a compassionate and heartwarming story that unfolds as a young child learns the power of empathy and listening when faced with a problem.
How to Catch a Reindeer invites children on a delightful holiday quest, as they follow inventive traps and plans designed to catch Santa's reindeer.
How the Crayons Saved the Rainbow tells the tale of a young boy. A fading rainbow, and the magic of crayons, demonstrating the power of creativity and imagination.
Additional Letter R worksheets
Letter R tracing worksheets from Homeschool Preschool
My Letter R book from 3 Boys and a Dog
Rainbow Roll and Cover from Darcy & Brian
Last Updated on 10 November 2023 by homeschoolof1