Free Letter R Coloring Page & Worksheets For Preschoolers
Are you learning about the letter R with the kids? If so you are going to love our free letter R coloring page.
This is a really fun letter coloring page as the kids will color in the uppercase letter R, plus images beginning with the letter R.
I am also sharing all of our free worksheets that begin with the letter R so you can continue your study of the letter R.
This is such a fun way to learn the alphabet. When you have finished all of the alphabet coloring pages why not add them to their bedroom wall so they have a constant reminder?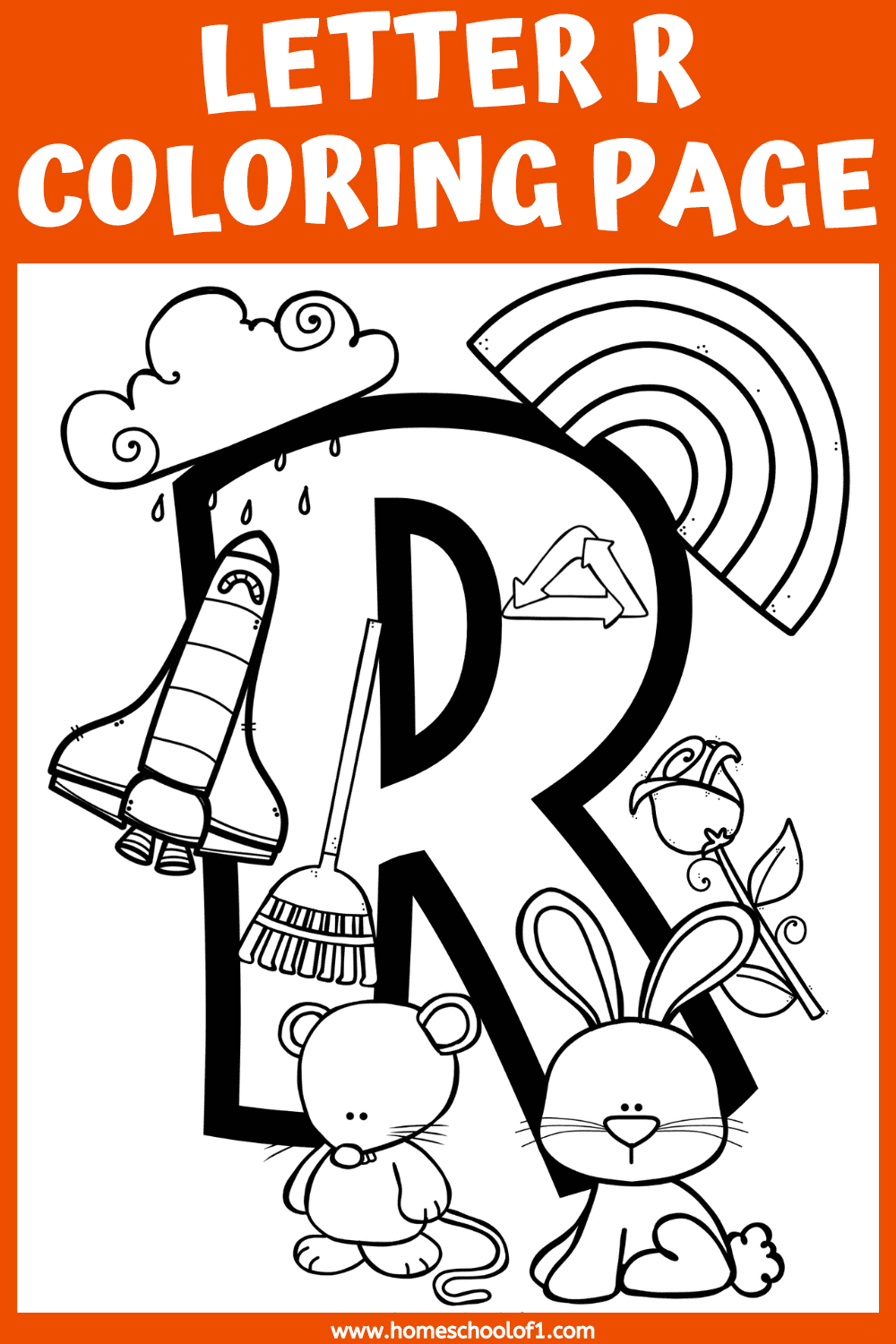 **There may be affiliate links in this post. You can read my full disclosure at the bottom of the page.**
Letter R Coloring Sheet
This free printable for kids is aimed at preschoolers and above and is a great fun way to learn about the letter R.
This is such an easy and fun way to learn the alphabet letter R.
Kids love being creative and coloring in these letters. It's so much fun allowing the kids to be creative while learning.
Print out the letter R and when the kids have colored it in add it to their bedroom or classroom wall.
This free letter R coloring page is free to print but is for personal or classroom use only. Scroll to the bottom of the page to get the pdf file.
Included in the letter R coloring page are these images all beginning with R:
R is for rainbow
R is for rabbit
R is for rose
R is for rocket
R is for rain
R is for rat
R is for rake
R is for recycling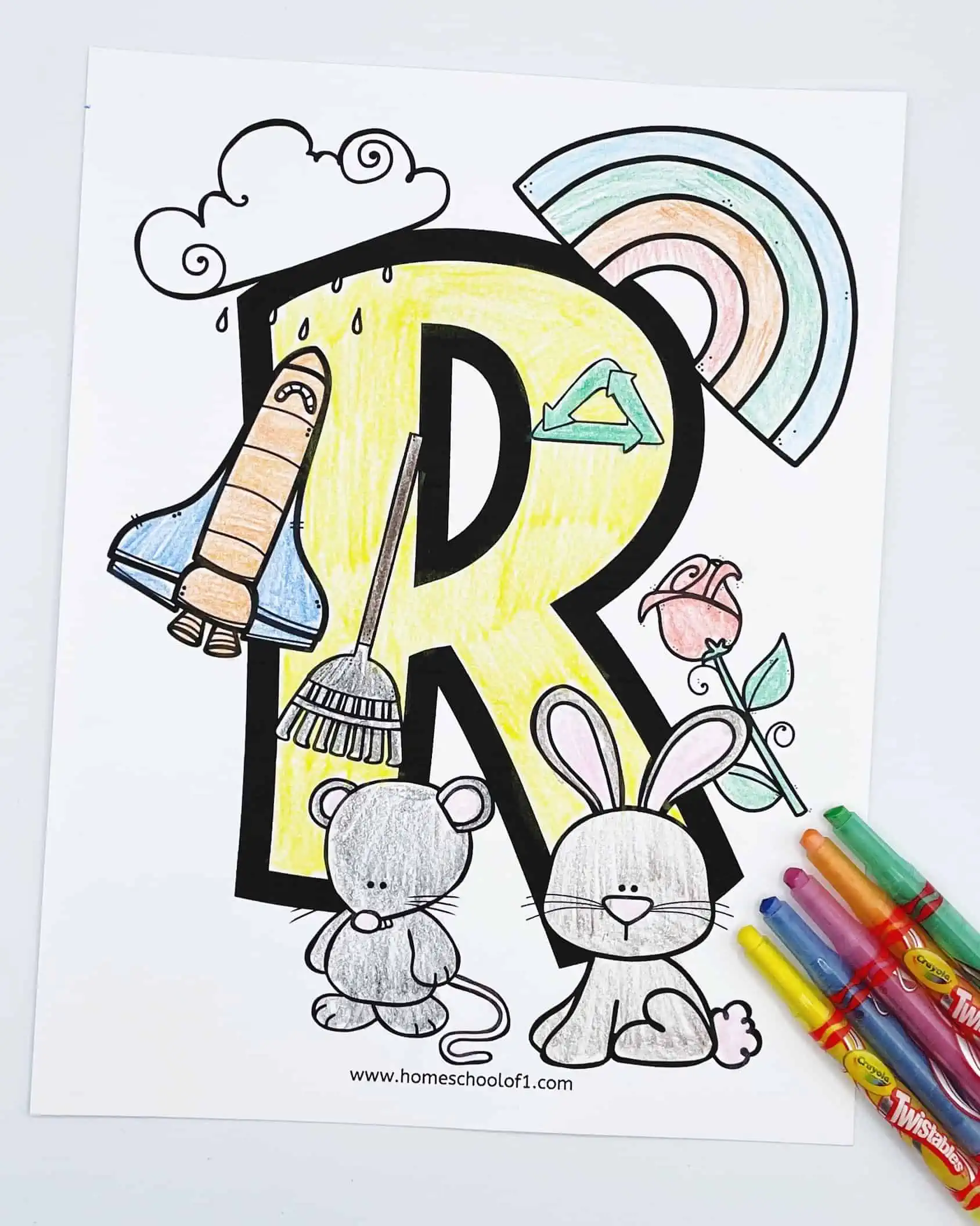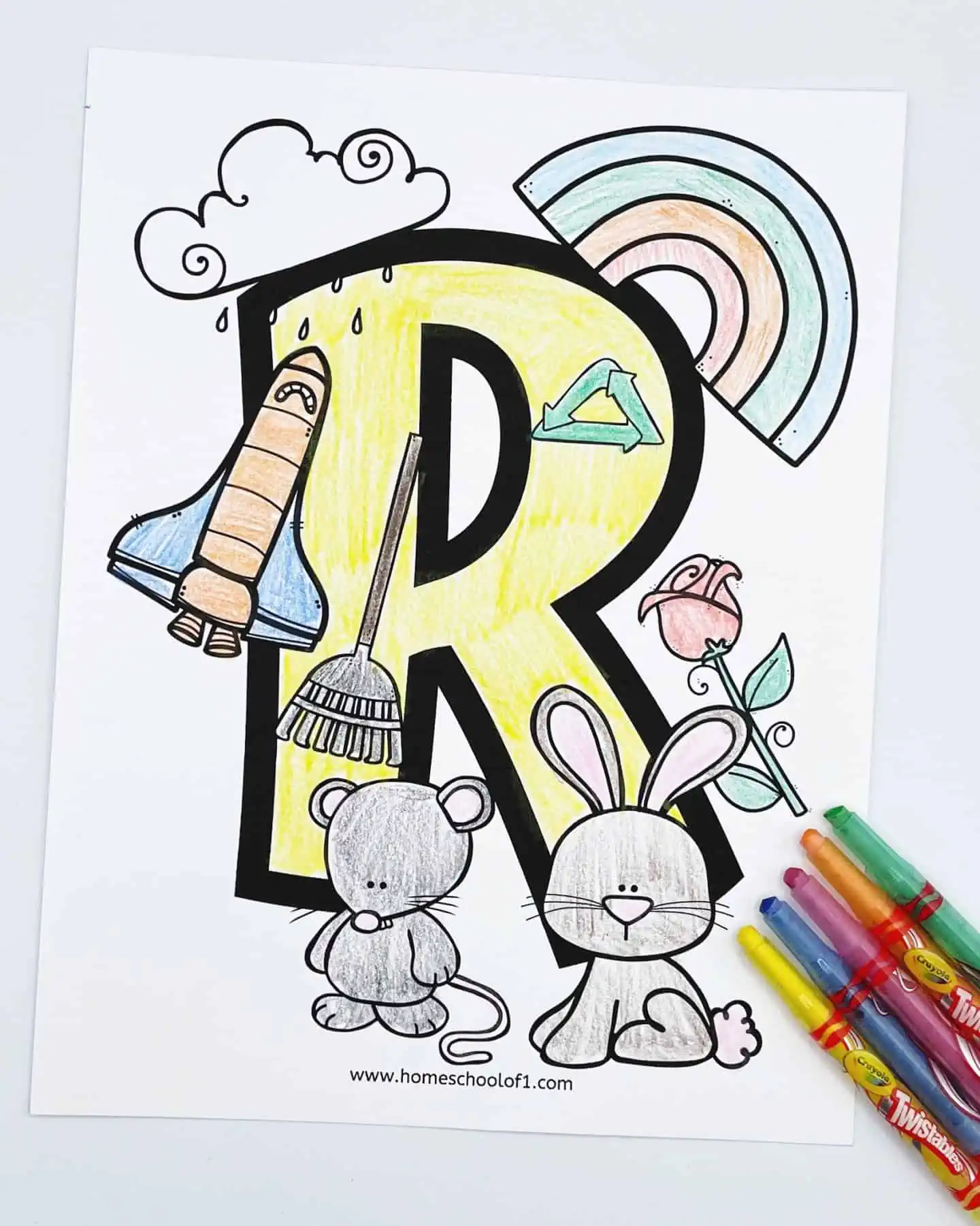 How to use the letter R coloring page
Print out the template below, it will print out on one full page. Make sure to check the printer settings.
As there are so many things to color in try and get the kids to use lots and lots of different colors. It will make it stand out so much more.
The most important thing though is just to have fun!
Chicka Chicka ABC
AlphaOops!: The Day Z Went First
I Spy Letters
Eating the Alphabet
School Zone – Get Ready Flash Cards Alphabet & Numbers 2 Pack – Ages 4 to 6, Preschool to Kindergarten, ABCs, Uppercase and Lowercase Letters, Numbers 1-100, Counting, and More
Briarpatch |The World of Eric Carle ABC/123 2-Sided Floor Puzzle, Multi
Why use a letter R coloring page with your preschoolers?
Using a letter R coloring page with your preschoolers offers several benefits. It helps them become familiar with the letter R and reinforces their letter recognition skills.
Coloring also enhances fine motor skills as they grip the crayons and carefully fill in the shapes. Additionally, it sparks their creativity and imagination, allowing them to choose their favorite colors and personalize their letter R artwork.
It's a fun and interactive way to engage preschoolers in letter learning and make it an enjoyable experience.
Printables Beginning with the Letter R
For even more letter R worksheets that I know you are going to love:
But if you are looking for some hands-on fun, doing a letter R craft is a great idea.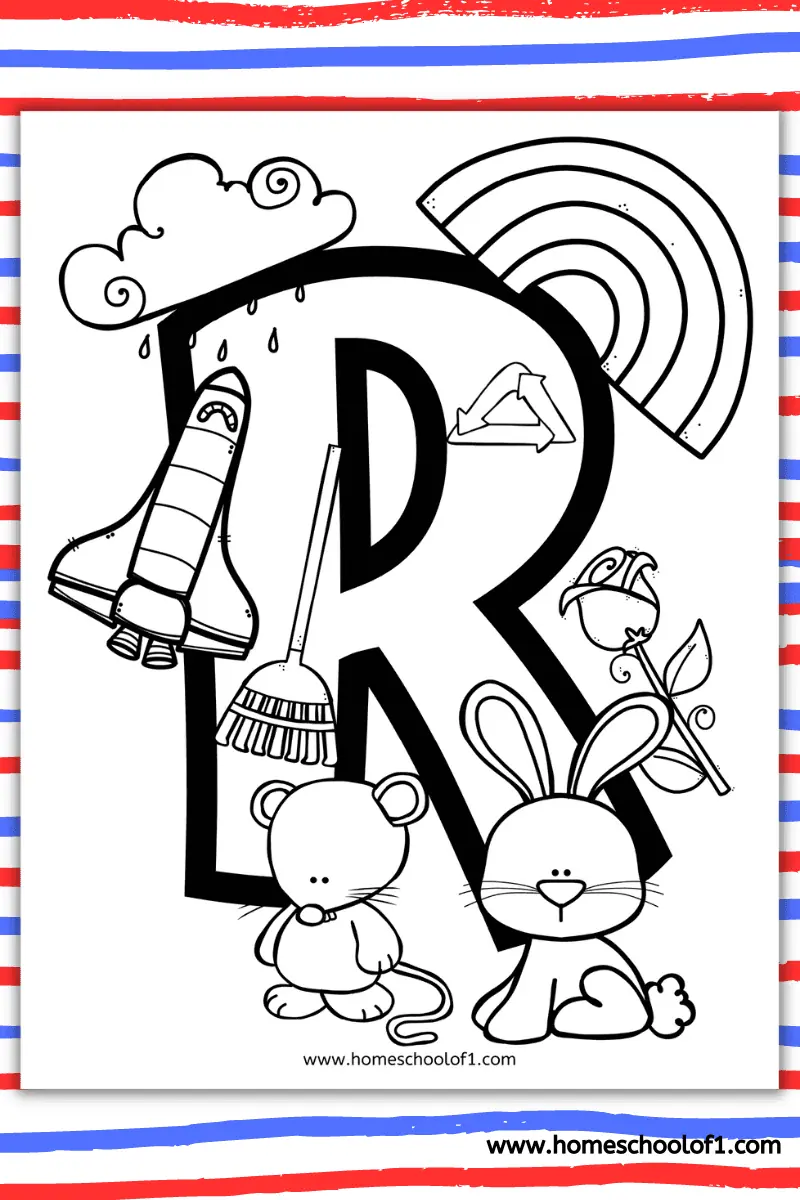 Letter r books for preschoolers
These letter R books captivate young readers with engaging stories, colorful illustrations, and valuable life lessons.
They promote early literacy skills, expand vocabulary, and spark imagination in preschoolers. Enjoy exploring these books together and watch their love for reading grow!
Rosie's Walk: Join Rosie the hen on her adventurous walk around the farm while a sneaky fox tries to follow her. This humorous and engaging book introduces preschoolers to prepositions, sequencing, and farm animals.
The Rainbow Fish: Dive into the shimmering ocean with the Rainbow Fish as he learns the value of sharing and friendship. This beautifully illustrated book teaches preschoolers about kindness, generosity, and embracing their unique qualities.
Rumble in the Jungle: Explore the vibrant world of the jungle through rhythmic rhymes and lively illustrations. This book introduces preschoolers to a variety of animals and engages them in an interactive reading experience.
Download the free letter R coloring worksheet
If you want to grab all of the letters of the alphabet in one place, you can purchase them here for a small fee. Or for a massively discounted price grab these handprint alphabet printables along with our new alphabet handprints in our 52-page bundle.
Make sure you choose the correct paper size and click on the shrink to fit button. All of our free printables for kids work better when printed on cardstock (this is the one we use and love.)
Last Updated on 17 September 2023 by homeschoolof1