First Day of Homeschool Scavenger Hunt (for schools too!)
The first day of school should be fun! The kids have had a much-needed break, so let's ease them back gently to homeschool (or school) with our free homeschool scavenger hunt.
On the first day back after summer we like to have fun. These first day of homeschool printables are a great way to set a positive tone for the start of our year.
So the evening before the first day of school I will hide all of the stationery around the house.
Or if I am really feeling lazy I will use it as an excuse for the kids to find the old stationery and put it away! I've done this more than once!
This is such a nice and fun way to start back to school, and the children will look forward to it every year.
As we are year-round homeschoolers if we have a break of 2 weeks or more we always start back with this game!
Even in middle school, and I imagine it will continue even into the high school years. It's just our little tradition, that he loves.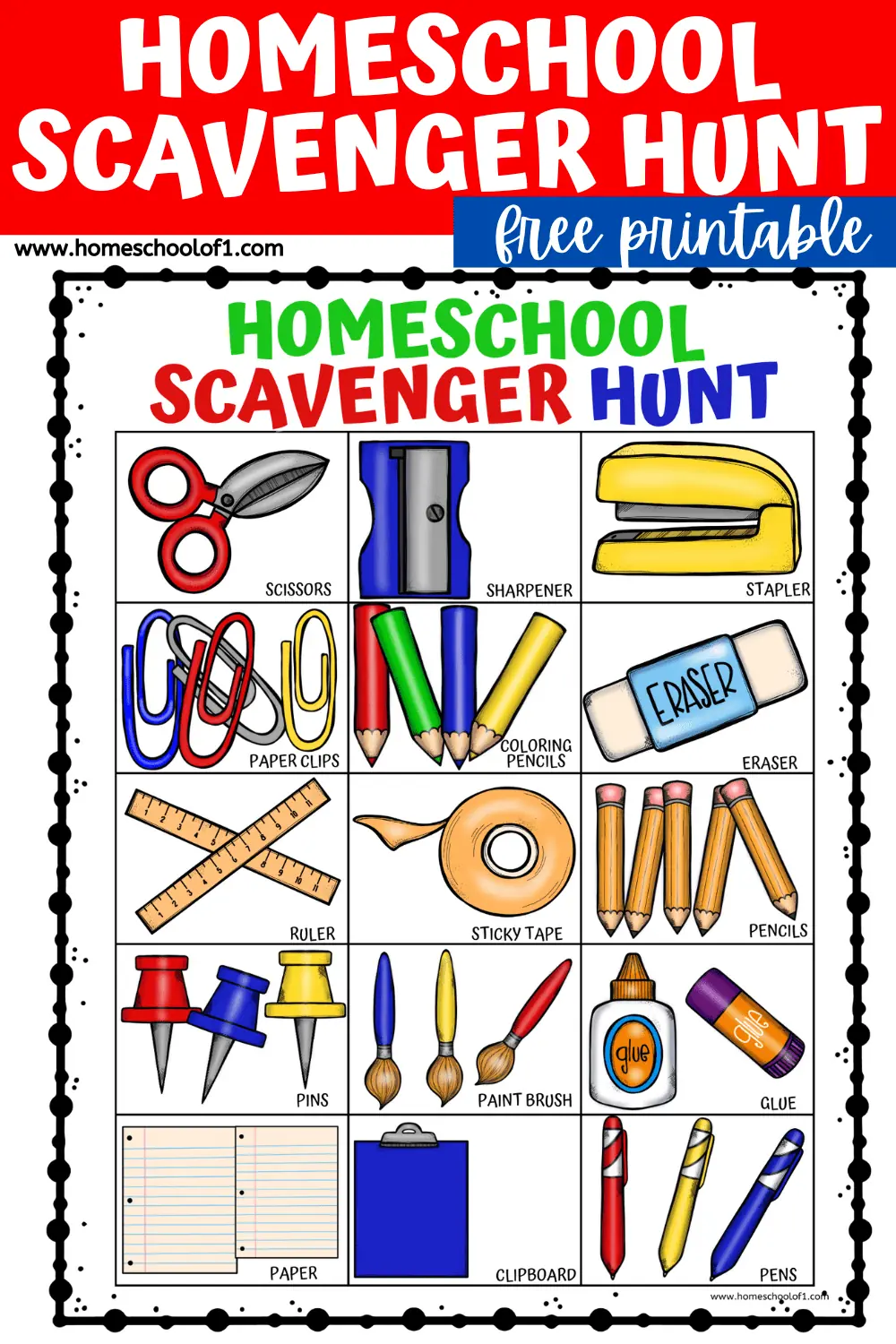 **There may be affiliate links in this post. You can read my full disclosure at the bottom of the page.**
Back to Homeschool Scavenger Hunt
This is such a great way to start the new year, the 1st day of school should be fun. This is aimed at younger kids, but trust me when I say older kids enjoy it too!
This scavenger hunt printable can be used by homeschoolers and teachers, as there are two versions.
How to download the free printable scavenger hunt?
Download the printable stationery hunt below. There are 2 pages, one for homeschooling and one for school. Just print out the one you want. Make sure to check the printer settings.
This free printable stationery scavenger hunt is free to print but is for personal and classroom use only. Scroll to the bottom of the page and add your email address to get the pdf file.
How to play the indoor scavenger hunt?
There are two ways you can play this game, the organized or the not-so-organized way! And both work really well!
The first way involves you hiding your very organized stationery so the kids can put it back in its place.
The second way is perfect for homes that are not quite so organized!
Get the kids to run around the house to find all of these homeschool supplies and put them away where they should belong!
Normally I have a really organized and tidy house, but this year I have definitely let the housework take a back seat. So this year we are definitely playing the cleaning way!
It's no less fun for the kids, and so much easier for you!!
We love this storage clipboard and use it for all of our hunts.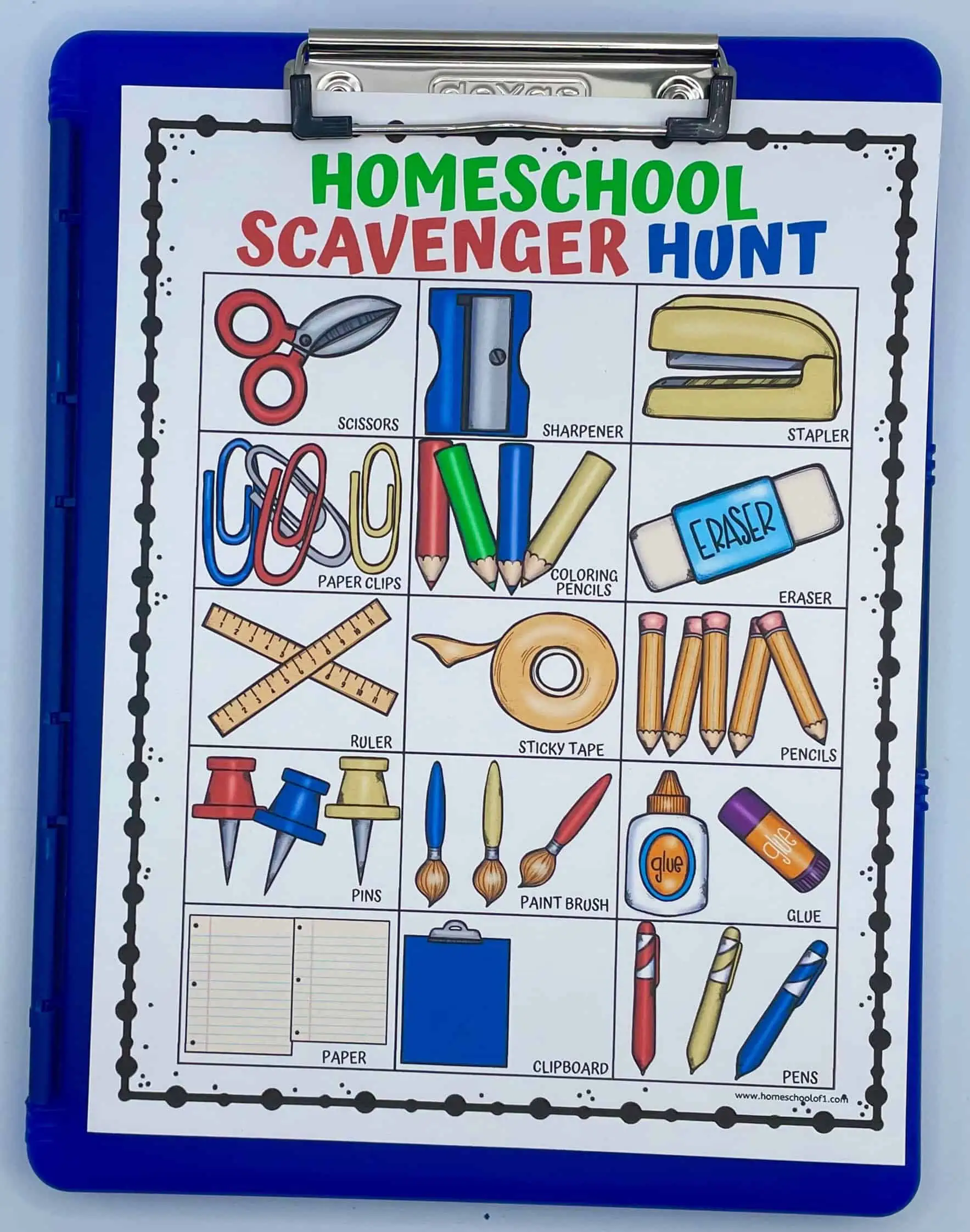 These are the items they need to find and bring to you (or put away!) to get their back to school gifts for homeschoolers (check out our favorite gifts).
The gift could even be one of these items.
Scissors
Sharpener
Stapler
Paper clips
Coloring pencils
Eraser
Ruler
Sticky Tape
Pencils
Pins
Paintbrush
Glue
Paper
Clipboard
Pens
First day of school scavenger hunt
This is very similar to the homeschool hunt but has been adapted so teachers can enjoy this in their classrooms.
The only differences are instead of a clipboard the students need to find a school bag. Instead of pens, the young kids need to find crayons.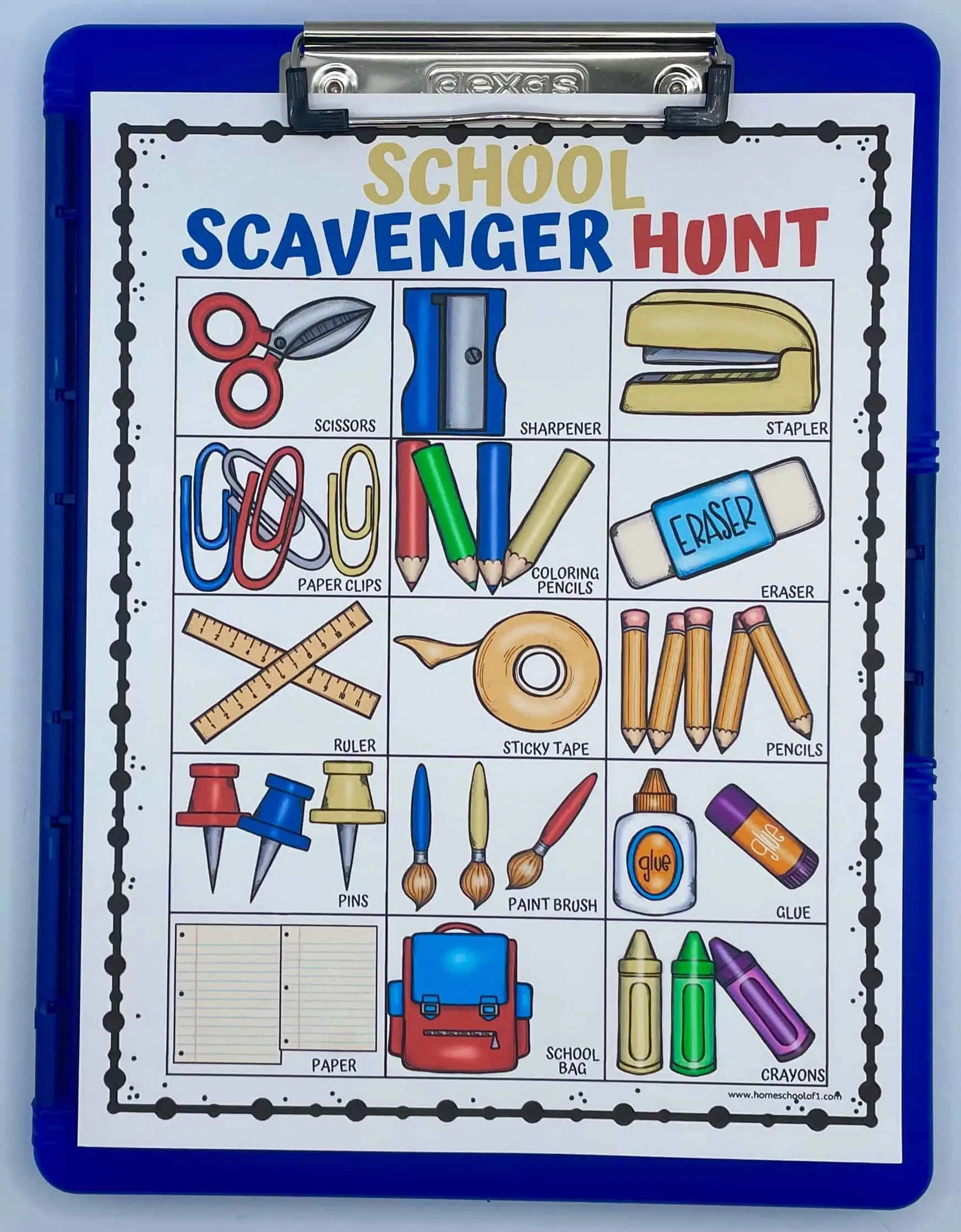 Other back to school ideas
If you are looking for even more first day of homeschool ideas check out our top tips.
Save a huge amount of time and grab this printable and 8 other activities with our first day of school activities bundle.
Tips for downloading the free files
Below you will see a large sign-up box where you need to add your name and email address, and press I NEED THIS NOW!
Within minutes you will be sent the free PDF directly to your email address, so you can print it out and start using it immediately.
Sometimes emails get a little wonky, so if you can't see it, please check your spam folder where I am sure it is hiding.
Download the free back to school scavenger hunt printable
Make sure you choose the correct paper size and click on the shrink to fit button. All of our free printables for kids work better when printed on cardstock (this is the one we use and love.)
Last Updated on 2 October 2023 by homeschoolof1