New Year's Eve Mad Libs Free Printable
Looking to infuse laughter and creativity into your end-of-year celebration? Our free printable New Year's Eve mad libs is a great addition to your New Year's Eve activities for kids of all ages.
Elevate the fun factor at your New Year's gathering as everyone joins in the hilarity and enjoyment of this classic game.
Get ready to giggle and bond over funny stories, making unforgettable memories with the whole family this holiday season.
**There may be affiliate links in this post. You can read my full disclosure at the bottom of the page.**
Why play mad libs for New Year's Eve
Free printable mad libs are a fun and entertaining word game that has been a source of laughter and creativity for generations. It's a fill-in-the-blank activity where players provide various types of words (such as nouns, adjectives, verbs, etc.) without knowing the context of a story.
These words are then inserted into a pre-written story, creating unpredictable and often hilarious results when read aloud.
Mad Libs is the perfect game for the entire family. Incorporating this fun game into your celebration can enhance the camaraderie among guests.
Here's how Mad Libs can elevate your New Year's Eve party:
As guests fill in the blanks with their chosen words, the resulting stories often turn out unexpected and hilariously absurd. The shared experience of reading these nonsensical tales aloud is bound to bring laughter and joy to everyone present.
Mad Libs encourages creative thinking as participants come up with words that fit the story's blanks. It's an opportunity for imaginative wordplay and funny combinations that will have everyone in stitches.
Mad Libs is a great game suitable for all ages and can involve everyone, from kids to adults. It is a fun icebreaker game, creating a light-hearted and engaging atmosphere where everyone can contribute and have a blast together.
The resulting silly story, filled with the words chosen by your guests, becomes cherished mementos of the celebration. They serve as hilarious reminders of the fun shared during your New Year's Eve gathering.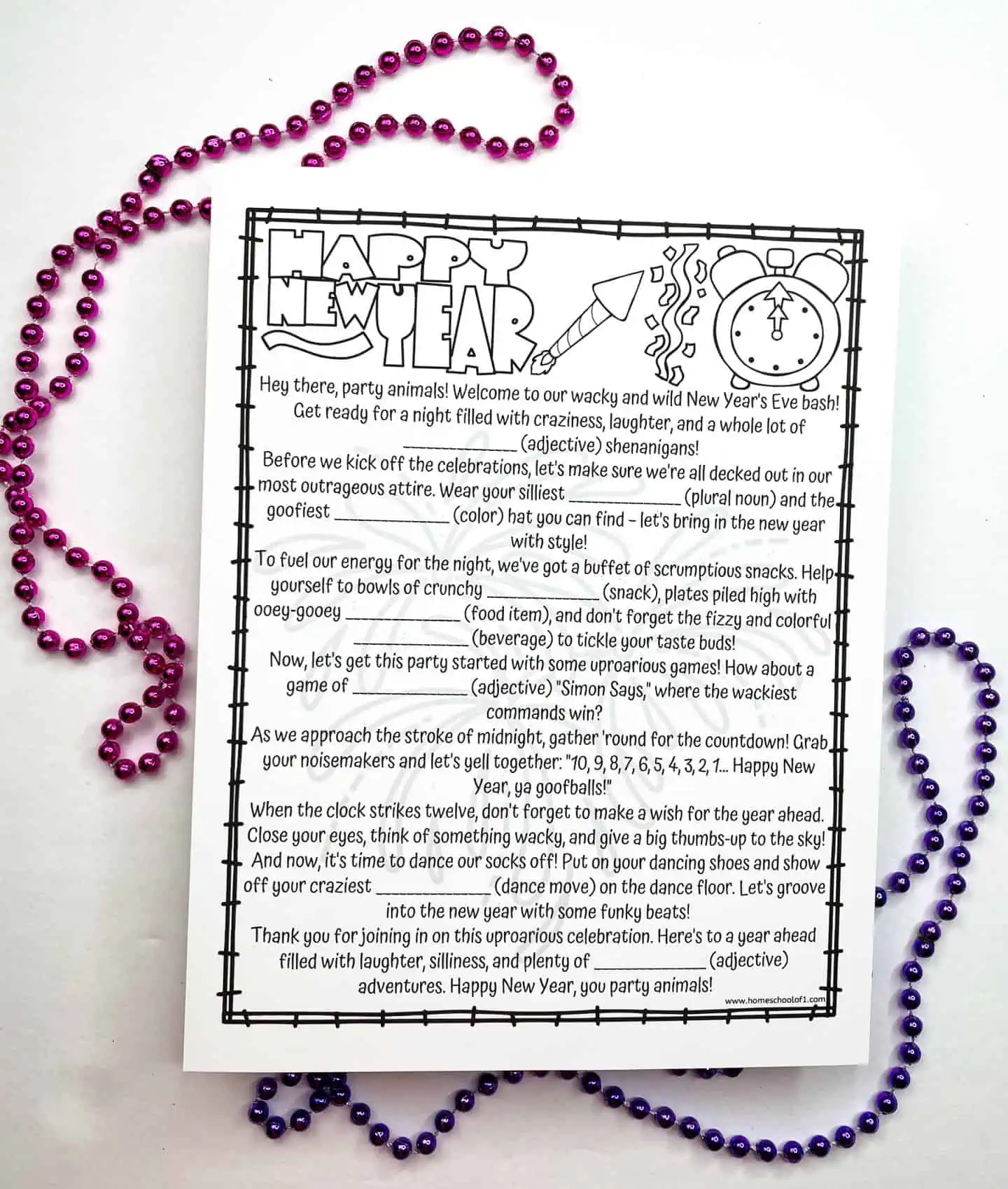 You can also enjoy our New Year's word search printable.
How to use the New Year's Eve mad libs printable
The free mad libs are for personal use only. Scroll to the bottom of the post to access the printable pdf file. You can either print them at home or take them to a local print shop.
Print out one for each member of the party and make sure they all have a pen. Or you can play in a group.
Introduce Mad Libs to everyone, explaining the basic rules. There's a story with missing words represented by blanks and categories (like noun, adjective, verb, etc.) next to each blank.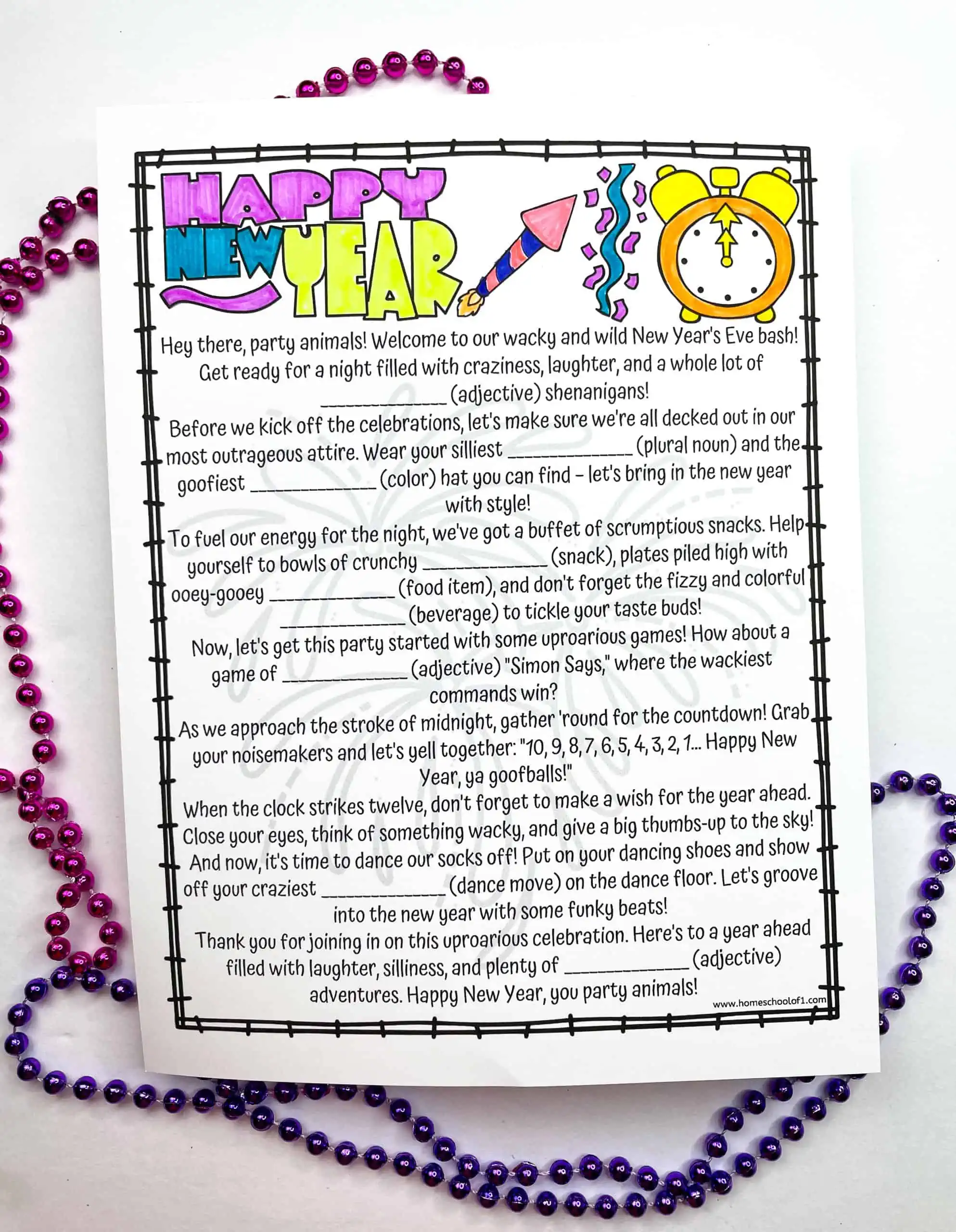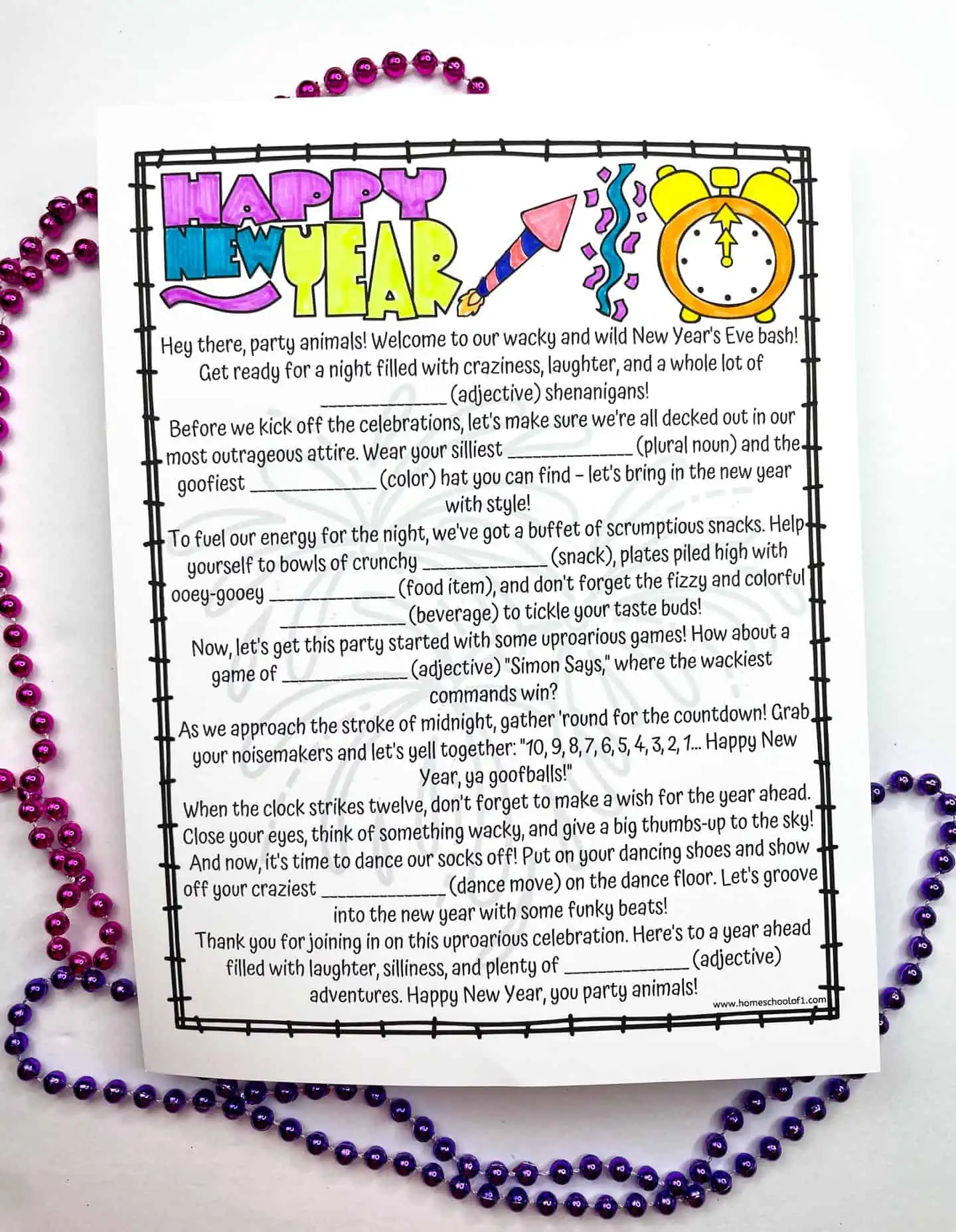 Without revealing the story. Ask each player in turn (or all players simultaneously, depending on preference) to provide words of specific types (noun, adjective, verb, etc.) as prompted by the blanks in the story. For example, "Give me a plural noun," or "I need an adjective."
As players call out their chosen words. Fill them into the corresponding blanks on the Mad Libs story without revealing the full story.
Once all the blanks are filled, read the completed Mad Libs story aloud to everyone. Prepare for lots of laughter as the nonsensical and often hilarious story unfolds!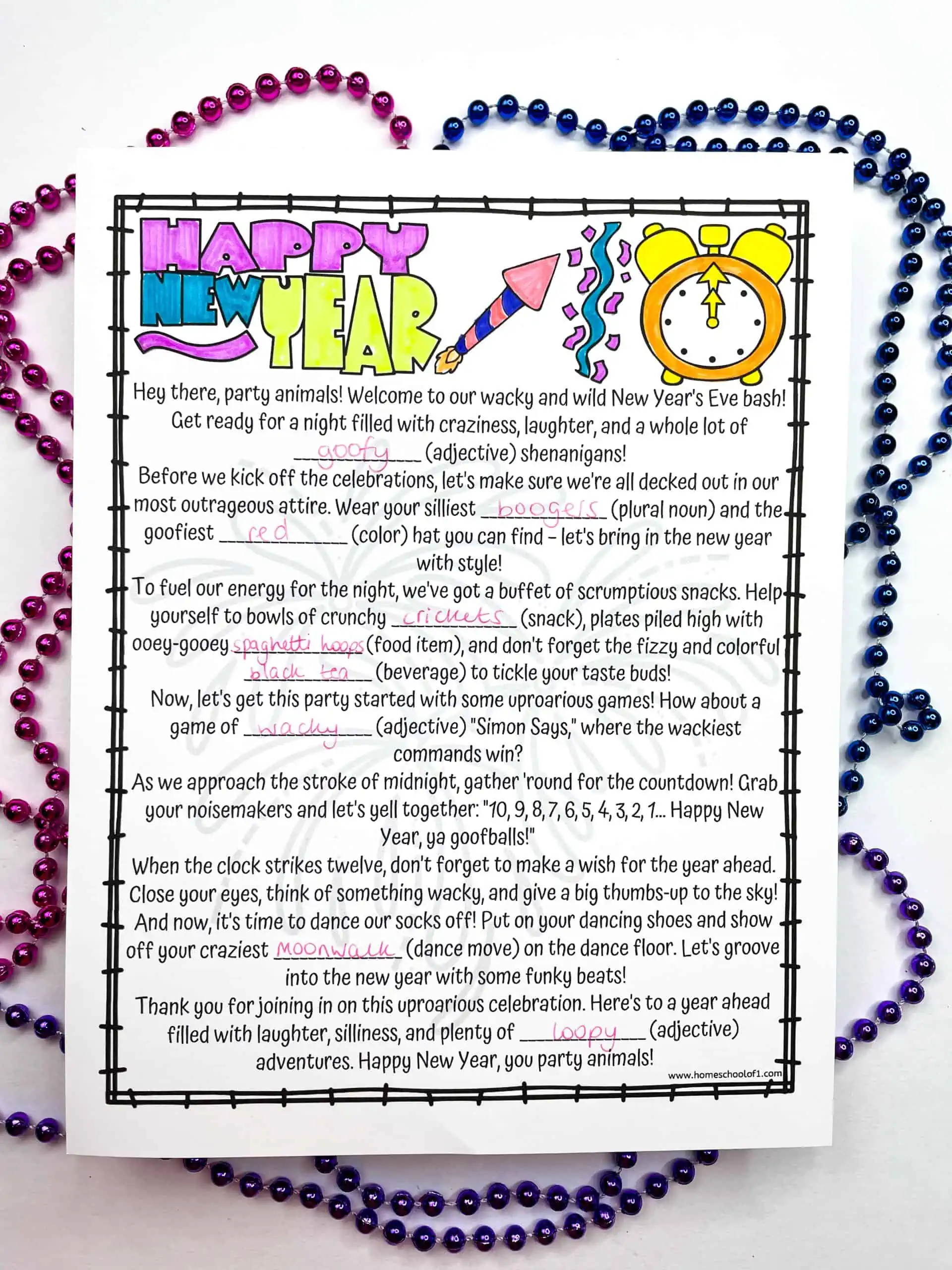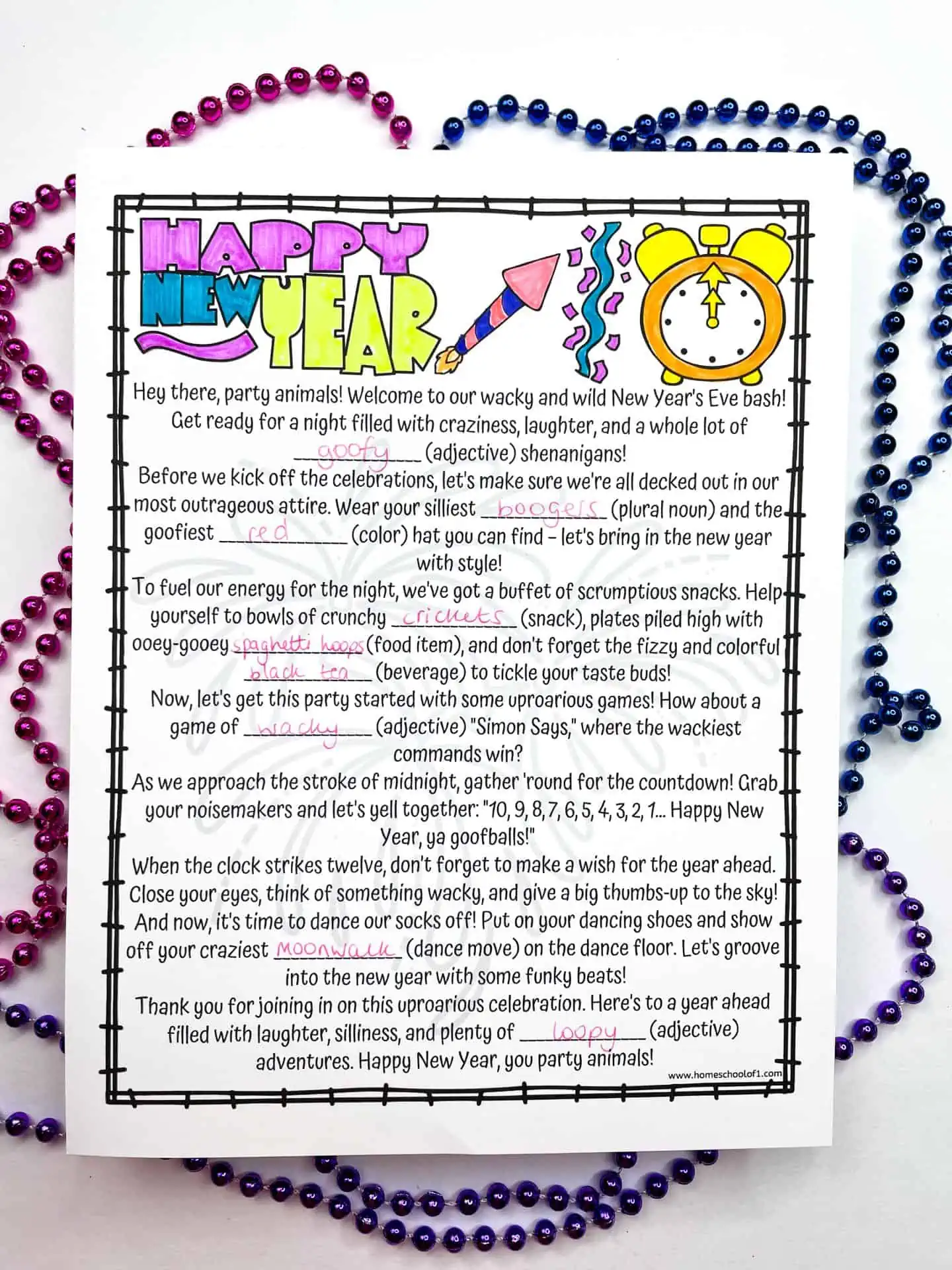 You will also enjoy our free winter mad libs printable
Additional free New Year's Eve printables
Have even more fun at your New Year's Eve celebrations with these free New Year's Eve games:
New Year's Eve party accessories
If you are having New Year's Eve at home with the kids you are going to love these party ideas:
Balloon stands I got these a few years ago, and I love them, they come out at every party!
Sound activated party lights just because you are staying in, doesn't mean the disco can't come to you!
Happy New Year foil balloons to decorate the house.
Gold fringe curtains, assuming you don't already have them, just add a bit of pizzazz to your fun night.
Instead of a ball drop, why not have your very own balloon drop, the kids will absolutely love it!
Tips for downloading the free files
Below you will see a large sign-up box where you need to add your name and email address, and press I NEED THIS NOW!
Within minutes you will be sent the free PDF directly to your email address, so you can print it out and start using it immediately.
Sometimes emails get a little wonky, so if you can't see it, please check your spam folder where I am sure it is hiding.
Download the free printable New Year's Eve mad libs
Make sure you choose the correct paper size and click on the shrink to fit button. All of our free printables for kids work better when printed on cardstock (this is the one we use and love.)
Last Updated on 25 November 2023 by homeschoolof1