3 Free Printable Mad Libs for Teens
If you're searching for a creative and entertaining party game to engage teenagers, look no further than printable mad libs for teens.
These amusing word games have captivated audiences for generations, and they continue to be a hit with young adults.
In this collection, we offer a variety of printable Mad Libs designed specifically for teenagers.
Whether you're planning a classroom activity or a fun family game night these printables are a great activity.
Best of all, these printable Mad Libs are available for free. Making them a great option for entertaining kids of all ages at school parties or family gatherings. Ensuring everyone has a good laugh.
So, let's dive into the world of printable mad libs and unlock the power of words for teens!
**There may be affiliate links in this post. You can read my full disclosure at the bottom of the page.**
Teenager mad libs printables
There are three different mad libs to enjoy with your teenagers.
Introducing a collection of printable Mad Libs perfect for teenagers! These fun and creative word games are not only entertaining but also great for building vocabulary and unleashing your imagination.
They are free to download but are for personal use and classroom use only. Scroll to the bottom of the post to get access to the instant download PDF file.
What are the benefits of playing mad libs with teenagers?
Playing Mad Libs with teenagers can lead to enriched vocabulary skills as it encourages players to brainstorm words of various types, including adjectives, nouns, and adverbs. This, in turn, fosters comfort with using a different part of speech.
Enhanced grammar skills are another fantastic result of engaging in Mad Libs with teenagers. Responding to a word prompt in a word game gives them practical experience in understanding the mechanics of grammar and recognizing how words play critical functions within sentences.
A Mad Libs game can also spark creativity, challenging teenagers to find unique and often silly words to complete narratives. This boost in creativity helps older kids think more imaginatively when they need to solve problems.
Completing the blank spaces with the right words in Mad Libs makes kids think logically and understand the context well. Teenagers need to consider how the words they choose fit perfectly into the short story.
When teenagers play Mad Libs with friends or family, it's a team effort that helps them work together and communicate better. They create stories together, have fun, and become even closer, improving how they talk to each other.
Tenn Mad Libs makes language more fun and easy to understand. They show that language isn't just about strict rules and grammar but can be used for fun and creative expression.
The imaginative aspect of Mad Libs indirectly boosts writing skills. Regularly engaging in word games can lead to a heightened comfort level with writing and storytelling.
Kid's Mad Libs go along well with what the children learn in school. They help kids understand different parts of speech and grammar rules.
Enjoying funny Mad Libs is a great way for teenagers to take a break from screens and technology. It's a chance to step away from digital devices and have interactive fun.
More importantly, they make teenagers laugh and have a good time turning it into a fun activity that everyone can enjoy.
Have fun with spooky mad libs too!
Free printable mad libs for middle school students
Middle schoolers will enjoy this engaging activity, a funny middle school mad libs story. It's an entertaining and educational experience designed specifically for their age group.
The funny story revolves around a school party, making it relatable and fun for students in this age range.
Picture this: A legendary school dance at Wackyville Middle School is just around the corner. The rumor is that your favorite teacher, Mrs. Smith, will be the DJ. This dance is no ordinary event; it's bound to be filled with unexpected surprises and hilarity.
Types of words needed:
Adjective
Noun
Name of a teacher
Verb ending in -ing
Type of food
Number
Adverb
Type of music
Name of a friend
Silly word
Exclamation
Color
Animal
Part of the body
Dance move
Type of clothing
Sound, onomatopoeia
Emotion
Vehicle
Fruit
Type of weather
Room in the school
Superhero name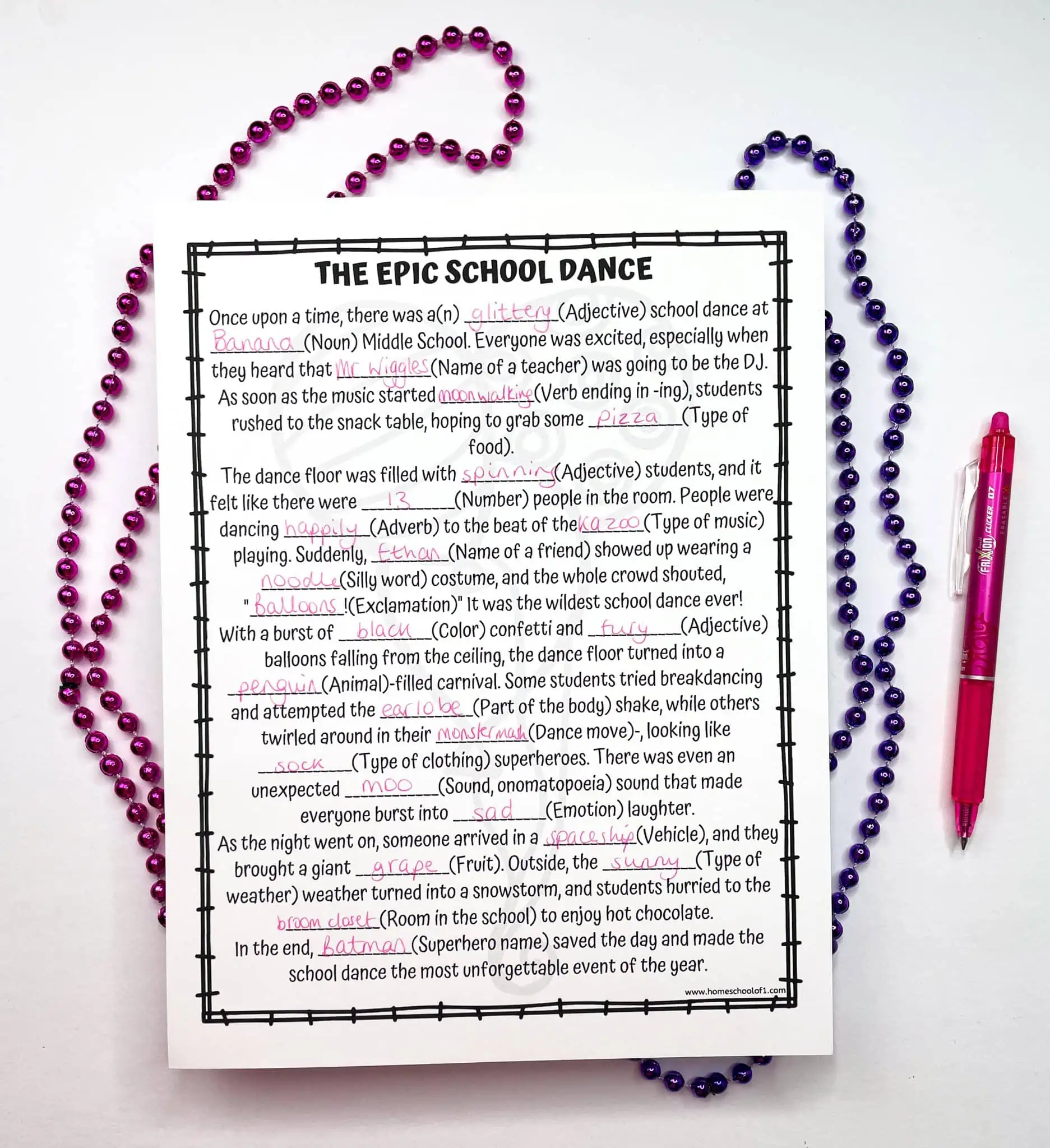 Here's a sentence with blanks for you to complete: "Once upon a time, there was a(n) ____________(Adjective) school dance at ____________(Noun) Middle School. Everyone was excited, especially when they heard that ____________(Name of a teacher) was going to be the DJ."
Let your imagination run wild and fill in the blanks with the wackiest and most unexpected words you can think of. Make this school dance an unforgettable adventure!
Video game mad libs printable
Prepare for an extraordinary adventure in the realm of the video game Epic Battle Royale Showdown. In this game, you'll embark on an action-packed journey into a virtual battlefield where you'll need to use your wits and skills to emerge as the ultimate victor.
Types of words needed:
Adjective
Video game
Plural noun
Verb
Number
Noun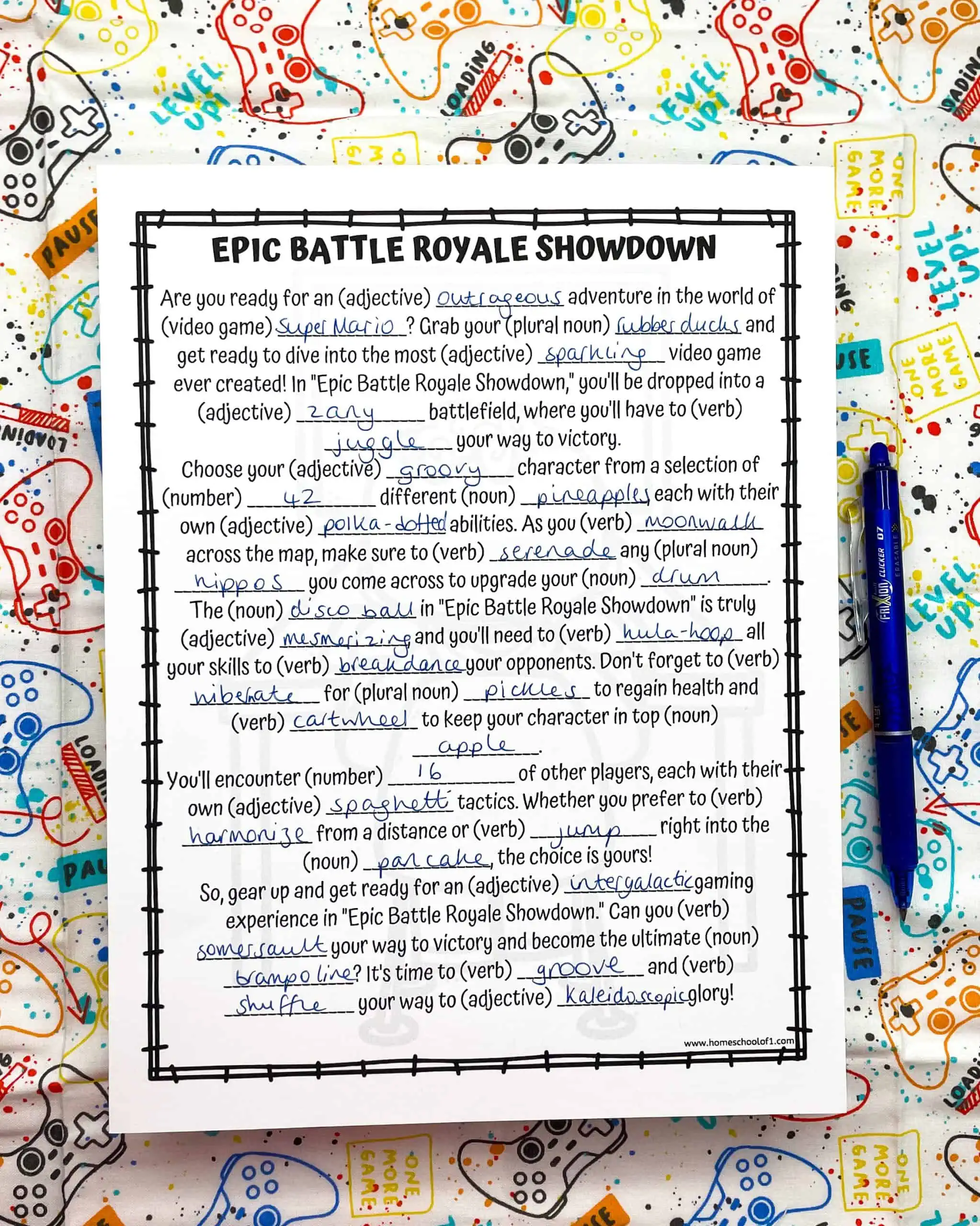 Here's a sentence with blanks for you to fill in: "Are you ready for an (adjective) _______________ adventure in the world of (video game) _______________? Grab your (plural noun) _______________ and get ready to dive into the most (adjective) _______________ video game ever created!"
Have fun with pirate mad libs too!
Free printable mad libs for high school students
Imagine you're going for a job interview at a company called ZanyTech Industries. You're applying for the unusual position of Chief Happiness Officer. It's your dream job, and you're super excited!
Types of Words Needed:
Adjective
Company Name
Job Title
Verb
Adjective
Emotion
Noun
Famous Person
Adjective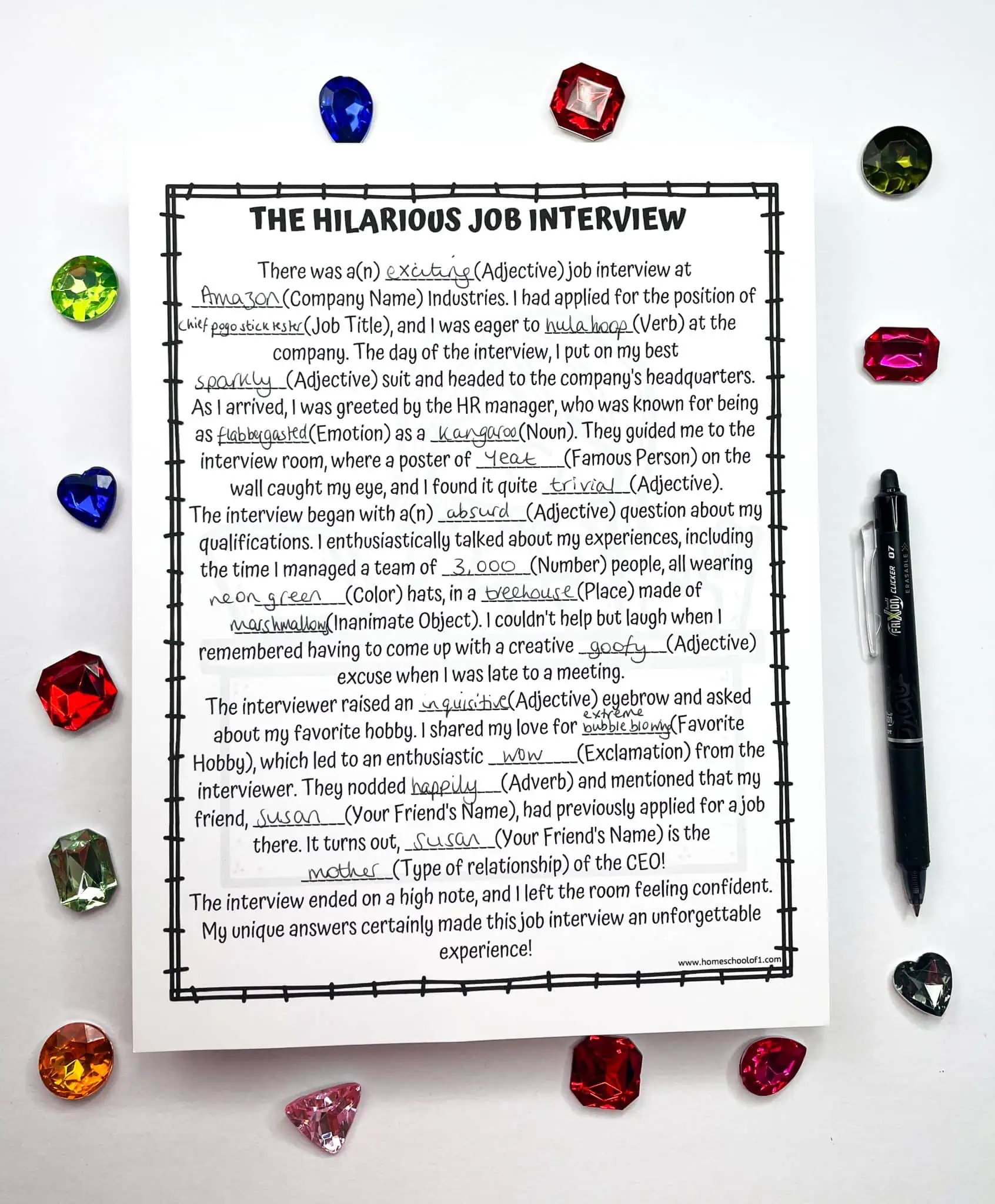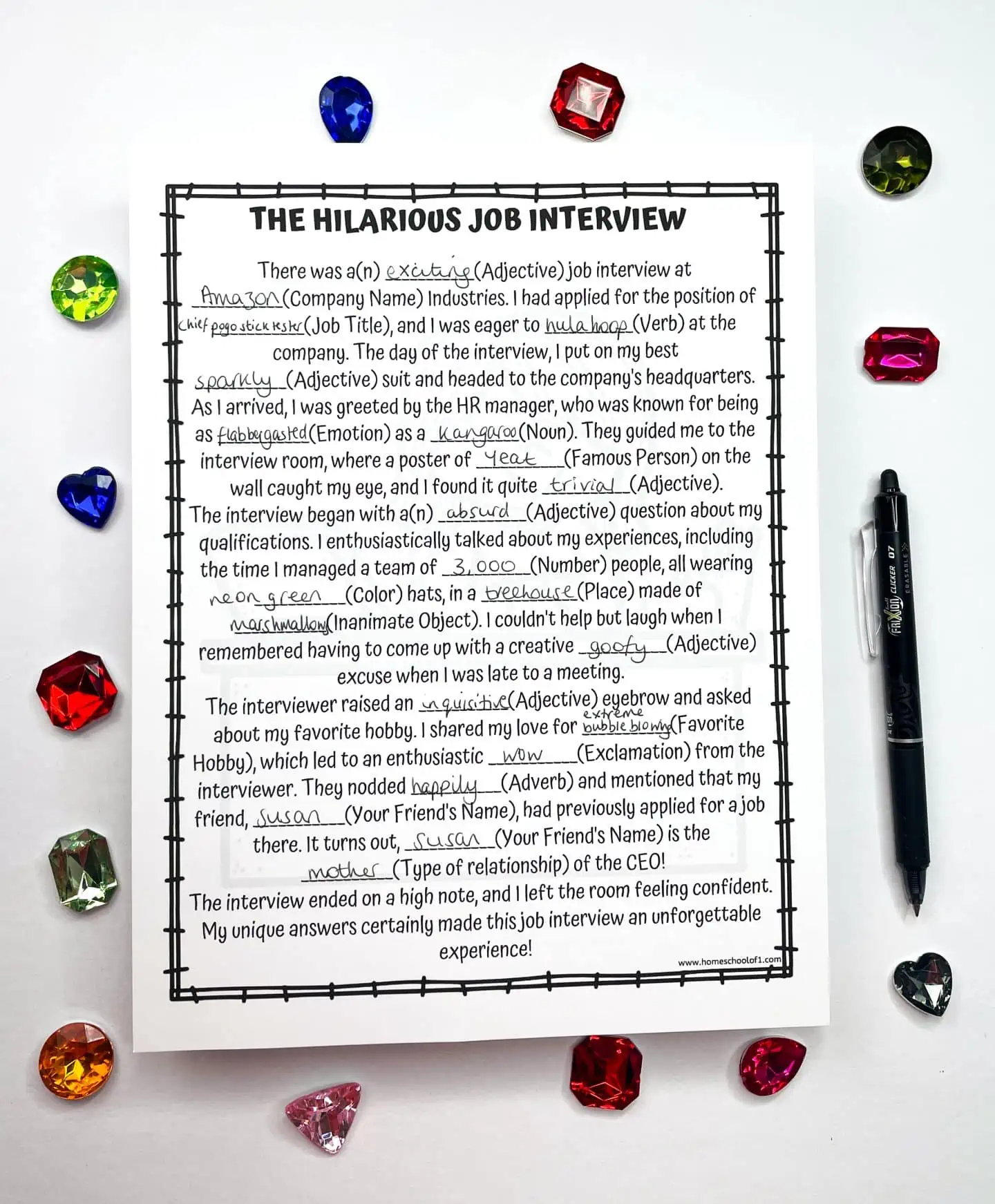 Here's a sample sentence with blanks for you to fill in: "There was a(n) ___________(Adjective) job interview at ___________(Company Name) Industries. I had applied for the position of ___________(Job Title), and I was eager to ___________(Verb) at the company."
Feel free to fill in the blanks with fun and wacky words that come to your mind. Be as creative and imaginative as you like!
Check out 100 bucket list ideas for teens!
Tips for downloading the free files
Below you will see a large sign-up box where you need to add your name and email address, and press I NEED THIS NOW!
Within minutes you will be sent the free PDF directly to your email address, so you can print it out and start using it immediately.
Sometimes emails get a little wonky, so if you can't see it, please check your spam folder where I am sure it is hiding.
Download the free Mad Libs for teenagers
Make sure you choose the correct paper size and click on the shrink to fit button. All of our free printables for kids work better when printed on cardstock (this is the one we use and love.)
Last Updated on 25 November 2023 by homeschoolof1