Pirate Mad Libs (free printable)
Get ready to embark on a high-seas adventure with our pirate mad libs printable!
This exciting activity is perfect for both young buccaneers and seasoned sailors. Unleash your creativity as you fill in the blanks with adjectives, nouns, and verbs to create an unforgettable pirate journey.
Ahoy, me mateys! Whether you're embarking on this pirate adventure from the comfort of your own ship or in the heart of your classroom, our printable mad libs offer a swashbucklin' good time with words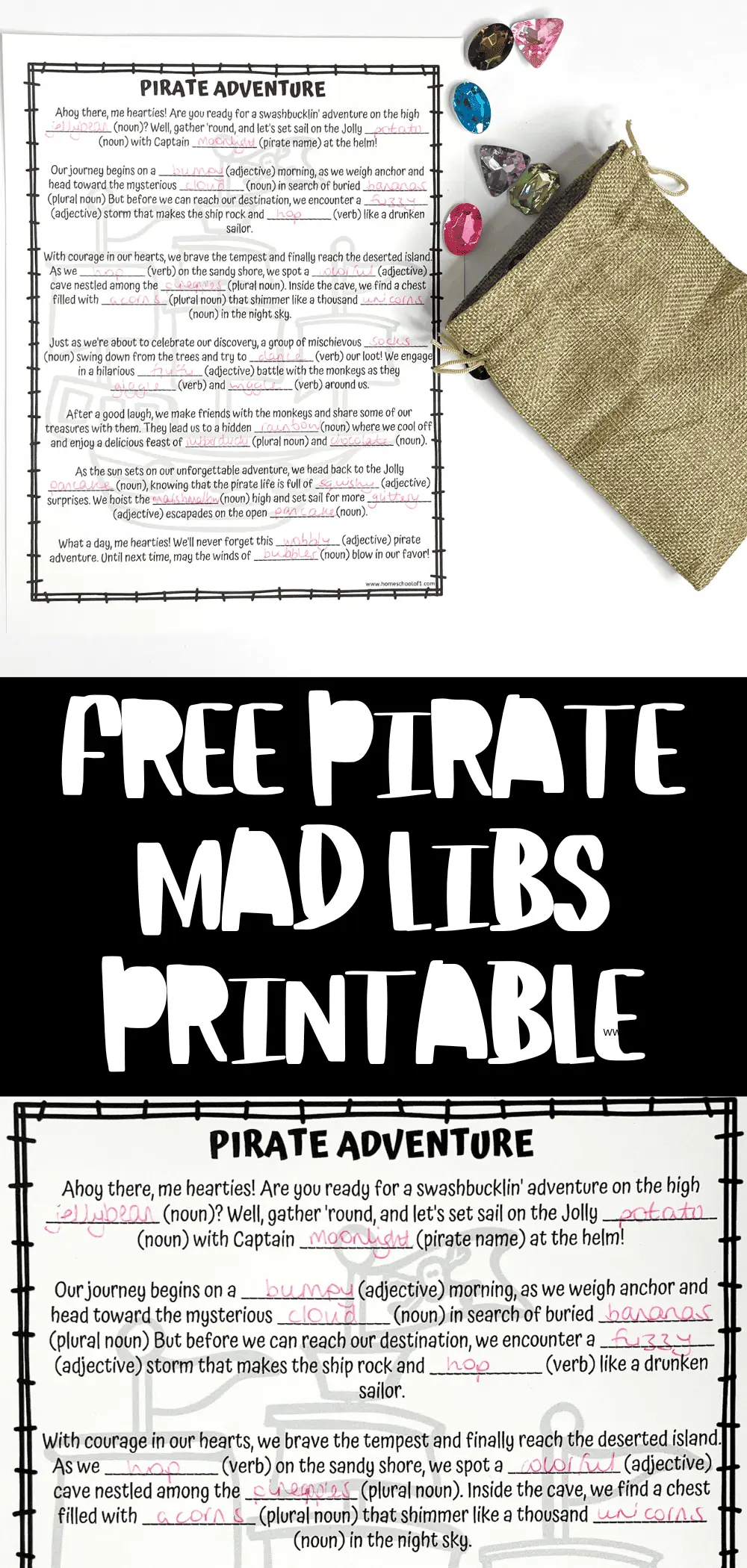 **There may be affiliate links in this post. You can read my full disclosure at the bottom of the page.**
Pirate story mad libs
Introducing our pirate adventure Mad Libs printable, a thrilling twist on word games for young swashbucklers! Kids will have a blast adding adjectives, nouns, and action verbs to craft tales of pirate exploits on the high seas.
Pirate adventure Mad Libs offers a fantastic opportunity for kids to have a great time, expand their vocabulary, and let their imaginations run wild during their pirate-filled escapades.
It's the perfect activity for some creative and whimsical pirate themed fun!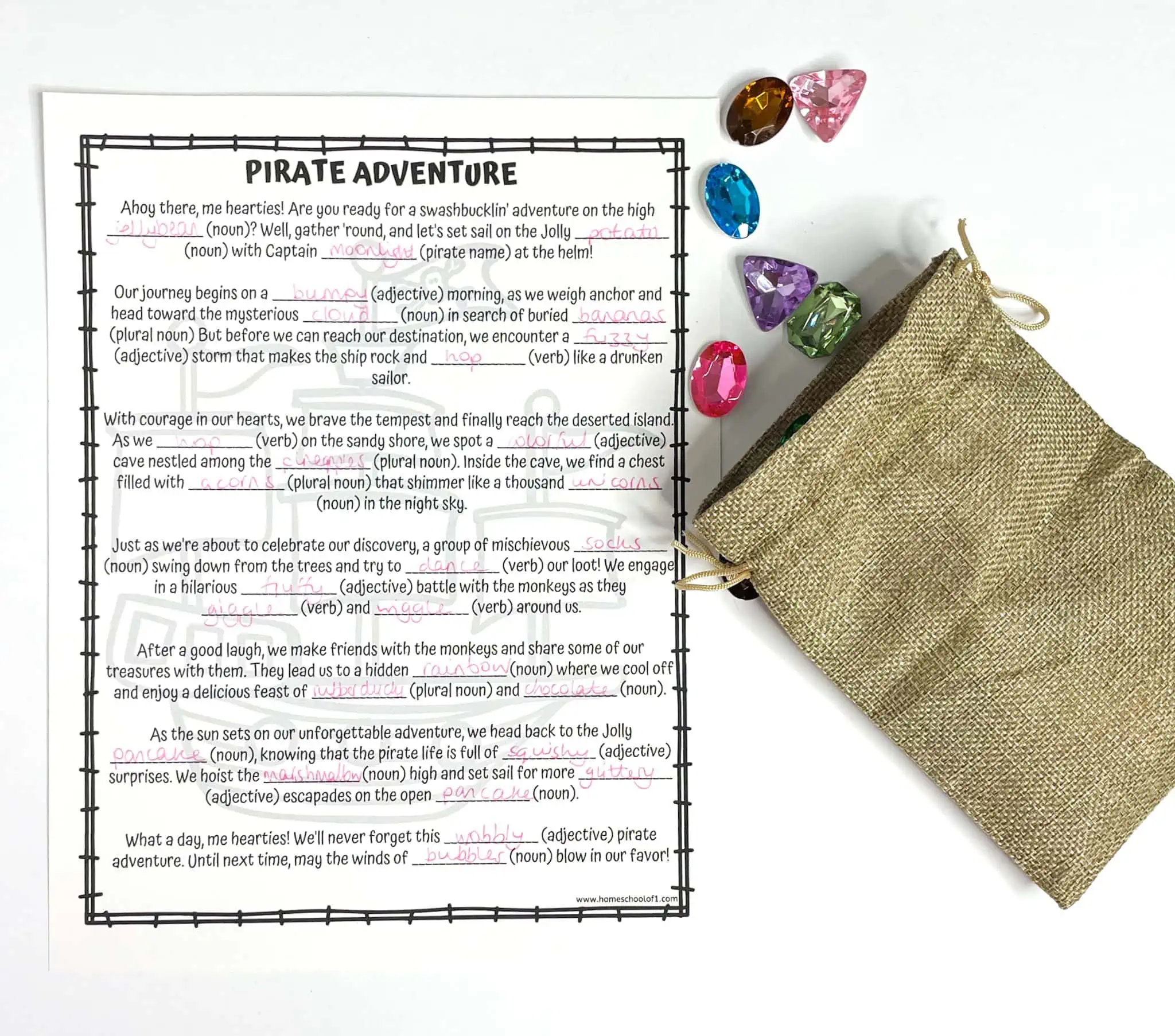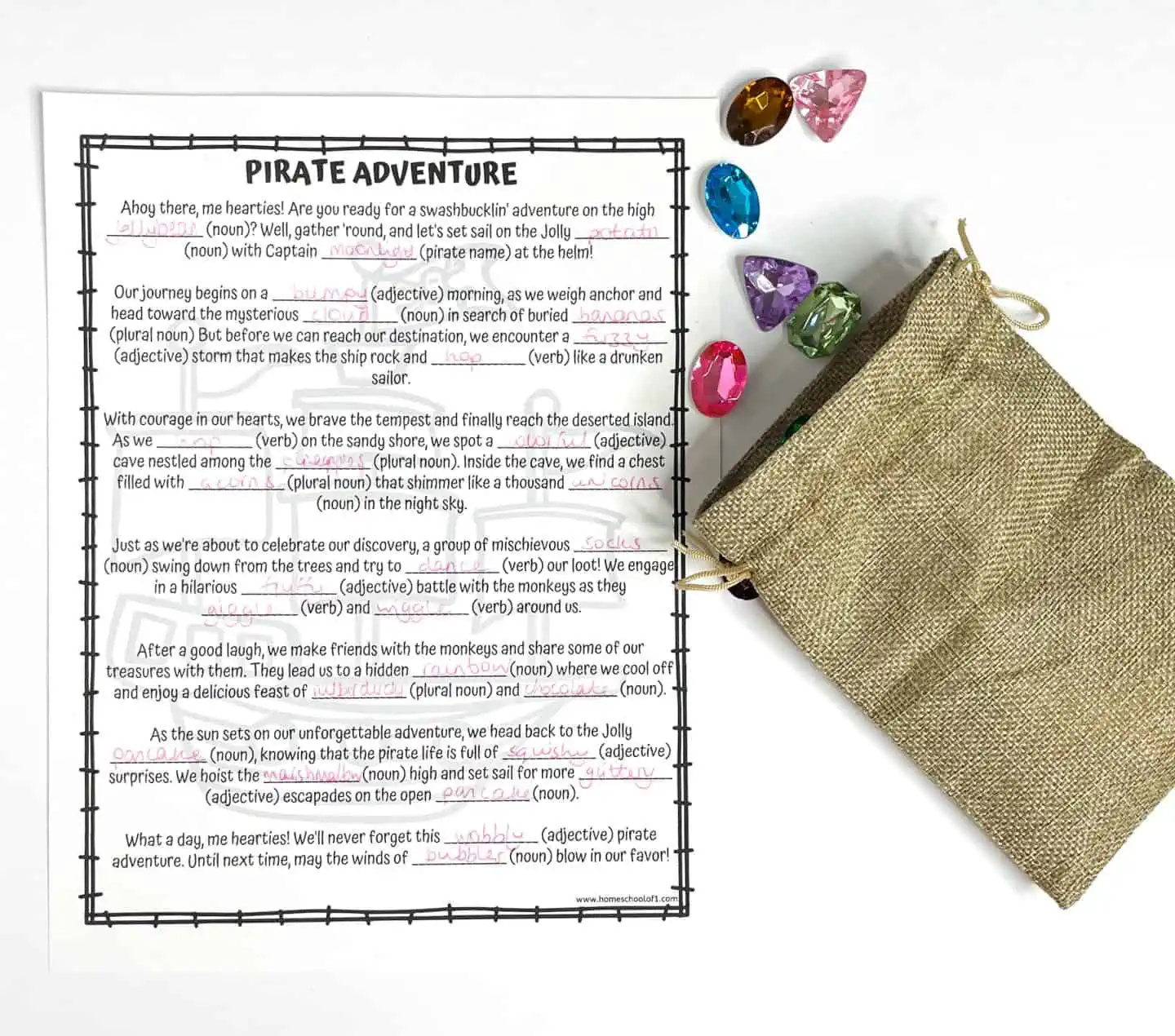 Pirate activity books
These are our favorite pirate activity books that the kids are also going to love:
Pirates Mad Libs: World's Greatest Word Game
Pirate: Activity Book for Kids: A Fun Workbook for Children Ages 3-10 with Mazes, Learn to Draw + Count, Word Search Puzzles, Seek Games, Coloring & More
Little Children's Pirate Activity Book
National Geographic Kids Funny Fill-in: My Pirate Adventure
I Spy Treasure Hunt: A Book of Picture Riddles
Scribble Down Pirate Adventure Transfer Activity Packs
Additional pirate activities for the classroom
Have fun in the classroom this September with our favorite Talk Like A Pirate Day activities:
Dive into the fascinating world of pirates through literature. Explore a variety of pirate books for kids tailored for different reading levels. These books not only entertain but also educate about the history of piracy and the adventures of famous pirates like Blackbeard and Anne Bonny.
Foster your students' writing skills by providing them with pirate writing prompts. Encourage them to craft their own pirate stories, journal their daily adventures as if they were pirates, or even write persuasive essays. These printable prompts will ignite their imaginations and improve their storytelling abilities.
Turn your classroom into a pirate haven with fun and educational pirate games for kids.
Encourage students to discover their pirate personas with a what's your pirate name free printable.
You will also enjoy our spooky mad libs
Why add mad libs to your lesson plans?
Adding Mad Libs to your lesson plans can be a fun and educational way to engage students in various subjects. Here are some reasons why you might consider incorporating Mad Libs into your lessons:
Mad Libs help students practice parts of speech, such as nouns, verbs, adjectives, and adverbs. This reinforces their understanding of grammar and vocabulary in a playful manner.
Mad Libs encourage students to use their creativity and imagination to fill in the blanks, resulting in humorous and often absurd stories. This can inspire creative thinking and storytelling skills.
Mad Libs can be done individually, in pairs, or as a group activity. Collaborative Mad Libs promote teamwork and communication skills as students work together to complete the story.
Students must think critically about which words to choose to make the story funny or coherent, depending on the desired outcome.
Mad Libs are inherently enjoyable, making learning more engaging and less intimidating for students. They often lead to laughter and enthusiasm in the classroom.
Tips for downloading the free files
Below is a blue cloud with an arrow pointing downward. Underneath that is a large sign-up box where you need to add your name and email address, and press I NEED THIS NOW!
Within minutes you will be sent the free PDF directly to your email address, so you can print it out and start using it immediately.
Sometimes emails get a little wonky, so if you can't see it, please check your spam folder where I am sure it is hiding.
Download the free pirate mad libs printable
These worksheets are free to print but are for personal or classroom use only.
Make sure you choose the correct paper size and click on the shrink to fit button. All of our free printables for kids work better when printed on cardstock (this is the one we use and love.)
Last Updated on 3 October 2023 by homeschoolof1