Best Homeschool Spelling Curriculum For All Ages
Finding the best homeschool spelling curriculum is so important. These are our top picks for elementary and middle school grades.
A strong spelling curriculum doesn't just teach accurate spelling. It also enhances vocabulary, sharpens writing abilities, and cultivates a more profound understanding of language. Plus, it nurtures students' self-assurance, empowering them to express their thoughts with clarity and precision.
Carry on reading for the best homeschooling resources that will help with spelling.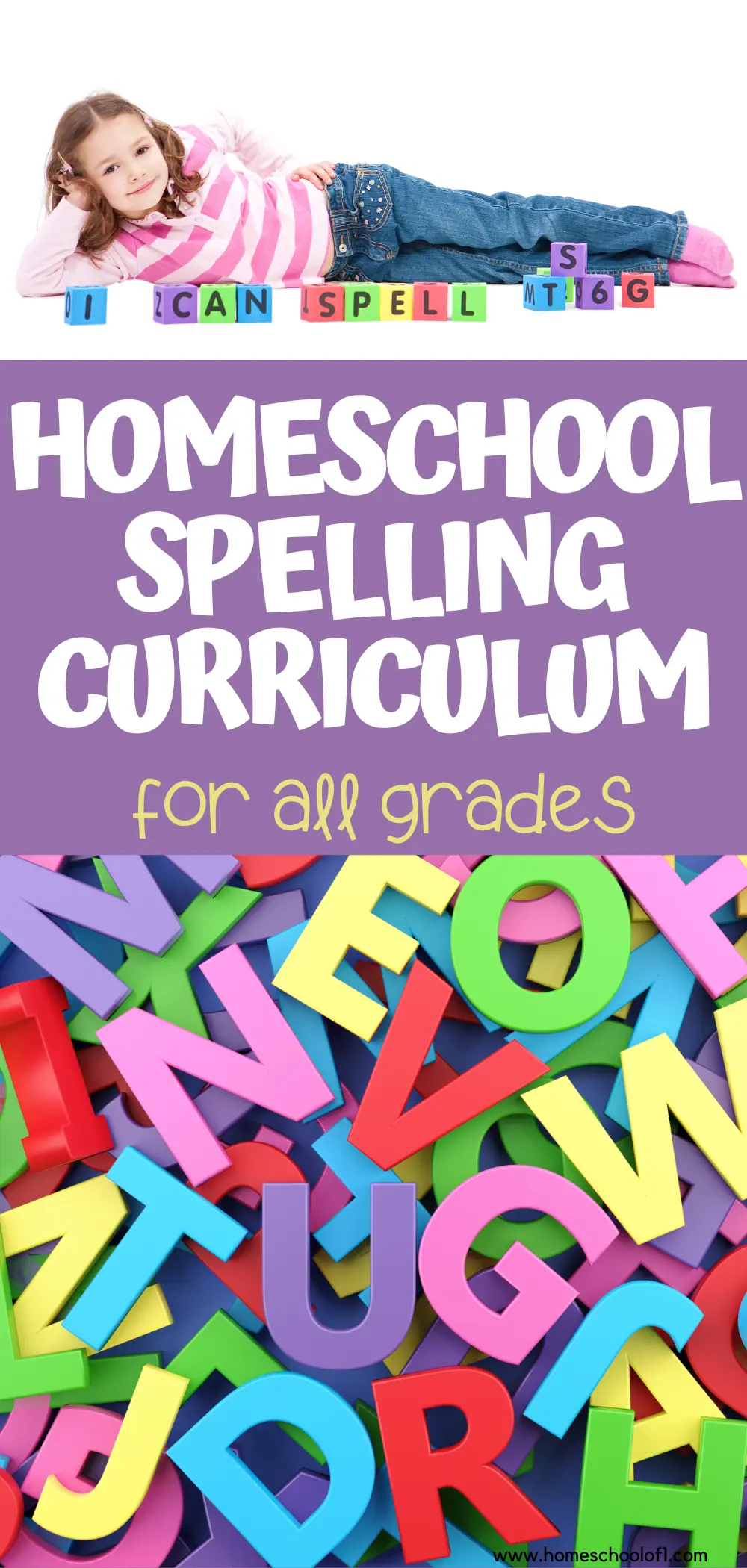 **There may be affiliate links in this post. You can read my full disclosure at the bottom of the page.**
How to choose the right spelling curriculum for homeschooling?
Finding the correct spelling curriculum for your family is not as simple as you might think. You'll want to weigh several factors to ensure the curriculum you pick aligns with your child's learning style, grade level, and your teaching philosophy. These factors include:
Grade Level and Age-Appropriateness: Spelling programs should be suitable for your child's developmental stage, with materials tailored to their age.
Teaching Methodology: Different spelling curricula employ various teaching methods, such as phonics-based approaches, sight words, or word origins. Opt for a method that matches your child's preferred learning style.
Accessibility and Affordability: Take into account the cost and availability of the curriculum, including textbooks, workbooks, and required materials.
Parental Involvement: Evaluate the level of involvement required from you as a parent in delivering the curriculum effectively.
Adaptability: Look for curricula that can be adjusted to cater to your child's individual learning needs, whether they have distinct learning requirements or excel in spelling.
Supplemental Materials and Resources: Assess whether the curriculum provides extra resources, such as online tools, games, or supplementary workbooks to enhance learning.
Spectrum Spelling Workbook Grade 6, Ages 11 to
The Spelling Teacher's Lesson-a-Day: 180 Reproducible Activities to
Spelling Words for 6th Grade: 2,000 Words Every
Evan-Moor Building Spelling Skills, Grade 6 – Homeschooling
180 Days of Spelling and Word Study: Grade
Spelling Skills: Grade 6 (Flash Kids Harcourt Family
How to teach spelling in a fun way
Have fun with spelling in your homeschool, these are our 8 top ways to make teaching spelling fun:
Integrate word games like Scrabble, Hangman, or word search puzzles into your spelling lessons. Check out the best word board games that are not only educational but also fun.
Organize friendly spelling bees within your homeschooling environment. Create lists of words suitable for different age levels and hold competitions with rewards or recognition for participants.
Establish a point-based system or rewards for correct spellings in your homeschool. This could be as simple as earning points for every correctly spelled word and redeeming them for small rewards.
Encourage creativity by having students write their spelling words with colorful markers, stickers, or even by forming the words with arts and crafts materials.
Use interactive spelling apps and websites designed to make learning fun. Many of these apps incorporate gamified elements, quizzes, and spelling games.
Incorporate spelling into creative writing by having students write stories or essays that include their weekly spelling words. This not only reinforces spelling but also enhances writing skills.
Make spelling practice more interesting by adding a twist. For example, have students spell words backward or use them in funny sentences.
Take spelling outdoors by using chalk to write words on the sidewalk or organizing a scavenger hunt where students have to find objects that match their spelling words.
ORCHARD TOYS Moose Games Match and Spell Game. A Fun, First Reading and Spelling Game. 2 Ways to Play. Age 4+. 1-4 Players
My First Bananagrams: Multi-Award Winning Kids Spelling Board Game For Ages 4+
Teacher Created Resources SpellChecked Card Game
Upwords, The Game of Quick Stacking & Word Hacking with Stackable Letter Tiles | Word Games | Board Games for Kids 8-12 | Family Games for Ages 8+
Dabble Word Game Ages 8+ – Award Winning, Educational, Improves Spelling & Vocabulary and is Fun for The Whole Family
Hasbro Boggle Junior, Preschool Game, Ages 3 and up (Amazon Exclusive)
Best spelling curriculum for all ages
These are the best spelling programs for middle school and younger designed to strengthen their spelling skills and enrich their vocabulary.
Whether you're looking for interactive online platforms, comprehensive workbooks, or interactive games, these programs cater to various age groups, making the learning process engaging and effective.
Best online spelling program
Wordela homeschool is an interactive and personalized online language arts program tailored for homeschooling families.
It offers a comprehensive curriculum that includes reading, writing, grammar, and vocabulary.
It adapts to each student's learning pace to provide a customized educational experience.
Discover the best secular homeschool curriculum for all subjects
Best spelling workbooks
The Spectrum spelling books cover a wide age range from kindergarten to grade 6. We have used Spectrum workbooks for nearly every subject in elementary grades and we have loved all of them.
Evan Moor Building Spelling Skills workbook caters to a range of ages, from 1st grade to sixth. It features grade level appropriate activities and word lists.
The 3rd grade Spelling Success Workbook offers a fun and engaging resource packed with teacher-reviewed activities. To help third graders excel in spelling, reading, and vocabulary.
The Wordly Wise 3000 series focuses on vocabulary development and offers workbooks for 2nd grade through to high school.
180 days of spelling and word study is a versatile 1st – 6th grade spelling workbook. With weekly units aligned to state and national standards, it offers engaging activities like word sorting, analogies, and synonym/antonym practice, promoting independent word mastery for young learners.
Abeka spelling curriculum offers a comprehensive spelling curriculum for students in 2nd grade and 3rd grade. Providing structured lessons and engaging activities designed to strengthen spelling skills progressively.
Targeted specifically at 7th grade students Frequently Misspelled Words concentrates on 400 difficult spelling words.
The Spelling Workout series offers graded workbooks suitable for various age groups. With structured spelling lessons and exercises, it helps students improve their spelling skills at different levels, offering the flexibility to adapt to individual learning needs.
Spelling Power provides a comprehensive approach to spelling for a wide age range. It offers diagnostic tests and individualized spelling lists to cater to each student's needs.
Sequential Spelling is suitable for a variety of ages and skill levels. It emphasizes patterns and word families to help learners become confident spellers through structured lessons.
Spelling Plus is designed to help students of various ages and skill levels improve their spelling using a holistic approach, focusing on the structure and meaning of words to foster strong spelling skills.
The Spelling workout series offers graded workbooks for different age groups. It provides structured spelling lessons and exercises to boost proficiency at various levels.
Add this to the best homeschool literature curriculum
Free homeschool spelling curriculum
You don't need to spend a fortune on a spelling curriculum for your homeschool. These are our favorite free spelling resources that the kids will enjoy:
For even more check out these free spelling games too.
Check out the best free homeschool curriculum too!
How to use the Spelling Bee words as a curriculum?
You don't need to actually take part in the spelling bee to use the spelling bee words of the champions as part of your homeschool spelling curriculum.
Spelling Bee Participant Award Ribbons with Card and String Yellow Participation Ribbon Spelling Bee Medal Ribbons Participant Prize Ribbons for Kids Spelling Bee Competition, 2 x 8 Inch (100 Pcs)
Words of the Champions 2024: Your Key to the Bee
Words of Wisdom: Keys to Success in the Scripps National Spelling Bee (Fifth Edition) (The Words of Wisdom Series for Scripps National Spelling Bee Success)
The Berenstain Bears and the Big Spelling Bee
Captain Awesome and the Ultimate Spelling Bee (7)
Word Search For Kids Spelling Bee Preparation Book Grade 3: 3rd Grade Spelling Workbook Ages 7 – 9 Fun Puzzle Book Teacher Student Class Homeschool
Here's how you can incorporate these champion-level words into your homeschool spelling journey: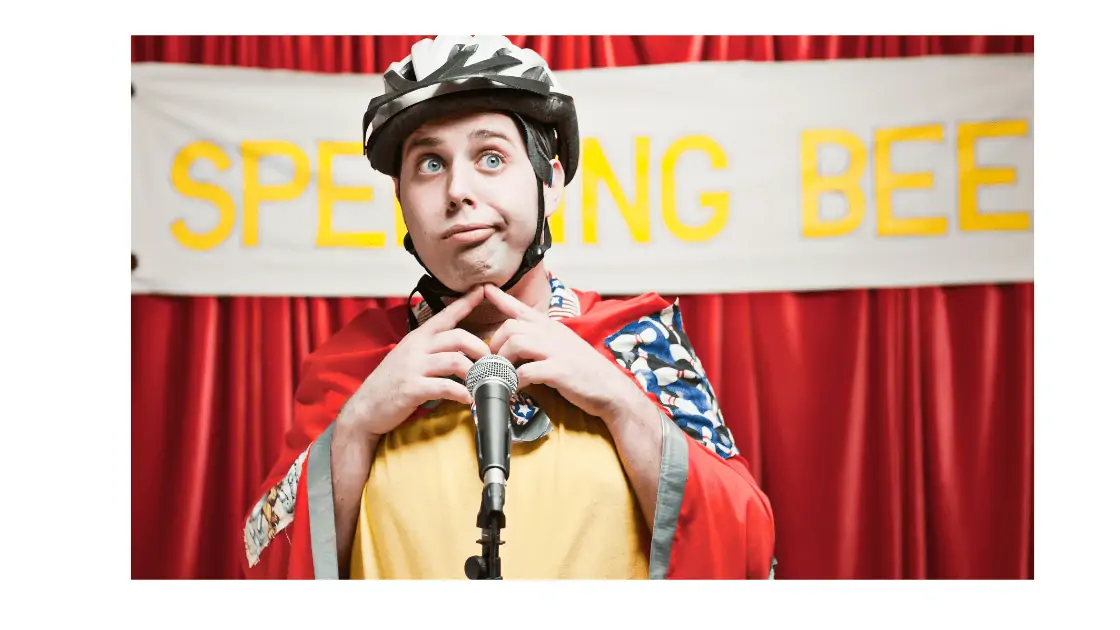 Select the Appropriate Grade Level: Start by choosing the list of words that correspond to your child's grade level or the one just below. This ensures that the words align with their current learning stage.
Daily Practice: Allocate a portion of your daily homeschooling routine to spelling practice. For instance, you might opt to work on around 10 words each day.
Three Times Mastery: The goal is to ensure your child truly understands and can spell each word accurately. To achieve this, they should be able to spell each word correctly three times before considering it mastered.
Incremental Learning: Introduce new words at a manageable pace. As your child becomes proficient with one set of words, gradually introduce more challenging ones.
Interactive Activities: Enhance the learning experience by incorporating various interactive activities. These could include sentence construction, word associations, and practicing the words in context.
Regular Assessments: Periodically assess your child's progress to ensure they are retaining and applying the words effectively.
Celebrate Achievements: As your child becomes proficient in spelling these champion-level words, celebrate their accomplishments to boost motivation and confidence.
Best spelling games for kids
These are the best spelling games for early learners up to middle school students and above. Perfect for adding to your family game night:
Best spelling apps for kids
These apps are a great way for the kids to practice spelling while having screen time.
Last Updated on 3 November 2023 by homeschoolof1