19 Roald Dahl Gifts For Swashboggling Kids
Looking for some awesome Roald Dahl gifts to bring the magic of his world into your life?
We've got a bunch of cool stuff that'll make any fan super happy.
And hey, if you're up for some fun, we've also got some fantastic Roald Dahl Day activities that'll bring smiles and laughter to your crew.
So, get ready for a wild ride with Roald Dahl's enchanting stories and exciting gifts!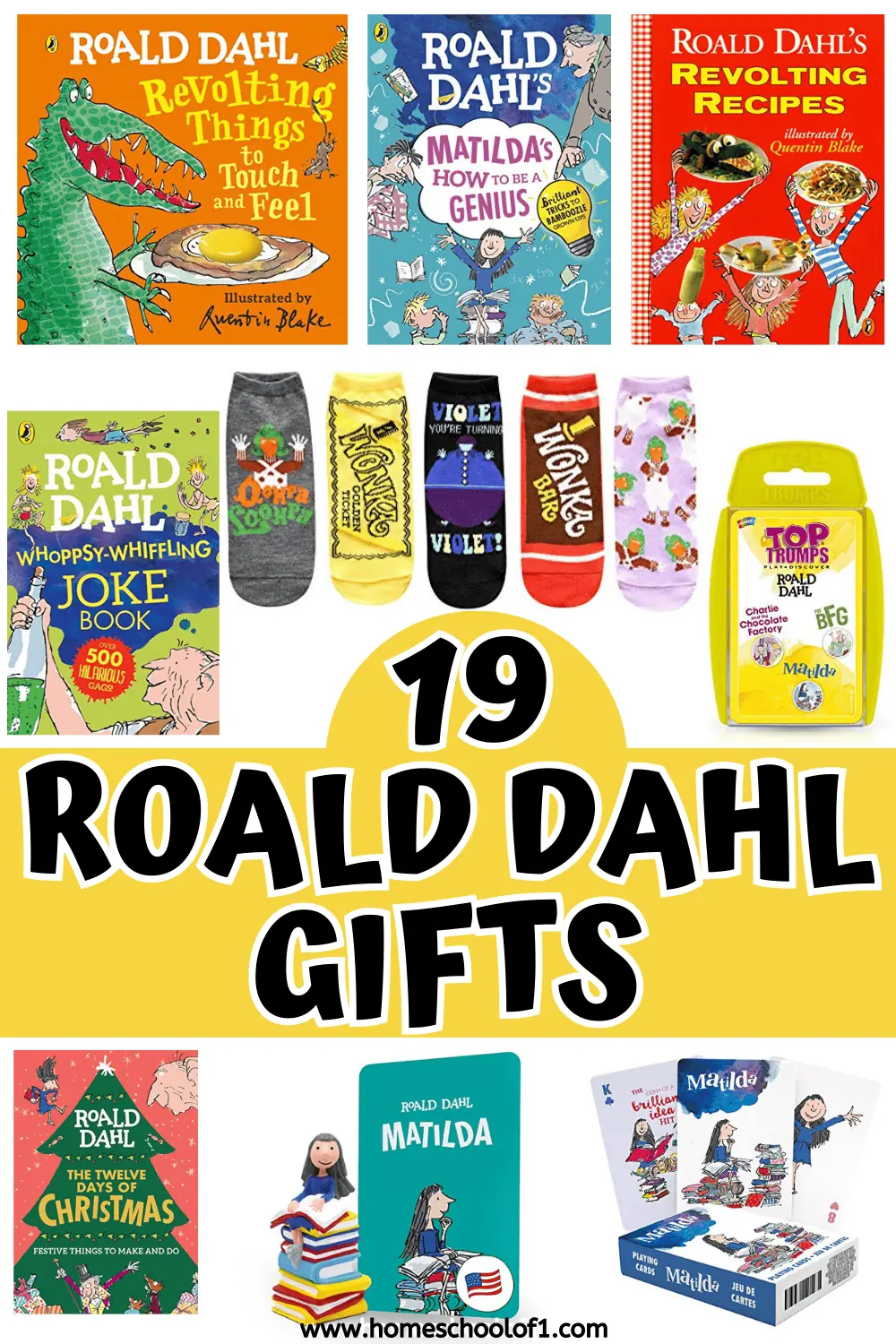 **There may be affiliate links in this post. You can read my full disclosure at the bottom of the page.**
Why is Roald Dahl so special?
Roald Dahl's specialness lies in his ability to connect with readers through his imaginative storytelling. Unforgettable characters, and the lasting messages of hope, courage, and empathy woven into his works.
His books have become beloved classics that continue to be cherished by readers of all ages.
Making him one of the most celebrated and influential authors in children's literature.
What are 3 interesting facts about Roald Dahl?
Roald Dahl led a fascinating life beyond his writing career. Here are three interesting facts about him:
During World War II, Roald Dahl served as a Royal Air Force (RAF) pilot in the British military. He was involved in several air combat missions but suffered a severe injury when his plane crashed in Libya. He then worked as a spy, using his charm and connections to gather valuable information from high-profile individuals to support the British war effort.
Following the death of his young daughter, Olivia, from measles encephalitis in 1962, Dahl became determined to help prevent such tragedies. He teamed up with a toymaker named Stanley Wade and a neurosurgeon, Kenneth Till, to invent the "Wade-Dahl-Till" (WDT) valve. This valve was designed to alleviate hydrocephalus (a condition where excess fluid accumulates in the brain.) And has since saved the lives of many children around the world.
Roald Dahl's love for chocolate was well-known and inspired one of his most famous books, "Charlie and the Chocolate Factory." Dahl's experiences as a child, when he was one of a group of children chosen to taste-test chocolates for Cadbury, influenced the story's themes of wonder and imagination.
Roald Dahl: The Witches Mad Libs: World's Greatest Word Game
Never Grow Up
AQUARIUS Roald Dahl Matilda Jigsaw Puzzle (500 Piece Jigsaw Puzzle) – Glare Free – Precision Fit – Officially Licensed Roald Dahl Merchandise & Collectibles – 14 x 19 Inches
AQUARIUS Dahl- James Fun Box – Sturdy Tin Storage Box with Plastic Handle & Embossed Front Cover – Officially Licensed Roald Dahl Merchandise & Collectible Gift for Kids, Teens & Adults
Matilda Mad Libs: World's Greatest Word Game
Roald Dahl: The Twelve Days of Christmas: Festive Things to Make and Do
What is Roald Dahl's most popular book?
Roald Dahl's most renowned and cherished book is Charlie and the Chocolate Factory. It has earned its status as a timeless classic, captivating both youngsters and adults alike.
The story revolves around a young boy named Charlie Bucket. He gets the opportunity of a lifetime when he scores a golden ticket to tour the eccentric Willy Wonka's extraordinary chocolate factory.
Inside those factory gates, Charlie embarks on a truly enchanting adventure. Willy Wonka's factory is unlike anything you've ever seen, with its whimsical oompa-loompas, delectable candy rivers, and mind-boggling candy creations. It's a world where imagination and wonder take center stage.
The book's popularity has led to not one but two major film adaptations. The original one dates back to 1971, starring Gene Wilder as the enigmatic Willy Wonka. While the more recent adaptation in 2005 featured Johnny Depp in the role.
Charlie and the Chocolate Factory continues to hold a special place in the hearts of readers young and old. It's enduring charm and valuable life lessons ensure it remains an all-time favorite.
So, if you haven't yet experienced the magic of Charlie and Willy Wonka's chocolatey wonderland, you owe it to yourself to embark on this delightful journey. You won't be disappointed!
Charlie and the Chocolate Factory continues to hold a special place in the hearts of readers young and old, much like other Roald Dahl books.
Kids will love our free Charlie and the Chocolate Factory worksheet.
Gifts for kids who love Roald Dahl