Free Printable Advent Calendar to Color
As it is very nearly December I thought I would share with you my favorite Christmas printable yet. This free printable advent calendar to color is so simple and yet so much fun.
Count down to Christmas in a colorful and interactive way with an advent calendar to color, a perfect addition to your lineup of Christmas activities for kids.
The kids will get super excited every day from December 1st right through to Christmas Day as they see the image in full color.
Each morning when we are having our breakfast the race will be on to see who finds the image that needs coloring in first.
This will be so much fun if you have more than one child, but in our homeschool of one, we still have a race to find it!! Either take it in turns to color in each day or print one off for all of the kids.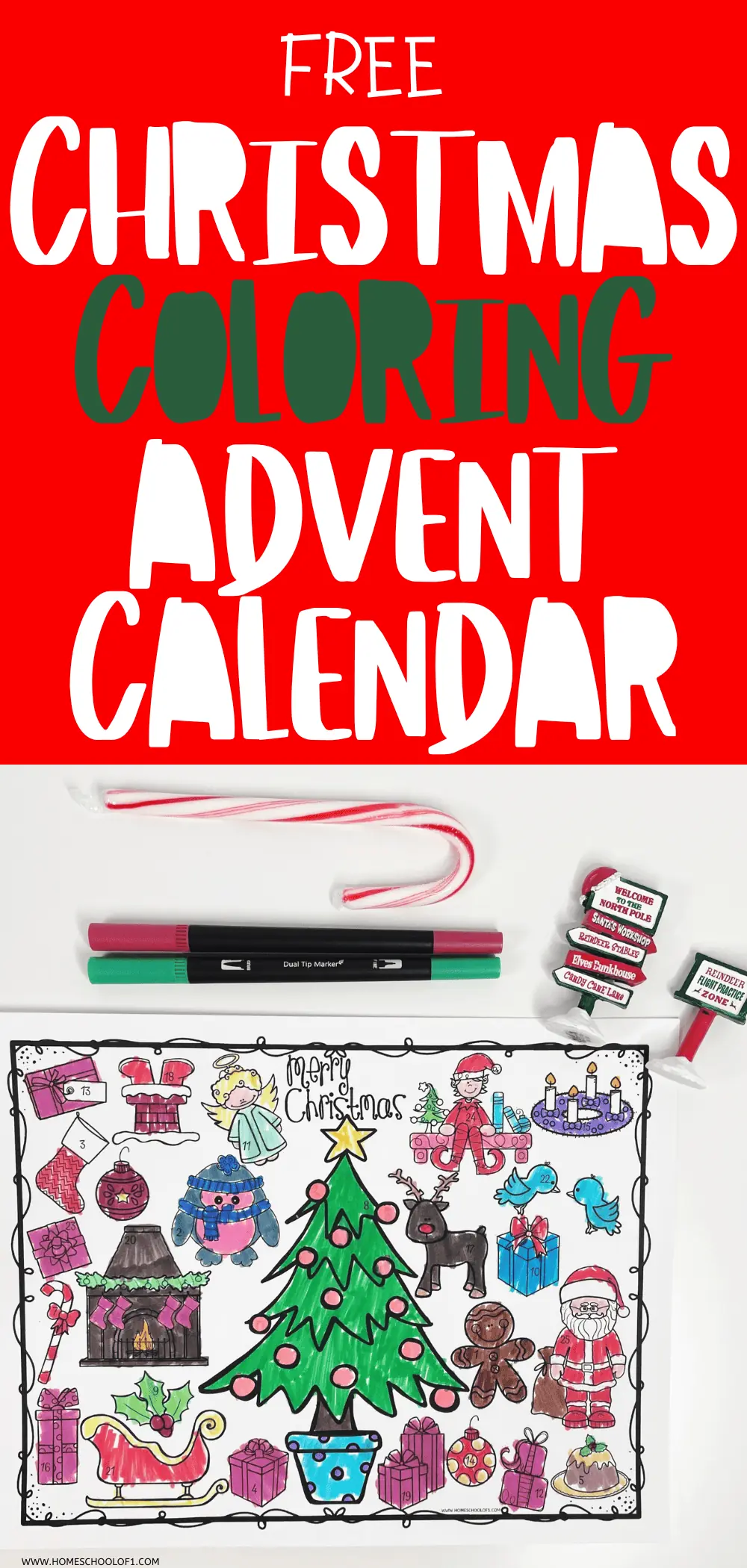 **There may be affiliate links in this post. You can read my full disclosure at the bottom of the page.**
Advent calendar activity ideas
Discover our favorite Christmas countdown ideas with these fantastic advent calendar activity suggestions:
Holiday Craft Extravaganza. Each day, kids eagerly anticipate crafting unique ornaments and decorations that contribute to a festive atmosphere.
Story Time Delight. Sharing stories bonds families together and builds excitement.
Random Acts of Kindness. Fostering kindness embodies the true spirit of the season. With daily acts of generosity, children learn the value of giving and experience the warmth of spreading holiday cheer.
Cookie Decorating Fun. Baking and decorating cookies is a hands-on tradition that fuels the imagination.
Christmas Movie Marathon. Movie nights create a cozy atmosphere and build tradition. The anticipation of a new film each evening cultivates a shared experience that captures the magic of the holidays.
Holiday Science Experiments. Combining education with festivities is both entertaining and enriching. Daily experiments provide a unique way to explore scientific concepts while celebrating the season.
Winter Wonderland Outing. Outdoor activities bring the holiday spirit into nature. Designated outdoor days encourage physical activity and allow families to revel in the winter landscape.
Family Game Nights. Games spark friendly competition and laughter. As each game night approaches, excitement builds for a chance to share playful moments and create lasting memories. Christmas board games are the best and the whole family will love them.
DIY Gift Creation. Handmade gifts showcase thoughtfulness and effort. The kids can make one every day for different friends and family.
These activity ideas are designed to complement the coloring advent calendar by adding layers of creativity, bonding, learning, and joy to your holiday season.
What about treating them to a movie advent calendar printable?
Advent gift ideas
If you are looking for even more advent calendar ideas check out the best advent calendars for kids:
If you are looking for older kids (they shouldn't miss out!) check out the best advent calendar for teen boys and the best advent calendar for teen girls.
Why not get a family advent calendar this year?
Advent Calendar Coloring Page
The kids will love waking up in the morning knowing that they will start the day with a fun free printable advent calendar to color.
Print out the coloring advent calendar below and let the kids find the date and color in the image for that day. It will all be colored in before the big day!
It is a great way to get the kids excited about Christmas. Although we need absolutely no excuse in our home, we are Christmas mad!
We leave this advent calendar on the kitchen table so every morning at breakfast we will grab the coloring pens and color in the day's picture.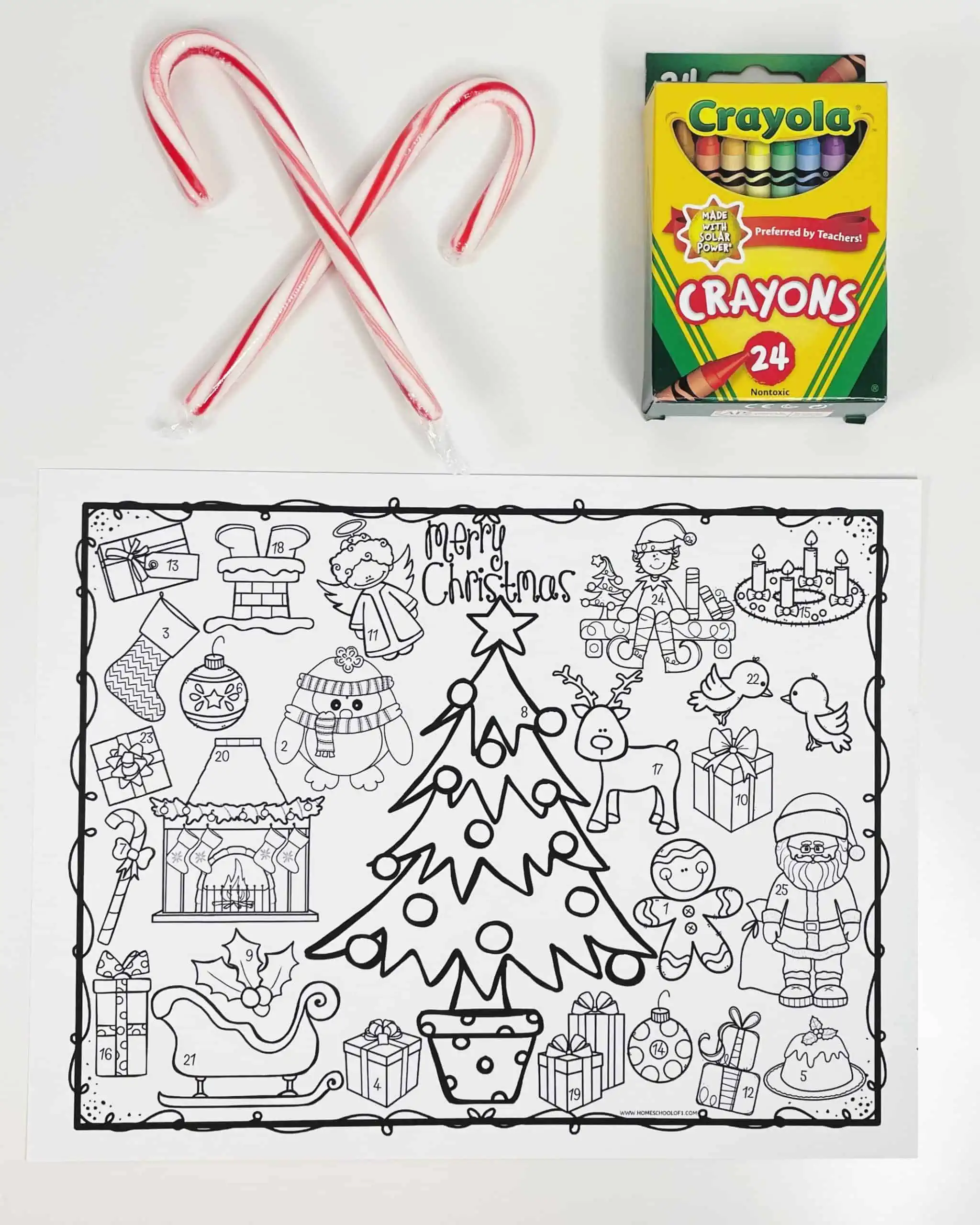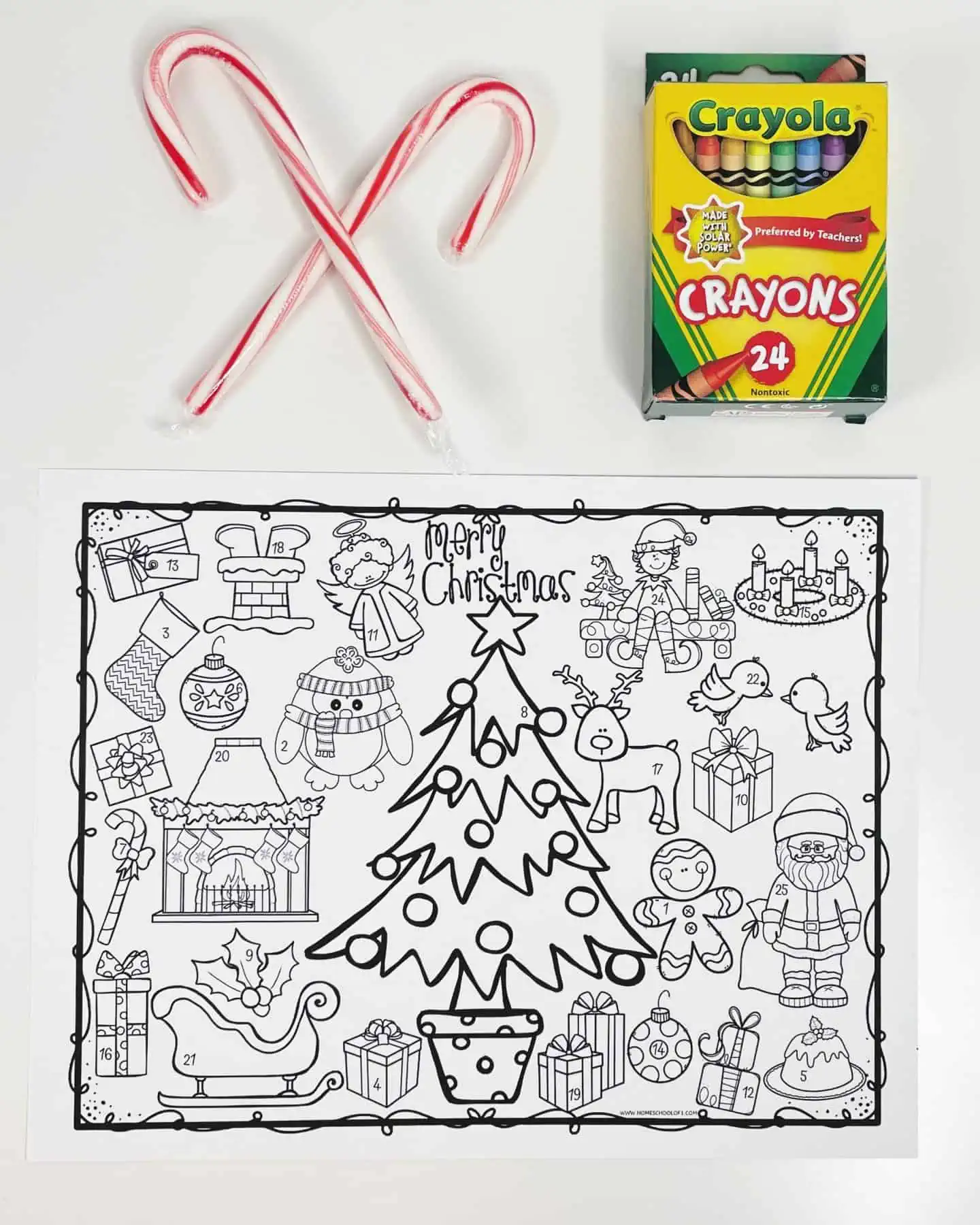 We are putting away our core curriculum next week to start a month of Christmas activities.
If you are also one of the lucky (or crazy ones, depending on the day!) who homeschool check out our favorite educational Christmas activities you can also enjoy. These activities are aimed at kids from 5-14 years old.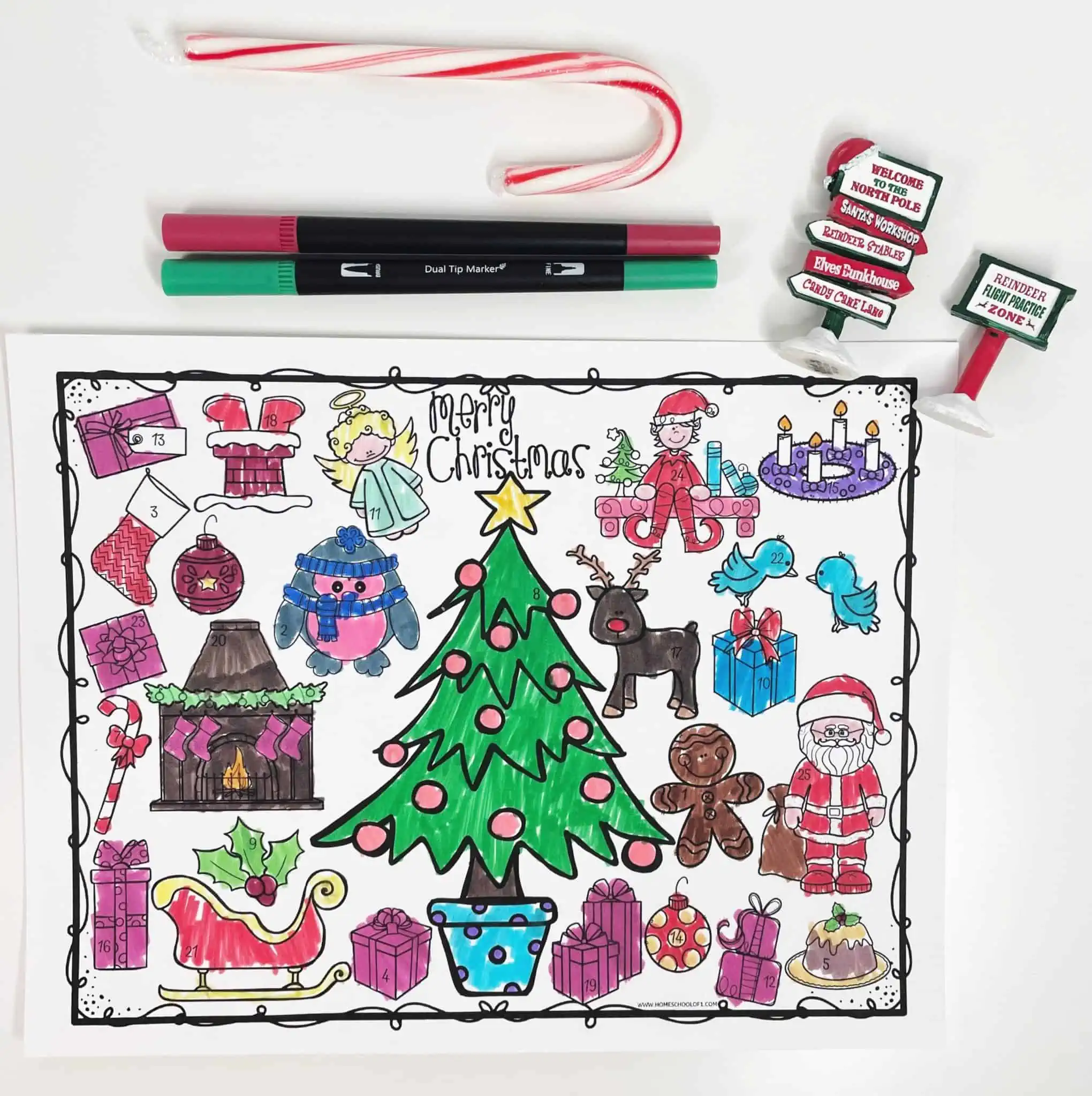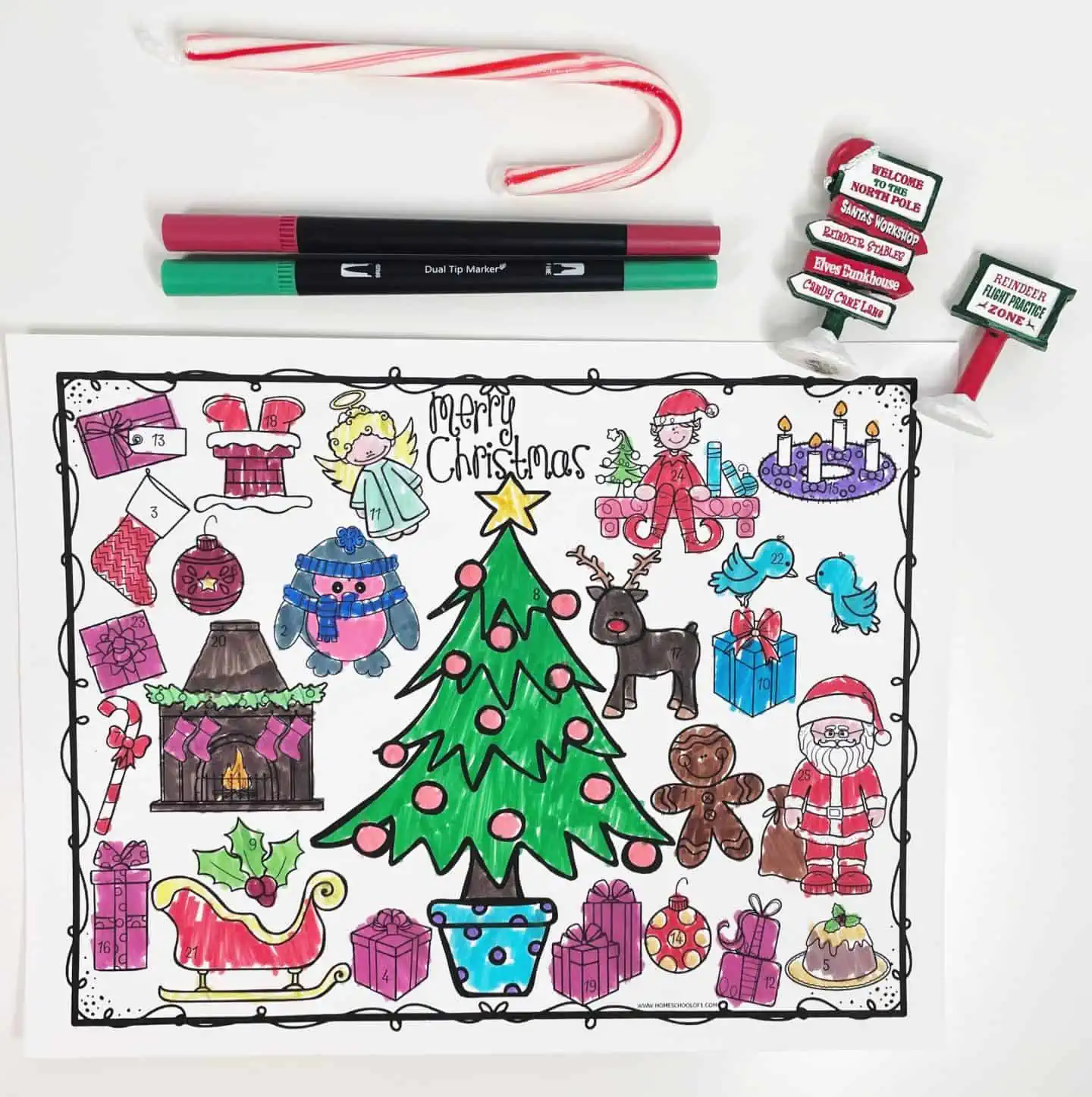 Additional Christmas fun activities
Have even more fun this holiday season with these fun Christmas printables:
Books about the countdown to Christmas
Countdown to Christmas!: With a Story a Day features a delightful collection of daily stories starring the beloved Peanuts gang. Capturing the heartwarming essence of the holiday season in two-sentence tales.
In Elmo's Countdown to Christmas, children join Elmo and friends on an interactive journey. Lifting flaps to discover holiday surprises while sharing the excitement of counting down to Christmas day.
Tractor Mac Countdown to Christmas follows the adventures of Tractor Mac and his friends as they prepare for Christmas on the farm, blending themes of friendship, teamwork, and festive cheer in a heartwarming countdown to the big day.
Tips for downloading the free files
Below you will see a large sign-up box where you need to add your name and email address, and press I NEED THIS NOW!
Within minutes you will be sent the free PDF directly to your email address, so you can print it out and start using it immediately.
Sometimes emails get a little wonky, so if you can't see it, please check your spam folder where I am sure it is hiding.
Download the free printable coloring advent calendar
Make sure you choose the correct paper size and click on the shrink to fit button. All of our free printables for kids work better when printed on cardstock (this is the one we use and love.)
Last Updated on 25 November 2023 by homeschoolof1