8 Free St Patrick's Day Coloring Pages Full of Magic
Get the kids ready for St Patrick's Day with these super cute free printable St Patrick's Day coloring pages.
There are 8 fun storybook coloring sheets for you to download for free. With lots of different St Patrick's Day-themed images including leprechauns, shamrocks, and rainbows.
Print off as many copies as you want and more importantly have lots of fun with your St Patrick's Day activities.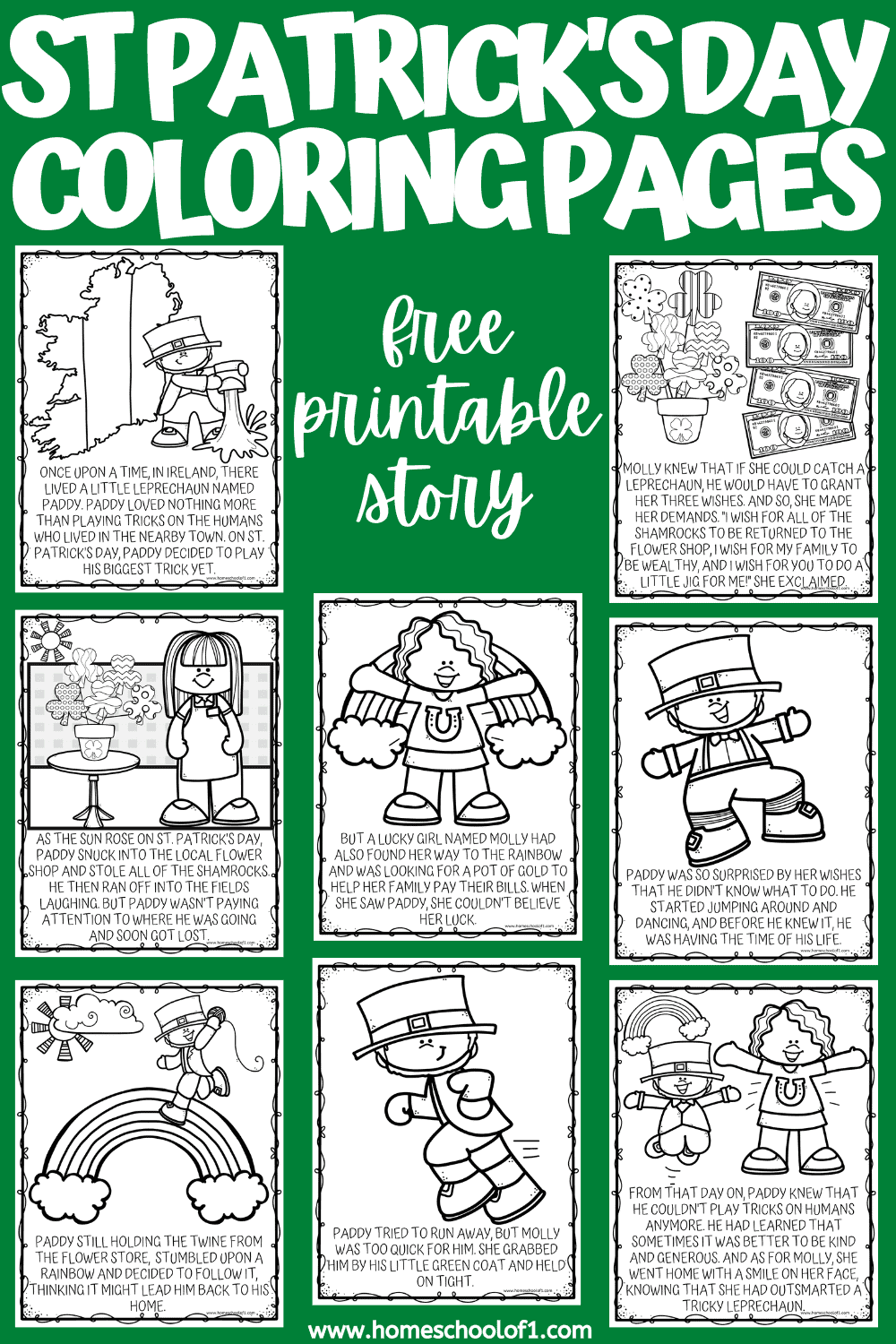 **There may be affiliate links in this post. You can read my full disclosure at the bottom of the page.**
Coloring Pages for Saint Patrick's Day
We love creating free kids coloring pages, and we either use them as a supplement for a lesson we are studying or to calm the mood! Coloring is a great way for them to refocus and relax, and great for improving fine motor skills.
This St Patrick's Day coloring book is free to print but is for personal and classroom use only. Scroll to the bottom of the post and add your email address to get the pdf file.
We use these dual-tipped coloring pens in our St Patrick's Day coloring. We absolutely love them and they last for months (we use them most days!)
The children will color the following Irish images:
Ireland
Leprechauns
Shamrocks
Flower shop assistant
Rainbow
Lucky girl
Money
Coloring St Patrick's Day Story Book
These can be printed on normal printing paper, however, card stock would look better of course. We used this cardstock (this is the one we use), it is of excellent quality and you can use it for lots of different projects.
There are 8 holiday coloring pages to print out.
This is a heartwarming story that will definitely put everyone in the holiday spirit.
On the first page, the children will color in a map of Ireland and a naughty leprechaun called Paddy who is tipping out green paint onto the floor.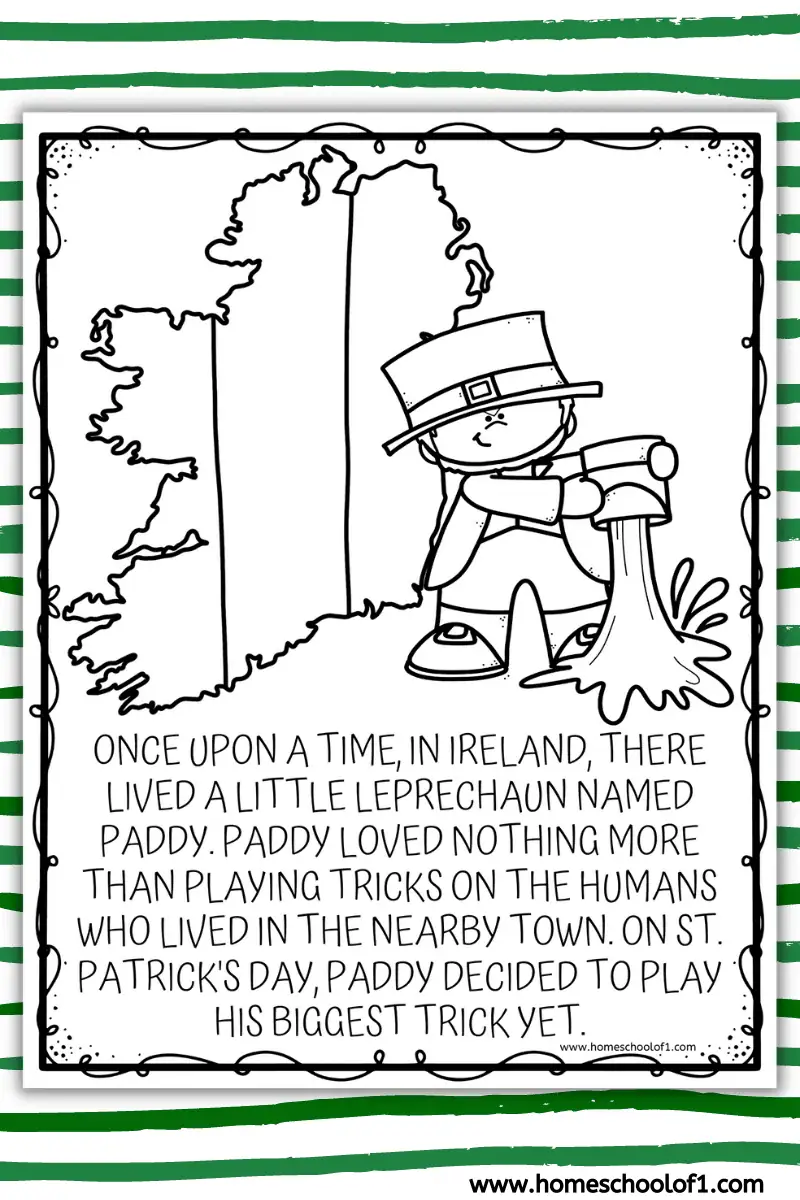 The second page is a picture of a flower store with a bunch of shamrocks, that the naughty leprechaun steals from the shop.
Luck of the Mad Libs: World's Greatest Word
Ten Lucky Leprechauns
How to Catch a Leprechaun
The Luckiest St. Patrick's Day Ever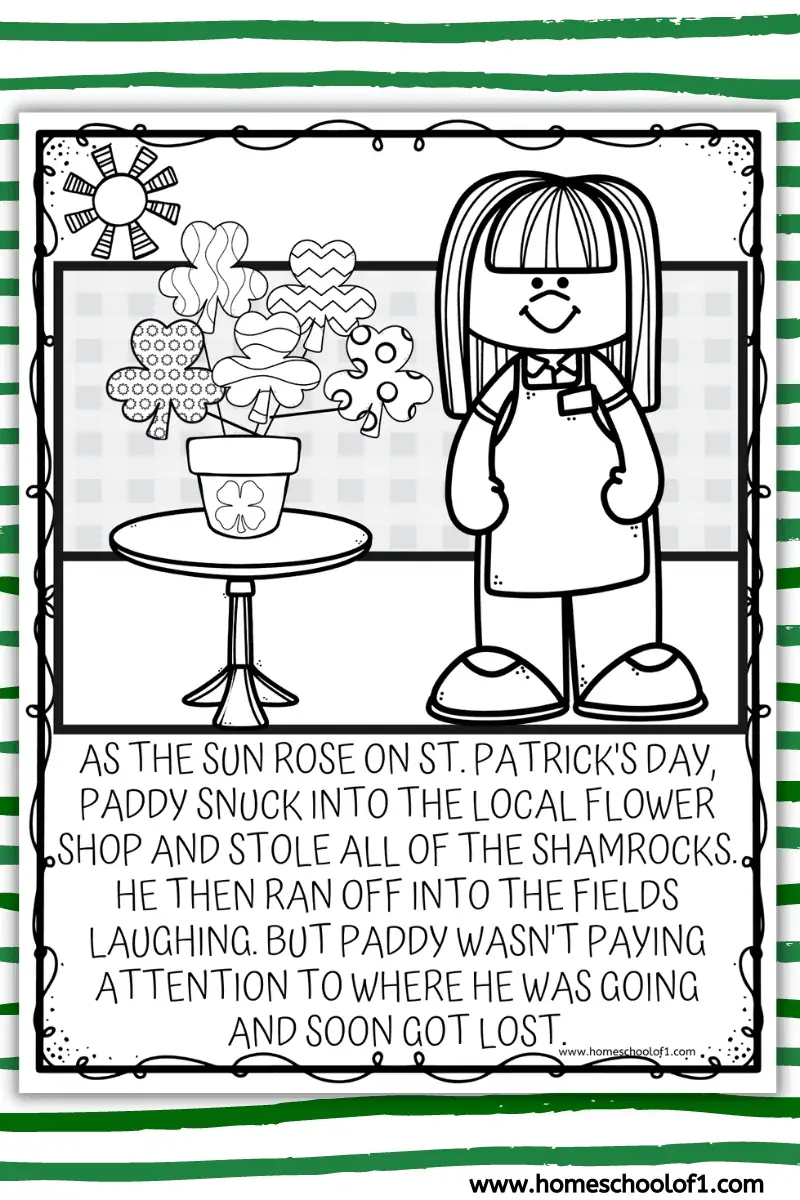 Page number three has the leprechaun running on a rainbow with the twine stolen from the flower shop.
If you can't remember the colors of the rainbow, I always use this mnemonic:
Richard Of York Gave Battle In Vein (red, orange, yellow, green, blue, indigo, violet)
But the cheeky leprechaun came across a little girl called Molly, who was on the search for a pot of gold to give to her family.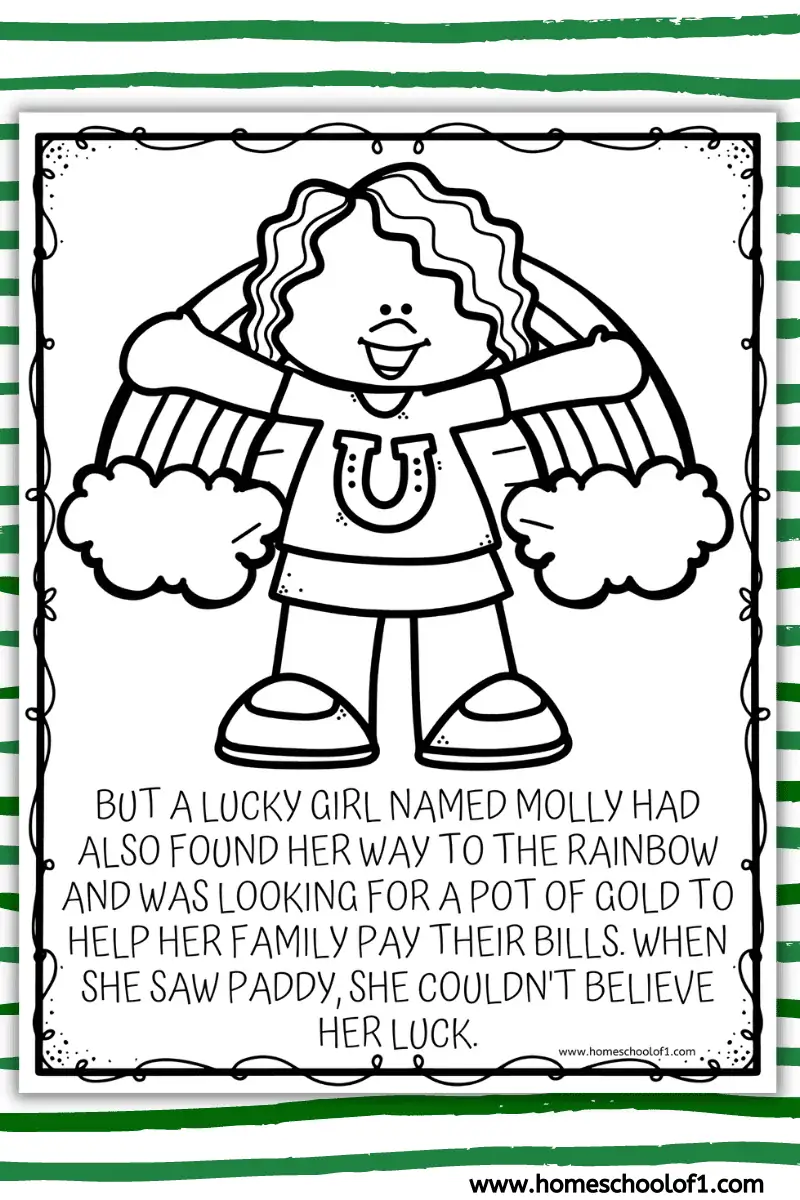 Molly caught Paddy and knew that he would have to grant her 3 wishes.
Molly asked for the leprechaun to return the shamrocks, make her family wealthy, and do a little jig!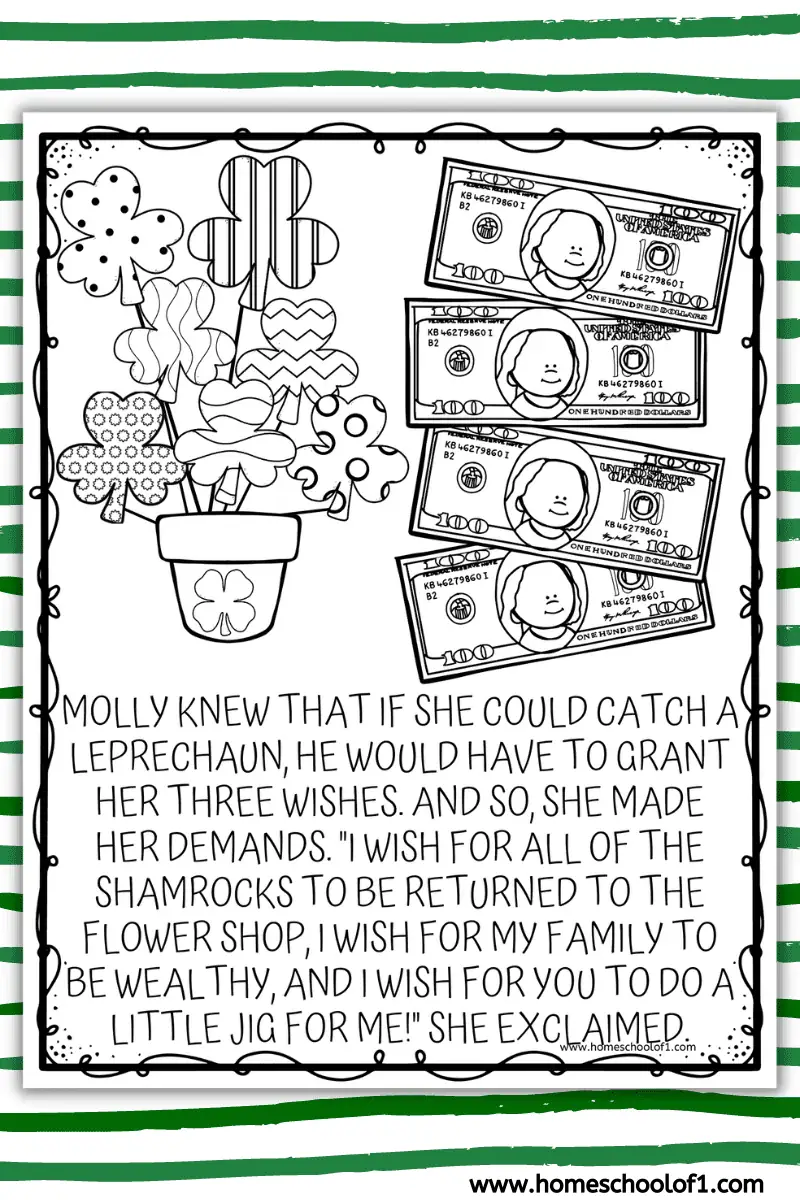 Paddy returned the shamrocks to the flower store and gave Molly the money she requested. Then proceeded to do a merry jig.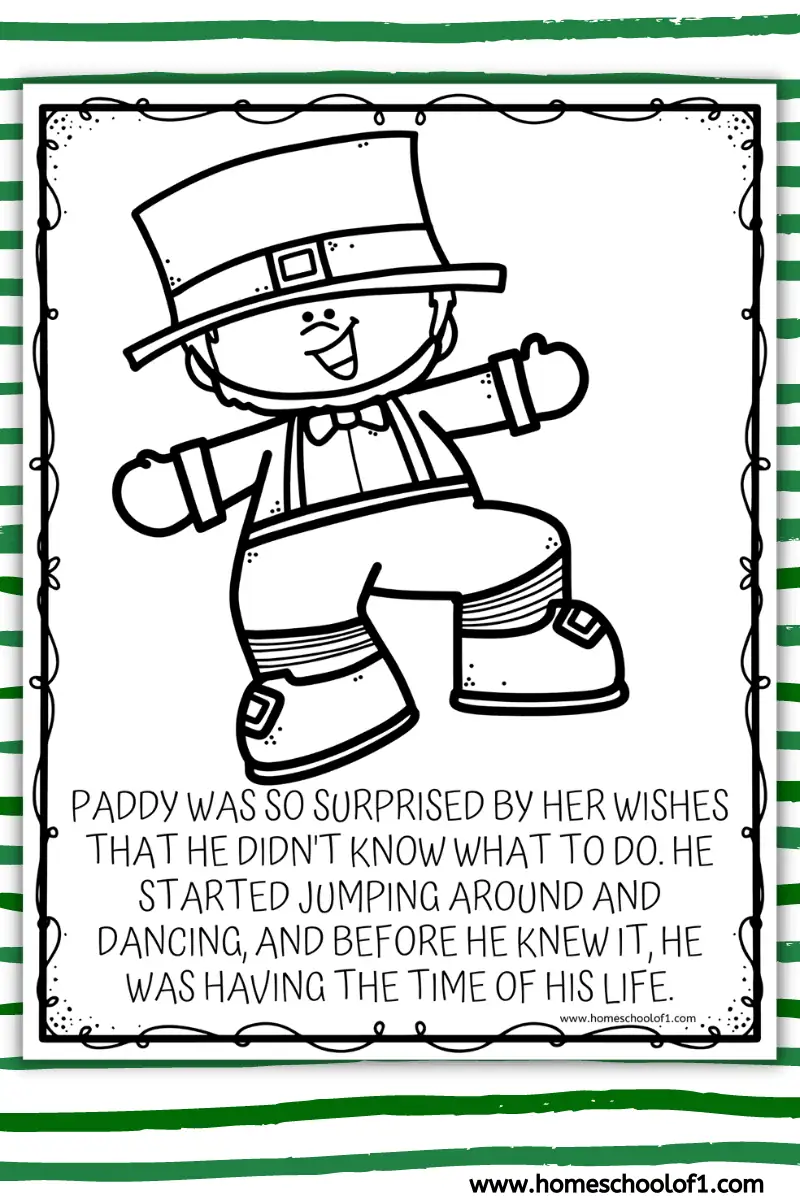 The final page is lucky Molly and a very happy leprechaun.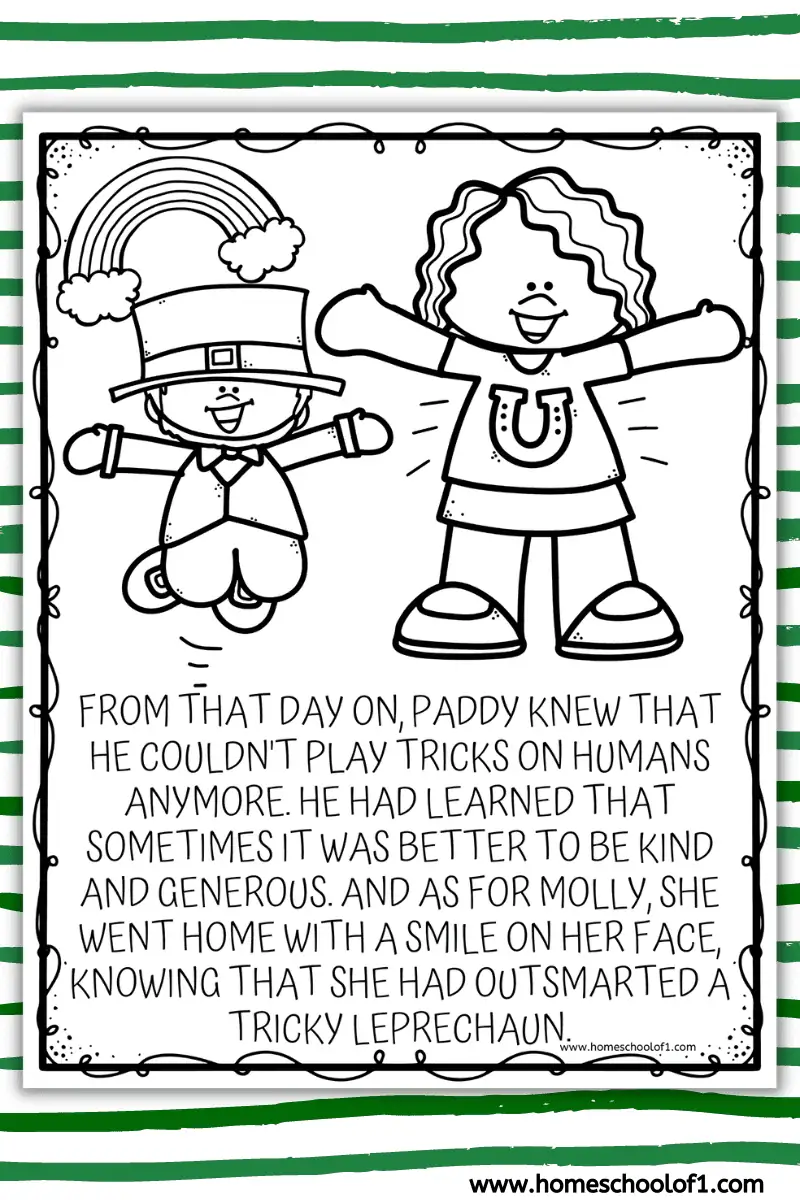 What lessons can be learned from this St Patrick's Day story?
There are a few lessons that can be taught to elementary-aged students through this story:
Molly was kind and generous to Paddy, even though he was trying to play tricks on her. In the end, her kindness paid off and she was able to make her wishes come true.
Paddy learned that it was better, to be honest, and return the shamrocks to the flower shop than to continue playing tricks on people.
Paddy realized that his actions had consequences and took responsibility for returning the shamrocks to the flower shop.
Molly was determined to find a pot of gold to help her family, and her perseverance paid off when she caught Paddy and made her wishes.
Other St Patricks Day Printables For Kids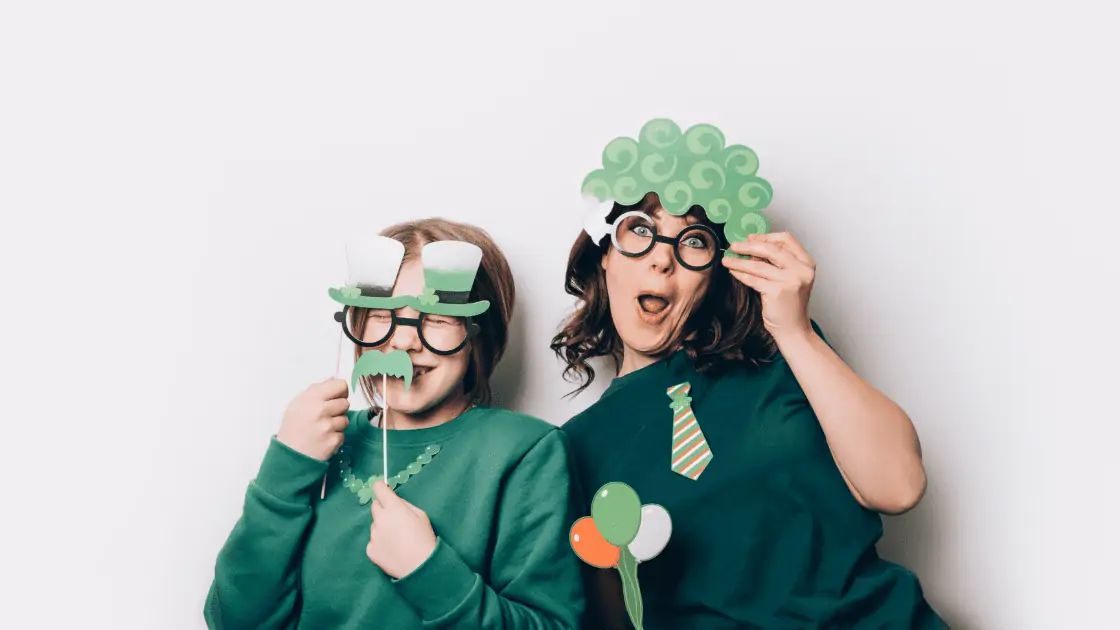 Why not download our free St Patrick's Day bookmarks to color as well?
If you are looking for even more coloring ideas check out this GIANT St. Patrick's Day coloring poster (30″ x 72″ inches). This really will keep the kids busy for hours! What's even better is you could use this as a tablecloth.
Why not check out our free St Patrick's Day bingo and have lots of fun with the kids.
Keep the kids occupied at the dining table with these free St Patrick's Day placemats full of fun activities!
Have fun with our free St Patrick's Day Scavenger Hunt clues.
Check out our favorite St Patricks Day books and have some nice read-aloud time.
St Patrick's Day handprint art is a great keepsake.
Download the free coloring pages for St Patrick's Day
Make sure you choose the correct paper size and click on the shrink to fit button. All of our free printables for kids work better when printed on cardstock (this is the one we use and love.)
Last Updated on 3 September 2023 by homeschoolof1