24 Best St Patrick's Day Books For Kids
We just love books in our homeschool, we have them literally in every room of the house. We buy new ones for every holiday too! The books in this list are literally the best St Patrick's Day books for kids we could find.
Most of the books in this list are picture books, but there are two nonfiction books that you can read and use in your homeschool or in the classroom too.
My son absolutely loves reading, check out our favorite book lists for kids there are over 20 book lists included for kids of all ages, for school, for reading, and for every season. Plus lots of free book printables, including these free St Patrick's Day bookmarks to color.
These kids books are so much fun and will definitely get you in the St Patrick's Day spirit!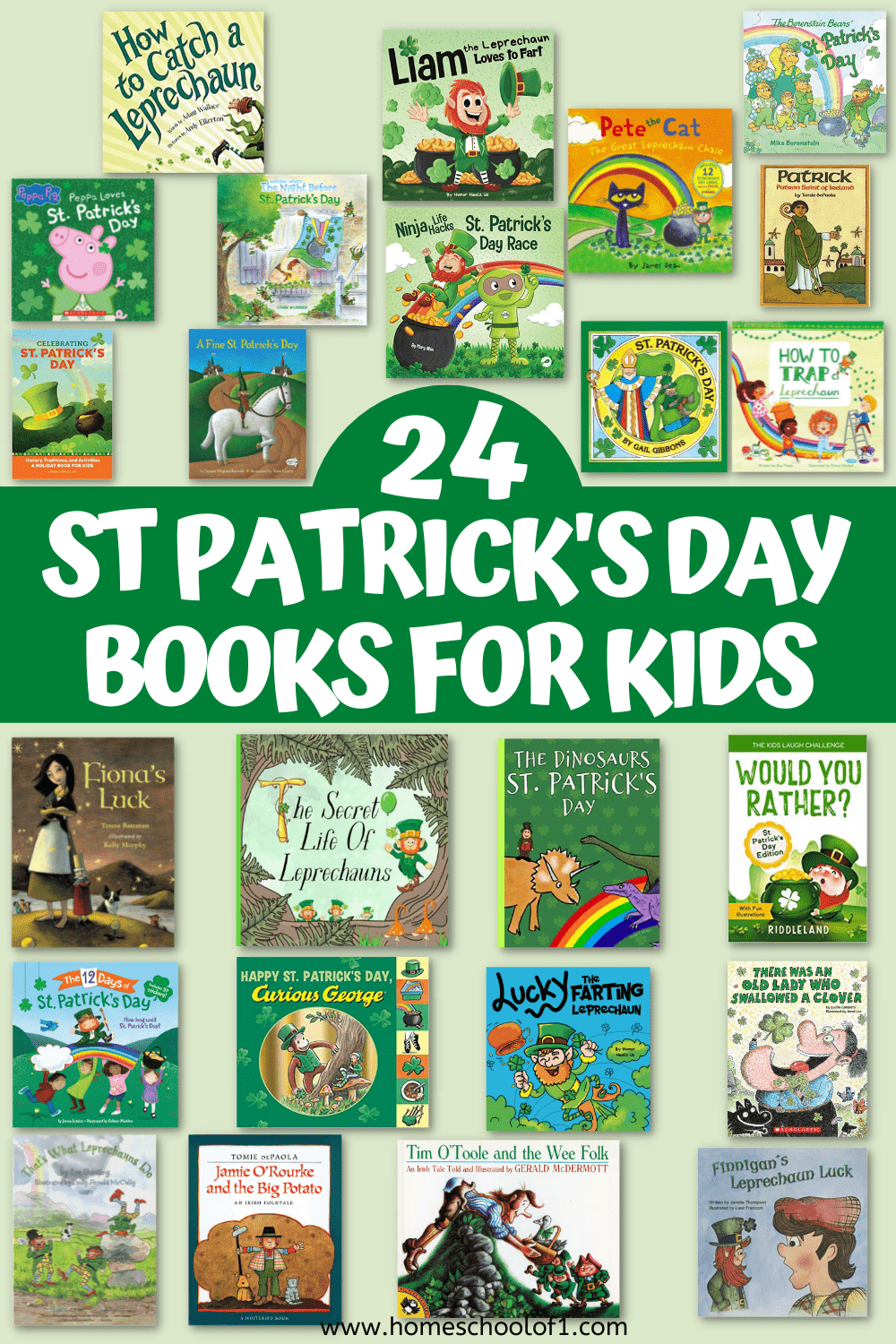 **There may be affiliate links in this post. You can read my full disclosure at the bottom of the page.**
St Patrick's Day Read Aloud Books
These St Patrick's Day books are perfect for kids of any age, but most of them are aimed at toddlers and kindergarten (for read aloud) through the elementary years. But you will bring these books out every St Patrick's Day (we still do and Freddie is 12!).
How to Catch a Leprechaun is probably my favorite St Patrick's Day picture book, and I am not the only one who thinks so! It is a #1 New York Times and USA Today bestseller.
Liam the Leprechaun Loves to Fart – this is so funny, anything with toilet humor is a huge win in our house! When you have finished reading this why not download our free if I were a leprechaun writing activity?
The Berenstain Bears' St. Patrick's Day – the Berenstain bears like us celebrate every single holiday, and as such these books are included in every holiday book guide we have written. Including our favorite Christmas read alouds and the best Thanksgiving read alouds.
Patrick: Patron Saint of Ireland is a beautiful picture book talking about the amazing Patron Saint of Ireland, Patrick. Learn even more about him with our free St Patrick's Day printables.
The Night Before St Patrick's Day is a wonderfully illustrated picture book that would be perfect as a book to read with your kids.
Peppa Pig Loves St Patricks Day is a new book only released this year and is a must if your children love Peppa Pig.
Pete the Cat: The Great Leprechaun Chase
Ninja Life Hacks St. Patrick's Day Race – we have a number of these Ninja life books and they are great. This St Patrick's Day book is just as good as the rest.
A Fine St Patrick's Day is a wonderful story for younger elementary-aged kids, or upper elementary reading themselves.
Celebrating St. Patrick's Day: History, Traditions, and Activities includes the history of St Patrick's Day. Plus fun activities such as bingo and a scavenger hunt.
How to Trap a Leprechaun is a super colorful picture book that the kids will just love to hear you read.
St Patrick's Day is a nonfiction story of Patrick's life, legends about the saint, and the history of St Patrick's Day.
The Secret Life Of Leprechauns
Fiona's Luck is a beautiful picture book that can either be used as a St Patrick's Day read-aloud. Or can be read independently with middle elementary-aged children.
The Kids Laugh Challenge – Would You Rather? St Patrick's Day Edition – we own so many of these books, they really are hilarious,
The Dinosaurs St Patrick's Day is a wonderful story for younger children.
Happy St Patrick's Day, Curious George is perfect for younger students, it is a tabbed board book.
The 12 Days of St Patrick's Day is inspired by the twelve days of Christmas, this book is really lovely. "On the second day of St Patrick's Day, I was lucky to find: two pots of gold and a shamrock in a field of green."
Lucky The Farting Leprechaun – yet another toilet humor book! We love them!
There Was An Old Lady Who Swallowed A Clover – This lady seems to swallow a lot! Based on the original story this is a great adaptation for St Patrick's Day.
Jamie O'Rourke and the Big Potato is a funny book that works well as a St Patrick's Day read aloud.
Tim O'Toole and the Wee Folk is a great book for older children who can read confidently. It would also work well as a read-aloud book.
St Patrick's Day Activities
If you are looking for even more fun things to do on St Patrick's Day check out these awesome ideas:
I think you are also going to enjoy our top 10 homeschool history books.
Last Updated on 20 January 2023 by homeschoolof1