Mel Science Review: Why We Love it in our Homeschool
I am genuinely excited to write this Mel Science review. If you are a regular reader of Homeschool of 1 you will know that science is not my favorite subject to teach!
In fact, it is currently the only subject that Freddie goes to a homeschool group for! I never liked science at school, and it has clearly stuck with me. A lot of it is because it is messy, it takes a lot of preparation to get the experiments, and, well I just don't enjoy it.
Homeschool science kits from Mel Science have made our homeschool easier!
So to be excited about writing a review on a science project might sound strange!
But Mel Science kits are different, I was a little apprehensive at first, as it is quite expensive. (I like to get everything as cheaply as possible, especially in subjects I don't enjoy!).
Carry on reading for our detailed review of the Mel Chemistry Starter Kit.
I would like to add before I continue, that I paid for this subscription in full, and have not been paid to write this post.
Carry on reading for our detailed Mel Science review, and to see what exclusive promo codes there are available.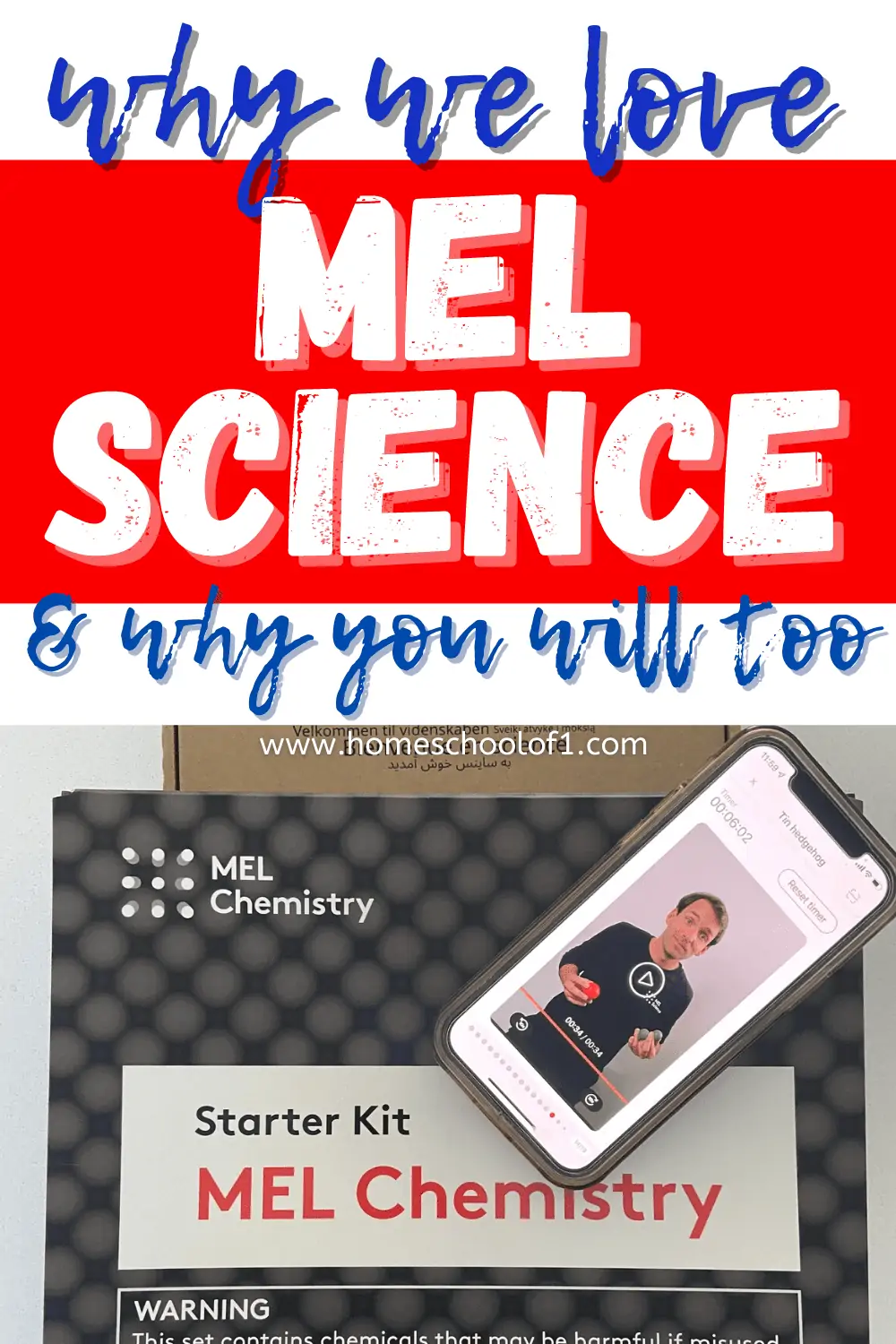 **There may be affiliate links in this post. You can read my full disclosure at the bottom of the page.**
Check out other homeschool science curriculum resources that we love, another of our favorites has to be Generation Genius (check out our Generation Genius review for more information).
Mel Chemistry Starter Kit
With your first subscription, you will receive a Chemistry Starter Kit with eight tools valued at over $50.
That is the Mel Science valuation, I am pretty confident if I were to buy these separately it would cost no more than $30. But, they are very good quality and come in a nice sturdy box.
Carry on reading for our updated Mel Science exclusive promo codes.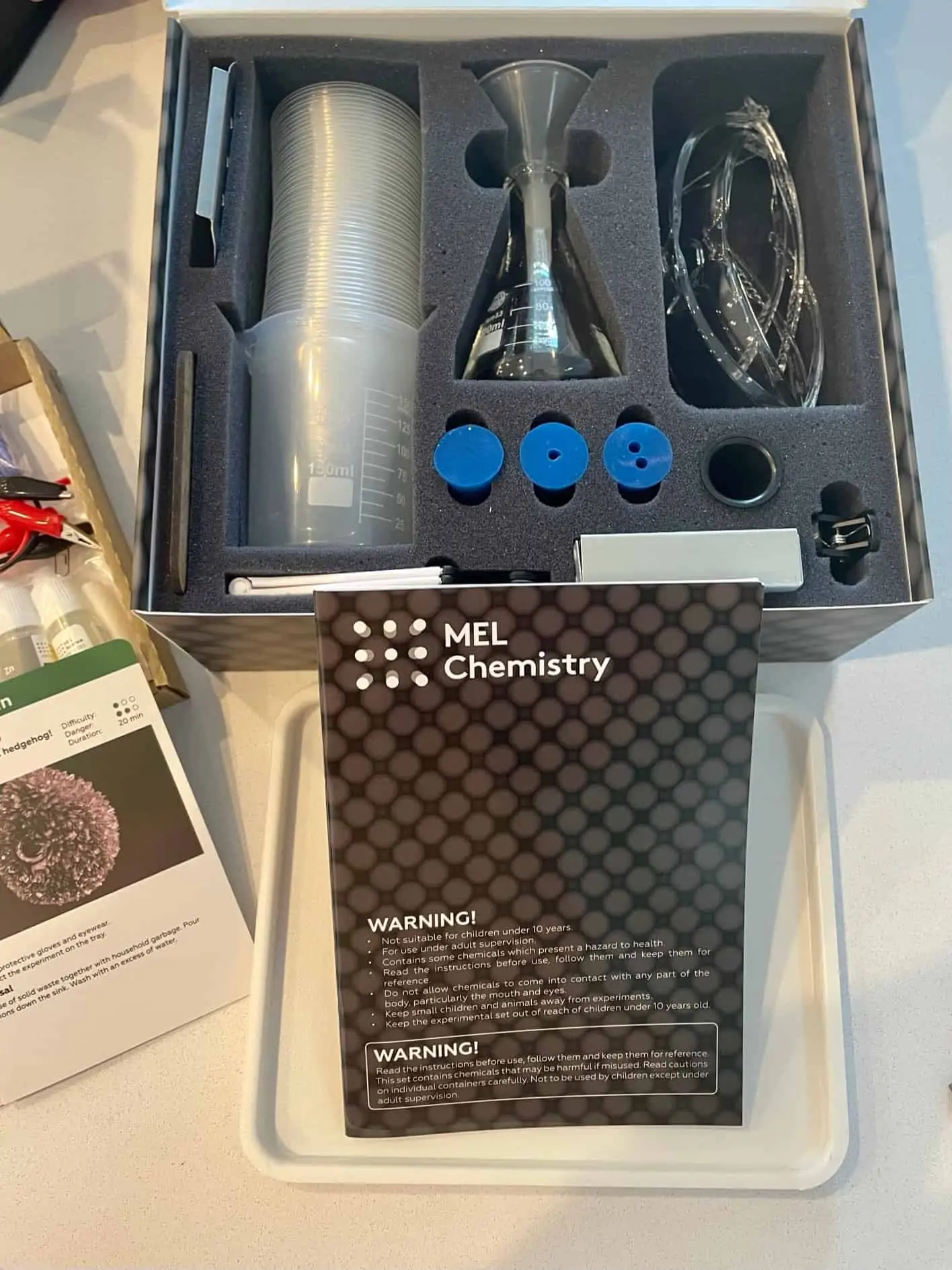 What's in the Mel Chemistry Starter kit:
Borosilicate glass beaker and flask
Macro lens
Safety glasses and a tray
VR headset
Smartphone/tablet stand
Solid fuel burner
Mel Chemistry
We opted for the Mel Chemistry subscription as it is aimed at children over the age of 10. But there are other choices for younger and older children.
Keep reading, as for us the best part of this subscription box is not the experiments (although they are awesome!)
Each month you will receive equipment and supplies for two or three experiments. I did have a small grumble to myself though with the first box as it required 4 x AAA batteries.
Luckily I always have plenty of batteries (I always stock up before hurricane season.)
But I was a little disappointed that not everything was included. That is the only grumble I have though, and I would still highly recommend it.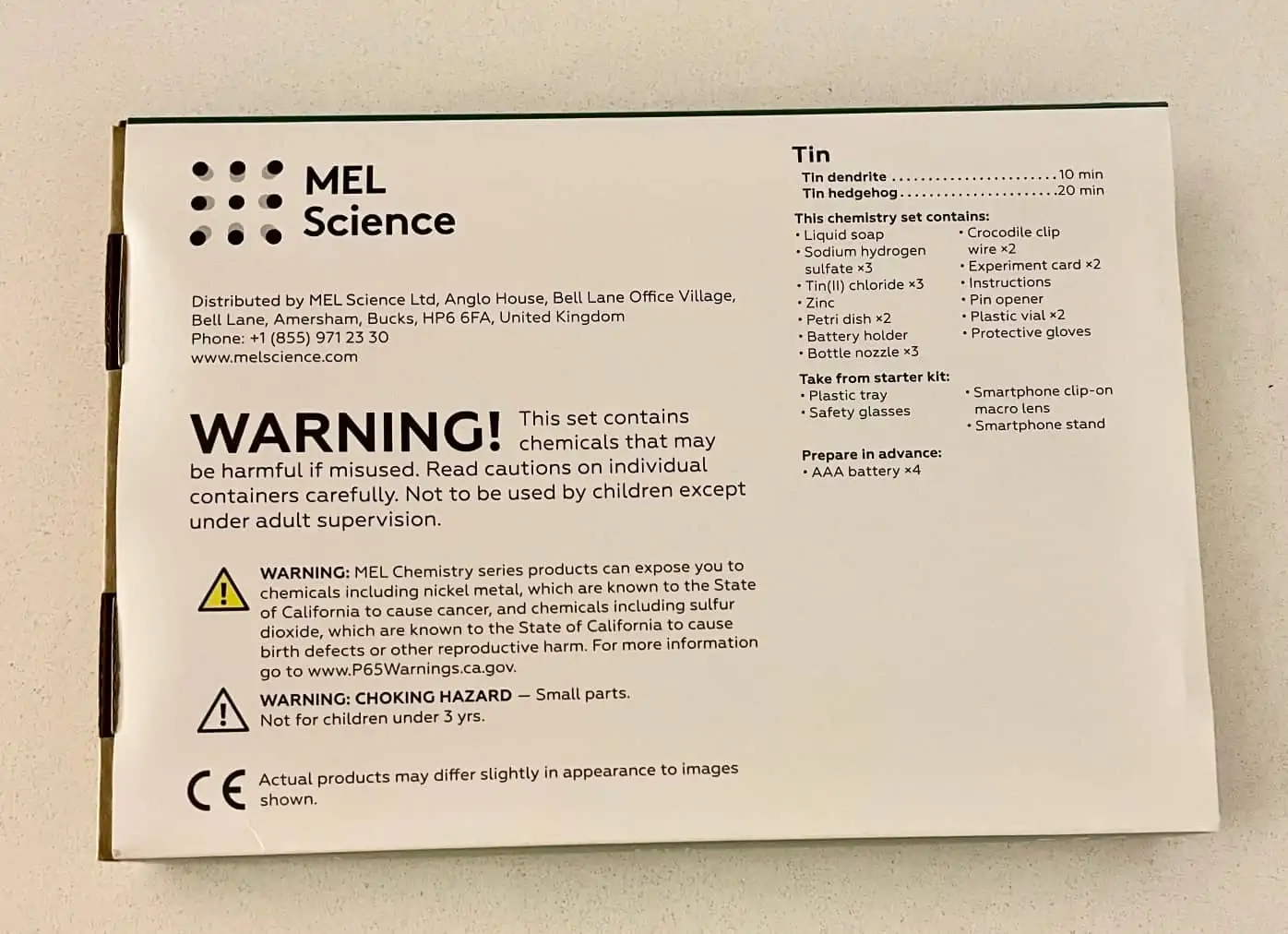 What I liked before I even opened the box was it told me what I needed to prepare before starting. In this case, it was just the batteries.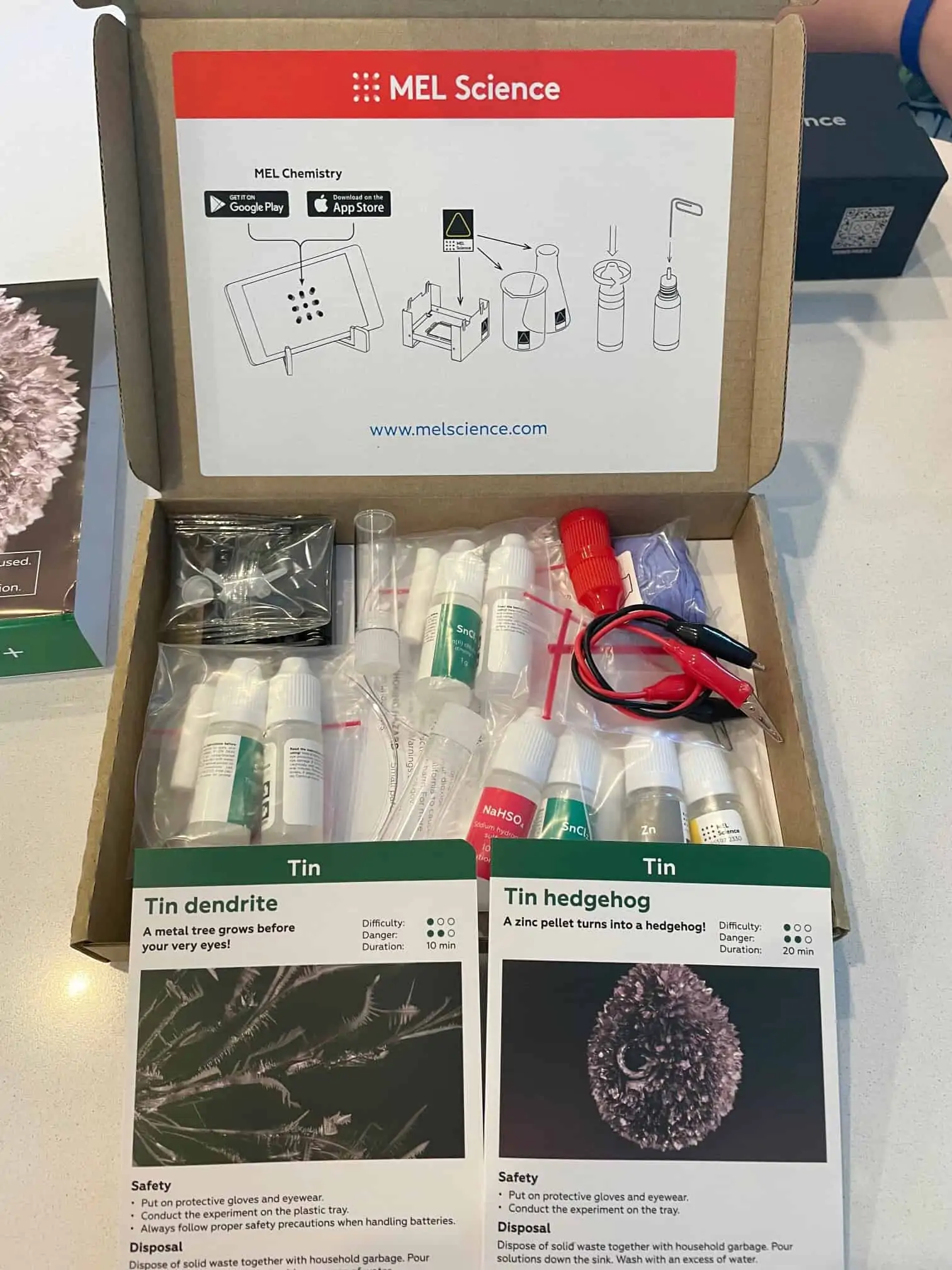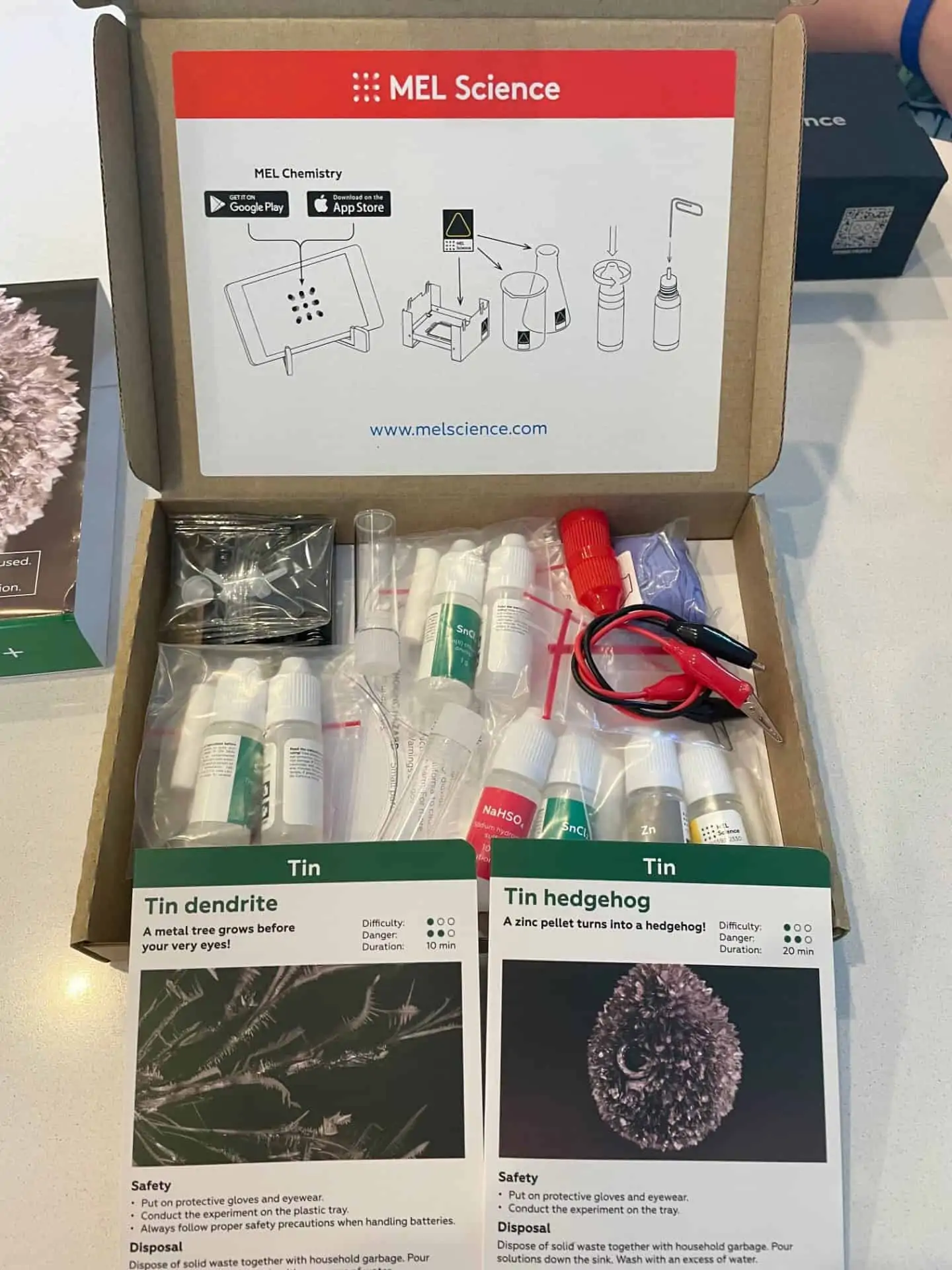 Keep reading for our exclusive promo codes.
Tin Dendrite Experiment
Before I opened the box I could see that this was a 10-minute experiment, so as this was the quickest one we decided to start with this one first.
There is a booklet that tells you what to do, but, I highly recommend downloading the Mel Science App. You will get someone teaching the kids about each step of the experiment, it even has a built-in timer.
This was what it looked like at the end. Very cool!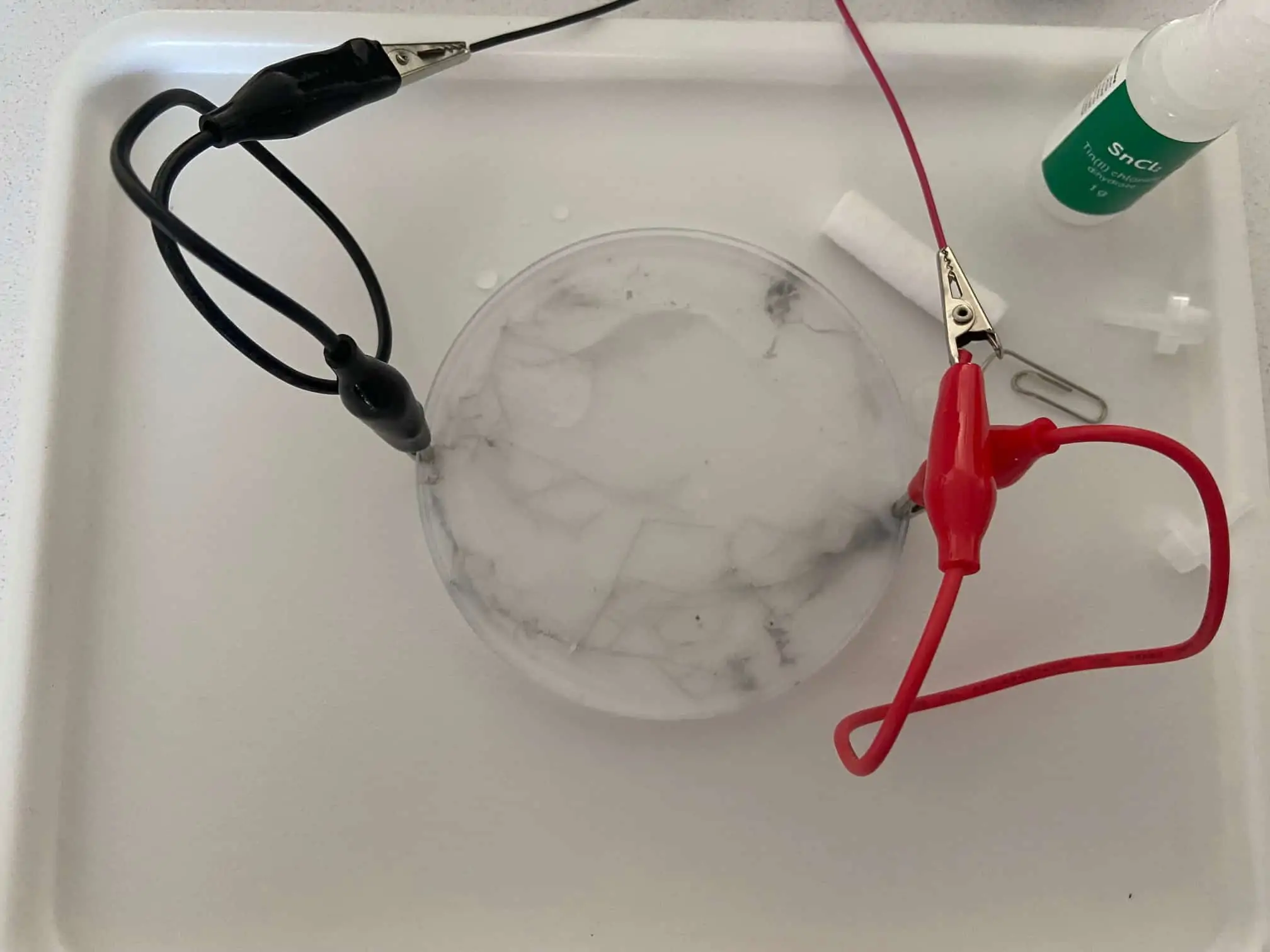 Mel Science Tin Hedgehog Experiment
The tin hedgehog was the longer experiment that is expected to take 20 minutes, so we did this one last. After the first experiment, we were really interested to see what would happen and again we used the App rather than the paper instructions.
When you have added everything together you have to wait about 15 minutes, but the outcome was really impressive.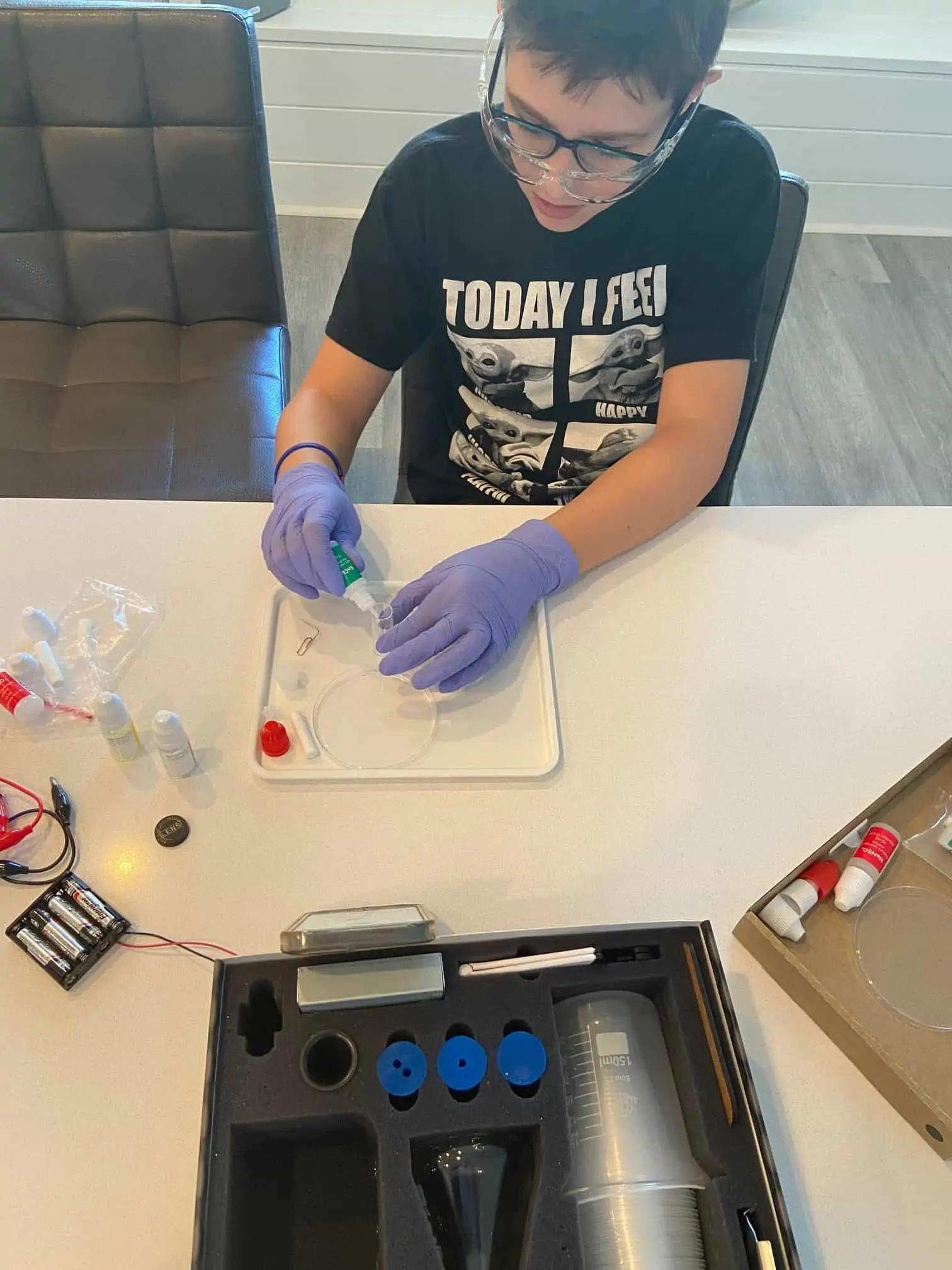 Mel Science Kits
There are currently 3 different science subscription boxes they offer, and you can pick all of them or like us just stick to the Chemistry set.
You can opt to have one, two, or three boxes each month. Of course, the more you order the more the discount.
For one box per month, the cost is $34.90/mo or if you pay annually it is only $25.90/mo.
For three boxes per month, the cost is $89.70/mo, or annually it is $74.70/mo.
There are exclusive Mel Science promo codes at the end of this post though that will make it even cheaper!
There is a new Mel Med Box that can be preordered which looks amazing, and I think we will give it a go in a couple of months. This is aimed at children aged over the age of 14 and costs $69.50 but it comes with 5 experiments per month.
You can easily cancel or pause your subscription from your account, so you are not tied in in any way.
Mel Science For Homeschool
Mel Science is perfect for us homeschoolers. In fact, I wish I had ordered this before. Maybe I wouldn't dislike science so much if it was delivered to me monthly, ready to go! Even more importantly my son loves it and can't wait for next month's box to arrive.
I highly recommend Mel Science for all kids over the age of 8. As the first box is 50% off why not try it for yourself (check the Mel Sciene promo code at the end of this post.)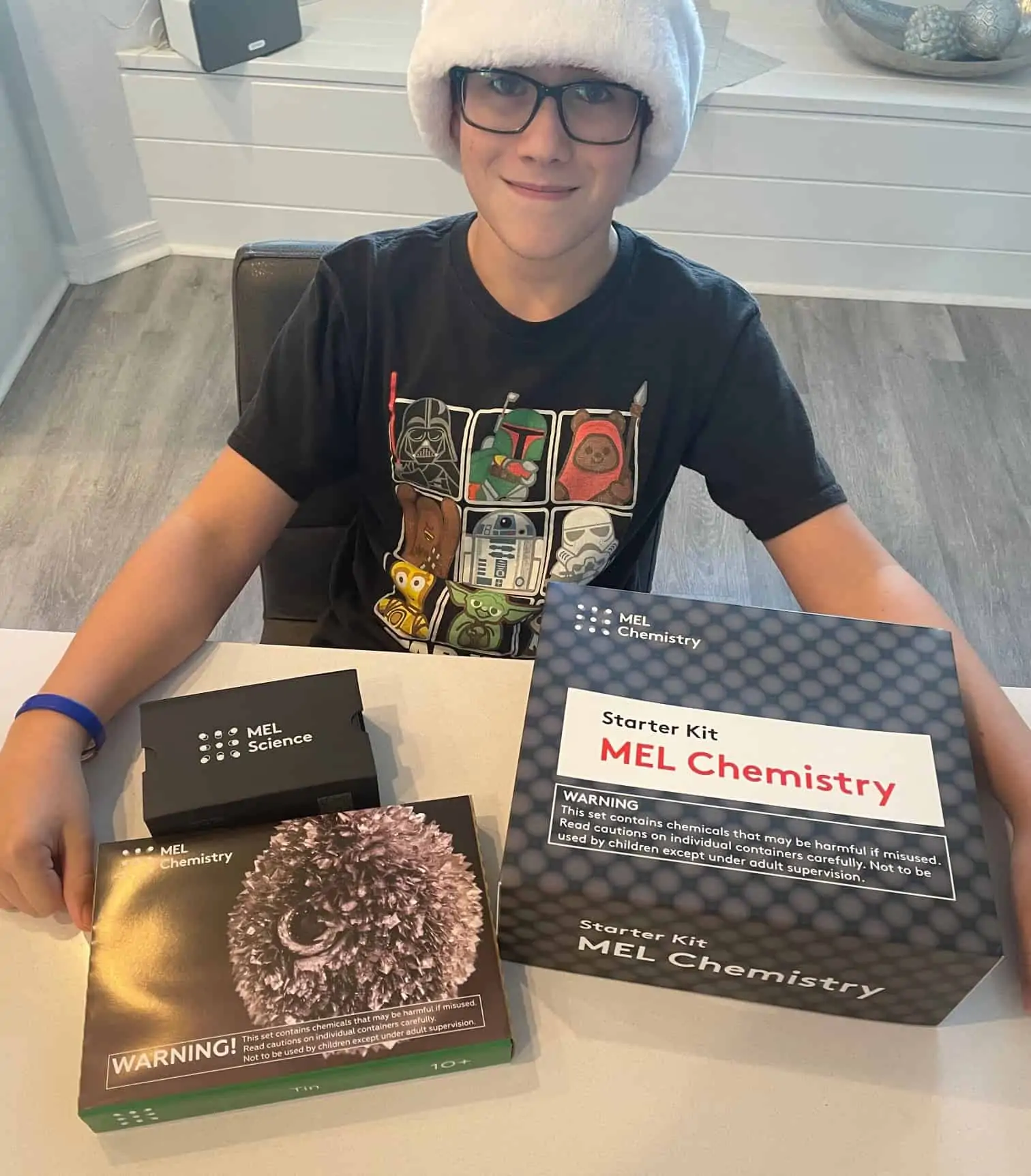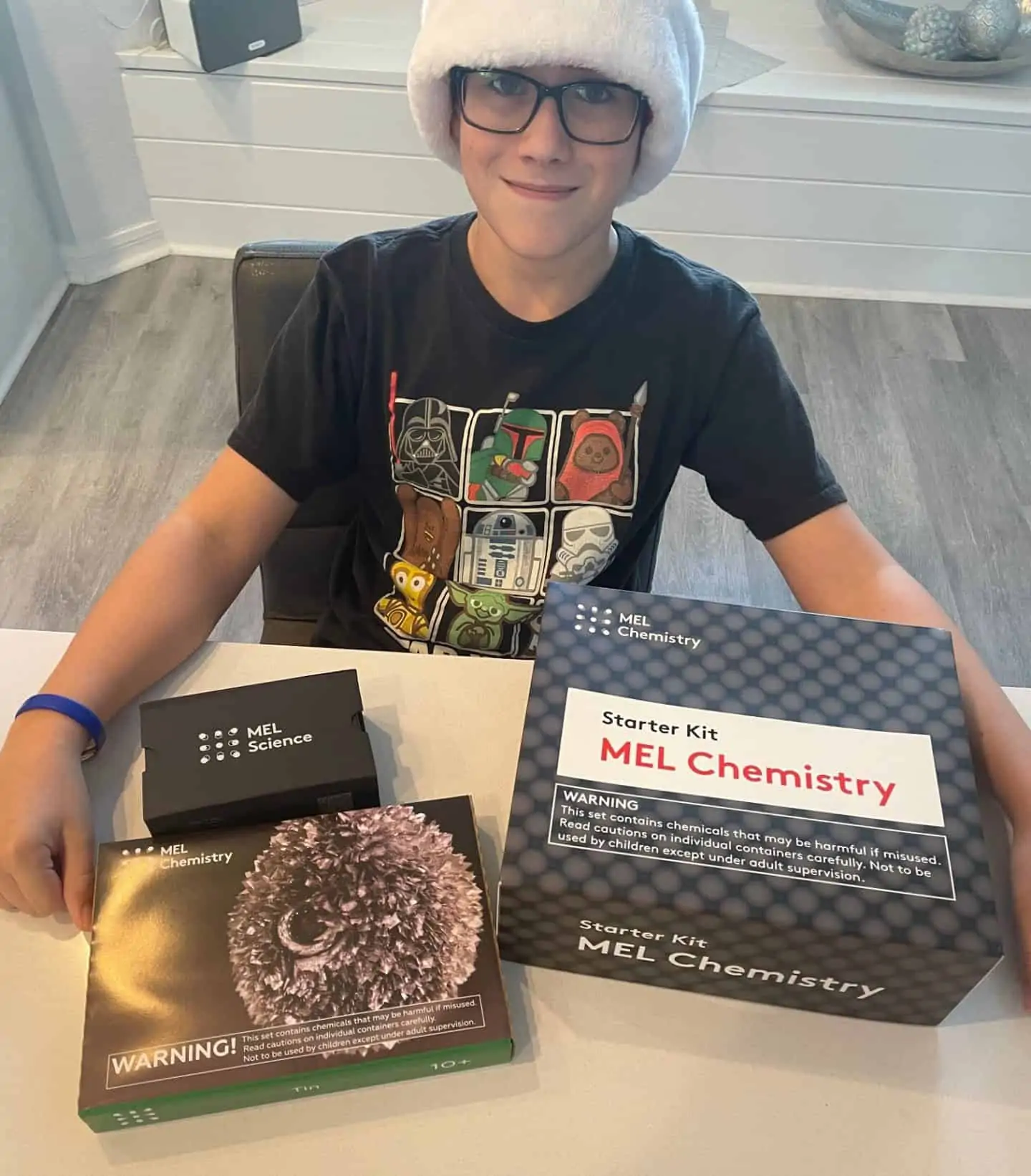 Don't Forget to Use the Mel Science App
This is important! Well, it actually isn't, but if you don't download it you are definitely missing out.
In fact, I very nearly missed it, Freddie noticed the VR codes all over the box and the reagents and wondered what they were for! At least one of us was paying attention!
What I love is when you scan the experiment you are about to do, there are troubleshooting and FAQs for this experiment. Also, it shows you what the expected result is, helpful if like me you haven't got a clue!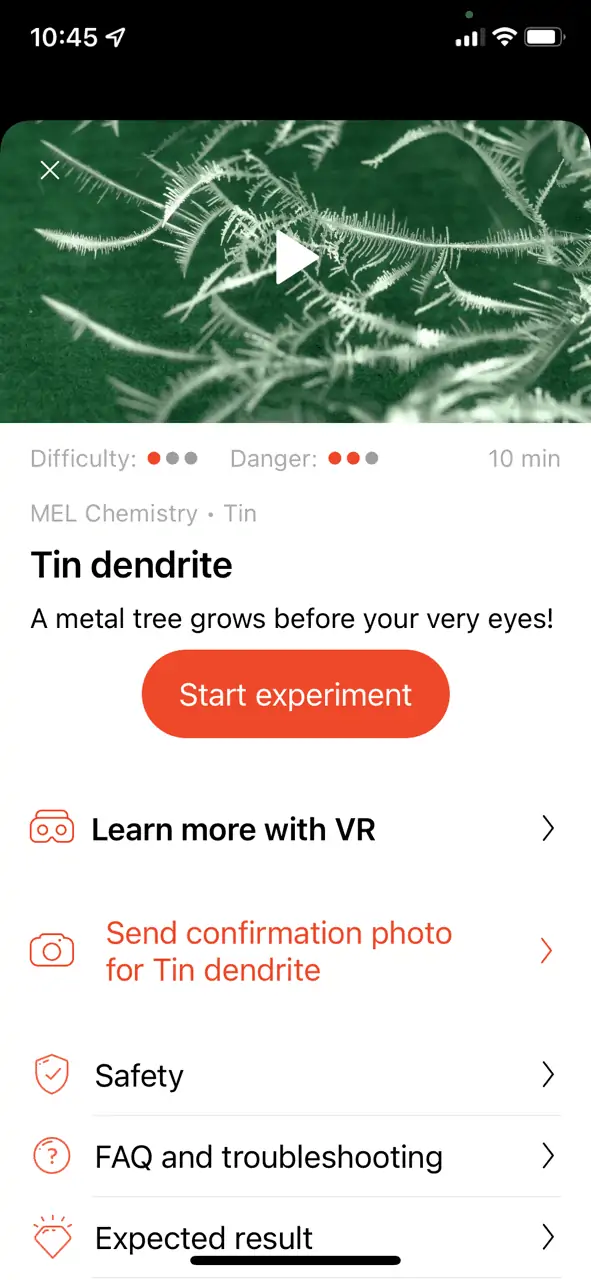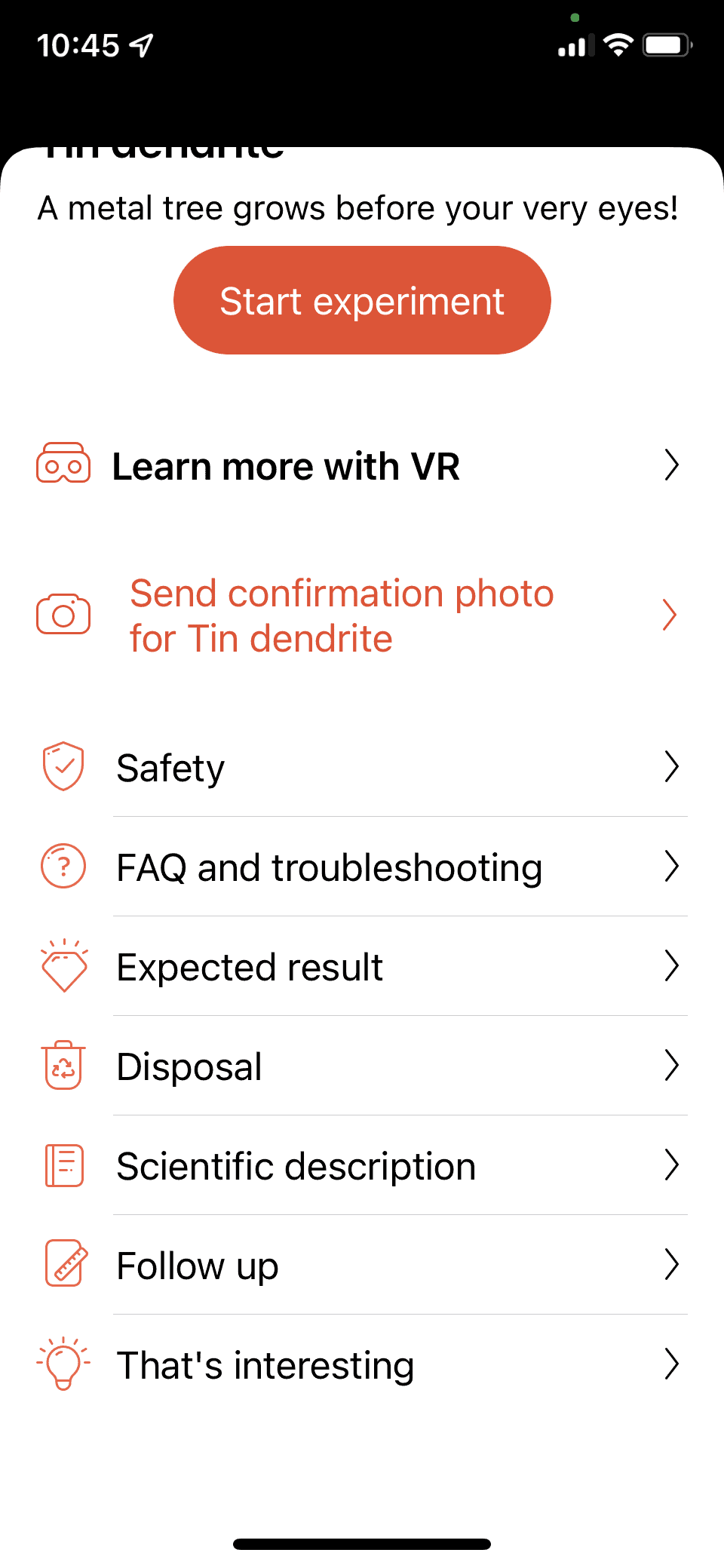 Mel Science VR Headset
With the first box, you will receive a free VR set. This alone is worth the entire subscription!
The experiments were awesome, but the VR headset along with the App makes this the BEST SUBSCRIPTION BOX WE HAVE EVER HAD!
You get to see and explore some amazing chemical reactions while it talks you through what you are seeing. Before I had a go all I could hear was "ohhh", "wow", and he literally wouldn't put it down!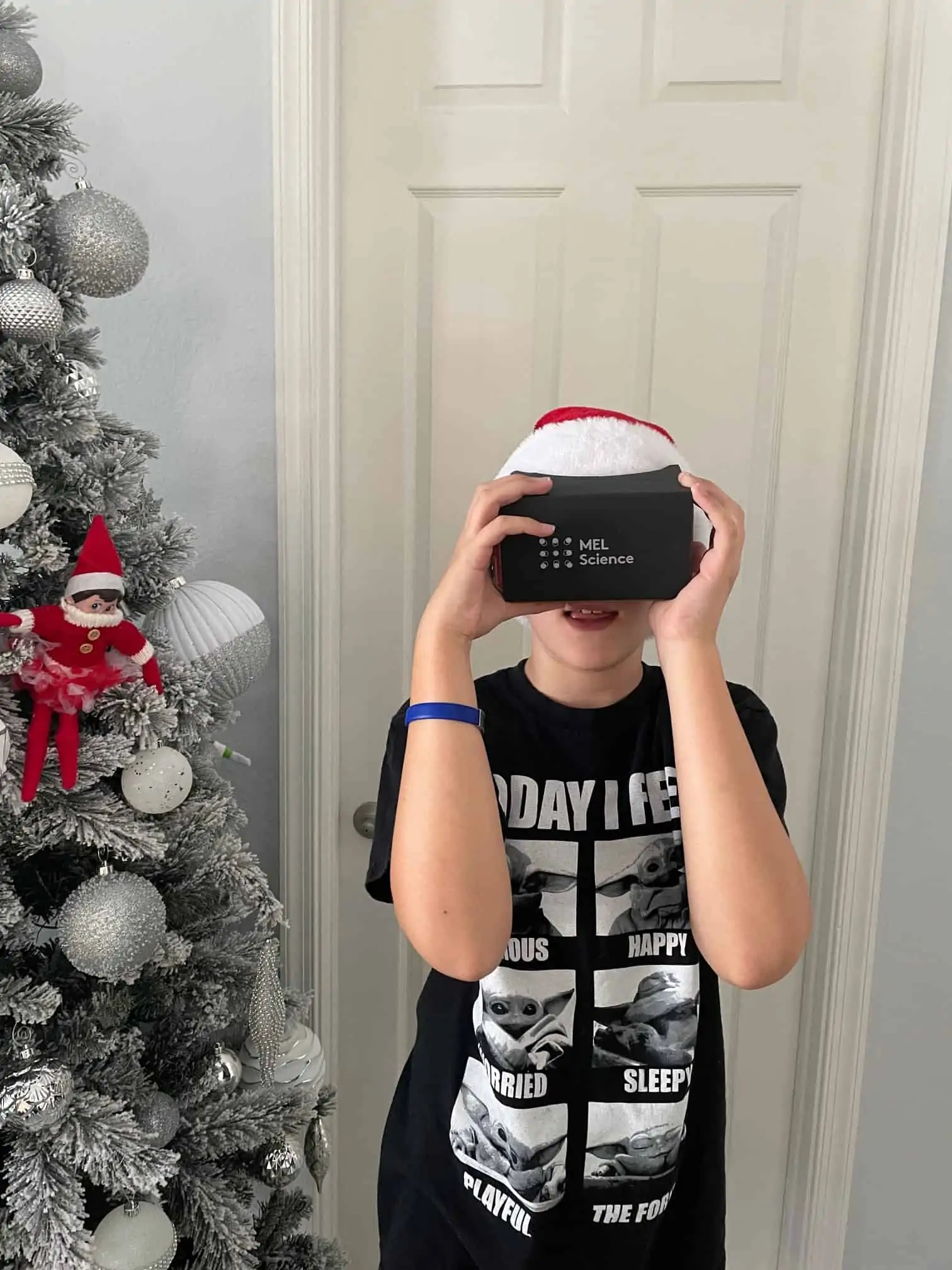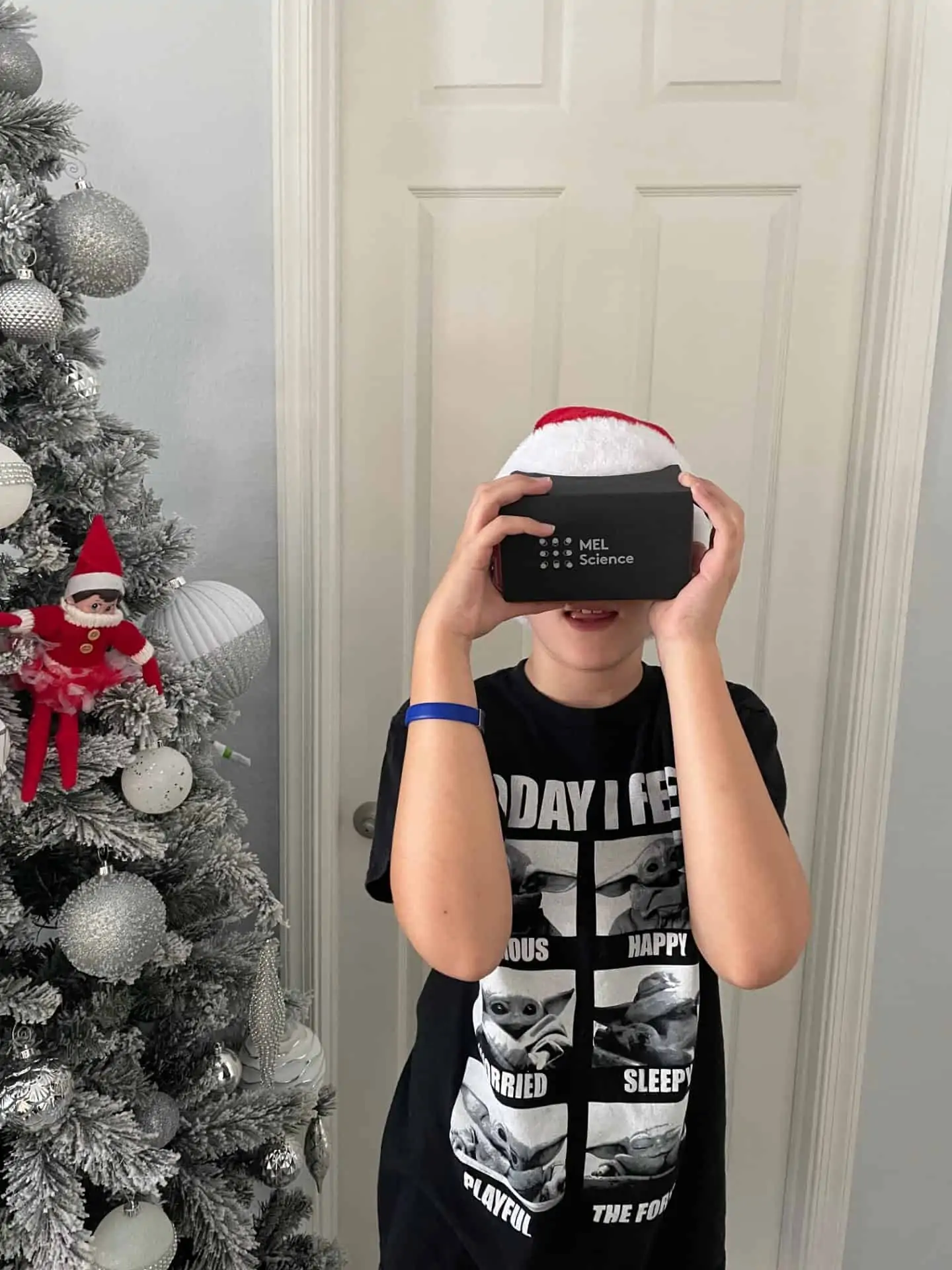 Mel Science Christmas Bundle
Mel Science has put together an amazing Christmas bundle this year. This comes with a starter kit with quality lab equipment, and a VR headset to access exclusive VR lessons. And a whole pack of Christmas science experiments: 3 Chemistry kits, 1 Physics kit, and 1 STEM project.
This is awesome value for money, and would make a great Christmas gift for ALL kids!
Mel Science Reviews
Before I purchased this subscription box of course I went ahead and did my research first! I had seen them advertised and they looked awesome, but I wanted to be sure that others thought the same.
I was delighted to see that the reviews were as good as I had hoped.
The reviews on this Chemistry set are 4.3/5 from 437 reviewers and Mel Science as a company gets 4.4/5 from Trustpilot from 519 reviewers.
I will summarize the best and the worst reviews here for you:
Mel Science Review – Excellent
These are a very small sample of the excellent reviews from other families. Now we have reviewed it ourselves I will definitely be writing another excellent review.
These kits are excellent. My 7th grade son and I had a fun time with the experiments, and I felt like he learned a lot with the hands-on materials.
The program is wonderful, and the kids had great fun doing the experiments. I was grateful to have some supplement to their limited school Science curriculum.
I bought a monthly subscription for a whole year as a birthday present for my twin boys. A quality product and great service. The boys loved every month when the package arrived. I will definitely buy again in the future.
My grandkids loved the chemistry program. Well worth the money. Thanks.
Mel Science Review – The Bad
There were more than two complaints but they were all centered around these two things. The delivery issue appeared to be related to poor weather at the beginning of the year.
The customer service is poor, and no one answers the phone
Delivery issues – this was only a handful of people and Mel Science sorted it for them.
We highly recommend Mel Science and think you will LOVE IT TOO.
Mel Science Promo Code
Before you order your first Mel Science subscription check out our updated promo codes.
5BOXES to get 5 boxes free on the annual subscription (12 months for the price of 7).
YEAR50 for 50% off an annual subscription.
BOGO to get one box free with the first box ordered.
HOMESCHOOLOF1 or AFF50 will give you a 50% off discount for your first box.
I think you will also love:
Last Updated on 9 September 2023 by homeschoolof1