Free Garden Scavenger Hunt Printable (for Outside Fun)
Get the kids outside exploring with our free garden scavenger hunt printable.
This scavenger hunt offers an excellent opportunity for children to connect with nature. Enhancing their observation skills and fostering a love for the outdoors.
Whether it's a friendly competition among friends or a solo adventure, this hunt not only provides hours of fun but also encourages an appreciation for the wonders of the natural world right in their backyard.
Scavenger hunt printables are a versatile and educational way to keep kids engaged and learning while enjoying the thrill of the hunt.
**There may be affiliate links in this post. You can read my full disclosure at the bottom of the page.**
Gardening scavenger hunt
This free scavenger hunt printable is such a fun game to play.
Getting the kids outside is so important for their mental health, and keeping them occupied helps with the rather annoying "mom I'm bored" statements!
Download the backyard scavenger hunt below. There is 1 page with 15 images to find. Make sure to check the printer settings.
This fun free printable gardening scavenger hunt is free to print but is for personal use only. Scroll to the bottom of the page and add your email address to get the pdf file.
List of garden items to find:
There are 15 garden-related items that they need to find and tick off:
Butterfly
Ladybug
Bee
Weeds (this will be super easy in my garden!)
Wheelbarrow
Flowerpot
Watering can
Ant
Twig
Seeds
Rocks
Pink flowers
Garden tools
An animals home
Garden gloves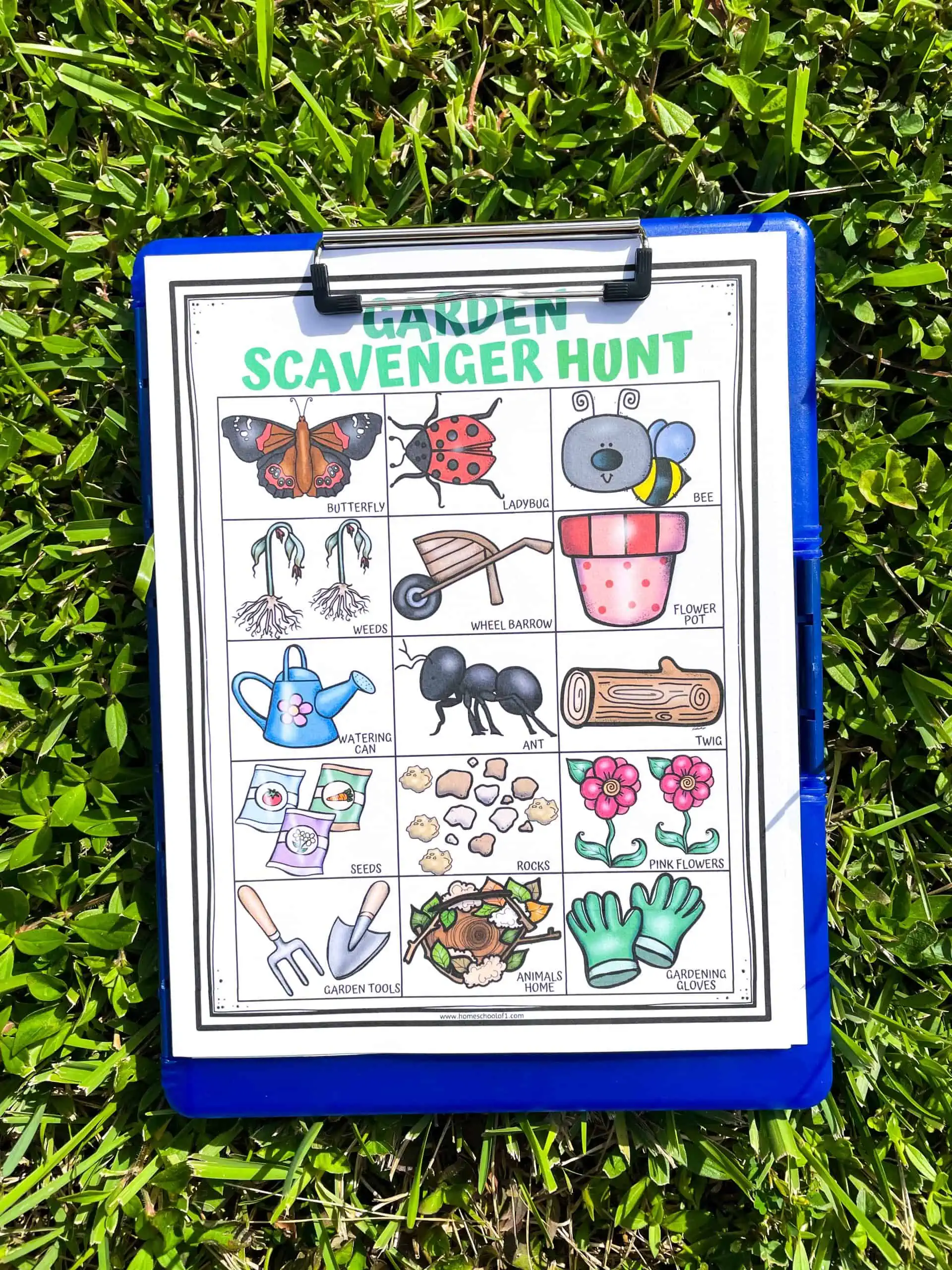 How to play the garden scavenger hunt
There are a number of ways you can play this outdoor scavenger hunt:
You can play it as you go for a walk around the neighborhood. You don't need to have a backyard to enjoy this scavenger hunt.
Give it to the kids while you are doing the gardening, you never know they may help too!
If older kids are playing why not get them to turn it into a photo scavenger hunt? Just take photos on their phone or a camera of each of the items on the hunt.
All you need for this fun hunt is a clipboard (this is the one we use, as we love the fact you can store all your activities and pens in it) and a pencil.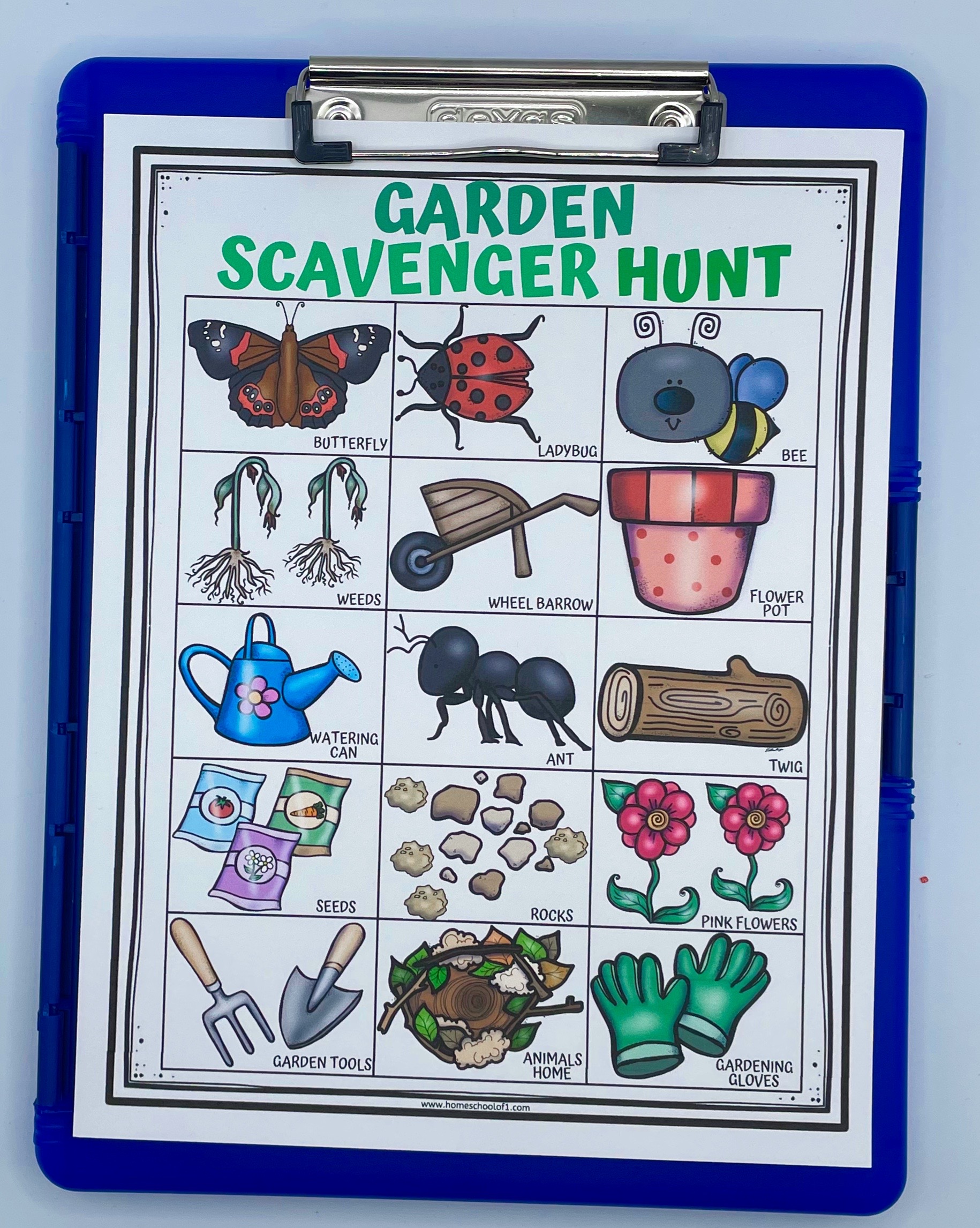 Other outdoor scavenger hunts you can enjoy
Unleash the spirit of adventure and exploration with this exciting collection of nature scavenger hunts. Designed to make every occasion and setting an opportunity for fun and learning.
From garden Easter egg hunts and butterfly spotting in the great outdoors to camping escapades and beachcombing adventures. There's a scavenger hunt to match every interest and season.
These engaging hunts not only captivate young imaginations but also encourage discovery. Fostering a love for the great outdoors and the fascinating world around us.
If it is a rainy day why not spend it at the library with our indoor book scavenger hunt?
Books about gardening for kids
Tree Full of Wonder is a captivating children's book that takes young readers on a whimsical journey through a magical garden. Where they discover the beauty and wonder of the natural world through the eyes of a curious child.
Up in the Garden and Down in the Dirt offers an engaging exploration of the hidden wonders in a garden. Both above and below the soil. Encouraging kids to appreciate the intricate ecosystems at play in their own backyard.
Gardening for Kids provides a hands-on approach to gardening for kids. Combining the joys of growing plants with fun STEAM activities. Making learning about the natural world an exciting and interactive experience for young garden enthusiasts.
Tips for downloading the free files
Below you will see a large sign-up box where you need to add your name and email address, and press I NEED THIS NOW!
Within minutes you will be sent the free PDF directly to your email address, so you can print it out and start using it immediately.
Sometimes emails get a little wonky, so if you can't see it, please check your spam folder where I am sure it is hiding.
Download the free garden scavenger hunt printable
Make sure you choose the correct paper size and click on the shrink to fit button. All of our free printables for kids work better when printed on cardstock (this is the one we use and love.)
Life cycle worksheets for things you can find in the garden
When the kids have explored the garden why not encourage them to learn all about the things they found with some life cycle worksheets:
Last Updated on 26 November 2023 by homeschoolof1