12 Best Gifts for Homeschool Moms (Updated 2023)
Are you looking for the best gifts for homeschool moms? If so I have your back.
Homeschool moms work so hard, literally 24/7.
They have no break while the kids go to school, and they have no break when they go to work (ok some do, but 90% of homeschool moms either don't work, or like me work from home.)
So they deserve a nice thoughtful gift. (Yes I am going to be sharing this list with my husband, haha!).
Please, unless they ask for it, don't buy them homeschool supplies! We have LOADS! But more than that, if you are wanting to buy a homeschool mom a gift please buy them something for them. Everything they do is for the kids, so a nice little treat for just them will be the most thoughtful.
I thought I would put together a list of gift ideas for homeschool moms, that will make them feel appreciated.
If you are looking for back to school gifts for homeschoolers check out our latest post.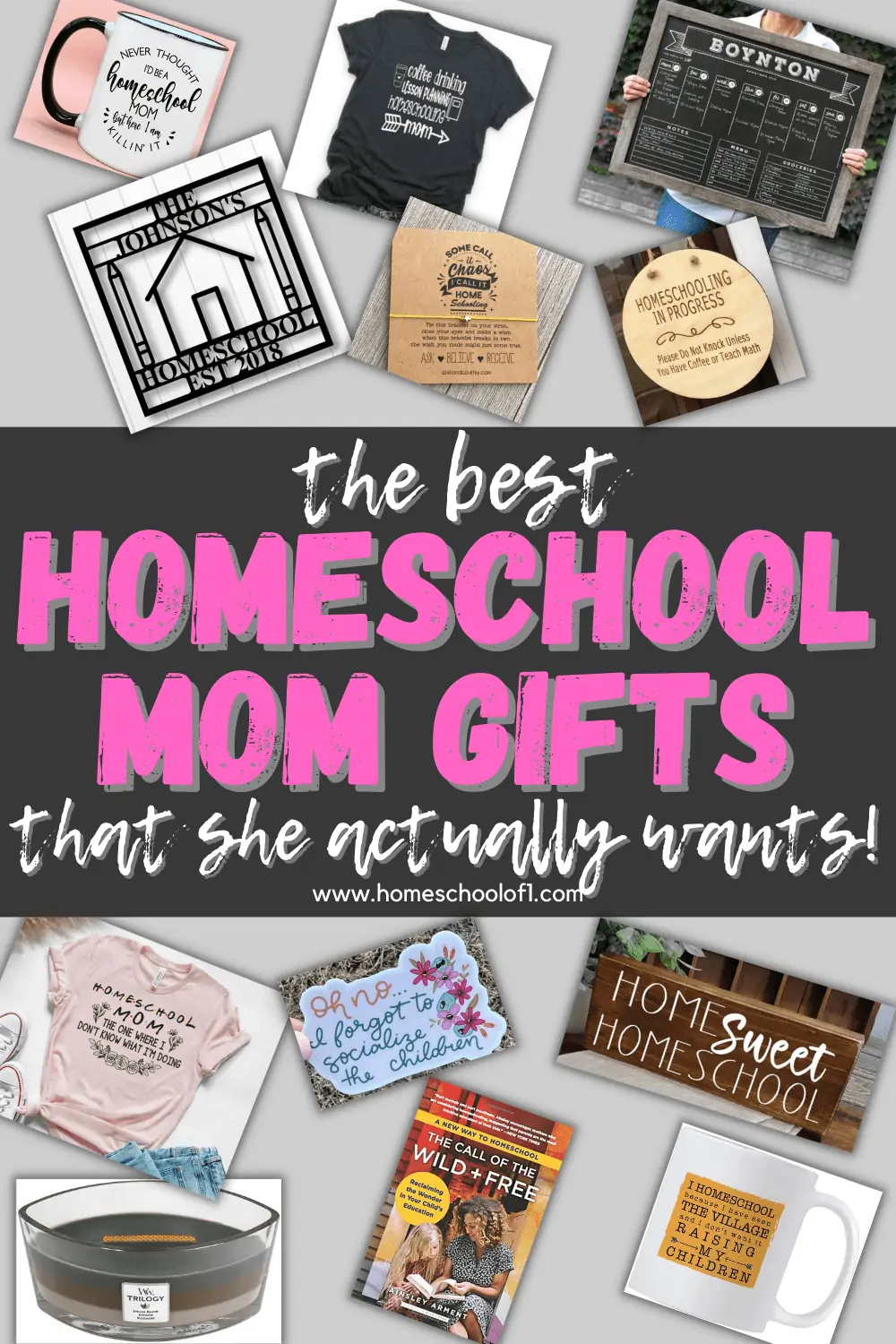 **There may be affiliate links in this post. You can read my full disclosure at the bottom of the page.**
Keep reading for other awesome homeschool mom gifts that are perfect for any occasion.
Homeschool Mom Gifts
These are in no particular order but I guarantee every homeschool mom would be super happy with any of these homeschool mom gifts. Perfect for any occasion, whether it is her birthday, an end-of-year gift, or just because she deserves it.
Homeschool Mom T-Shirt
Coffee drinking, lesson planning, homeschooling mom t-shirt would make an awesome homeschool mom gift!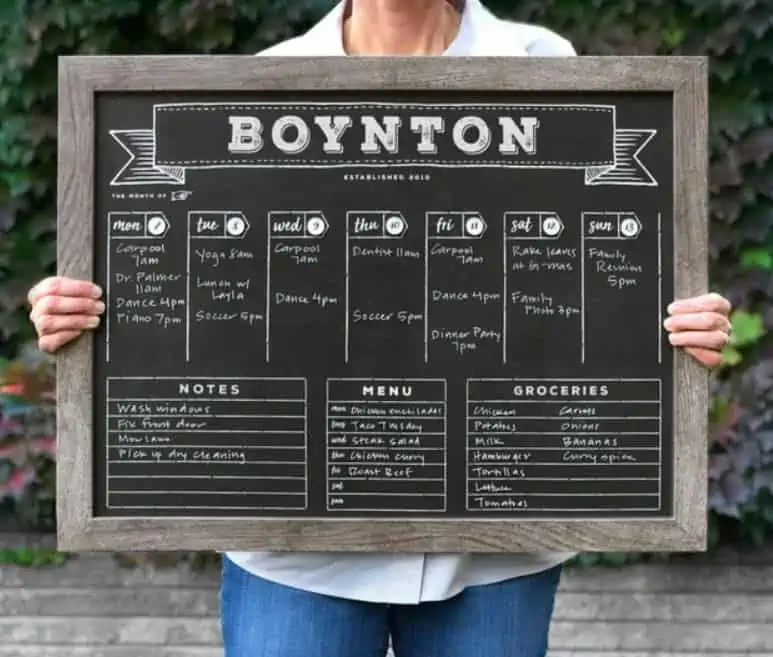 Homeschool Sign
This home sweet homeschool sign would look awesome in any home. It also comes in different colorways including white, grey, and blue.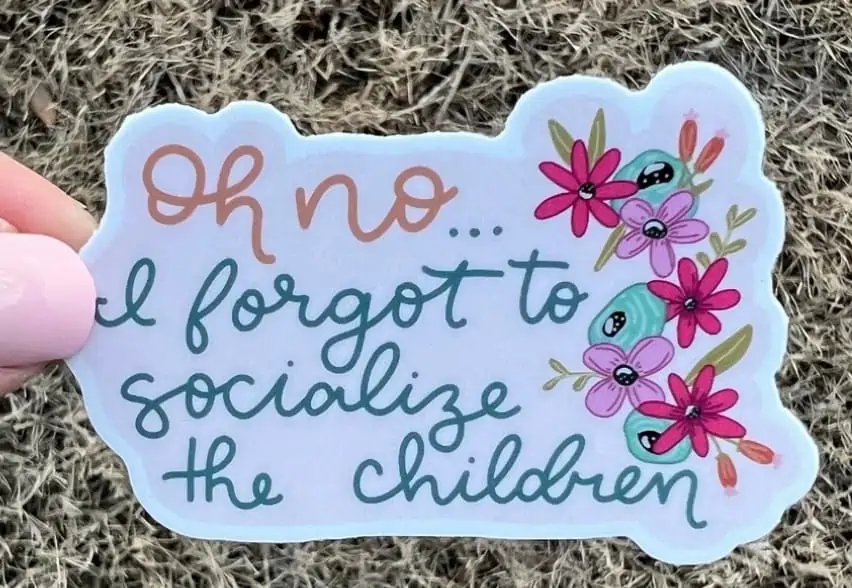 Homeschool Mom Sticker
Add this vinyl sticker to a favorite water bottle, and I can guarantee you will get plenty of giggles with this homeschool mom gift!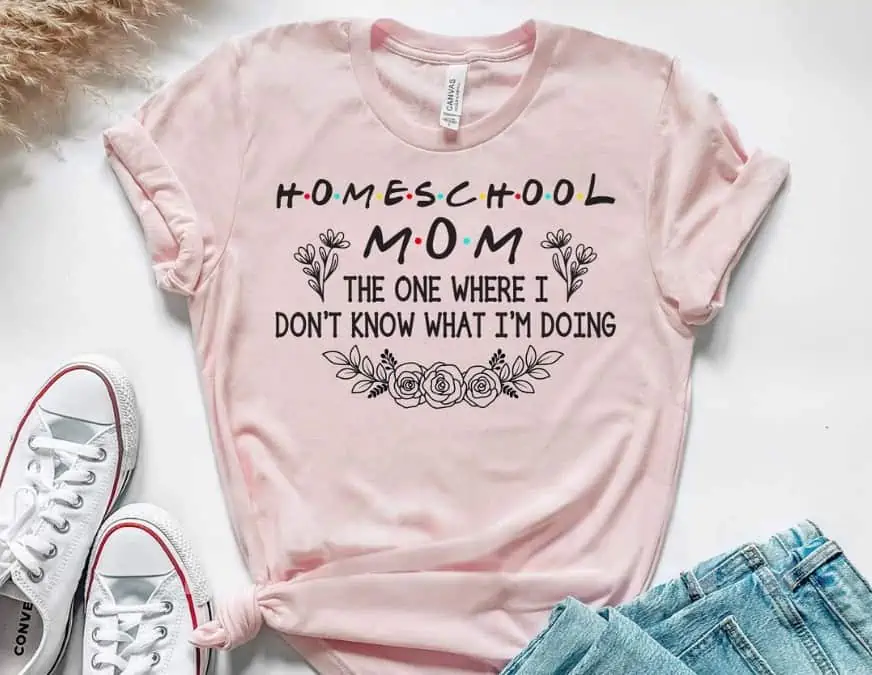 Homeschool Mom T-Shirt
Homeschool mom – the one where I don't know what I am doing t-shirt would make an awesome homeschool mom gift for any Friends fans!
Homeschool Mom Book
This new book is a must for any homeschool mom, the call of the Wild and Free is a new release, so chances are she hasn't ordered it yet!
But if you are unsure check out our other favorite books about homeschooling.
Candle
These Woodwick candles are simply the best, they sound like wood crackling and smell amazing. Perfect for when you are chilling out at the end of the day. (For the 5 minutes we might get before we fall asleep!!)
Homeschool Bracelet
Some call it chaos, I call it homeschooling bracelet!
Homeschooling Sign
I love this homeschooling in progress sign too much!! In fact don't we all feel a bit like this some days?
Homeschool Mom Mug
I have added another homeschool mug as I loved this one too! To be honest we can never have enough methods of getting our daily dose of coffee (well tea in my case, but it's black tea with plenty of caffeine, not the herbal stuff!)
Best Gift For Homeschool Mom
My absolute favorite gift for the homeschool mom is this coffee mug – "Never thought I'd be a homeschool mom, but here I am killing it!"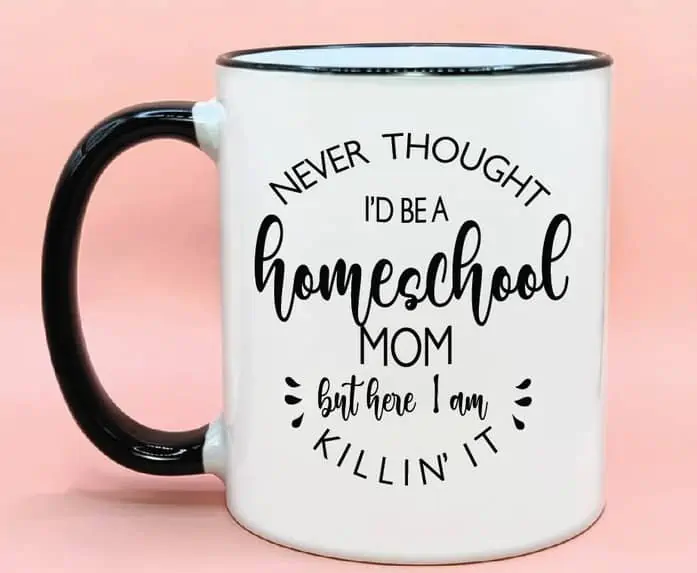 Free Homeschool Mom Gifts
Do you know what though, these gifts are all lovely, and I guarantee she will love them. What she will love even more is time!
Time to spend on her own, even for a couple of hours (preferably doing nothing!)
A night out with her husband (if she is anything like me, she probably hasn't been out alone for years!)
Time to have a spa day with a friend.
Even time to do the Christmas shopping in peace!!
If you want to make it super special get her these coupons they are super cute.
Let me know in the comments what your best and worst homeschool mom gifts have been!
For other gift guides for mom:
Last Updated on 1 June 2023 by homeschoolof1