Summer Bingo Printable: A Free Boredom Buster
Have fun with this free summer bingo printable game perfect for when the kids are bored.
We absolutely love playing bingo it brings back childhood memories for me, and it is such a fun and easy game to play.
Included are 5 x free printable bingo cards (5×5) and a summer bingo calling card.
**There may be affiliate links in this post. You can read my full disclosure at the bottom of the page.**
What are the benefits of playing picture bingo with kids?
Playing picture bingo with kids can be a blast and it comes with a bunch of benefits:
It's a great way to help preschoolers learn new words and associate them with objects or images.
Bingo requires kids to pay attention, remember what they see, and recall it later on, which is a great exercise for their memory.
Bingo is a group activity that allows kids to interact and play with each other, helping them develop their social skills.
It requires kids to stay focused and pay attention in order to match the pictures, which is a great way to help improve their concentration skills.
Fun for all: Above all, playing picture bingo is just plain fun for kids and provides an enjoyable activity for them to participate in with friends or family.
So, there you have it! Just a few of the many benefits of playing picture bingo with preschoolers. Give it a try!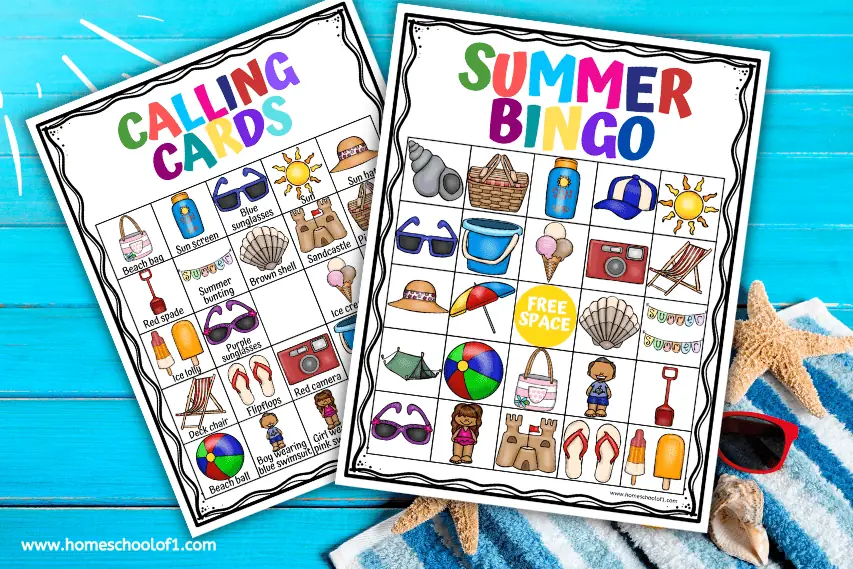 Playing summer bingo
This is such a simple game, and yet it is so much fun to play.
Download the printable summer bingo boards below.
This free summer bingo printable is free to print but is for personal use and classroom use only. Scroll to the bottom of the post and add your email address to get the pdf file.
Supplies needed for this summer bingo game:
How to set up summer bingo:
Print out the game (either in color, or black and white) we like to use cardstock, but any printer paper will work. It will print on 6 pages.
The first 5 pages are the actual summer bingo boards.
Use a laminator on these 5 bingo boards so they can be reused (optional.)
The last page is the bingo calling card that needs to be cut up. Put all the images into a bowl or bag.
Grab your paper trimmer and cut out the images (or scissors if you have a steady hand!)
How to play summer bingo with the kids?
Give each child a bingo board, there are 5 different boards included.
Give each child a pen (or if you want to make it even more special, these dot markers are just perfect for playing bingo!)
Or as it is summer why not use skittles, jelly beans, legos, or cheerios instead? It is meant to be fun and easy after all.
You then pick out a bingo calling card and read it out, if the children have that image then they mark it on their board.
The children need to get 5 in a row either horizontally, vertically, or diagonally, and they can use the FREE space if they need.
The kids will also love this summer matching game.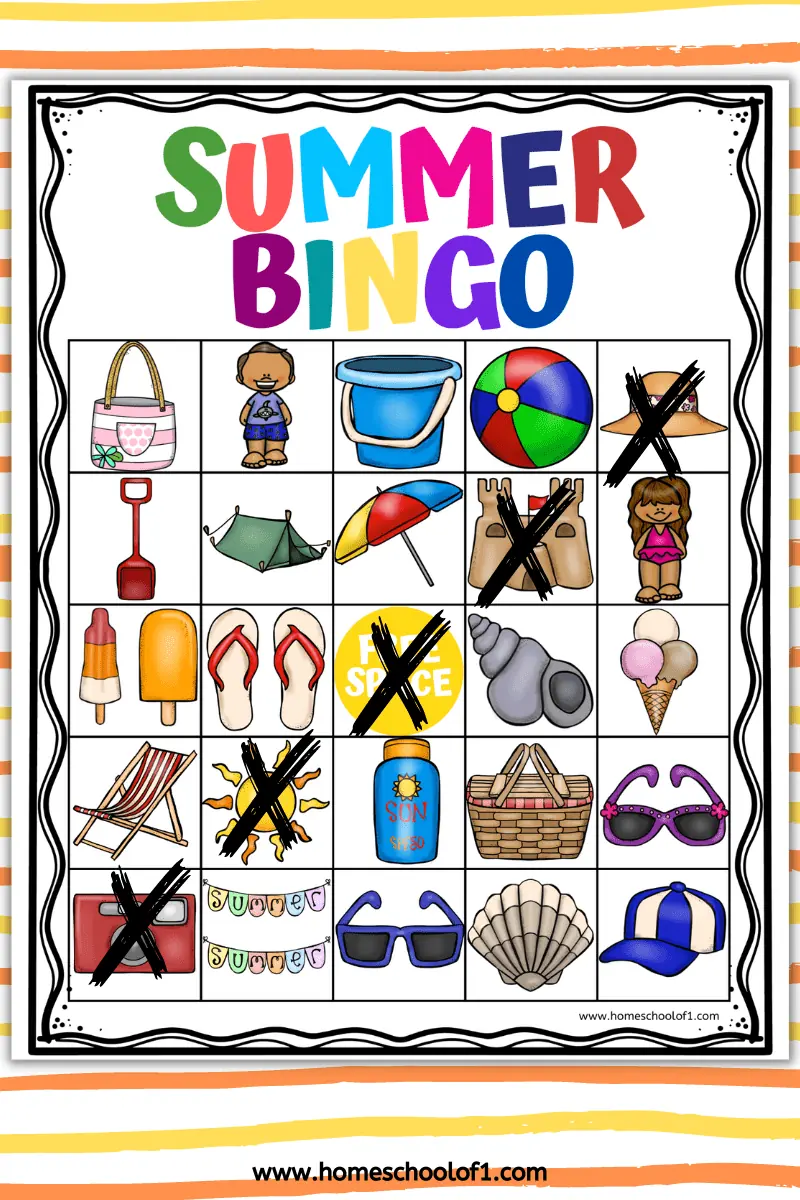 The first person to get 5 in a row, shouts BINGO, and they are the winner.
When everyone knows the rules of the game, start playing and see who gets to shout bingo first.
We hope you and your kids have an amazing summer!
Other summer activities to stop summer boredom
Tips for downloading the free files
Below you will see a large sign-up box where you need to add your name and email address, and press I NEED THIS NOW!
Within minutes you will be sent the free PDF directly to your email address, so you can print it out and start using it immediately.
Sometimes emails get a little wonky, so if you can't see it, please check your spam folder where I am sure it is hiding.
Download the free printable summer bingo
Make sure you choose the correct paper size and click on the shrink to fit button. All of our free printables for kids work better when printed on cardstock (this is the one we use and love.)
Last Updated on 2 October 2023 by homeschoolof1