Summer Handprint Art (10 free templates)
You are going to love our free summer handprint art.
This is such a lovely way to get messy with the kids while creating happy memories.
Capture the essence of summer and create cherished memories with our delightful collection of free summer handprint templates.
These handprint crafts templates provide a perfect opportunity for both kids and adults to engage in a fun and messy activity that will leave a lasting impression.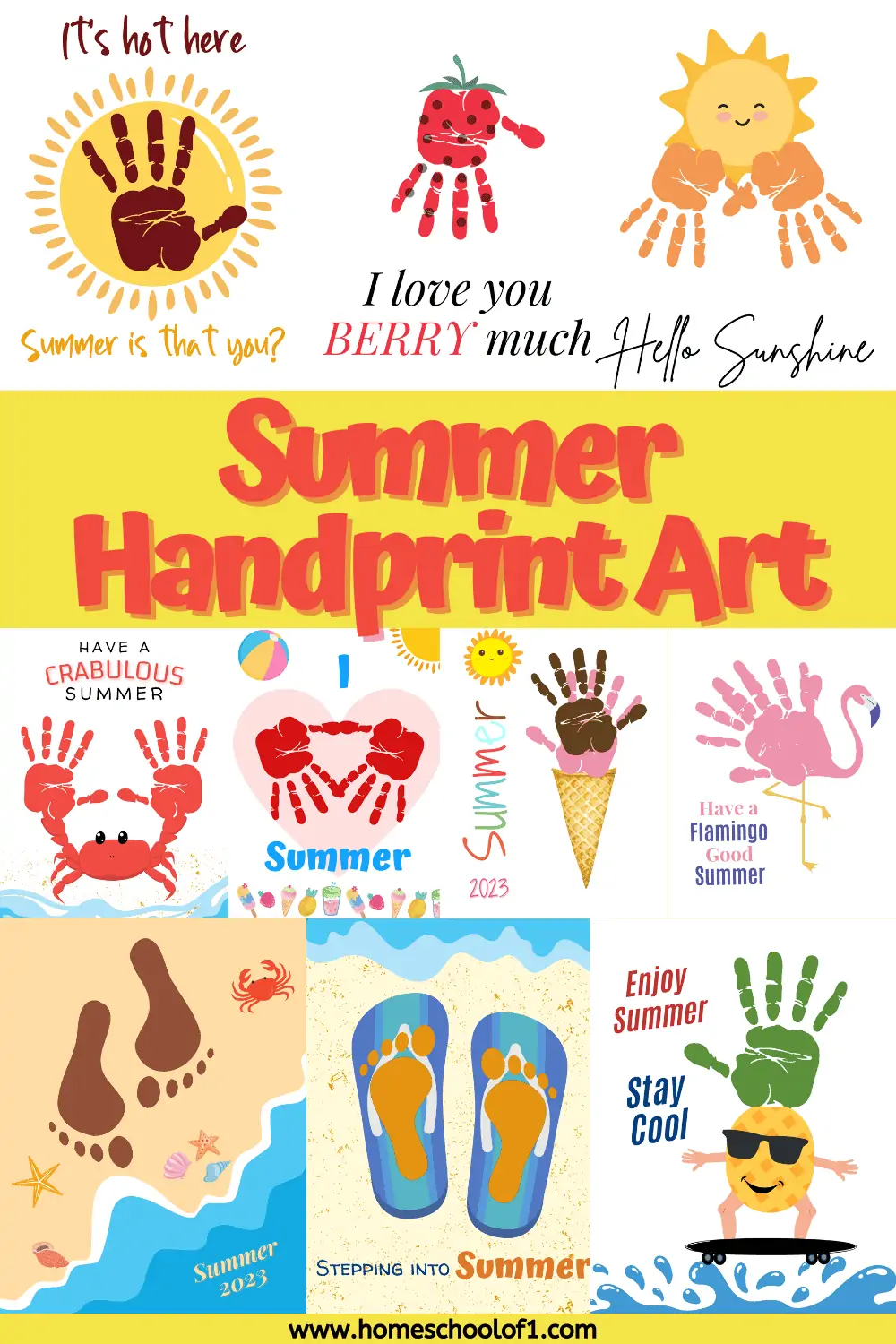 **There may be affiliate links in this post. You can read my full disclosure at the bottom of the page.**
Handprint templates for the summer
Have fun with the kids this summer as you create special memories with our free summer handprint templates.
There are 10 different handprint printables to download, so either choose your favorites or do them all!
You probably have all of the supplies to make this fun summer handprint art with your toddlers and preschoolers.
Supplies needed to create some memories this summer:
washable paints (these are the ones we use for all of our handprint crafts)
Wipes!! It helps to have these handy so you don't make a complete mess of your table!
How to download the summer handprint templates:
Print out the templates below, they will print out on ten full pages. They will print in portrait on 8.5″ x 11″ paper, so make sure to check the printer settings.
These summer handprint crafts are free to print but are for personal use and classroom use only. Scroll to the bottom of the page and add your email address to get the pdf file.
You can of course print this on normal printer paper, but with all of our crafts, they always look better on cardstock.
There are 10 different templates you can have fun with:
Have a crabulous summer with this fun handprint crab
Enjoy summer, stay cool!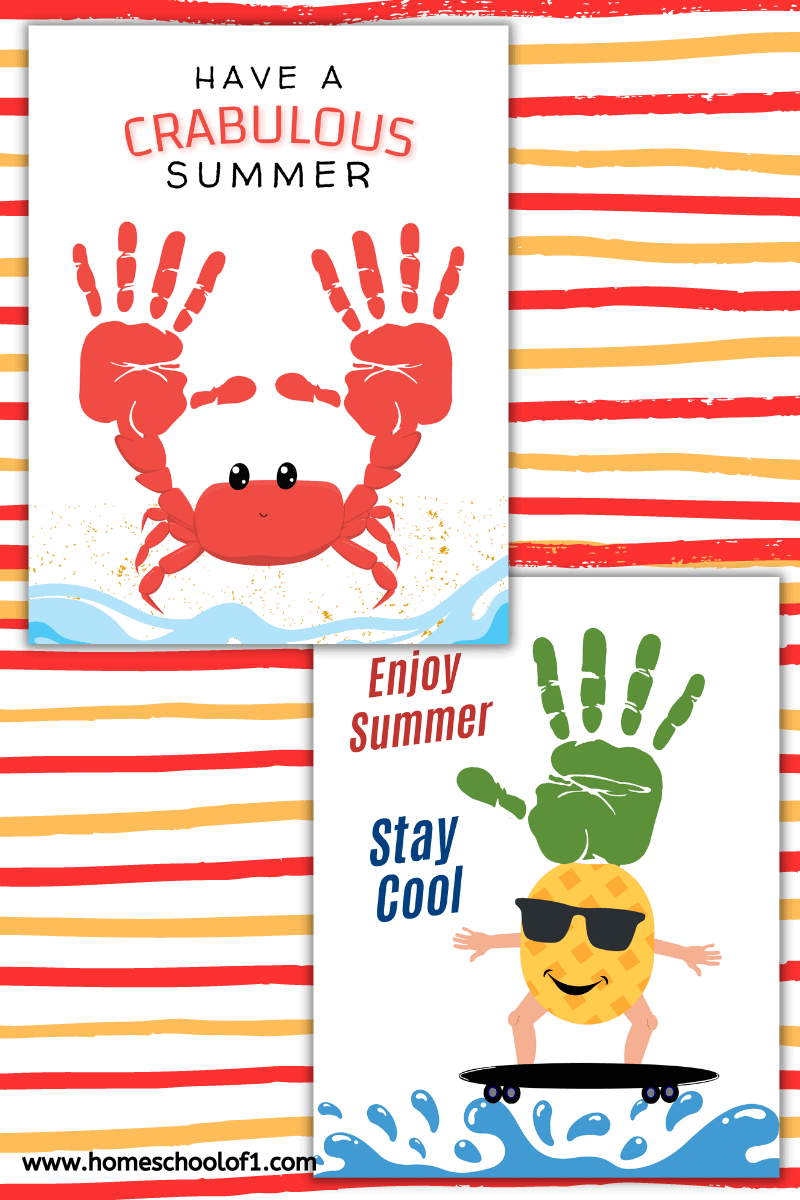 It's hot here, summer is that you?
I love you berry much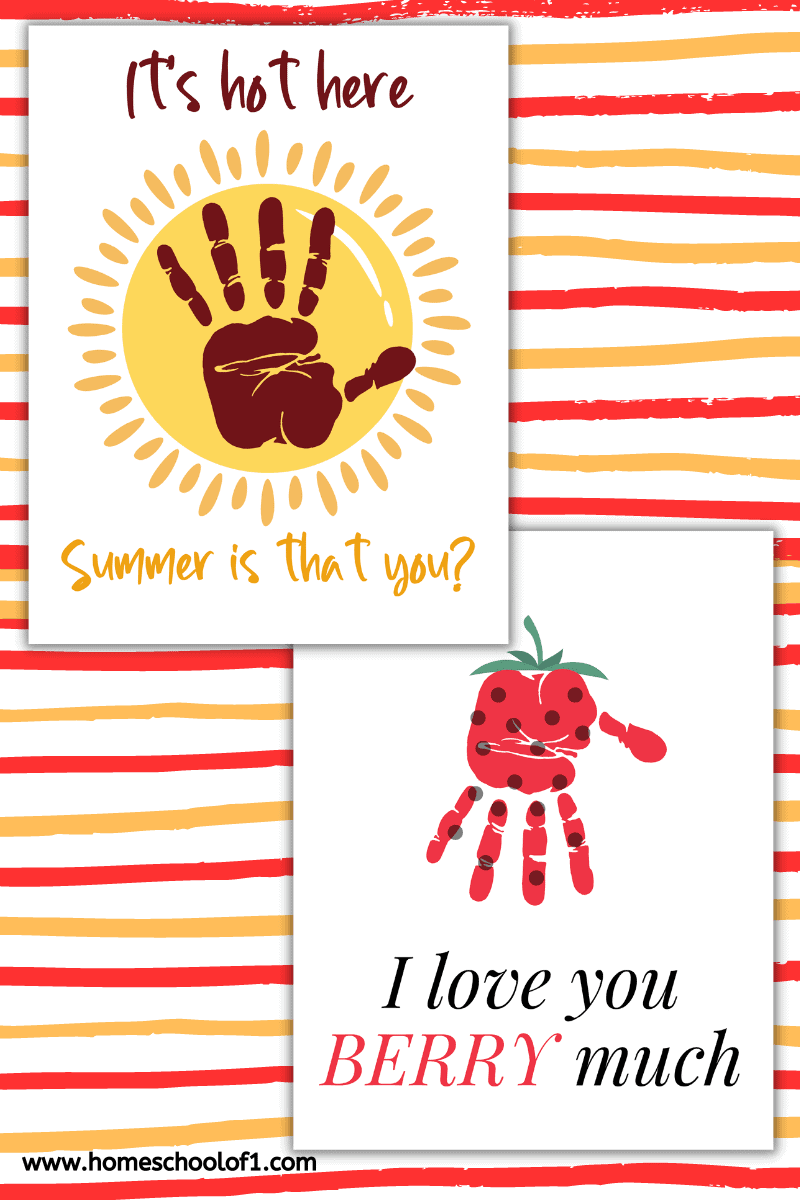 Summer 2023 ice cream cone handprint
Have a flamingo good summer.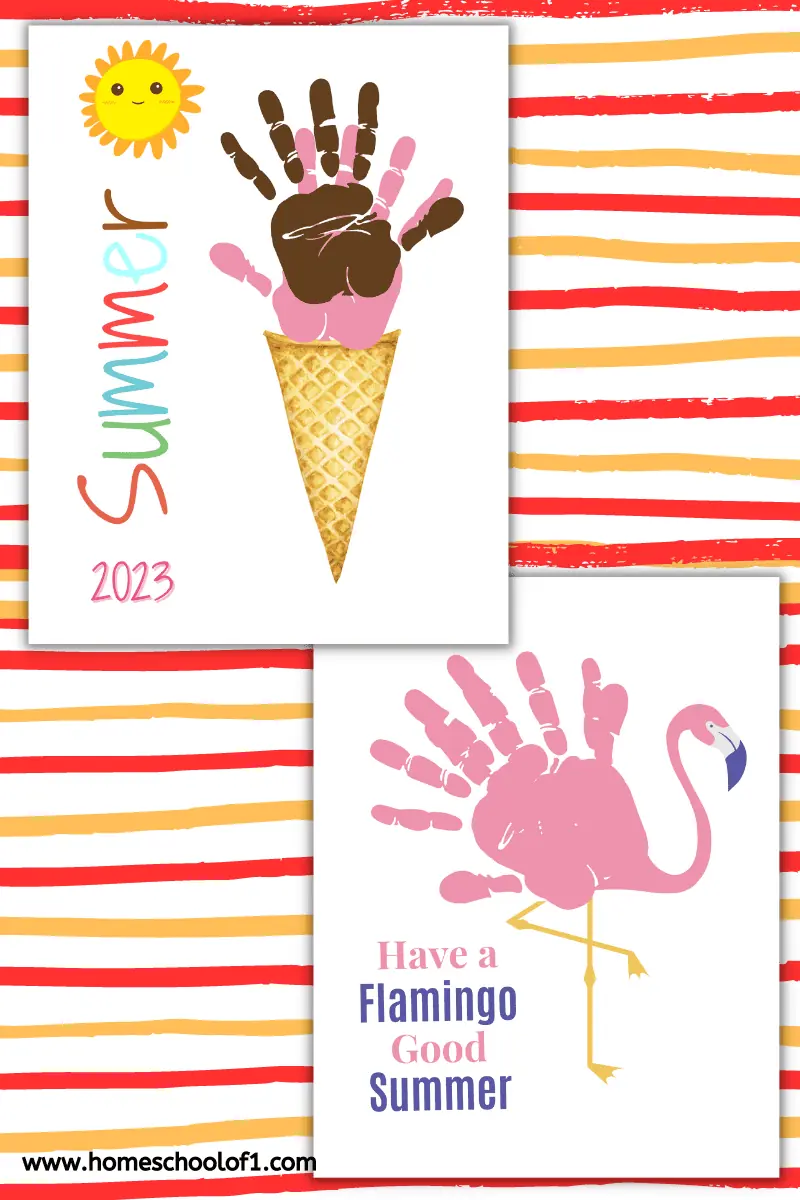 I love summer
Hello sunshine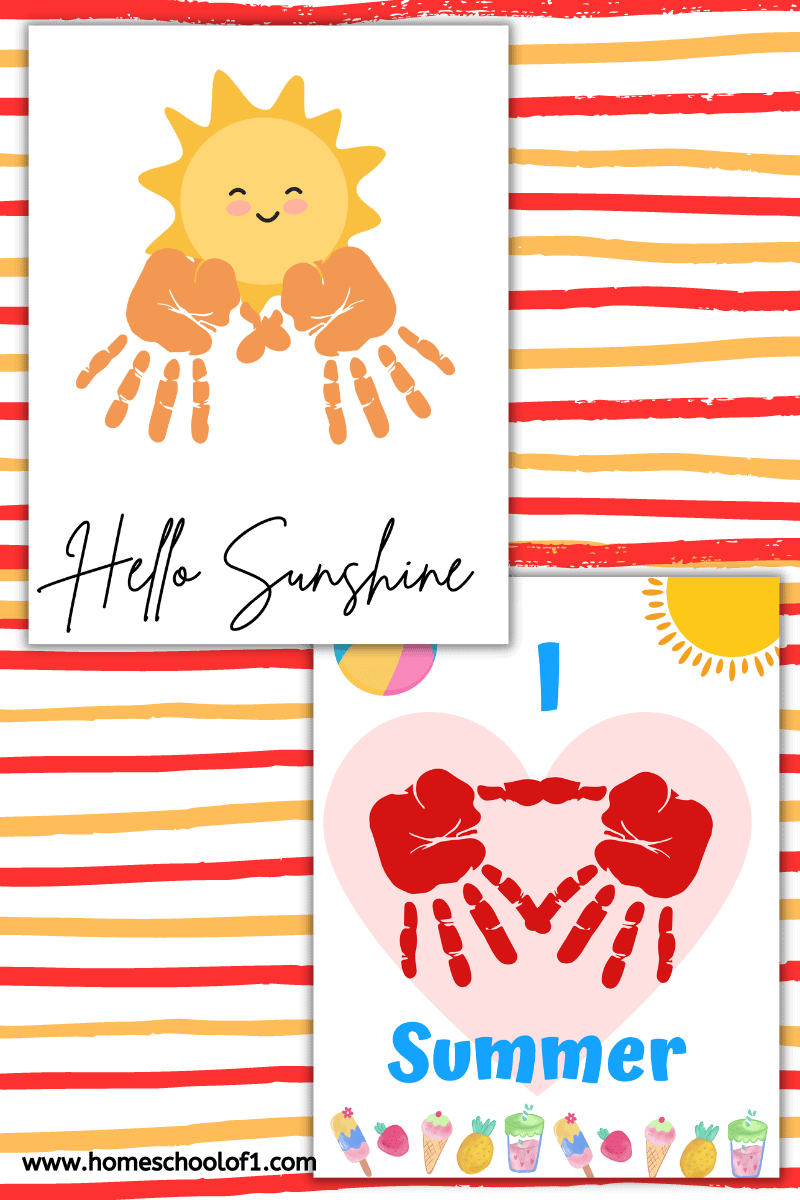 The final 2 are summer footprint crafts:
Summer 2023 on the beach
Stepping into summer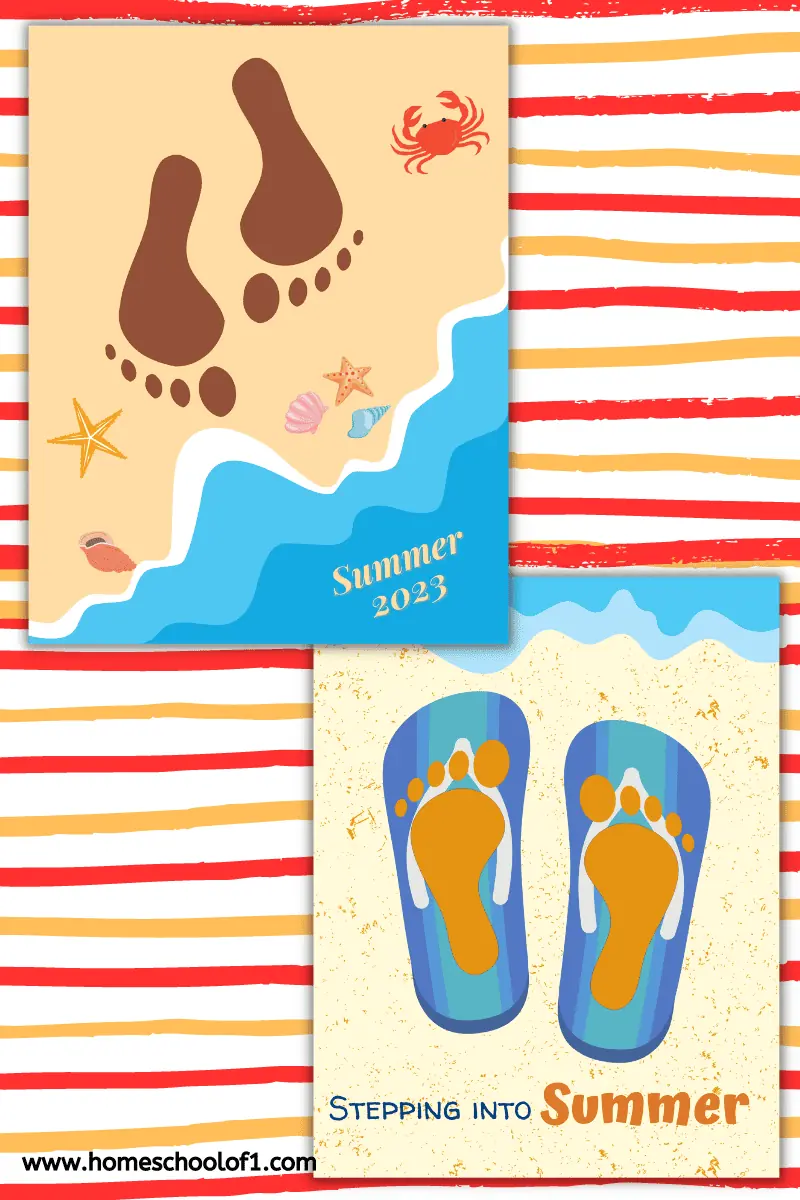 How to create the summer handprints with your kids
Grab the supplies above and get creating!
Let the little kids decide what color handprints and footprints they want to use.
Use a small paintbrush to add a thin layer of paint to their hands and feet. Make sure you have the wipes handy!!
Cover their hands or feet with washable paint and place them in the correct position on the paper.
Press down all along their hands and feet to make sure they transfer fully.
Pull the child's hands and feet up carefully, ensuring you don't smudge them.
Gift-Giving Made Special
You know those summer handprint templates we've got? Well, they're not just a fun activity; they're also a fantastic way to create personalized gifts for your loved ones.
Picture this: You get the kids to add their footprint or handprint ton one of these adorable templates, and then frame it up in a charming picture frame. Ta-da! You've got a heartfelt gift that will make hearts melt and smiles shine for years to come.
It's like capturing the essence of summer and the love you share with those special people in your life, all in one awesome present. Trust us, they'll treasure it forever.
So, why settle for ordinary when you can create extraordinary? Dive into our summer handprint templates and let the gift-giving magic begin!
Other free summer ideas for kids
Looking for more summer-themed activities for June, July, and August?
Alongside the handprint templates, we offer a range of additional printables, including color-by-number pages, road trip bingo, scavenger hunts, and more.
These activities are designed to keep the fun going all summer long, providing entertainment and joy for the entire family.
Tips for downloading the free files
Below you will see a large sign-up box where you need to add your name and email address, and press I NEED THIS NOW!
Within minutes you will be sent the free PDF directly to your email address, so you can print it out and start using it immediately.
Sometimes emails get a little wonky, so if you can't see it, please check your spam folder where I am sure it is hiding.
Download the free summer handprint craft templates
Make sure you choose the correct paper size and click on the shrink to fit button. All of our free printables for kids work better when printed on cardstock (this is the one we use and love.)
Last Updated on 2 October 2023 by homeschoolof1