Summer Scattergories Free Printable Boards
Are you on the hunt for an amazing way to keep the kids entertained and their brains buzzing this summer? Well, look no further because we've got the perfect solution for you – our summer scattergories printables!
Let's face it, finding activities that are both fun and educational can be a challenge, but fear not! We've created not one, not two, but FOUR incredible scattergories game boards that will make your summer a breeze. These printables are designed to keep the little ones engaged while giving you some well-deserved moments of relaxation.
Picture this: your kids huddled together, laughing, and racing against the clock to come up with clever words that fit the categories. And the best part? They won't even realize they're learning new words and flexing their creative muscles in the process!
So, take a break from the summer chaos, and print out these awesome holiday scattergories game board. It's the perfect activity for family fun and keeping those young minds sharp.
Trust us, with these printables in your arsenal, you'll be the superhero of summer fun! Get ready for endless smiles, giggles, and maybe even a little friendly competition. Let the summer scattergories extravaganza begin!
**There may be affiliate links in this post. You can read my full disclosure at the bottom of the page.**
What are scattergories?
Scattergories is a super fun and fast-paced word game that will test your creativity and quick thinking.
The game consists of a list of categories, like "picnic item," "country to visit," or "ice cream flavor." Players then have a limited amount of time to come up with words that start with a specific letter and fit those categories.
The catch is that your answers must be unique. You score points for each word that no one else at the table has thought of. So, you've got to rack your brain for less common words while the timer is ticking down!
It's perfect for all ages and a fantastic way to spend quality time with friends and family. Whether you're having a game night, hanging out at a party, or simply looking to add some excitement to a gathering, Scattergories is the go-to game for endless laughter and friendly competition.
Upwords, The Game of Quick Stacking & Word Hacking with Stackable Letter Tiles | Word Games | Board Games for Kids 8-12 | Family Games for Ages 8+
BLANK SLATE™ – The Game Where Great Minds Think Alike | Fun Family Friendly Word Association Party Game, 3 to 8 players
Wordle The Party Game for 2-4 Players, Official Wordle Board Game Inspired by New York Times, Games for Ages 14+, Word Games
USAOPOLY TAPPLE® Word Game | Fast-Paced Family Board Game | Choose a Category & Race Against The Timer to be The Last Player | Learning Game Great for All Ages
Hasbro Gaming Boggle Classic Game
Quiddler — Card Game — Make Short Words With Cards to Win — For Family Game Nights — Ages 8+
Have fun with Scattergories this Summer
No Scattergories game? No worries! Just snag these four free summer scattergories printables for endless fun this season.
Get the download link below, and if you don't see the email within 5 minutes, check your junk folder.
Remember, these printables are free for personal or classroom use only. Simply scroll to the bottom of the page to access the pdf file.
Print them out on four full pages and double-check your printer settings for the best results. You can use regular printer paper for easy writing, but if you want a pro look, try cardstock.
Then, grab your favorite pens, fill out the boards, and let the fun begin! It's all about having a blast!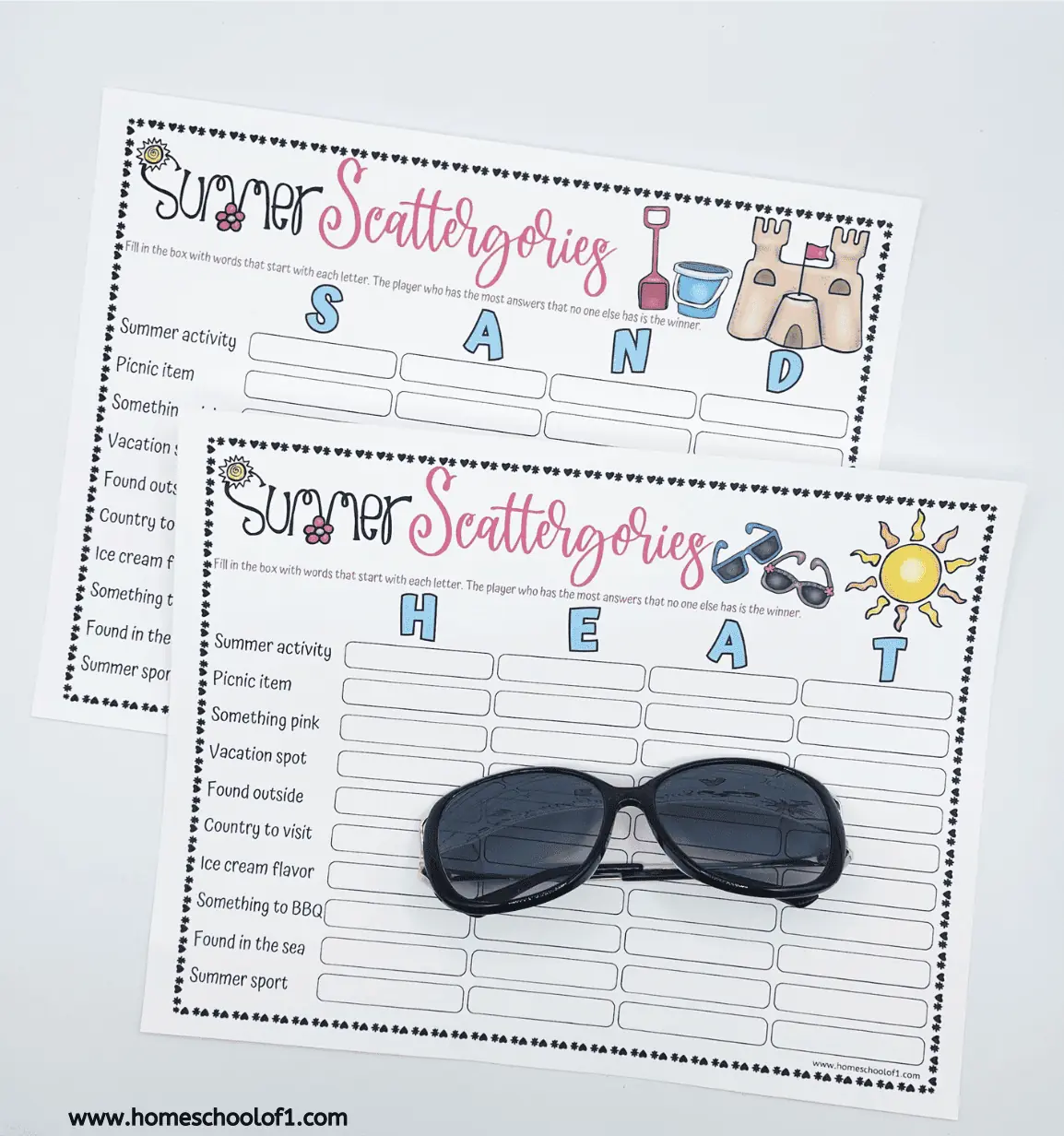 Included in the download are the four summer scattergory boards with the following letters at the top:
All of the boards have the same categories:
Summer activity
Picnic item
Something pink
Vacation spot
Found outside
Country to visit
Ice cream flavor
Something to BBQ
Found in the sea
Summer sport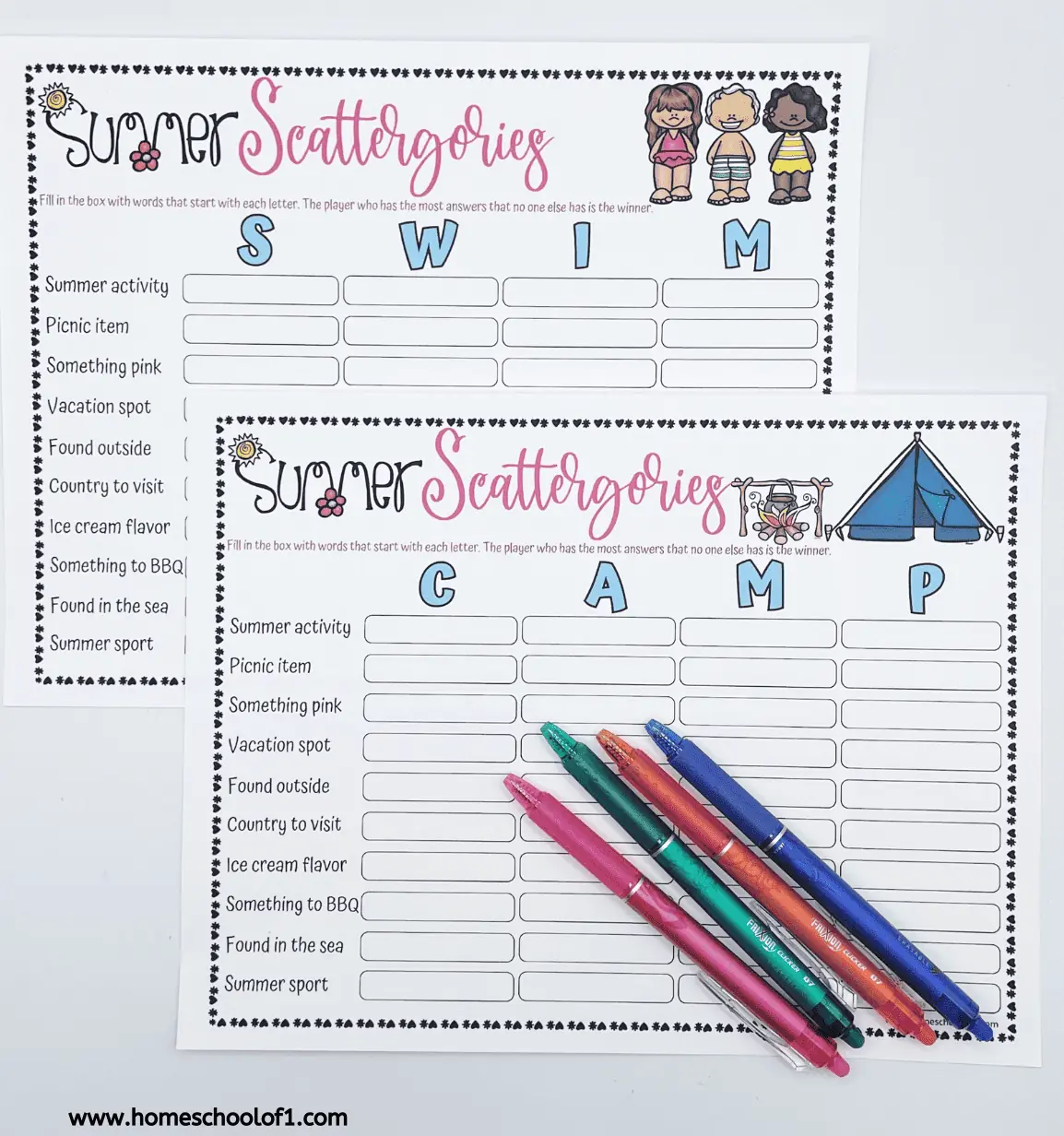 How to play the game scattergories?
If you are not familiar with the game scattergories, the object of the game is to fill out a category list with answers that begin with the same letter. You score bonus points if no one else has the same answer.
The winner of course is the one with the most points.
The official game comes with a 20-sided die with different letters on it. This letter is the first letter of each of your answers on the category list.
If you don't have the game Scatergories we have included 4 different printable boards for you to play with. Print out one for each family member and have so much fun seeing what answers you come up with.
You also don't need the 20-sided die as we have included the letters at the top of each of the boards.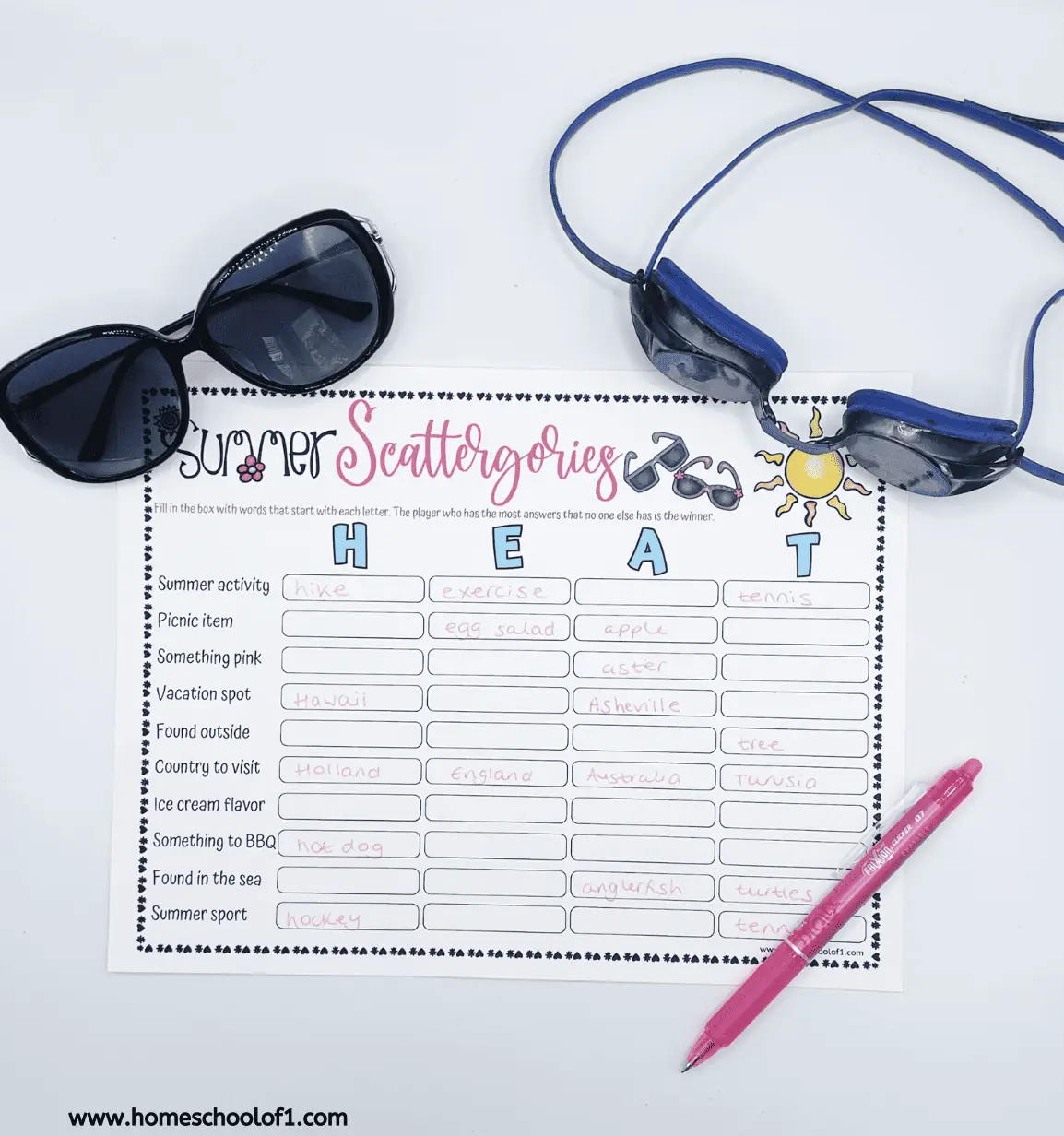 How to play scattergories with younger kids
If you are playing scattergories with younger children you will need to allow more time, in fact, we don't have a timer when we play anyway.
Why not work in teams? Pair a younger child with an older sibling, or parent.
If the children can't think of an answer beginning with the letter, why not let them find a word that has that letter in it instead?
More summer activities
Tips for downloading the free files
Below is a blue cloud with an arrow pointing downward. Underneath that is a large sign-up box where you need to add your name and email address, and press I NEED THIS NOW!
Within minutes you will be sent the free PDF directly to your email address, so you can print it out and start using it immediately.
Sometimes emails get a little wonky, so if you can't see it, please check your spam folder where I am sure it is hiding.
Download the free printable summer scattergories boards
Feel free to print out as many as you wish, just make sure you have lots of fun.
Make sure you choose the correct paper size and click on the shrink to fit button. All of our free printables for kids work better when printed on cardstock (this is the one we use and love.)
Last Updated on 2 October 2023 by homeschoolof1