Thanksgiving Poetry for Kids (6 free printables)
Looking for ways to make this November memorable? Dive into the world of Thanksgiving poetry for kids with these exciting activities.
Whether you're a teacher looking to infuse poetry into the classroom or a parent seeking fun and educational ideas for the dinner table, we've got you covered.
Each of the six Thanksgiving poems comes with accompanying pictures that kids can color in.
This not only adds an interactive element to the poetry experience but also serves as a perfect activity to engage young minds during mealtime or poetry sessions in the classroom.
Let their creativity run wild as they give life to the characters and scenes from these delightful poems.
These Thanksgiving activities for kids can either be used in the classroom or at the dinner table.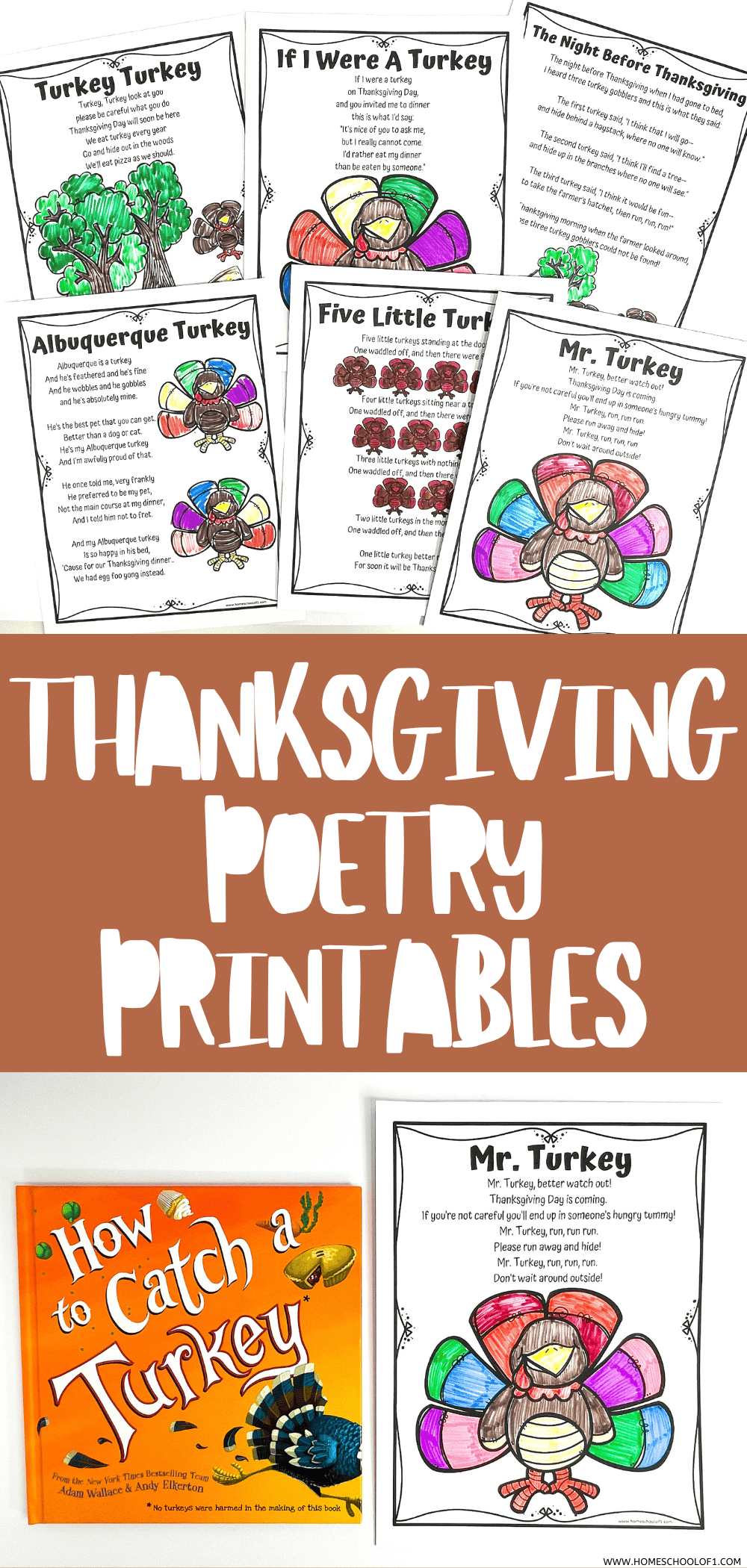 **There may be affiliate links in this post. You can read my full disclosure at the bottom of the page.**
Thanksgiving poems for kids
As November approaches, immerse young minds in the enchanting world of Thanksgiving poetry with these free coloring printables.
Discover the delight of lively verses that not only entertain but also impart valuable lessons to children of all ages.
From playful escapades to heartfelt reflections. Each poem offers a unique perspective on the holiday season, making it an educational and enjoyable experience for the entire family.
Encourage the kids to write their own poetry with these free Thanksgiving acrostic poem templates.
Poetry for Young People: Maya Angelou
The Random House Book of Poetry for Children
Evan-Moor Writing Poetry with Children, Grade 1-6 Activity Book – Supplemental Teaching Resource Workbook Inspires Poets (Writing Skills Essentials)
The Illustrated Robert Frost: 15 Winter Poems for Children – Robert Frost for Kids, Poetry Books for Kids, Poetry Picture Books, Robert Frost Kids Book, … for Kids (Children's Poetry Collection)
Poetry for Kids: Robert Frost
Poetry for Young People: Edgar Allan Poe
Five Little Turkeys
A lively and engaging Thanksgiving poem for kids.
It tells the story of five cute turkeys who are getting ready for Thanksgiving.
As each turkey gets into mischief and disappears, the poem teaches counting backward from five to one. Making it an educational and fun choice for young children.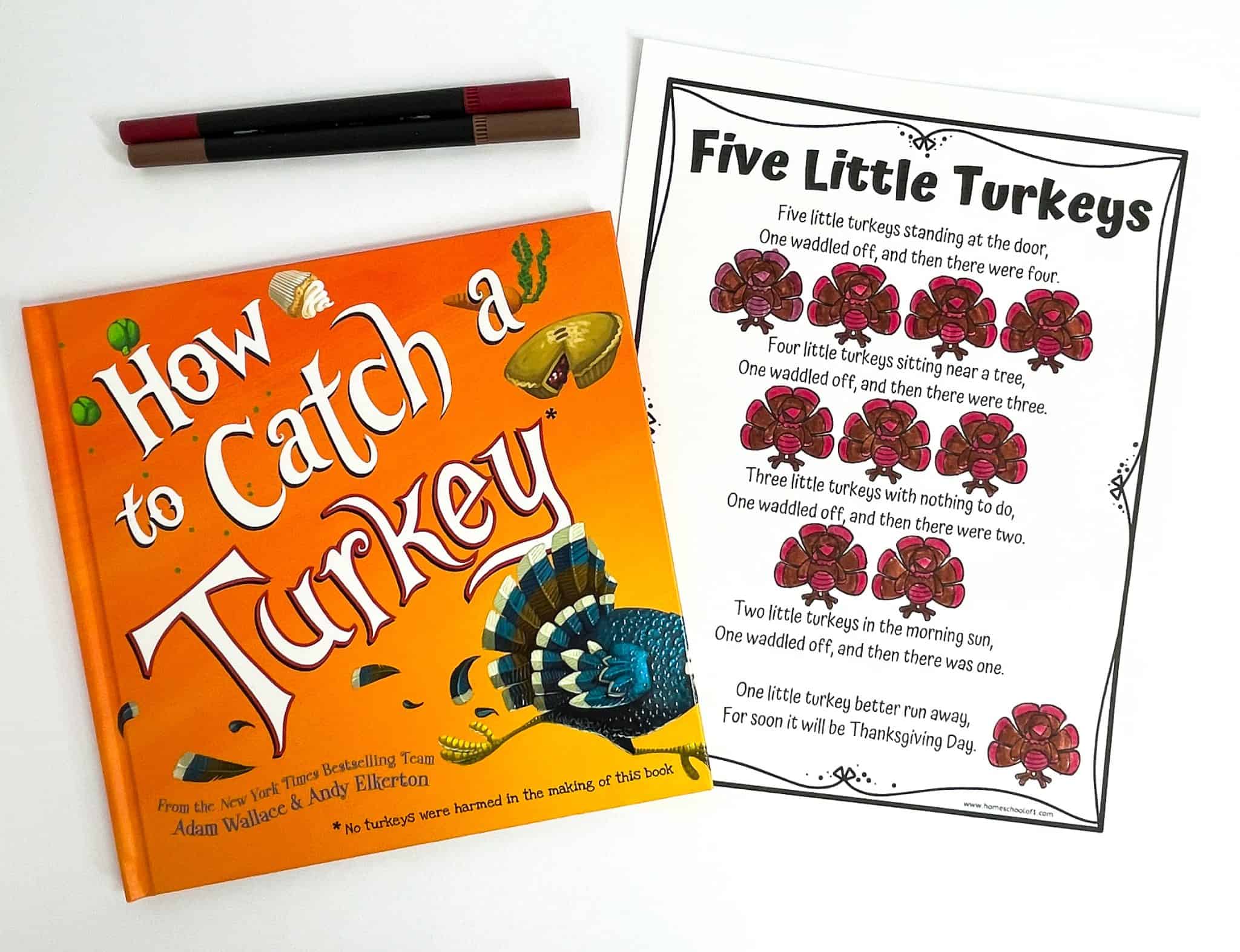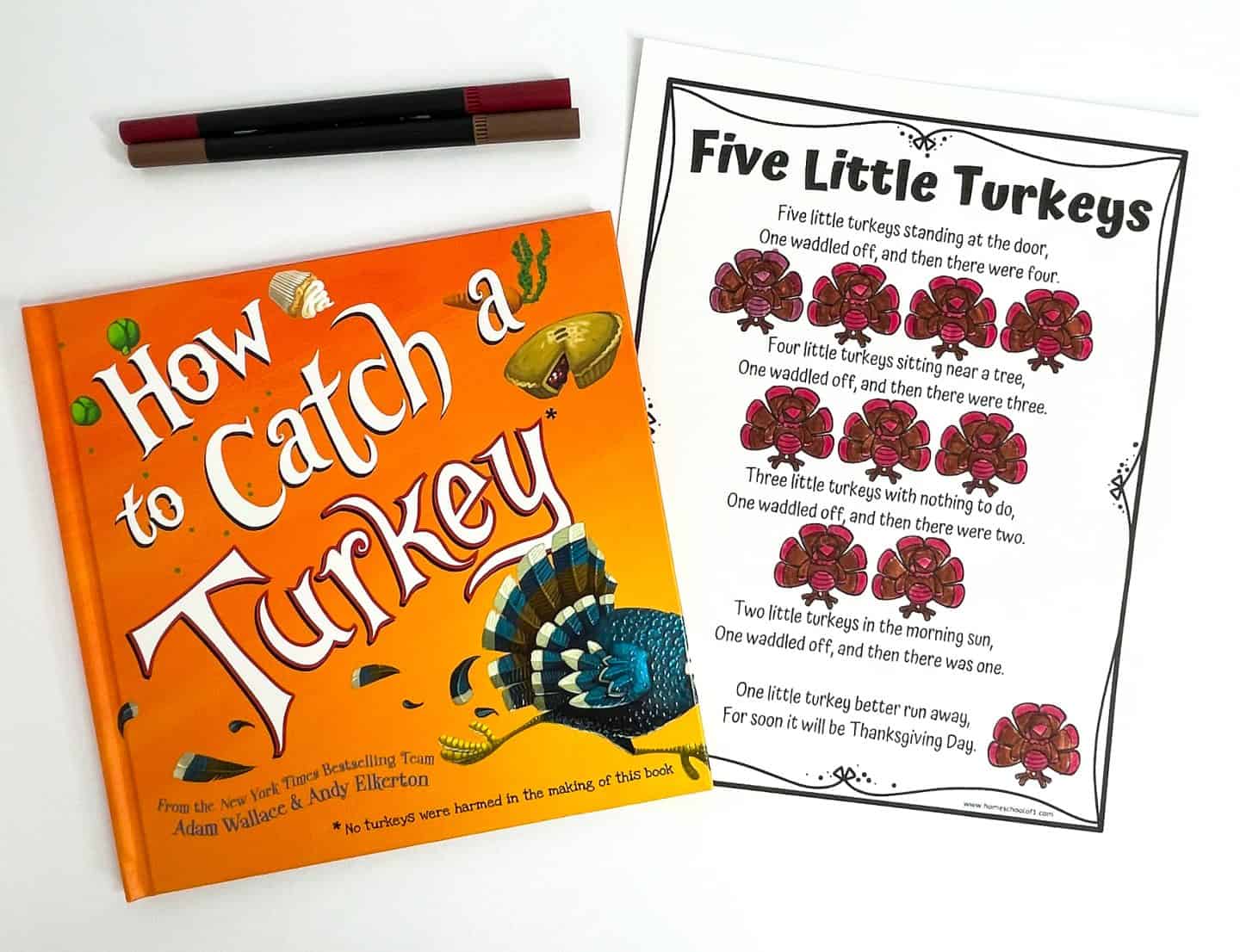 Albuquerque Turkey
A humorous and imaginative Thanksgiving poem that introduces kids to a turkey from Albuquerque who refuses to be Thanksgiving dinner.
The poem's playful language and quirky antics of the turkey make it an entertaining and whimsical read for children. With a message of individuality and standing up for oneself.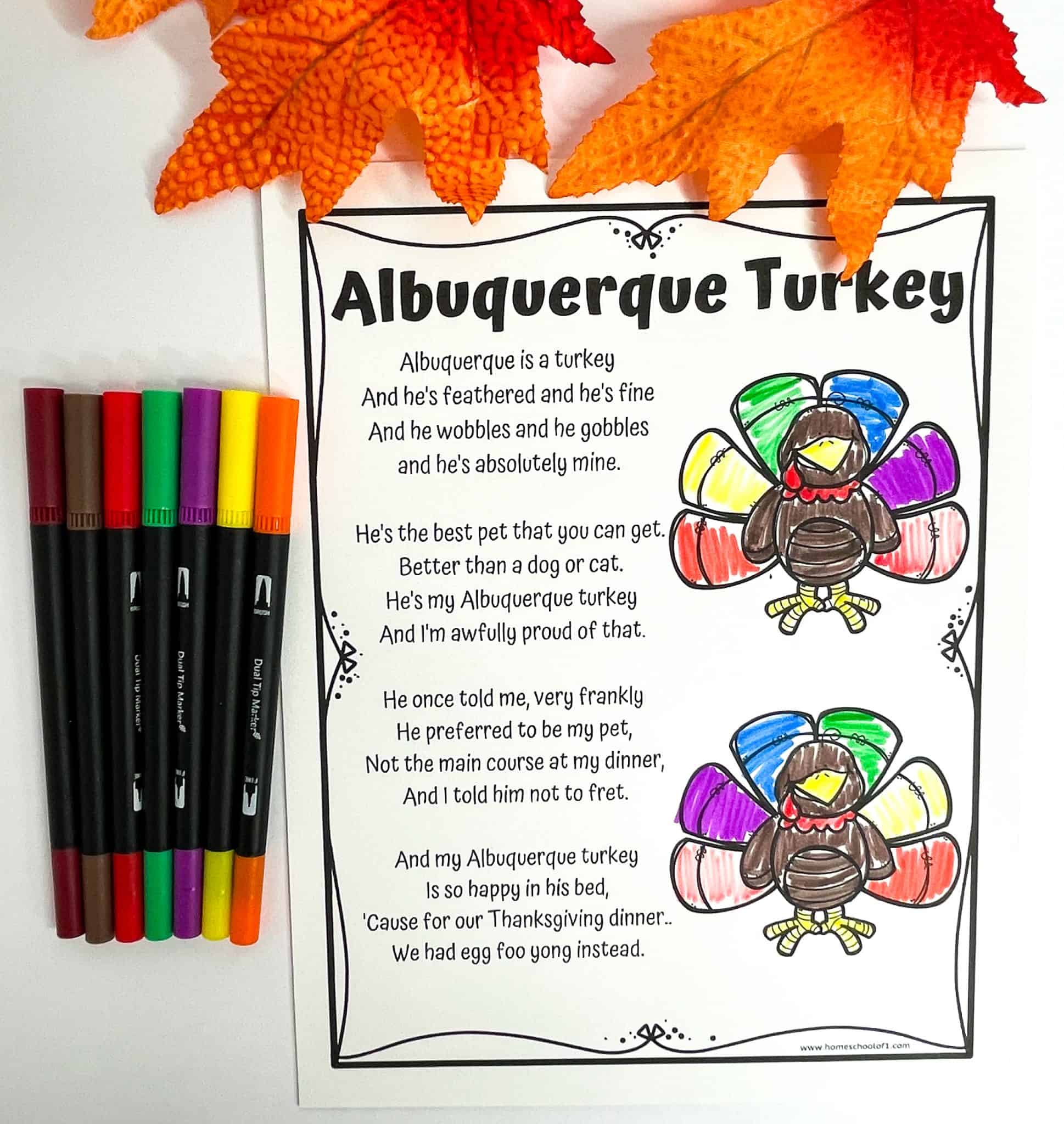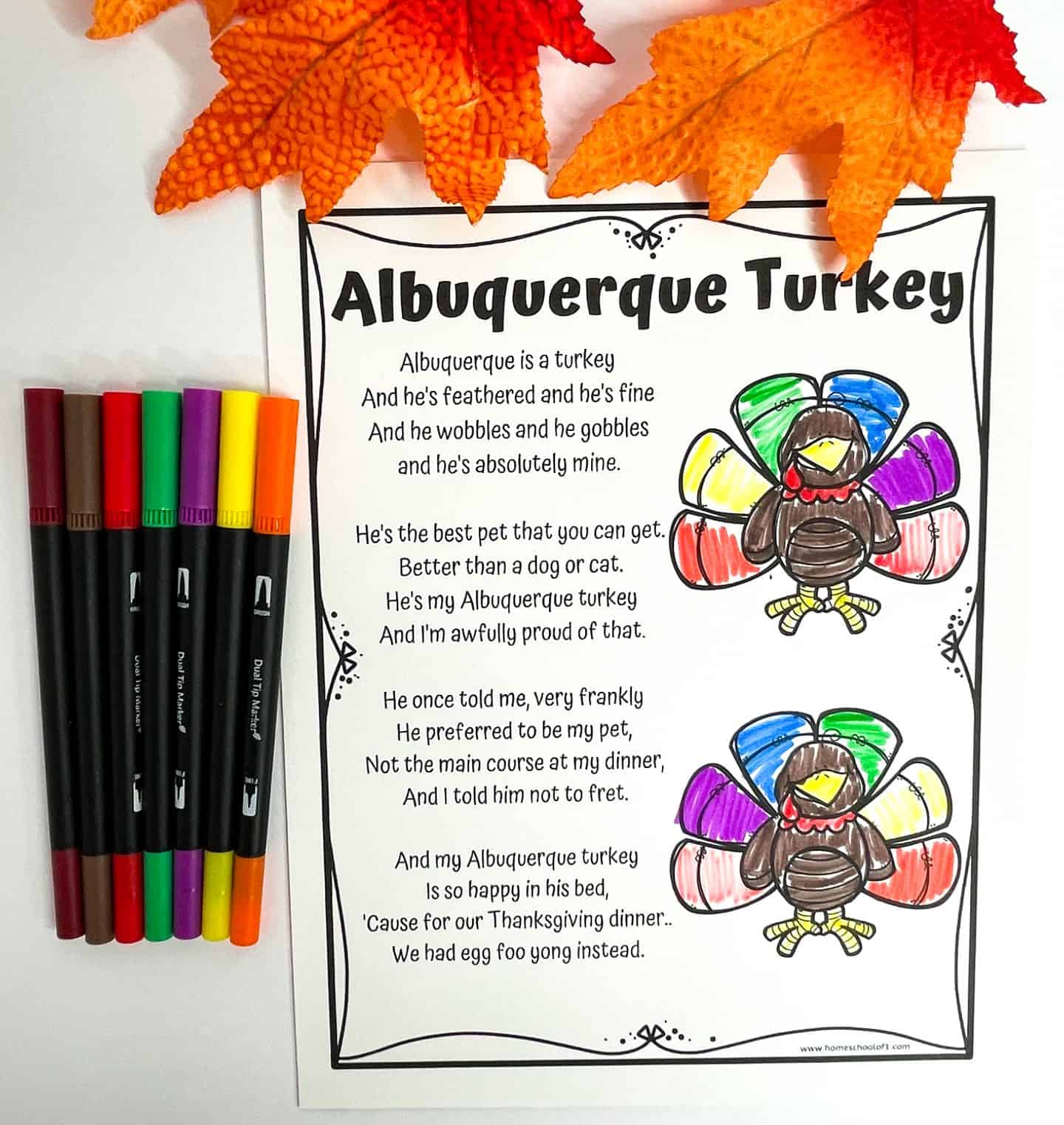 The Night Before Thanksgiving
Three turkeys, each with its own clever plan, contemplate how to escape their inevitable fate on the Thanksgiving dinner table.
The first turkey opts for hiding behind a haystack, the second in the branches of a tree, and the third mischievously considers taking the farmer's hatchet and making a run for it.
But, the poem leaves readers with a humorous twist. It's revealed on Thanksgiving morning that the three crafty turkeys have successfully avoided capture. Leaving the farmer without his holiday feast.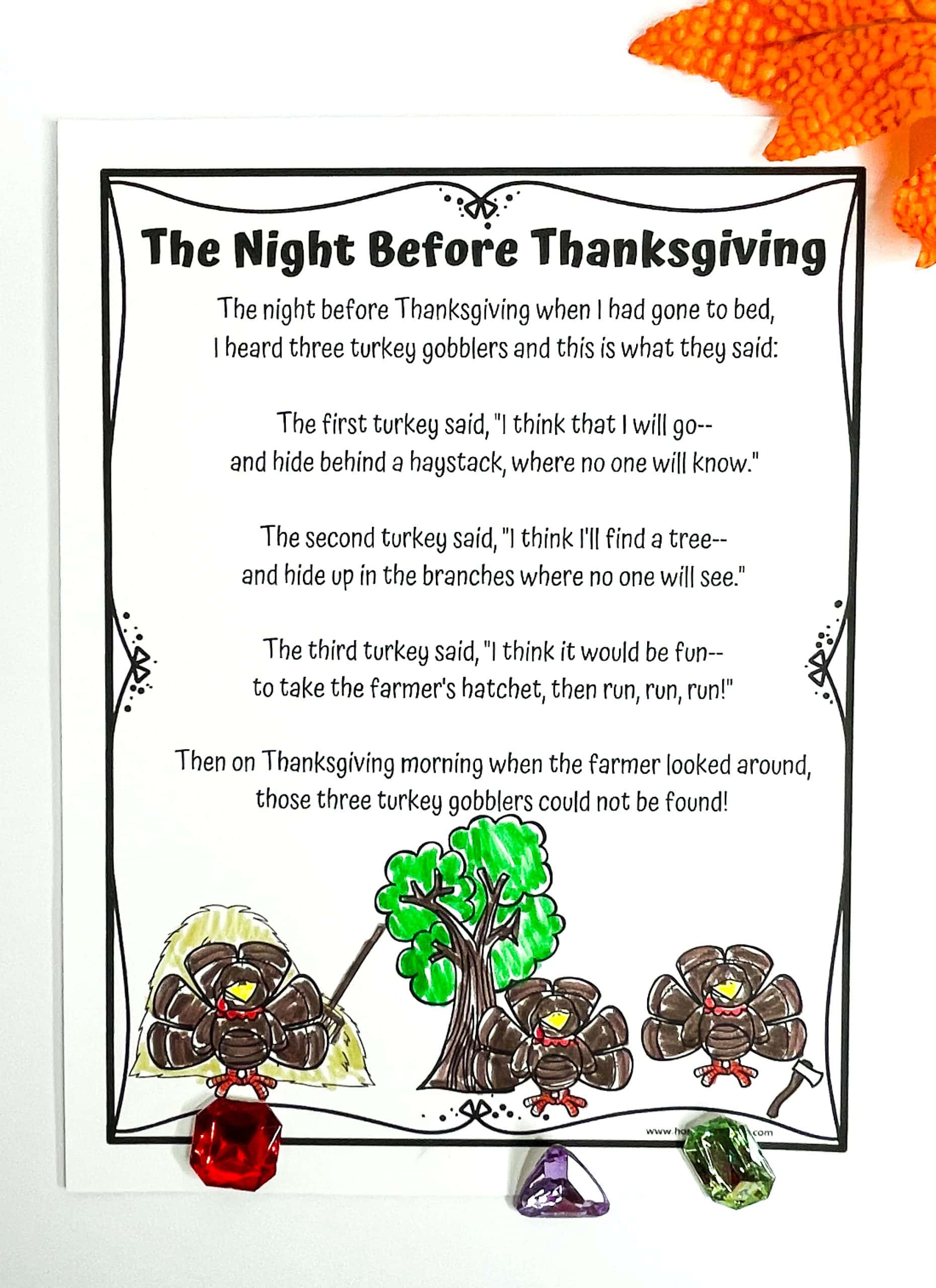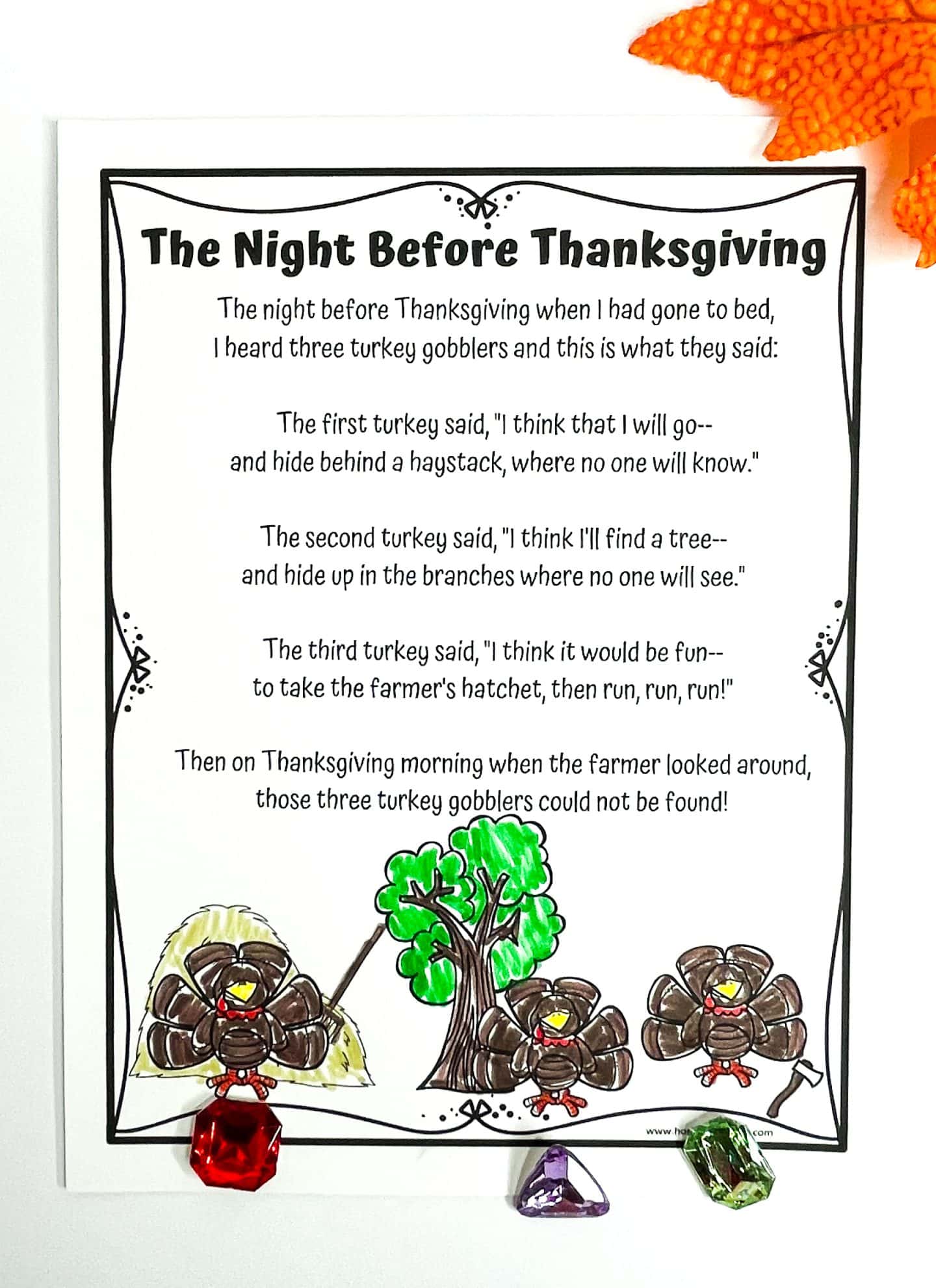 Turkey Turkey
A short and sweet Thanksgiving poem that explores the world from a turkey's perspective.
Through the eyes of the turkey, children can imagine what it would be like to roam free in the woods.
This poem encourages empathy and understanding for these feathered creatures while being a fun and thought-provoking read.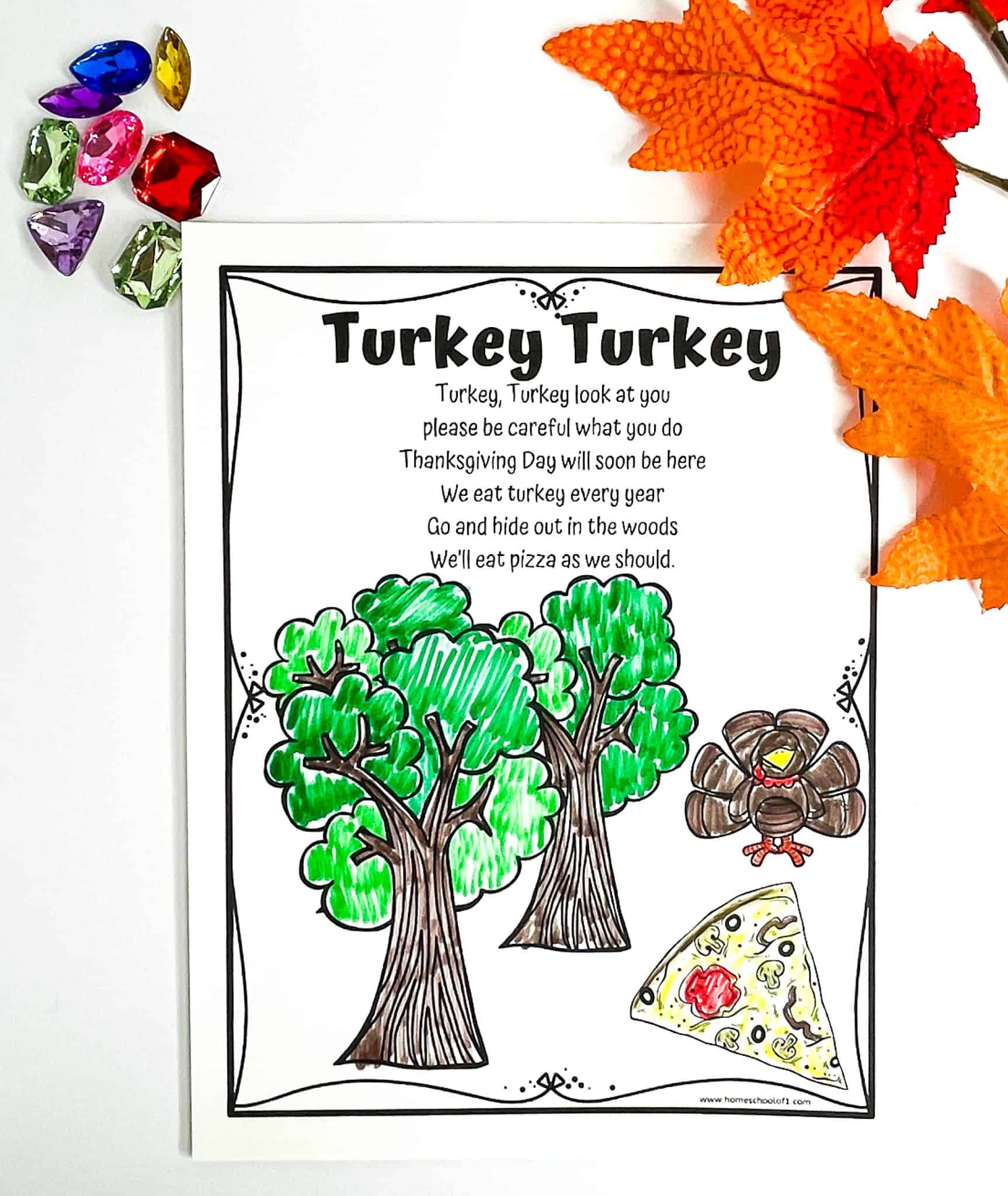 If I Were A Turkey
A creative and imaginative poem that invites children to consider what it would be like to be a turkey on Thanksgiving Day.
It playfully explores the thoughts and feelings of a turkey. As it faces the possibility of becoming the centerpiece of a holiday meal.
It's a thought-provoking and entertaining poem that encourages empathy and understanding for turkeys.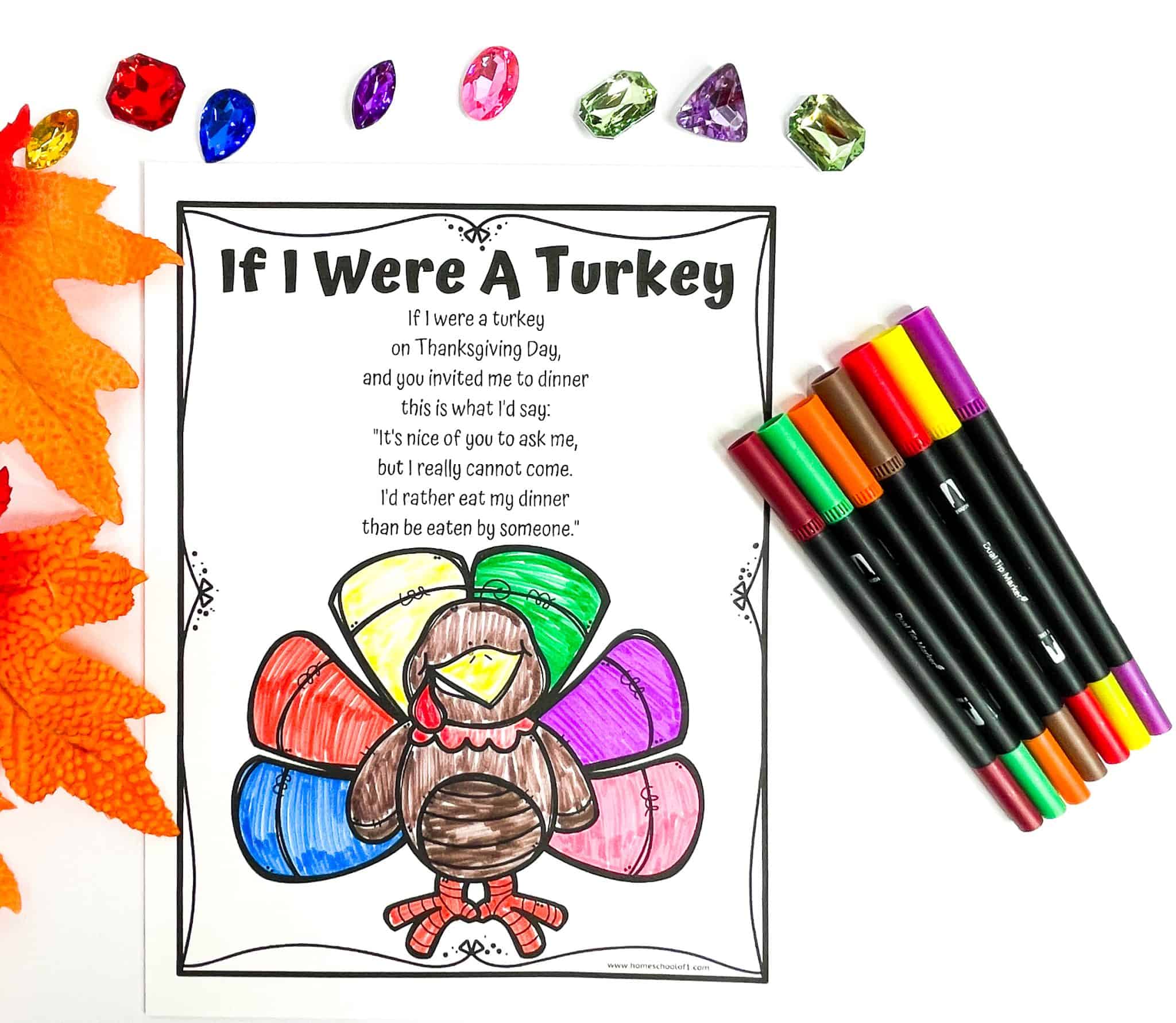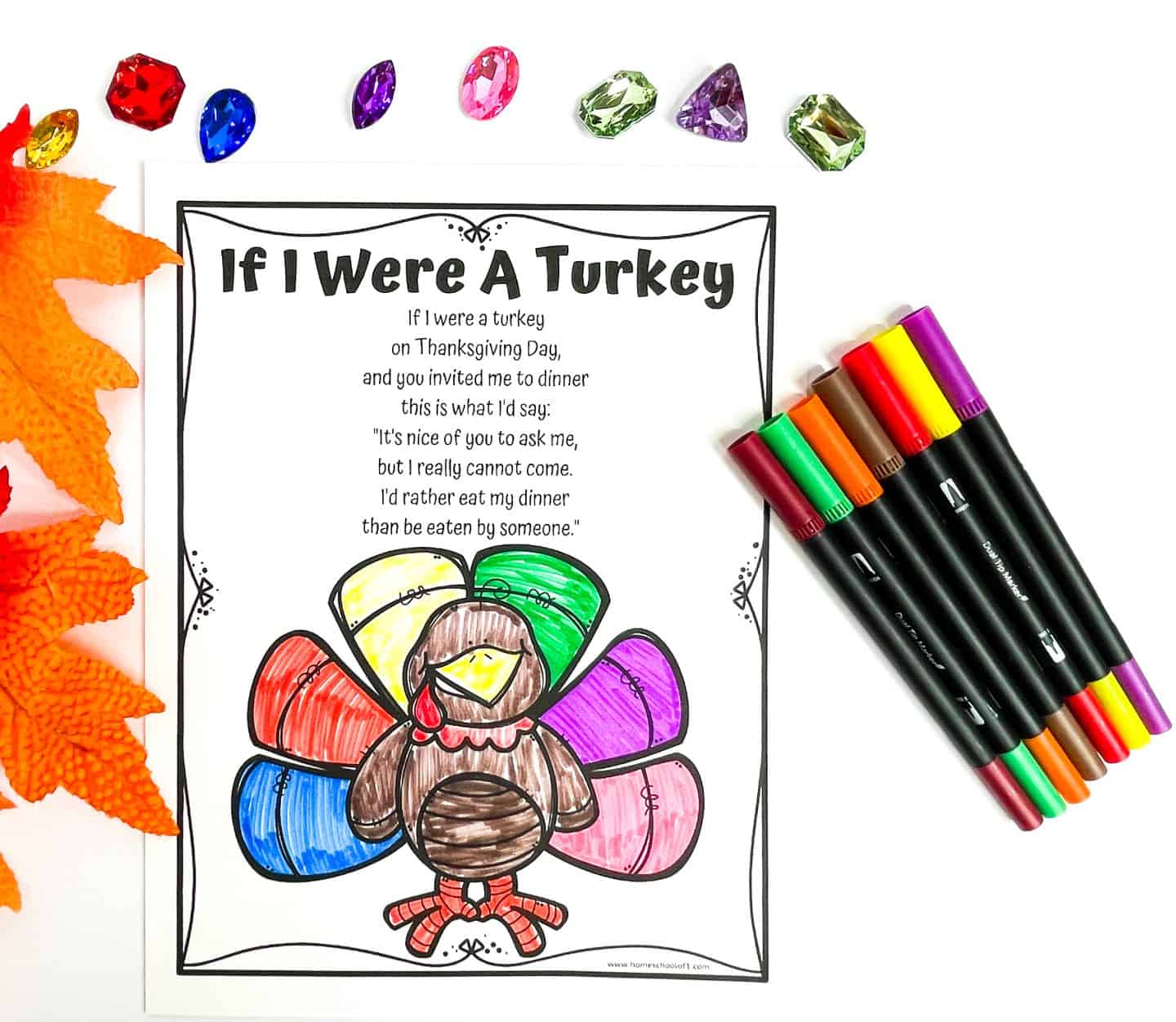 Mr. Turkey
With a focus on the turkey as the centerpiece of Thanksgiving. This poem provides a lighthearted portrayal of Mr. Turkey's role in the holiday celebration.
Through playful language and humorous scenarios. Kids learn about the tradition of feasting and giving thanks while being entertained by Mr. Turkey's antics.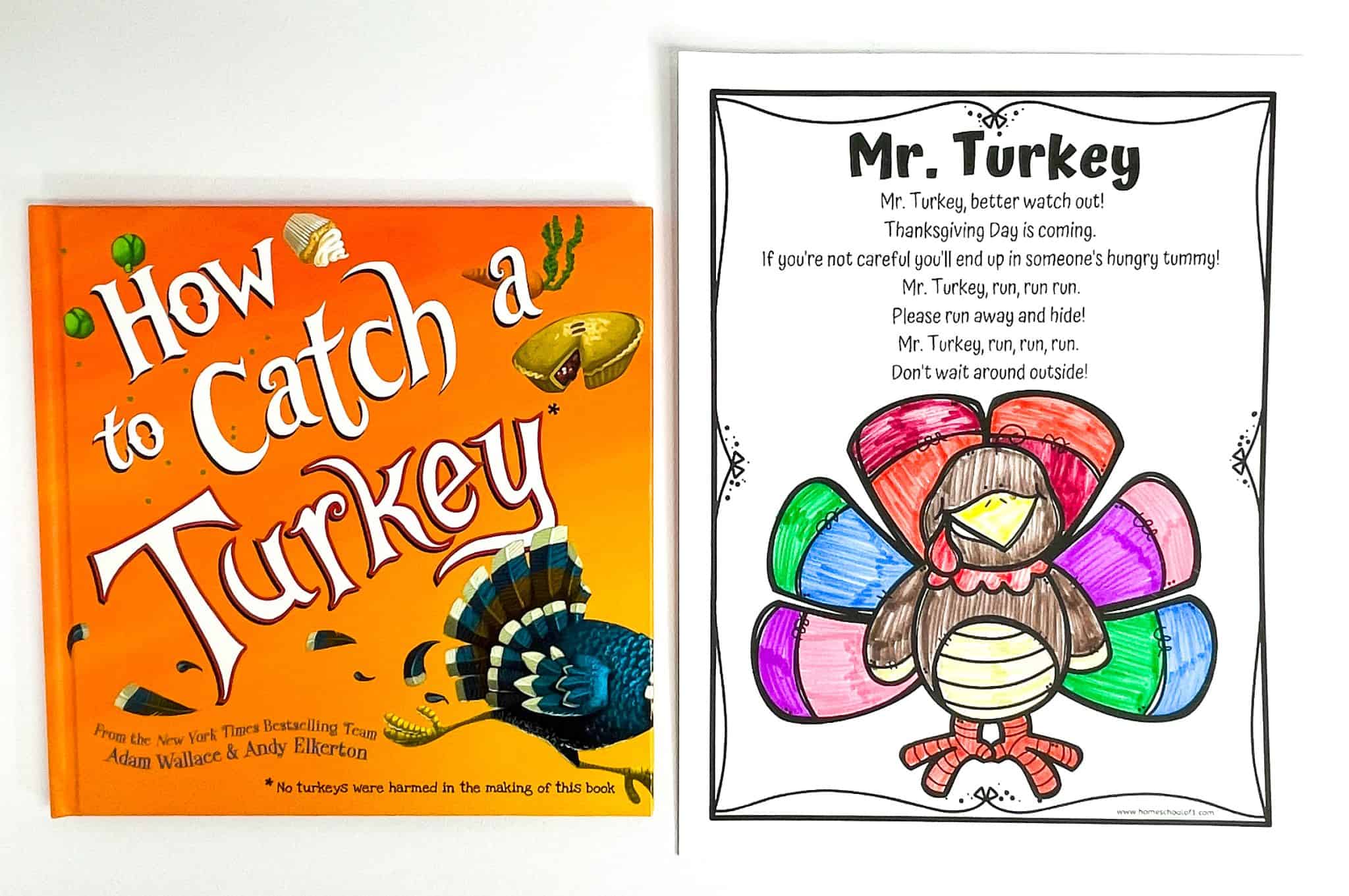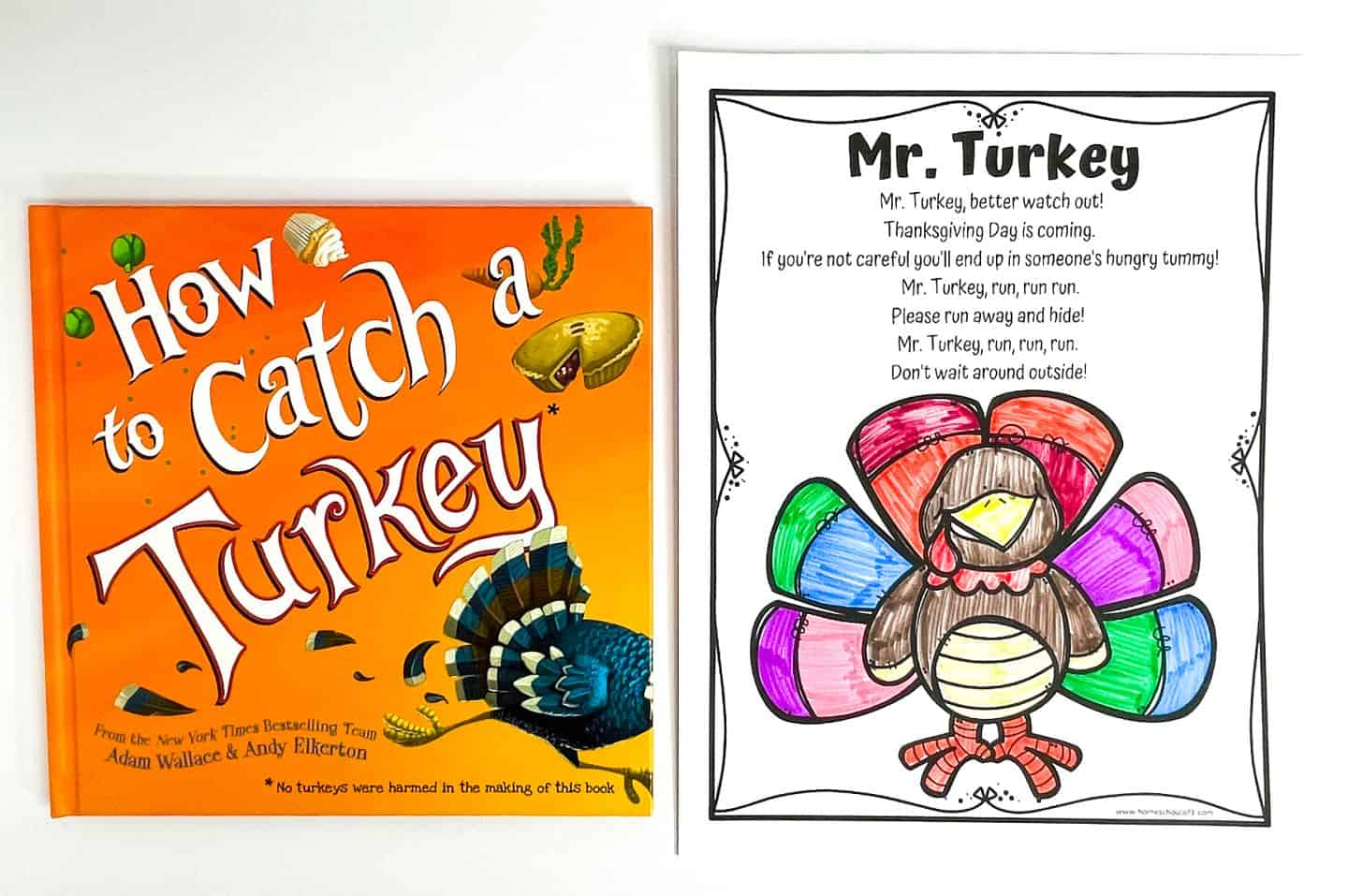 How Can I Use These Free Thanksgiving Poetry Printables?
You can use these six free Thanksgiving poem printables in various creative and educational ways, both at home and in a classroom setting. Here are some ideas on how and where to use them:
Print out the poems along with the accompanying coloring pages. You can introduce each poem to the class, discuss its themes, and read it aloud. Afterward, let the students color the pictures while discussing the poem further. This engages them in literature, art, and discussions, promoting comprehension and creativity.
Set up literacy centers with these printables. Dedicate one center to reading and discussing each poem, while another center can be focused on coloring the associated pictures. This offers a multisensory approach to learning, catering to different learning styles.
Create a festive Thanksgiving themed bulletin board by displaying the colored pictures alongside the poems. This not only decorates your classroom but also showcases the students' artwork and literary efforts to the entire school community.
Thanksgiving on Thursday (Magic Tree House Book 27)
Balloons over Broadway: The True Story of the Puppeteer of Macy's Parade (Bank Street College of Education Flora Stieglitz Straus Award (Awards))
10 Fat Turkeys
Turkey Trouble
How to Catch a Turkey
There Was an Old Lady Who Swallowed a Turkey!
If you're hosting a Thanksgiving gathering with children, these printables can serve as an engaging activity. Set up a table with the printables and coloring materials, allowing children to enjoy some creative time while celebrating the holiday.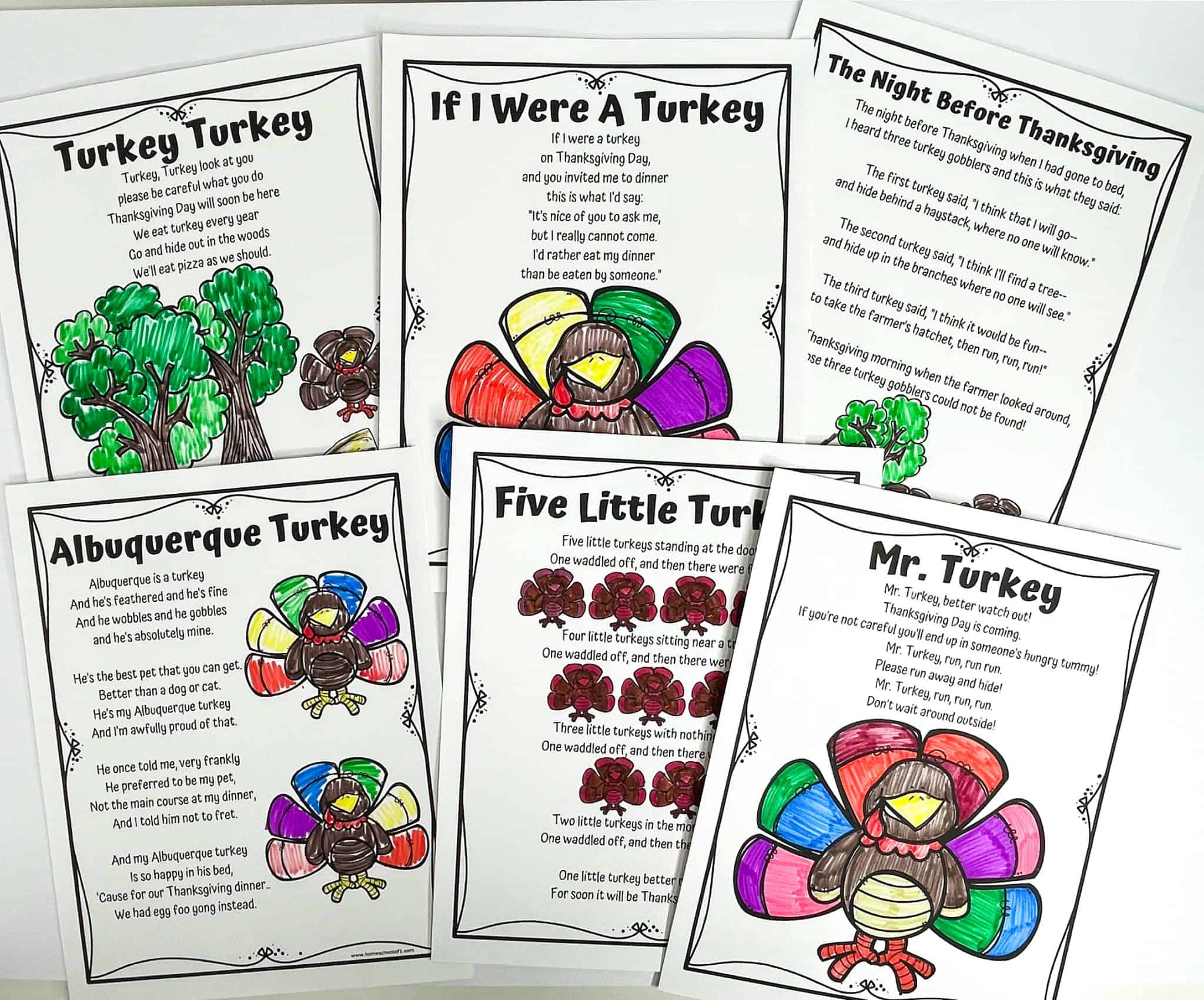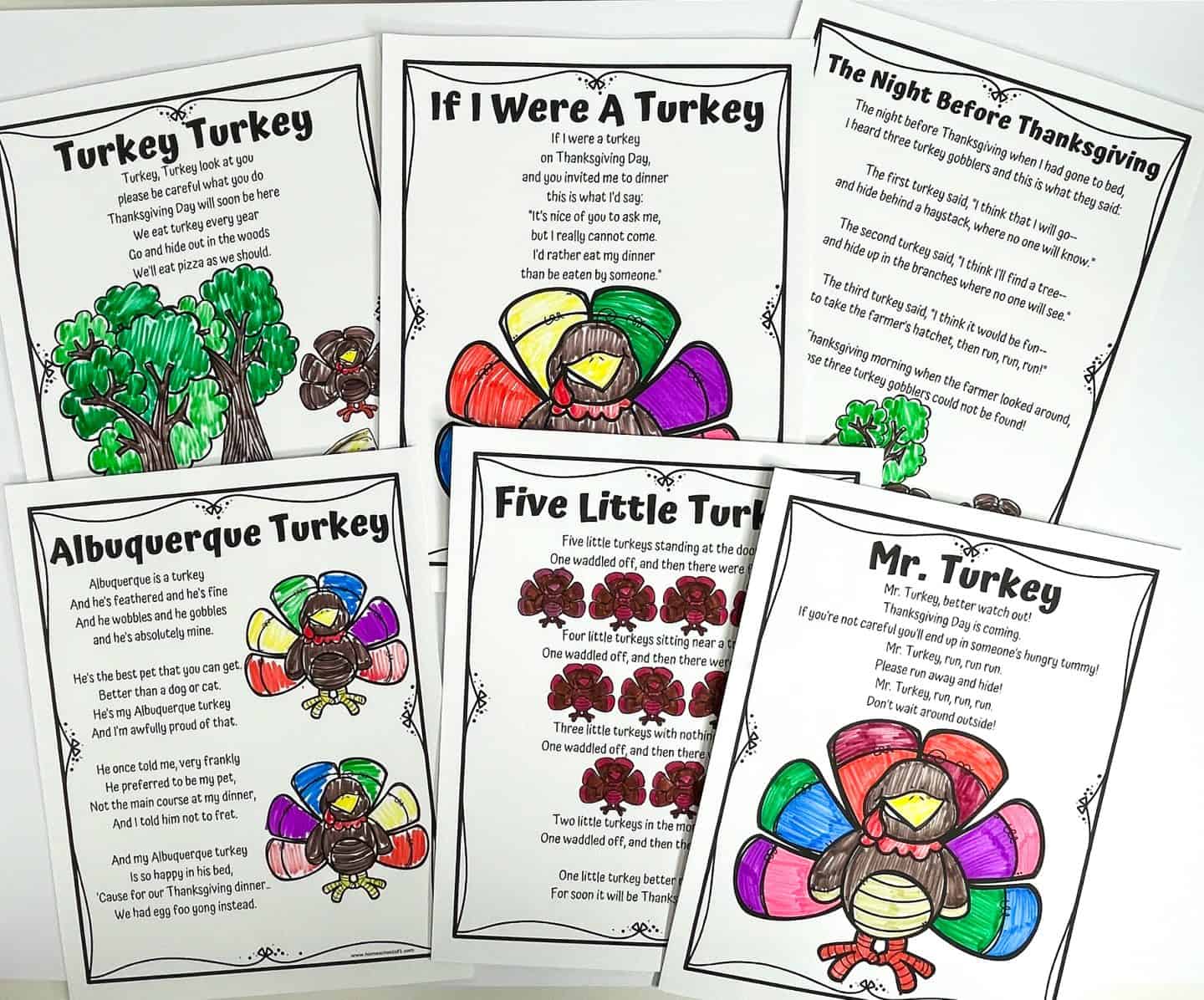 If you have a dedicated reading corner or library in your classroom, include these printables as part of your seasonal reading materials. Students can read the poems on their own or with a partner, and the coloring pages can be a quiet and relaxing activity.
Organize interactive poetry sessions where students take turns reading the poems aloud. Encourage them to discuss their favorite lines, share their thoughts, and ask questions. This promotes public speaking skills, critical thinking, and literary analysis.
Tips for downloading the free files
Below is a blue cloud with an arrow pointing downward. Underneath that is a large sign-up box where you need to add your name and email address, and press I NEED THIS NOW!
Within minutes you will be sent the free PDF directly to your email address, so you can print it out and start using it immediately.
Sometimes emails get a little wonky, so if you can't see it, please check your spam folder where I am sure it is hiding.
Download the free Thanksgiving poem coloring pages
These worksheets are free to print but are for personal or classroom use only.
Make sure you choose the correct paper size and click on the shrink to fit button. All of our free printables for kids work better when printed on cardstock (this is the one we use and love.)
Last Updated on 2 October 2023 by homeschoolof1