15 Best Thanksgiving Read Alouds You Will Love
Step into the world of the best Thanksgiving read alouds, where the essence of the holiday comes to life through heartwarming stories.
These tales, spanning generations and traditions, celebrate gratitude, unity, and the joy of togetherness.
These Thanksgiving books are a wonderful way to kickstart your Thanksgiving activities for kids.
Immerse yourself in the magic of storytelling that captures the true spirit of this cherished holiday.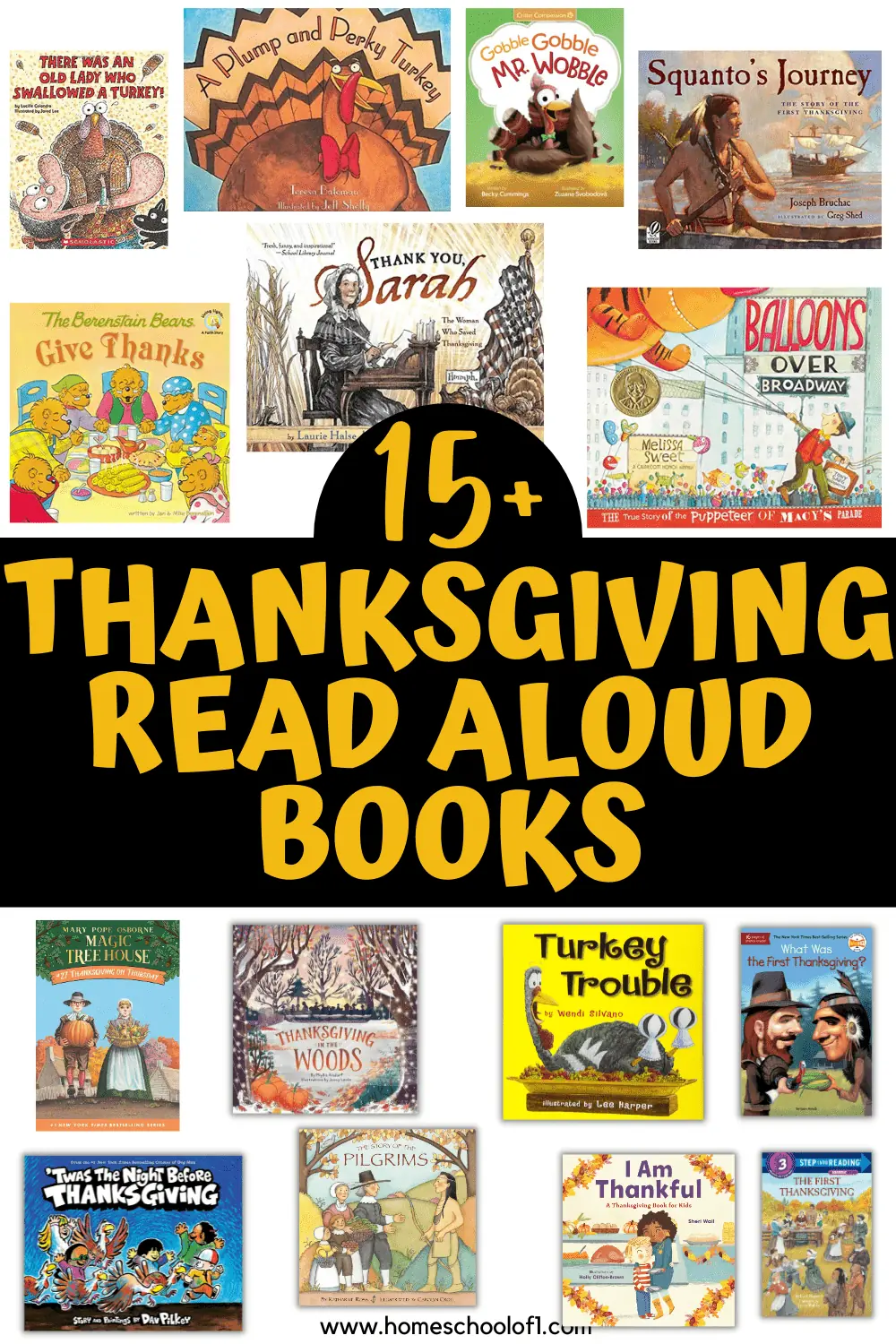 As a side note – as it is nearly Thanksgiving make sure you keep checking our homeschool black Friday deals post. This will be updated as soon as we spot any new deals!
**There may be affiliate links in this post. You can read my full disclosure at the bottom of the page.**
Best Thanksgiving books for kids
These book lists for kids are a great way for young children to learn about the history and traditions of the holiday season. These books can help children develop a sense of gratitude, compassion, and community. As they learn about the importance of giving thanks, spending time with loved ones, and showing kindness to others.
Sharing these books with young children, parents, and teachers can also create lasting memories and traditions. That children can carry with them throughout their lives. Reading aloud to children is also a perfect way to improve literacy skills, expand vocabulary, and foster a love of learning.
Plus, these read alouds provide an opportunity for families and communities to come together and bond. Whether it's reading a favorite book together or discussing the themes and messages in each story. These books can help strengthen family and community connections during the holiday season and beyond.
These Thanksgiving books make the best Thanksgiving gifts for kids too!
Additional Thanksgiving Activities
Add these fall read alouds to your Thanksgiving homeschool activities, and have fun this November.
Grab our free Thanksgiving bookmarks to color and add them to these books.
Have fun with the kids old and young with the Thanksgiving scattergories printables and the fun Thanksgiving scavenger hunt clues.
If you are looking for Christmas read alouds check out our latest post.
What are your favorite Thanksgiving read alouds? Let me know in the comments below.
Last Updated on 3 November 2023 by homeschoolof1