Best Math Curriculum for ADHD – A Child's Perspective
As a homeschool mom with a child who has ADHD, I've been on a mission to find the perfect math curriculum that suits my kid's unique learning needs. The best math curriculum for ADHD according to my ADHD child is Teaching Textbooks.
Selecting the right homeschool curriculum can be challenging, but it becomes even more difficult when you have a child with ADHD. It's crucial to find a curriculum that takes into account their unique needs and learning style.
Carry on reading to see why my son who has ADHD loves Teaching Textbooks.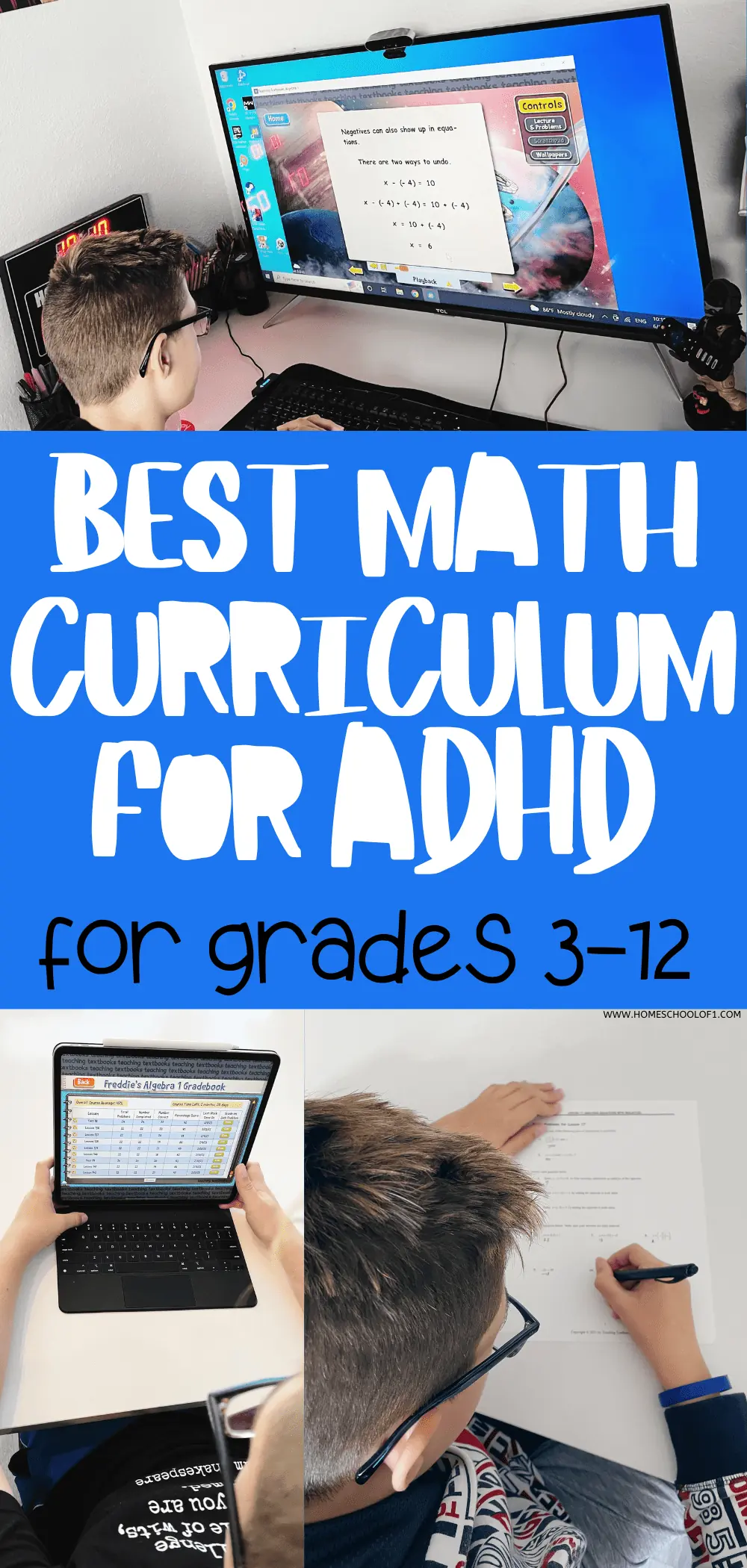 **Disclosure: I was compensated for my time to write this post. As always, all thoughts and opinions are my own. I only share resources that I would use with my own family and those that I believe other homeschool families will enjoy. There may be affiliate links in this post.**
My ADHD math struggles (written by my 13 year old son)
My ADHD sometimes makes math a bit tricky for me, but I've found my own way to make it work. I'm actually pretty good at math, I am working 2 grades above. I can solve problems in my head faster than most, and I don't always like to show all my workings on paper. It feels like it slows me down.
But here's the thing, I'm not the type to sit still for long. I like to move around, fidget, and work on my own timescale. It's not because I'm not paying attention, it's just how my brain works. When I can fidget a bit, it helps me focus better on the math problems. It might look like I'm not paying attention, but I am.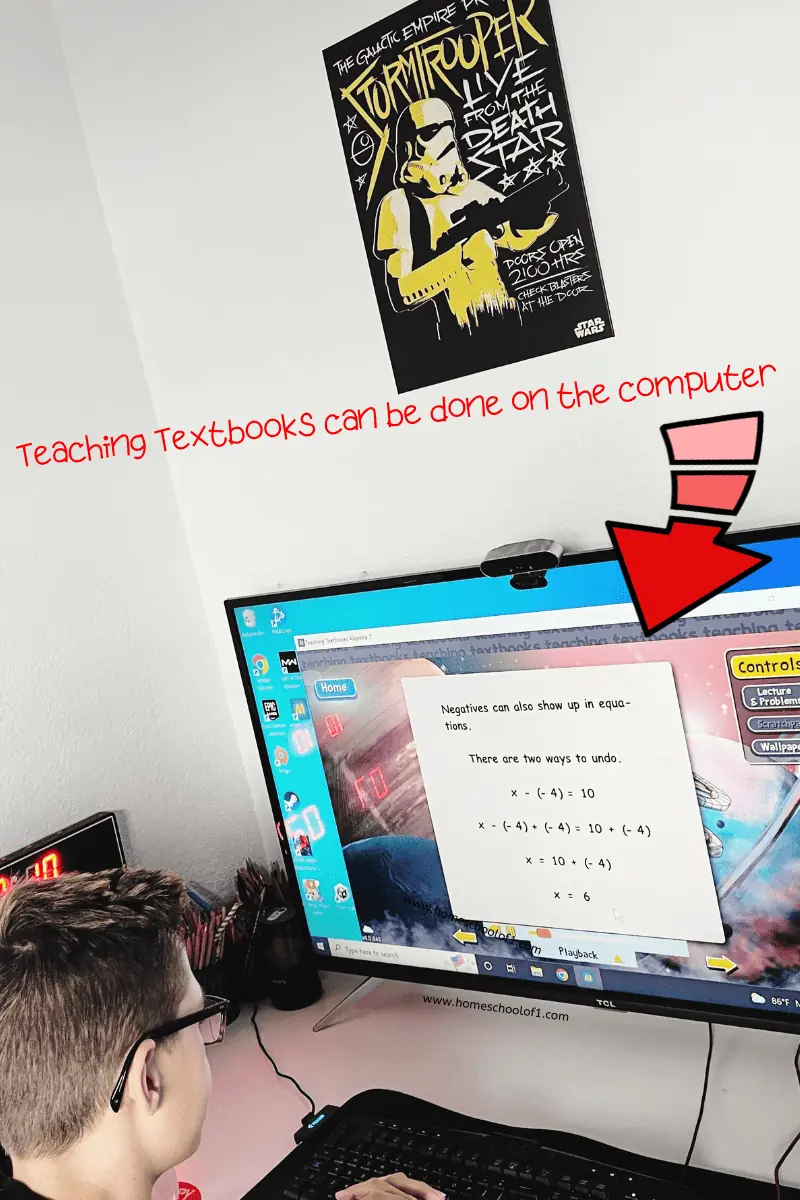 So, yeah, I have my ADHD struggles with math, but I've figured out some ways to make it work for me. Math is my thing, and I'm not letting ADHD get in the way of that.
That's where Teaching Textbooks comes in. It's a math curriculum that lets me work at my own pace, allows for flexibility, and doesn't force me to show all my work on paper. Which makes learning math with ADHD much more enjoyable and effective for me.
Best homeschool math curriculum for ADHD
When it comes to finding the best math curriculum for children with ADHD, Teaching Textbooks has been a game-changer for my son.
As a parent, I've seen firsthand how this curriculum has addressed my child's unique needs. Allowing him to excel in math while managing his ADHD effectively.
Versatility
One of the standout features of Teaching Textbooks is its versatility. It starts from 3rd grade and goes all the way up to pre-calculus, ensuring that children of all ages can benefit from its approach.
This flexibility allows children to progress at their own pace, avoiding the frustration that often accompanies trying to keep up with rigid grade levels.
Placement Tests
Teaching Textbooks goes the extra mile by offering free placement tests.
These tests help parents determine the perfect starting point for their child, ensuring they are in the right grade level to match their math skills.
This is particularly crucial for children with ADHD, as it ensures they aren't overwhelmed or under-challenged.
Free Trial
Teaching Textbooks understands that every child is unique, and that's why they offer a free trial for every grade up to lesson 15.
This allows parents and children to explore the curriculum. Experience its benefits, and determine if it aligns with their learning style and ADHD management needs.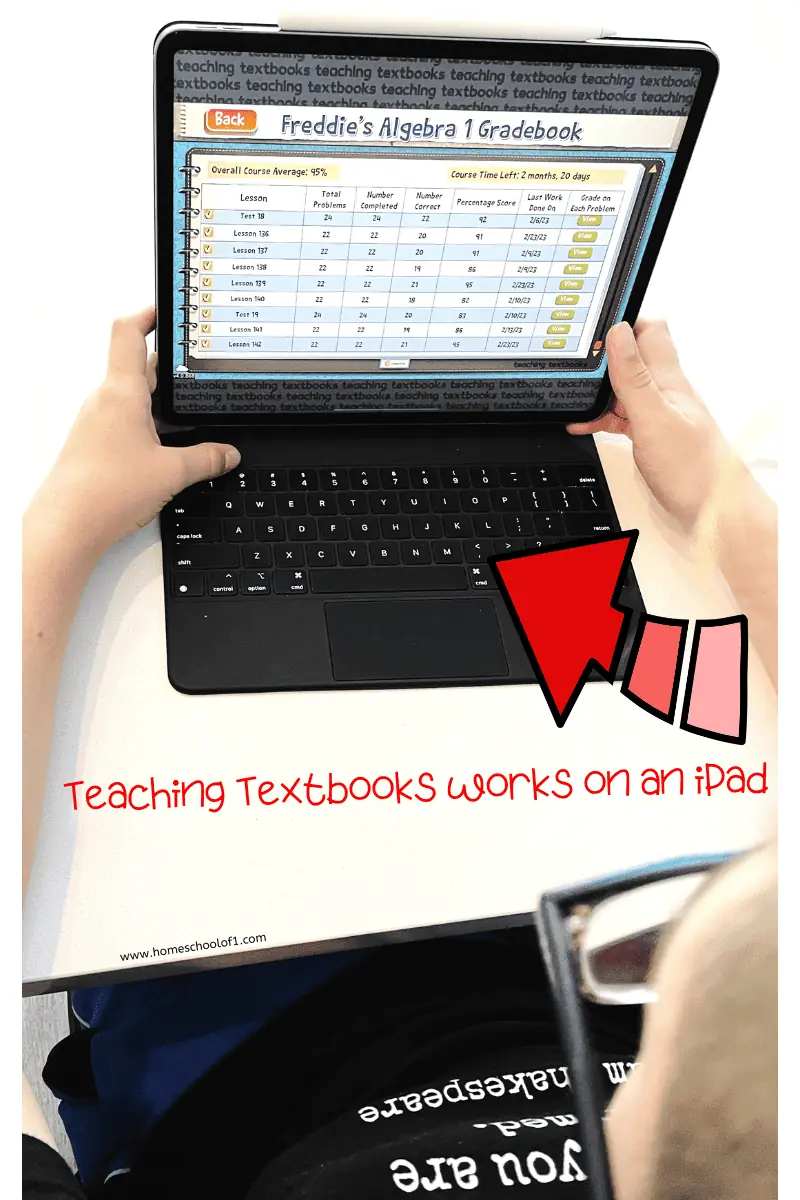 Empowering Control
One of the valuable lessons we've learned while homeschooling our child with ADHD is that he thrives when he has control over his learning pace.
Teaching Textbooks supports this by letting children choose how they want to work. On a computer, an iPad, or even with traditional paper and pencil.
This flexibility has been instrumental in keeping my child engaged and focused during math lessons.
Immediate Feedback
Teaching Textbooks provides immediate feedback after each lesson.
For a child with ADHD, this is a game-changer. They don't have to worry about tracking their progress or waiting for grades. It's all right there, helping them stay motivated and focused.
Budget-Friendly
Homeschooling can sometimes put a strain on the family budget, but Teaching Textbooks is one of the most affordable math homeschool curricula we've encountered.
With reasonable prices for elementary, middle school, and high school grades, it's a cost-effective choice for families seeking quality math education.
What grade does Teaching Textbooks start?
This is the best bit about Teaching Textbooks, their math curriculum starts with 3rd grade and goes up to pre-calculus.
And even better than that the children can take a free placement test so you know if they are ready for the grade.
And even better than that there is a free trial for every grade up to lesson 15!
What I have found with homeschooling a child with ADHD is that firstly he wants to be in control and secondly he has never worked on grade level.
How much is Teaching Textbooks?
Teaching Textbooks is the most affordable math homeschool curriculum we have used.
$45.95 for elementary grades
$58.95 for middle school grades
$72.95 – $74.95 for high school grades
I highly recommend taking full benefit of the free trial as after the first 15 lessons it will be transferred when you pay (so the kids don't have to retake it.)
Teaching Textbooks review from my 13 year old ADHD son
Teaching Textbooks has truly been a game-changer for me in my homeschooling journey. As a child with ADHD who excels in math, this curriculum aligns perfectly with my needs and learning style.
Not only does it start from 3rd grade and go all the way up to pre-calculus, but it also offers a free placement test to ensure I'm in the right grade level.
One of the things I've discovered about homeschooling with ADHD is that I love being in control of my learning pace, and Teaching Textbooks allows me to do just that. Whether I want to work on a computer, my iPad, or with good old pen and paper, this curriculum caters to my preferences, making it incredibly versatile.
The immediate feedback I receive after each lesson is a huge relief. I don't have to worry about tracking my progress or grades; it's all right there for me. Plus, Teaching Textbooks is budget-friendly, which is great for my parents and takes some of the pressure off.
In my opinion, Teaching Textbooks is the best math curriculum for kids with ADHD. It's been a game-changer for me, and I highly recommend it to any child. Especially those who, like me, need a little extra flexibility and understanding in their math education.
Previous Teaching Textbooks reviews
You can read all our Teaching Textbooks homeschool curriculum reviews: