Why Homeschoolers Love the Thiel Athletics Program
If you are looking for a private college for your sport-loving homeschooler you are going to love the Thiel Athletics program.
Thiel College is a private college located in Greenville, Pennsylvania.
The college campus is in a vibrant urban center with lots of opportunities for internships, educational trips, service learning, and entertainment.
With a short drive to Youngstown, Pittsburgh, and Cleveland.
Thiel recently invested nearly $3 million to renovate the indoor court, tennis facilities, and additional improvements to the baseball field. An additional $3 million was recently invested in a new track and field complex and renovating the fitness center.
As Thiel is NCAA (National Colligate Athletic Association) Division III there are NO athletic scholarships.
**Disclosure: I was compensated for my time to write this post. As always, all thoughts and opinions are my own. I only share resources that I would use with my own family and those that I believe other homeschool families will enjoy. There may be affiliate links in this post.**
Thiel Athletics Program
If your child is looking for a well-rounded collegiate experience with a big heart then Thiel is the answer.
Thiel Tomcats compete on 22 NCAA Division III varsity sports teams, 11 men's teams, and 11 women's.
The athletics program offers 22 athletic programs as can be seen below.
| | | |
| --- | --- | --- |
| SPORT | MEN'S | WOMEN |
| Baseball | X | |
| Basketball | X | X |
| Club Bowling | | X |
| Cheerleading | | X |
| Cross Country | X | X |
| Dance | | X |
| Football | X | |
| Golf | X | X |
| Lacrosse | X | |
| Soccer | X | X |
| Softball | | X |
| Tennis | X | X |
| Track & Field | X | X |
| Volleyball | X | X |
| Wrestling | X | |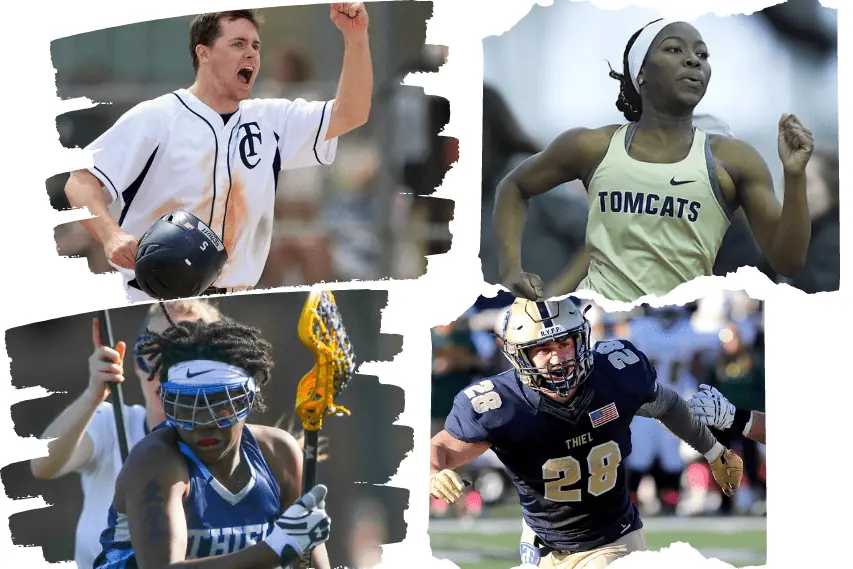 What are the benefits of attending a division 3 school?
There are a number of benefits of athletes joining an NCAA Division III school.
Students-athletes will have a smaller and more focused academic experience.
They are more likely to play early so they can build their stats compared to a Division I or even Division II team.
Education comes first, not the sport.
There is much less pressure on joining a team, as the chances of live TV are extremely rare for Division III games.
You get to join other clubs and enjoy campus life much more in Division III.
Despite not having athletic scholarships there is lots of academic aid awarded.
Thiel Academic Scholarships
Although there are no athletic scholarships, Thiel has an amazing undergraduate program with academic scholarships.
In 2021 there were $21 million in scholarships awarded with 99% of students receiving some aid.
See what scholarships are available to you.
Thiel is a liberal arts college with over 60 majors and minors offered. They include education, sciences, business, computer science, math, and much more.
What are the other benefits of attending Thiel College?
One of the main benefits of attending Thiel is the 11:1 student/faculty ratio.
Homeschoolers in particular are used to a smaller setting, or in our case homeschooling an only child.
Just to put the 11/1 into context the University of Florida is 17:1 and the University of Central Florida is a massive 30:1.
If you are an athlete, or homeschooler, or both, you should definitely check out Thiel College today.