Free Ukraine Coloring Pages To Help Kids Talk About the War
Starting a conversation with young children about topics that even leave us adults traumatized and bewildered is no easy task. That's why I have put together these free Ukraine coloring pages.
These Ukraine coloring pages are a perfect way to at least educate your children about the beautiful country. These can be used for children of all ages, in fact as an adult, a lot of these words were new to me too.
For younger children, I think just learning about the country is enough, unless of course they have been exposed to it. I do recommend CNN10 for upper elementary to high school kids though, where they talk about the news in a kid-friendly manner.
Each coloring page has a new word that is associated with the Ukraine and information about it, as well a picture of it to color.
We love creating free kids coloring pages, and we either use them as a supplement for a lesson we are studying or to calm the mood! Coloring is a great way for them to refocus and relax, and great for improving fine motor skills.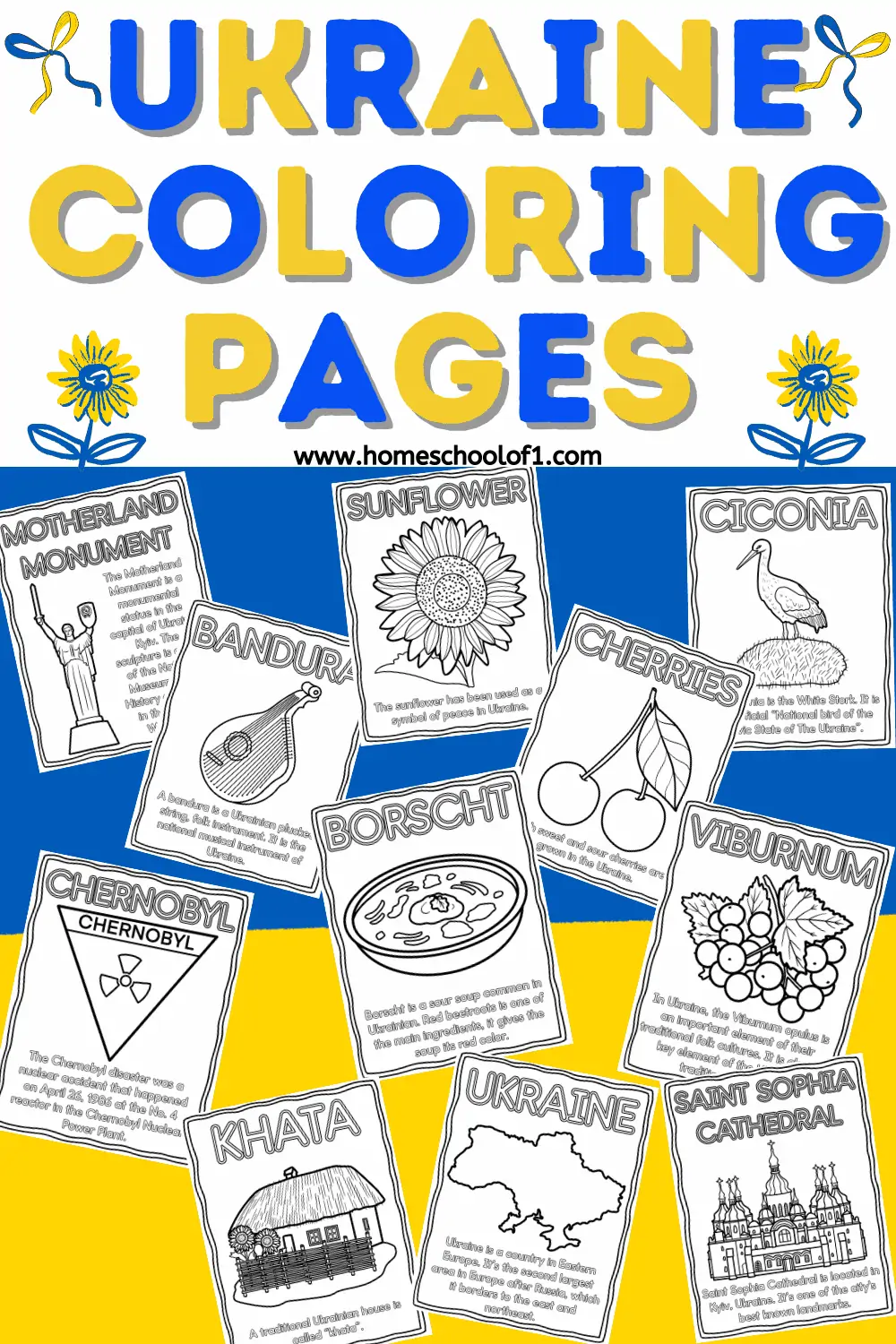 **There may be affiliate links in this post. You can read my full disclosure at the bottom of the page.**
Ukrainain Coloring Pages
Ukraine – is a country in Eastern Europe. It's the second-largest area in Europe after Russia, which it borders to the East and North East.
Bandura – a Ukrainian plucked string, folk instrument. It is the national musical instrument of Ukraine.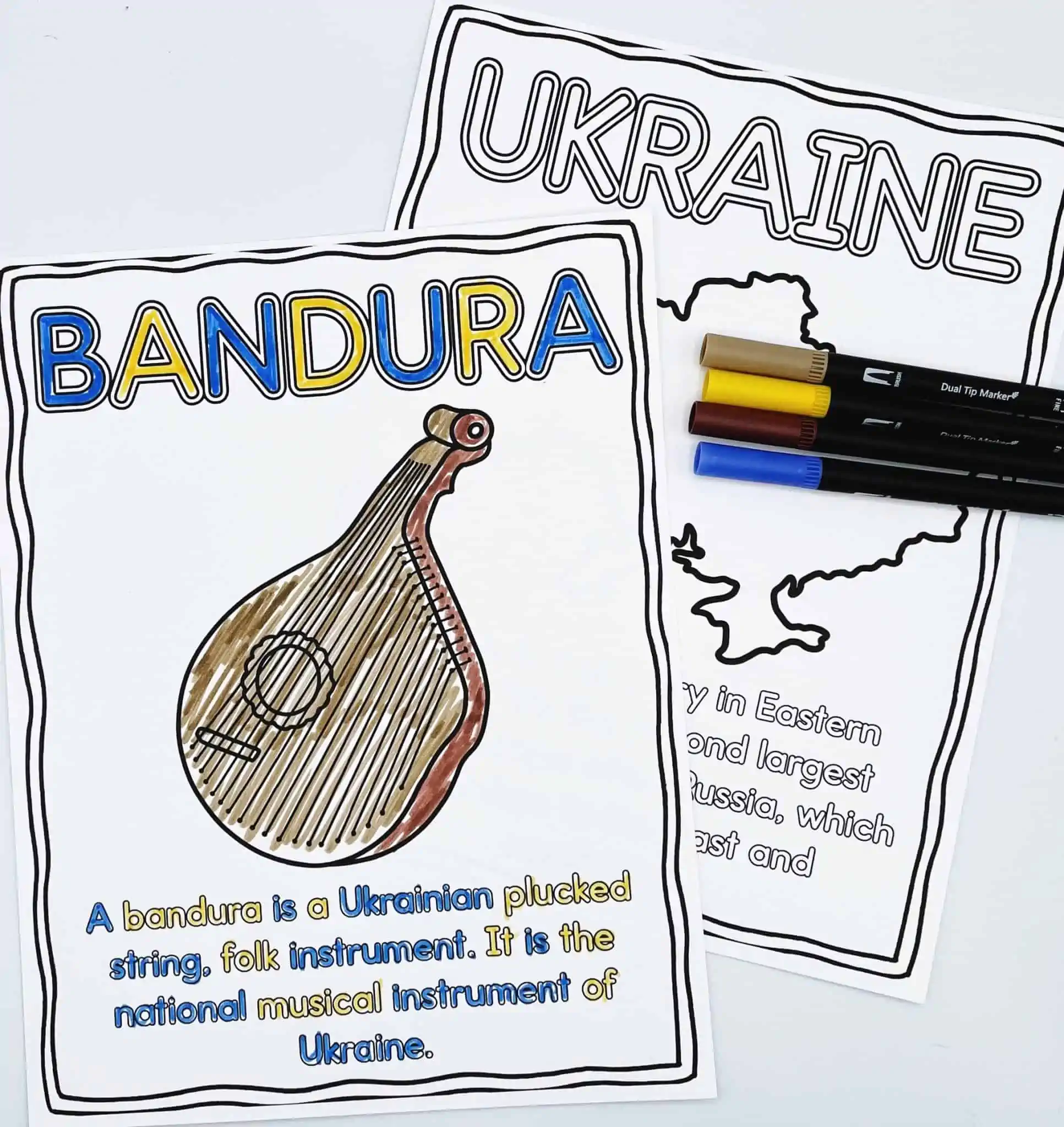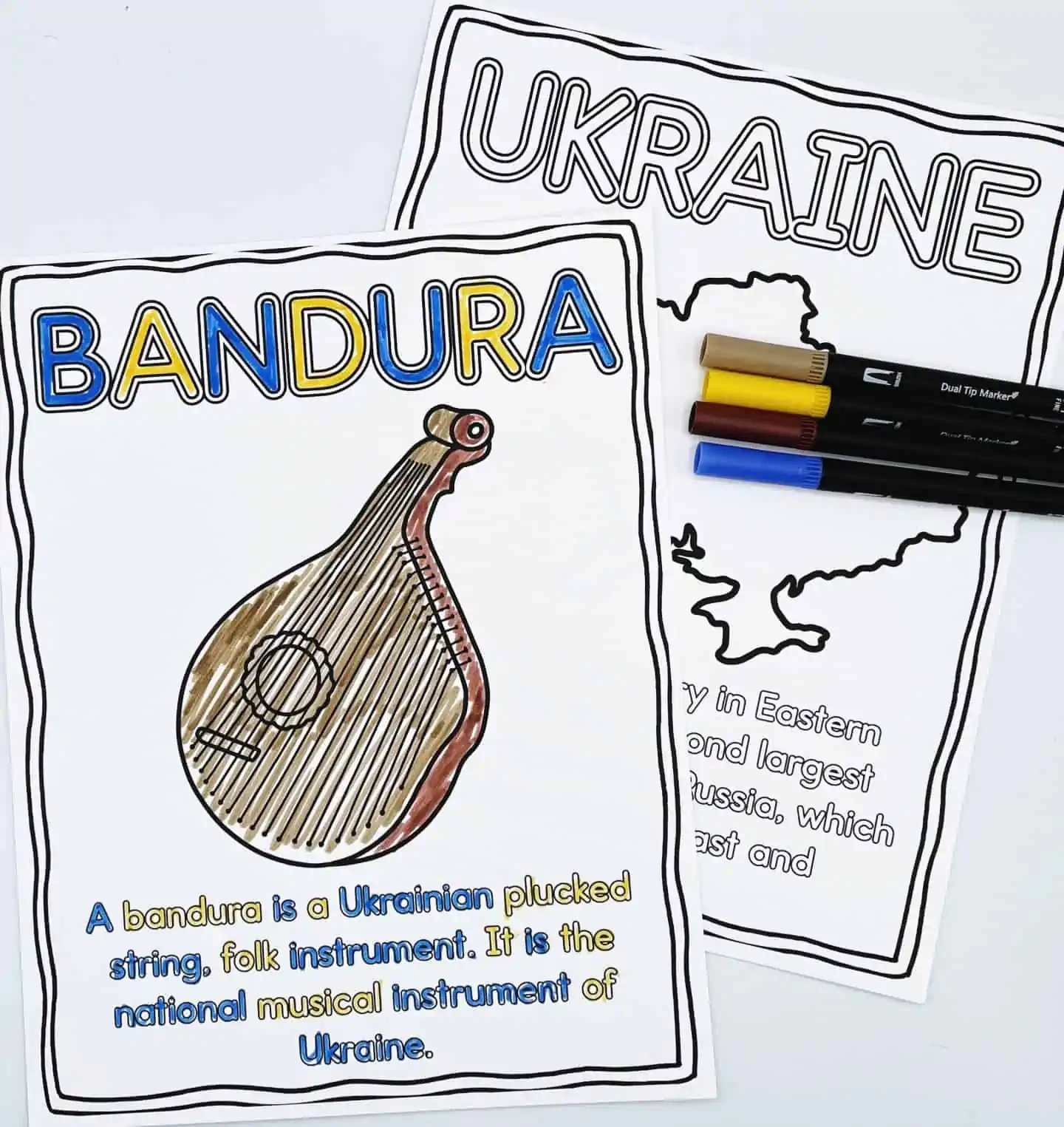 Borscht – is a sour soup common in Ukraine. Red beetroot is one of the main ingredients, it gives the soup its red color.
Chernobyl – the Chernobyl disaster was a nuclear accident that happened on April 26, 1986, at the No. 4 reactor in the Chernobyl Nuclear Power Plant.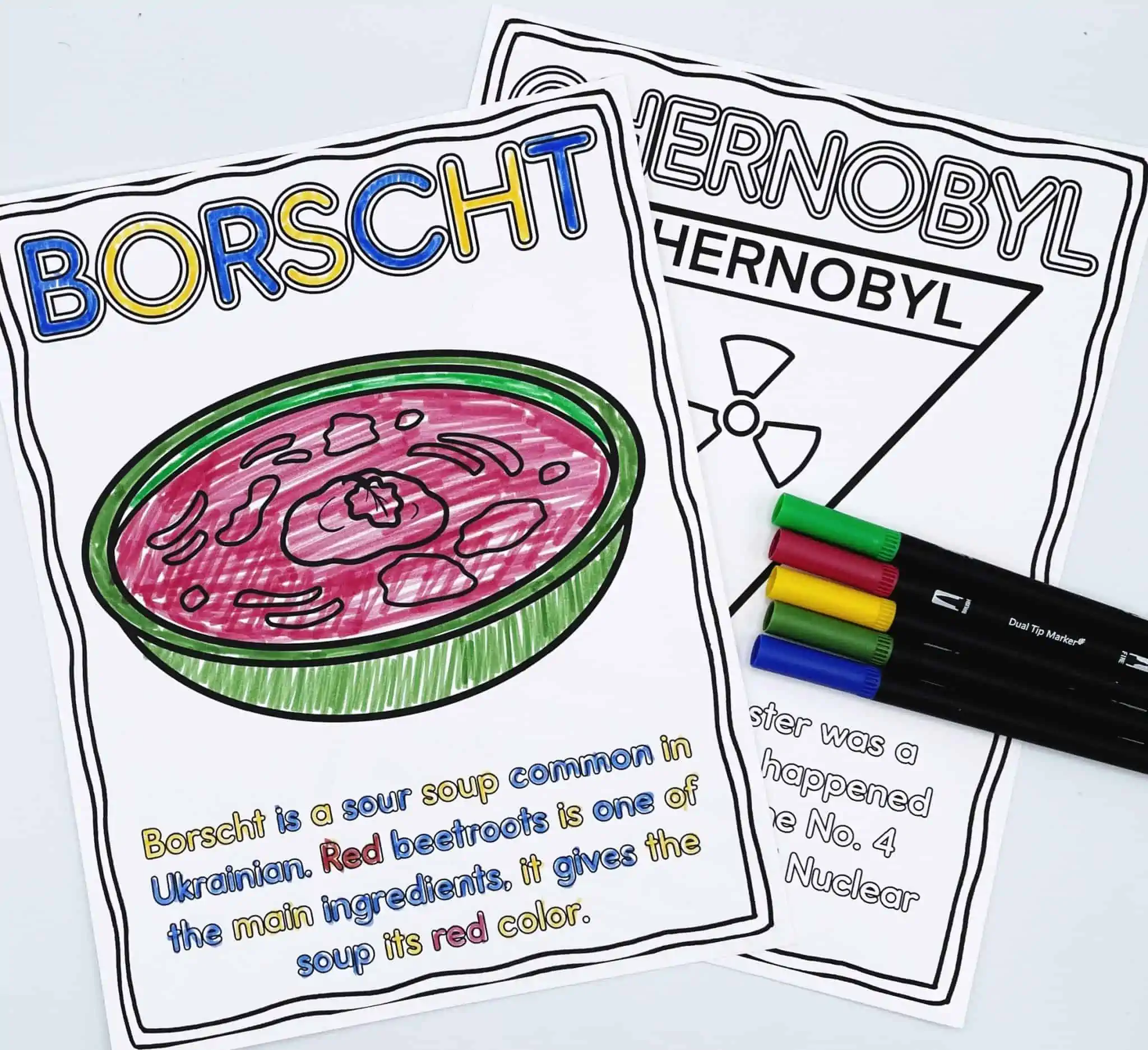 Cherries – both sweer and sour cherries are grown in Ukraine.
Ciconia – is the white stork. It is the official National Bird of Ukraine.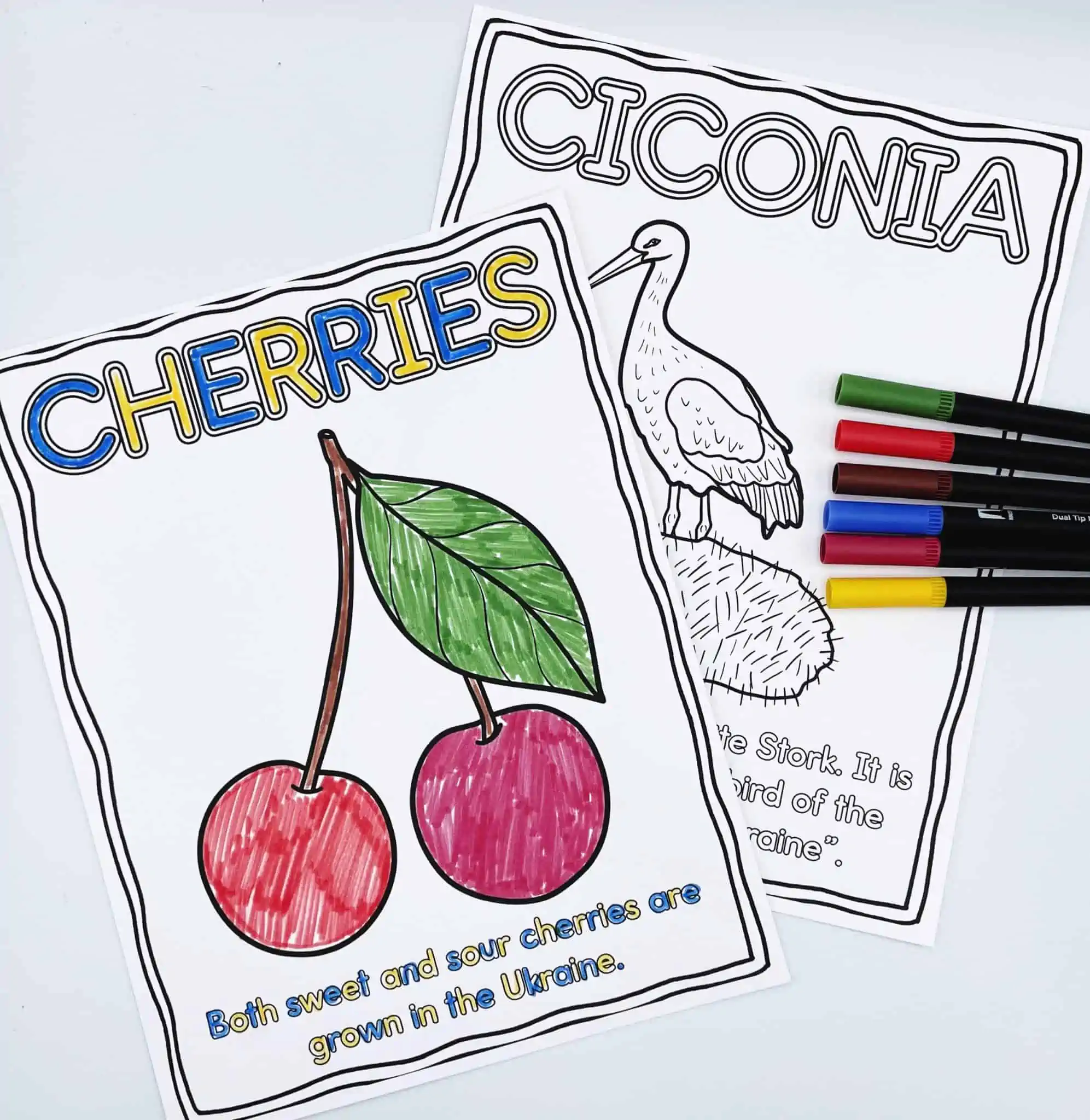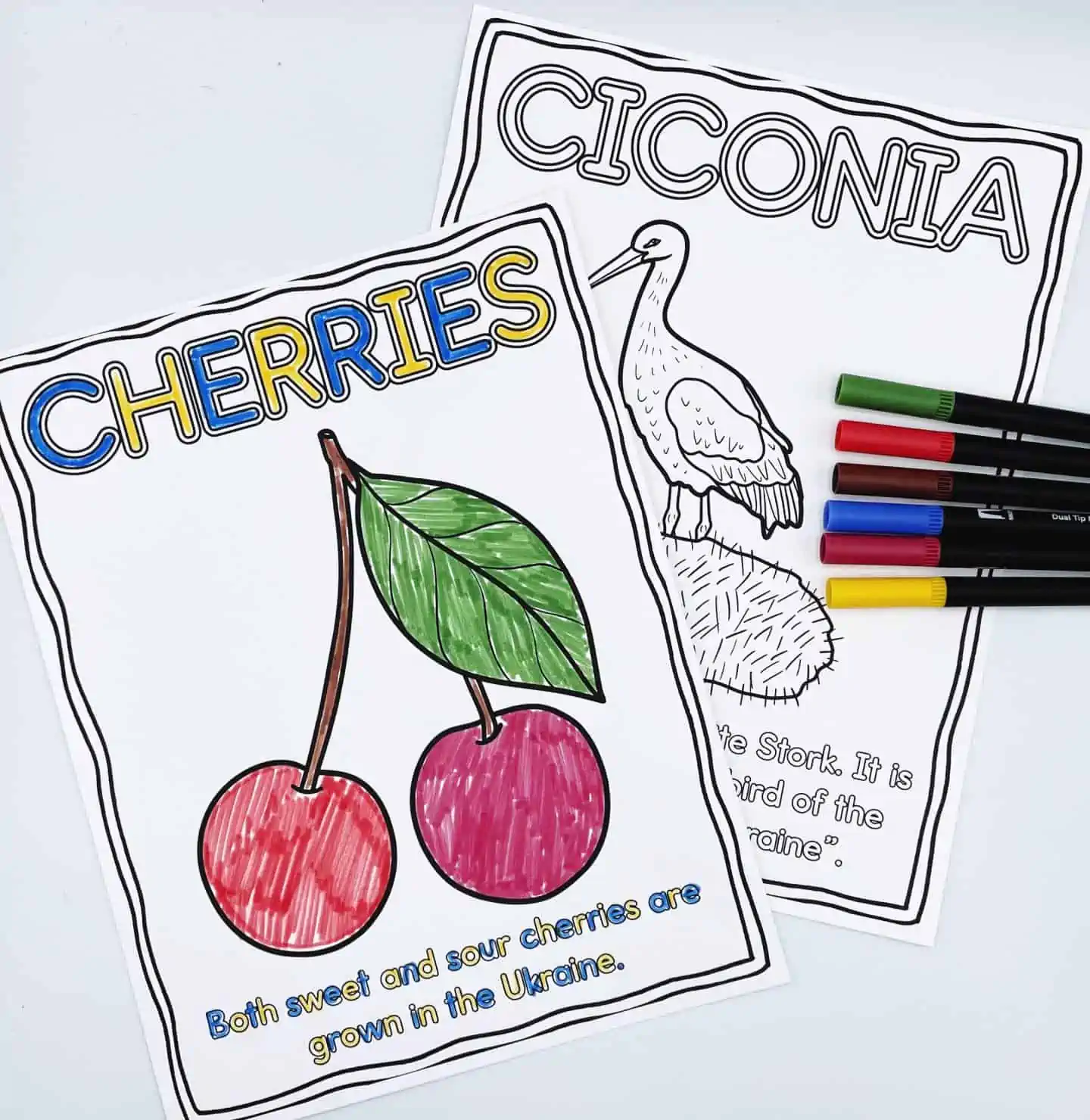 Khata – a traditional Ukrainian house.
Motherland Monument – is a monumental statue in the capital of Ukraine, Kyiv. The sculpture is a part of the National Museum of the History of Ukraine in the Second World War.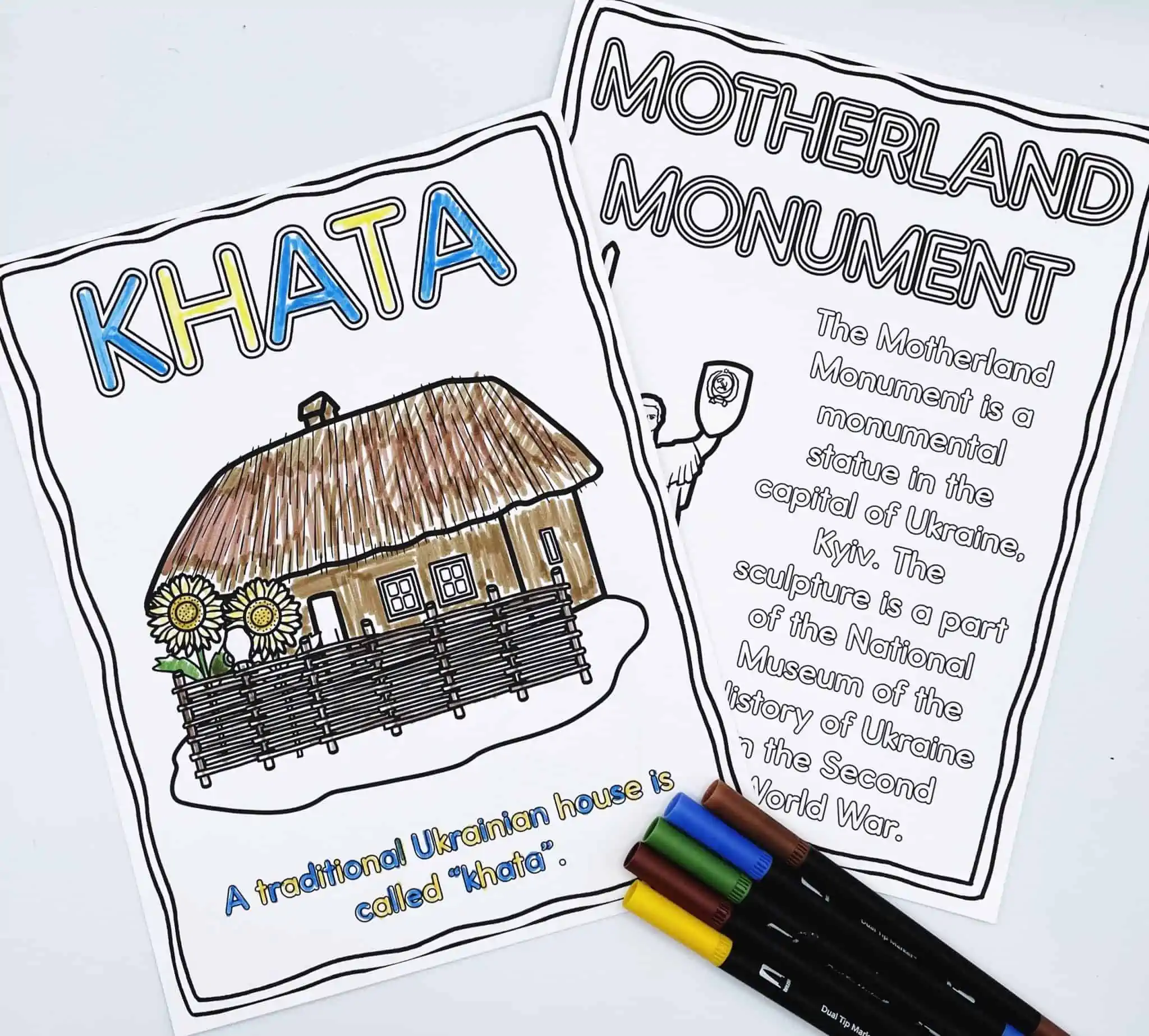 Saint Sophia Cathedral – is located in Kyiv, Ukraine. It's one of the city's best-known landmarks.
Sunflower – has been used as a symbol of peace in Ukraine.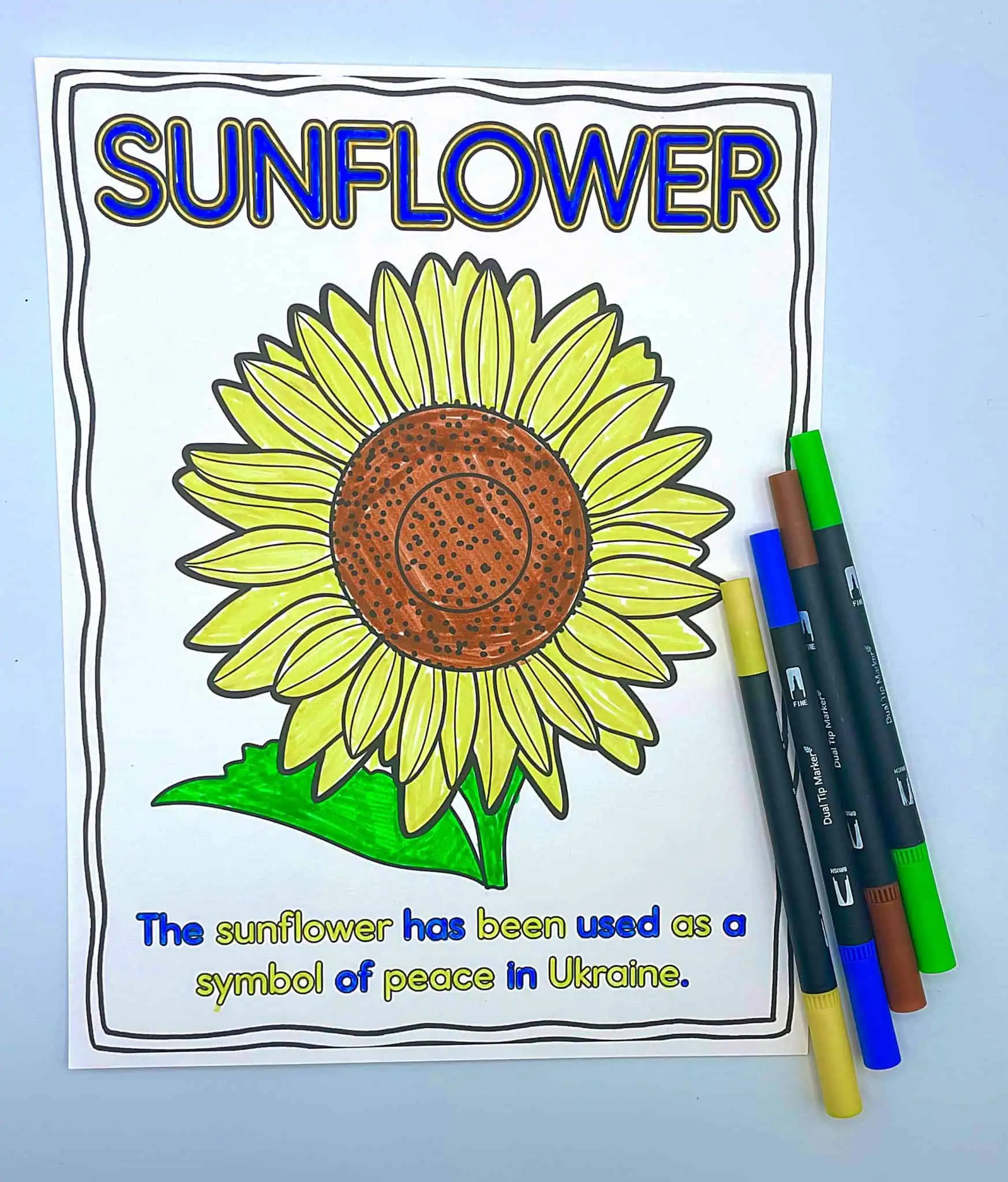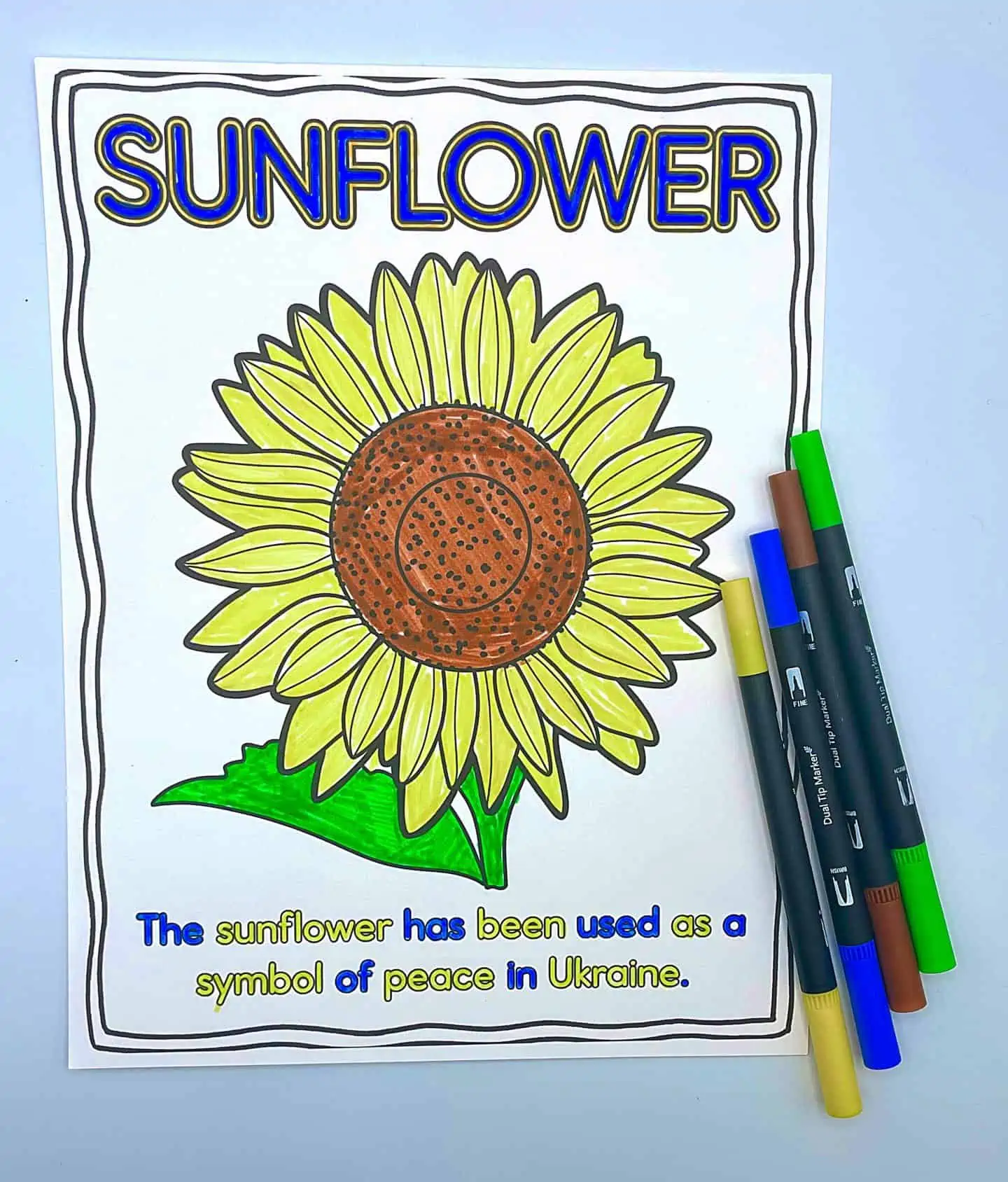 Viburnum – In Ukraine, the Viburnum opulus is an important element of their traditional folk culture. It is also the key element of the Ukrainian traditional wreath.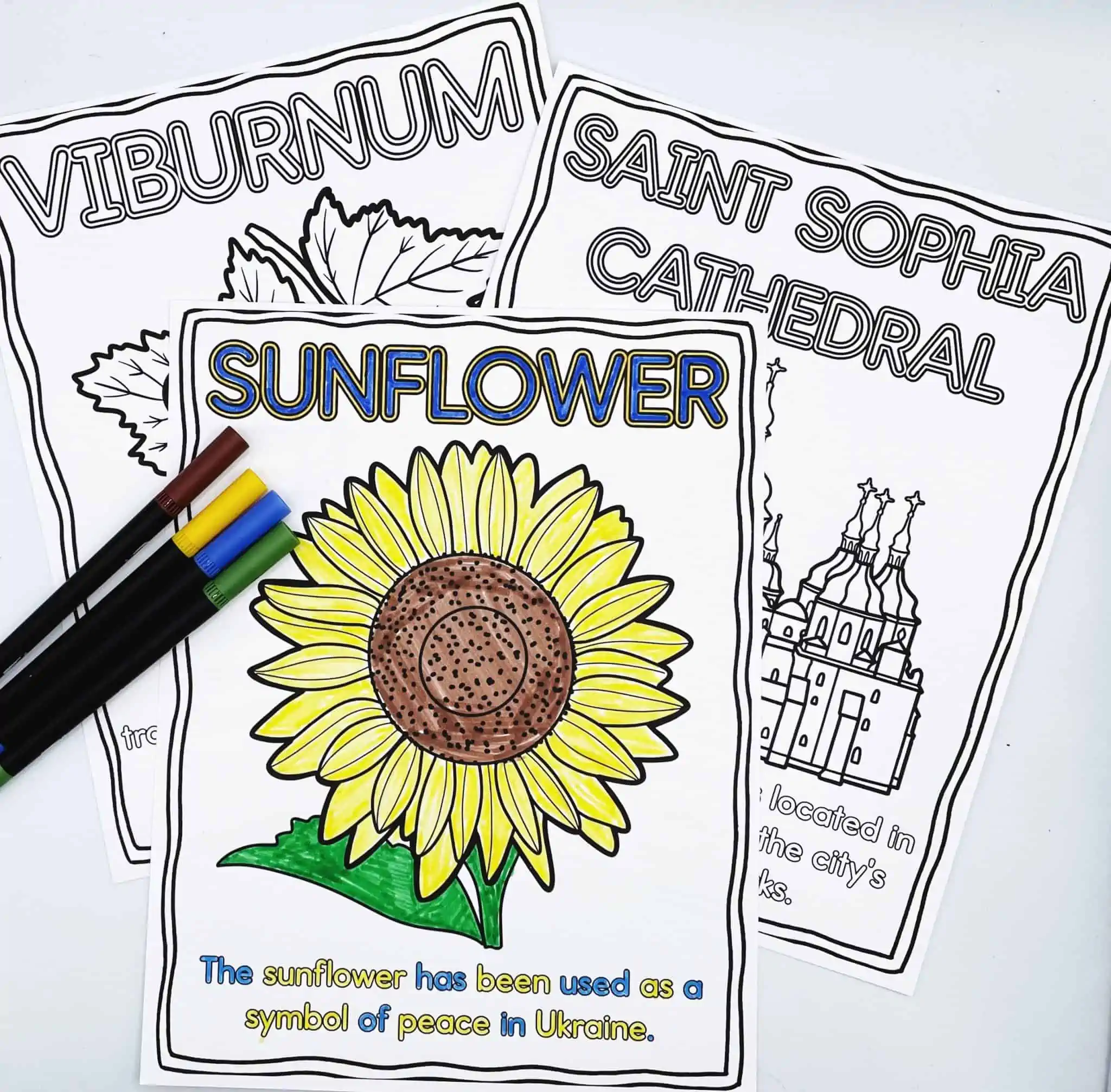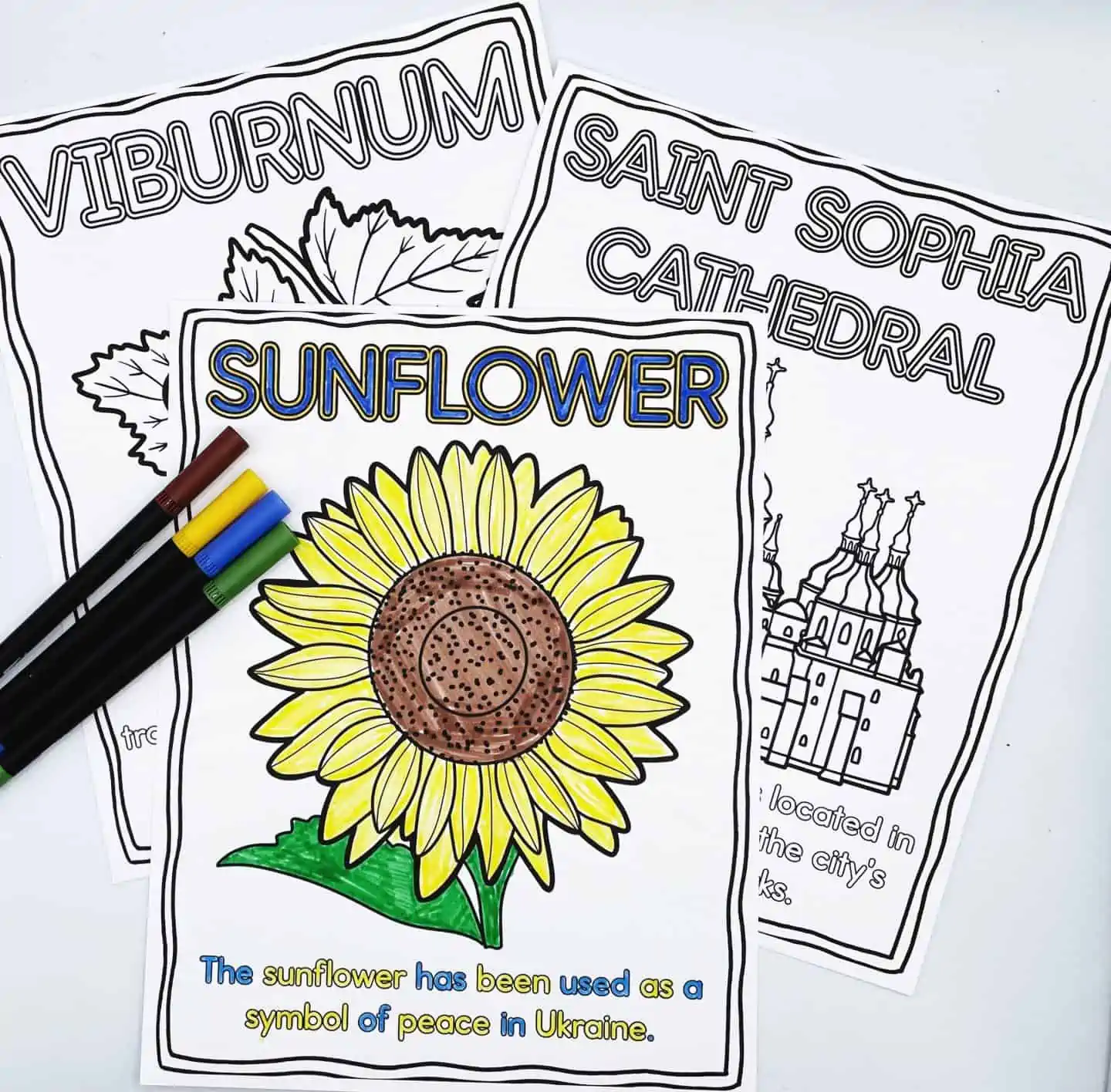 How to Talk to Children About The Ukraine War?
Of course, children will have questions about the Ukraine War which we shouldn't ignore.
The first thing I recommend would be to show them where Ukraine is in the world, and where Russia is in comparison. Also make sure the kids know that the UK, America, and nearly every country in the world are AGAINST Russia and are SUPPORTING Ukraine.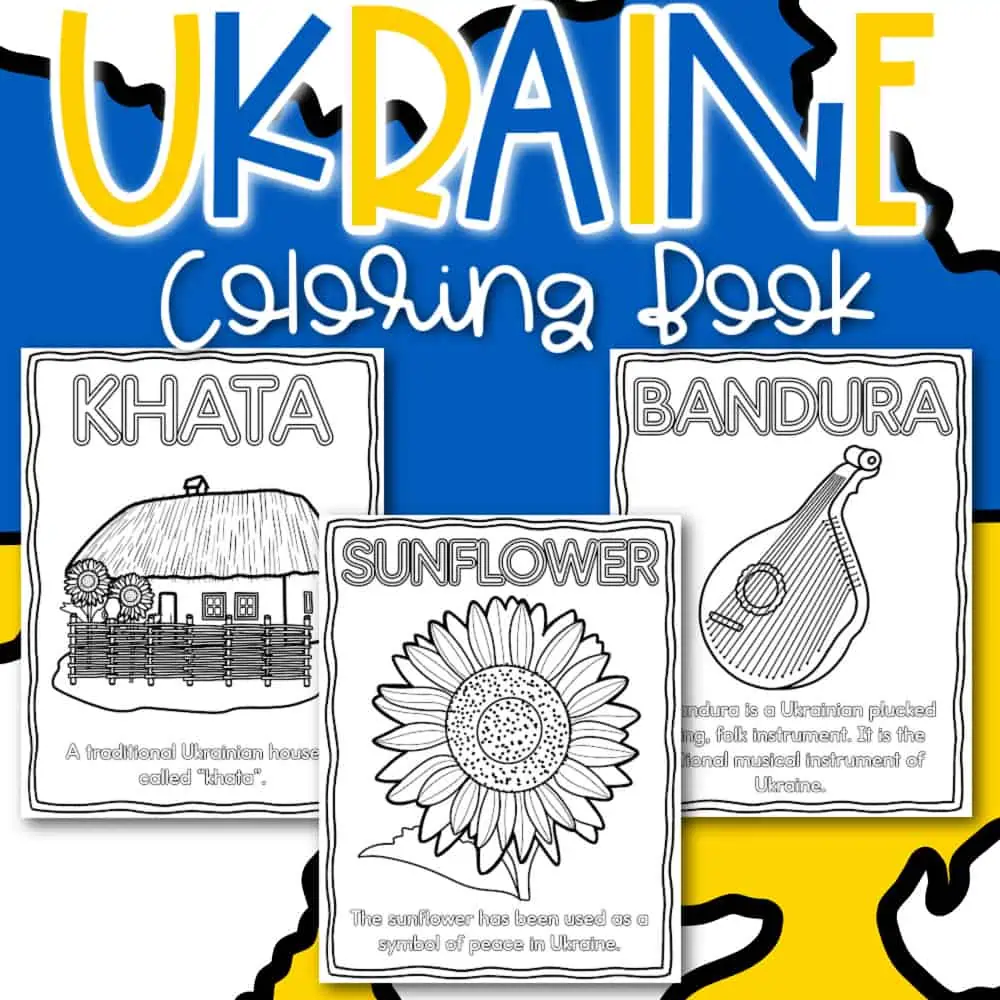 How to talk to children about war: An age-by-age guide
UNICEF USA has set up a donation page where you can donate to protect the children of Ukraine.
Education Week has put together some resources for teachers to help their students.
CNN10 as mentioned earlier is a great 10-minute news channel aimed at kids.
Download the free Ukraine Worksheets
Make sure you choose the correct paper size and click on the shrink to fit button. All of our free printables work better when printed on cardstock (this is the one we use and love.)
Check out our United States coloring pages too and our Asia worksheets.
Last Updated on 2 March 2023 by homeschoolof1