Life Cycle of a Butterfly Worksheets (7 free printables)
If you are learning about butterflies with your younger children you are going to love our free life cycle of a butterfly worksheets.
Children will love having fun while learning about adult butterflies and caterpillars. These life cycle worksheets are aimed at kindergarten – grade 2 students.
This is a no-preparation download, so if you have left it until the last minute (like I normally do!) this will be perfect for the kids at home or school.
Why not grab some butterfly books for kids and start to learn about the life cycle of a butterfly?
We love creating free homeschool printables and have well over 300.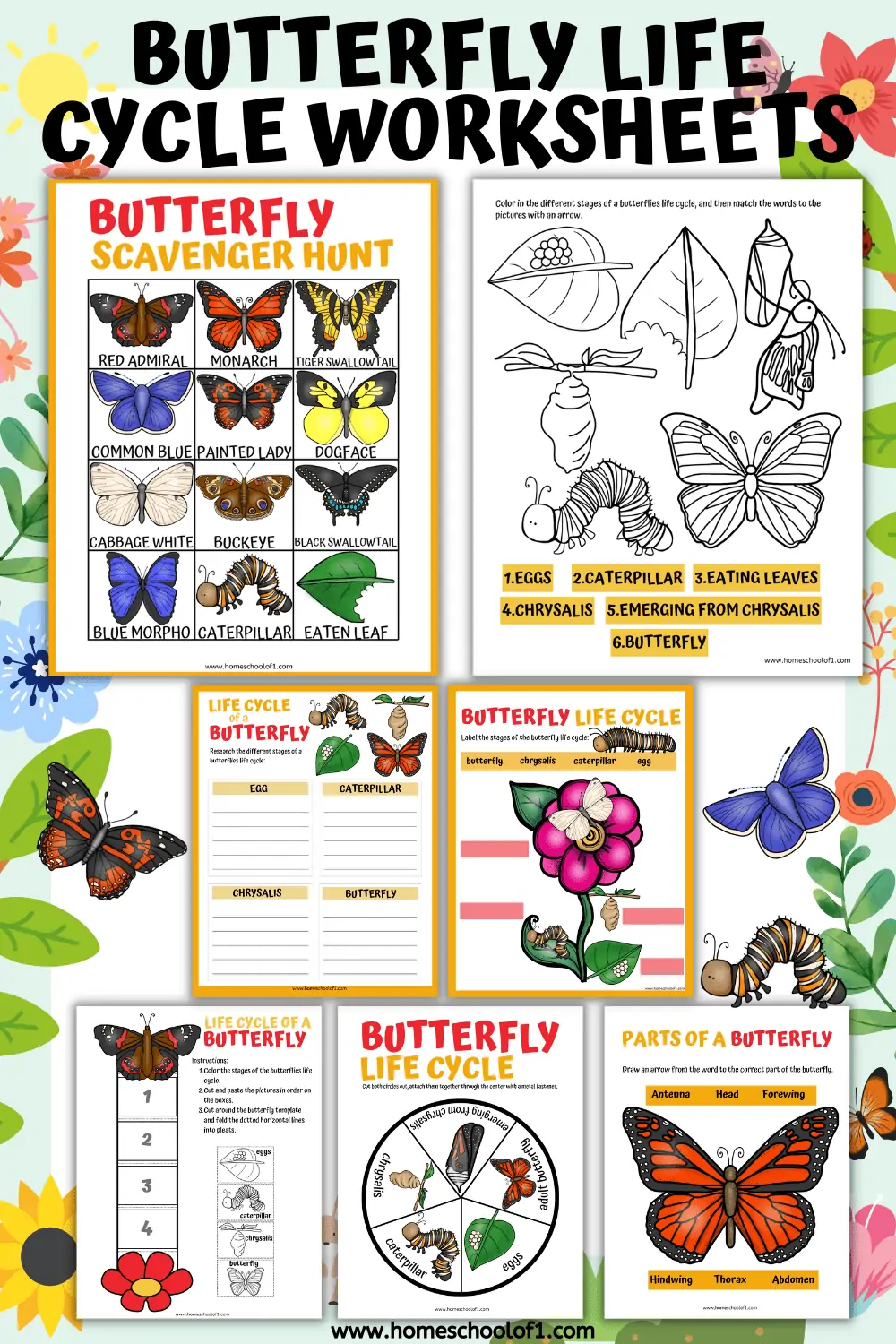 **There may be affiliate links in this post. You can read my full disclosure at the bottom of the page.**
Let's Have Fun Learning About Butterflies
The kids are going to love our free life cycle of a butterfly worksheet. You are going to love them as they are so much fun, and more importantly, you probably have all the supplies already!
Supplies Needed:
What's included in the download?
Print out the butterfly worksheets below, they will print out on 8 full pages. Make sure to check the printer settings.
Research the 4 main stages of the butterflies life.
Label the parts of a butterfly.
Label the stages of a butterfly.
Color and label the different cycles of the butterfly.
Butterfly foldable craft, color, cut, stick, and fold the 4 main life stages.
Butterfly life cycle spinning wheel craft.
Butterfly scavenger hunt.
You can of course print these on normal printer paper, but with all of our crafts, they always look better on cardstock.
There is nothing better than seeing firsthand the life cycle of a butterfly with this live butterfly kit.
What are the different stages of a butterflies life cycle?
The first worksheet encourages the kids to research the life cycle of a butterfly by researching 4 keywords. Butterfly egg, caterpillar, chrysalis and butterfly.
I prefer to get the kids to do this from books, and this Life Cycles book is awesome, but of course, they can use the internet if you prefer.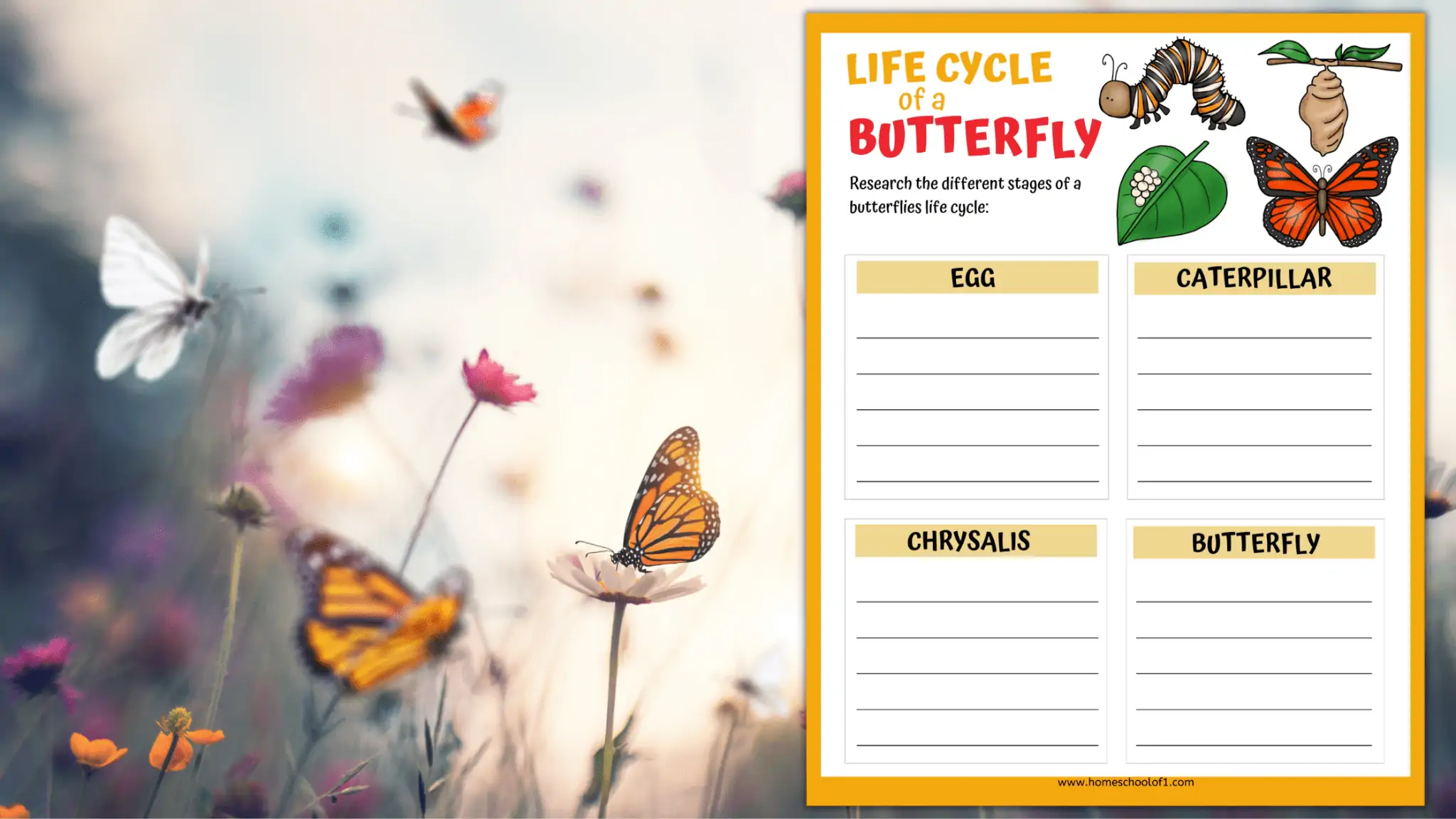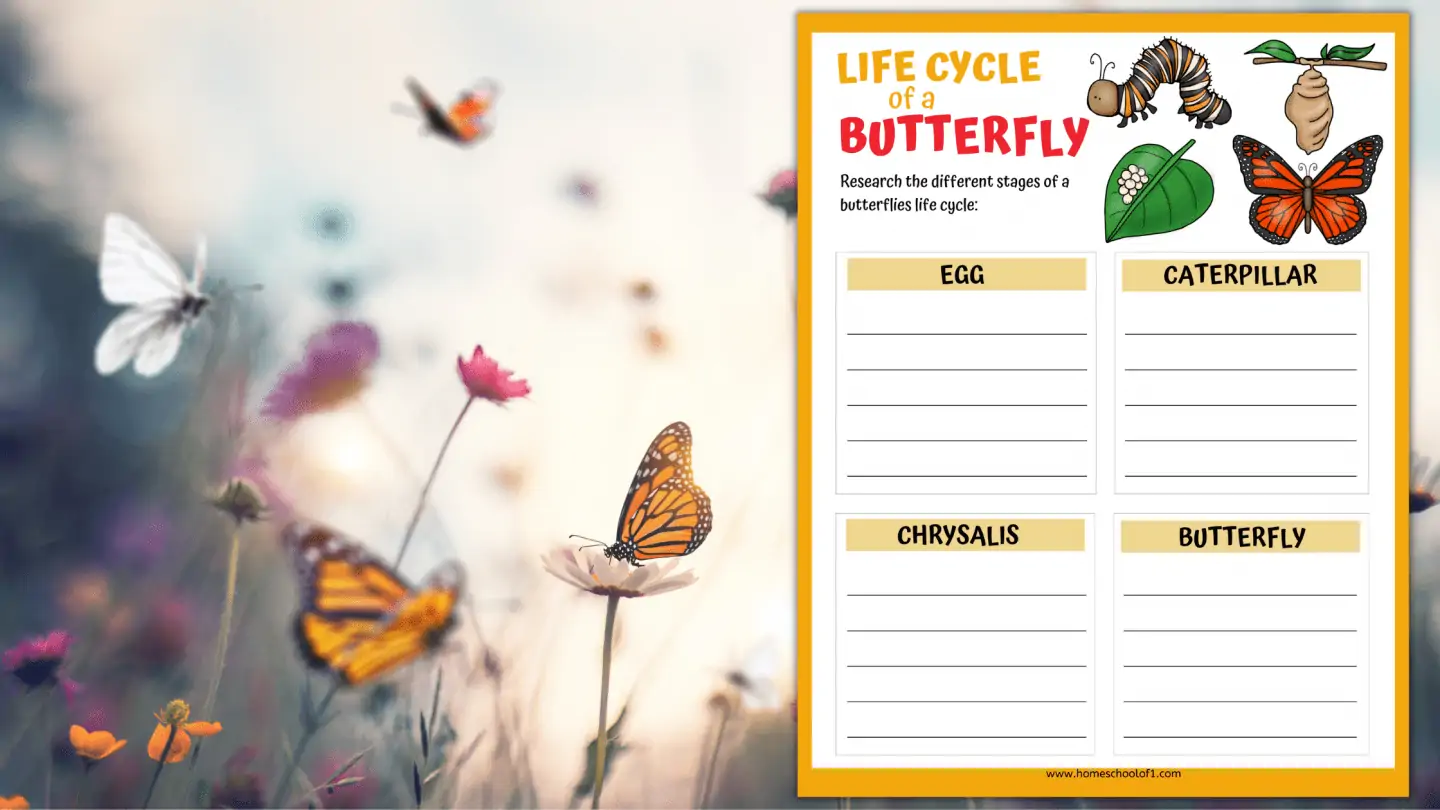 Life Cycle of a Butterfly Labeling Worksheets
This worksheet is a simple drawing arrow to the parts of a butterfly.
Just add an arrow from the antenna, head, forewing, hindwing, thorax, and abdomen to the correct parts of the butterfly.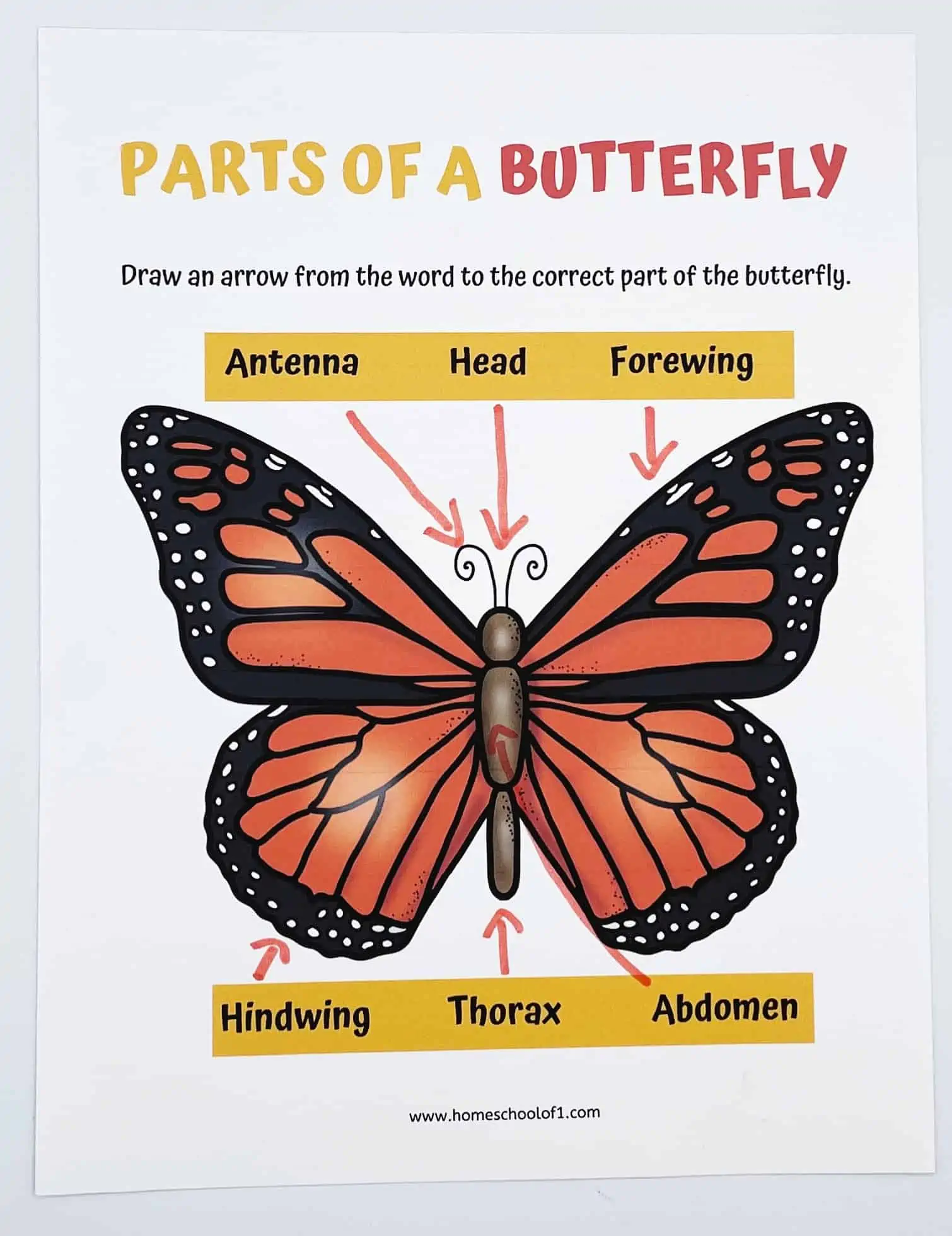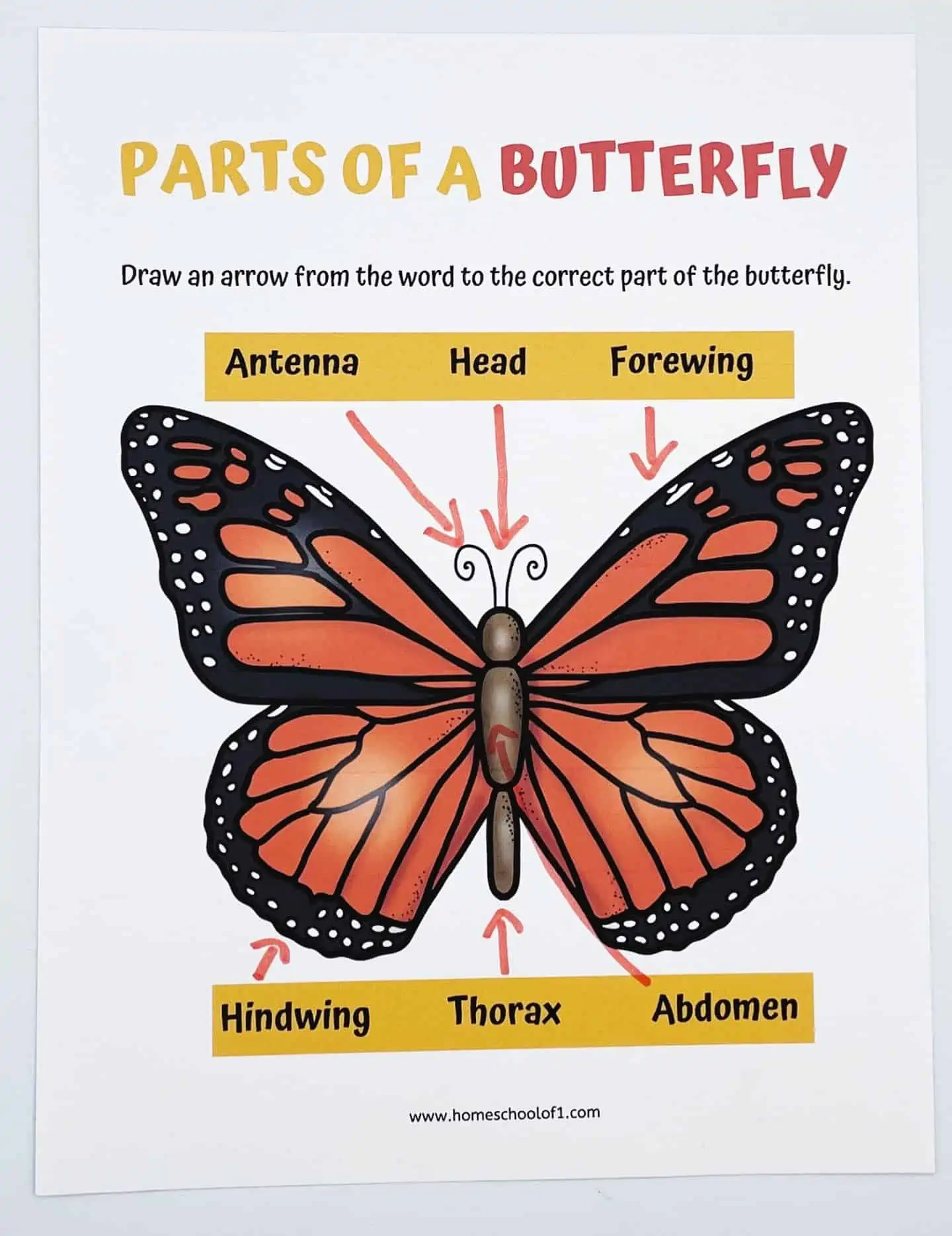 Looking at the image the children have to label the stages of the butterfly life cycle. From egg, caterpillar, chrysalis, and adult butterfly.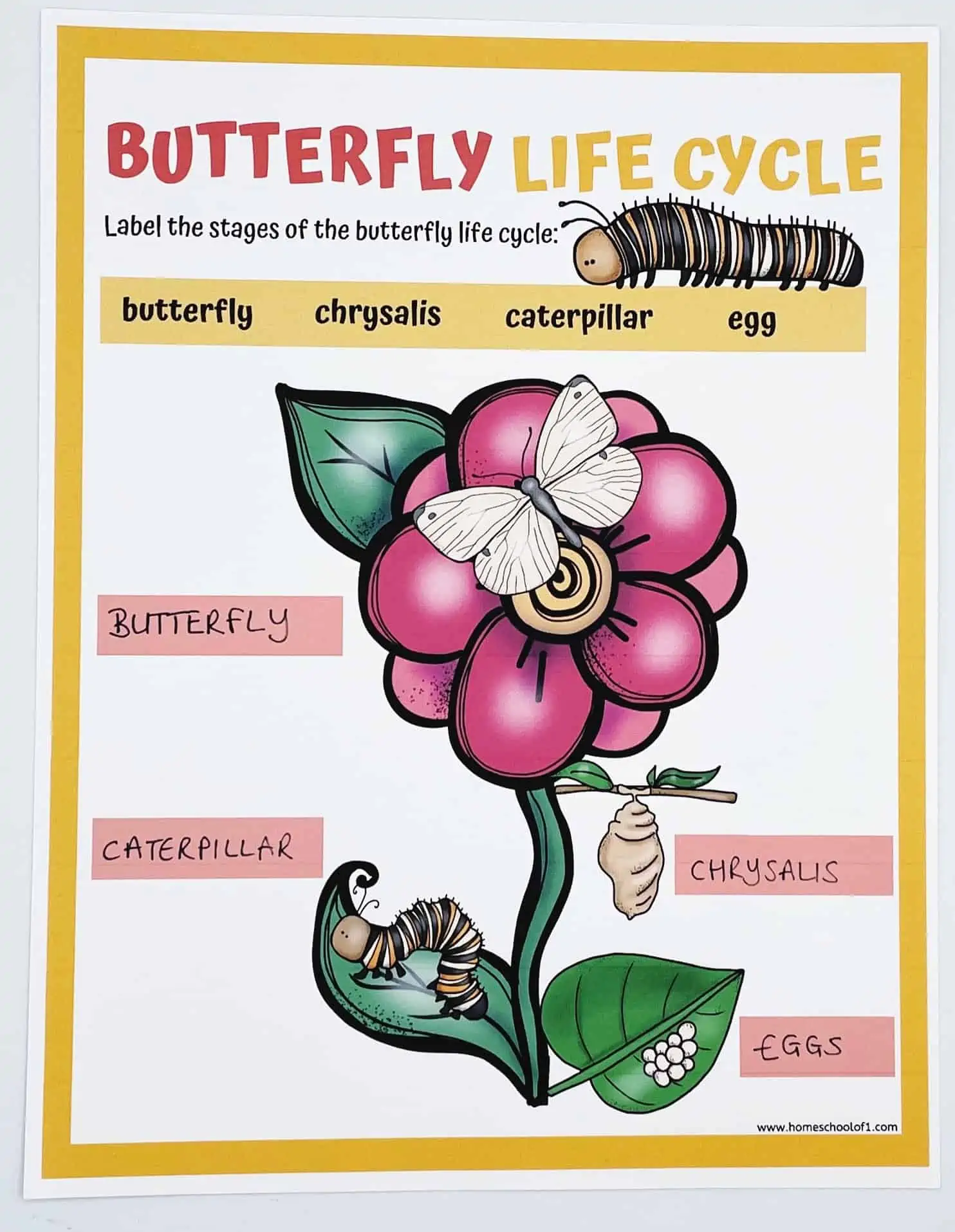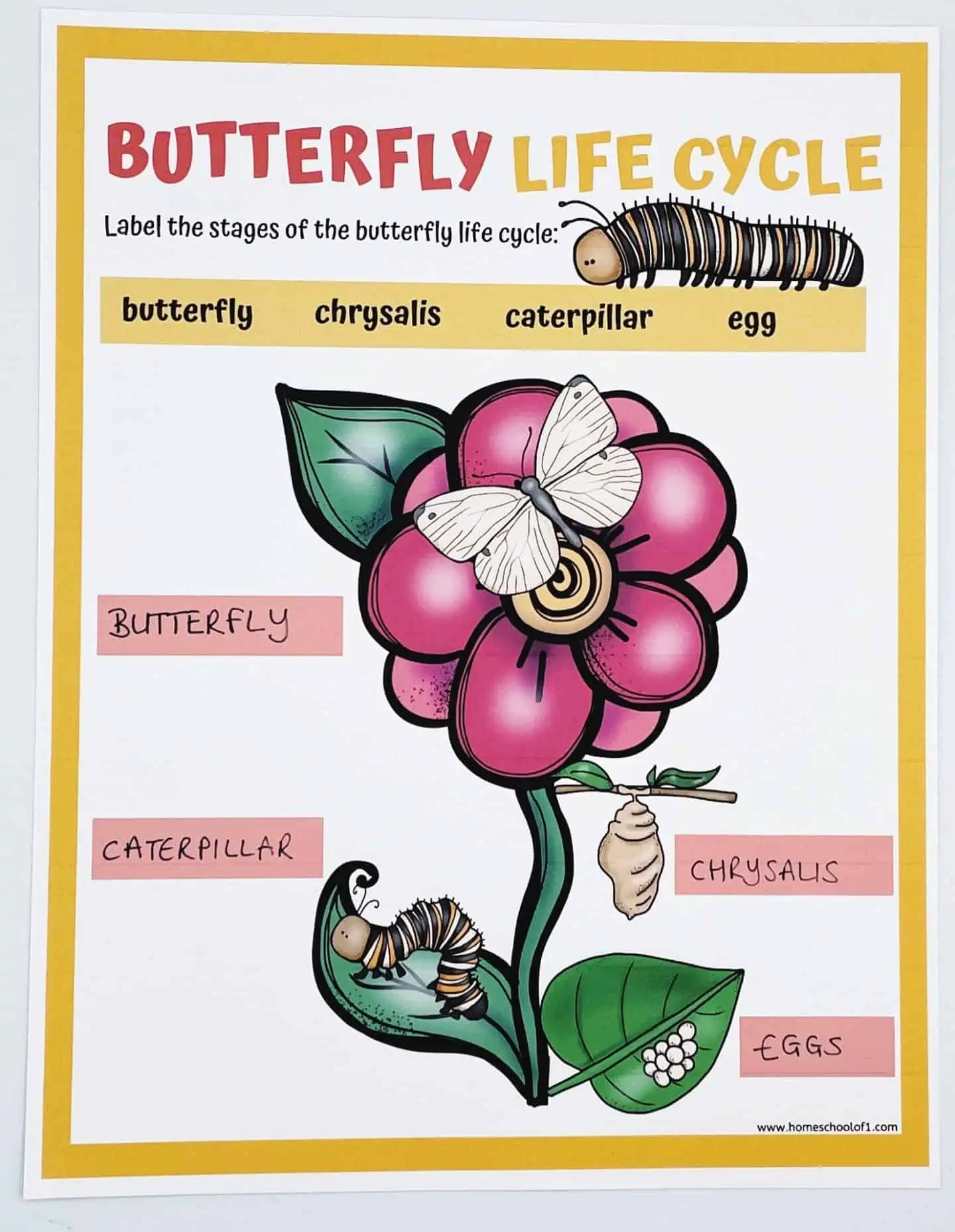 Butterfly Life Cycle Crafts

There are two fun butterfly life cycle crafts to complete.
The first one is to create a life cycle of a butterfly spinner wheel.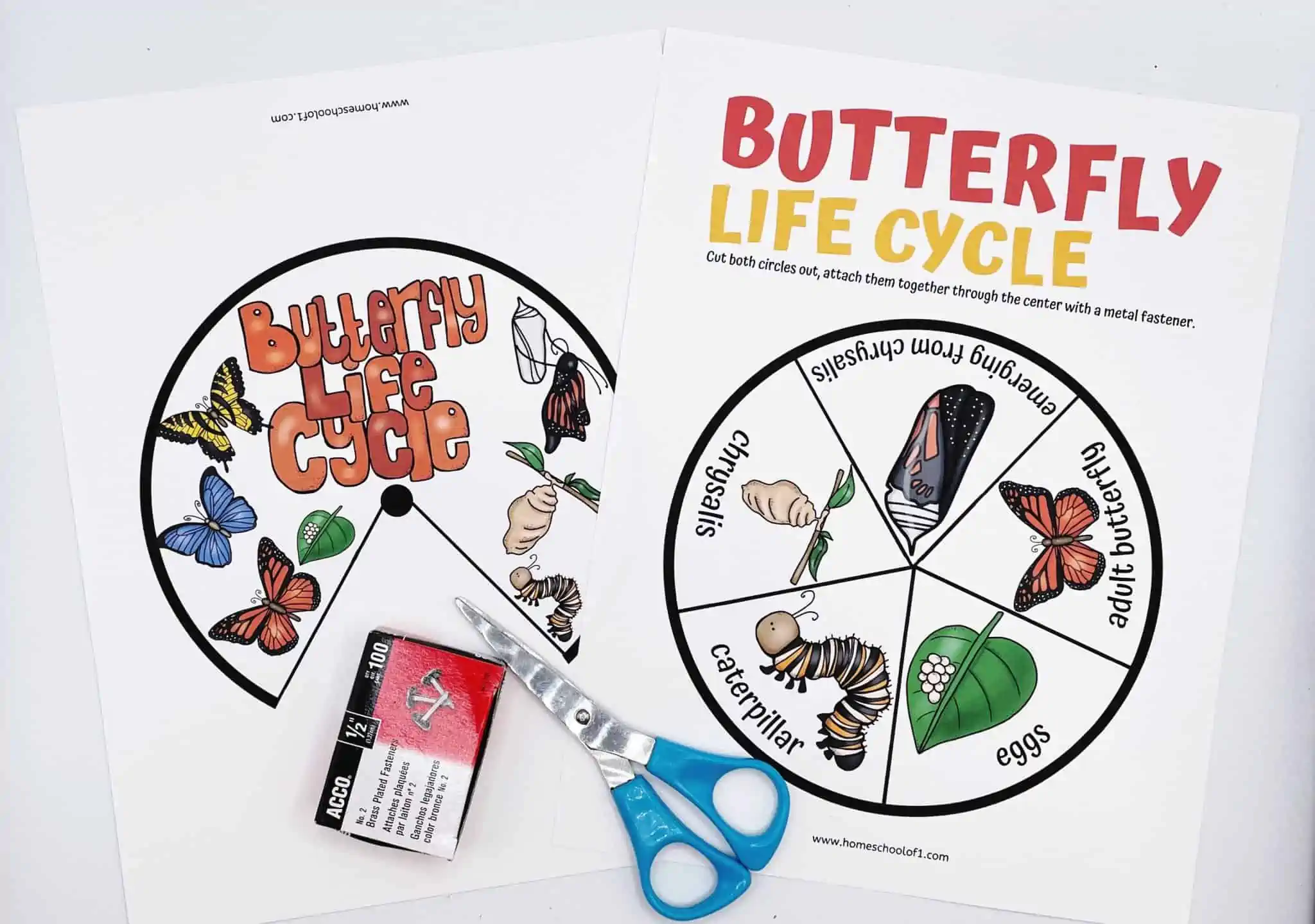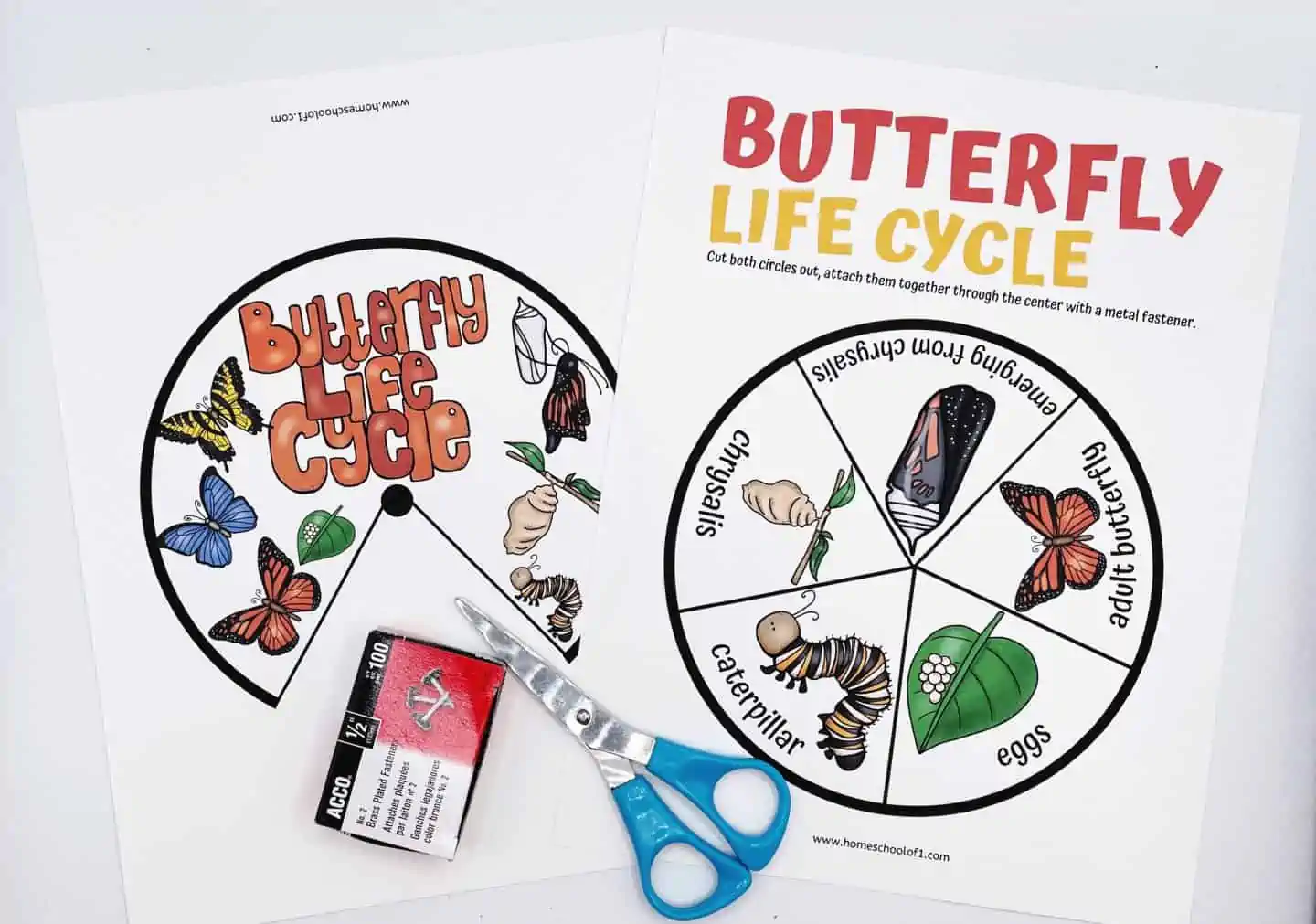 Cut out the two circles, and make sure on the butterfly life cycle image you cut out the blank quarter.
Place the butterfly life cycle image with the quarter cut out on top of the other image and add a brass fastener to the middle.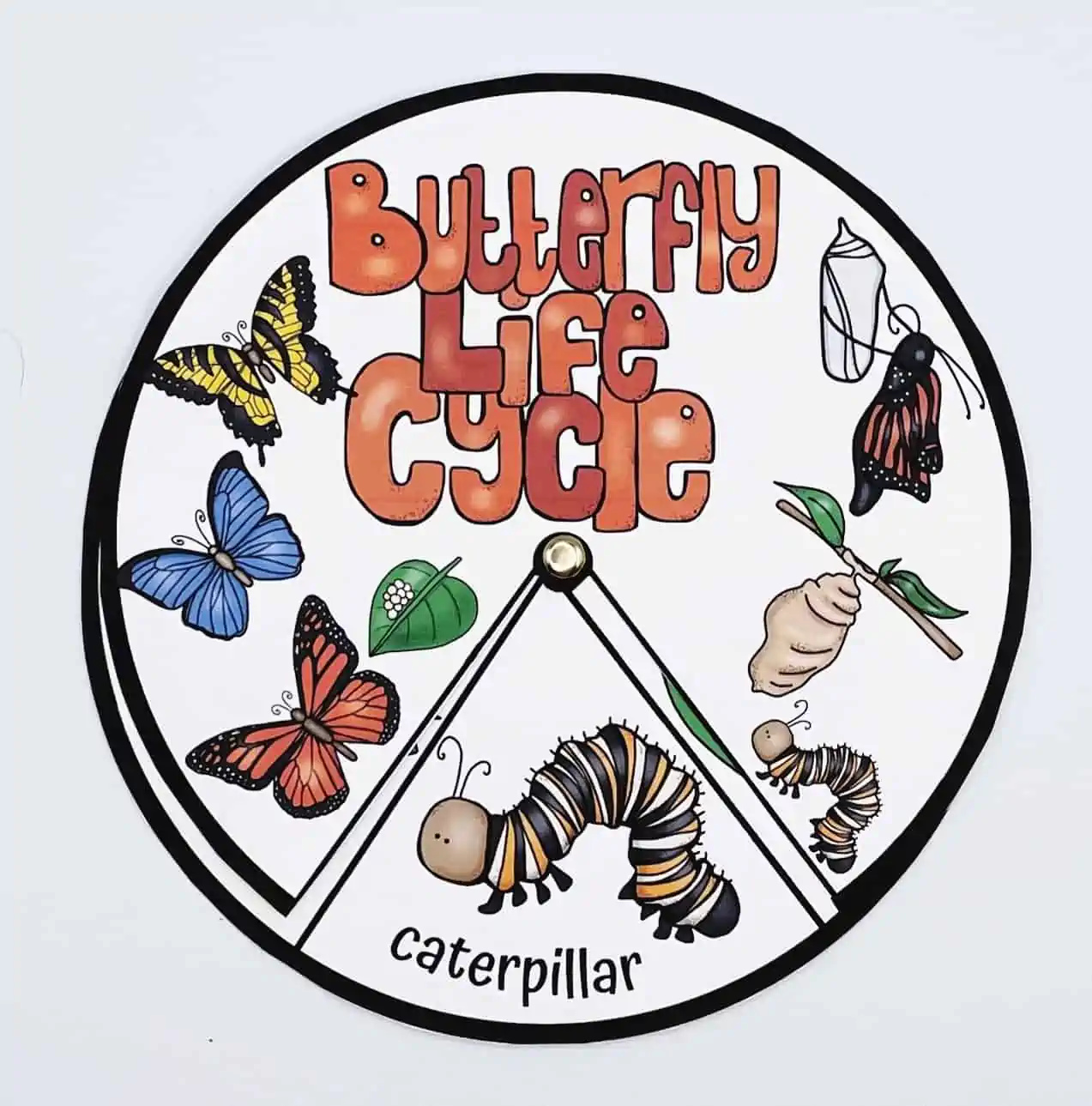 You can also enjoy this coffee filter butterfly craft.
The second butterfly craft involves coloring, folding, cutting, and gluing.
I recommend coloring the images in first, but if you are working with much younger children then you might want to cut them in advance.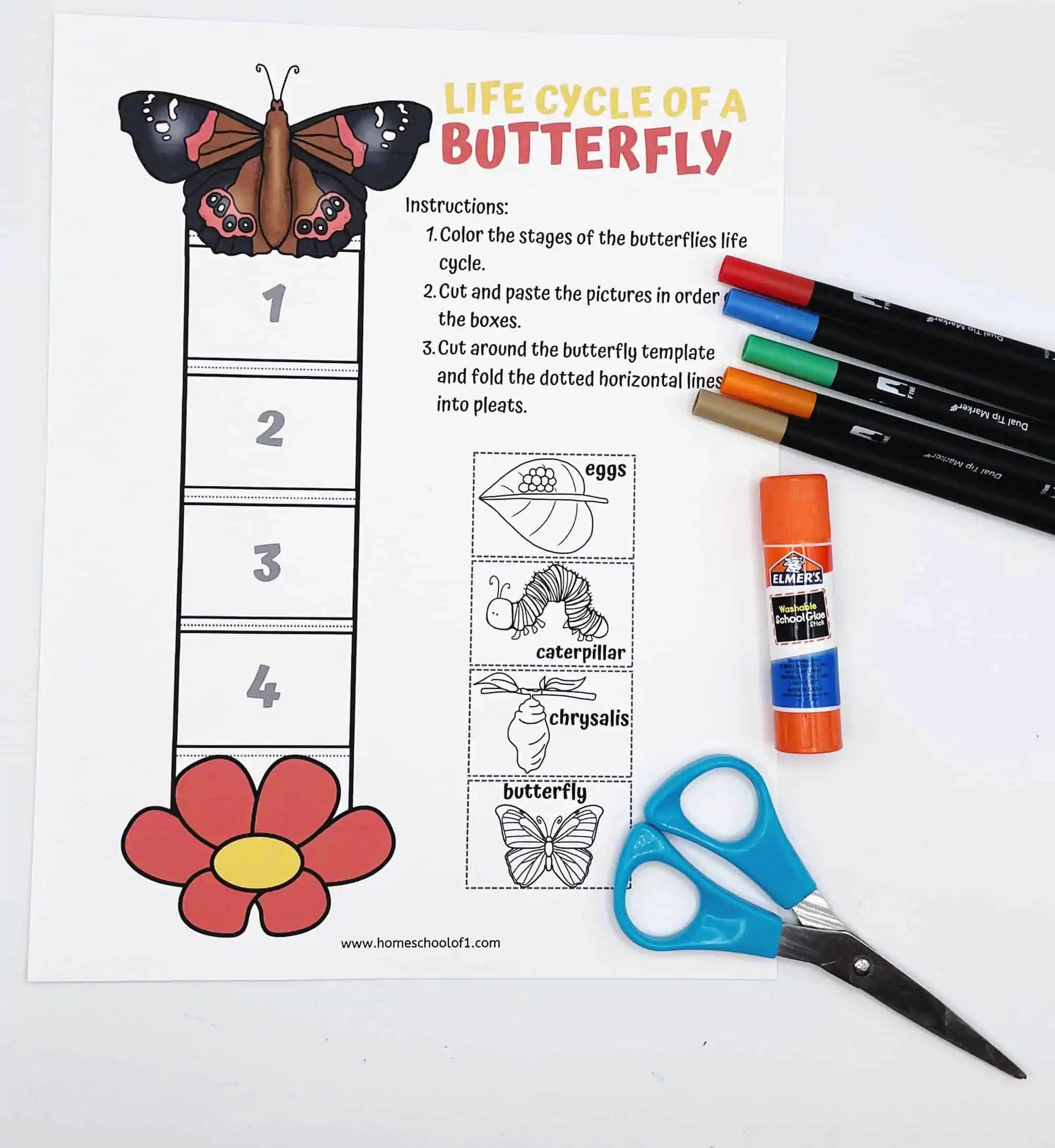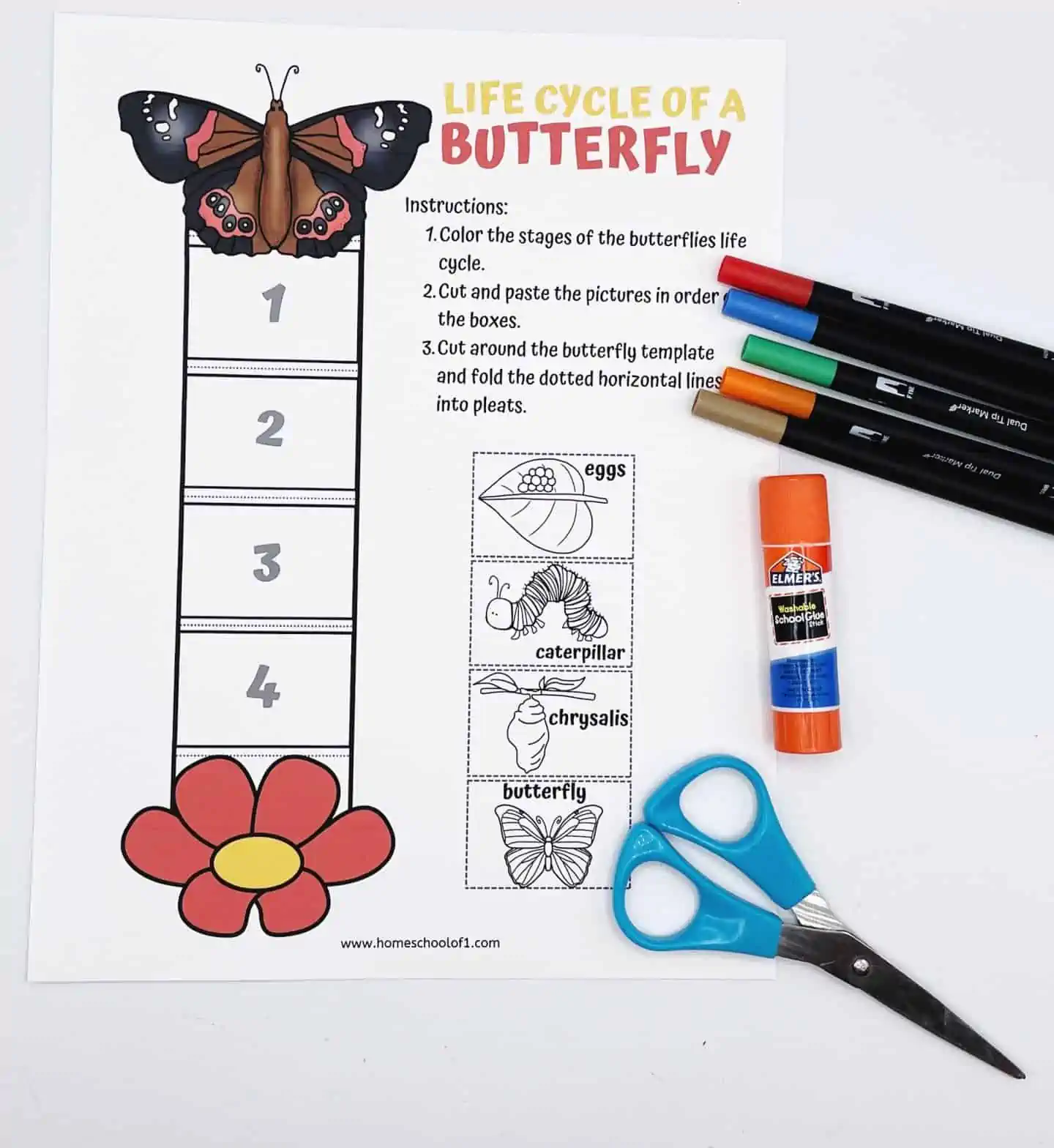 Sort the images into the correct order and glue them under the butterfly.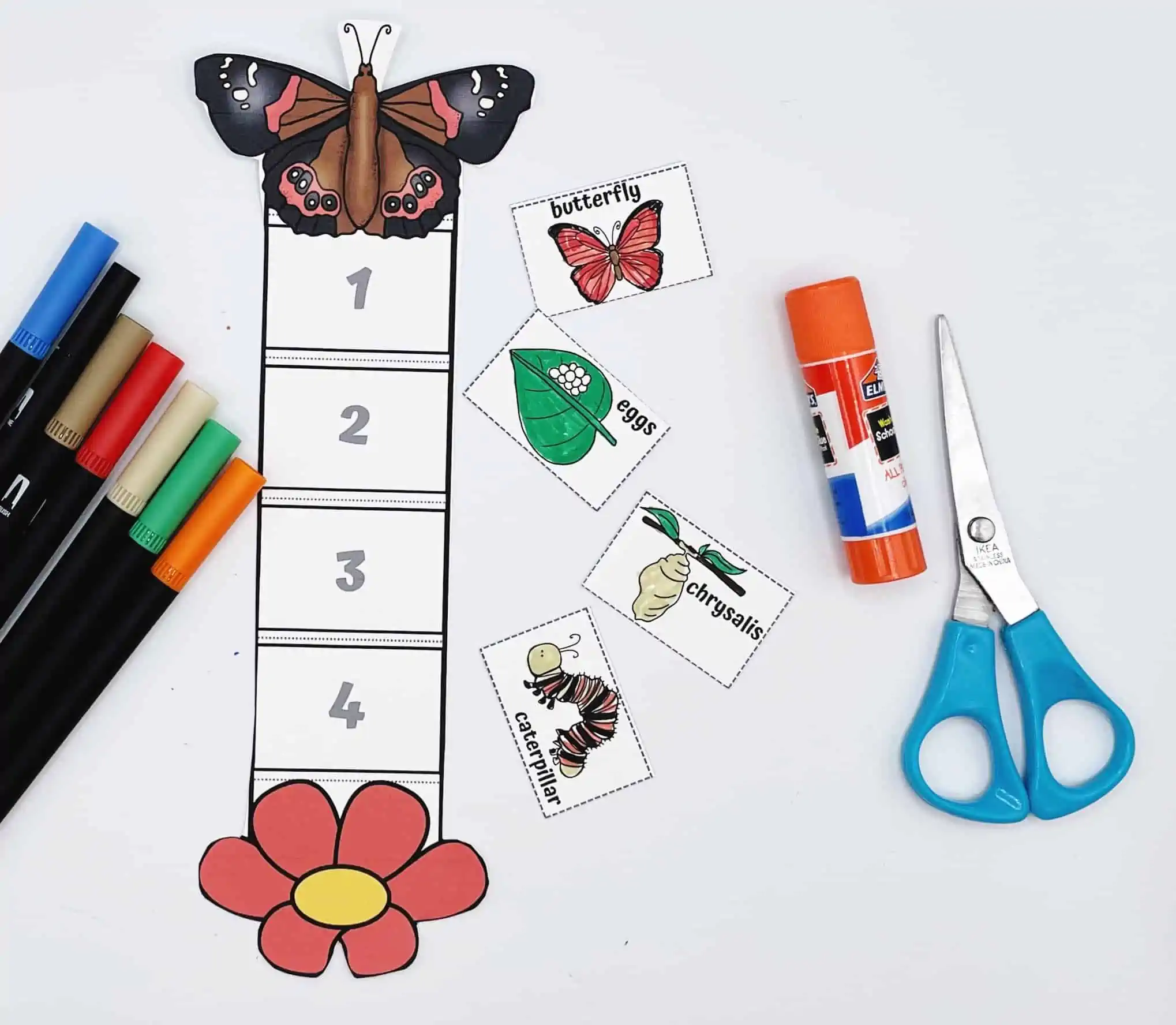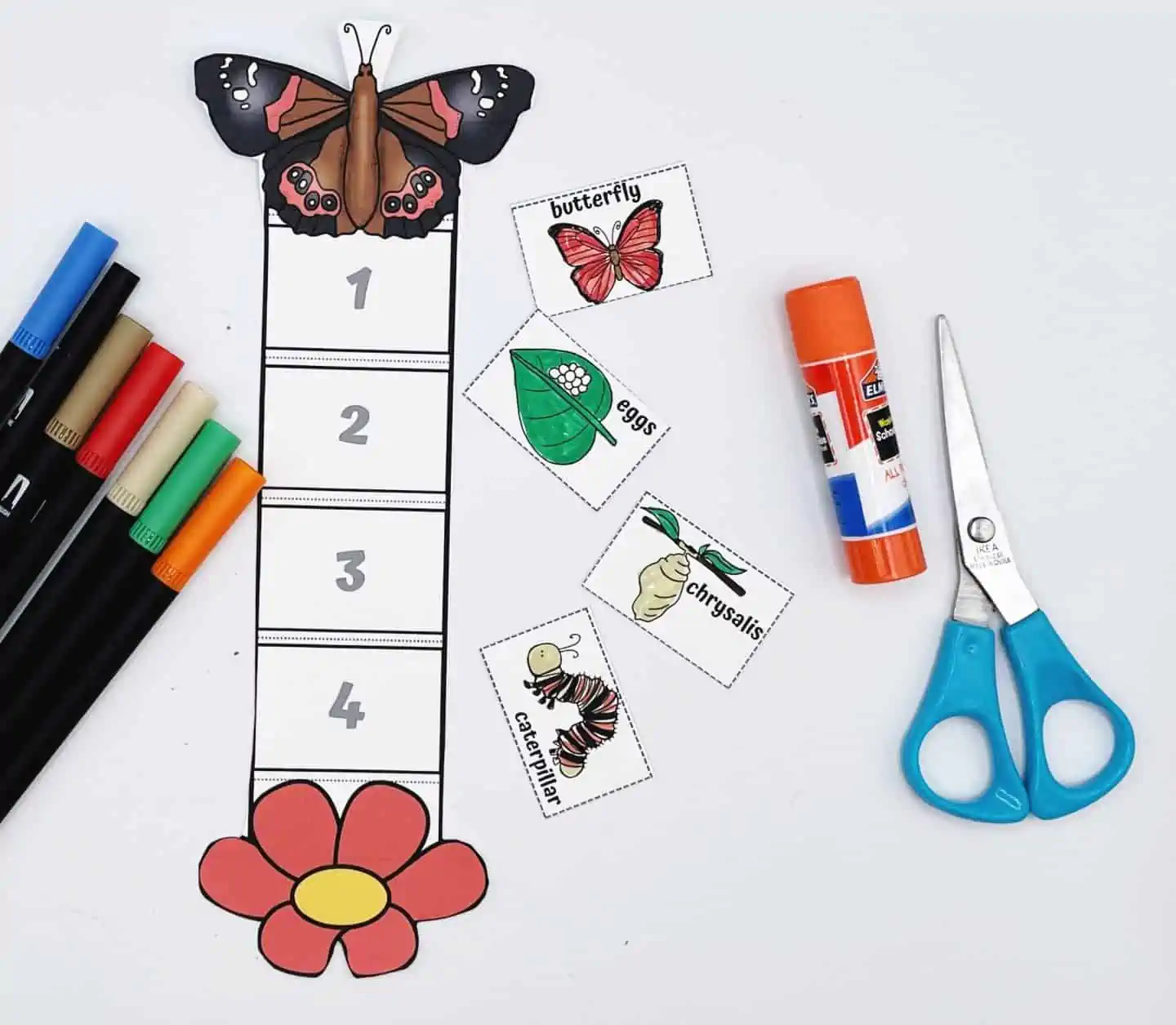 When you have completed this the younger kids will love this butterfly life cycle sensory bin.
Life Cycle of a Butterfly Coloring Page
We love creating free kids coloring pages and this butterfly life cycle one is one of my favorites.
Not only do the children have to color in the six images, they then have to draw arrows from the words to the drawing. The words are:
eggs
caterpillar
eating leaves
chrysalis
emerging from chrysalis
butterfly
For even more free butterfly coloring pages you will love these, where you can learn about 10 of the most popular butterflies and learn how to identify them.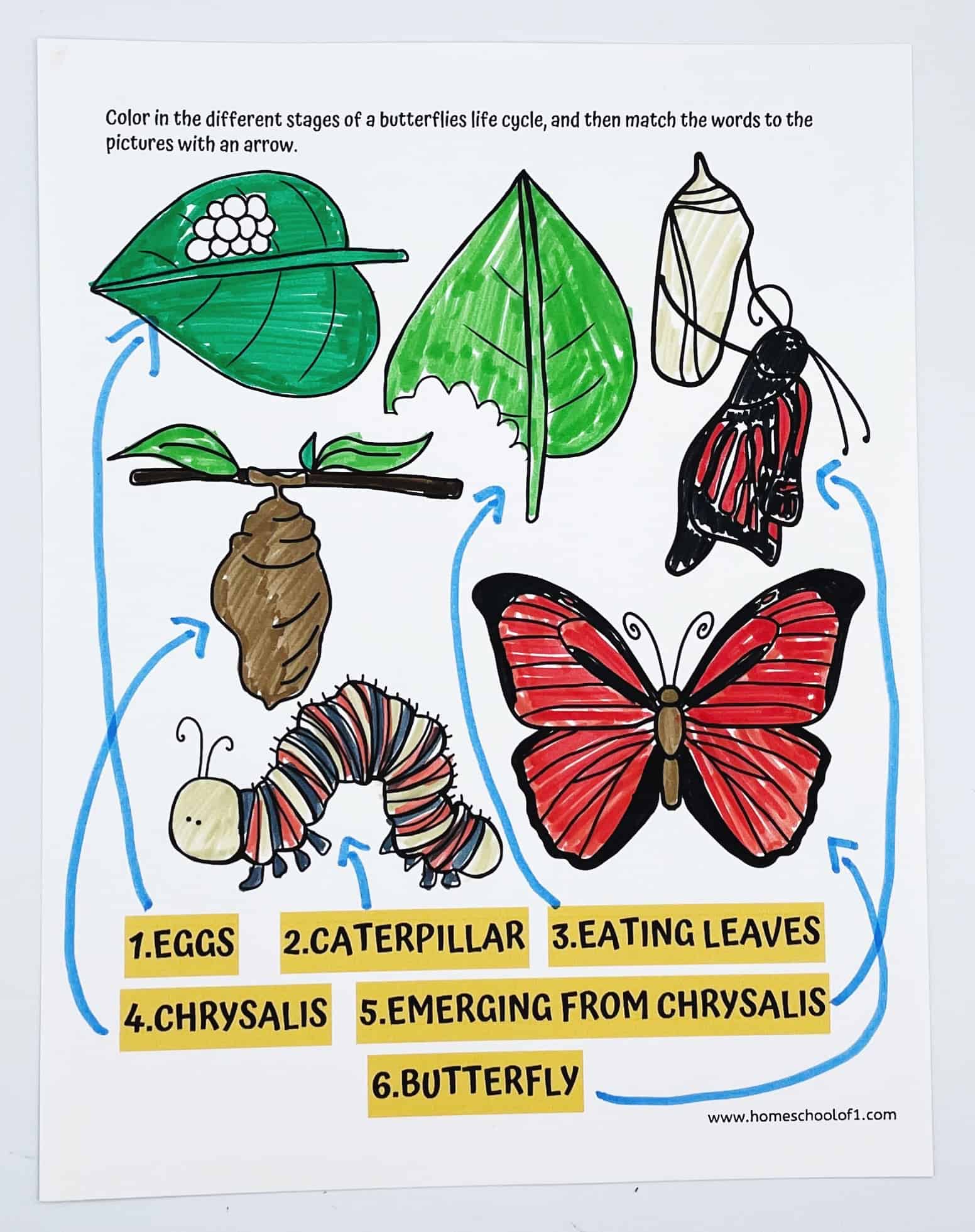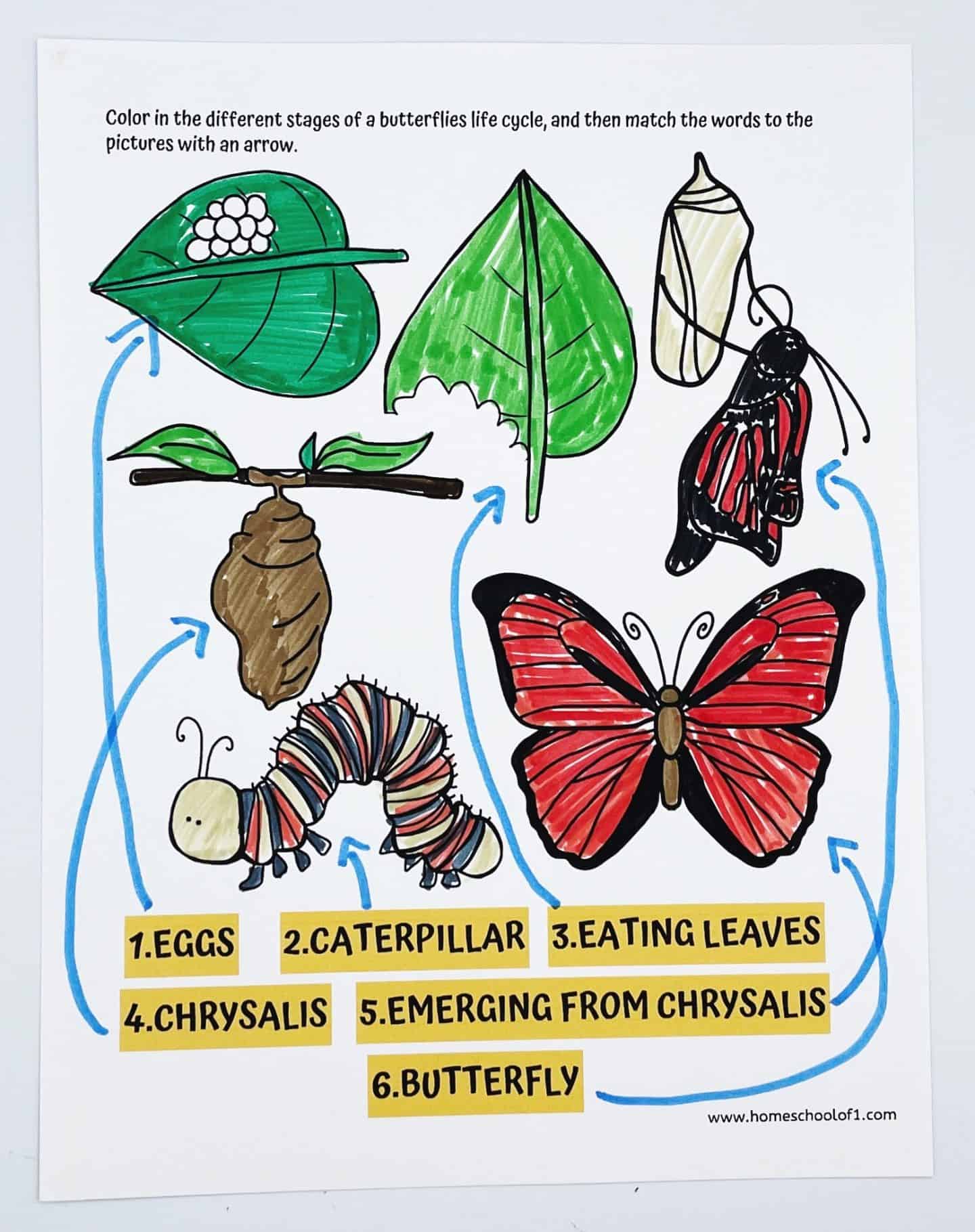 If you are working with younger students you will love our free preschool butterfly worksheets.
Butterfly Scavenger Hunt
We love scavenger hunt printables and have well over 20 for free.
This butterfly scavenger hunt is a great game to play if you are going to a butterfly farm. There are 10 different butterfly species to find, along with a caterpillar and an eaten leaf.
These 10 butterflies are the most popular species, so you should easily be able to spot them. However, there are over 17,500 species of butterfly around the world.
To guarantee you spot them all a trip to a local butterfly farm will be the best idea.
The kids will also enjoy our free butterfly matching game printable.
The butterflies to find are:
Red admiral
Monarch
Tiger swallowtail
Common blue
Painted lady
Dogface
Cabbage white
Buckeye
Black Swallowtail
Blue morpho
Caterpillar
Eaten leaf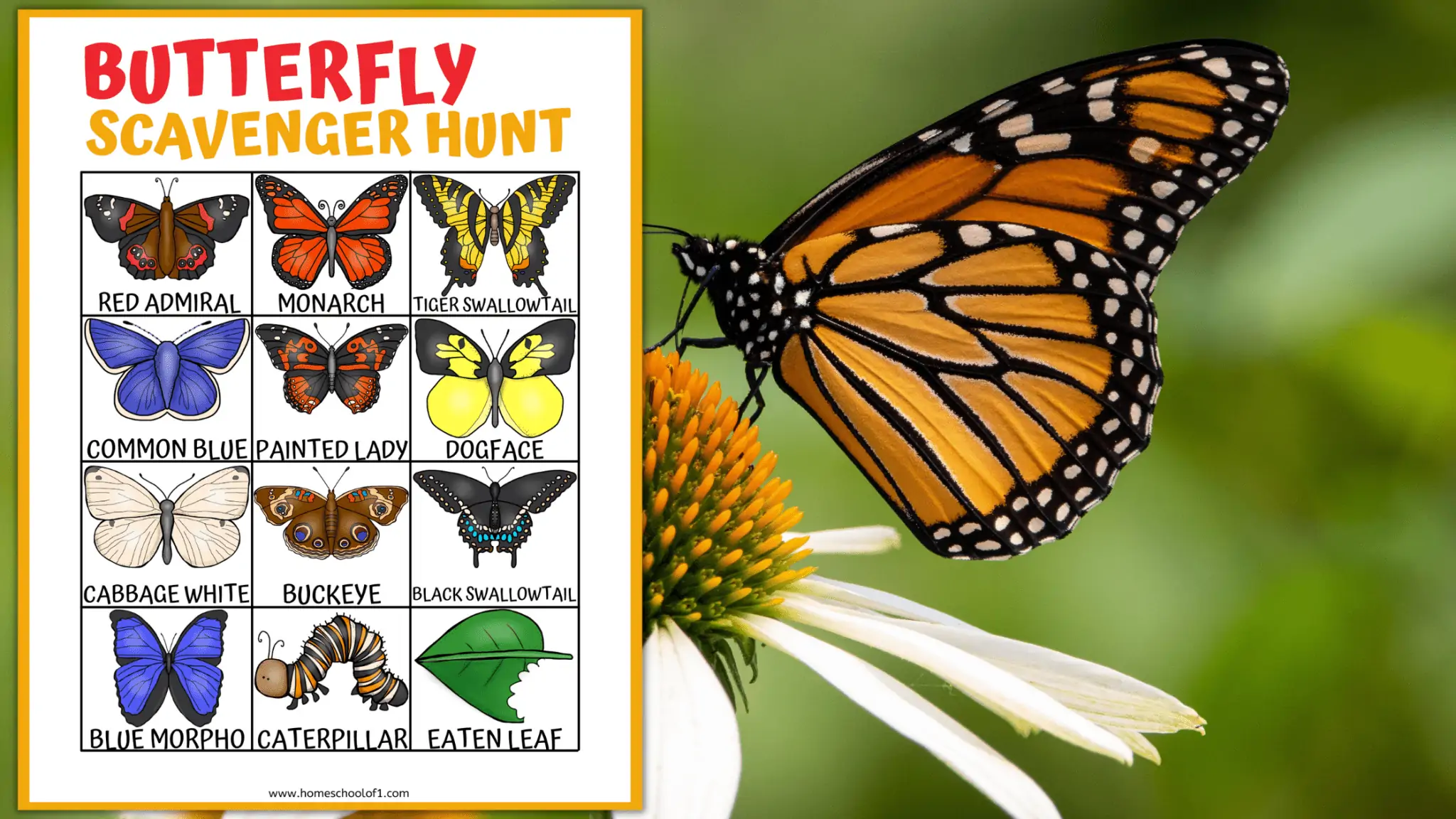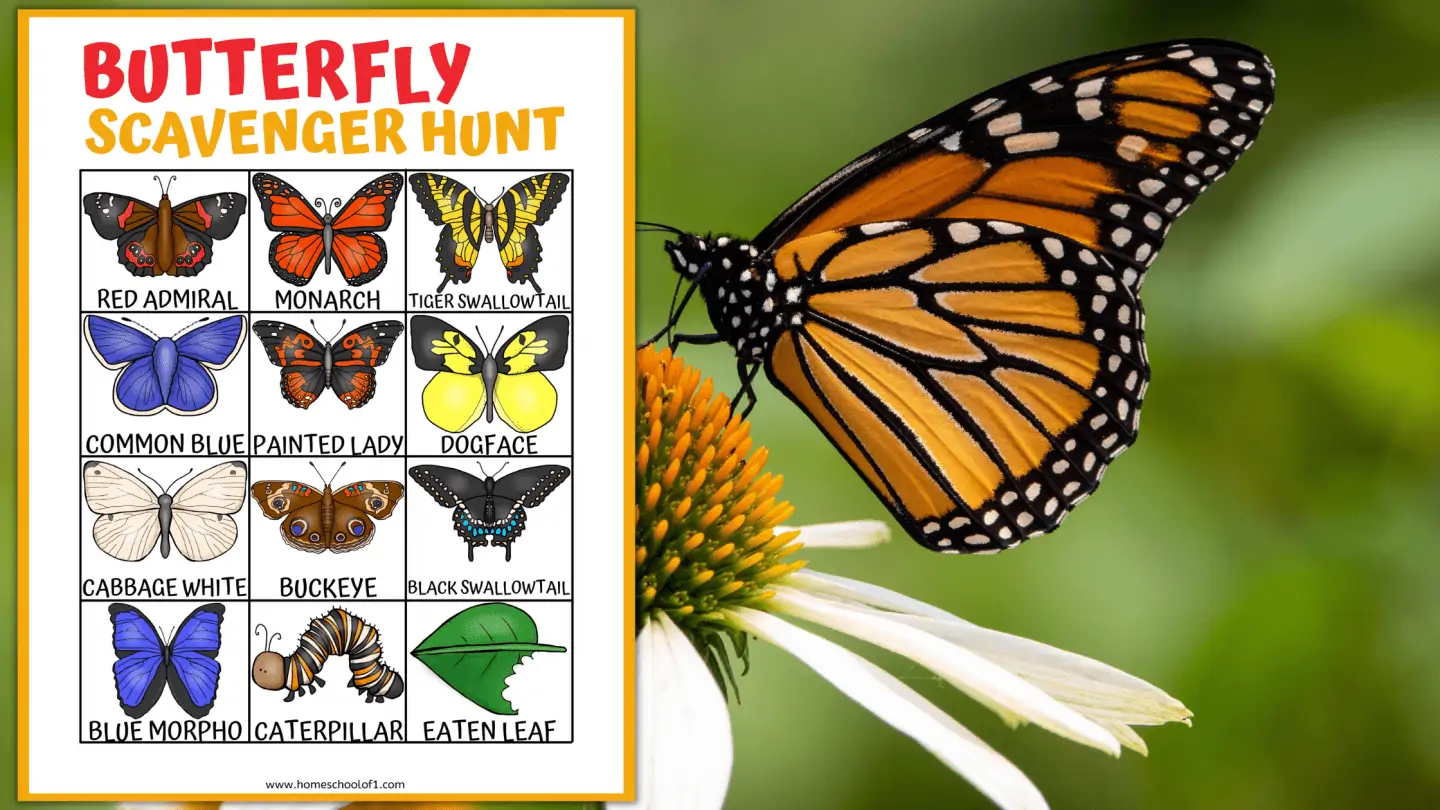 Other free life cycle worksheets
Download the free Life Cycle of a Butterfly Printables
If you are running short on time you can download ALL of our 19 life cycles for a small fee here. There are 158 pages over 19 different life cycles, including this one.
Make sure you choose the correct paper size and click on the shrink to fit button. All of our free printables work better when printed on cardstock (this is the one we use and love.)
Last Updated on 7 May 2023 by homeschoolof1