27 Free Valentine's Day Alphabet Coloring Worksheets
We love creating alphabet printables and this free 27 page Valentine's Day alphabet coloring worksheet is a great way to learn the alphabet this holiday.
Color your way through the alphabet with these fun coloring Valentine's Day-themed worksheets.
This Valentine's coloring book packet is for preschool, kindergarten, and 1st grade. But of course, can be used with older children if needed.
Valentine's Day is such a cute holiday and is a great way to encourage the kids to learn.
You are also going to love our alphabet animals coloring pages.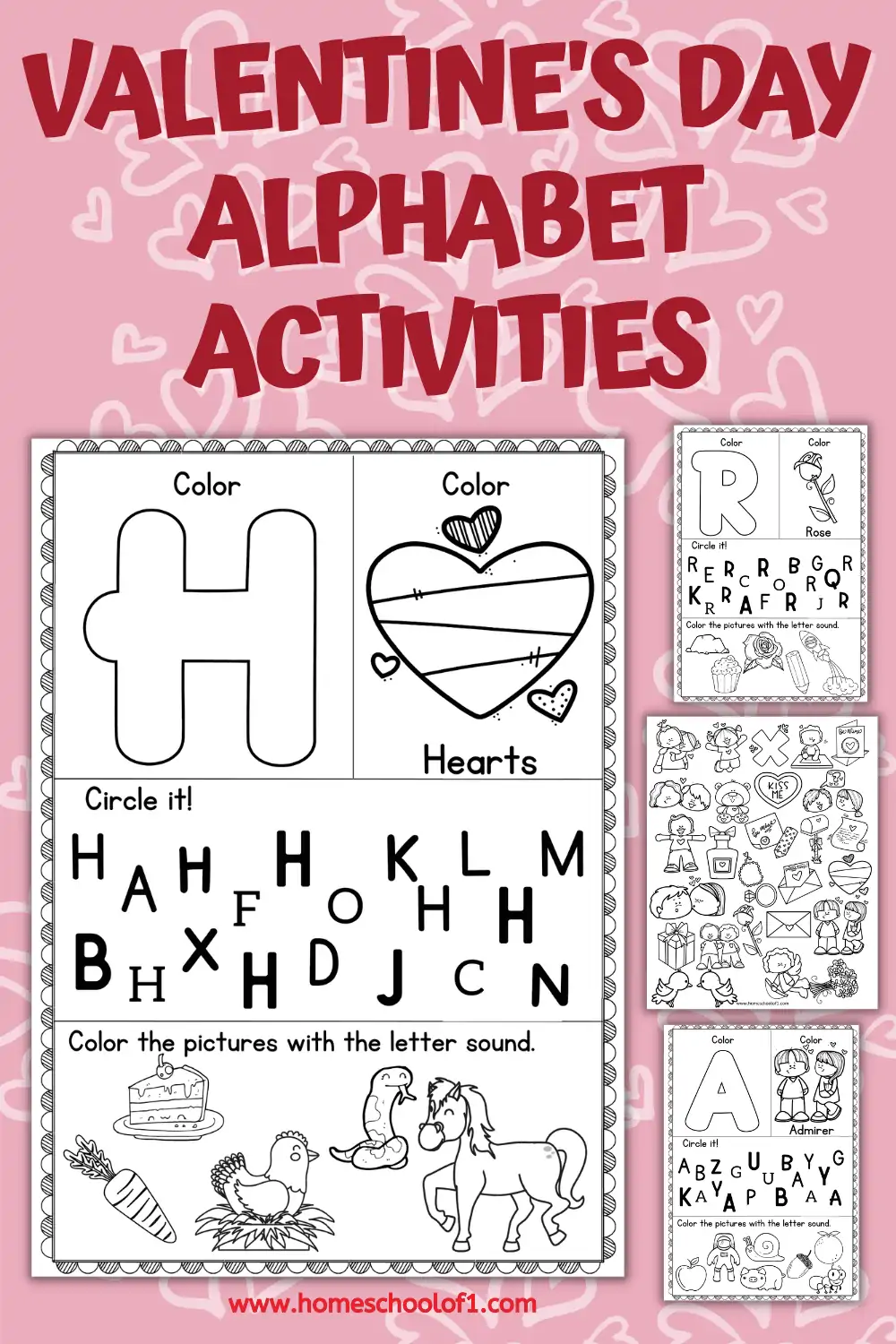 **There may be affiliate links in this post. You can read my full disclosure at the bottom of the page.**
Valentine's Day Activities for Learning the Alphabet
These Valentine's Day alphabet activities are such a fun way to learn the ABCs.
Print out the Valentine's day alphabet letters below. It will print out on 27 full pages. This printable worksheet is free to print but is for personal or classroom use only. Scroll to the bottom of the page to get the pdf file.
As you know there are only 26 letters of the alphabet! The final page is a coloring page of Valentine's images beginning with every letter of the alphabet. Including images of:
A for admirer,
B for bouquet,
C for cupid,
D for doves,
E for envelope,
F for friendship,
G for gift,
H for hearts,
I for invitation
J for jewelry
K for kiss
L for love letter
M for mailbox
N for note
O for open arms
P for perfume
Q for question
R for rose
S for sweetheart
T for teddybear
U for us
V for Valentine's
W for writing (older kids will enjoy our Valentine's Day writing prompts)
X for kiss
Y for you
Z for zesty
You can of course print this on normal copy paper, but we prefer to print everything on this white cardstock.
What is on each letter of the alphabet worksheet?
Each printable Valentine alphabet letter has the following:
Capital letter to color in.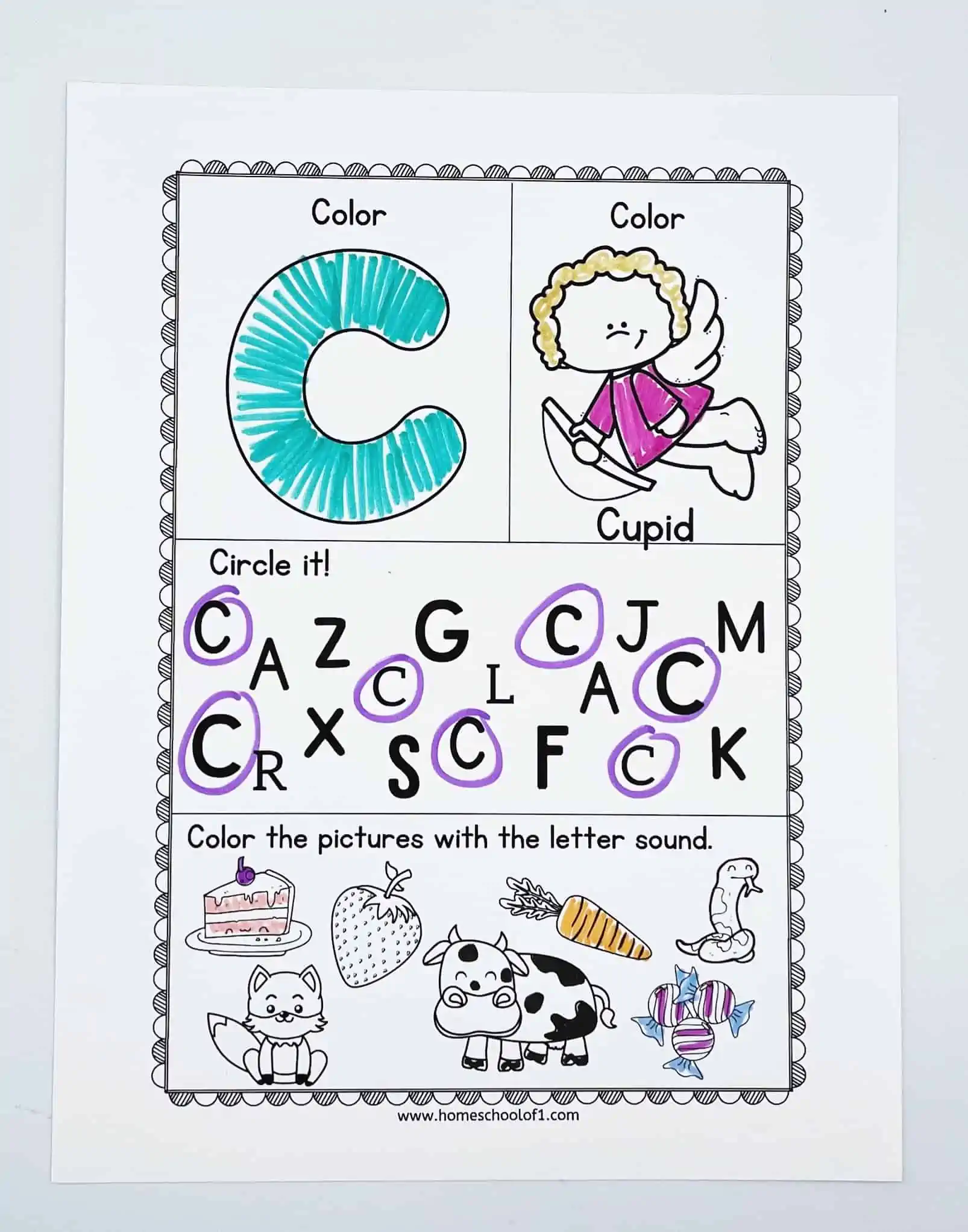 A Valentine's theme picture to color in beginning with that letter of the alphabet. G is for gift.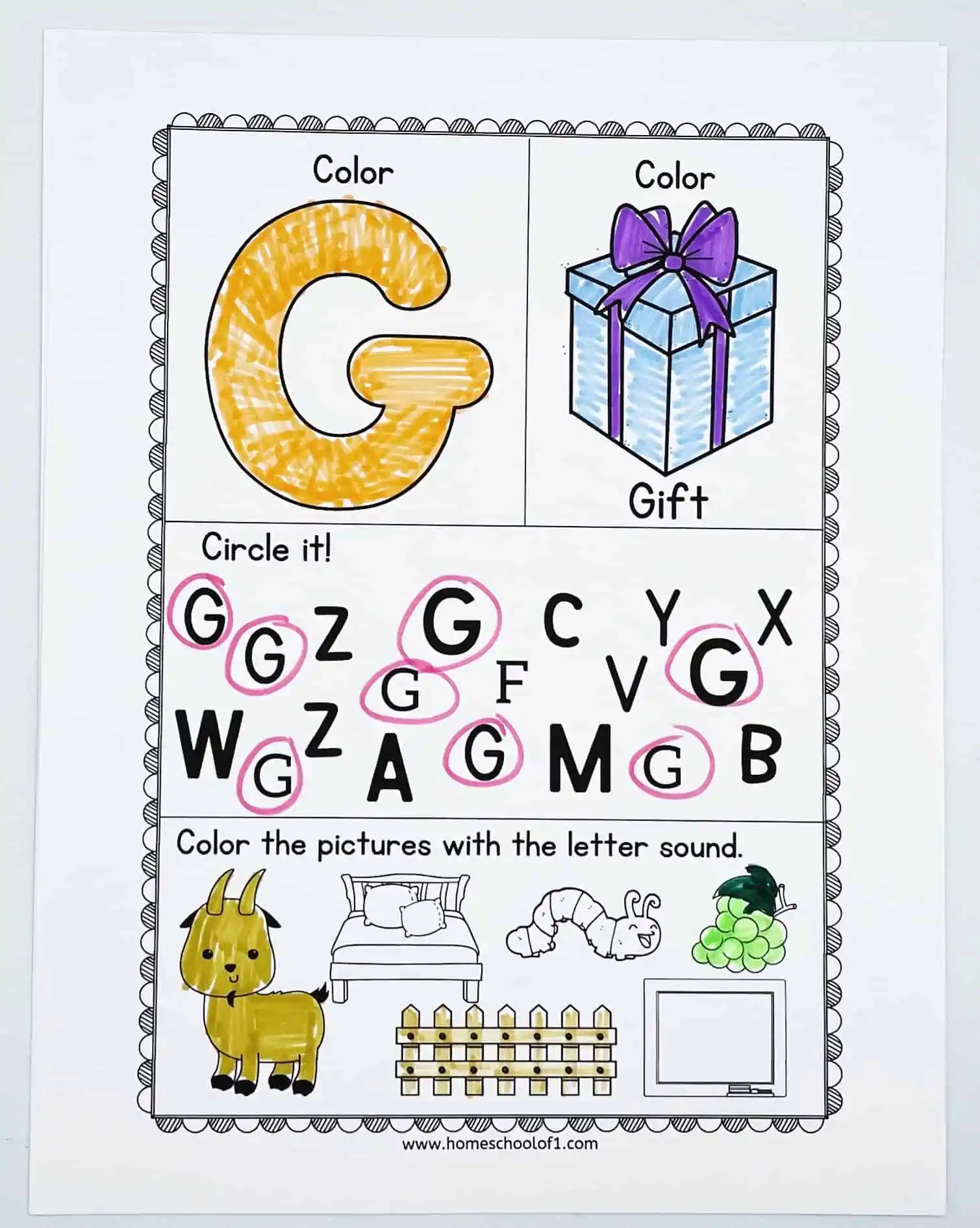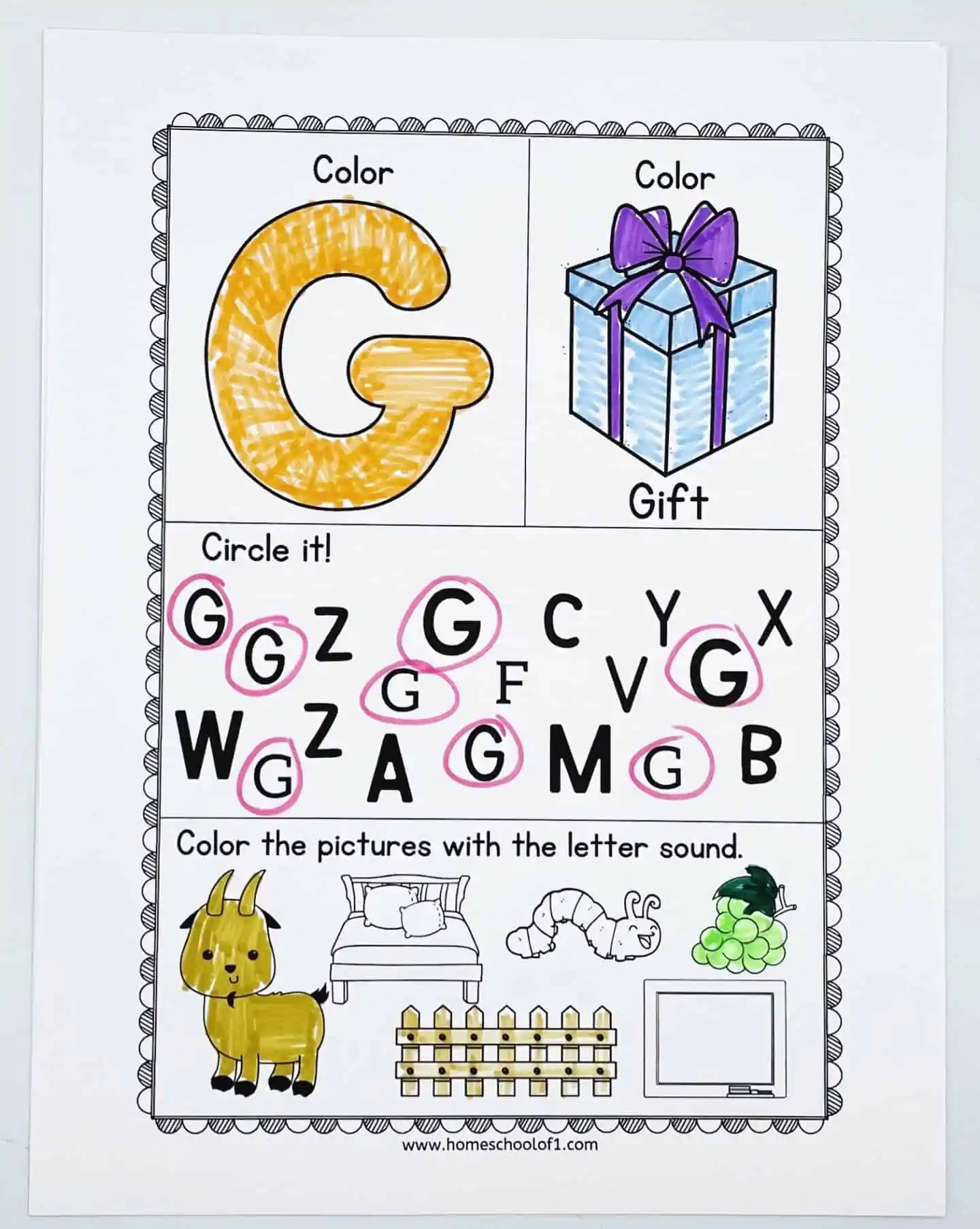 Circle the correct letter, great for letter recognition.
I think you are also going to love our heart handprint template.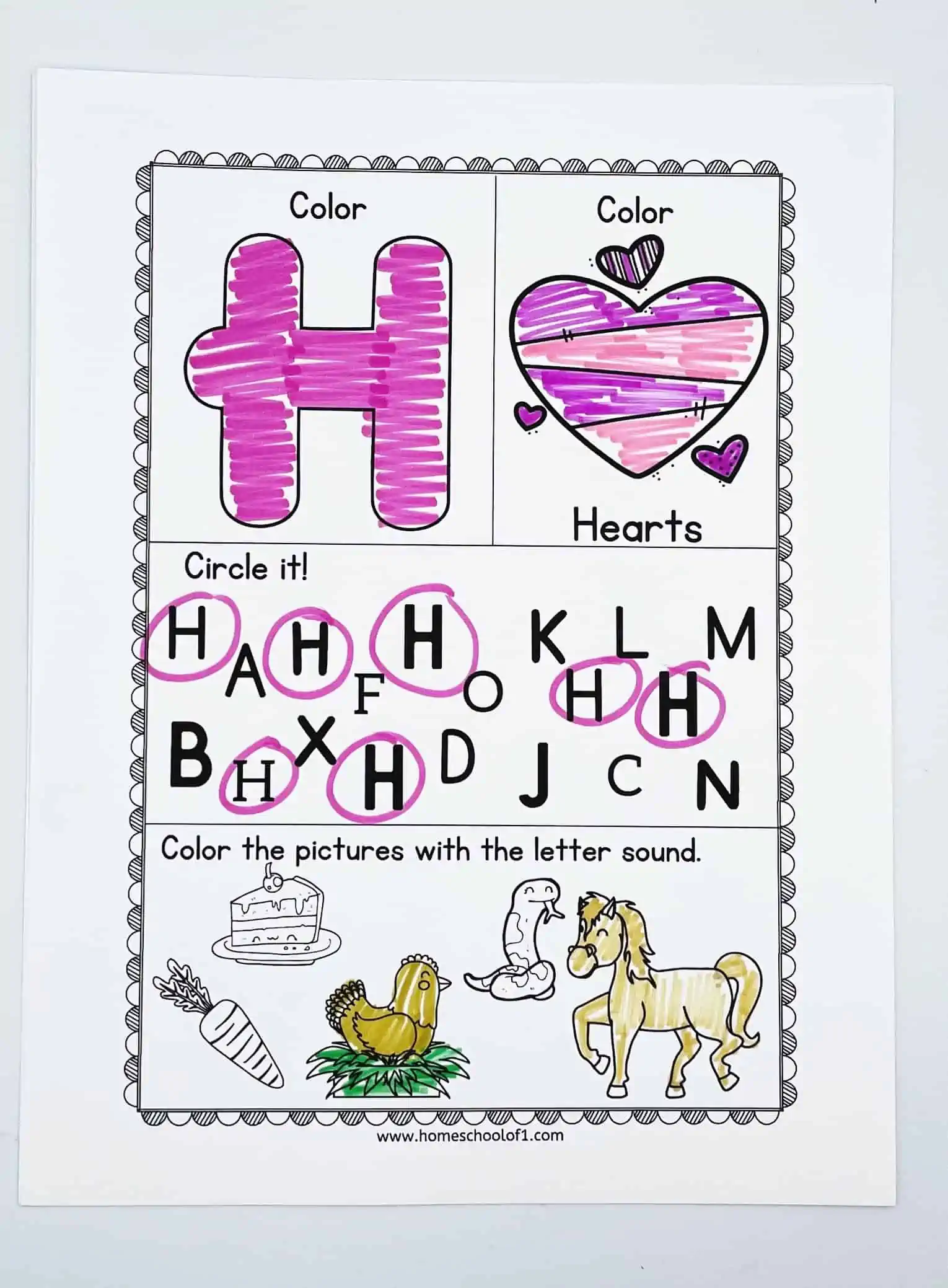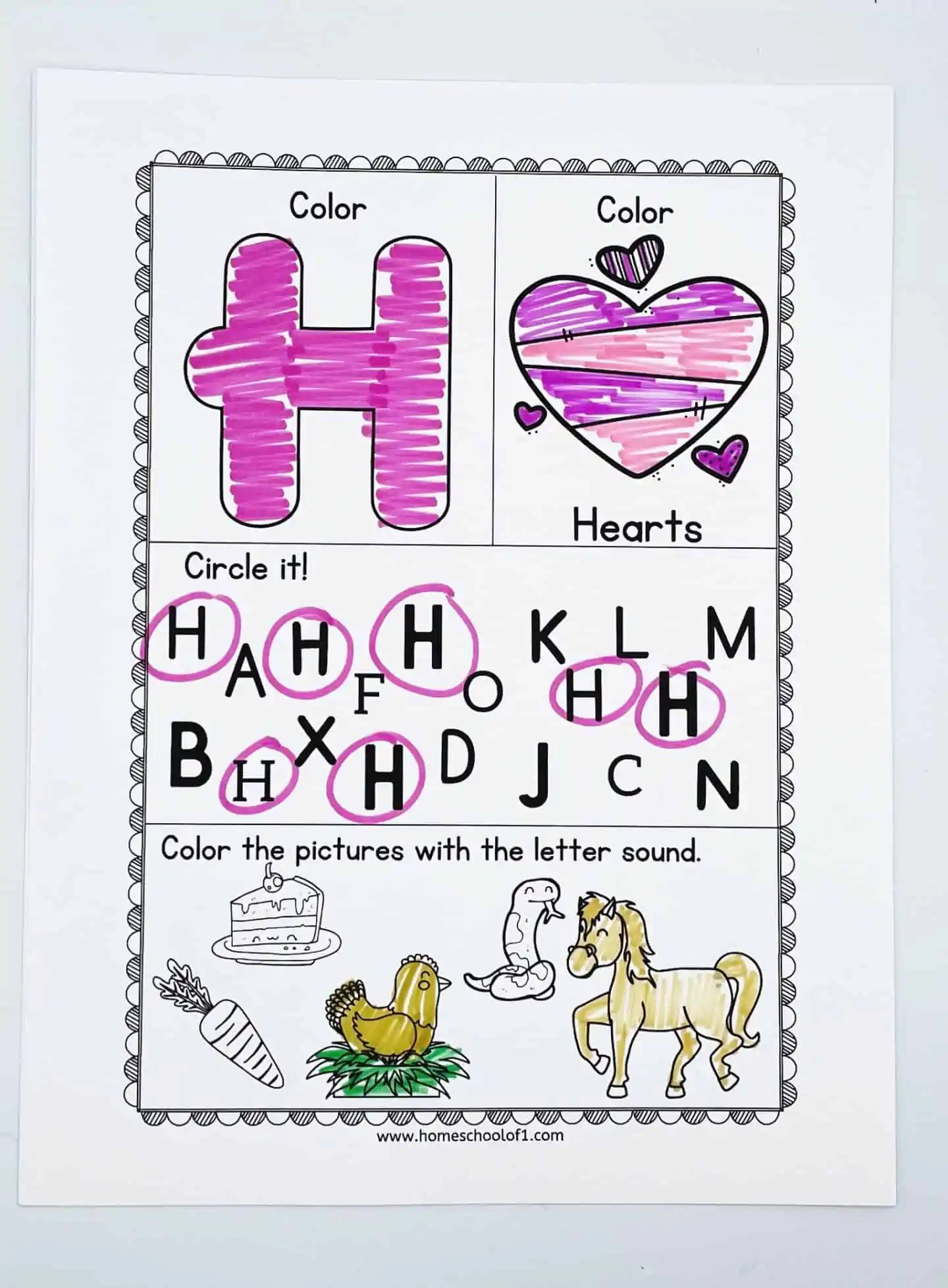 Color the pictures with the letter sound. W is for watermelon, wheel, and wagon.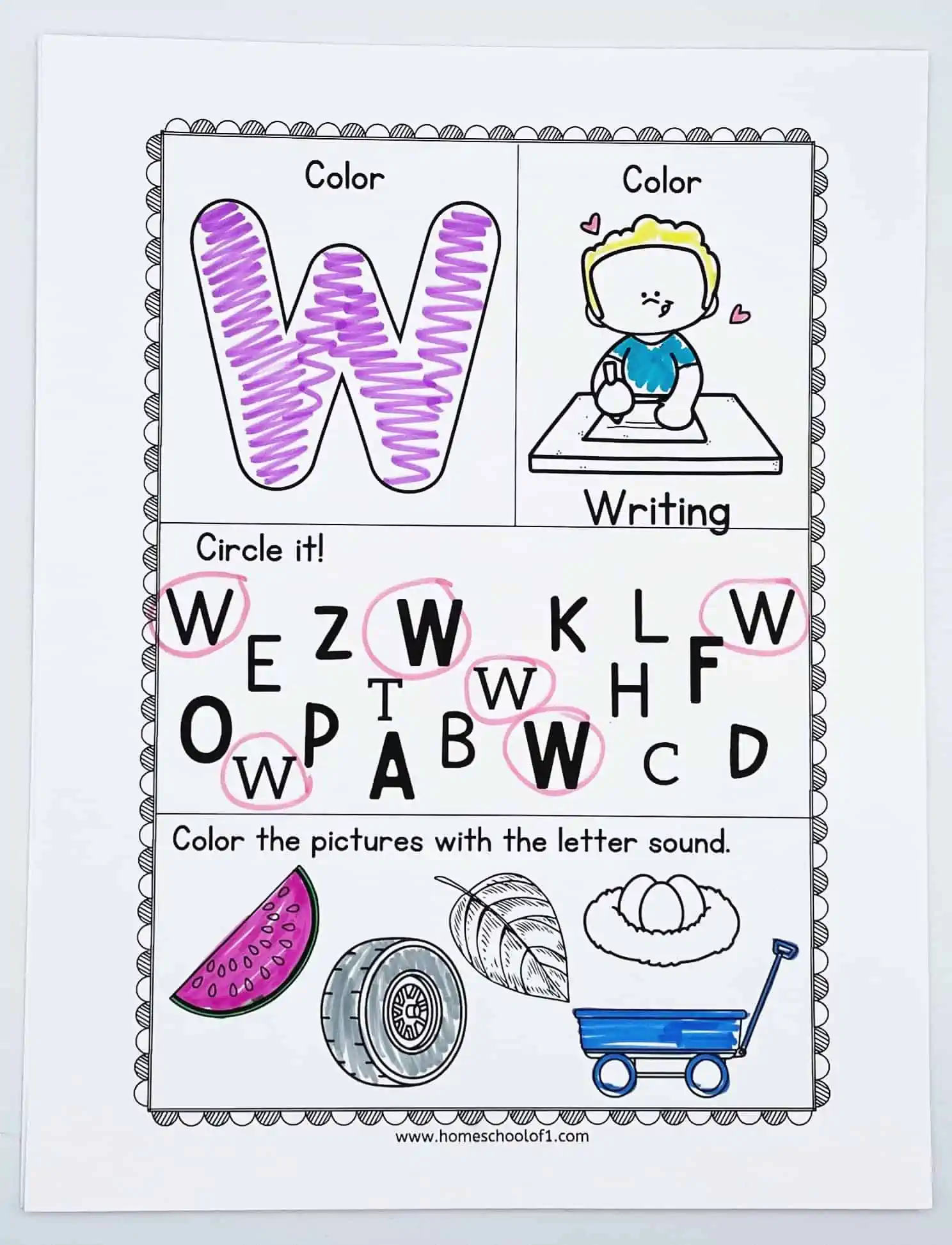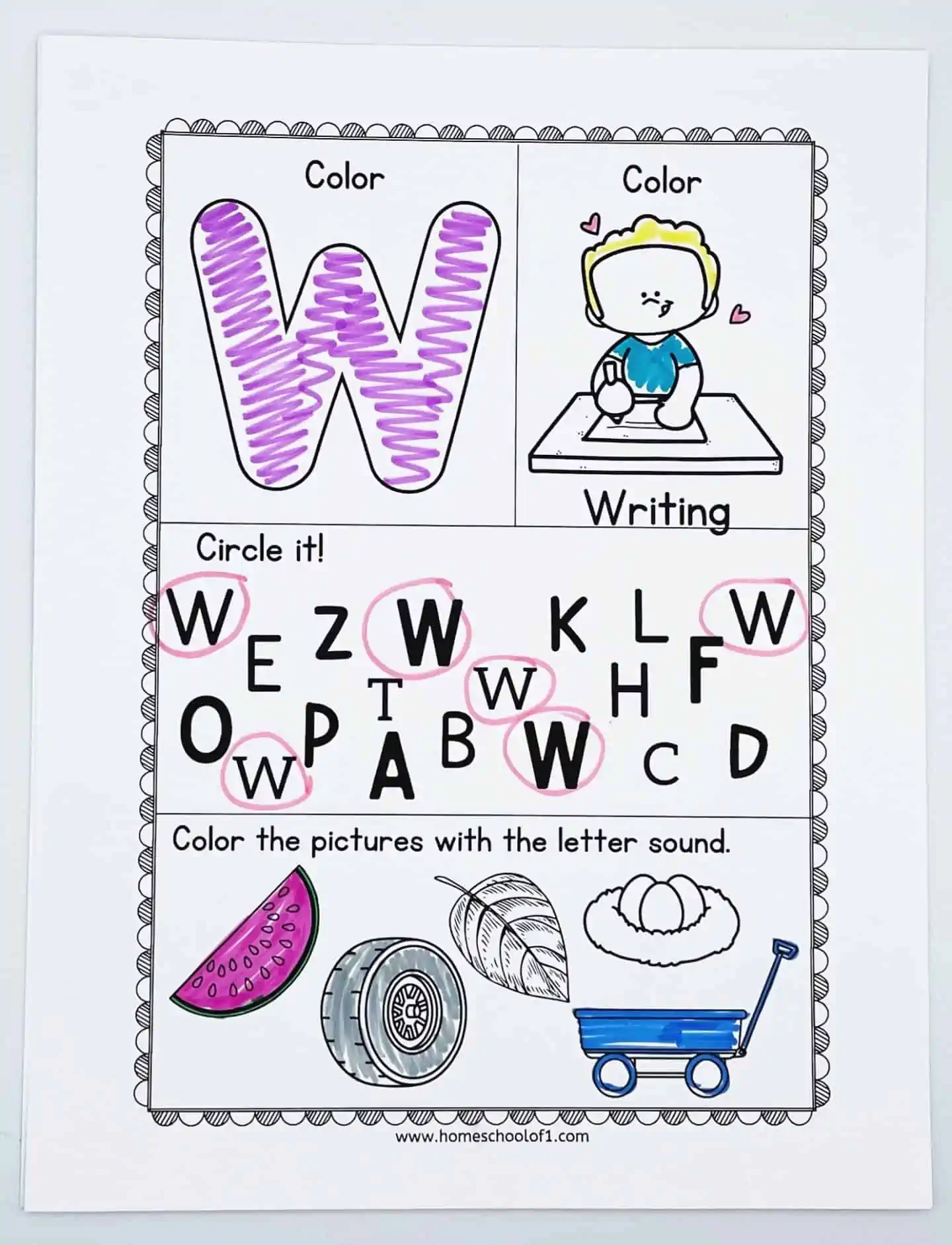 There is also a coloring page with an image for every letter of the alphabet.
You are also going to love our free Valentine's coloring pages.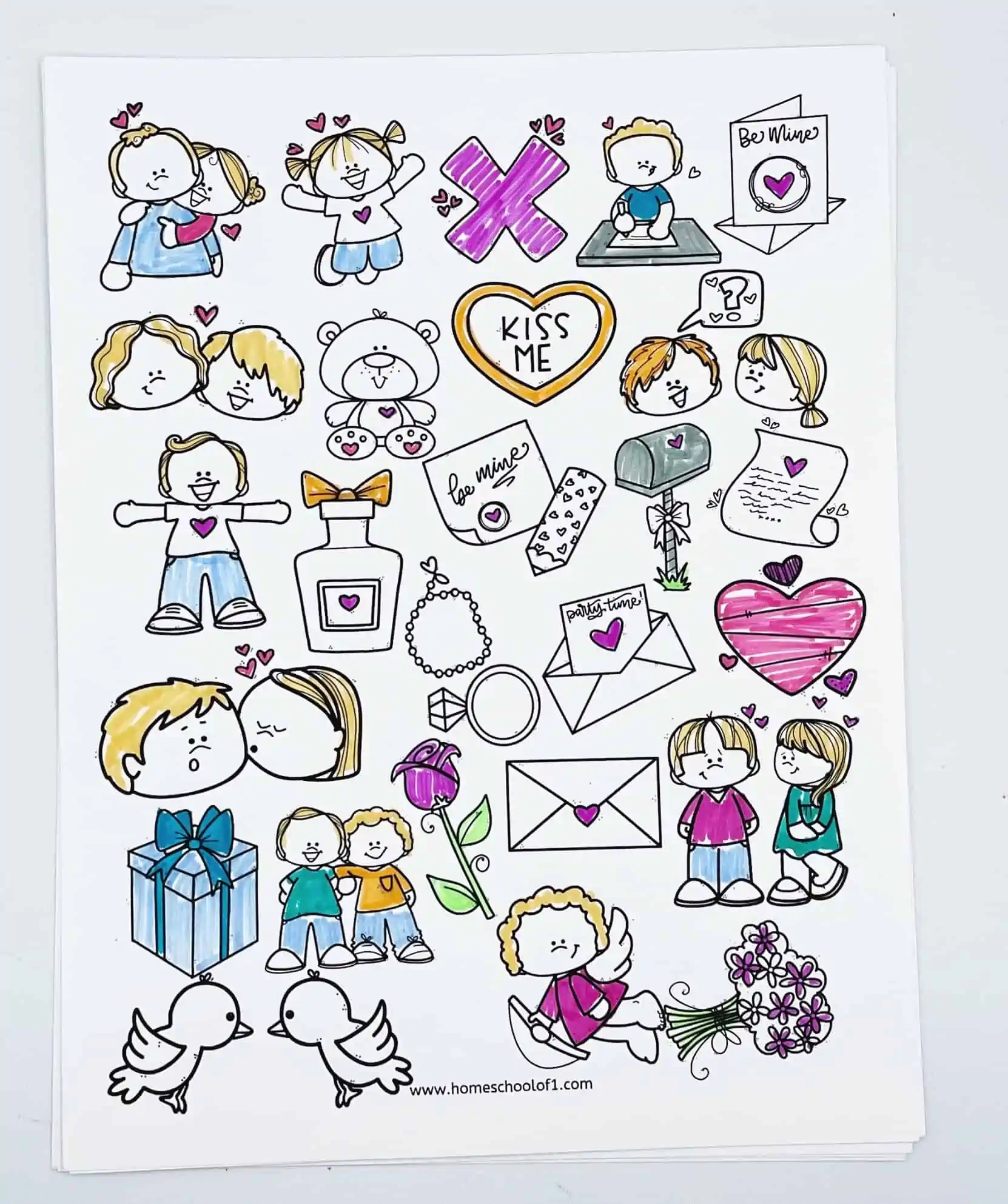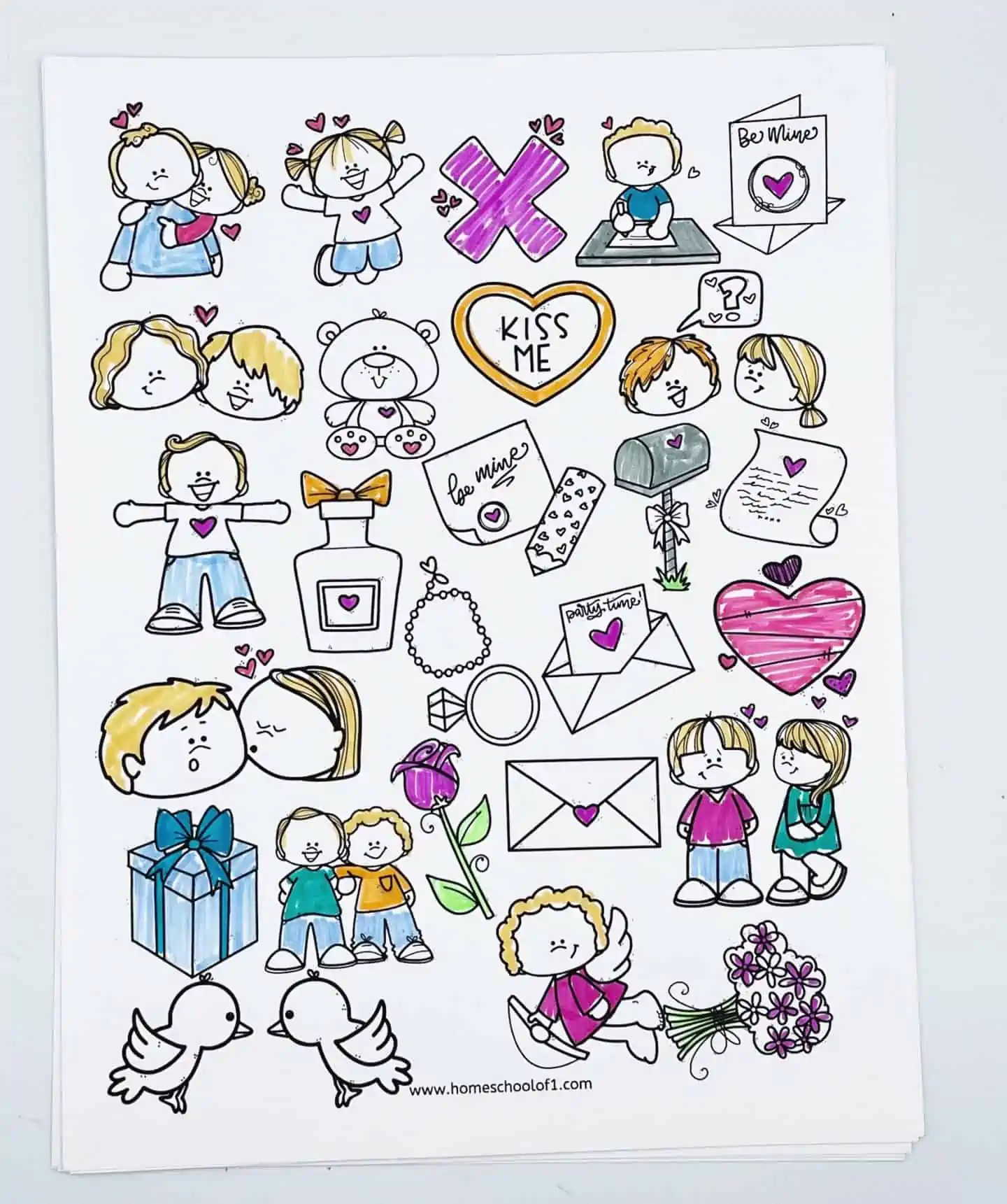 Download the Free Valentine's Day Alphabet Printables
Make sure you choose the correct paper size and click on the shrink to fit button. All of our free printables work better when printed on cardstock (this is the one we use and love.)
You will also enjoy these free Valentine's printables:
Last Updated on 26 January 2023 by homeschoolof1