Free History of Valentine's Day Worksheet for Kids
This free history of Valentine's Day worksheet is perfect for kids in grades K-5.
We love learning about all of the holidays and this Valentine's Day history worksheet is a great example of this. Perfect for the classroom, homeschool, or even the library.
Valentine's Day is celebrated on February 14th in many countries around the world. It began to properly be celebrated by the 17th century.
We absolutely love creating free kids coloring pages, and we either use them as a supplement for a lesson we are studying or just to calm the mood! Coloring is a great way for them to refocus and relax.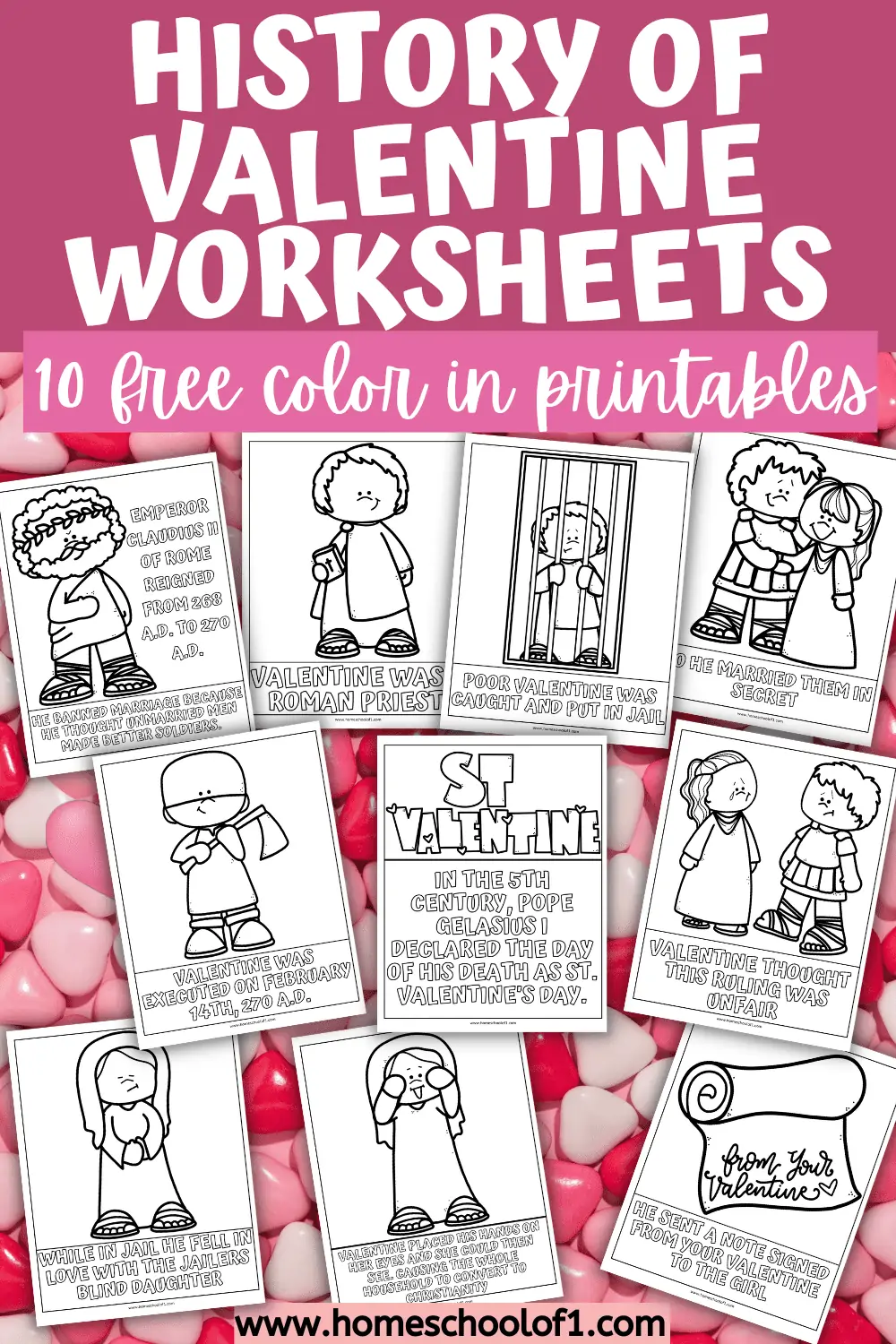 **There may be affiliate links in this post. You can read my full disclosure at the bottom of the page.**
What is the story behind Valentine's Day for kids?
The story of Valentine's Day is a really interesting story, although it doesn't end well for poor Valentine.
These 10 free coloring pages are a great way for kids to learn about the history of Valentine's Day.
Download the Valentine's Day worksheets below. There are 10 coloring pages to print out. Make sure to check the printer settings.
These history of St Valentine worksheets are free to print but are for personal and classroom use only. Scroll to the bottom of the post and add your email address to get the pdf file.
Emperor Claudius II of Rome reigned from 268AD to 270AD. He banned marriage because he thought unmarried men made better soldiers.
Valentine was a Roman priest at the time.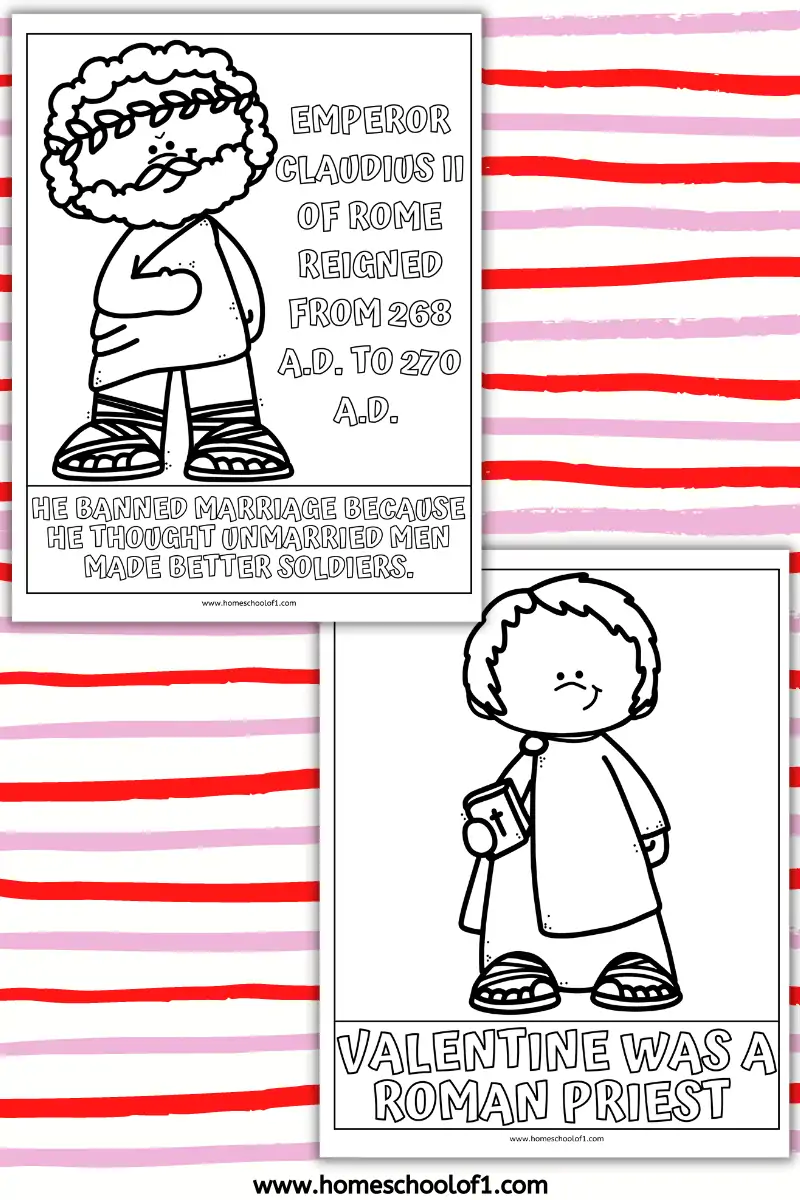 Valentine thought this ruling was unfair.
So he married them in secret.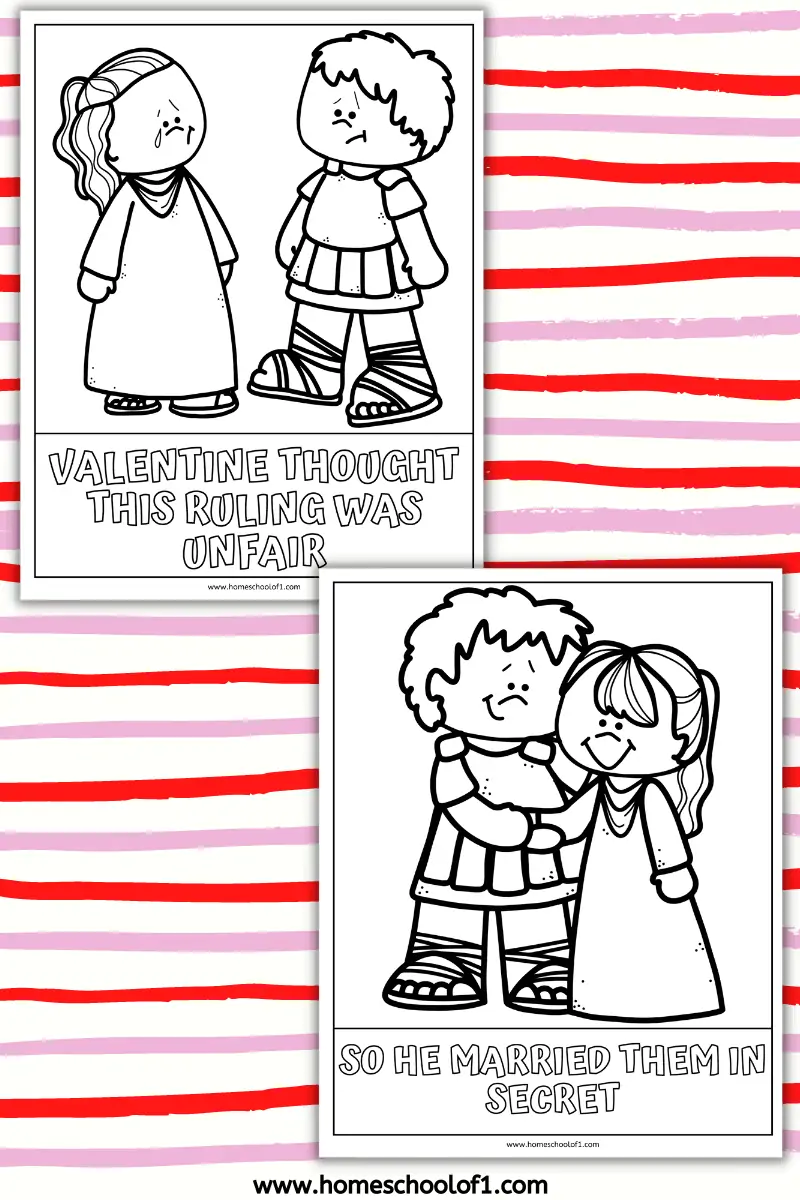 Poor Valentine was caught and put in jail.
While in jail he fell in love with the jailer's blind daughter.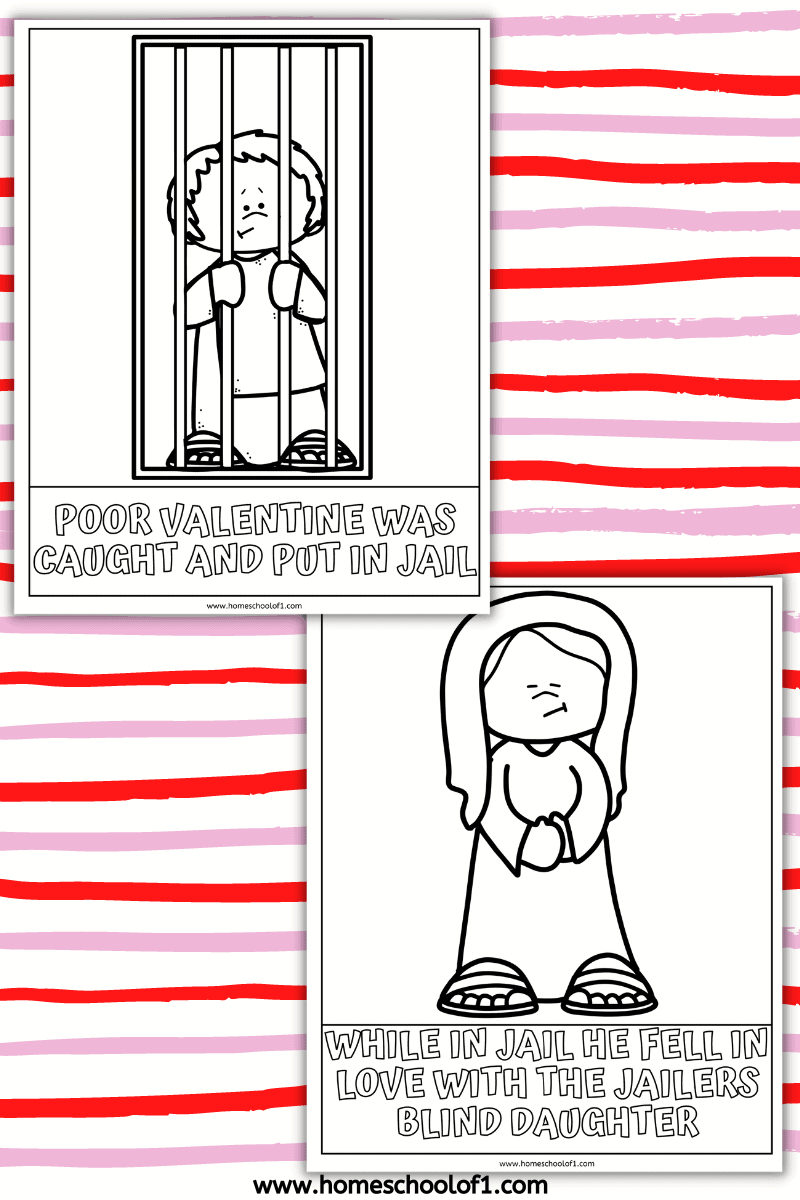 Valentine placed his hands on her eyes and she could then see. Causing the whole household to convert to Christianity.
He sent a note signed from your Valentine to the girl.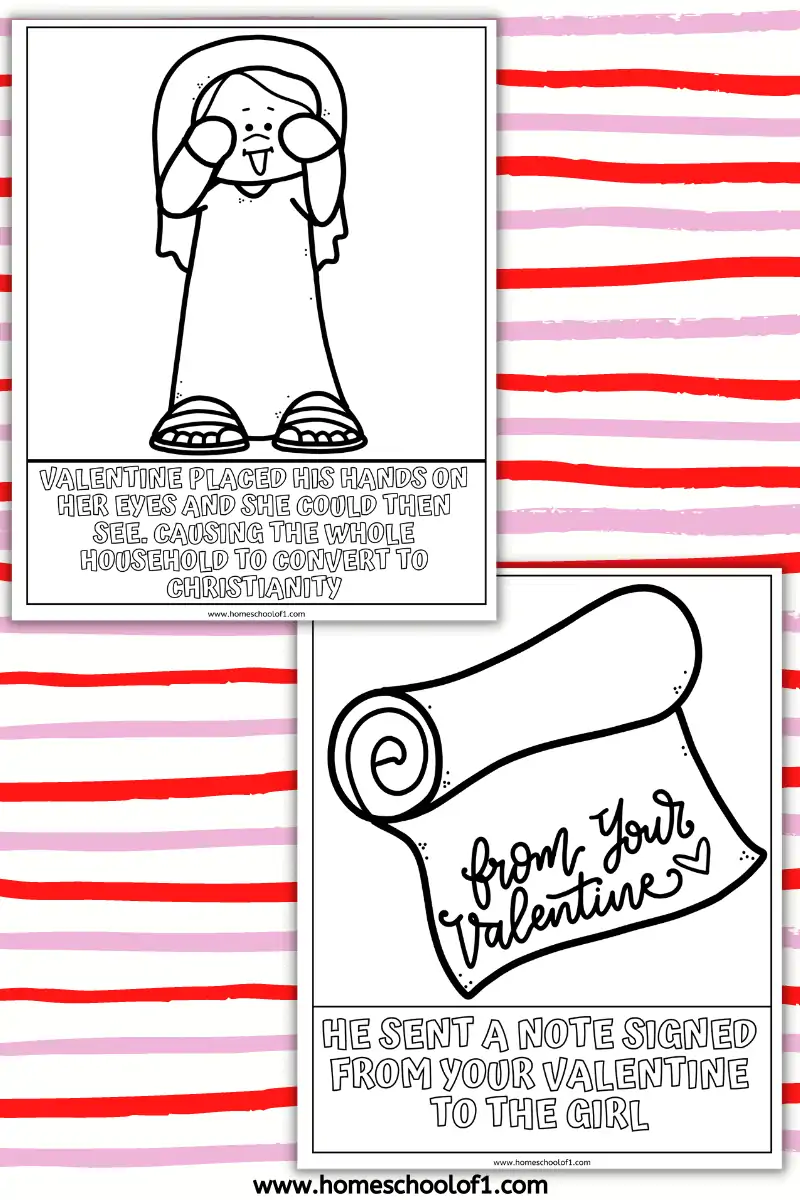 Valentine was executed on February 14th 270AD.
In the 5th century, Pope Gelasius I declared the day of his death as St Valentine's Day.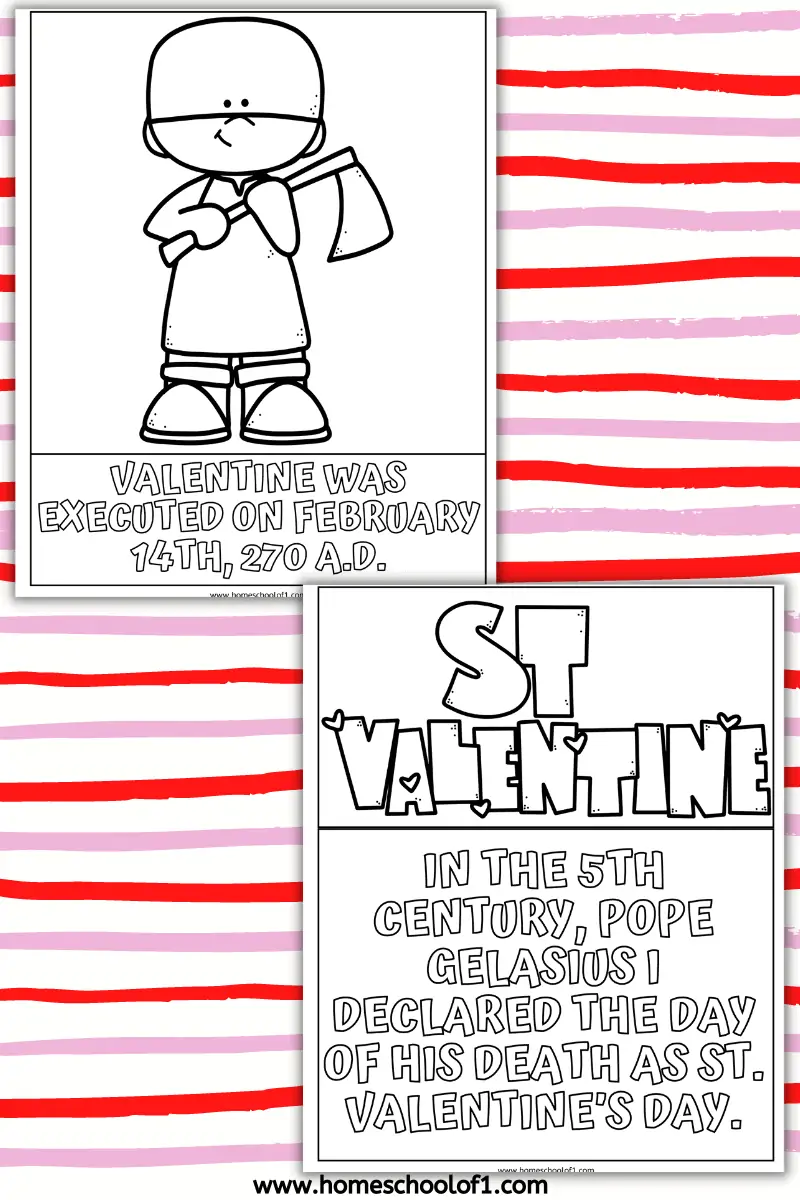 6 Fun Facts about Valentine's Day
The most popular gift for Valentine's Day is chocolate.
Teachers receive the most Valentine's Day cards than anyone else.
145 million Valentine's Day cards are sent each year, in the US alone, making Valentine's Day the second largest card-sending holiday of the year. Download our printable Valentine's Day cards to color.
The oldest known valentine still in existence today was a poem written in 1415 by Charles, Duke of Orleans, to his wife while he was imprisoned in the Tower of London following his capture at the Battle of Agincourt.
The English poet Geoffrey Chaucer was the first to record St. Valentine's Day as a day of romantic celebration in his 1375 poem "Parliament of Foules," writing:
"For this was sent on Seynt Valentyne's day / Whan every foul cometh ther to choose his mate."

Geoffrey Chaucer
Birds' mating season falls in February, which is why doves are often associated with love.
Other Valentine's Day activities for kids
As we always like to create fun holiday activities check out some of our other Valentine's Day activities I think you will enjoy:
Download free Valentine's Day history coloring pages
Make sure you choose the correct paper size and click on the shrink to fit button. All of our free printables for kids work better when printed on cardstock (this is the one we use and love.)
Last Updated on 1 June 2023 by homeschoolof1