13 Awesome Valentines Day Gifts for Boys (2023)
Whether your boy loves all things Valentines Day or like mine can't wait for it to be over, here are our top Valentines Day gifts for boys (as hate it or not they still expect a present!!).
As it has just been Christmas all of the gifts included in this list are under $20, and for us is just a cute token of our love. I have also included some gifts that will be perfect to take to school for the boys in the class or homeschool co-op in our case.
This Valentines Day we will put the core curriculum away and spend the day learning all about Valentine's Day and doing lots of heart-themed activities (whether he wants to or not, haha!). If you also homeschool (or teach) check out our favorite Valentine's Day activities.
Gift giving for Valentine's Day needs to be more of a challenge!! So this year we will be having a Valentine's Day scavenger hunt to find his gift!
If you are looking for Valentines gifts for teens check out our latest article.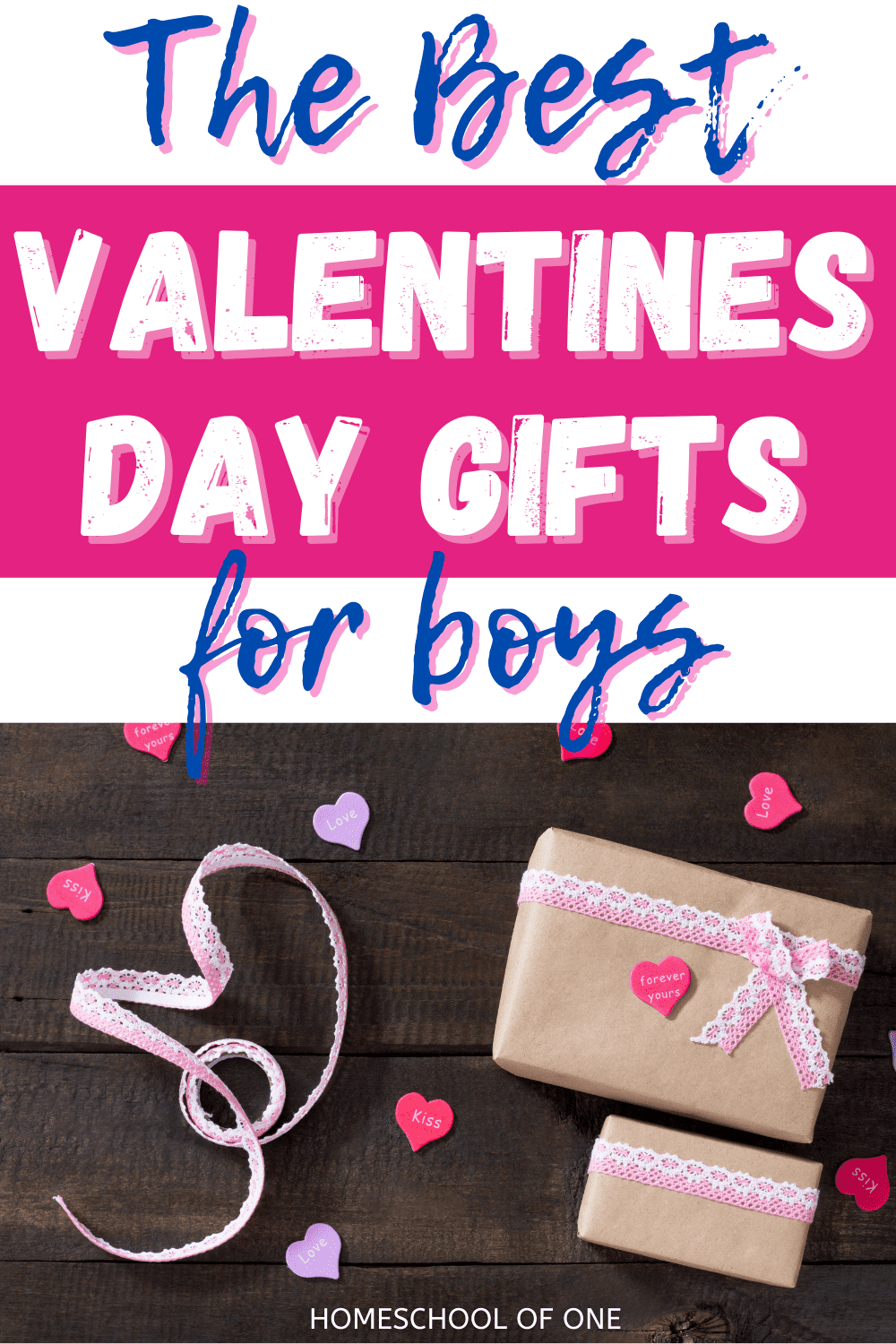 **There may be affiliate links in this post. If you make a purchase (after clicking one of my affiliate links) I'll earn some coffee money, which I promise to drink while supporting your journey. You do not pay a higher price. You can read my full disclosure at the bottom of the page.**
Valentines Day Gifts for Boys
Valentines Day Tshirt
I absolutely love this T-shirt it is so funny, and probably the only type of Valentine's Day T-shirt my son would wear: V is for Valentine Video Games, it comes in multiple colors and sizes for youth and men, so you should find the right size.
Valentines Day Book Gift
Despite the fact that he hates anything soppy, I just love this super cute book. What I love about you from me. You fill in all the special reasons you love him.
Lego City Wrecking Valentines Day Book
For younger kids, I really recommend the Invisible String picture book.
Lego
Valentines Day bear Lego Brickheadz, you can't go wrong with this even though it is a little soppy!
Valentines Day Activity Gifts
Make Your Own Chocolate with this game controller mold! We have to be super careful due to a severe nut allergy, but this would make a wonderful activity you can do together.
Make your own Valentine's Day paper airplanes have a little race and see who can get theirs the furthest!
Create and Decorate wooden magnets Valentine-themed.
Create a Heart-Shaped String Art Lantern that glows in the dark!
Valentines Day Gifts for Boys at School
Due to food allergies we always hand out non-food gifts for kids and these are the BEST ones we could find.
Video Games Personalized Valentines Card with Erasers
Dinosaur Valentine Cards, PRINTED Dino-mite Valentines for Boys
Valentine's superhero cards with crayons
Valentines love Bug cards with worms! (you can order this without the candy and add in something else if you prefer.)
Our class would knot be the same without you, bracelet.
I wheelie like you Valentine's card with a car.
What are your favorite Valentine's Day gifts for boys? Let me know in the comments.
Last Updated on 26 September 2022 by homeschoolof1