5 Super Cute Free Elf on the Shelf Arrival Letters
Are you doing the Elf on the Shelf this year? If so grab your free Elf on the Shelf arrival letter now.
This elf welcome letter is the perfect way to re-introduce the elf back into the home, and just create that extra bit of magic.
We have been enjoying Elf on the Shelf activities for about 10 years. They continue to come despite the fact my son finally realizes they aren't real. (Yes and Santa, I was devastated). He was 10 at the time, so I knew I did well for that long. I think this is one of the perks of homeschooling!!
We had a long chat about the Elf on The Shelf and despite him knowing he is not real, he still wants the elves to visit.
So this year, we are going all out… I say this every year, we absolutely love CHRISTMAS!!
Every year he receives an Elf on the Shelf arrival letter, and this year won't be any different!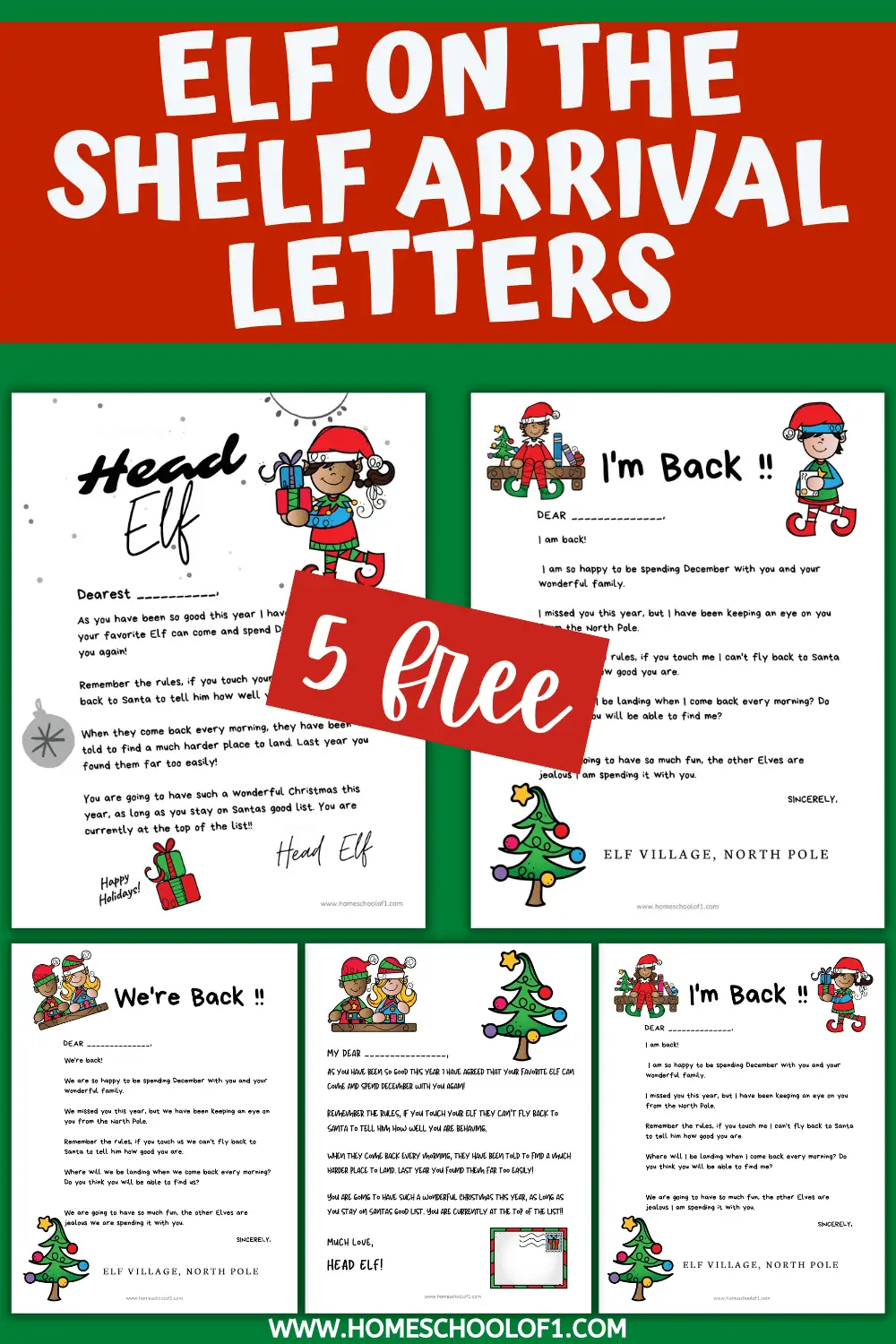 **There may be affiliate links in this post. You can read my full disclosure at the bottom of the page.**
Elf Arrival Letter
So the day the Elf arrives, nearly always on December 1st, they bring an arrival letter. I have created four different templates that you can print out and use as you wish. You can add the child's name to make it even more magical.
There are five different templates you can choose from (you will download all 5).
Two of them read:
As you have been so good this year, I have agreed that your favorite Elf can come and spend December with you again!
Remember the rules, if you touch your Elf they can't fly back to Santa to tell him how well you are behaving.
When they come back every morning they have been told to find a much harder place to land. Last year you found them far too easily!
You are going to have such a wonderful Christmas this year, as long as you stay on Santa's good list. You are currently at the top of the list!
Much love
Head Elf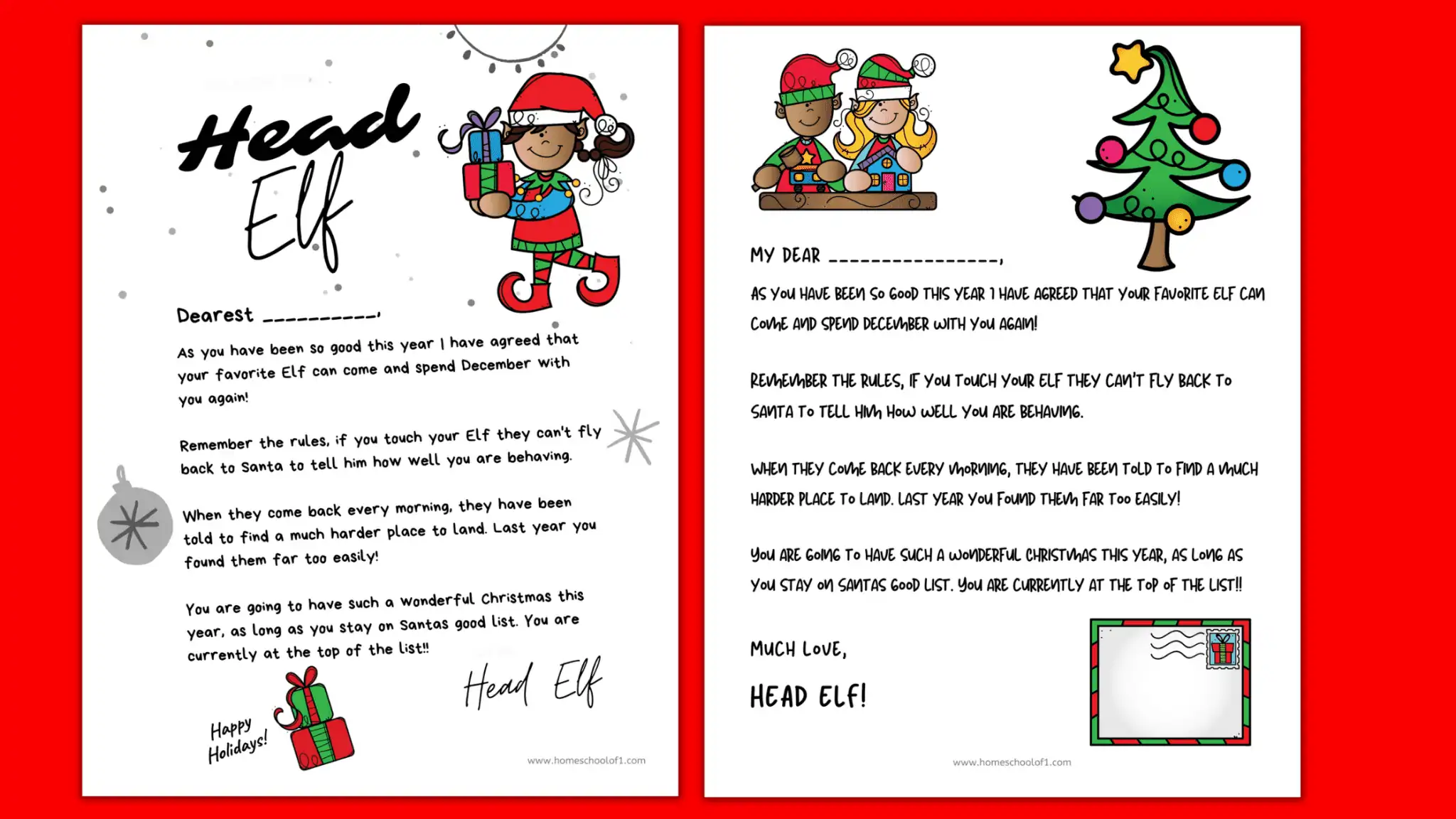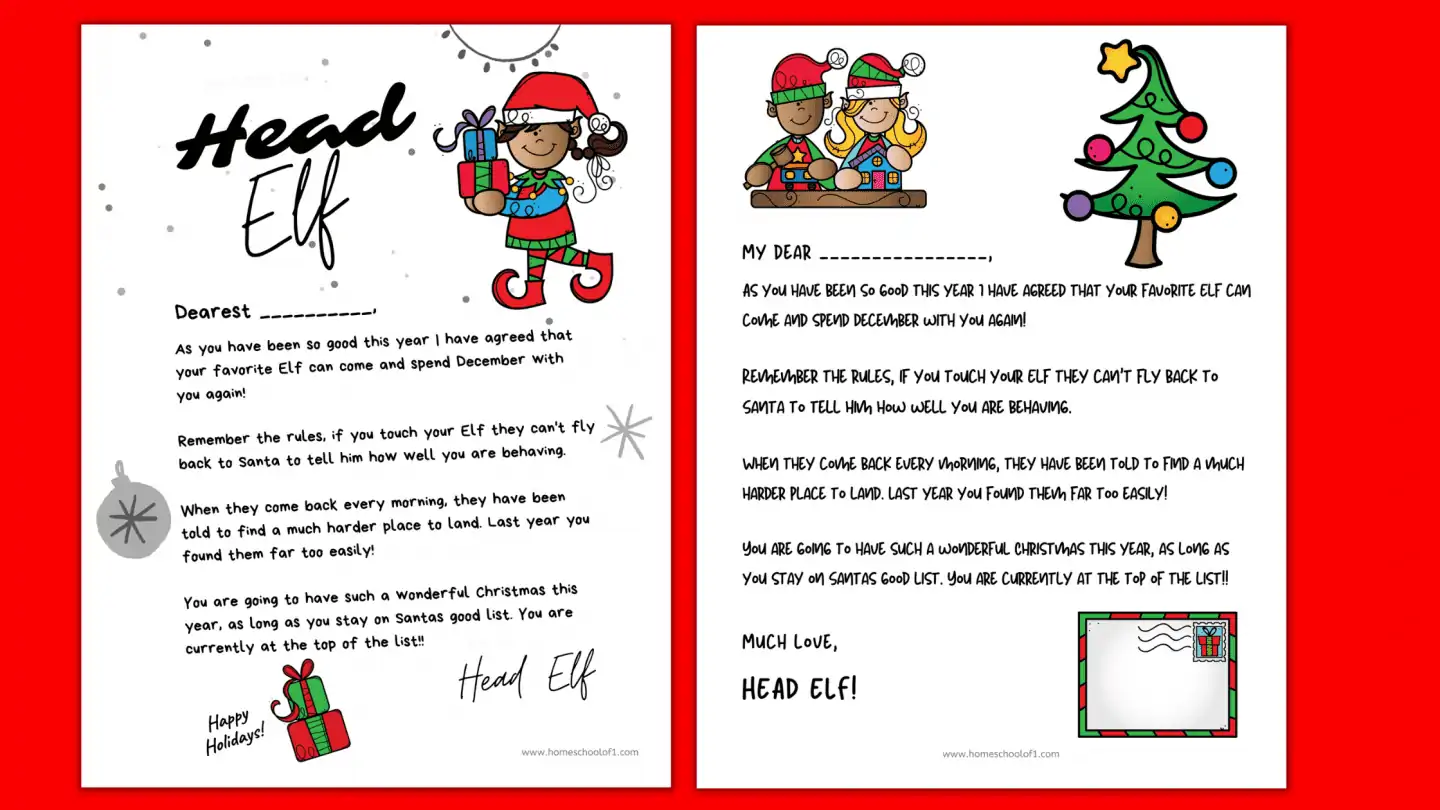 The other three read:
I am back!
I'm so happy to be spending December with you and your wonderful family.
I missed you this year, but I have been keeping an eye on you from the North Pole.
Remember the rules, if you touch me I can't fly back to Santa to tell him how good you are.
Where will I be landing when I come back every morning? Do you think you will be able to find me?
We are going to have so much fun, the other Elves are jealous I am spending it with you.
One of them has an image of a boy elf, one an image of a girl, and another one from more than one elf. So you can choose whichever is the best for your family.
If you are looking for personalized elf on the shelf arrival letters Etsy has you covered with hundreds of options.
If you want to get the official Elf on The Shelf Letters it is super adorable and comes with a book and ideas on how to turn these wonderful memories into Christmas ornaments.
Depending on when we decide for the elves to come back they might leave the arrival letter on the table when they bring the North Pole Breakfast.
You will also love our free Santa wish lists. Send Santa a letter that stands out this year.
Elf on the Shelf Arrival Ideas
If you want this elf arrival to be the best ever, check out some more elf on the shelf arrival ideas that are awesome.
Get the excitement started now with this fun Elf on the Shelf construction site where the elf door will appear on the evening of November 30th.
Print out all of the elf construction signs and watch the kids eyes light up when they see it.
On the evening of November 30th (or the night before your elf on the shelf arrives. Replace your elf construction site with this elf door.
This is what we use as we don't have a chimney, so the elves come in through the magic door.
You can either have the elf arrive on his very own plane as he makes his appearance on December 1st, or you can just use this as one of their elf on the shelf antics.
Either way, the kids are going to absolutely love this one.
Again the elf could make his appearance in this balloon.
Nothing like arriving in style!
Another option for the elf on the shelf arrival is this special delivery letter with a hole cut out for the elves head and arms.
Additional free Elf on the Shelf printables
Have even more fun with the Elf with some additional ideas:
Elf on the Shelf notes are charming little messages from your mischievous elf that can be hidden around your home, naturally adding excitement and wonder to your children's daily search for their magical visitor.
Add Elf on the Shelf hat printables to your family photos for a fun Elf antic.
Find creative inspiration for your elf's departure with Elf on the Shelf leaving ideas, naturally ensuring a memorable and heartwarming farewell for your magical visitor as the holiday season comes to a close.
Download the free Elf on the Shelf arrival letter printables
Make sure you choose the correct paper size and click on the shrink to fit button. All of our free printables for kids work better when printed on cardstock (this is the one we use and love.)
Last Updated on 14 September 2023 by homeschoolof1