Bill of Rights Word Search (free printable)
If you are learning about the Bill of Rights at school or in your homeschool as we are, you are going to love our free Bill of Rights word search.
This engaging activity features 17 essential vocabulary words that pertain to the Bill of Rights, providing an interactive way to reinforce your learning.
Make the most of our free homeschool printables and enrich your educational journey!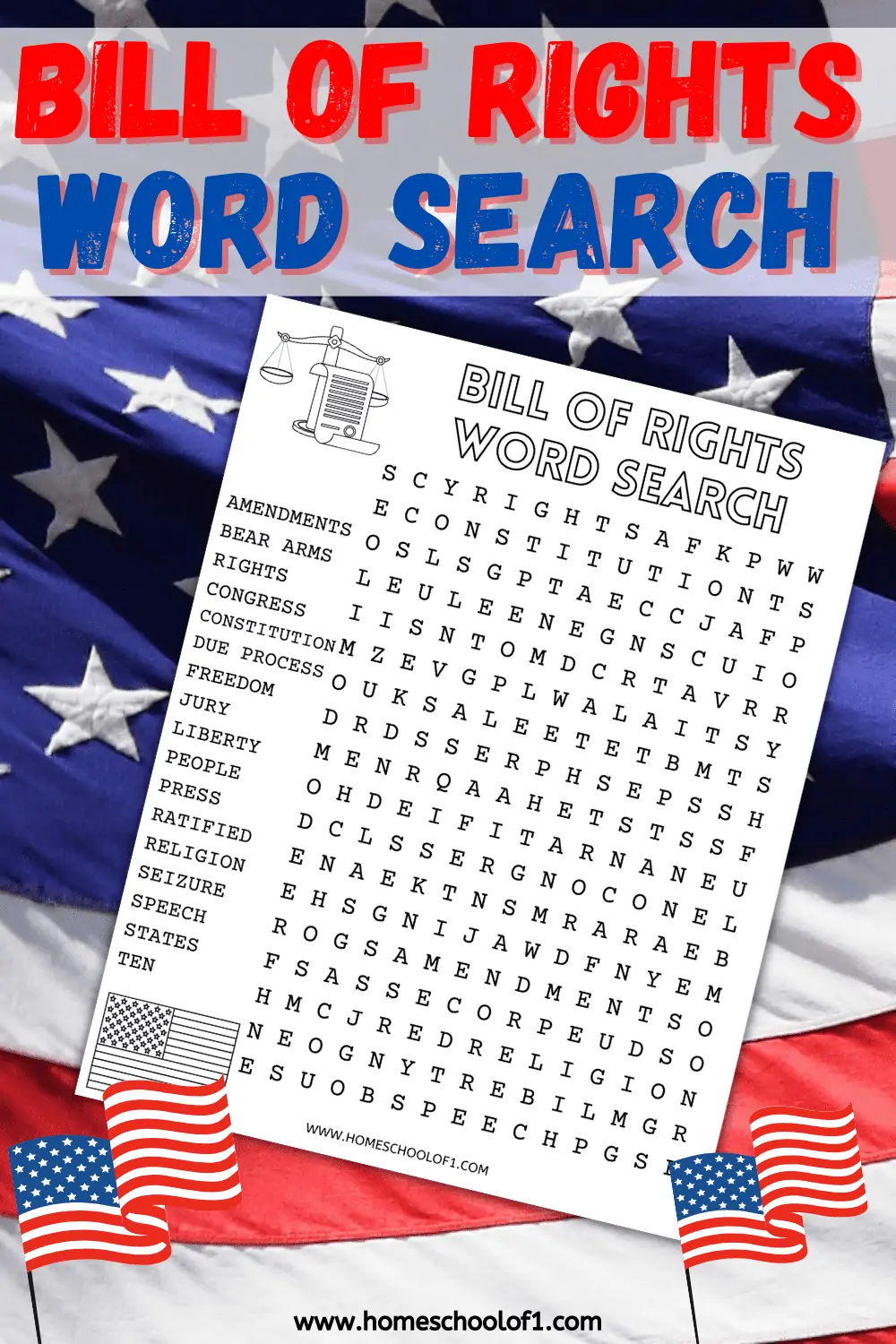 **There may be affiliate links in this post. You can read my full disclosure at the bottom of the page.**
What is the Bill of Rights?
Have you ever wondered what the Bill of Rights is all about?
Well, let me break it down for you!
The Bill of Rights is a set of 10 amendments to the United States Constitution that were added to protect the individual rights of citizens.
It includes important things like freedom of speech, religion, and the press, as well as the right to bear arms, a fair trial, and protection against unreasonable searches and seizures.
It's super important for your students to learn about the Bill of Rights, and what better way to make it fun and engaging than with a word search puzzle?
Check out the free printable at the end of the page and get your students excited about learning!
What are the benefits of word search puzzles?
Word search printables are excellent for when the kids just need a break.
They are one of the best educational games for improving vocabulary, enhancing cognitive skills, and fostering a love for learning in individuals of all ages.
Word search puzzles are not only fun, but they also have some great benefits for your students.
These puzzles can help improve spelling, increase vocabulary, and enhance problem-solving skills.
They're also a great way to help your students focus and develop their concentration skills.
Word search puzzles can be a fun and engaging way to introduce new topics or reinforce what your students have already learned.
Plus, they're a great activity for those times when you need a quick and easy classroom activity.
Bill of Rights Word Search Puzzle Answers
This Bill of Rights word search puzzle is free to print but is for personal or classroom use only. Scroll to the bottom of the page to get the pdf file.
The Bill of Rights words can be found, horizontally, vertically, diagonally, frontwards, or backwards! Just to make it that much harder!
I have also added the answer sheet, some of the words are a little tricky to find!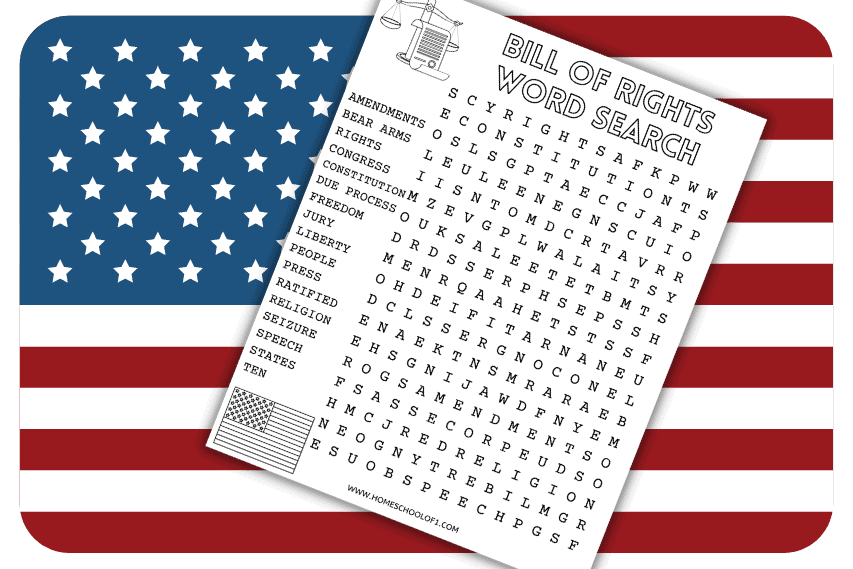 Tip: I recommend either using a highlighter pen or circling around the letters. Do not cross the letters out if you have found a word, as it may be used in another word!
There are 17 hidden Bill of Rights words to find:
Amendments
Bear arms
Rights
Congress
Constitution
Due process
Freedom
Jury
Liberty
People
Press
Ratified
Religion
Seizure
Speech
States
Ten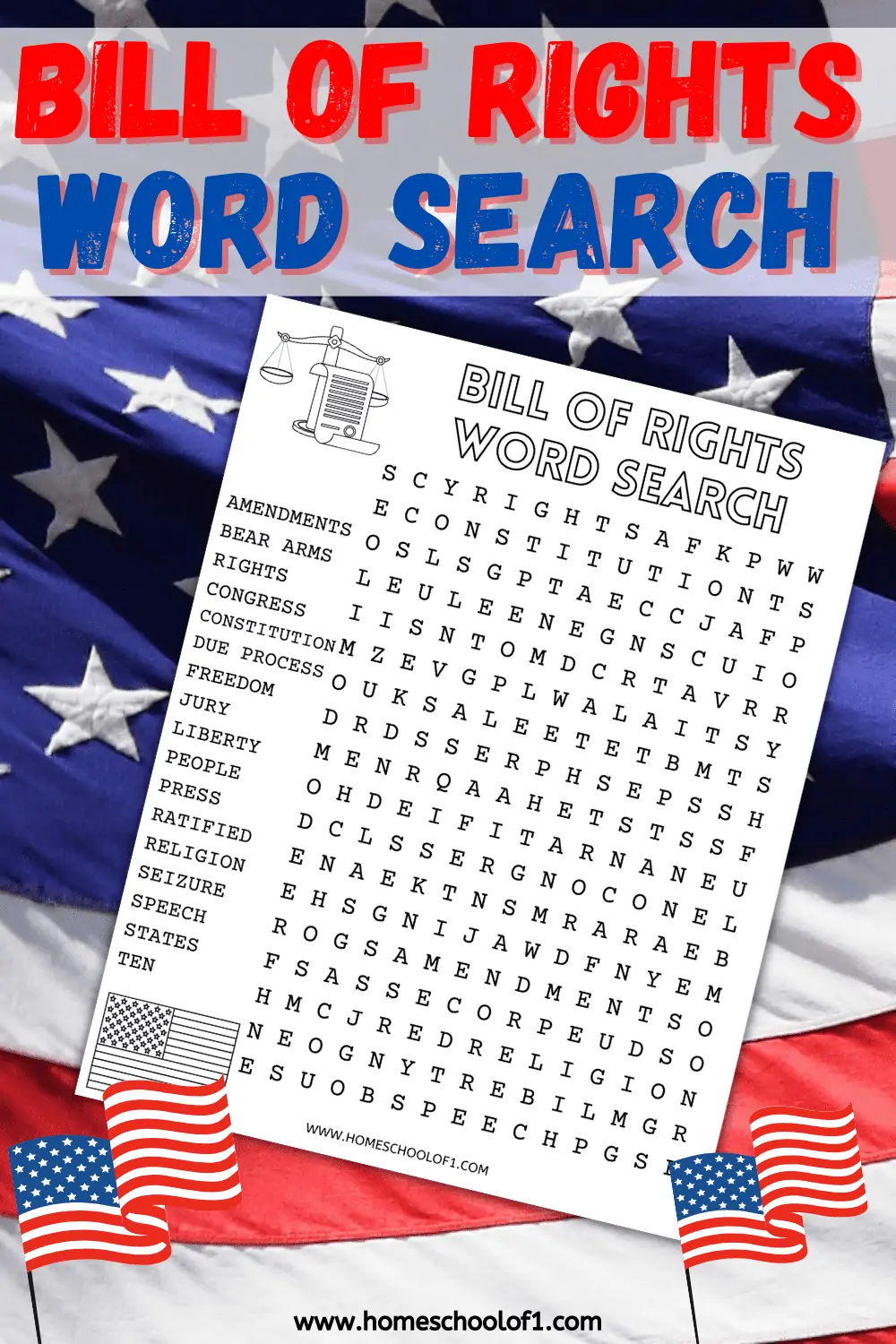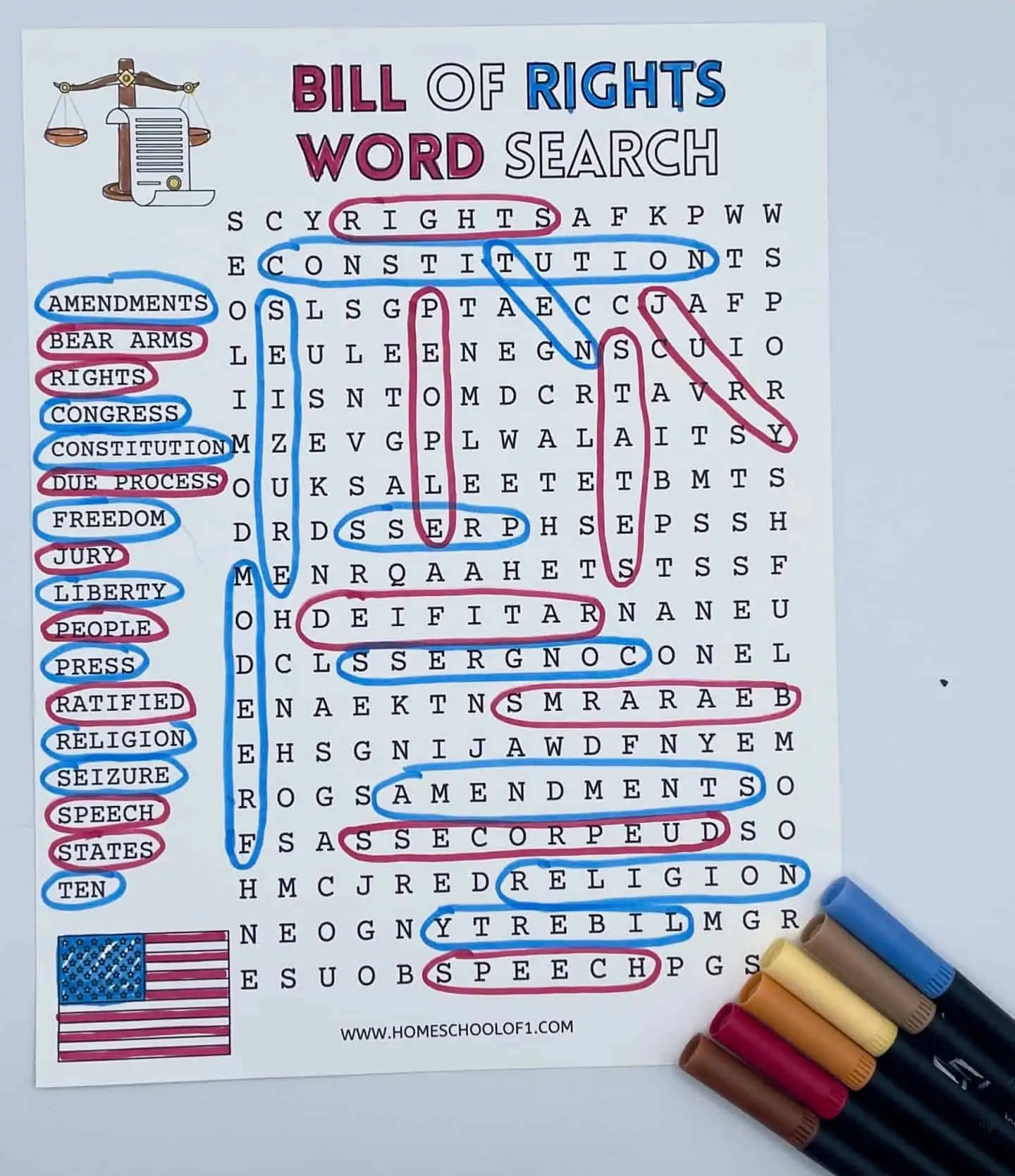 Other free social studies worksheets
Explore a diverse collection of free social studies worksheets that are designed to enhance your learning experience.
From engaging George Washington activity sheets to informative Constitution and Bill of Rights coloring pages, these resources offer a fun and educational way to delve into important topics of history and government.
Download the Free Bill of Rights Word Search
This will print out on 2 pages, the first one with the word search, and the second page will show you the answers.
Make sure you choose the correct paper size and click on the shrink to fit button. All of our free printables for kids work better when printed on cardstock (this is the one we use and love.)
Last Updated on 1 September 2023 by homeschoolof1