7 Free George Washington Activity Sheets
Have fun while learning about the first President of the United States with these free George Washington activity sheets.
George Washington is such an interesting President to learn about. We are especially fascinated with him as he was also homeschooled.
This George Washington activity pack is aimed at lower elementary-aged students and is great for both school and homeschool.
These free homeschool printables are a great way to learn all about America's first President.
**There may be affiliate links in this post. You can read my full disclosure at the bottom of the page.**
George Washington Printables
There are 7 free George Washington activity sheets included in this printable. They make a perfect addition to Presidents Day activities, American history, or just when learning about the US Presidents.
Our two favorite books about George Washington are the National Geographic one, and Who Was George Washington.
George Washington Coloring Page and Facts
He was the first President of the United States
He was born on February 22, 1732
He died on December 14, 1799
He was the Commander in Chief of the Continental army during the American Revolution
He was one of the Founding Fathers of the United States (see 7 others with our free Founding Fathers coloring pages.)
Who Was George Washington?
My Little Golden Book About George Washington
George Washington: 60 Fascinating Facts For Kids
George Washington: The First President (I Can Read
A Picture Book of George Washington (Picture Book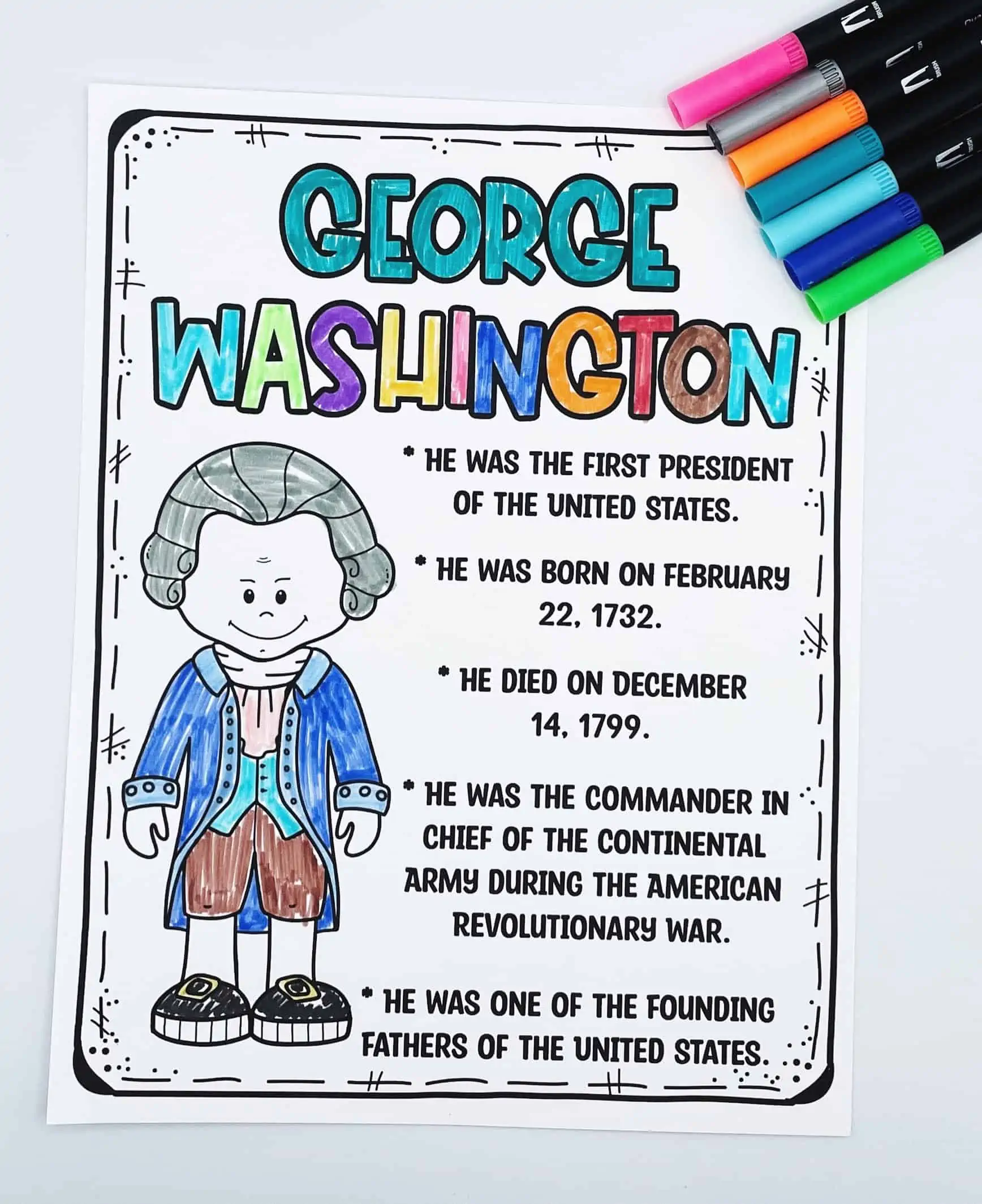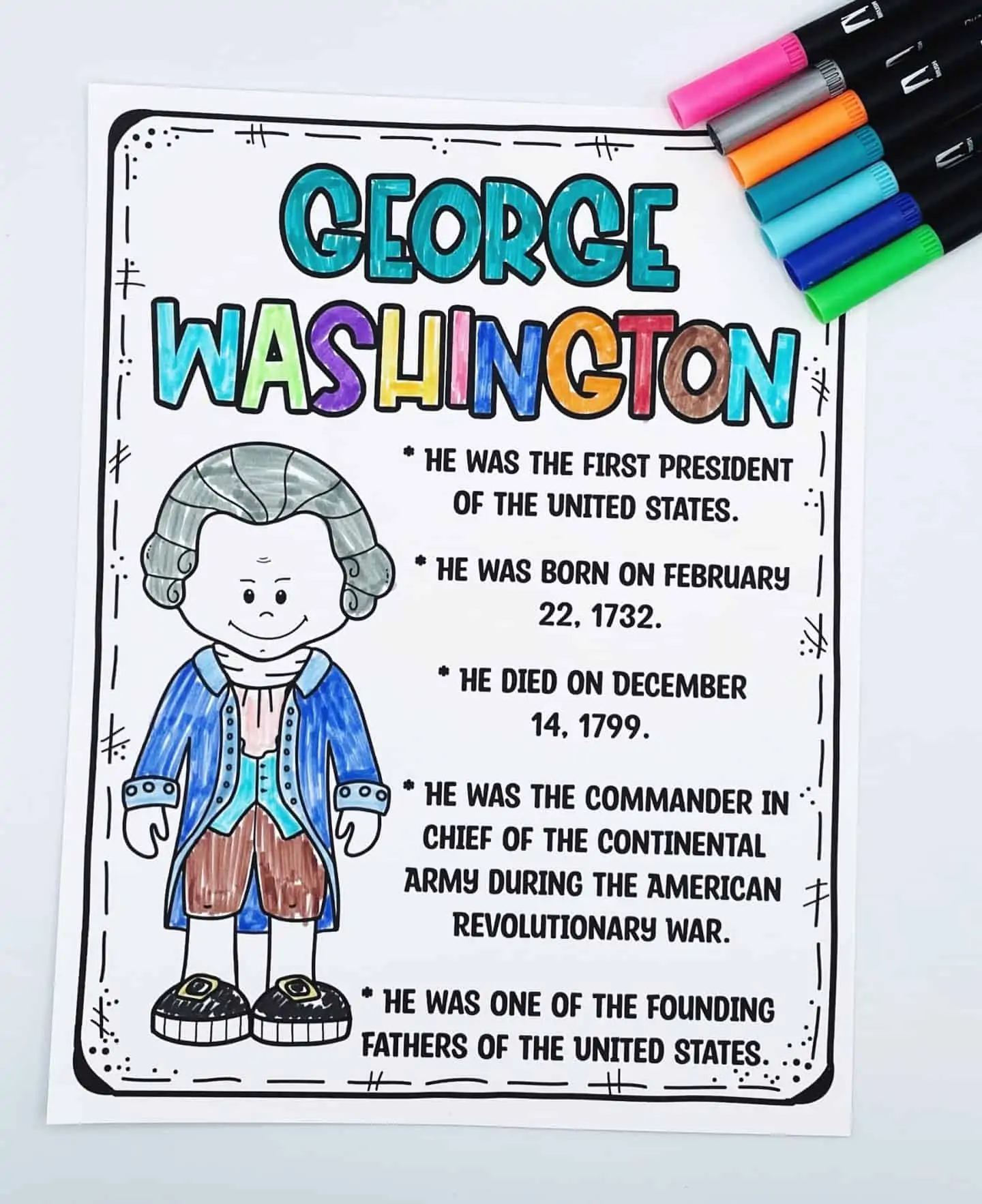 George Washington Puzzle
Let the kids color in the 4 images and then grab the scissors and cut them out. As these are self-correcting puzzles the words will only go with the correct image.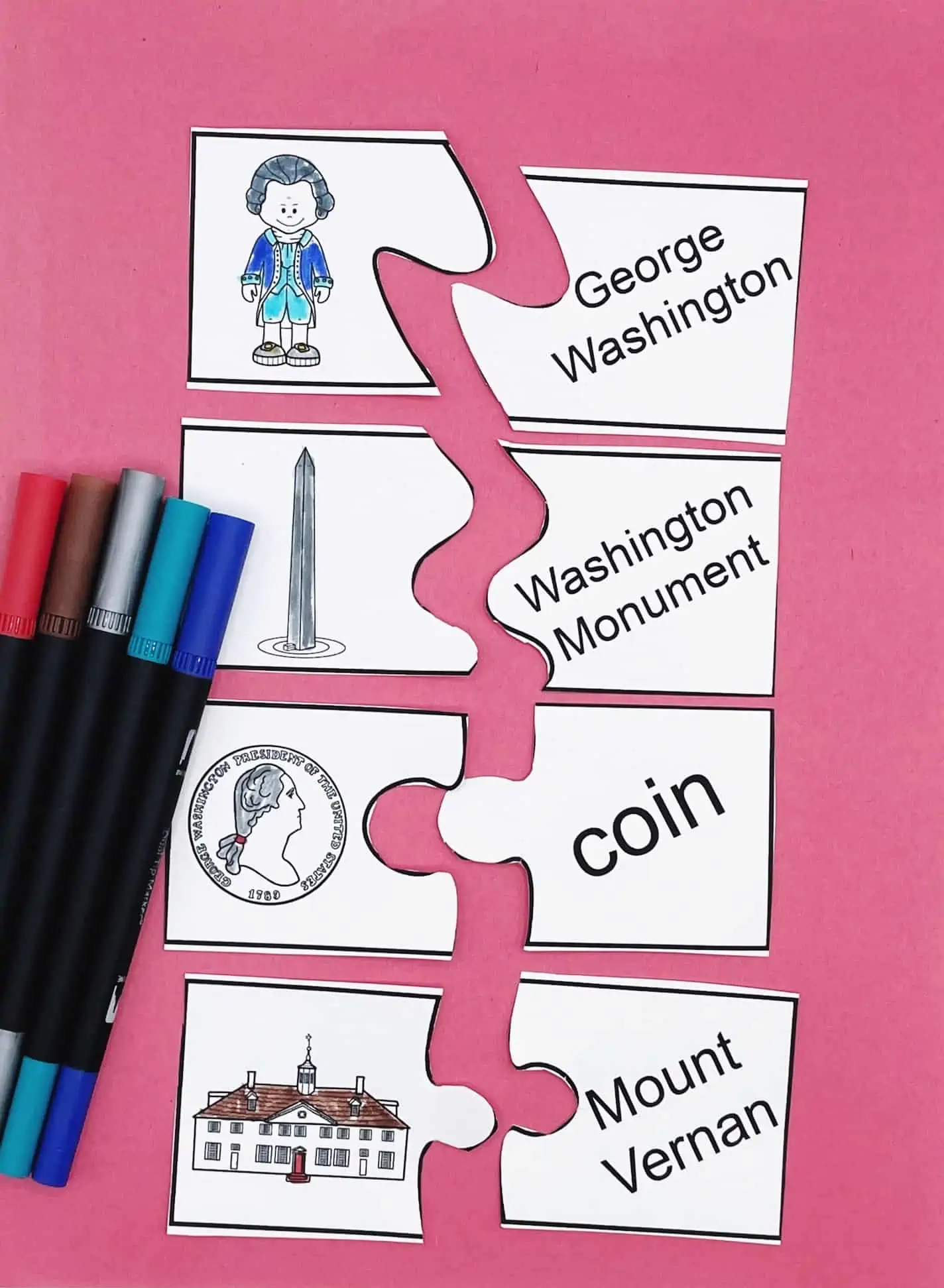 George Washington's word puzzles
We absolutely love word puzzles, largely because they are both fun and educational!
This George Washington word scramble is easier than most we create as it shows the first letter of the word in capitals. This makes this much easier for younger children. There are 16 words related to the first President to unscramble.
The George Washington word search has the same 16 words to find. All of the words can either be found vertically or horizontally. Some are back to front though to make it a little harder.
Martha was George Washington's wife and was the first ever first lady of the United States of America. Learn more about the First Ladies in this book.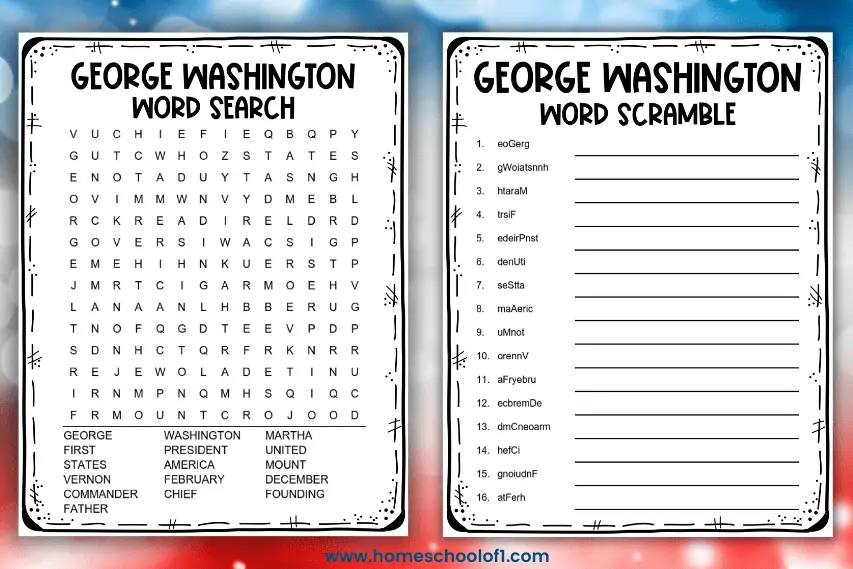 George Washington Games
Included in the George Washington games there are the following 3 printables:
Dab a dot ( we love these dab markers)
George Washington I-Spy
George Washington maze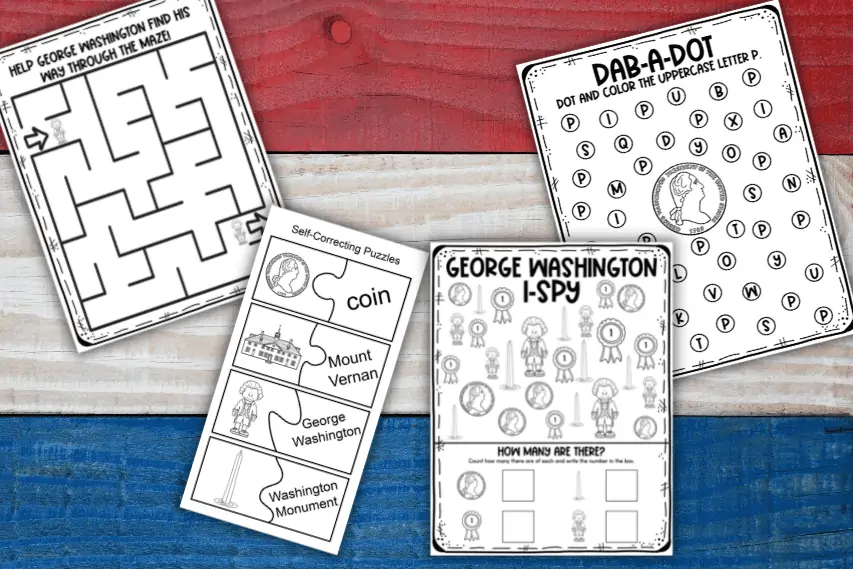 Why not spend even more time learning about George Washington with this fun unit study? This is a download and go 2 week study for kids in K-4.
Other Free Presidents worksheets
Discover a treasure trove of free presidents' worksheets to supplement your learning adventure.
From insightful government worksheets to captivating Bill of Rights coloring pages and engaging President-themed activities, these resources offer an enriching educational experience for students of all ages.
Download the free George Washington activity worksheets
Make sure you choose the correct paper size and click on the shrink to fit button. All of our free printables for kids work better when printed on cardstock (this is the one we use and love.)
Last Updated on 21 August 2023 by homeschoolof1