37 Spooky Halloween Activities for Middle School Students
Halloween, the spookiest time of the year, is just around the corner, and it's the perfect find fun and educational Halloween activities for middle school students.
These Halloween activities for kids are tailored specifically for middle schoolers. From language arts to science, STEM, math, and social studies, we've got you covered. So, let's dive into the ghoulishly good fun!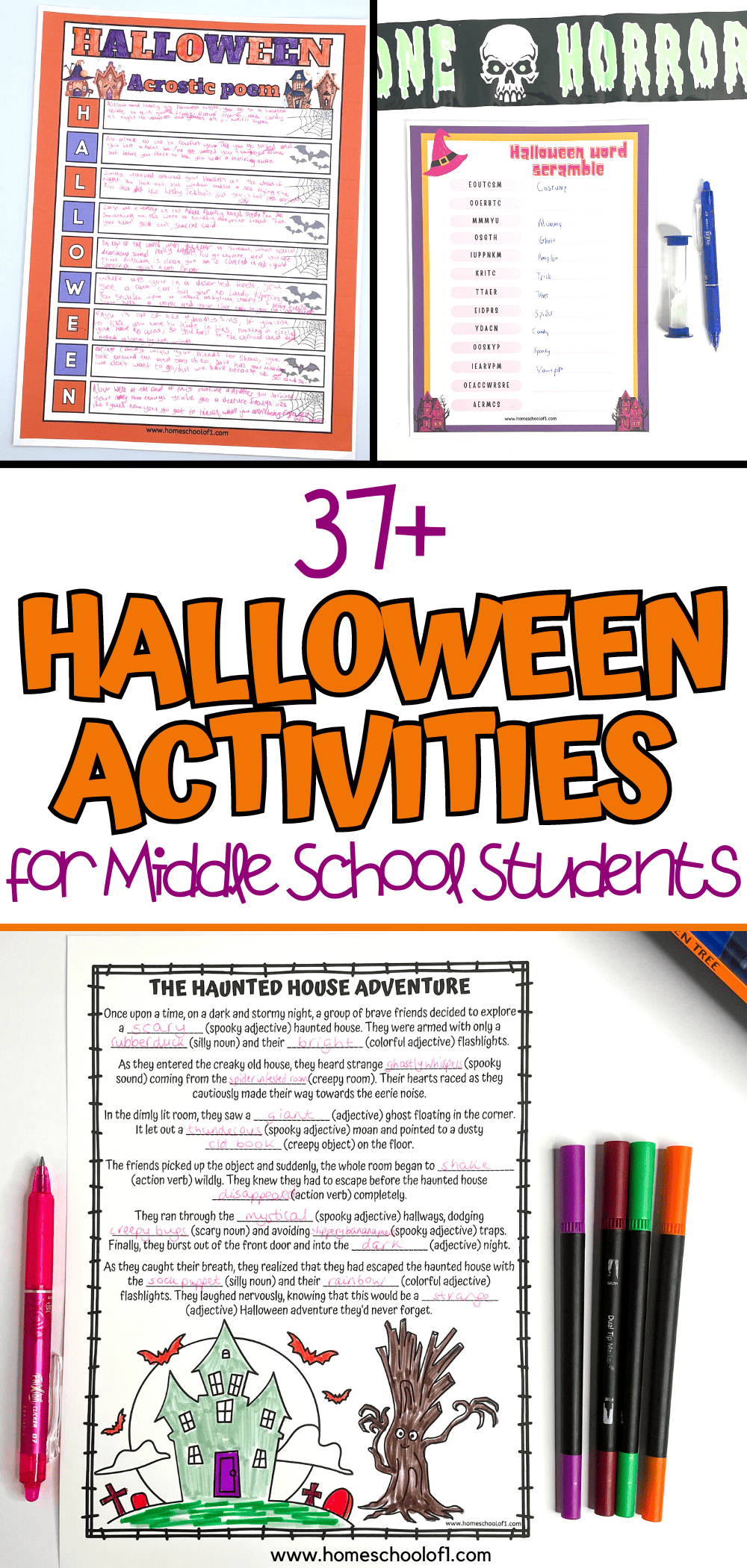 **There may be affiliate links in this post. You can read my full disclosure at the bottom of the page.**
Halloween activities for middle school
Get ready to create a spooktacular Halloween season for your middle school students with a wide range of Halloween lesson plans.
From eerie science experiments and STEM challenges to creative language arts and spooky math puzzles.
These Halloween activities are designed to entertain, educate, and keep your students enthralled during the holiday season.
Whether they're exploring the mysteries of Halloween traditions around the world or embarking on a photo scavenger hunt, there's something for everyone to enjoy and learn from.
Night of the Living Mad Libs: World's Greatest Word Game
Undead Mad Libs: World's Greatest Word Game
Haunted Mad Libs
Ghost Story Mad Libs: World's Greatest Word Game
The Legend of Sleepy Hollow
Scary Stories to Tell in the Dark: The Complete Collection
Halloween language arts
Elevate the Halloween season with some captivating Halloween Language Arts activities, specially designed for elementary students, middle school students, and even high schoolers.
As an English teacher, you can create a literary adventure for your students, from crafting a spooky story using writing prompts to flexing vocabulary skills with Halloween-themed word scrambles and word searches.
Free printable Halloween writing prompts. Middle school students can explore their creative writing skills with these free printable Halloween writing prompts. Encourage them to craft spooky tales or share their favorite Halloween memories.
Halloween mad libs. Mad Libs are always a hit with kids, and Halloween-themed ones add an extra layer of fun. Have students fill in the blanks with spooky words to create hilarious stories.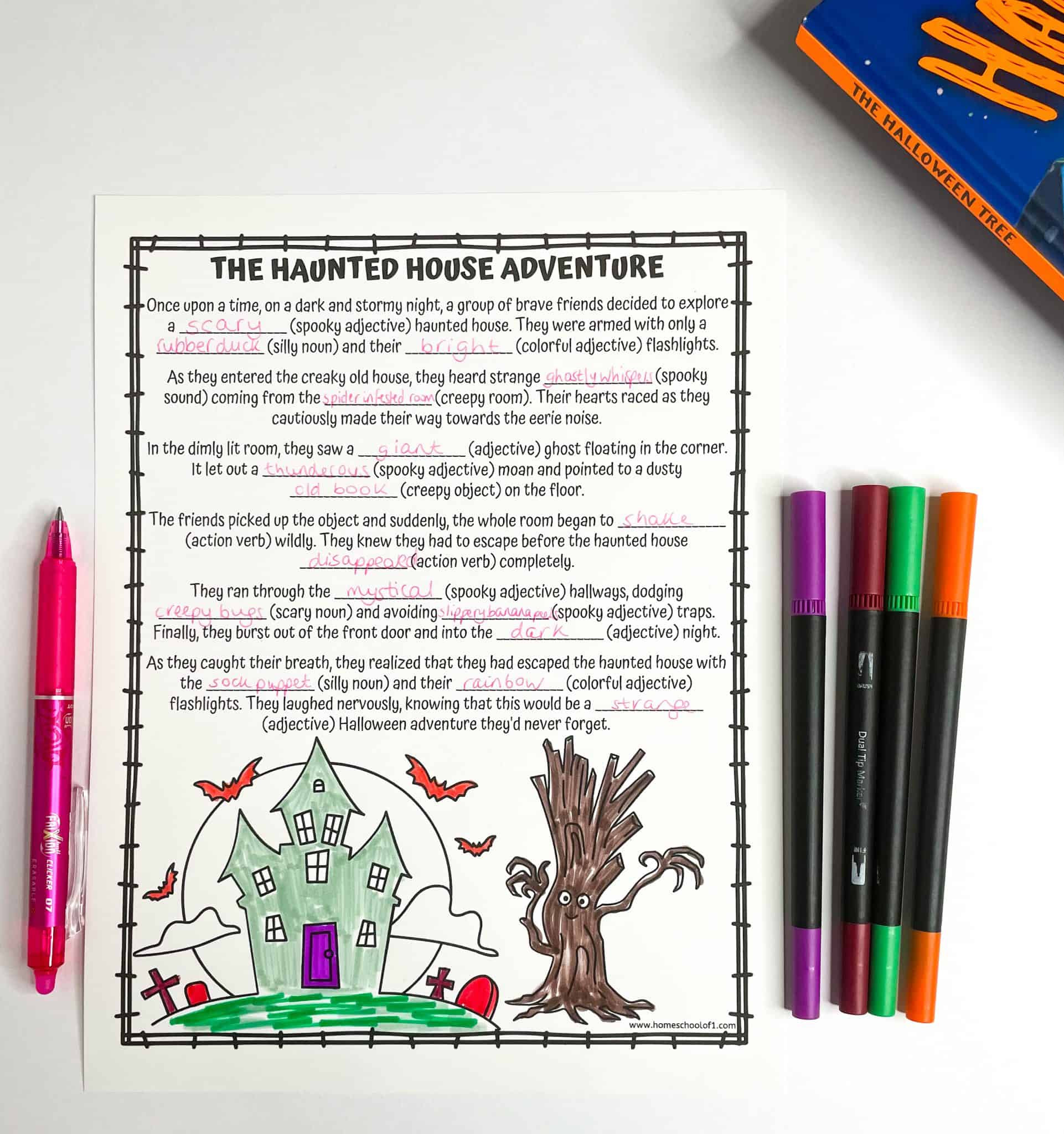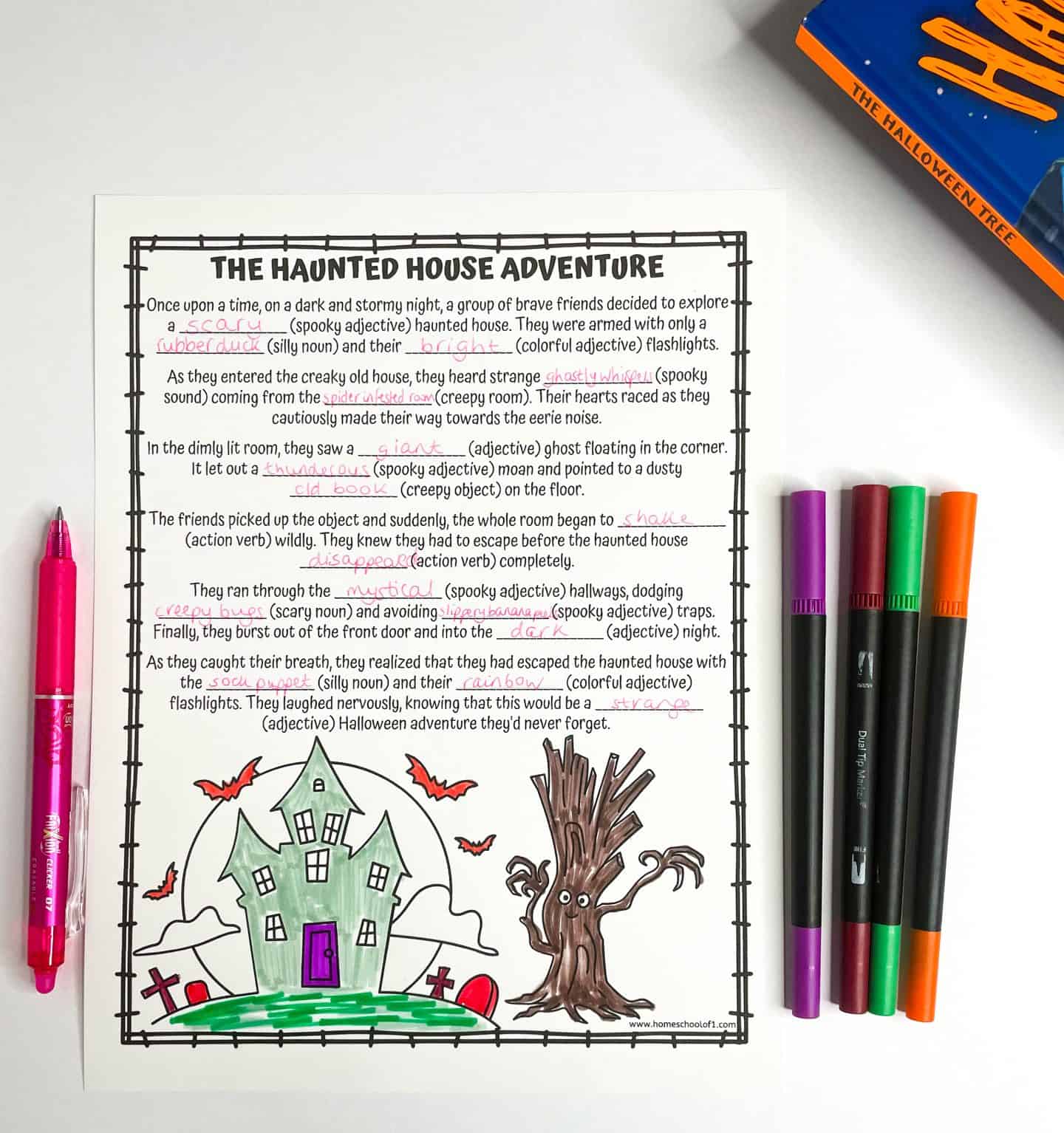 Spooky mad libs. Take Mad Libs to the next level with spooky twists. These scary stories will have older students laughing as they come up with eerie and wacky word choices.
Halloween acrostic poem template. This Halloween-themed acrostic poem template will encourage students to express their thoughts creatively. They can use it to write poems about all things spooky and eerie.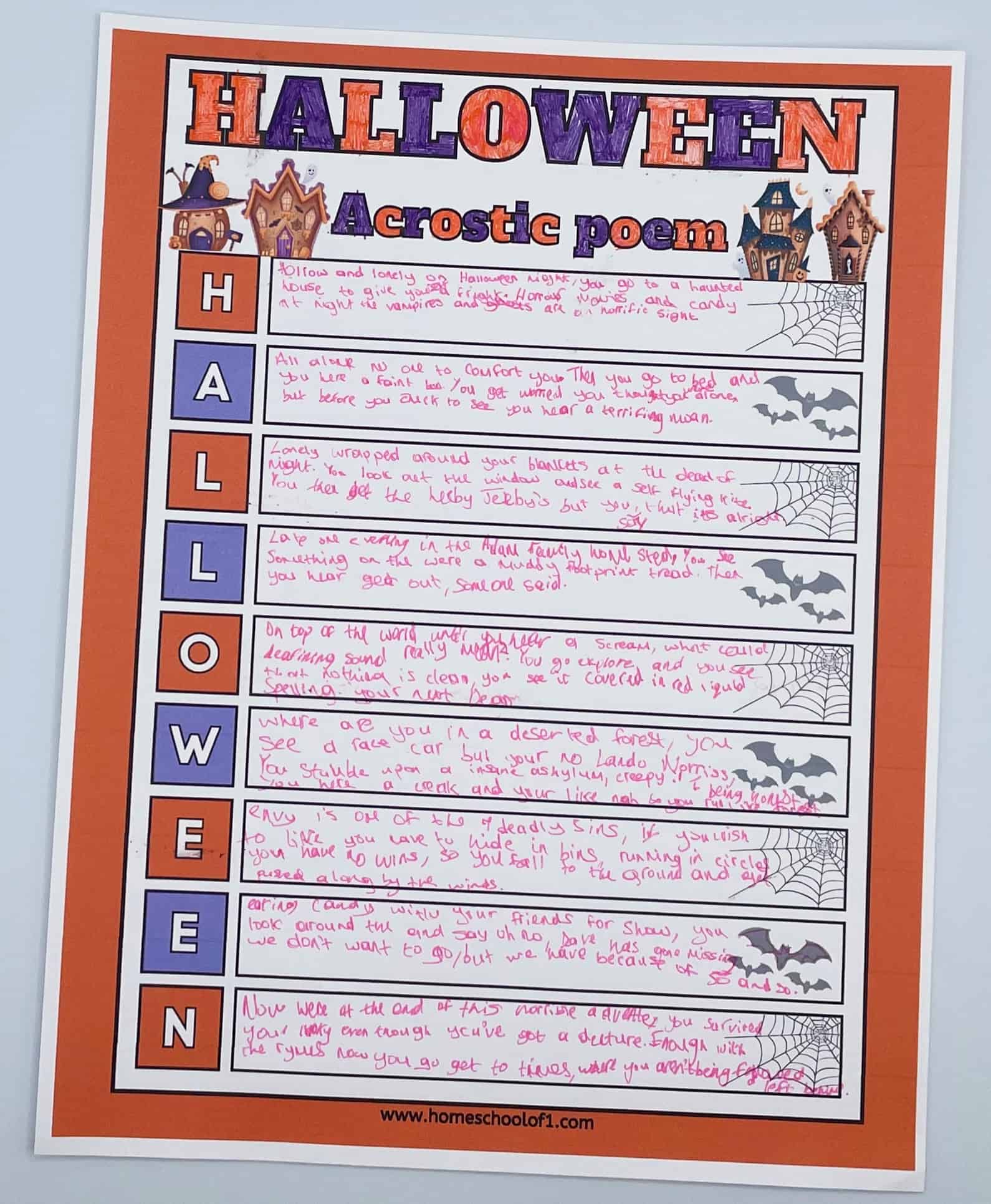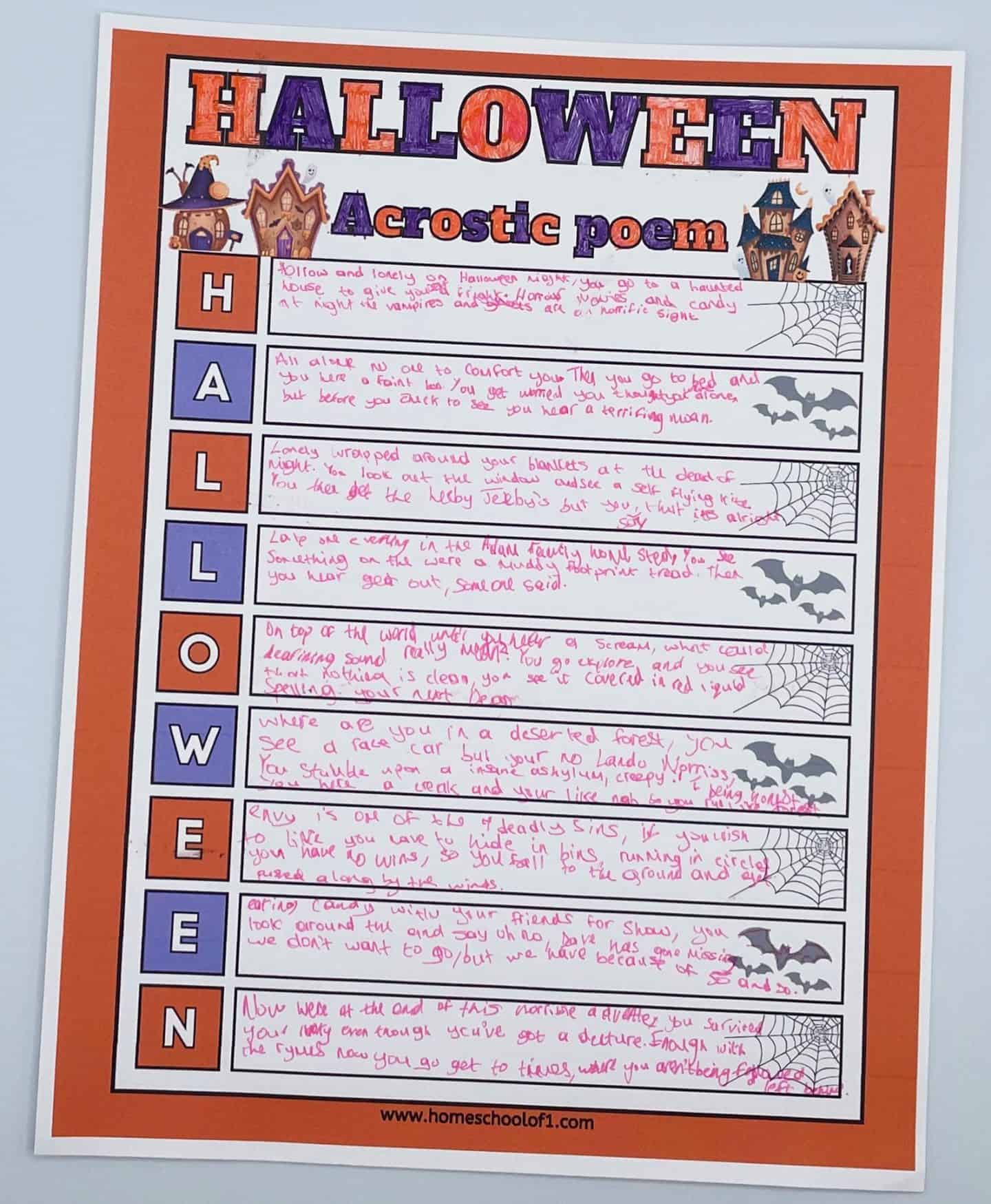 Halloween books for middle schoolers. Add some chilling reads that are appropriate for middle and high school students, ranging from classic tales to contemporary favorites.
Halloween word scramble. Challenge students' word skills with a Halloween word scramble. Unscramble the words to reveal spooky creatures, costumes, and more.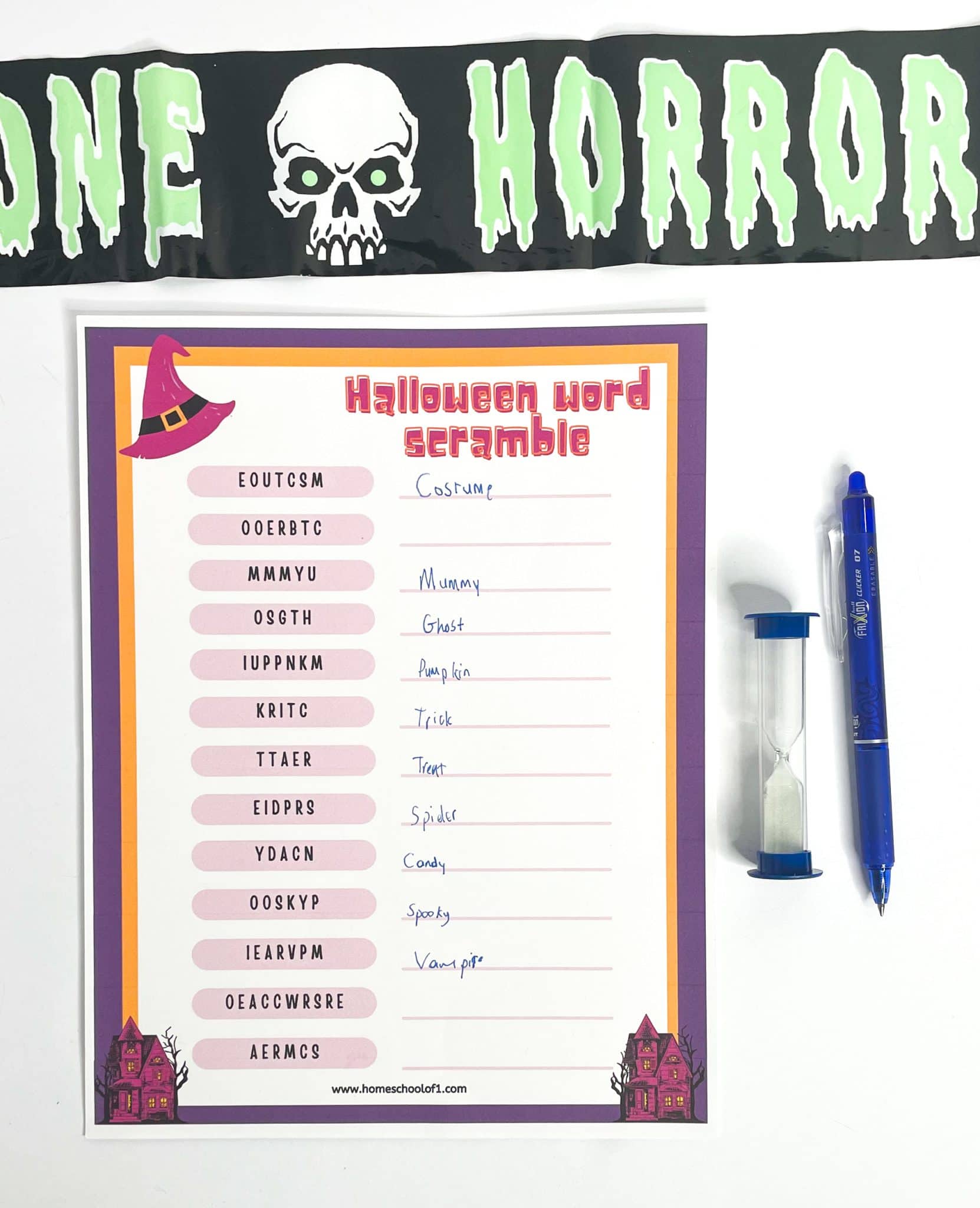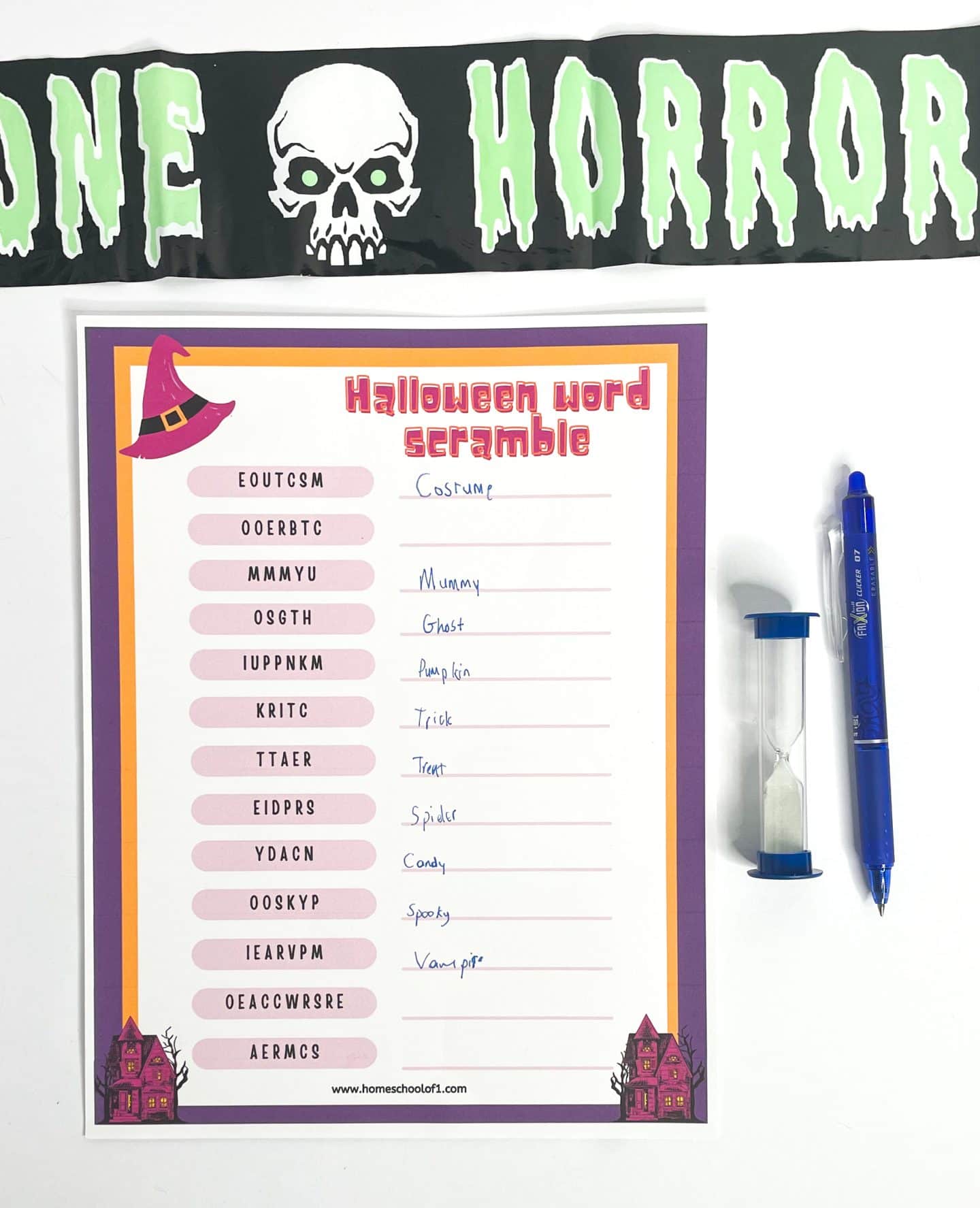 Halloween word search printable. A classic word search puzzle with Halloween-related words. It's a fun way to boost vocabulary and concentration.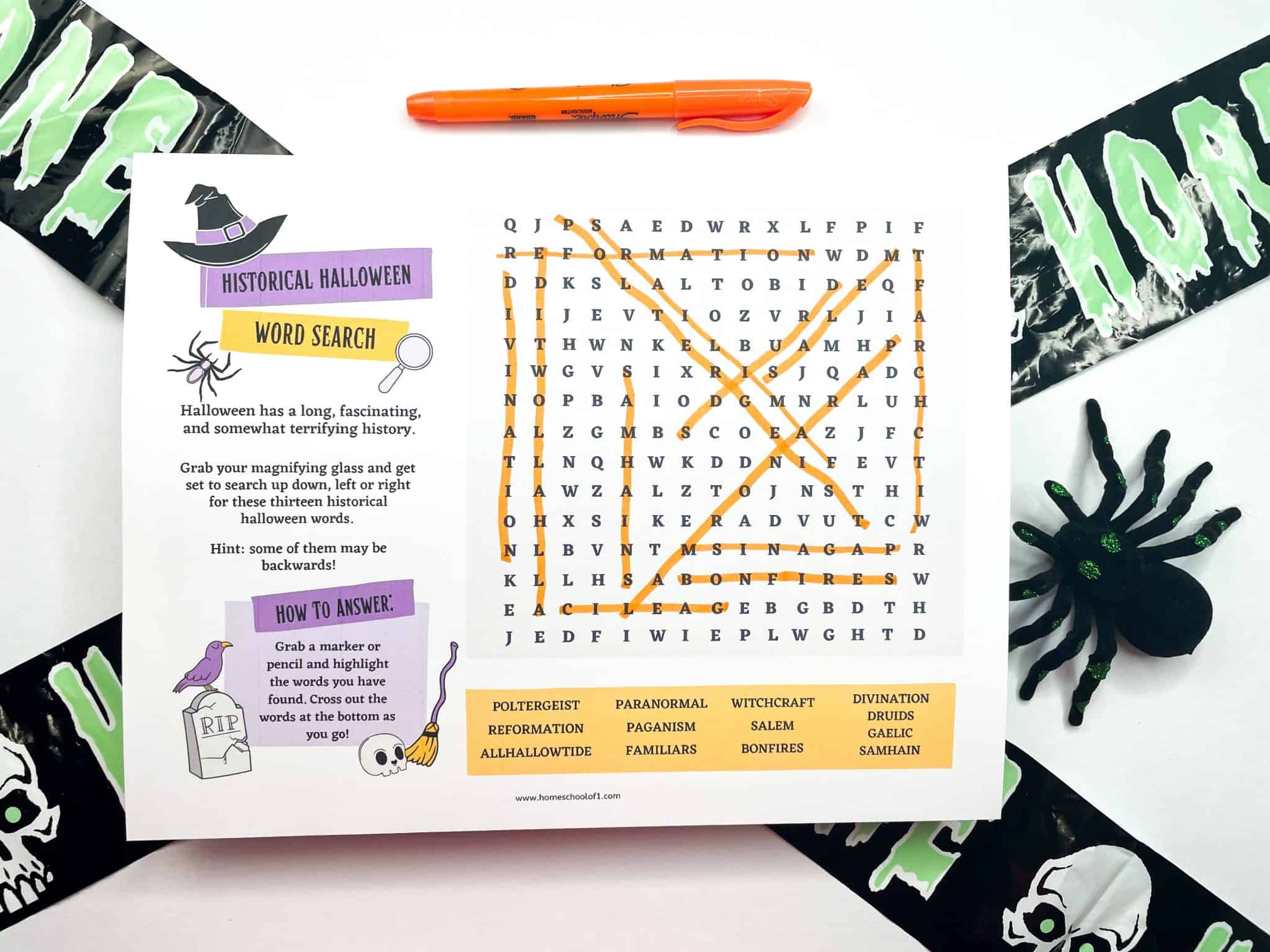 Words within words worksheets. This activity involves finding as many words as possible within a given word. For instance, how many words can you find within "Halloween"? A fun and brain-teasing challenge.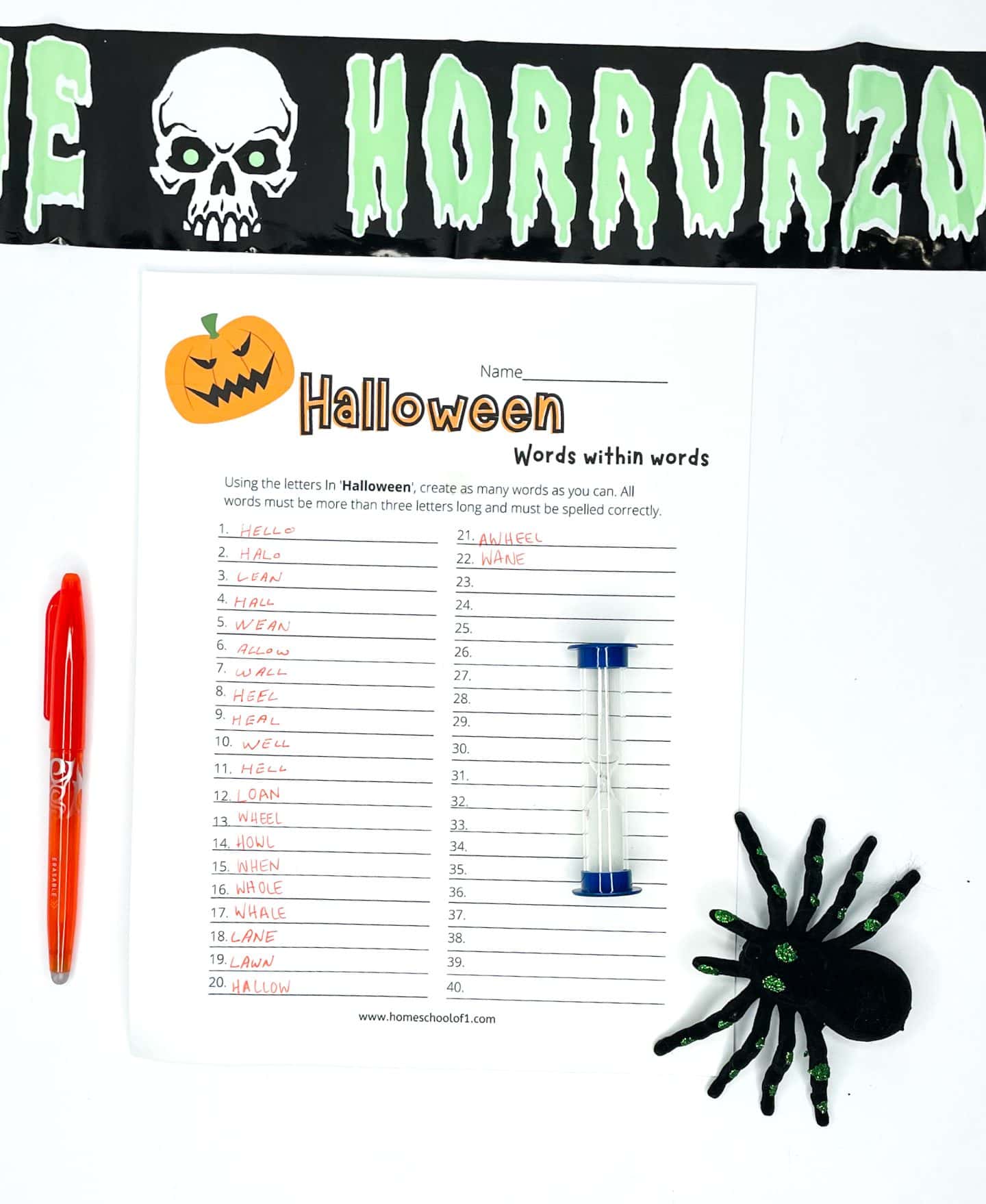 Halloween bookmarks printable. Color in Halloween-themed bookmarks and add them to a new spooky book.
Halloween creative writing game. A game that prompts students to create spooky stories using a set of randomized elements. It's a spooky way to spark creativity and imagination.
Halloween kindness paper chain. Promote kindness and inclusion by having students create a Halloween-themed paper chain with messages of positivity and encouragement.
Halloween Science and STEM for middle schoolers
Halloween is the perfect time for science and STEM (Science, Technology, Engineering, and Mathematics) teachers to captivate middle school students with engaging activities.
These STEM challenges and investigations will spark curiosity and add an exciting educational dimension to the spooky season. These are great for homeschoolers and science teachers looking to engage their students in the Halloween spirit.
Life cycle of a bat worksheet. Delve into the world of bats by exploring their life cycle. This worksheet provides valuable insights into these nocturnal creatures.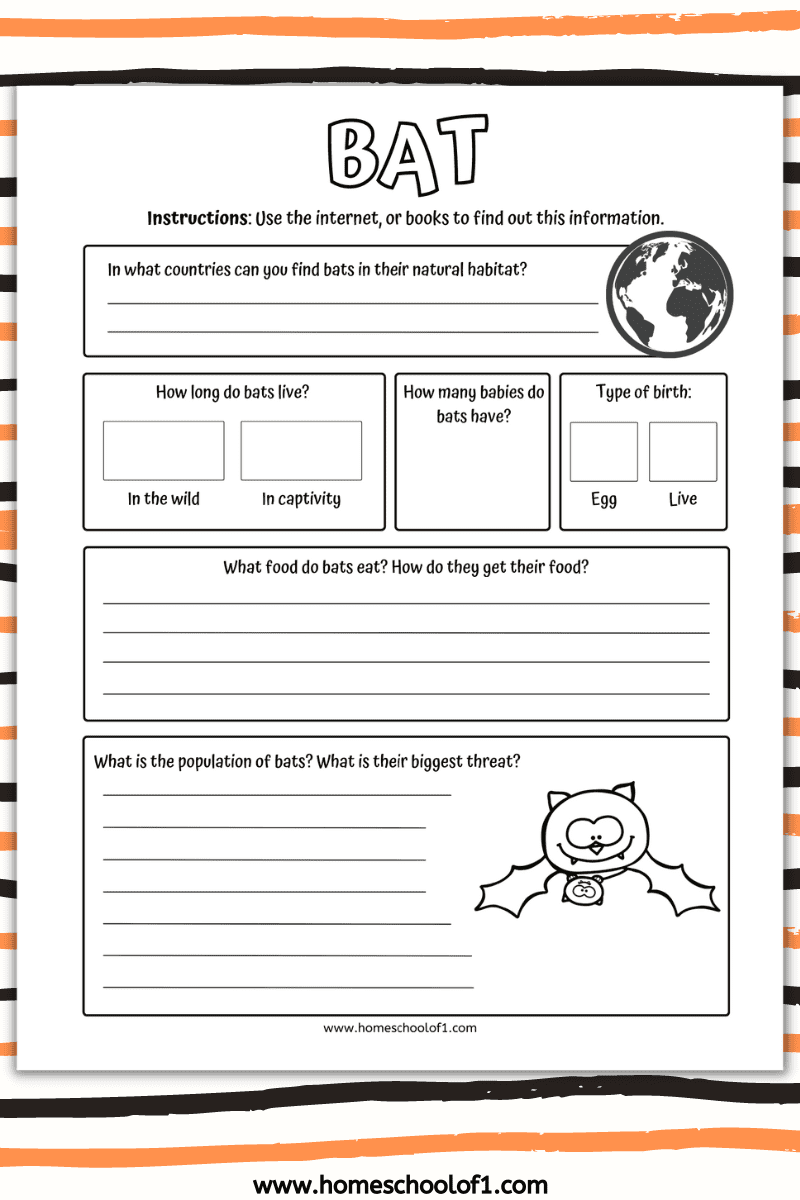 Life cycle of a pumpkin worksheets. Learn about the growth and development of pumpkins with engaging worksheets that tie in perfectly with the spooky season.
Spider life cycle worksheet. Discover the life cycle of spiders, one of Halloween's iconic symbols. This educational activity combines learning with a touch of spookiness.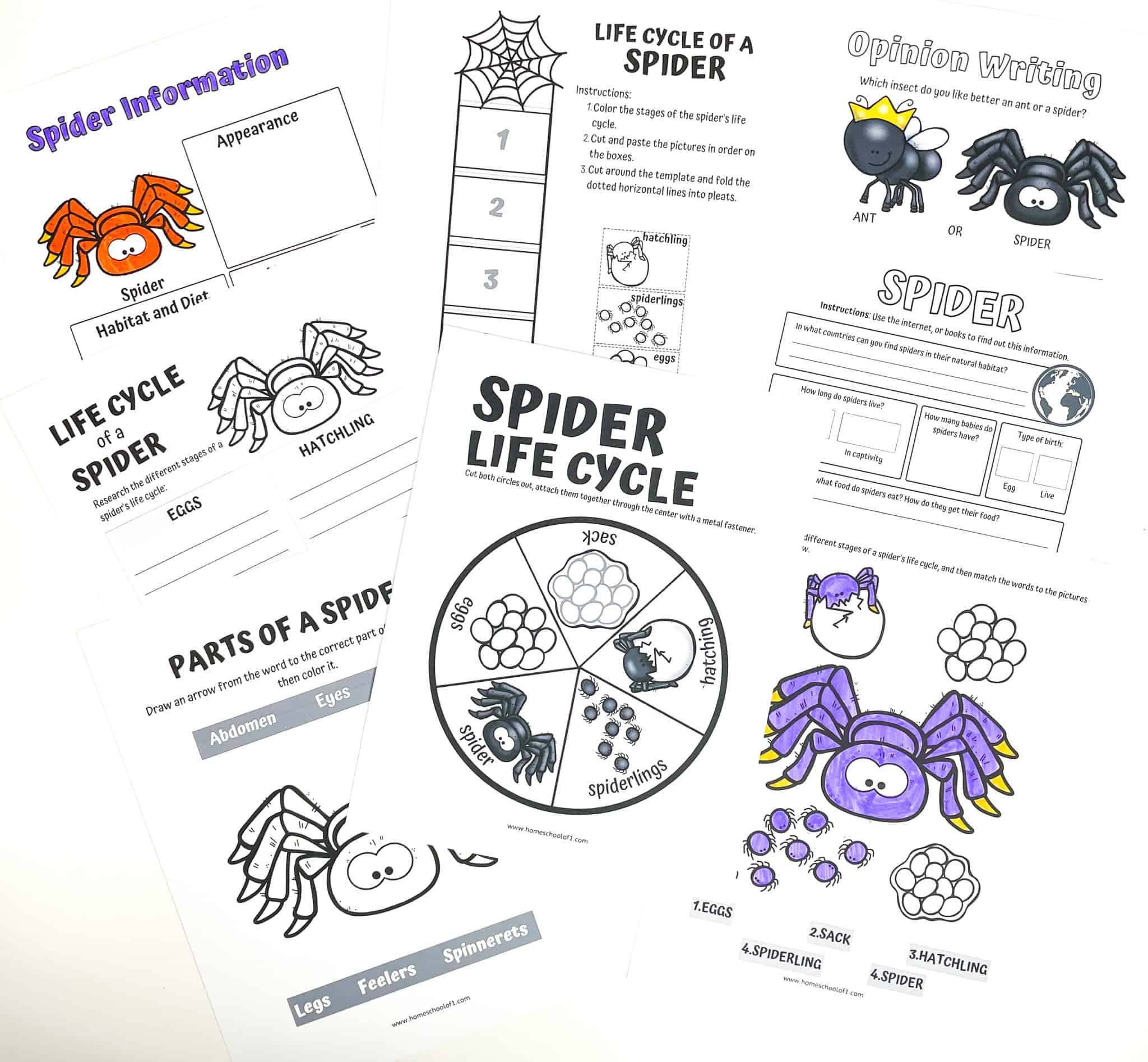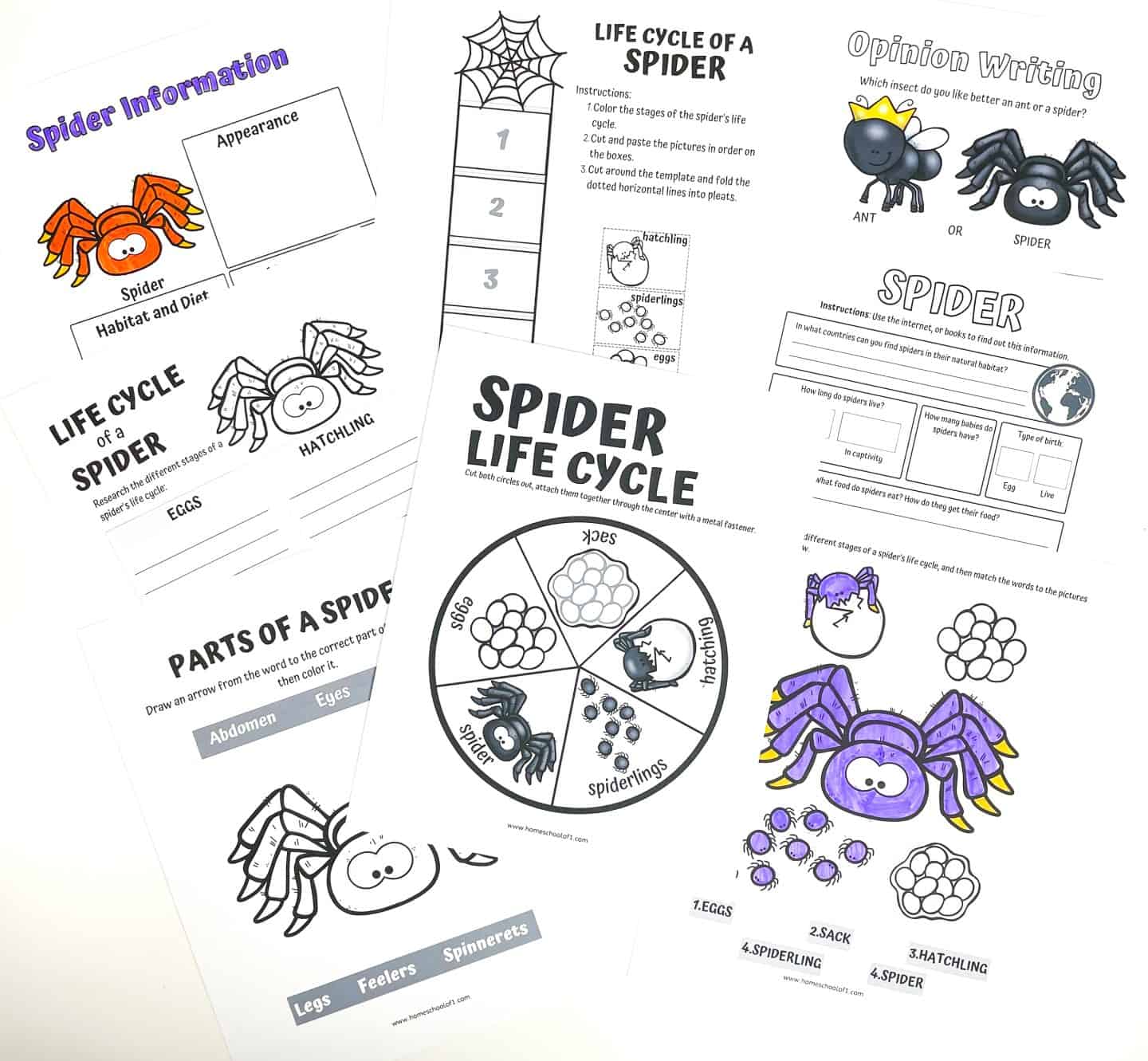 Clay pot candy corn craft. Get hands-on with STEM by creating a Halloween candy corn-themed clay pot. This craft not only teaches creativity but also offers a taste of scientific exploration.
Melted crayon pumpkin. Combine art and science with a melted crayon pumpkin project. Watch as the colors blend together, creating a unique masterpiece.
Salt painted spider webs. Explore the properties of salt and create a spidery masterpiece at the same time. This is a hands-on science and art experiment rolled into one.
Spider sculpture. Using pipe cleaners, build a spider sculpture while learning about the anatomy of these fascinating arachnids.
How to Make Easy Slime Recipe- Oozing Blood Slime for Halloween is a great activity that the middle schoolers will absolutely love.
DIY glowing Halloween eyes craft. Learn about phosphorescence and create spooky glowing eyes that add an eerie touch to Halloween decorations.
Dissolving candy experiment is a simple science experiment that is so much fun. I know if my science teacher had pulled this one out when I was at school, I actually may have enjoyed his class!
Explosive ghost rockets is a fun and educational activity that demonstrates principles of physics as students launch a "ghost rocket" using chemical reactions.
Fun Halloween math activities middle school
Engage middle school kids in the realm of mathematics with a spooky twist. Enhancing their problem-solving skills with a variety of lesson ideas that are not only educational but also Halloween-themed.
Solve math problems with a Halloween twist. These word problems from Math-Drills are sure to engage students while reinforcing their math skills.
Put your logical thinking to the test with the 9 pumpkins puzzle. It's a fun and challenging math activity that aligns with the Halloween theme.
Practice Using the Exponential Growth Formula—with Zombies! Combine math and zombies for a unique learning experience. Understand exponential growth through a Halloween lens.
Project a Pumpkin – How Far Will it Go? Predict how far a launched pumpkin will travel using math and physics. This Halloween activity combines fun and learning.
Explore graph theory and network connections by creating a Zombie web. A perfect mix of math and spooky creativity.
Halloween mystery tangram puzzles challenge students to form various shapes using geometric pieces. This Halloween version adds a touch of mystery to the fun.
Halloween social studies
Learn about the History of Halloween with this captivating book. Delving into the Celtic traditions, medieval superstitions, and modern celebrations, this book provides a comprehensive journey through the fascinating history of Halloween.
Who Was Edgar Allan Poe? A biography that introduces kids of all ages to the life and works of the famous American author. This book sheds light on Poe's unique and often mysterious literary contributions, making it an informative and intriguing read for young minds.
Halloween around the world. Dive into the diverse and fascinating ways Halloween is celebrated around the world. This social studies activity provides cultural insights while celebrating the holiday.
Fun Halloween activities for middle school
Get ready to host a fantastic Halloween party for middle school kids with these creative and engaging activities.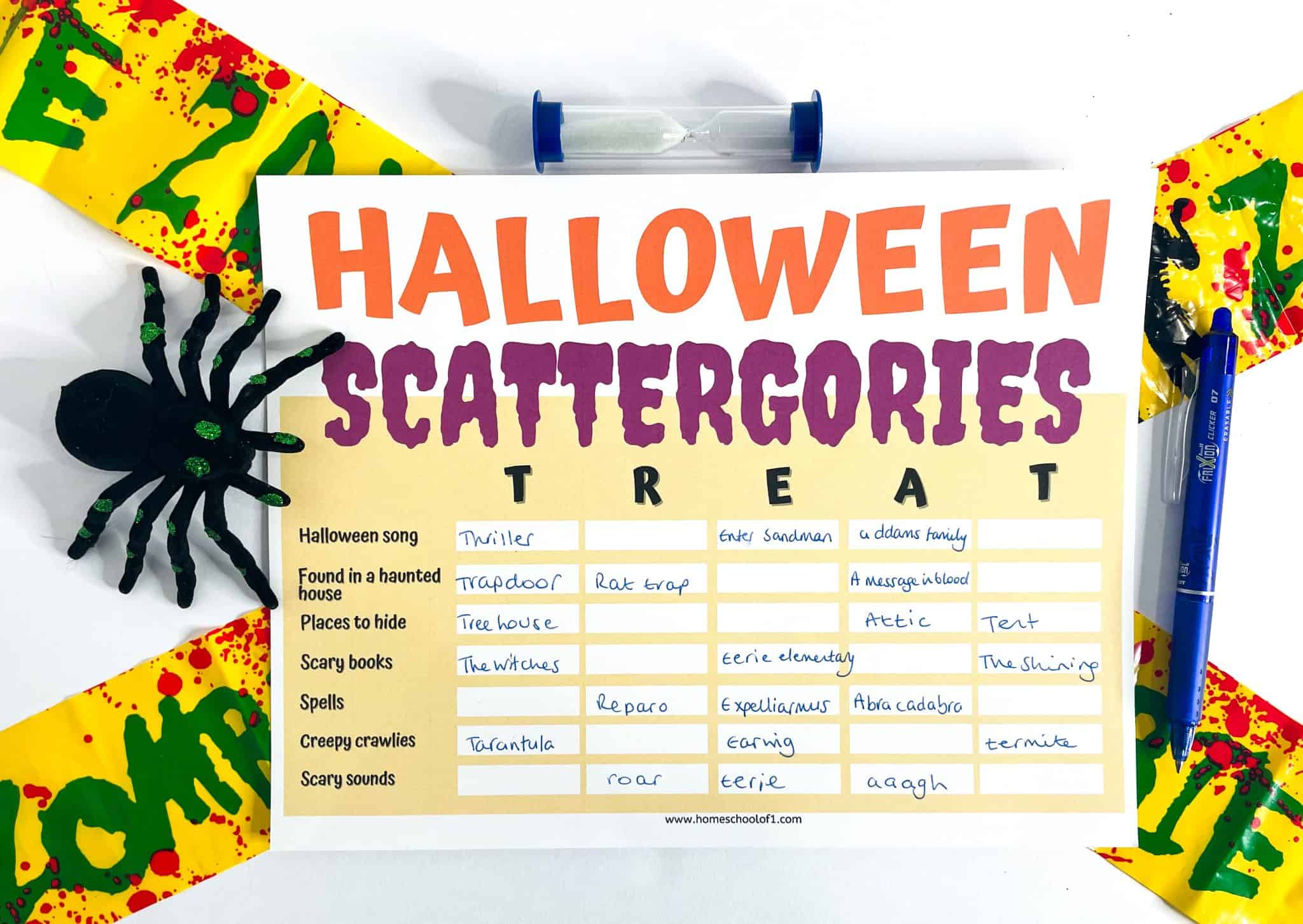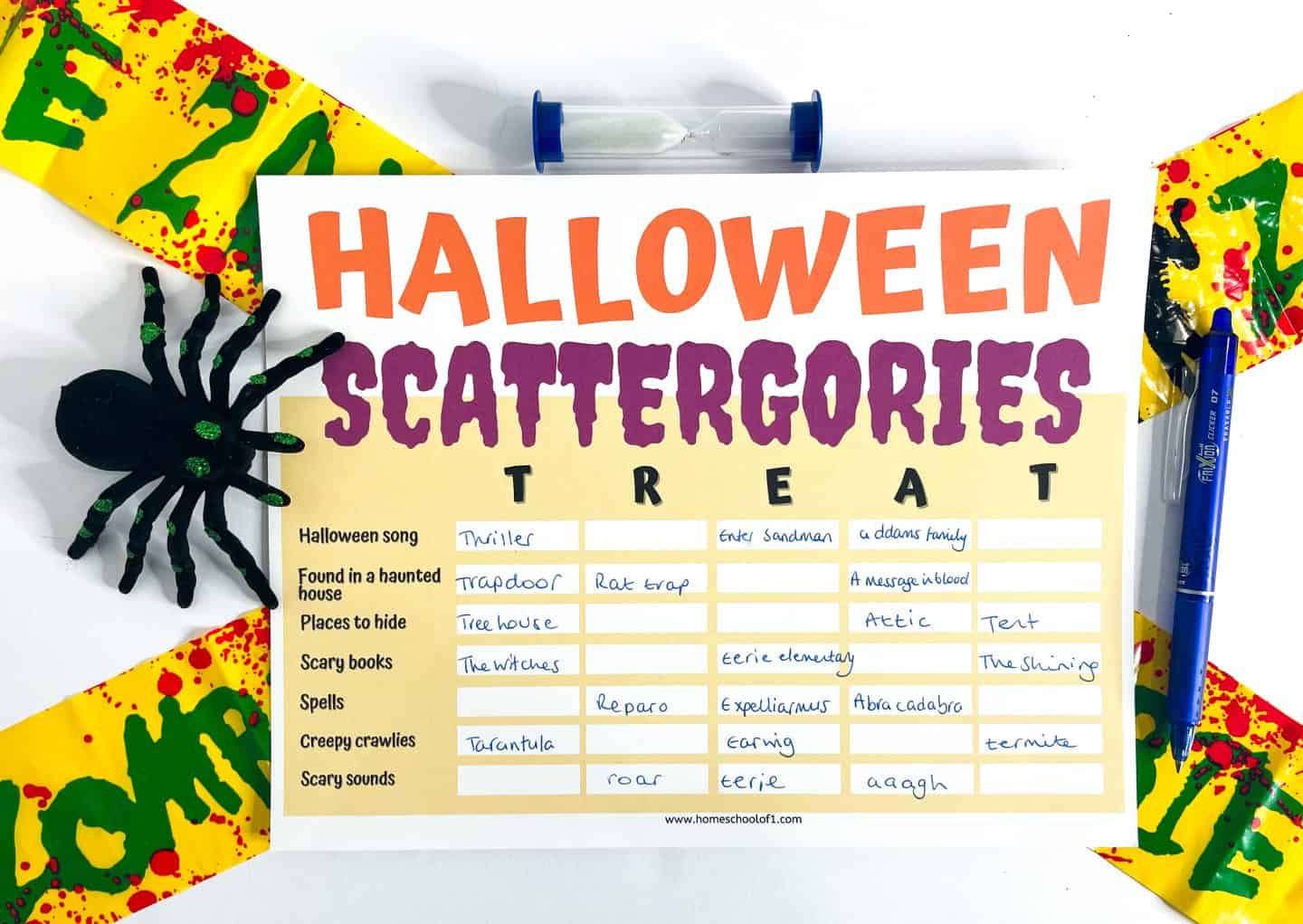 Halloween scattergories printable. Play the classic Scattergories game with a Halloween twist. It's a great way to encourage creative thinking and vocabulary.
Halloween photo scavenger hunt. Send students on a Halloween-themed scavenger hunt, capturing the spookiest and most creative moments with their cameras.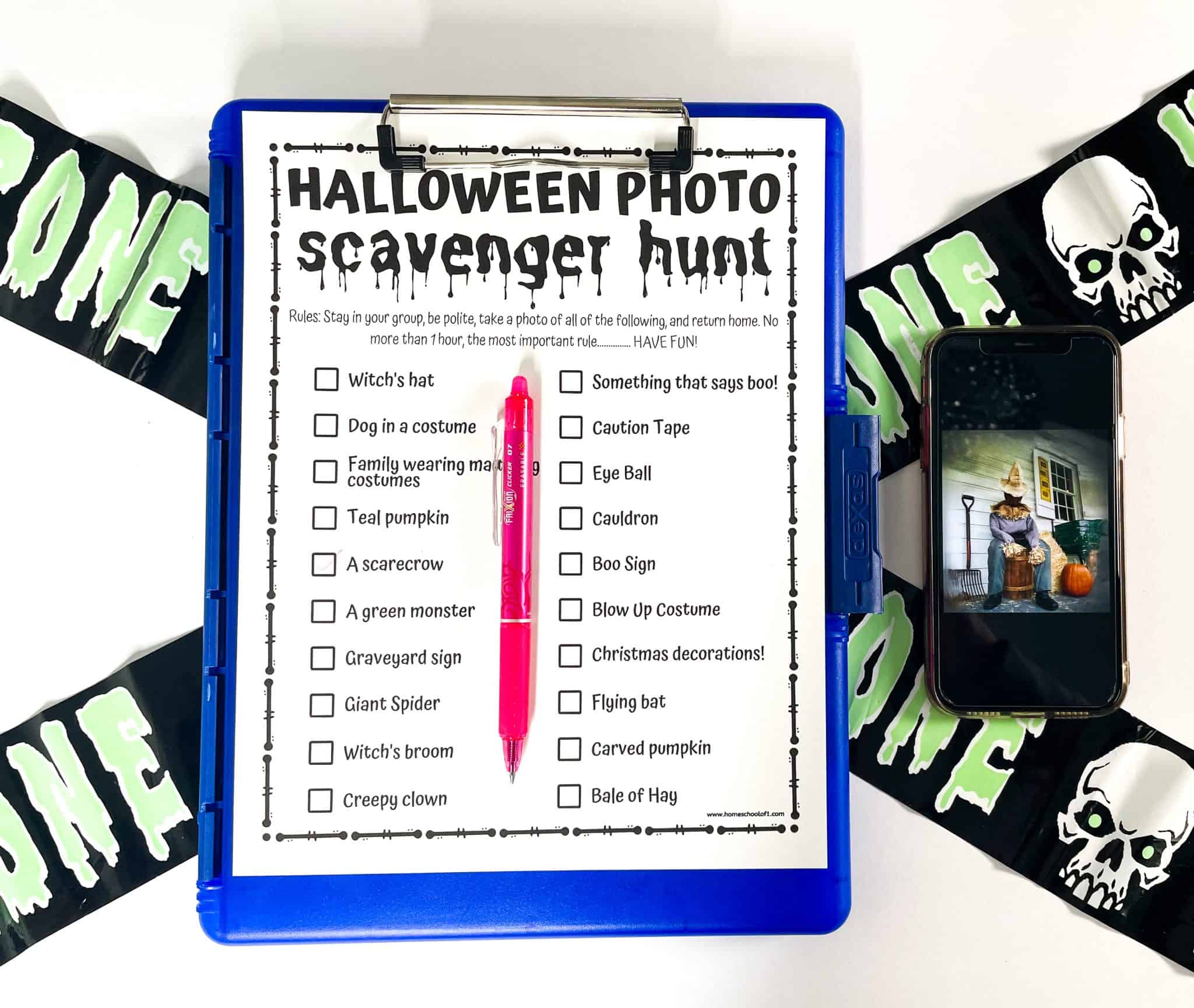 Halloween would you rather printable. A lighthearted game of Would You Rather with Halloween-themed dilemmas. It's a fantastic icebreaker and conversation starter for students.
Must read Halloween books for older kids
Weird But True Halloween: 300 Spooky Facts to Scare You Silly
The Girl Who Drank the Moon (Winner of the 2017 Newbery Medal)
The Halloween Tree
The Essential Edgar Allan Poe Collection: His Best-Loved Tales and His Complete Poems
Who Was Edgar Allan Poe?
What Is the Story of the Headless Horseman?
Legend of Sleepy Hollow is a classic short story by Washington Irving. That weaves a mysterious and eerie tale of Ichabod Crane's encounter with the legendary Headless Horseman in the small village of Sleepy Hollow. Leaving readers with a spine-tingling sense of suspense and folklore.
The Masque of the Red Death by Edgar Allan Poe is a dark and haunting short story that delves into the horrors of a plague-ridden kingdom. Where a prince hosts a masquerade ball to escape the grim reality outside, But the arrival of an unexpected guest brings a terrifying twist to the evening's events.
The Halloween Tree by Ray Bradbury is a delightful and imaginative tale that follows a group of friends as they embark on a mysterious journey through time and space on Halloween night. With the help of a mysterious guide, they explore the origins and traditions of Halloween in various cultures, revealing the deeper meaning of the holiday and learning important life lessons along the way.
Last Updated on 26 October 2023 by homeschoolof1