Best Halloween Games for Kids: Perfect For Parties & School!
October only means one thing for kids. Halloween! Candy, pumpkins, costumes, and parties, make it the greatest month of the year. If you want to be the best parents on the block this year then host a Halloween party for your kids and invite the neighborhood. Carry on reading for our favorite Halloween games to play.
All you will need for a successful party is good food and great Halloween games. Not sure what games to play at a kid's Halloween party?
Get ready to create unforgettable memories and a truly enchanting celebration with these fun Halloween activities for kids!
Then keep reading because we have tons of excellent suggestions sure to keep the Halloween party going all night!
**There may be affiliate links in this post. You can read my full disclosure at the bottom of the page.**
Games for Kids to play on Halloween
Invite friends and family over and have fun with these Halloween games for kids. Perfect for kids young and old these games are best played with a group of children.
Moo Moo Boo
Many children love to play Duck Duck Goose. Give Duck Duck Goose a Halloween theme by making it Moo Moo Boo!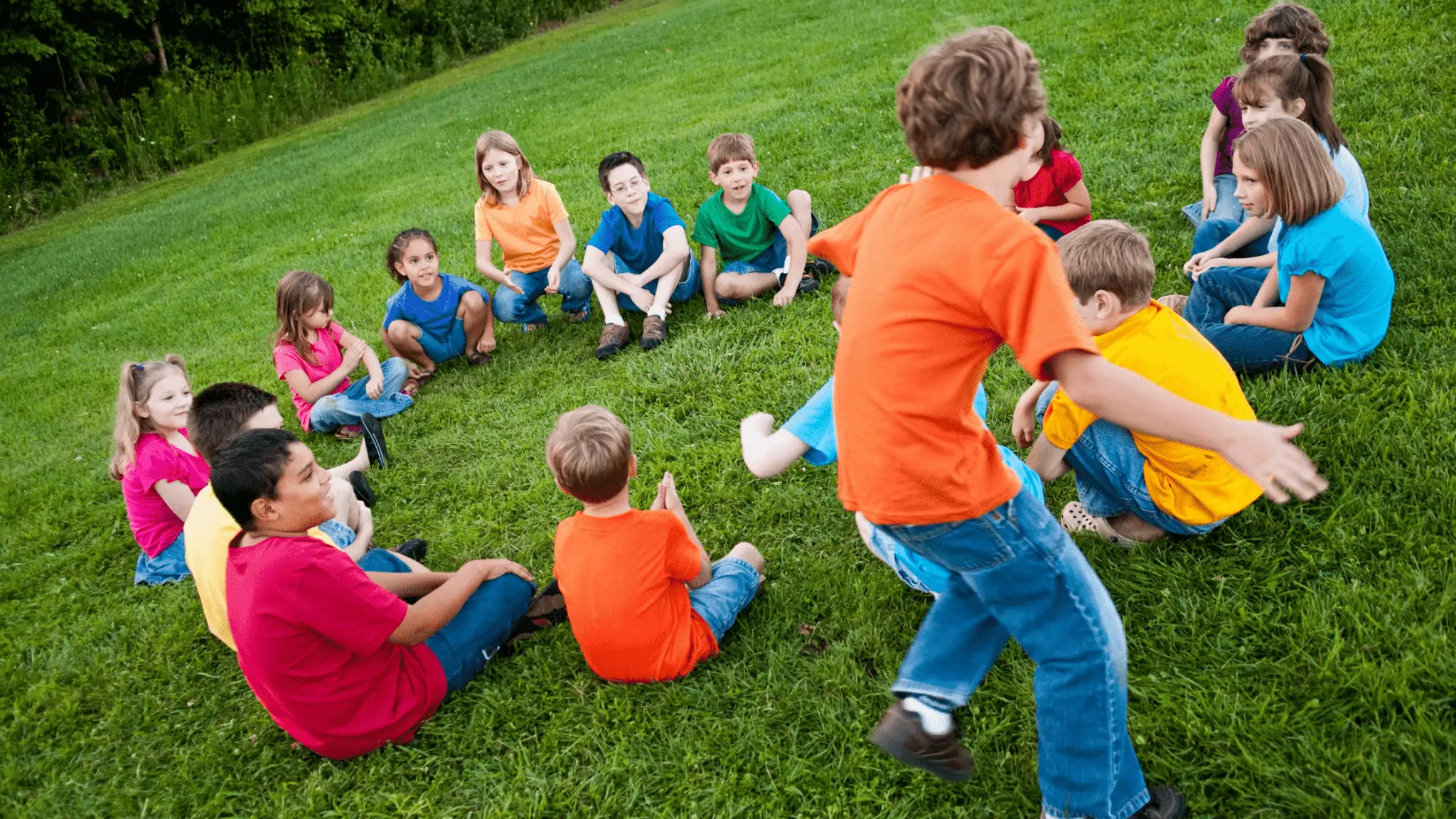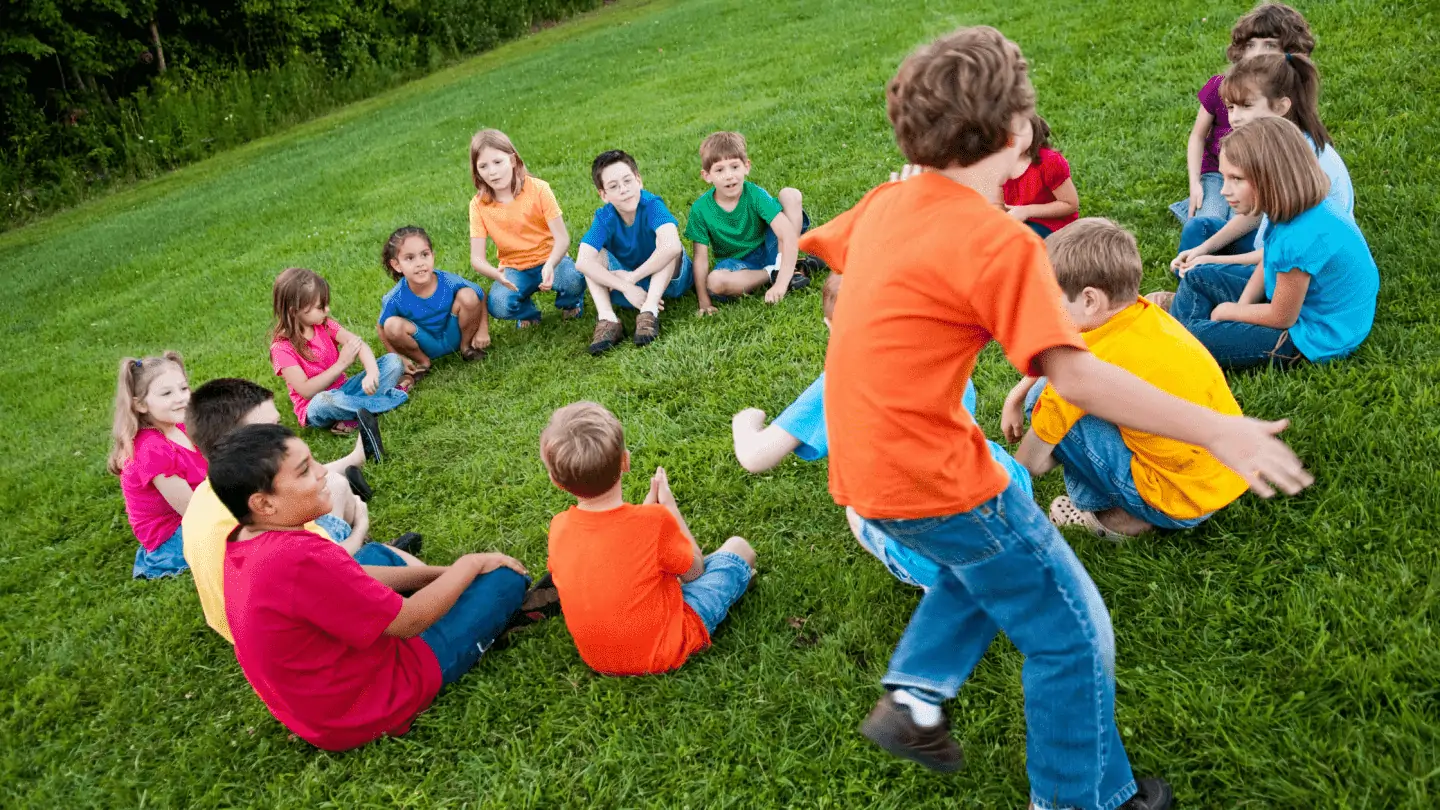 This active game can be expanded to talk about rhyming and words that have the "ooh" sound. After playing a few rounds of Moo Moo Boo, encourage the kids to think of other words that rhyme with moo and boo.
Write those words on the board so that children can see different ways that this sound may be spelled. Other Halloween variations of Duck Duck Goose include:
Crow Crow Scarecrow
Bird Bird Bat, followed by a lesson on bats (check out our homeschool Halloween activities)
Sweep Sweep Fly, followed by a lesson on modes of transportation.
Pass the Pumpkin
Have kids sit in a circle and pass a mini pumpkin that can easily fit in the palm of their hands.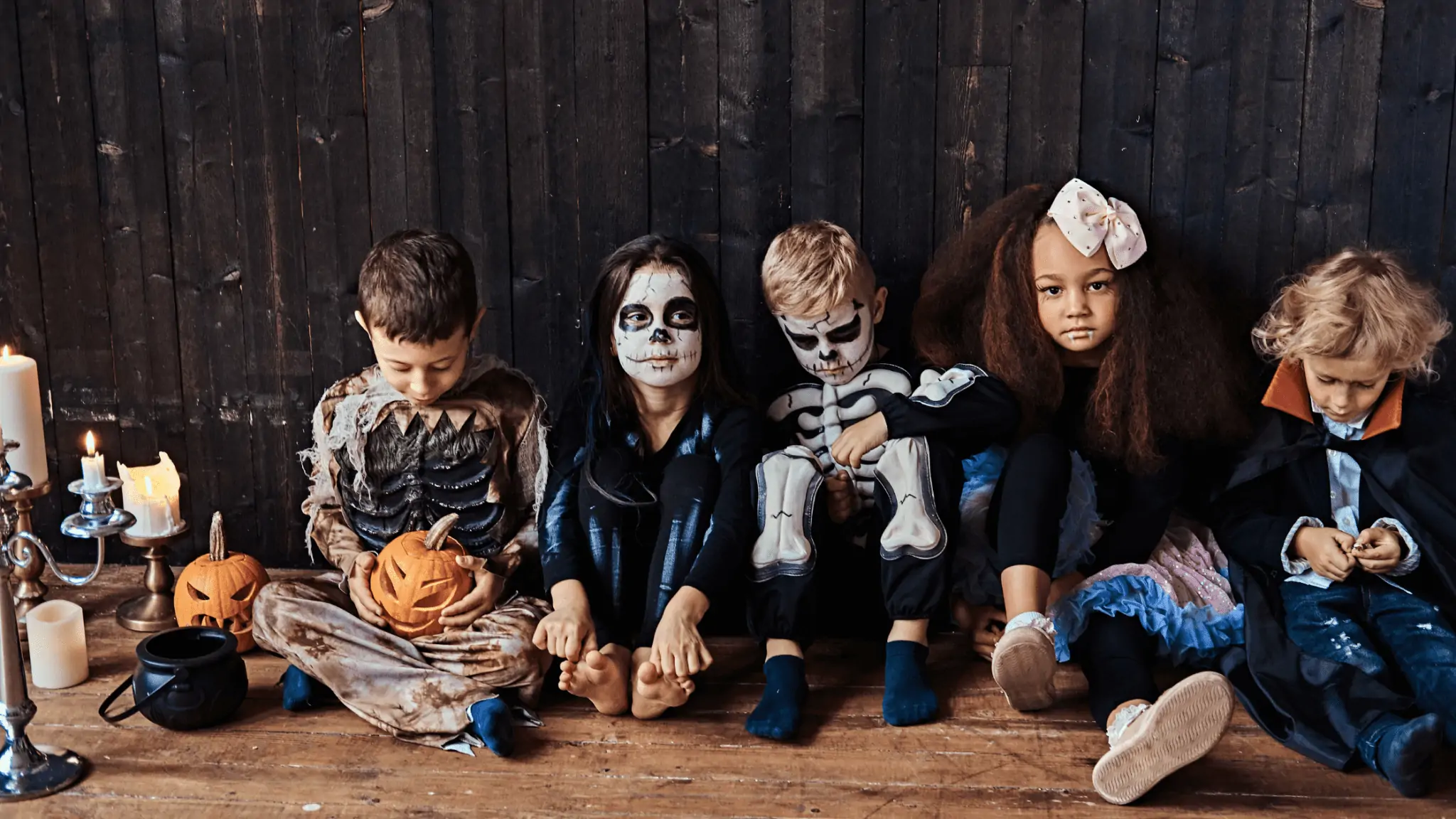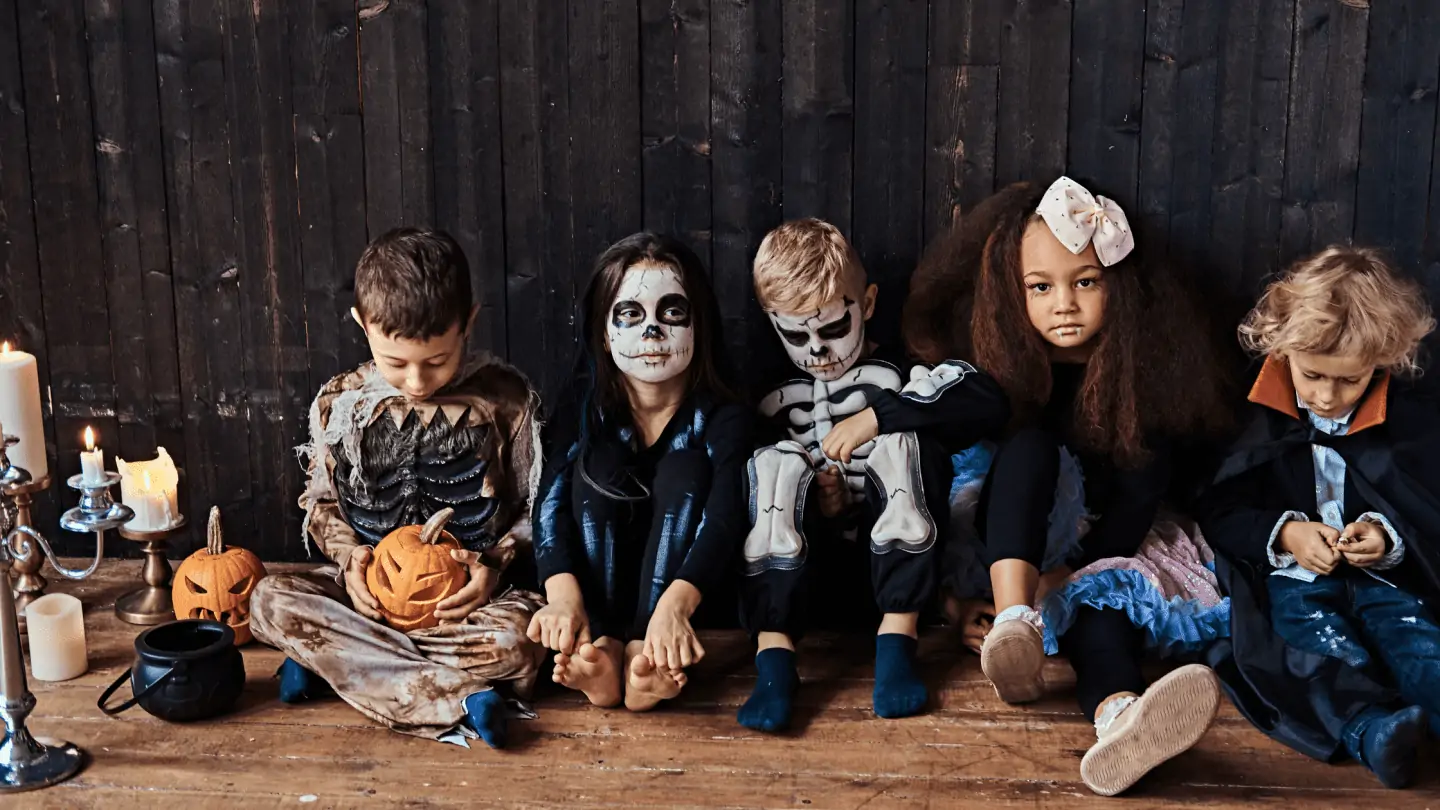 Halloween Charades – the perfect Halloween Party Game
Max Fun Halloween Ring Toss Game Inflatable Spiders
Dolphin Hat Games Taco Cat Goat Cheese Pizza
Ghost Blitz 2 Game
If a pumpkin is not available, make one out of orange construction paper. Instruct the kids to begin passing the pumpkin from one child to the next around the circle. Play fun Halloween music and stop the song periodically.
The child that is holding the pumpkin when the music stops then answers a review question. Examples of review topics might include:
Colors
Shapes
Spelling
Reading comprehension
Math skills
Science concepts
Variations to make this game more challenging would be to have the children pass the pumpkin behind their backs or under their legs while either sitting or standing.
HALLOWEEN Spells What?
This game requires large letters that spell the word Halloween with a group of at least nine children.
Children are given one letter each. Begin the game by having the children move around to spell as many words as they can for a designated period. Team captains can help arrange for students to spell the words or may write words on a piece of paper or on the board.
Make this game more active by having the children move across the room to a designated spot and then return to get credit for each word. This game can also be used as a craft activity by having children decorate the various letters before or after playing the game.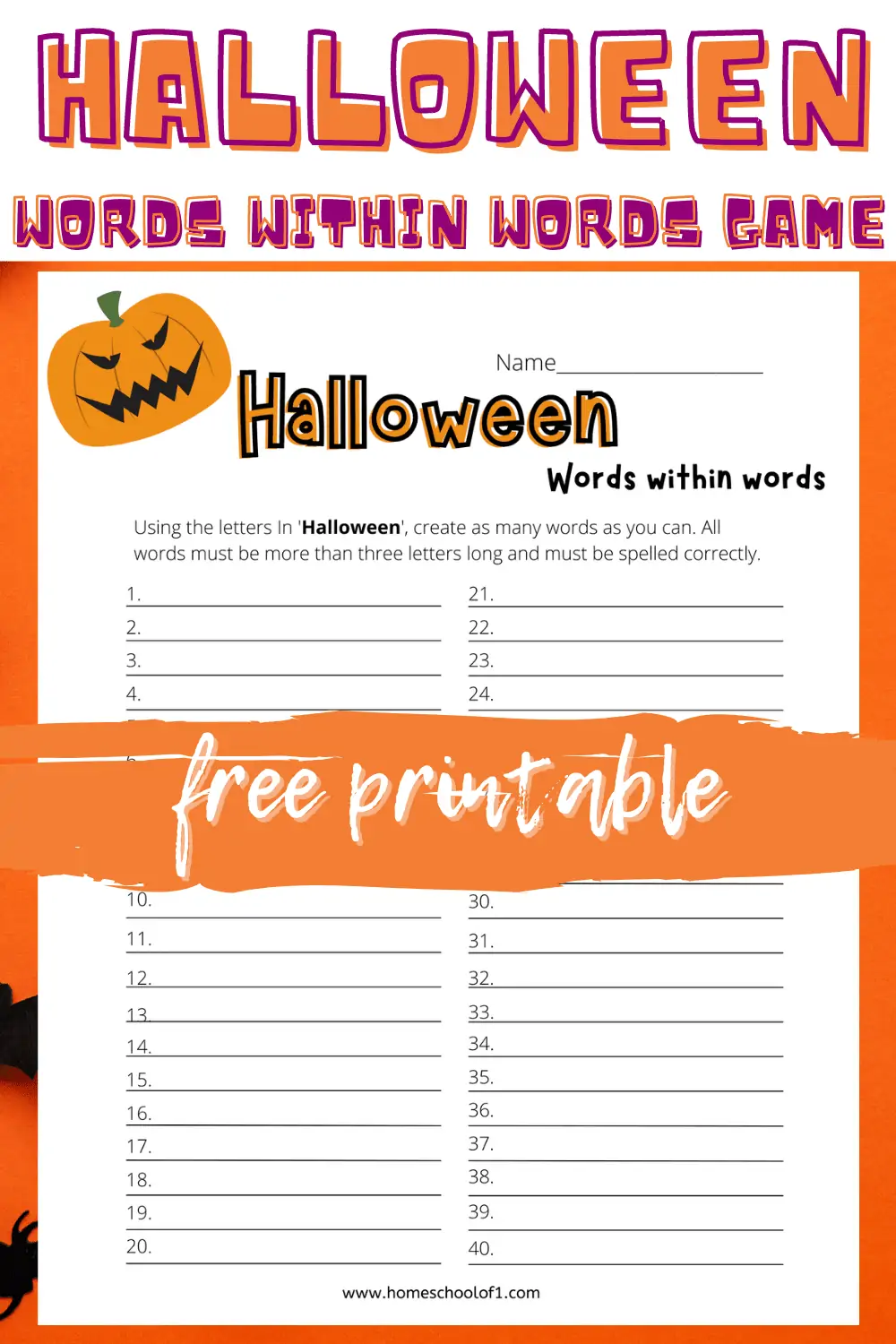 Or download our free finding words within words worksheet and play the same game.
'Dem Body Bones
Children who are learning the bones of the body can get a kick out of this skeleton game.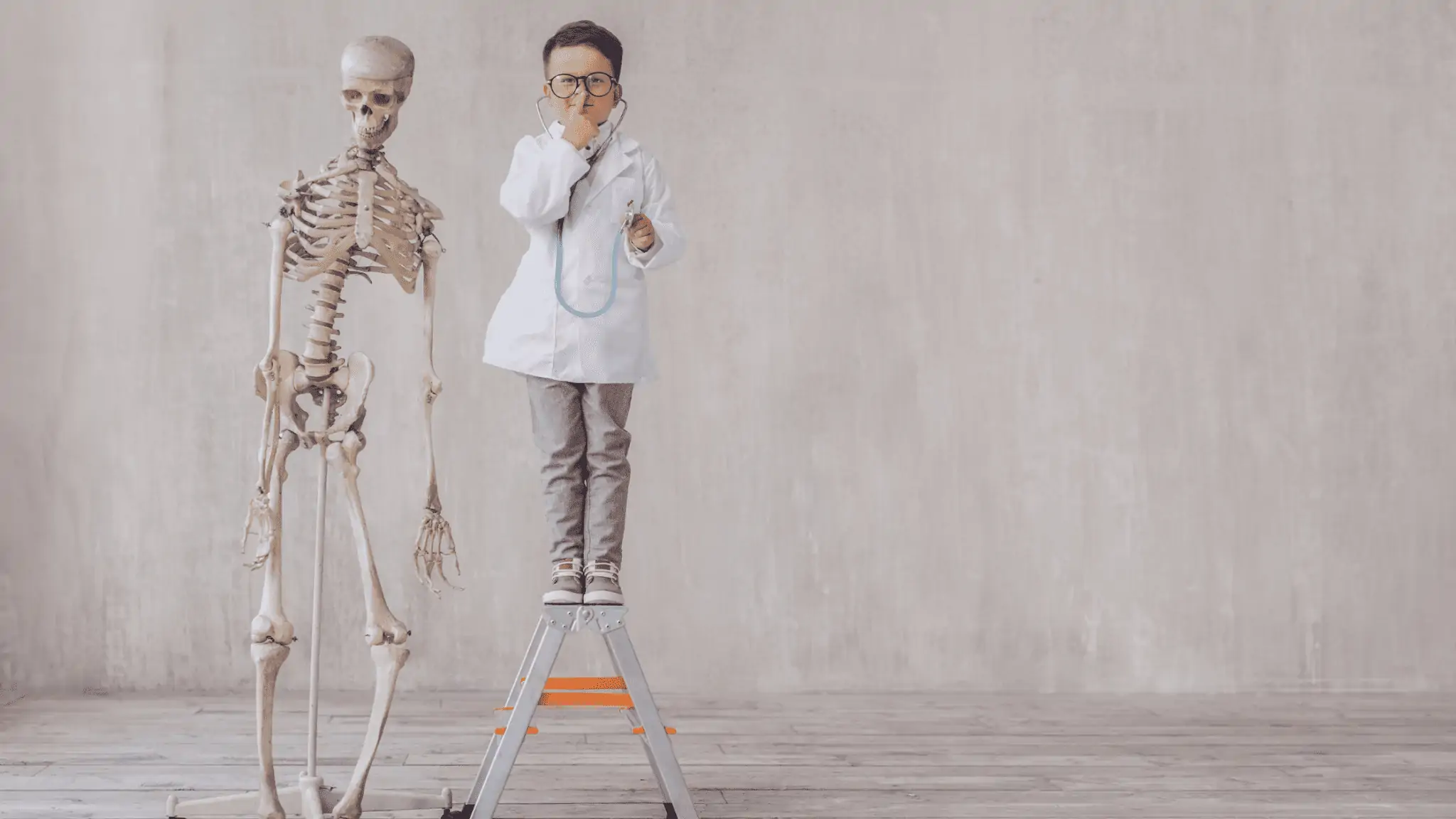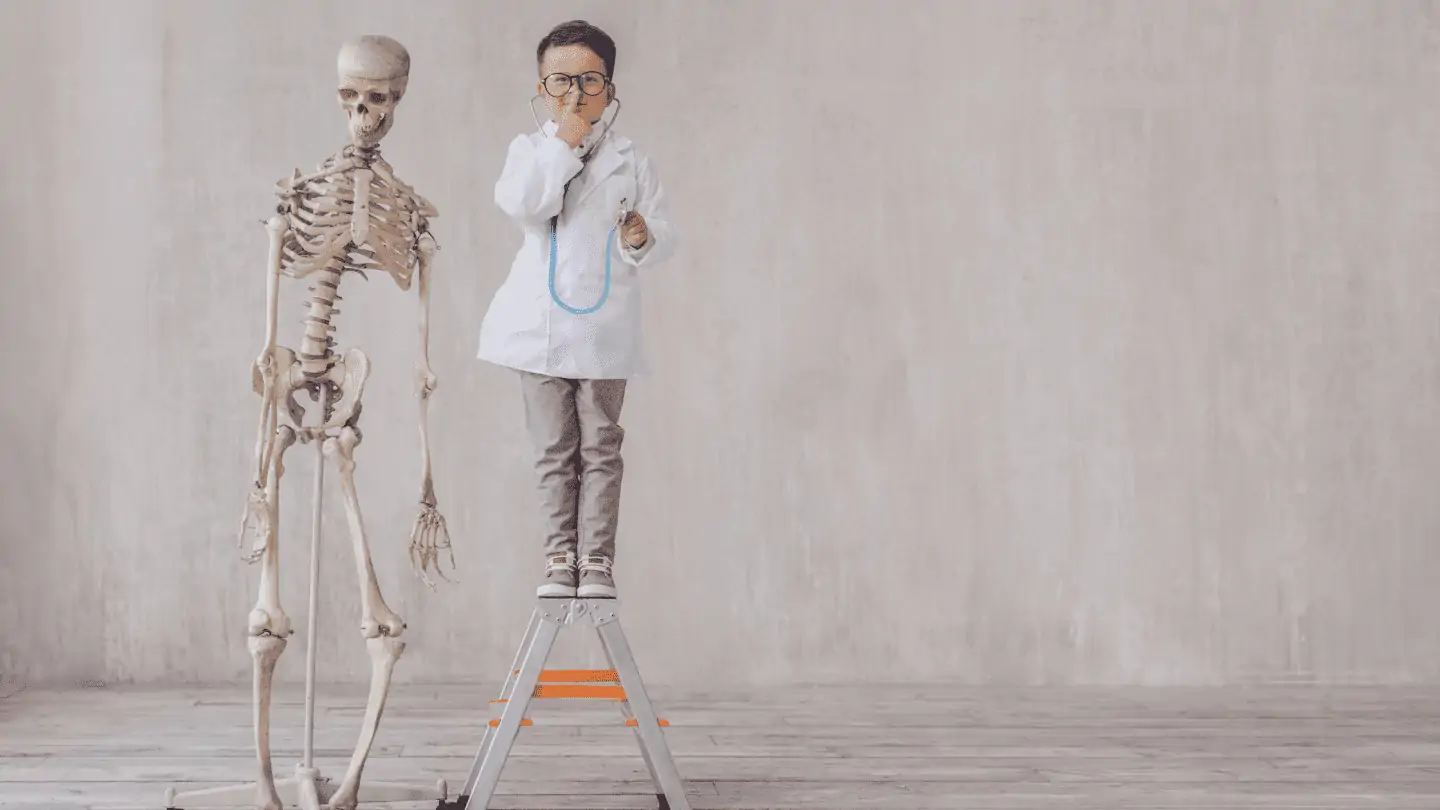 The simplest variation of this game is to have students stand and touch each set of bones. Start at the toes and move up the body saying which bone is connected to what:
"The foot bone is connected to the ankle bone…the ankle bone is connected to the leg bone" and so forth. 'Dem Body Bones can be altered to a shorter time frame by using the song "Head Shoulders Knees and Toes." Variations of 'Dem Body Bones Game include:
Having the kids do the above game multiple times but getting faster each time.
Saying the body parts in Spanish (or another language)
Using anatomical words, check out this free online skeletal system game.
Order these anatomy books for kids and learn all about the body.
Toilet Paper Mummy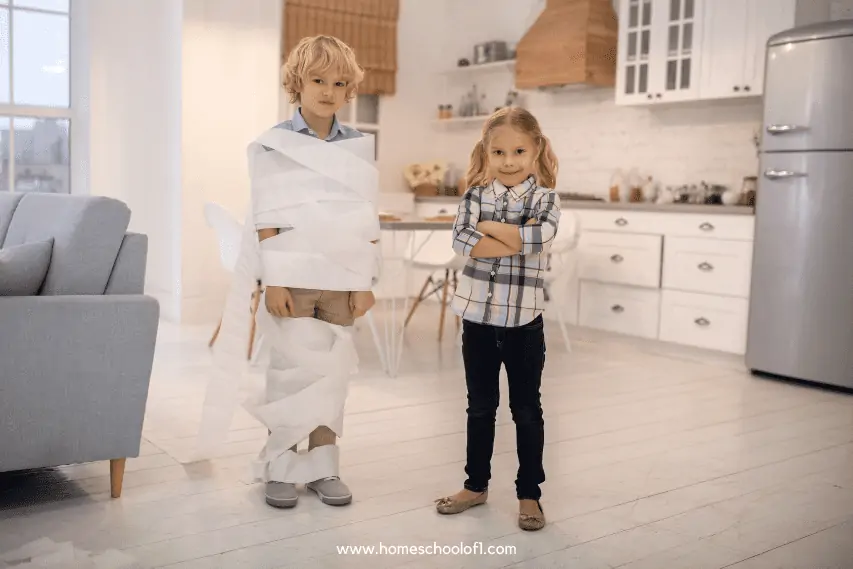 All you need for this game is many rolls of toilet paper.
Put the children into groups of 3-5 kids and give them all a certain amount of toilet paper.
The goal will be to turn 1 of the kids in each group into a mummy using toilet paper. This game can have two different variations depending on what would be best for your group. This first one is a very simple race.
The first group to completely cover their mummy or cover their mummy the most before time runs out wins.
The second variation can allow for creativity but will require judging. Give the groups a certain amount of time and whoever creates the best mummy using whatever resources they have, wins.
Check out our favorite Halloween crafts for kids too.
Pumpkin Bowling
The only supplies needed for this game are pumpkins and empty soda bottles.
Set 10 soda bottles up as bowling pins and use the pumpkin as the bowling ball. Be careful not to use a pumpkin too heavy for the kids because if they drop it, things could get messy.
Normal bowing rules apply but the game can get very silly very quickly because unlike bowling balls pumpkins don't tend to roll in straight lines!
Candy Taste Test
Blindfold each child and give them a bite of candy.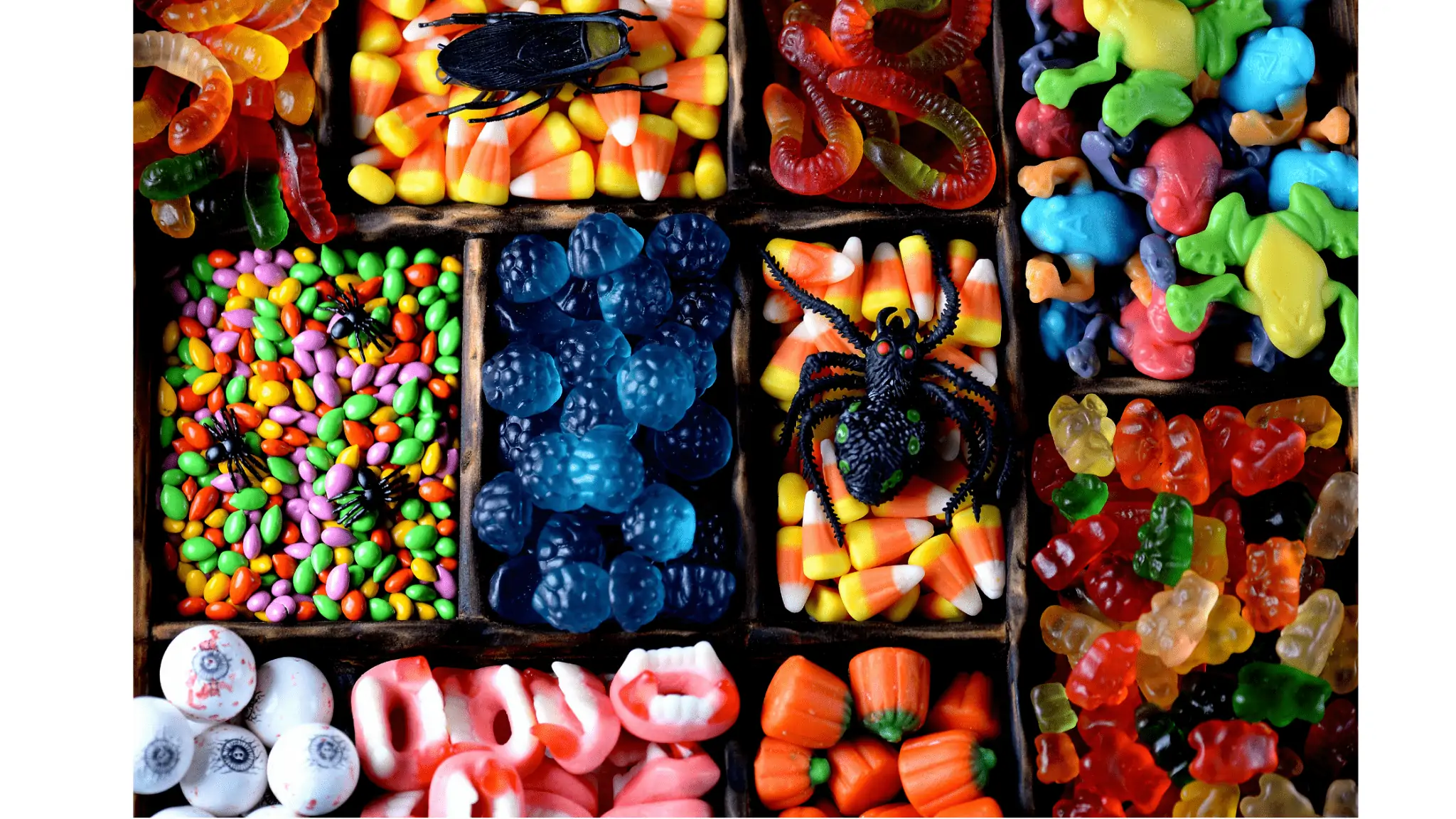 The child has to identify the correct candy to earn a point, the child with the most points wins! A twist on this game is to use all jelly beans and have the child try to guess the flavor of a jelly bean.
Jelly Belly makes a variety of packs that can be very useful for this game.
Donut on a String
Get some standard glazed donuts and tie a string around them. Attach the string to the ceiling so that the donuts hang at the children's mouth level.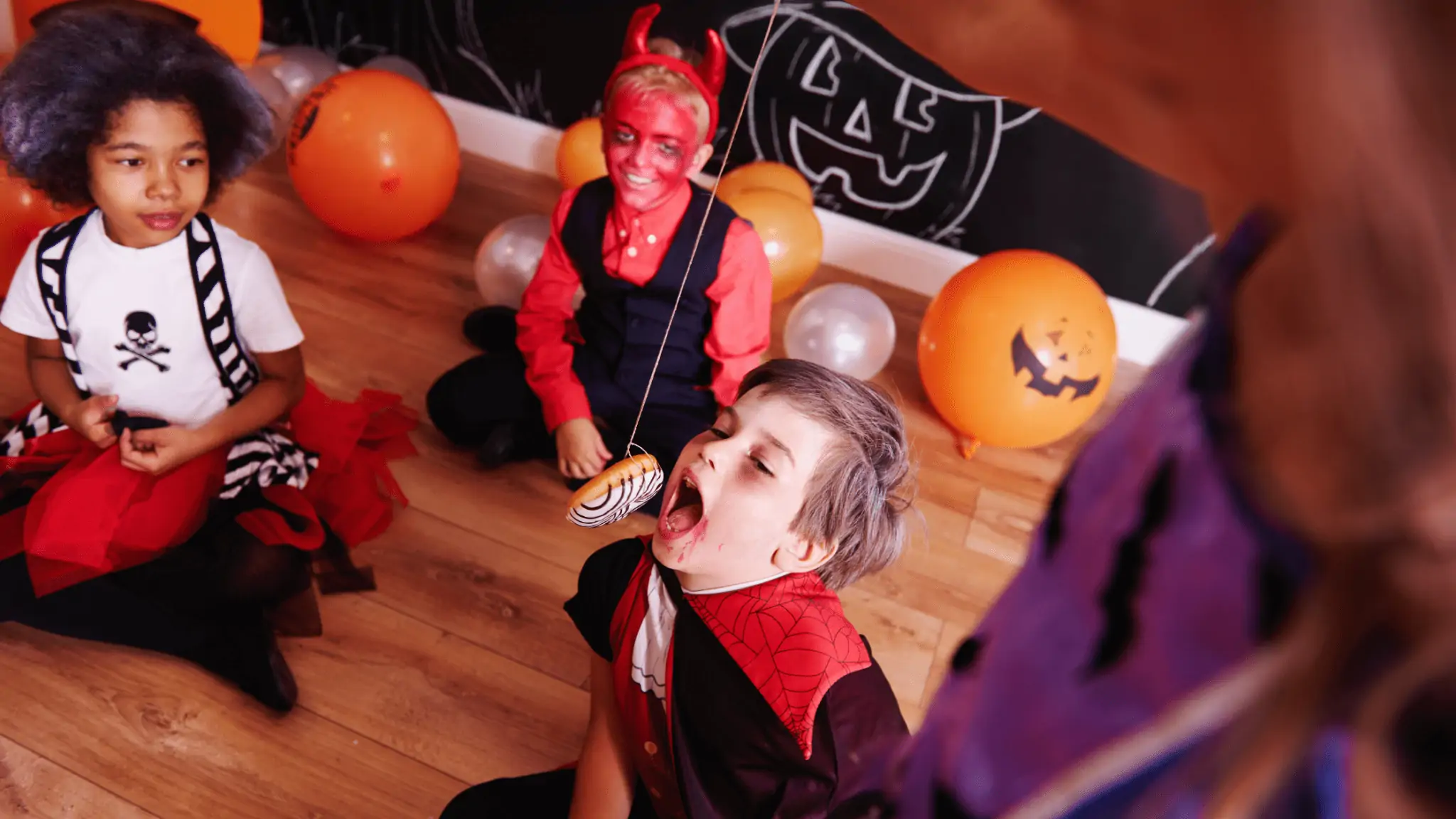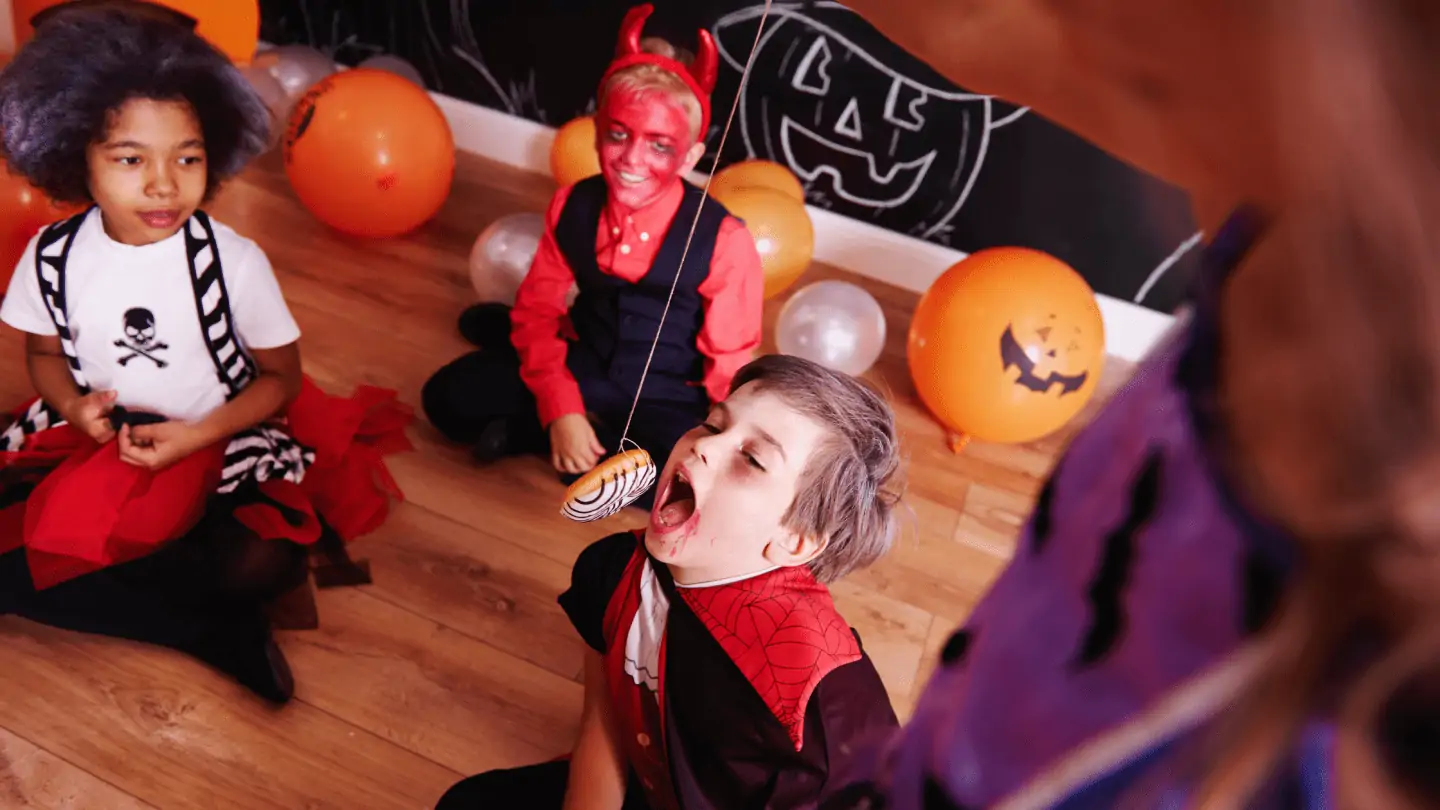 It's a good idea to adjust each donut for the height of the individual child. The rules of the game are simple. Without using their hands the children have to eat the donut off the string, the first to get their donut off the string wins!
Guess the Candy Corn
Fill a jar, and you choose the size, with Candy Corn.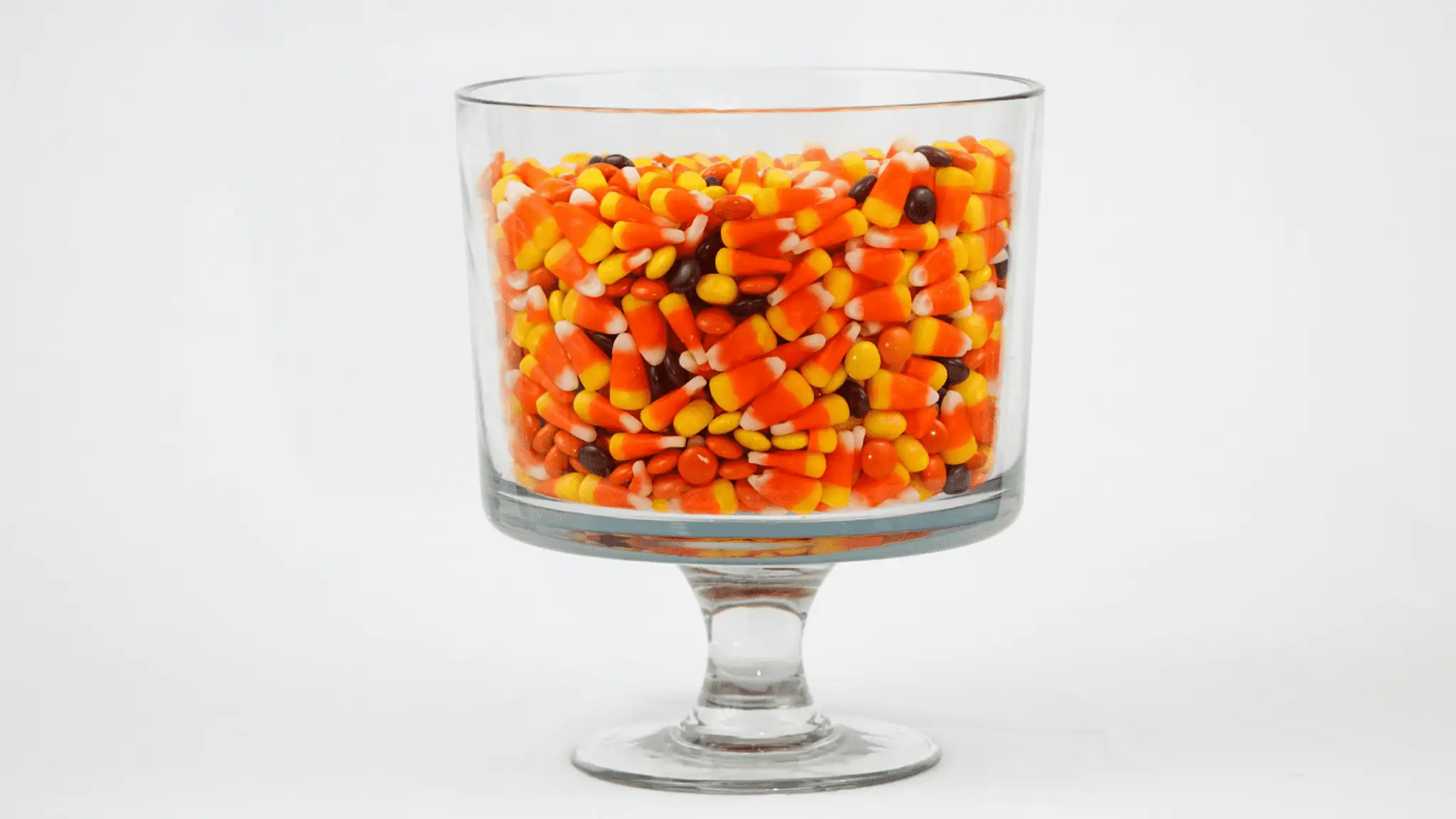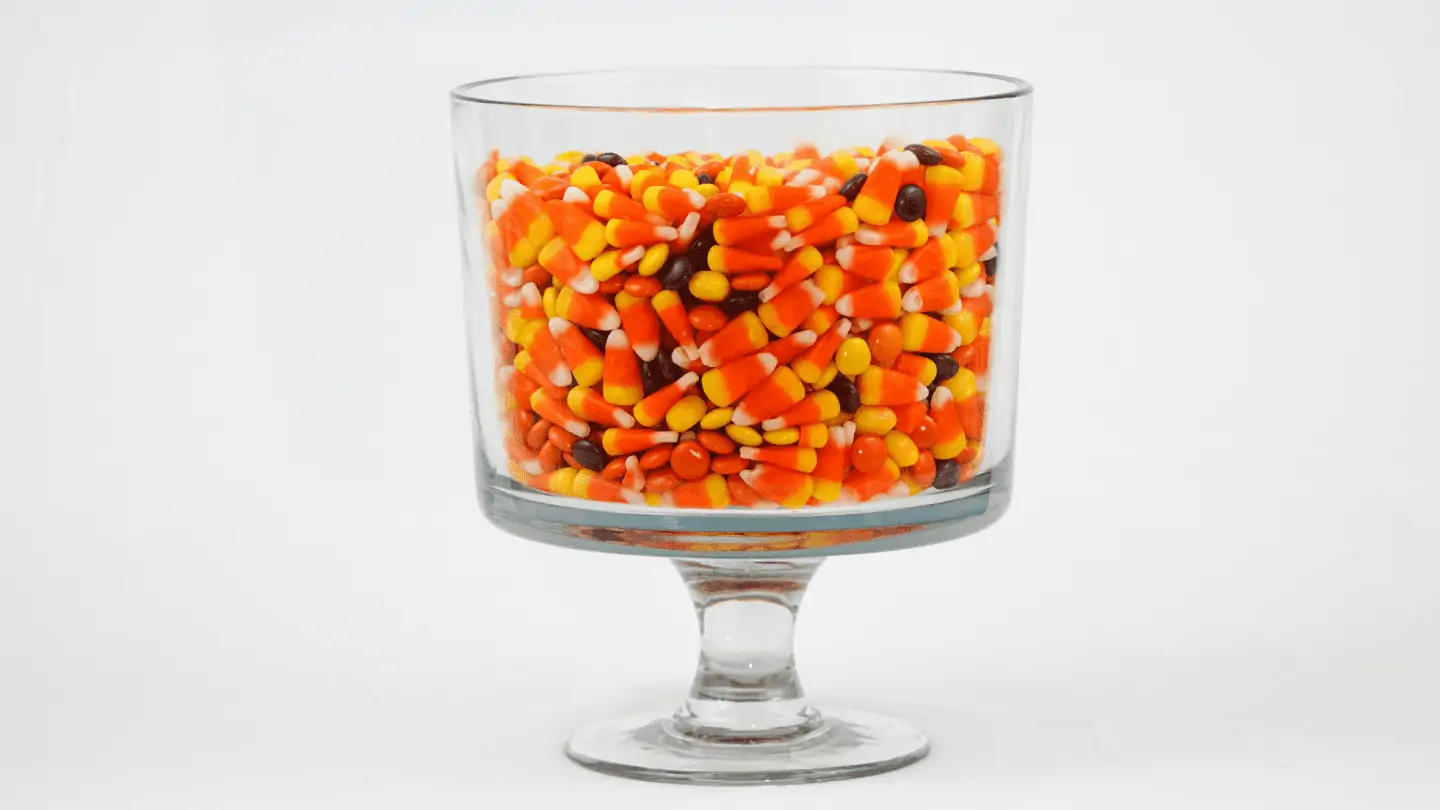 Here's the trick, you need to know how many pieces are in the jar. Ask each party-goer to guess how many pieces of candy corn are in the jar. The person who comes closest without going over wins.
Gross Out
In this game, you will be having the kids guess what it is they feel and trying to gross them out at the same time.
To prepare for this game you will need to do the following:
Boil spaghetti and let it cool,
Peel grapes,
Make red jello but do not let it gel all the way,
Fill a latex glove with play-dough and cover the outside with something sticky.
Put all of these things into different shoeboxes and cut holes in the lids big enough for a child's hand to find into. Have each child feel what is in each box. After they have all felt a box tell them what it is they felt.
The spaghetti is someone's intestines, the grapes are eyeballs, the jello is witch's blood and the glove is a severed hand. Be creative with this game and see what other gross ideas you can come up with!
These are just a few simple ideas to make your child's Halloween party the best on the block. Each game can easily be modified for older or younger children and can be as competitive as you want them to be. Happy haunting!
Halloween Gifts
Why not surprise the kids with these small treats to give to the winners:
Halloween Printables
For even more Halloween fun check out some of our free printables:
Last Updated on 26 August 2023 by homeschoolof1