Free Christmas Mad Libs Printable
Get ready for some holiday fun with our Christmas Mad Libs printable!
This festive activity is perfect for kids and adults, allowing you to create a hilarious Christmas story.
Whether you're enjoying it at home or in a classroom, our Christmas Mad Libs add a delightful twist to your Christmas activities for kids.
Embrace the laughter and imagination as you fill in the blanks, crafting unforgettable Christmas adventures that will bring joy to all! Holiday hilarity awaits!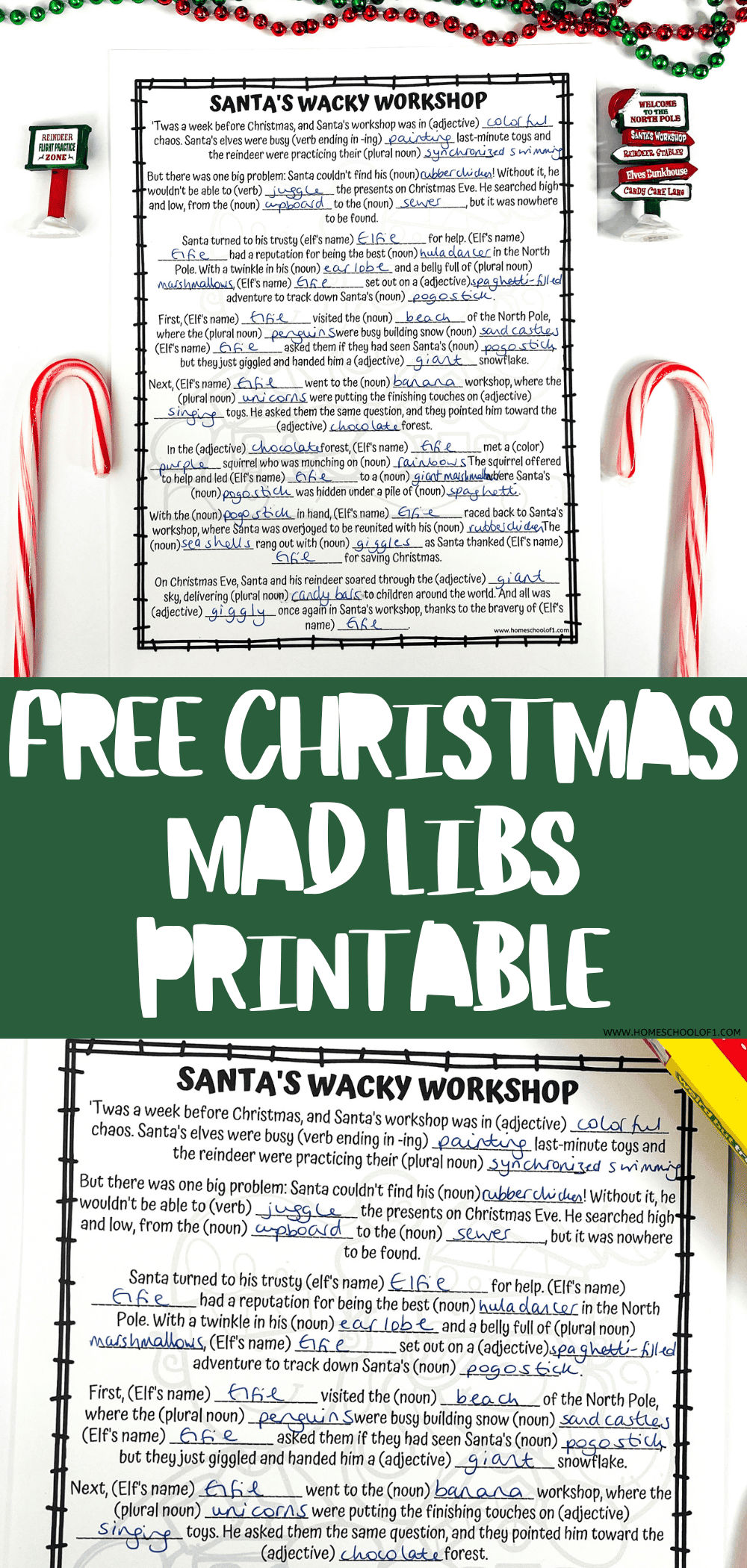 **There may be affiliate links in this post. You can read my full disclosure at the bottom of the page.**
Santa mad libs
Introducing our Santa's Wacky Warehouse Mad Libs printable! It's a delightful twist on word games for the holiday season. Kids can have a blast adding adjectives, nouns, and verbs to create a silly story set in Santa's wacky warehouse.
Santa's Wacky Warehouse Mad Libs is an excellent way for kids to have fun, expand their vocabulary, and unleash their creativity during this special time of year.
It's the perfect activity for some festive and laughter-filled Christmas fun in Santa's wacky world!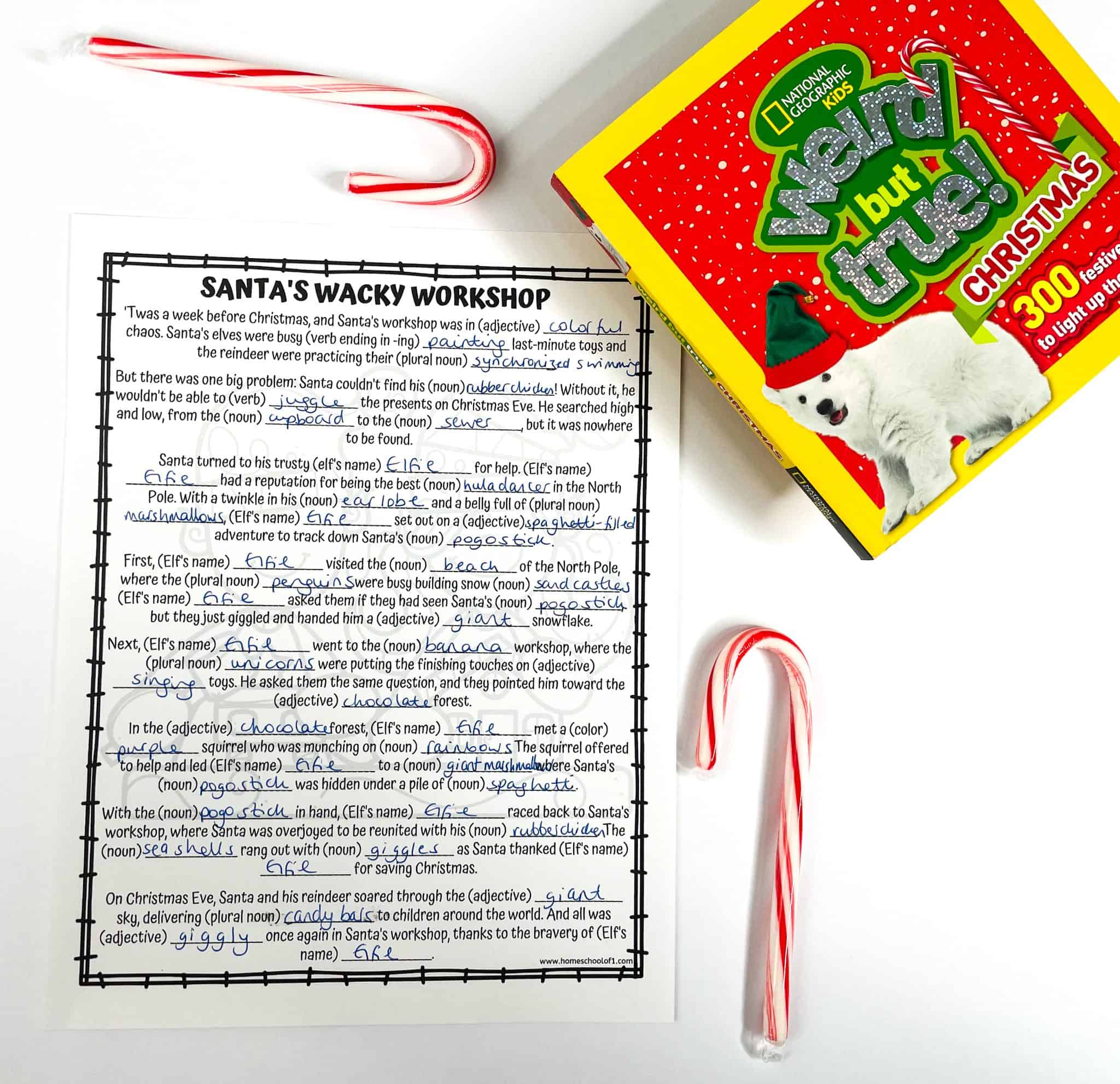 Mad Libs Christmas books
You can also treat the kids to a new Mad Libs activity book. These are our favorite Christmas Mad Libs books:
Additional fun Christmas activities
Have even more fun this December with these worksheets and activities:
Have fun with our free winter mad libs printable too!
How to play Mad Libs at Christmas
Playing printable mad libs at Christmas can add a dose of holiday humor and creativity to various settings, including school, home, and parties. Here's how to play Mad Libs during the Christmas season in various settings:
Christmas Party
Download our free printable below.
Allow guests to fill in the blanks individually or in groups.
Once completed, have participants read their hilarious stories aloud to the group for laughter and enjoyment.
You can even turn it into a contest by voting on the funniest or most creative story.
Classroom Activities
Teachers can use Christmas Mad Libs as a fun and educational activity during the holiday season.
Download the free Mad Libs worksheet below for students to complete individually or in pairs.
Encourage students to use holiday-related vocabulary to fill in the blanks.
Share the completed stories in class for a festive laugh.
Christmas Eve Tradition
Make Mad Libs a part of your Christmas Eve tradition. It can be a fun way to pass the time while waiting for Santa.
Gather around the fireplace or Christmas tree and take turns completing the missing words.
Reading the completed stories can become a cherished tradition in itself.
Stocking Stuffers
Surprise your loved ones with Christmas stocking stuffers Mad Libs books as stocking stuffers or small gifts.
They can enjoy filling them out during the holiday season and share the laughter with friends and family.
Virtual Gatherings
If you can't be together in person, you can still enjoy this fun word game with friends and family virtually.
Share our free Mad Libs worksheet on a shared screen during a video call and have participants contribute words.
Read the completed story together and enjoy the virtual laughter.
Christmas Eve Box
Tips for downloading the free files
Below you will see a large sign-up box where you need to add your name and email address, and press I NEED THIS NOW!
Within minutes you will be sent the free PDF directly to your email address, so you can print it out and start using it immediately.
Sometimes emails get a little wonky, so if you can't see it, please check your spam folder where I am sure it is hiding.
Download the free printable Christmas Mad Libs
These worksheets are free to print but are for personal or classroom use only.
Make sure you choose the correct paper size and click on the shrink to fit button. All of our free printables for kids work better when printed on cardstock (this is the one we use and love.)
Last Updated on 25 November 2023 by homeschoolof1