Free Christmas Word Scramble Printable (with answer key)
A Christmas word scramble printable is a delightful addition to the holiday season's festivities.
This Christmas word puzzle is a great addition to your Christmas party games.
This word scramble puzzle provides not only endless entertainment but also a chance to exercise your brain during the holidays.
This really is one of the best Christmas activities for kids.
There are 13 Christmas themed words to unscramble and to help out I have included the answer key in the download.
As we are secular homeschoolers these words are not religious.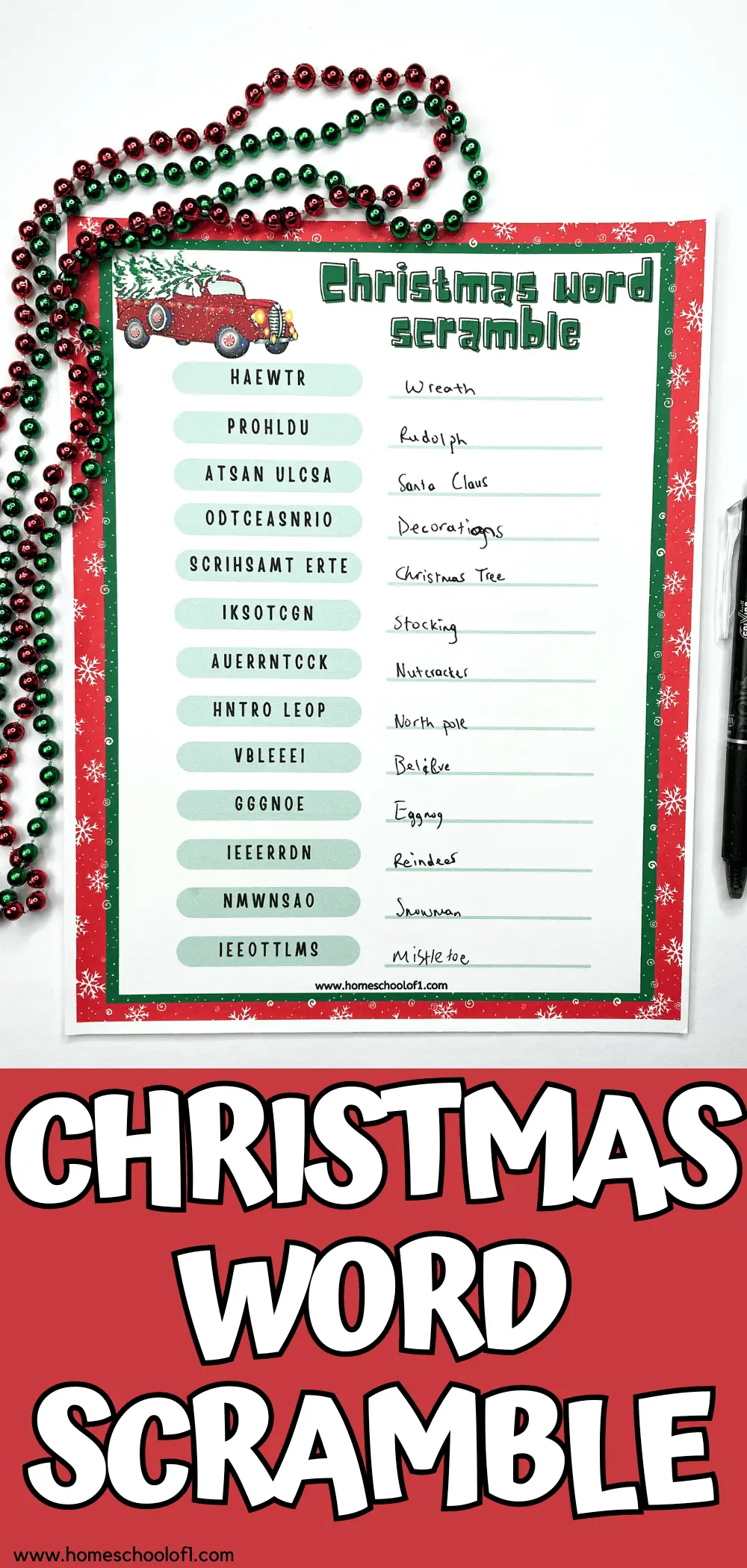 These free word scramble printables are perfect for Christmas either for the classroom, homeschool, or even winter break if the kids are a little bored.
**There may be affiliate links in this post. You can read my full disclosure at the bottom of the page.**
Benefits of playing Christmas word games
Christmas word games offer a multitude of benefits. They provide an enjoyable and fun way for family and friends to come together during the holiday season, fostering closer bonds through shared laughter and friendly competition.
Themed word scramble printables also serve as an effective educational tool, enhancing vocabulary and mental agility, especially for children. Plus, they encourage critical thinking and problem-solving skills, making them an excellent cognitive exercise for all ages.
Most importantly, Christmas word games infuse gatherings with a festive spirit. Ensuring that the holiday season is filled with warmth, joy, and cherished memories.
This free printable Christmas word jumble puzzle is free to print but is for personal use or classroom use only. Scroll to the bottom of the page to get the pdf file.
Perfect for upper elementary and middle school aged kids, this Christmas word scramble is a bit more challenging because there's no word list at the bottom. Just Christmas-themed words waiting to be unscrambled.
You will love our Christmas word search printable too.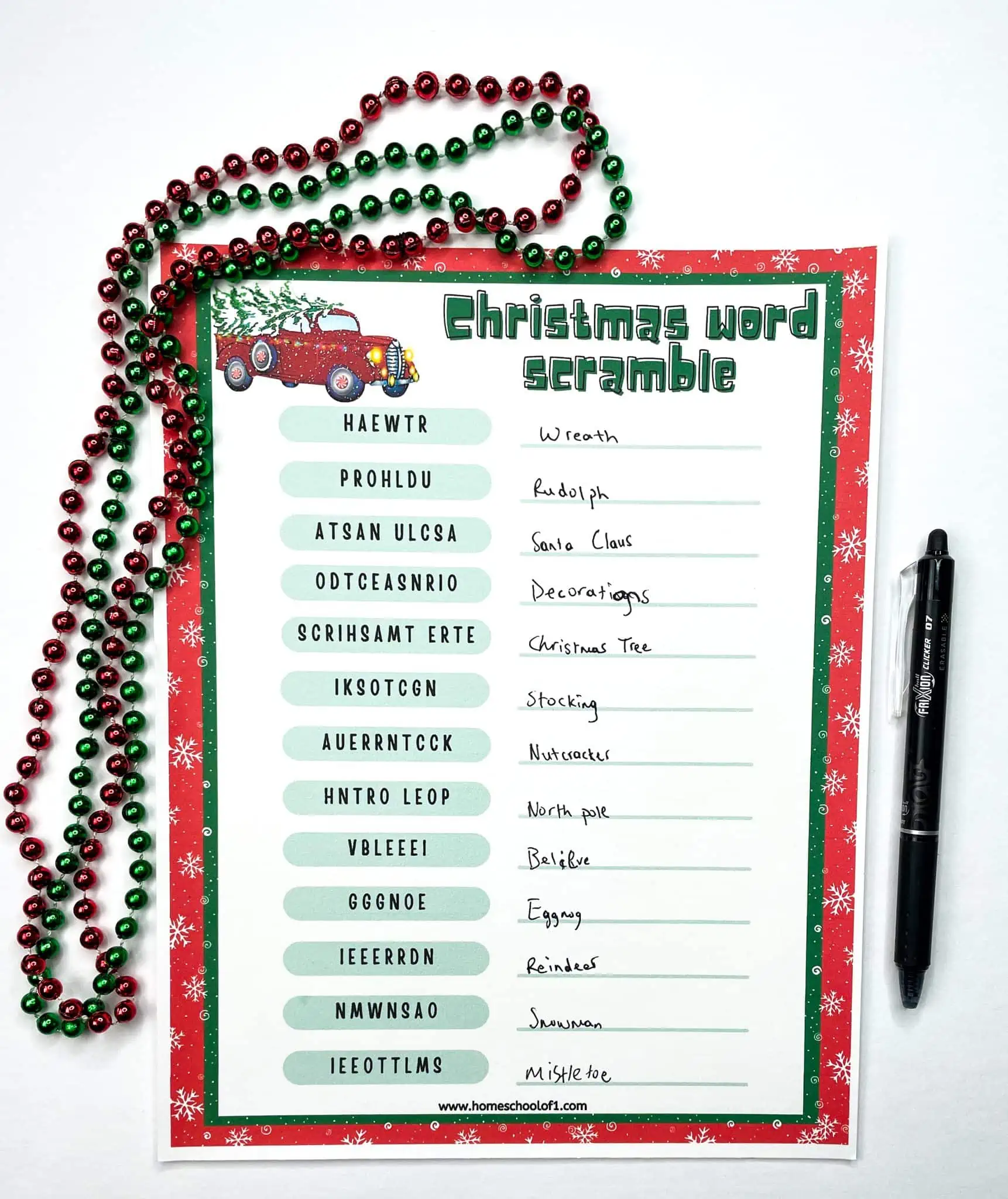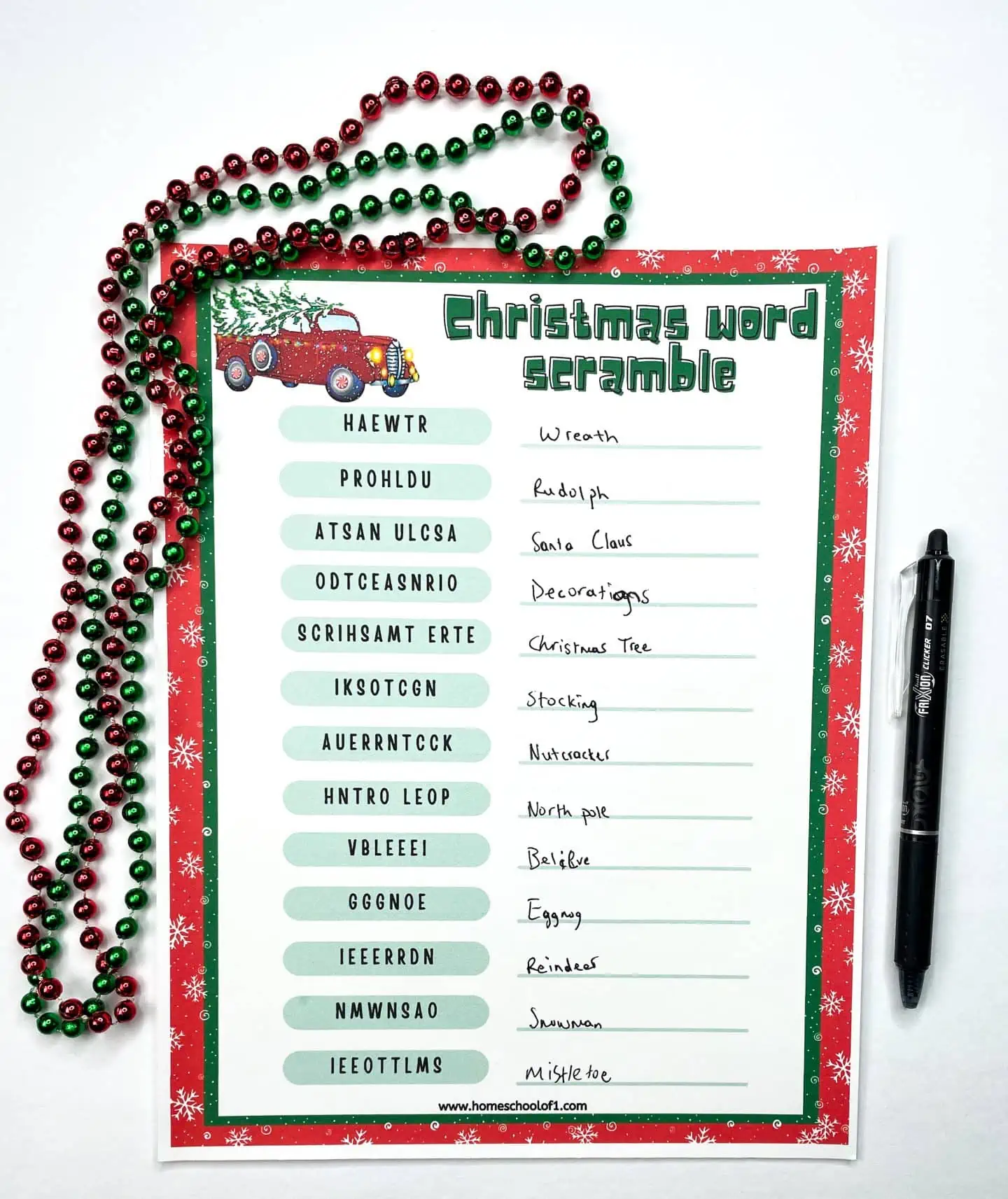 Print off as many copies as you need and just have fun. Let me know in the comments what your hardest word was. My son took about an hour to unscramble the word nutcracker!!
Check out all of our free printable Christmas word games!
Christmas scramble word games
Ready for a brain-teasing holiday adventure? Dive into our Christmas word scramble game and unjumble these 13 festive words:
Stocking
Nutcracker
North Pole
Eggnogg
Believe
Wreath
Decorations
Rudolph
Santa Claus
Christmas Tree
Mistletoe
Reindeer
Snowman
These enchanting words capture the magic of the season, and unscrambling them adds an extra layer of fun to your Christmas celebrations.
And don't worry, we've got you covered, the answer sheet is included. This is hopefully not needed, but as there is no word bank, it will be easier to check if the children get them right.
Can you solve them all? Test your word skills and immerse yourself in the holiday magic.
You will also love our free Elf on the Shelf word scramble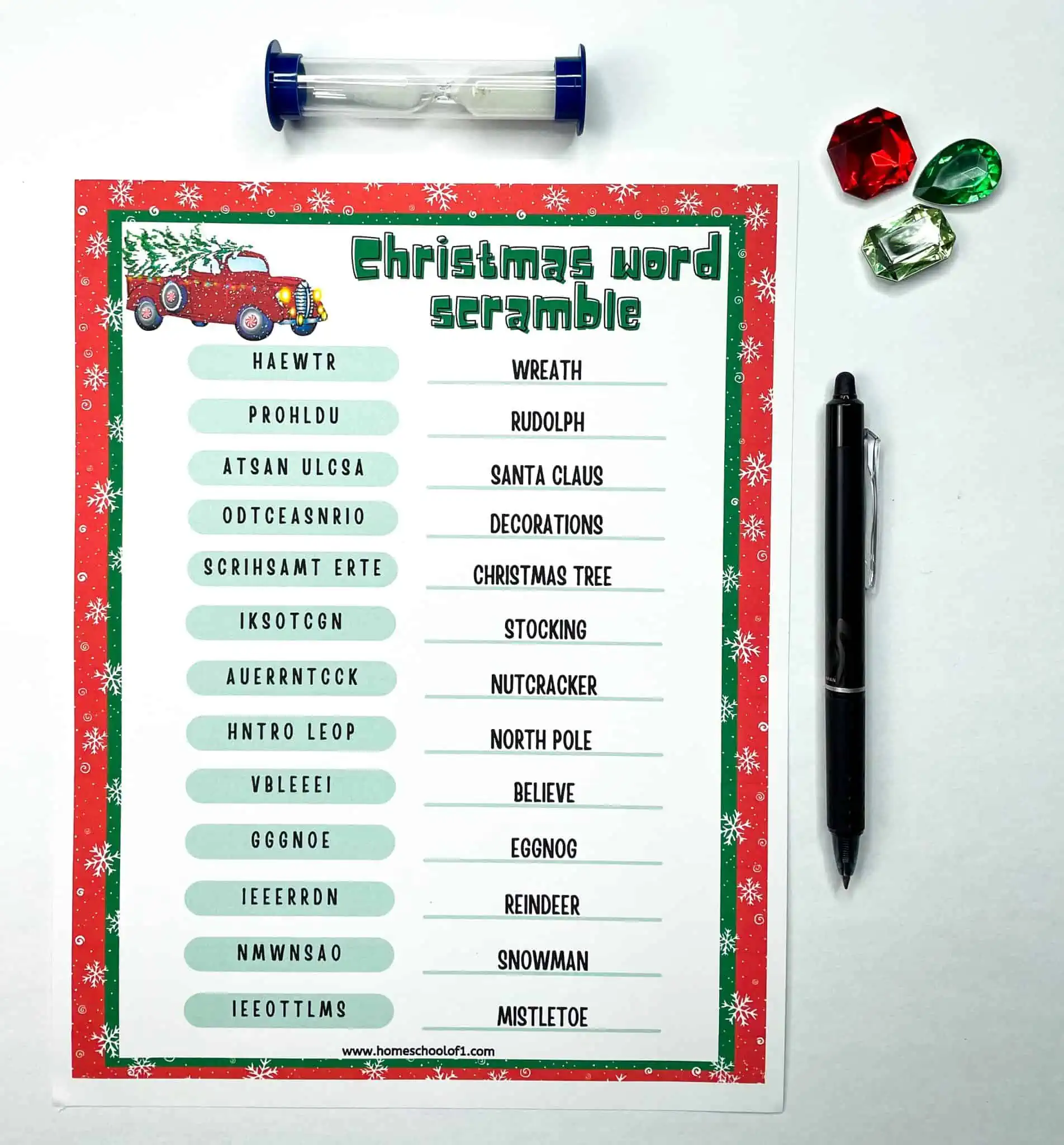 Other free Christmas activities
The kids are also going to enjoy these other free Christmas printables:
You can also enjoy our free New Year's word scramble printable.
Tips for downloading the free files
Below you will see a large sign-up box where you need to add your name and email address, and press I NEED THIS NOW!
Within minutes you will be sent the free PDF directly to your email address, so you can print it out and start using it immediately.
Sometimes emails get a little wonky, so if you can't see it, please check your spam folder where I am sure it is hiding.
Download the printable Christmas word scramble game
Make sure you choose the correct paper size and click on the shrink to fit button. All of our free printables for kids work better when printed on cardstock (this is the one we use and love.)
Last Updated on 25 November 2023 by homeschoolof1