Christmas Scattergories 6 Free Printable Games for Festive Fun
Scattergories is one of our favorite family games, we just love it. So we thought we would create our own Christmas scattergories lists and some Christmas scattergories game printables to have fun.
This is a great Christmas party game that you can play with the whole family.
Gather the family and get ready for some friendly competition with the Christmas scattergories game. This an exciting addition to your lineup of Christmas activities for kids.
Test your creativity and quick thinking as you race against the clock to come up with unique holiday-themed words for each category.
If you don't already own the game by Hasbro, I highly recommend you get it. Holiday scattergories is such a fun game for the whole family.
**There may be affiliate links in this post. You can read my full disclosure at the bottom of the page.**
Have fun this Christmas with our Scattergories Printables
If you don't have the original game, these six printables are all you will need to have lots of fun this season.
Instructions:
Download the free printables below, if the email doesn't come through within 5 minutes please check your junk folder.
This Christmas scattergories free printable is free to print but is for personal or classroom use only. Scroll to the bottom of the page to get the pdf file.
Print out the six Christmas scattergories – just make sure you print to either A4 or letter and click on shrink to fit. I have tried so they should print on both sized paper.
Paper or Card – the printables work perfectly on printer paper so you can easily write on them. These all fit onto one full sheet of paper, so no need for cutting. If you want them to look professional though printing on cardstock will be better, the one I have linked to is what we use.
Grab some pens for you to fill out, and more importantly, have FUN.
Outset Media Christmas Scavenger Hunt – Party Game
Dolphin Hat Games Santa Cookie Elf Candy Snowman
Project Genius Inc. Oh What Fun! – Holiday
WHAT DO YOU MEME? Merry Dissmas – The Hilarious
How to play Christmas Scattergories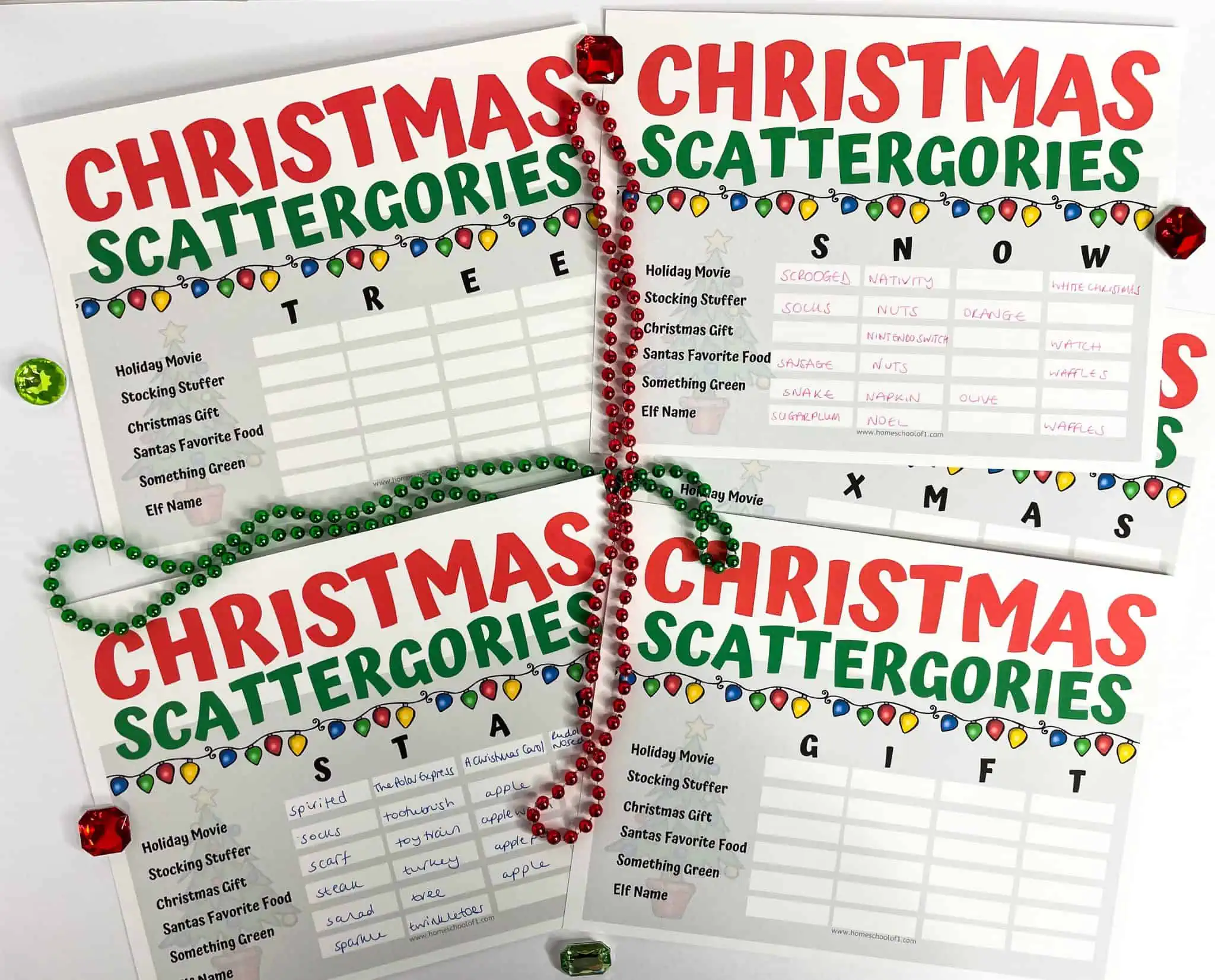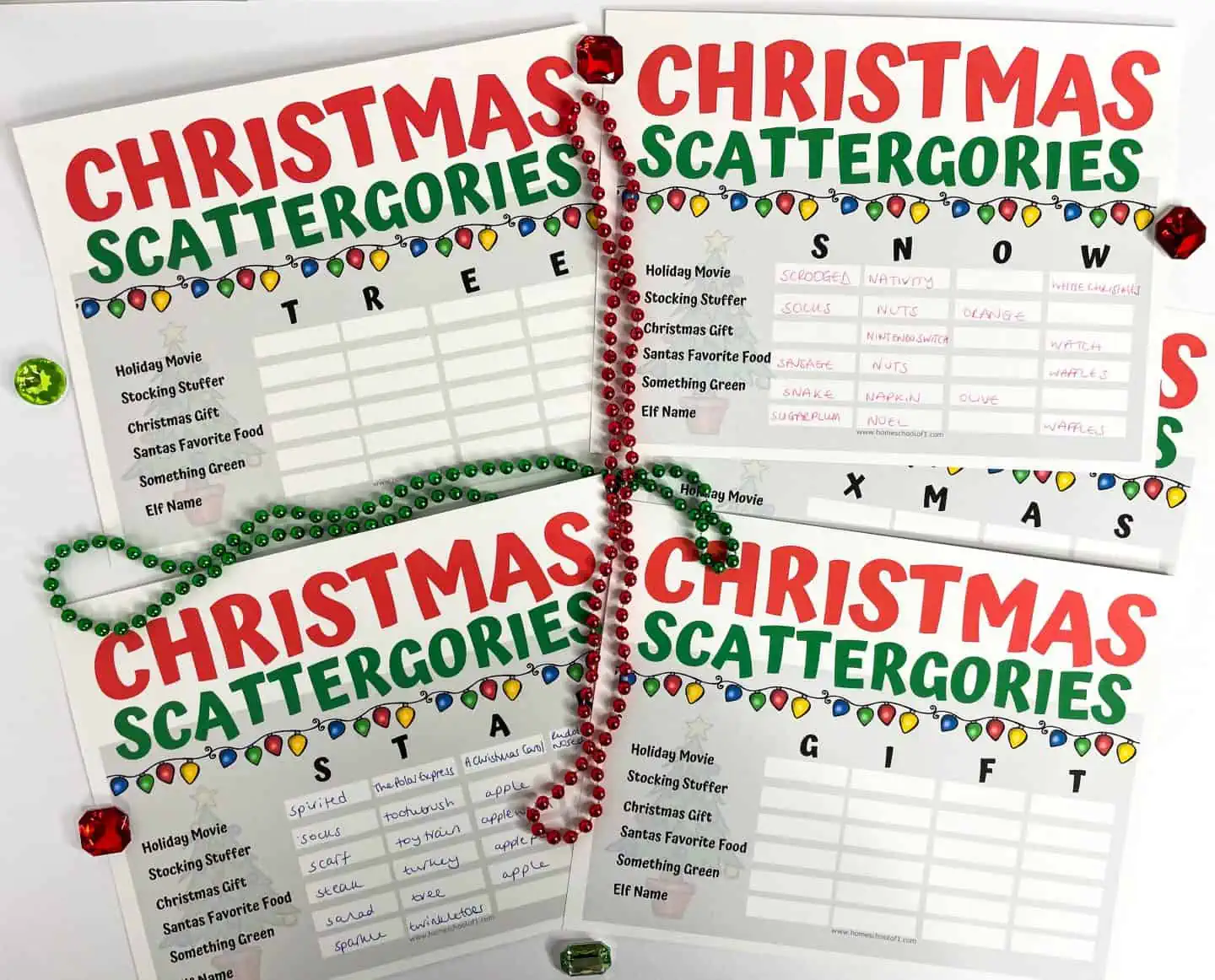 If you are not familiar with the game Scattergories, the object of the game is to fill out a category list with answers that begin with the same letter.
Included in the email are the five Christmas scattergories with letters included above, TREE, GIFT, STAR, XMAS, and SNOW, plus the Christmas Scattergories lists to play with the original game.
You score points if no one else has the same answer. The winner of course is the one with the most points. We have created a printable with 5 Christmas-themed category lists, with 1 left blank for you to fill in as you wish.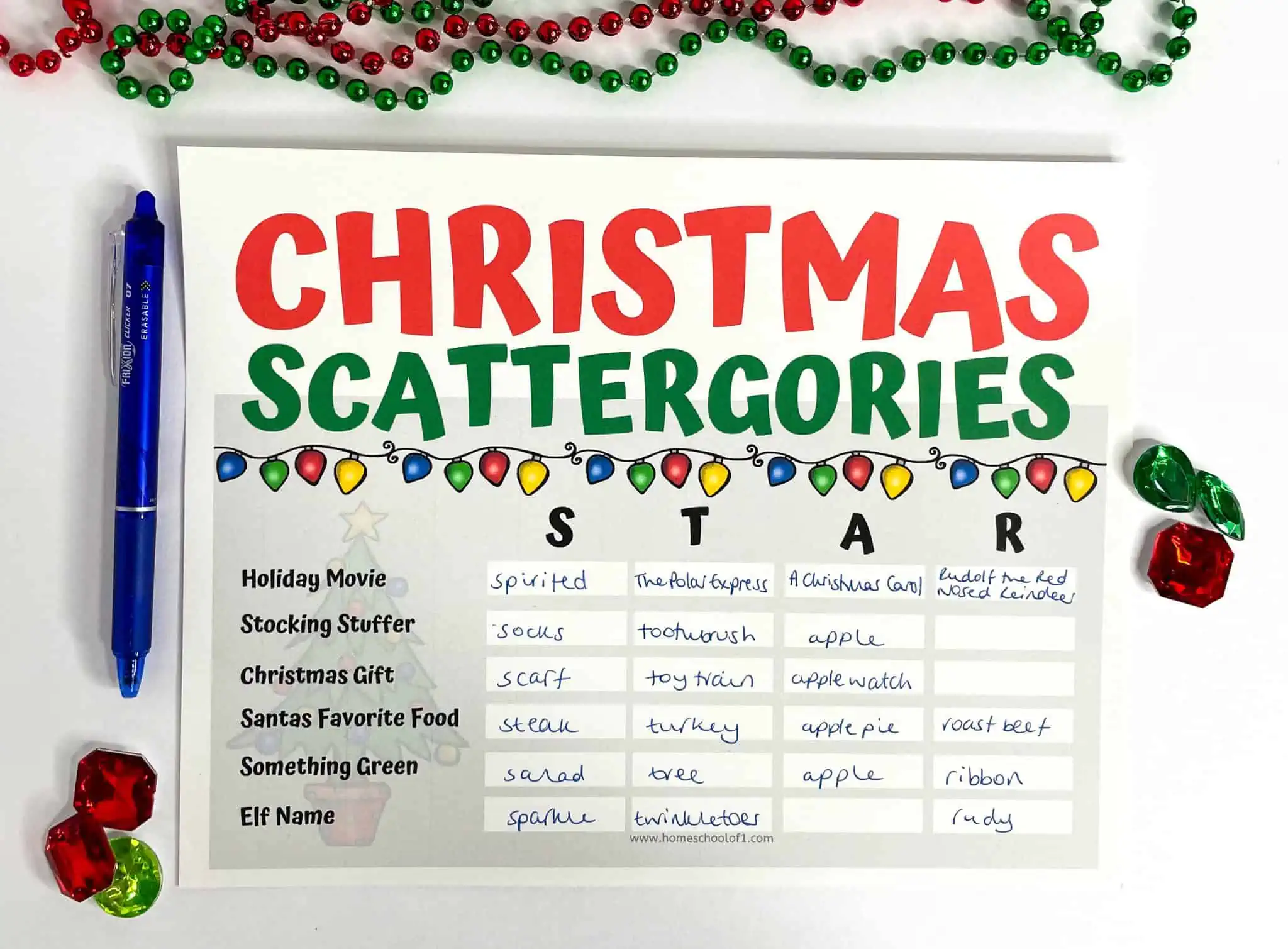 The official game comes with a 20-sided die with different letters on it. This letter is the first letter of each of your answers on the category list.
If you don't have the game Scattergories we have also included 6 different printable boards for you to play together. Print out one for each family member and have so much fun seeing what answers you come up with.
You also don't need the 20-sided die as we have included the letters at the top of each of the boards.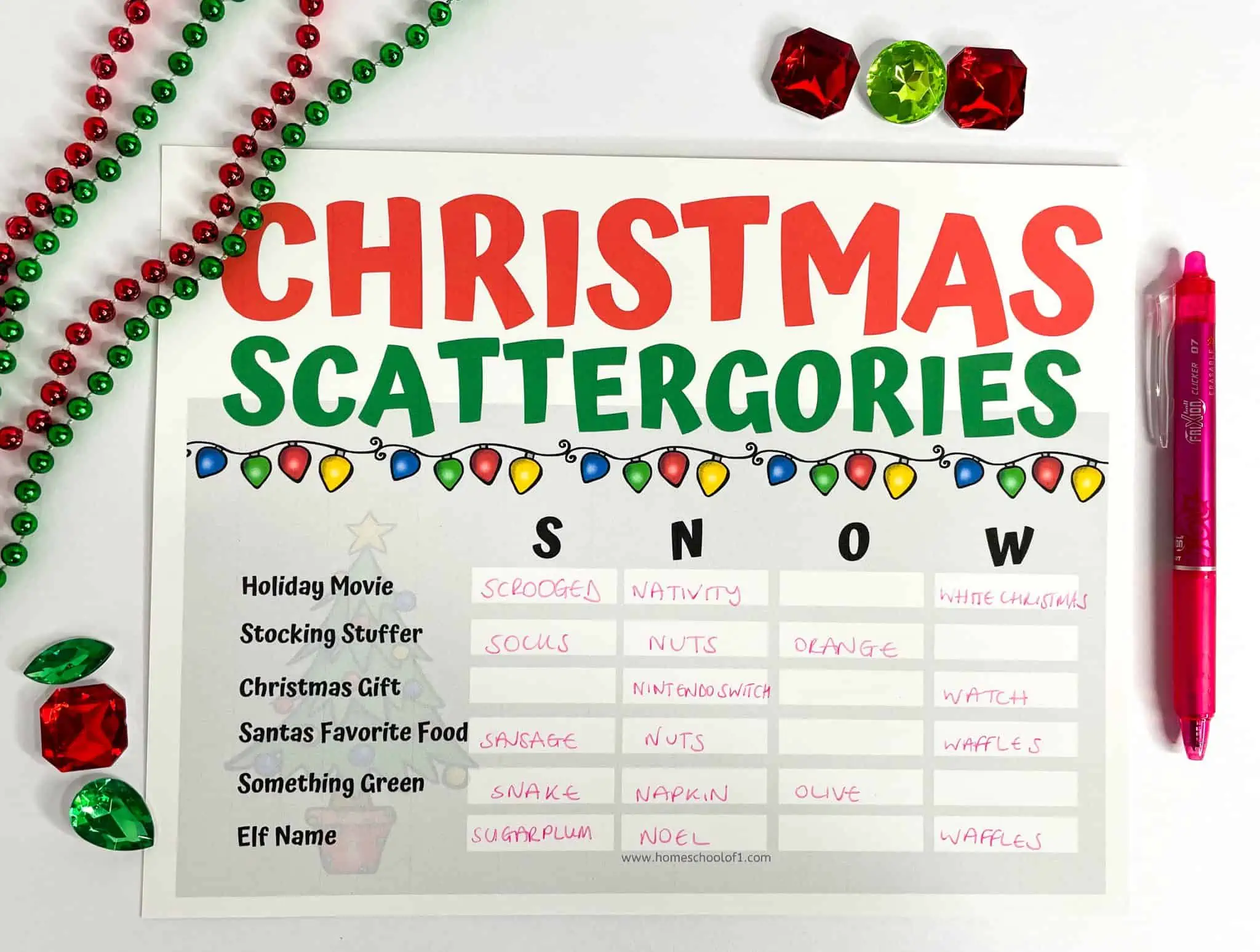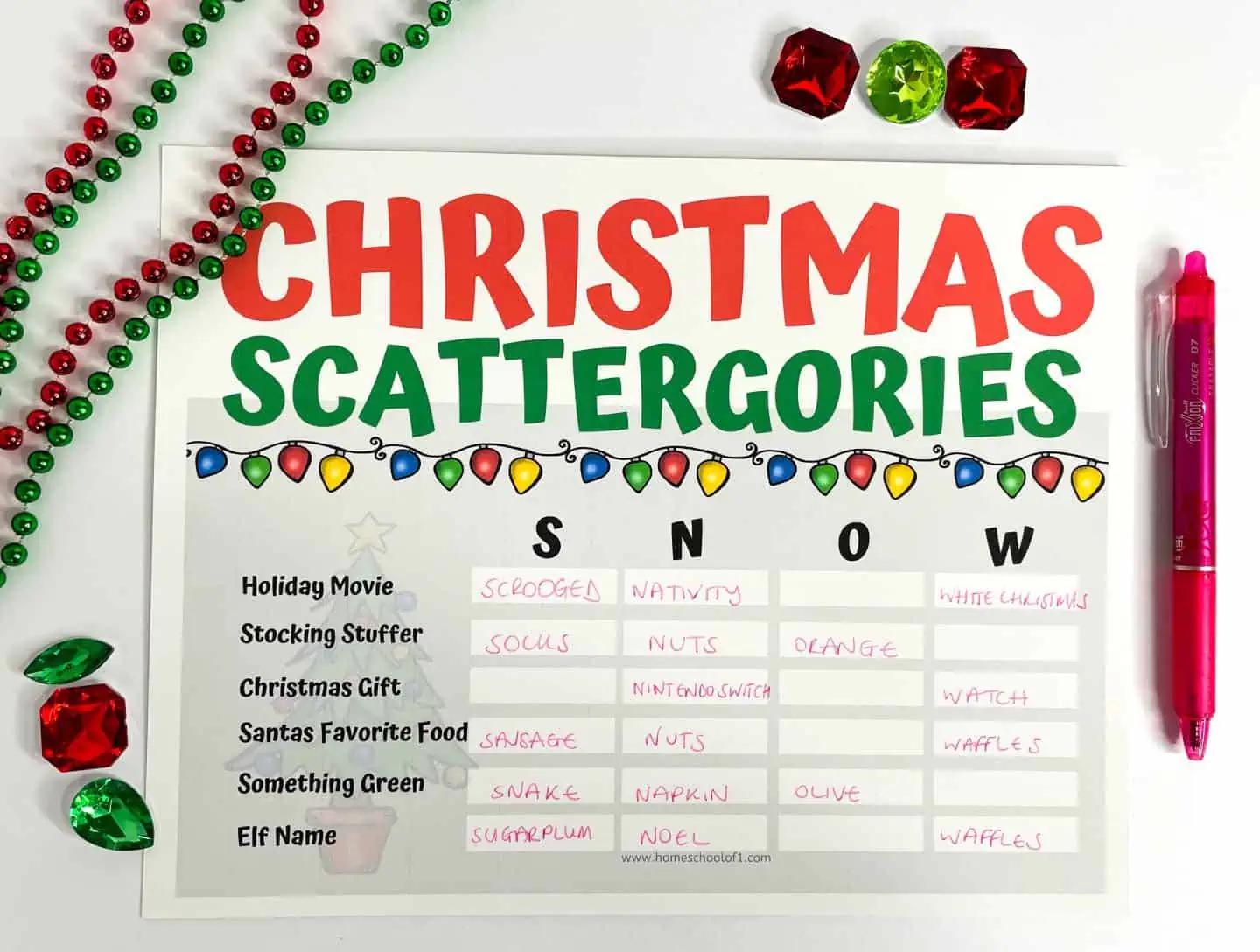 If you are looking for winter scattergories (and not Christmas themed) you are going to love our free printables.
Printable Scattergories Lists
If you already have the Hasbro game (it's so much fun!) then all you need to do is print out this extension pack.
There are five different lists all with a Christmas theme that you can use with the game.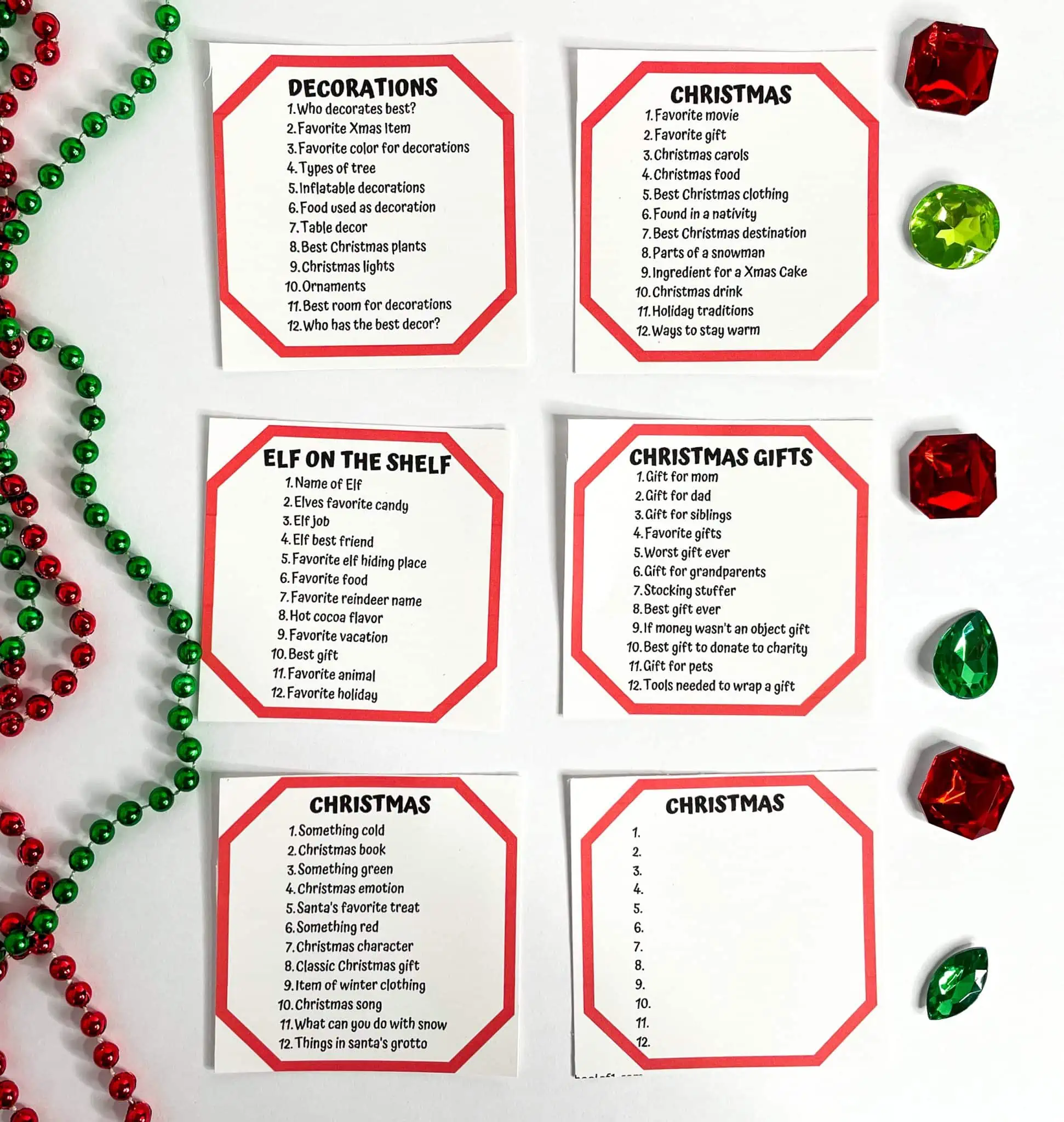 Instructions
Download the free printables below, it will magically pop into your email box within 5 minutes.
Print out the scattergories lists – just make sure you print to either A4 or letter and click on shrink to fit. I have tried so they should print on both sized paper.
Paper or Card – these work best printed on cardstock but regular printer paper will work
Cut out the six category lists.
Fill out the blank Christmas category list if you wish, or just discard it.
Additional Christmas printables
If you are looking for even more Christmas fun check out our other Christmas posts here:
Tips for downloading the free files
Below is a blue cloud with an arrow pointing downward. Underneath that is a large sign-up box where you need to add your name and email address, and press I NEED THIS NOW!
Within minutes you will be sent the free PDF directly to your email address, so you can print it out and start using it immediately.
Sometimes emails get a little wonky, so if you can't see it, please check your spam folder where I am sure it is hiding.
Download our free Christmas Scattergories Printables
Feel free to print out as many as you wish, just make sure you have lots of fun.
If you have finished playing our free game, why not check out even more Christmas fun games from Etsy. They have every game you can imagine, all of which can be downloaded.
Make sure you choose the correct paper size and click on the shrink to fit button. All of our free printables for kids work better when printed on cardstock (this is the one we use and love.)
Other free scattergories games
Last Updated on 2 October 2023 by homeschoolof1