8 Free Christmas Elf Coloring Pages (New 2023)
We absolutely love the Elf on the Shelf and she has been visiting us for over 7 years now. You can enjoy our elf coloring pages any time of year, but they will be even more special over Christmas.
There are 8 free printable Elf coloring pages to enjoy while the kids get excited about the elf on the shelf visiting.
We love creating free kids coloring pages, and we either use them as a supplement for a lesson we are studying or to calm the mood! Coloring is a great way for them to refocus and relax.
**There may be affiliate links in this post. You can read my full disclosure at the bottom of the page.**
Elf on the Shelf Coloring Pages
There are 8 pages included in these free Elf coloring pages.
You will need 9 different coloring pens or crayons to complete this activity. I highly recommend these dual tipped pens that we use (there are 72 different color pens included and a carry case to keep them all together.)
The included images on our elf coloring pages are:
Merry Christmas with a girl elf sitting on a shelf (check out our favorite free elf on the shelf printables)
Elf girl and boy sitting on a shelf, a Christmas tree, a train, a note to Santa, and more.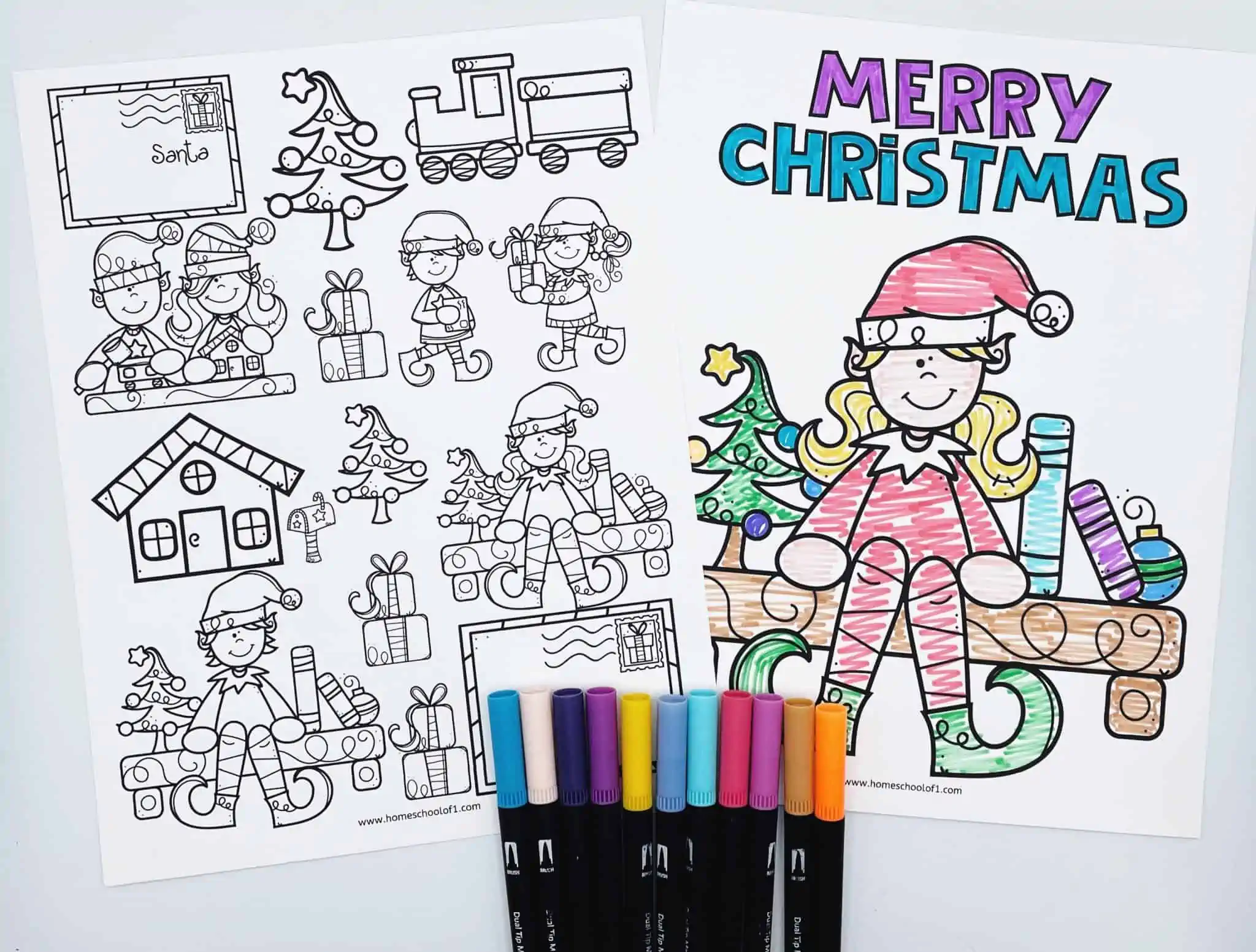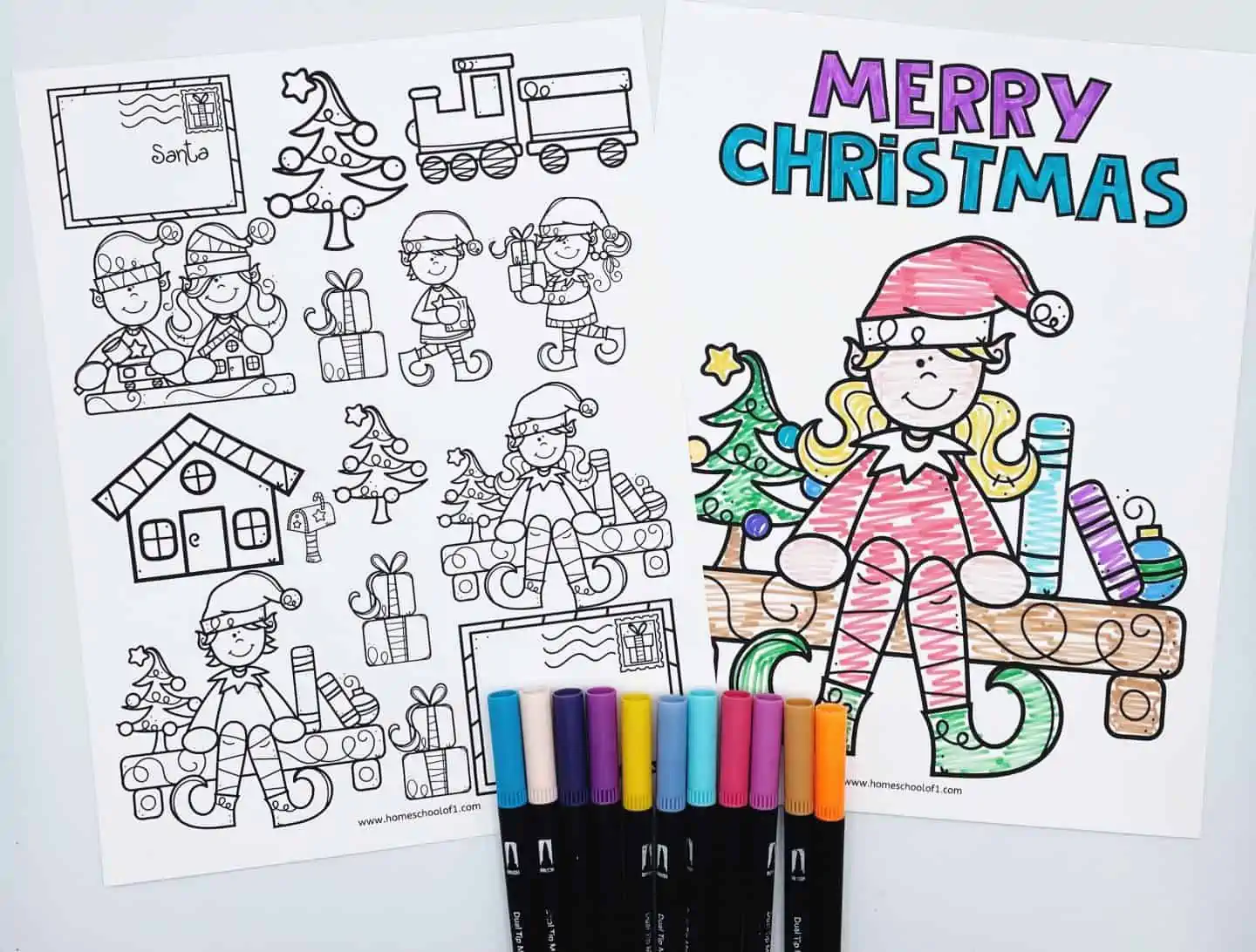 Happy holidays with a boy elf sitting on a shelf. Why not have an Elf on the Shelf scavenger hunt this year with our free rhyming clues.
Christmas tree surrounded by gifts. (I think you will also enjoy our free handprint Christmas tree template.)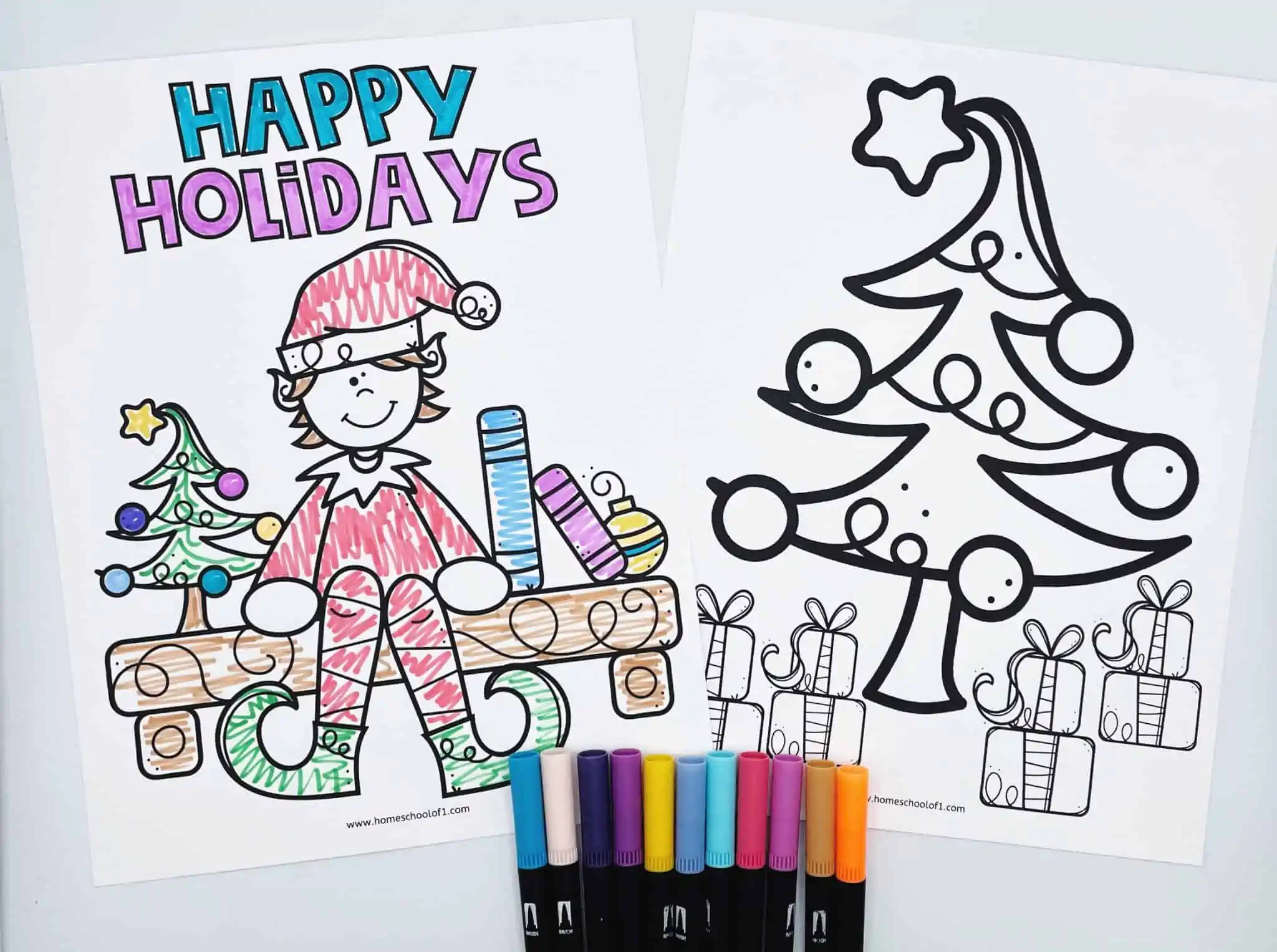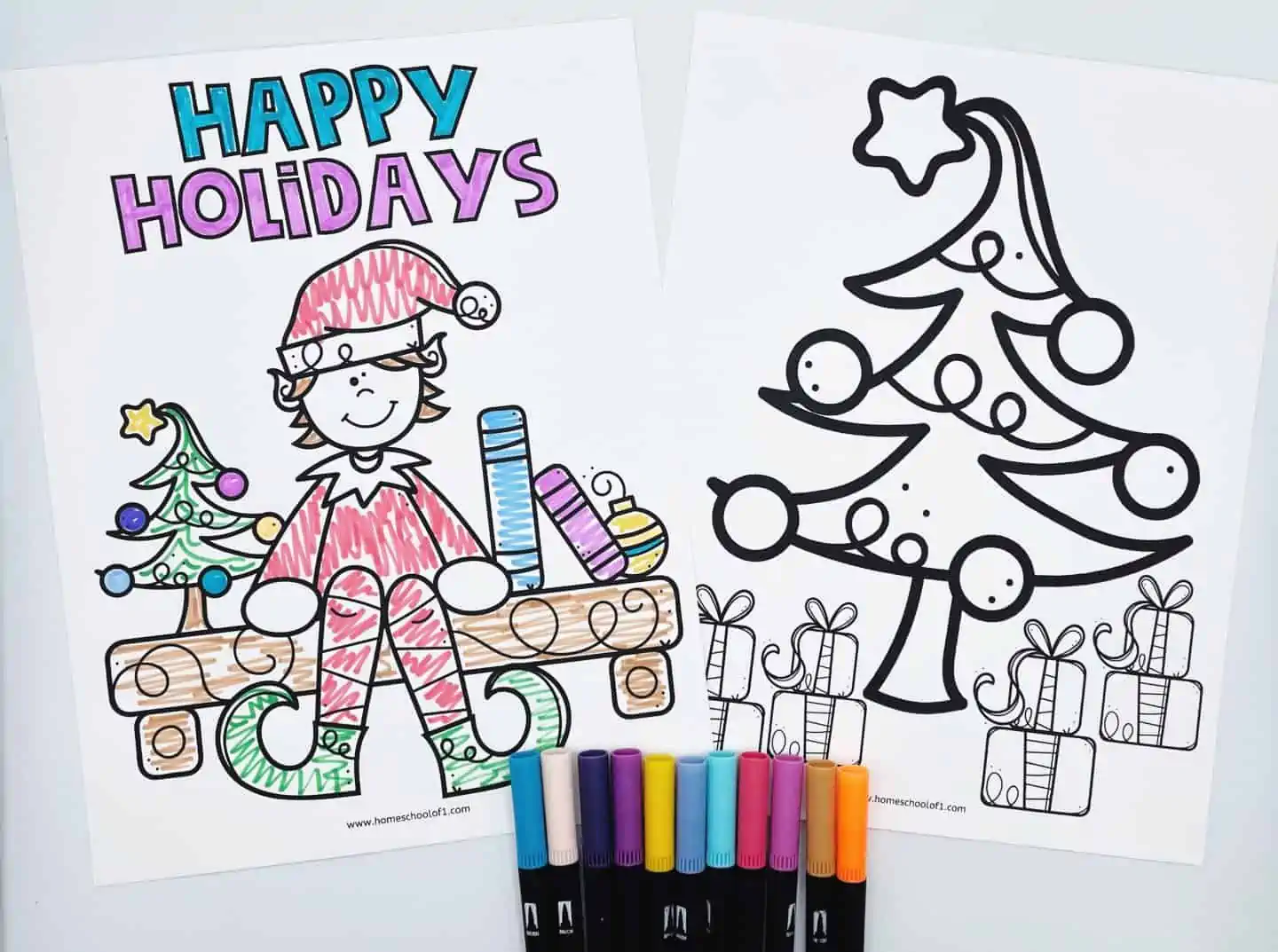 I love this one, with a boy and a girl elf making toys ready for Christmas.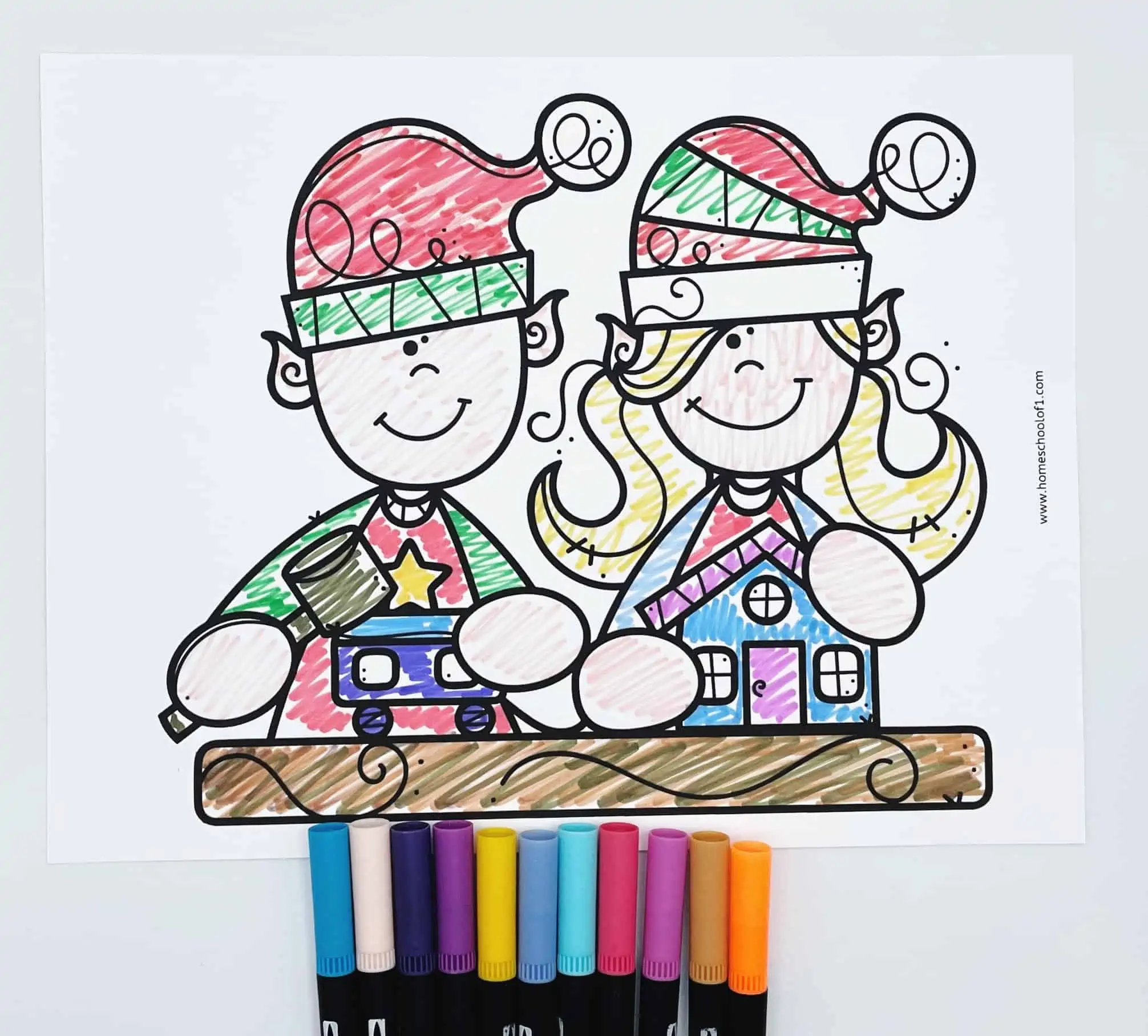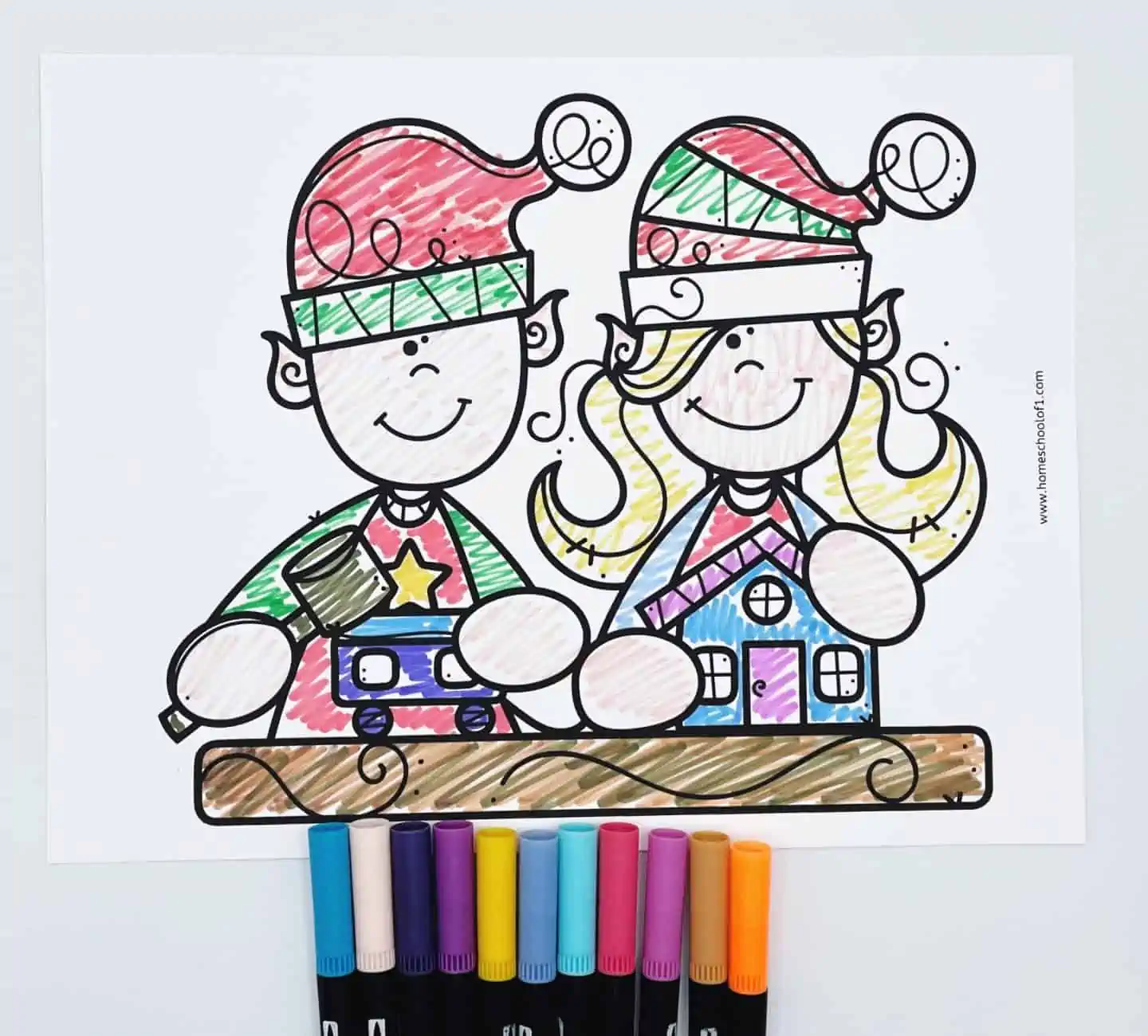 A house with 2 boy elves with letters from Santa to put in the mailbox. (I think you will also enjoy our free Santa handprint template.)
2 letters to Santa that can be colored in and written on. I think you will also enjoy our elf on the shelf arrival letter and our elf on the shelf goodbye letter.
Christmas train with gifts. Check out our favorite Elf on the Shelf gifts for the kids.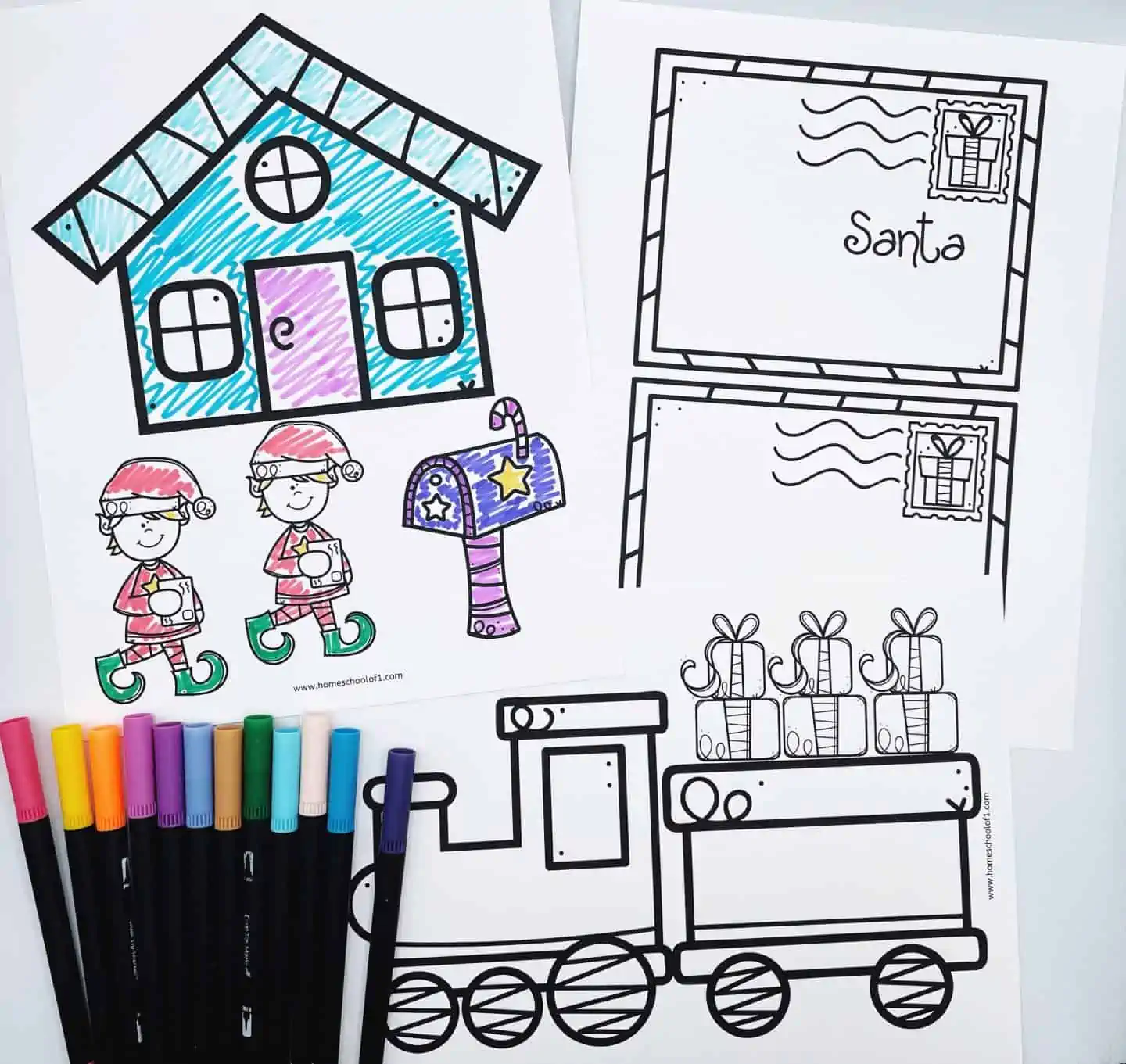 Even More Elf Printables?
If you are in a rush and are tired of searching for Elf on the Shelf printables you can purchase all of my printables for a small fee here. There are exclusive printables included not found anywhere else, and 41 pages to print!
41 pages are included in this download including:
North Pole Breakfast Menu (2 pages)
Elf construction zone (2 pages)
Snowman soup (exclusive)
Elf Kisses (exclusive)
Elf notes (3 pages)
Elf scavenger hunt (3 pages)
Elf memory game
Elf games
Elf hats
Elf on the Shelf word scramble (3 pages)
Elf names word search (2 pages)
Elf coloring page (8 pages)
Elf arrival letters (5 pages)
Elf goodbye letters (2 pages)
If I were an elf writing activity (1 page)
Elf yearbook cover (2 pages)
Download Free Printable Elf Coloring Pages
Make sure you choose the correct paper size and click on the shrink to fit button. All of our free printables work better when printed on cardstock (this is the one we use and love.)
I think you will also enjoy:
Last Updated on 30 December 2022 by homeschoolof1