37 Gifts for 12 Year Old Boys in 2023 (by Personality type)
I just love writing these Christmas gift lists, as it always means Christmas is on its way! I have written gifts for 10 year old boys and gifts for 9 year old boys previously. But as my son is about to turn 12 this year I thought I would write a new post all about gifts for 12 year old boys.
If you are looking for even more inspiration check out over 100 Christmas gifts for tween boys that they actually want!
These Christmas gifts for boys have all been approved by my son, and are all on his Santa wish list already (apart from the gaming setup, which he actually got when he was 11 – but he still says it's super cool!!).
I don't like giving money or gift cards to boys of this age as I still find they are easy to buy for. So I hope you find this list helpful, whether it is for your child or a friend or family. You will certainly be in for a big thank you!
Check out our favorite stocking stuffers for boys aged 8-14.
Within all of our gift guides, I try to arrange them in such a way that it is easy to navigate. So I have broken this list into electronic gifts, sports gifts for boys, educational gifts, board games, and gaming gift ideas.
These gifts are the best we could find this year, whatever your budget you are sure to find something they will love.
**There may be affiliate links in this post. You can read my full disclosure at the bottom of the page.**
Gift Ideas For 12 Year Old Boy
12 year old boys are so hard to buy for, I am sure having a girl would have been easier!! But don't worry I have you covered there is a gift here for every 12 year old boy on your gift list.
Also, there is a gift for every budget.
If you are nearing the teenage years I have you covered with these ultimate best gifts for 13 year old boys.
Gifts for 12 Year Old Boy Gamer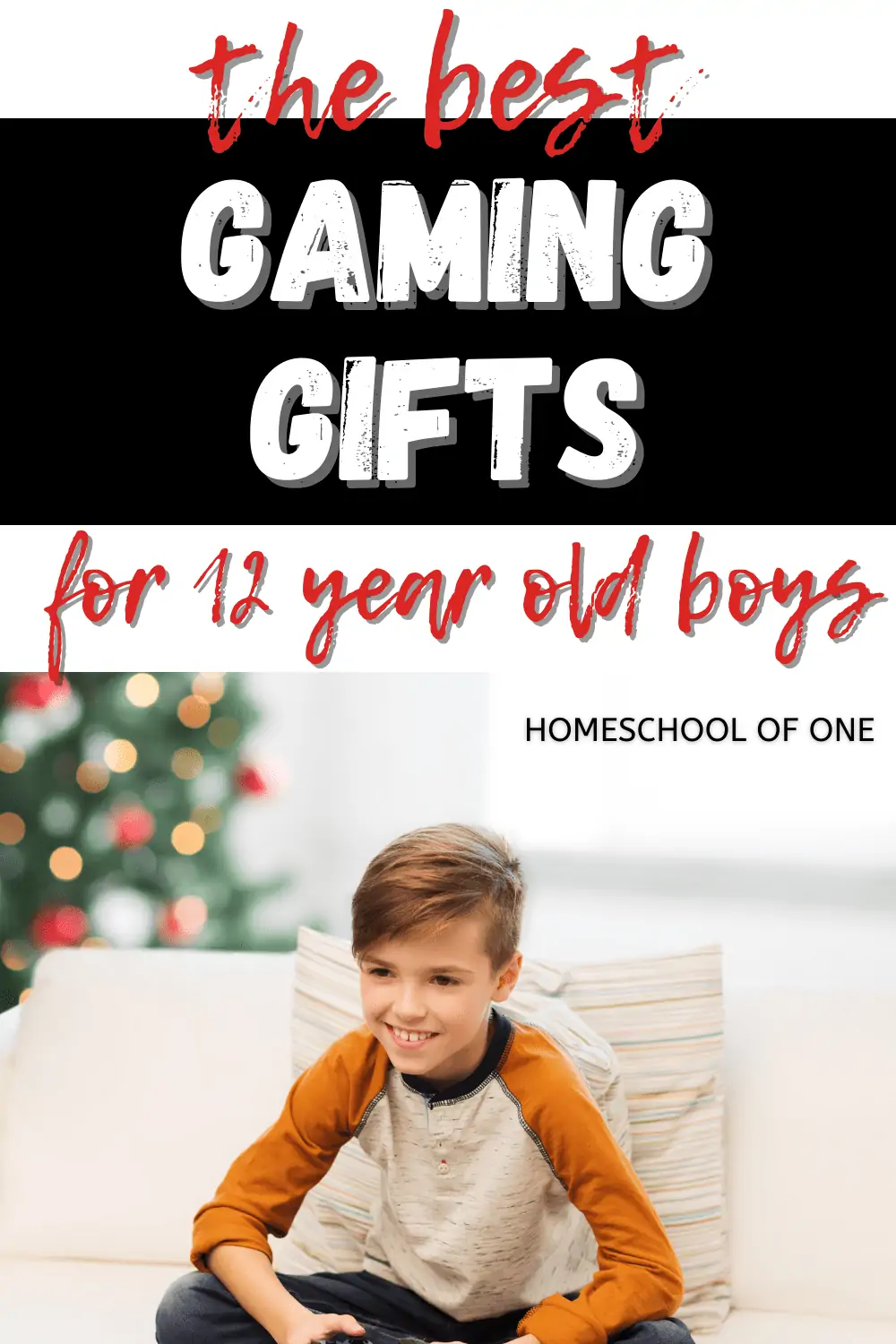 This is always the first thing that goes onto my son's Christmas wish list. He wants it all, he sees Youtubers with all of this amazing setup, and he of course wants to replicate it!
Gaming Mouse Pad XL and lights up! As we homeschool he loves using this when he does his schoolwork too! If you want to make it even more special, get a personalized gaming mouse pad here.
Oculus Quest 2 — Advanced All-In-One Virtual Reality Headset
Custom Twitch Neon Sign is a personalized LED sign perfect for their bedroom or game room (if they have one!!!)
Gaming Mouse this light-up mouse is the perfect addition to any gaming setup (or so I have been told!!)
Personalized gaming socks are a perfect gift, or even as a really cool stocking stuffer.
Gaming Chair we actually have this chair, he got it for Christmas last year and it still looks brand new. I am very impressed with the quality, and my son is really impressed with the look and comfort.
Gaming Table is also something we have, which we also highly recommend.
Sports gifts for 12 year old boy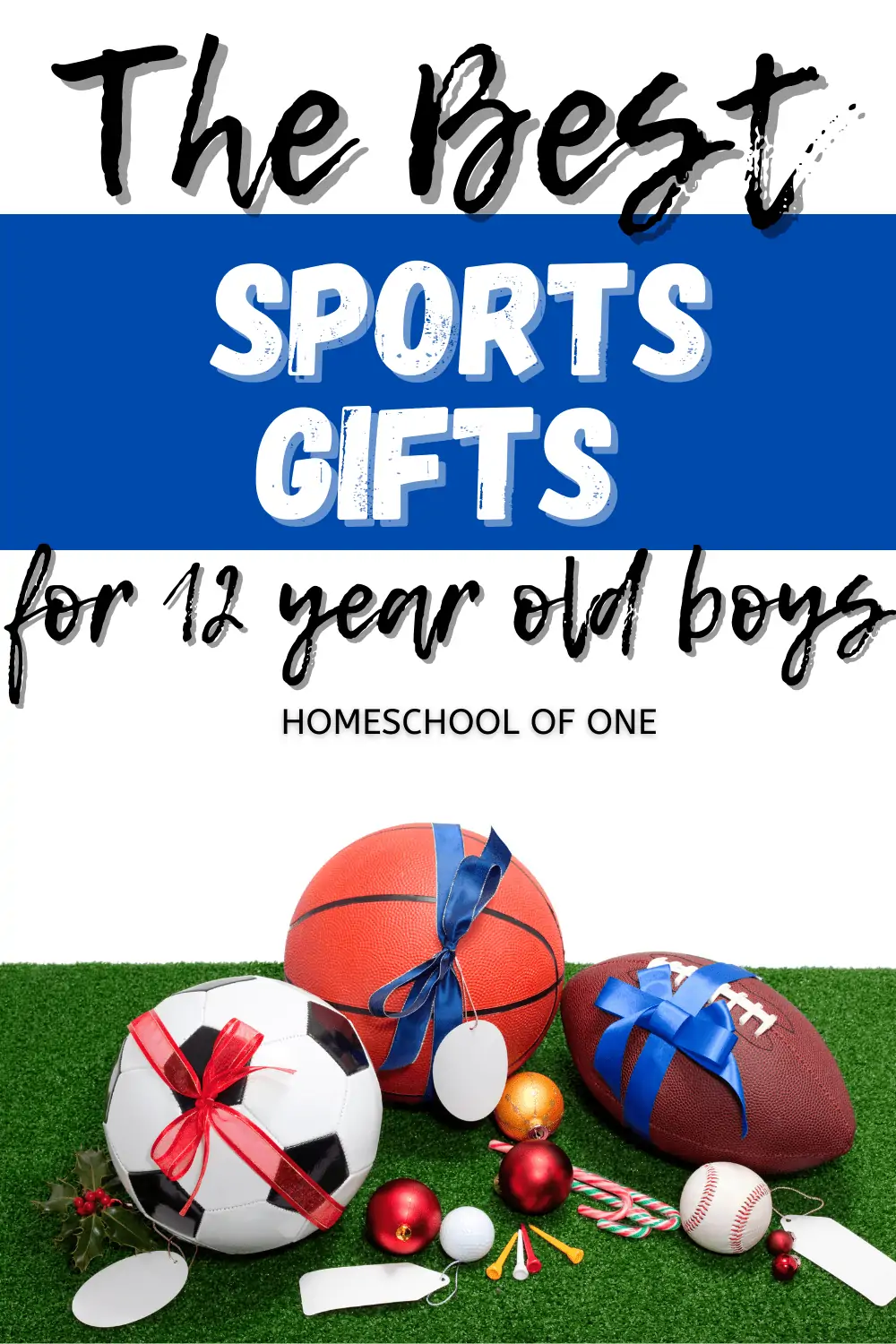 These are the best sporting gifts for 12 year old boys, as you can probably tell his favorite sport is basketball! But I have tried to include other ideas too, the punch bag for example is a great one! You will also love our top 26 basketball gifts for boys.
Personalized basketball Custom airbrushing on full-size basketball – this item includes the ball painted with a simple design and colors, you can pick your style and can include a name or nickname, each piece is uniquely made for you!
Personalized Gatorade Bottle Includes Name & Team # or Name & Design.
Dribble Up smart basketballs and smart soccer balls perfect for a sporty child.
Battle Action Laser Tag Lock 'n load for a fight for domination! Strap on your vest, grab a gun, check your ammo, and transform your backyard or basement into a battle zone for an ultra-hi-tech laser tag war
Indoor Basketball Hoop – If you have a basketball fan, this indoor basketball hoop is the best gift idea.
Waterproof Action Camera – this can be attached to a bike or a helmet, or just carried. It takes some pretty cool underwater pictures too!
Spike Ball is a fun, active, and competitive 2 on 2 outdoor sports game.
Free Standing Punch Bag get rid of any extra energy with this punch bag. This is an adult size, as a kids one would certainly be too small for my son.
Educational Gift for 12 year old boy
Even before we homeschooled we always added educational gifts, and they were always received very well. These are our favorites for 12 year old boys. Another great idea is to get them a subscription box check out our favorite 14 all for tween boys.
Theory 11 Premium Playing Cards are honestly the best playing cards I have ever seen, made in collaboration with Star Wars, Marvel and so many other franchises.
Mel Science has put together an amazing Christmas bundle this year. This comes with a starter kit with quality lab equipment, a VR headset to access exclusive VR lessons. And a whole pack of Christmas science experiments: 3 Chemistry kits, 1 Physics kit, and 1 STEM project. We absolutely love this and would make a great gift for any 12 year old.
Check out our Mel Science review (Use code 5BOXES to get 5 boxes free on the annual subscription. Or use code YEAR50 for 50% off an annual subscription. Or use code BOGO to get one box free with the first box ordered.)
Table Top Robot is a small STEM project that they will enjoy making.
Rock Tumbler – This kit makes it fun and easy to turn rough rocks into beautifully polished gemstones, a great homeschool gift for kids.
Stem Structures Buildings and Bridges – make 9 different structures and bridges with this kit, perfect for a budding architect.
Scientific Calculator – as they are going into middle school a scientific calculator is a must.
If you prefer to give books, check out our favorite books for 13 year old boys too.
Games for 12 year old boys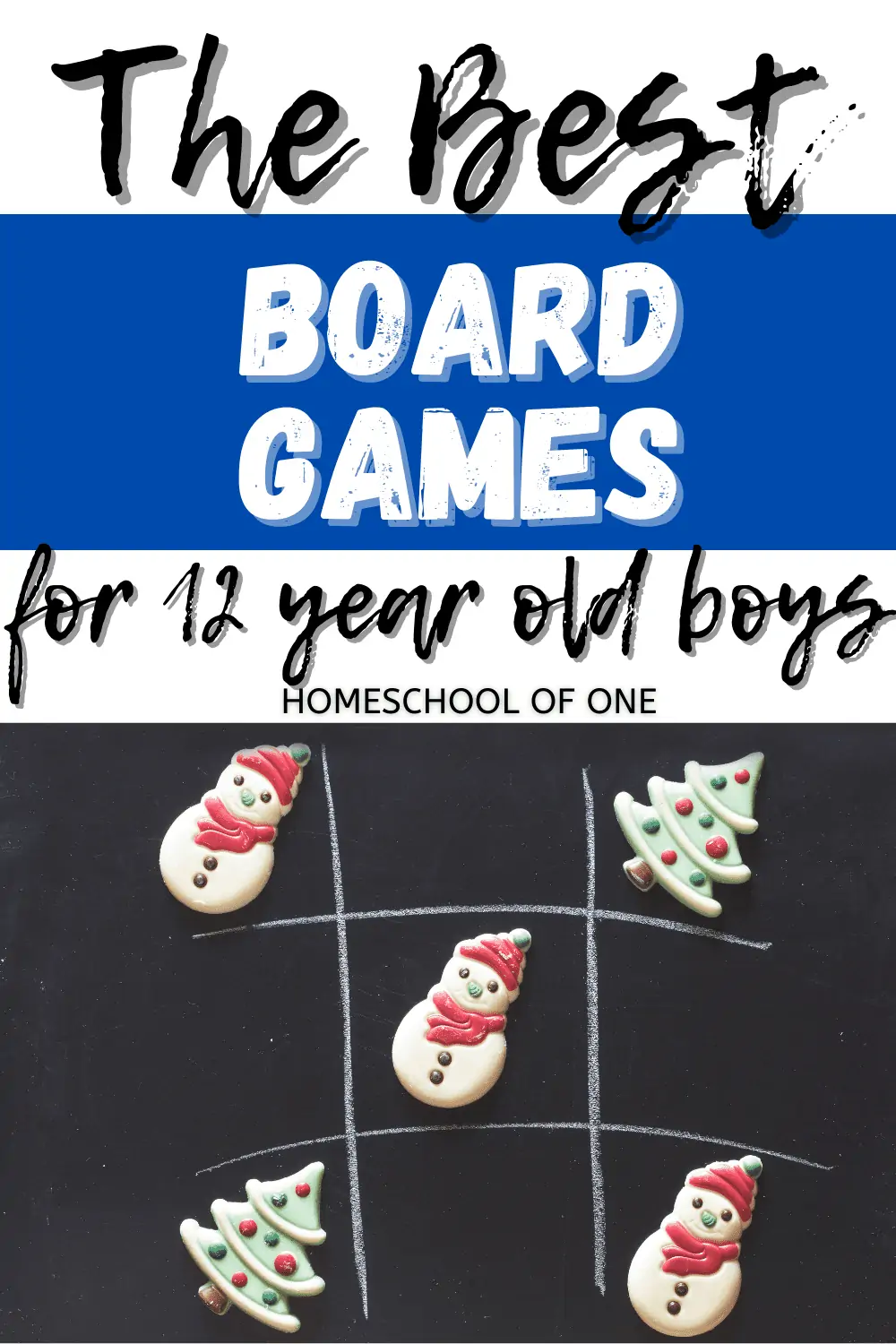 We play a lot of board games in our homeschool, and if you are wanting the best educational board games check out our post. But these board games below are super fun and mostly hilarious!
Kids Against Maturity – We have the adult version of this (which is super funny) so when they brought out a kids version I was super happy.
Not Parent Approved – another family card game that you will all enjoy.
Taco vs Burrito – a fun and fast game for the whole family.
What Do you Meme? Family Edition – what 12 year old do you know who doesn't like memes? Yeah nor me, so this game is perfect.
I should have Known that Trivia Game – another card game, it states suitable for kids 14 and above, but I think for a mature 12 year old this will be great.
Lego Friends Central Perk – I know this isn't a board game, but I can't put together a gift list for 12 year olds without adding Lego! For even more check out over 115 gifts for Lego lovers!
Electronic Gifts for 12 Year Old Boy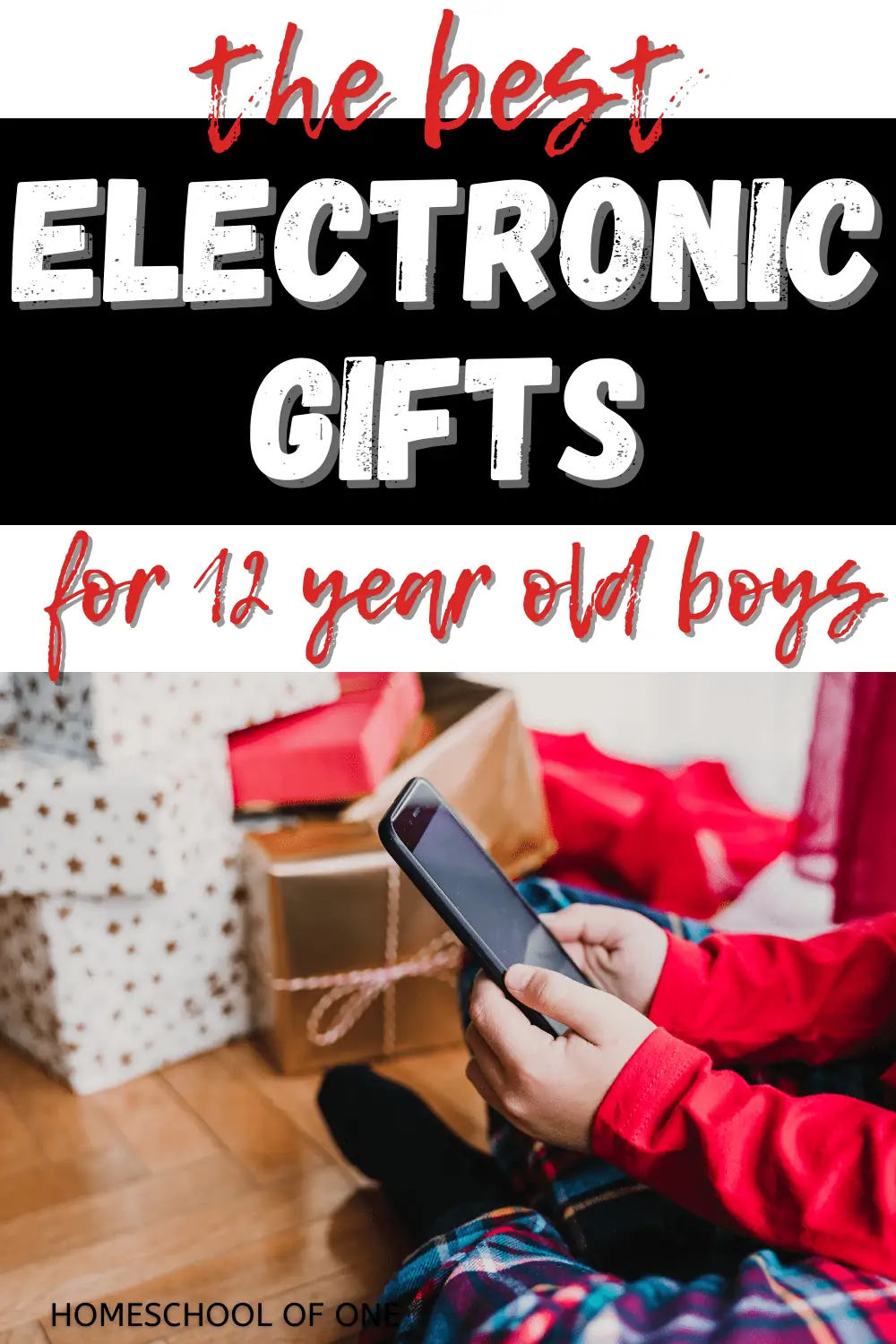 It wouldn't be Christmas in our house without some type of electronic gift. These are the best I could find for 12 year old boys.
3D Illusion Star Wars Light – This is perfect for any Star Wars fan like my 12 year old.
Apple I Watch – this has been on the list for years, and I have never included it, as in my opinion he is too young. But I know a number of his friends already have them.
Computer Monitor / TV – This is a great gift for any gamer! Or indeed any kid who likes to game, watch tv, or is homeschooled.
Wireless Charging Station – This 3 in 1 charging station is perfect, it can sit by their bed (or in our case downstairs!), and keeps everything together.
Playstation 5 Console – We tried to get this last year, and if you succeeded well done! We didn't, and I promised that we would look into it again this year. Although just looking again now, and it looks like this year is going to be hard to find too!
What are your favorite gifts for 12 year old boys? Let me know in the comments below.
Last Updated on 30 December 2022 by homeschoolof1