41 Gifts for 12 Year Old Boys in 2023 (by Personality type)
So, my son's turning 12, and I've been on the hunt for gifts that'll blow his mind. Seriously, I've stumbled upon some seriously cool stuff, and I'm here to spill the beans on the best gifts for 12 year old boys.
I'm not a fan of handing out money or gift cards to kids this age, 'cause honestly, they're still so easy to shop for! Whether it's for your own kiddo, a friend, or a family member, I've put together a list that's bound to earn you a big ol' "thank you."
From wallet-friendly to splurge-worthy, these Christmas gifts for boys are the cream of the crop this year. So, dive in, and you'll find something they're gonna absolutely love. Trust me, these are the ones that have passed the tough inspection of my own son.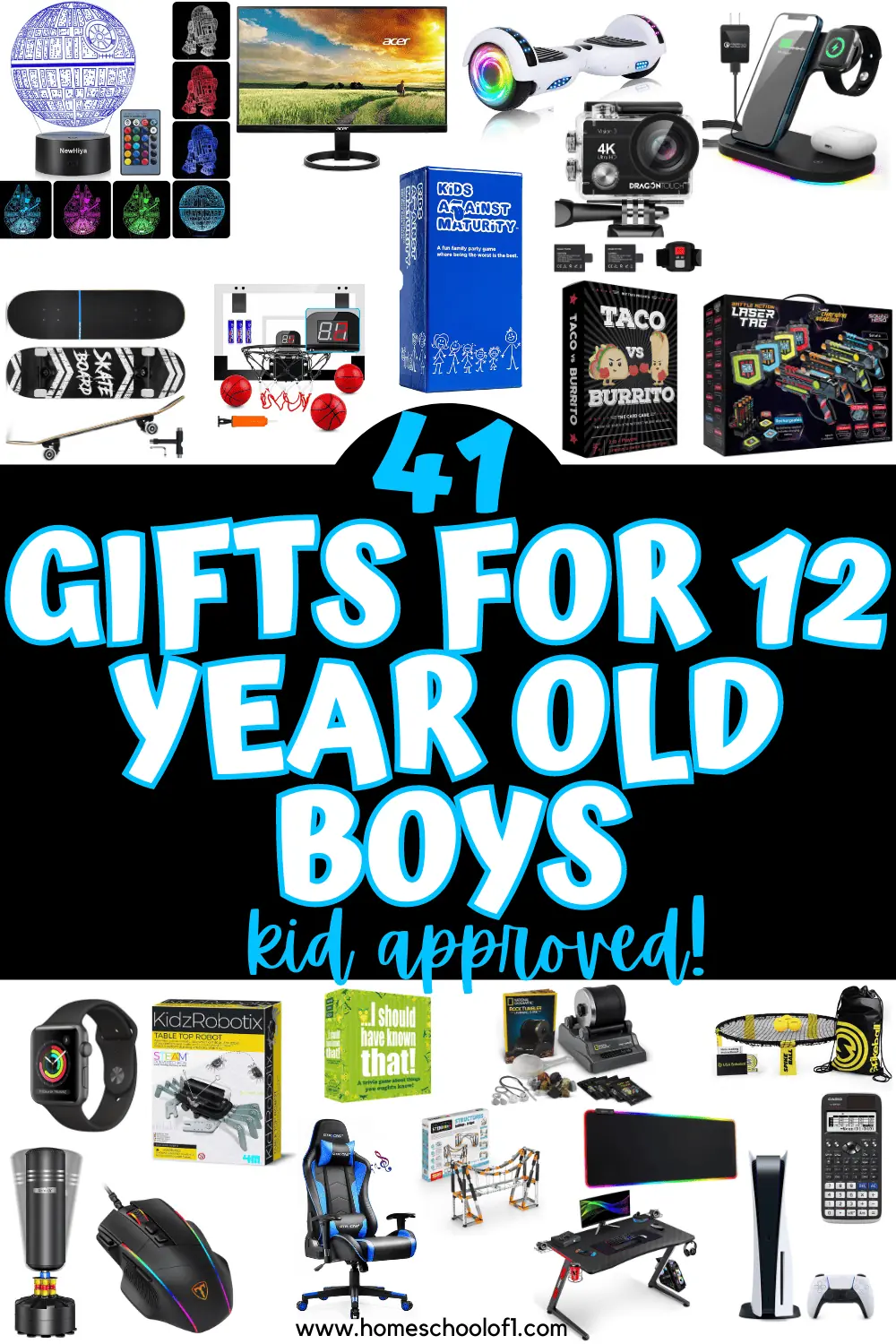 **There may be affiliate links in this post. You can read my full disclosure at the bottom of the page.**
Gift Ideas For 12 Year Old Boy
Within all of our gift guides, I try to arrange them in such a way that it is easy to navigate. So I have broken this list into electronic gifts, sports gifts for boys, educational gifts, board games, and gaming gift ideas.
12 year old boys are so hard to buy for, I am sure having a girl would have been easier! But don't worry I have you covered there is a gift here for every 12 year old boy on your gift list.
Also, there is a gift for every budget.
If you are nearing the teenage years I have you covered with these ultimate gifts for 13 year old boys.
Top 10 gifts for 12 year old boys
Before I go into the full gift guide these are the top 10 Christmas gifts for 12 year old boys:
Milliard Punching Bag, Boxing Equipment Bag, Punching Bag for Adults with Stand, Heavy Freestanding Punching Boxing Bag (40-240 lb)
GTRACING Fabric Gaming Chair with Footrest, Ergonomic Racing Style Reclining Computer Chair with Premium Breathable Cloth Cushion and Headrest&Lumbar Support (Black)
Apexcam Action Camera 4K Sports Camera 20MP 40M 170°Wide-Angle WiFi Waterproof Underwater Camera with 2.4G Remote Control 2 Batteries 2.0" LCD Ultra HD Camera with Mounting Accessories Kit
Exploding Kittens Card Game – Original Edition, Fun Family Games for Adults Teens & Kids – Fun Russian Roulette Card Games – 15 Min, Ages 7+, 2-5 Players
Taco vs Burrito Card Game – Wildly Popular Surprisingly Strategic Family Game Night – Created by a 7 Year Old – Perfect for Boys, Girls, Kids, Families and Adults Who Love Family Games and Board Games
3D Night Light for Kids and Star Wars Fans, 3 Patterns and 16 Color Change Decor Lamp, Star Wars Toys for Kids, Birthday and Christmas Gifts for Boys Girls
Gifts for 12 Year Old Boy Gamer
This is always the first thing that goes onto my son's Christmas wish list. He wants it all, he sees Youtubers with all of this amazing setup, and he of course wants to replicate it!
Not only does this XL-sized gaming mouse pad provide ample space for precise mouse movements, but it also lights up, adding a cool visual effect to his gaming setup. Plus, it's versatile enough to use for schoolwork as well. If you want to make it even more special, get a personalized gaming mouse pad.
Take his gaming to the next level with the Oculus Quest 2. With immersive experiences and a vast library of games, he'll be transported to new worlds and adventures.
Personalize his gaming space with a Custom Twitch Neon Sign featuring his gamer tag or favorite catchphrase. It's a great addition to his bedroom or game room, adding a touch of style and personality to his setup.
Enhance his gaming performance with a high-quality, light-up gaming mouse. Designed for precision and comfort, this mouse is a must-have for any serious gamer.
.Add a touch of fun and uniqueness to his wardrobe with personalized gaming socks. Whether he's lounging or gaming, these socks will keep him comfortable and stylish.
Keep his gaming space organized and his headphones easily accessible with a headphone stand that also includes a charging feature. This functional and stylish accessory ensures his gear is always ready to go.
Invest in his comfort and style with a gaming chair that's both visually appealing and ergonomically designed. A quality gaming chair enhances his gaming sessions while also providing a comfortable spot for studying.
Elevate his setup with a dedicated gaming table that's designed to accommodate all his gear. With ample space and thoughtful features, this table ensures he's gaming in style and comfort.
Lego video games, especially those set in the Star Wars universe, offer a blend of creativity, adventure, and nostalgia. They provide an opportunity to explore familiar worlds and characters while engaging in problem-solving and gameplay.
A high-quality gaming headset is essential for clear communication and immersive audio experiences. Choose a headset that's comfortable for long gaming sessions and offers crystal-clear sound quality.
Sports gifts for 12 year old boy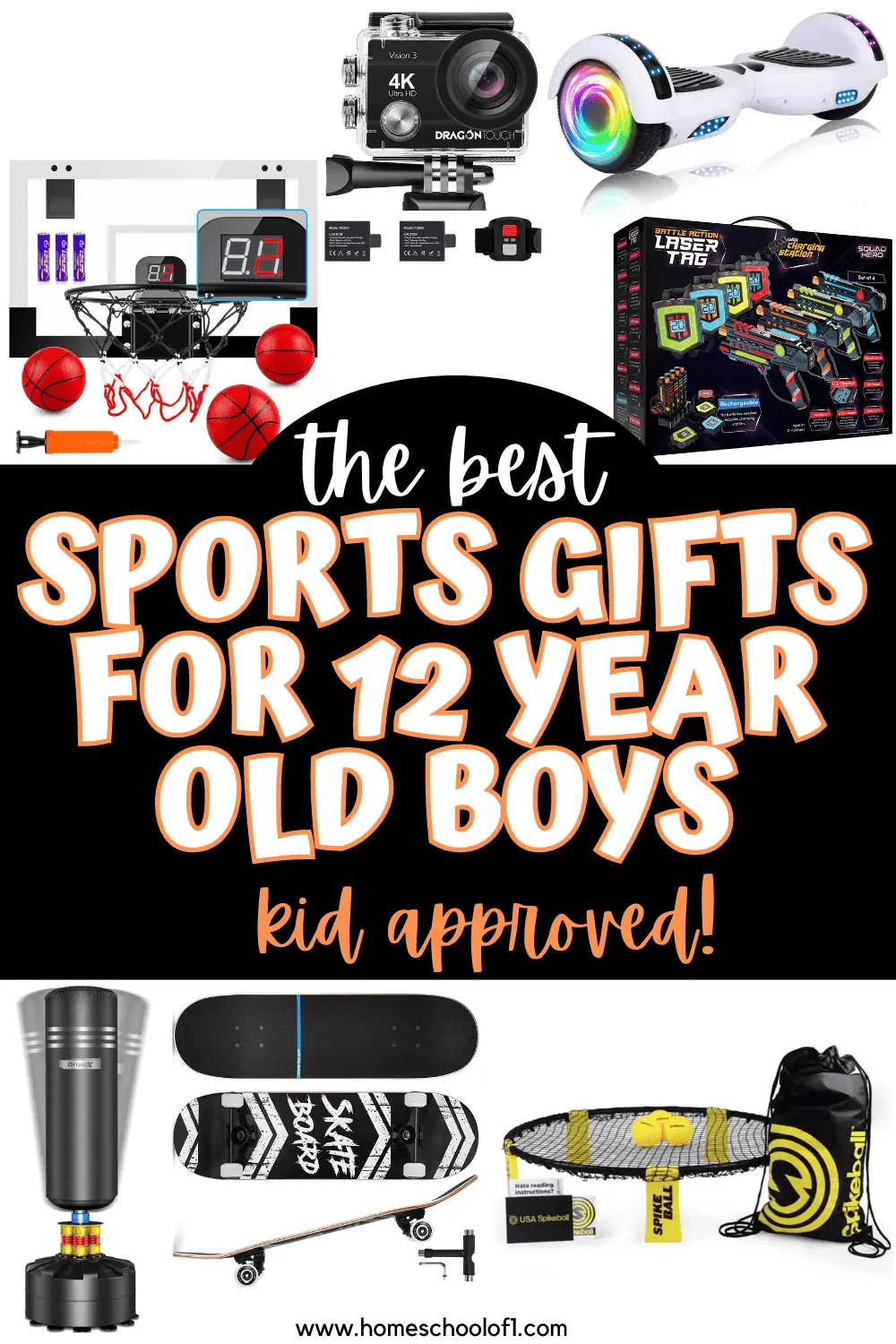 Looking for the perfect gifts for a sporty 12-year-old boy?
Whether his heart belongs to basketball or he's open to trying other exciting sports. We've compiled a list of top-notch gift ideas that are sure to keep him active, engaged, and entertained.
Make his basketball dreams come true with a personalized basketball featuring a unique design and colors. You can even include his name or nickname, creating a one-of-a-kind ball just for him.
Keep him hydrated in style with a personalized gatorade bottle that includes his name and team number or a special design. This practical and customized gift is perfect for sports practices and games.
Add some sports flair to his room with a basketball poster featuring his favorite team, players, or motivational quotes. It's a great way to inspire his passion for the game.
Turn his backyard or basement into an epic battle action laser tag battlefield with this high-tech laser tag set. It's a thrilling way for him to engage in active and competitive outdoor play.
Give him the gift of adventure with a hoverboard. This self-balancing scooter is not only a cool mode of transportation but also a fun way to enhance his balance and coordination.
Bring the excitement of basketball indoors with an indoor basketball hoop. Perfect for practicing shots and trick shots, it's a must-have for any basketball enthusiast.
If he's up for trying new sports, a skateboard offers a thrilling way to cruise around and practice tricks. Make sure to provide proper safety gear to accompany this gift.
Capture his sports and outdoor adventures with a waterproof action camera. Whether he's biking, skating, or diving, this camera will help him document his exciting experiences.
Encourage outdoor play with a Spike Ball set. This energetic 2-on-2 game is a fantastic way to keep him active while having a blast with friends and family.
For releasing extra energy and staying fit, a free standing punch bag is an excellent choice. This adult-sized bag is perfect for providing an outlet for physical activity.
The hover soccer ball combines the excitement of soccer with a unique twist. Its ability to glide on smooth surfaces adds an extra layer of fun to indoor play. It's a great way to keep him active and entertained.
You will also love our top 26 basketball gifts for boys.
Educational Gift for 12 year old boy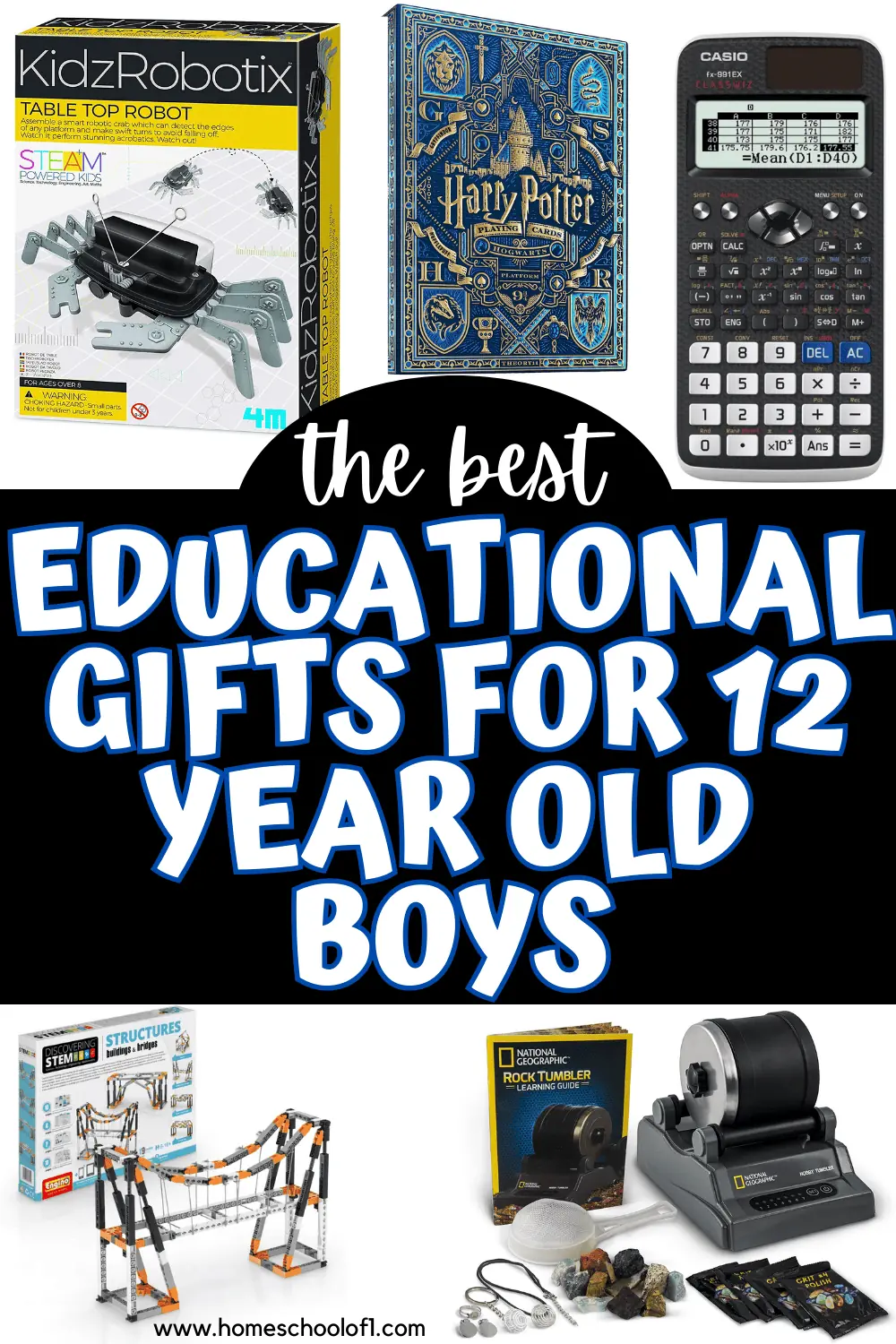 Foster curiosity and learning in a 12-year-old boy's life with these exceptional educational gifts.
Whether he's a science enthusiast, a budding engineer, or a curious learner, these gifts are designed to inspire his mind and fuel his passion for knowledge.
From hands-on experiments to challenging puzzles, these gifts are sure to provide both entertainment and education.
Elevate his card-playing experience with Theory 11 premium playing cards featuring collaborations with iconic franchises like Star Wars, Harry Potter, and Marvel. These cards are not only beautifully designed but also offer a touch of pop culture fun.
Spark his interest in science with the Mel Science Christmas bundle. This kit includes quality lab equipment, a VR headset for exclusive VR lessons, and a variety of Christmas science experiments in chemistry, physics, and STEM projects.
Ignite his interest in robotics with a tabletop robot kit. He'll enjoy building and experimenting with this small STEM project, learning valuable skills in the process.
Turn rough rocks into polished gemstones with a rock tumbler kit. This hands-on activity teaches patience and geology as he watches his creations transform.
For the aspiring architect or engineer, this stem structures buildings and bridges kit allows him to create nine different structures and bridges. It's a perfect way to engage his creativity and problem-solving skills.
As he enters middle school, a scientific calculator becomes an essential tool for more complex mathematical tasks. Help him succeed in his studies with this practical and educational gift.
Consider gifting subscription boxes for teen boys tailored to his interests. There are various options available, ranging from science kits to reading materials, offering ongoing educational experiences.
Expand his mind with thought-provoking and engaging books for 13 year old boys. Look for titles that align with his interests or introduce him to new subjects and perspectives.
Games for 12 year old boys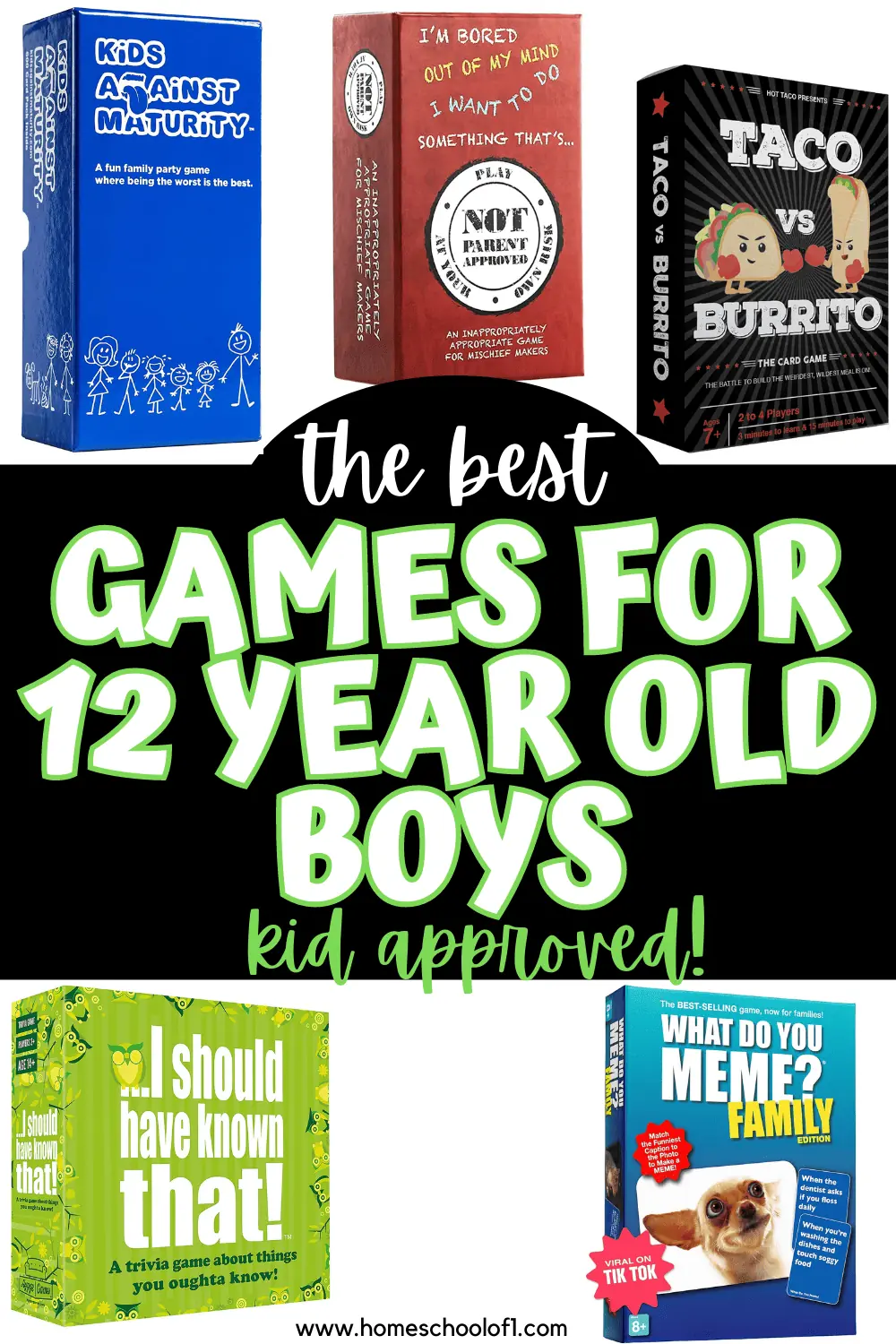 Make game nights unforgettable with these fun and entertaining board games that are perfect for 12-year-old boys.
From laughter-inducing card games to creative challenges, these games are sure to bring the whole family together for hours of enjoyment.
Whether it's building, trivia, or humor, there's something here for everyone.
Experience hilarity with this kid-friendly version of the popular adult card game. Kids Against Maturity is filled with funny and age-appropriate prompts that are sure to spark laughter and create memorable moments.
Engage in family-friendly fun with Not Parent Approved card game that's all about creative and witty responses. It's designed to provide hours of entertainment for both kids and adults alike.
Enjoy fast-paced fun with Taco vs Burrito, a game that involves strategic decisions and a healthy dose of humor. It's perfect for family game nights and will have everyone engaged from start to finish.
Combine the world of memes with family game night with What Do you Meme? Family Edition. Test your creativity and sense of humor as you match captions to popular memes.
Challenge his knowledge and critical thinking skills with this I should have known that Trivia Game. While it's recommended for ages 14 and above, a mature 12-year-old can certainly enjoy the fun and brain-teasing questions.
Unleash creativity and imagination with Lego sets that are perfect for 12 year old boys. Whether he's a seasoned Lego enthusiast or just beginning his building journey, these sets offer hours of entertainment and the joy of constructing something extraordinary. From iconic themes to innovative designs, there are perfect gifts for Lego lovers for every young builder.
Marvins Magic fifty greatest card tricks game. It not only sparks creativity but also introduces him to the world of magic and illusion.
Electronic Gifts for 12 Year Old Boy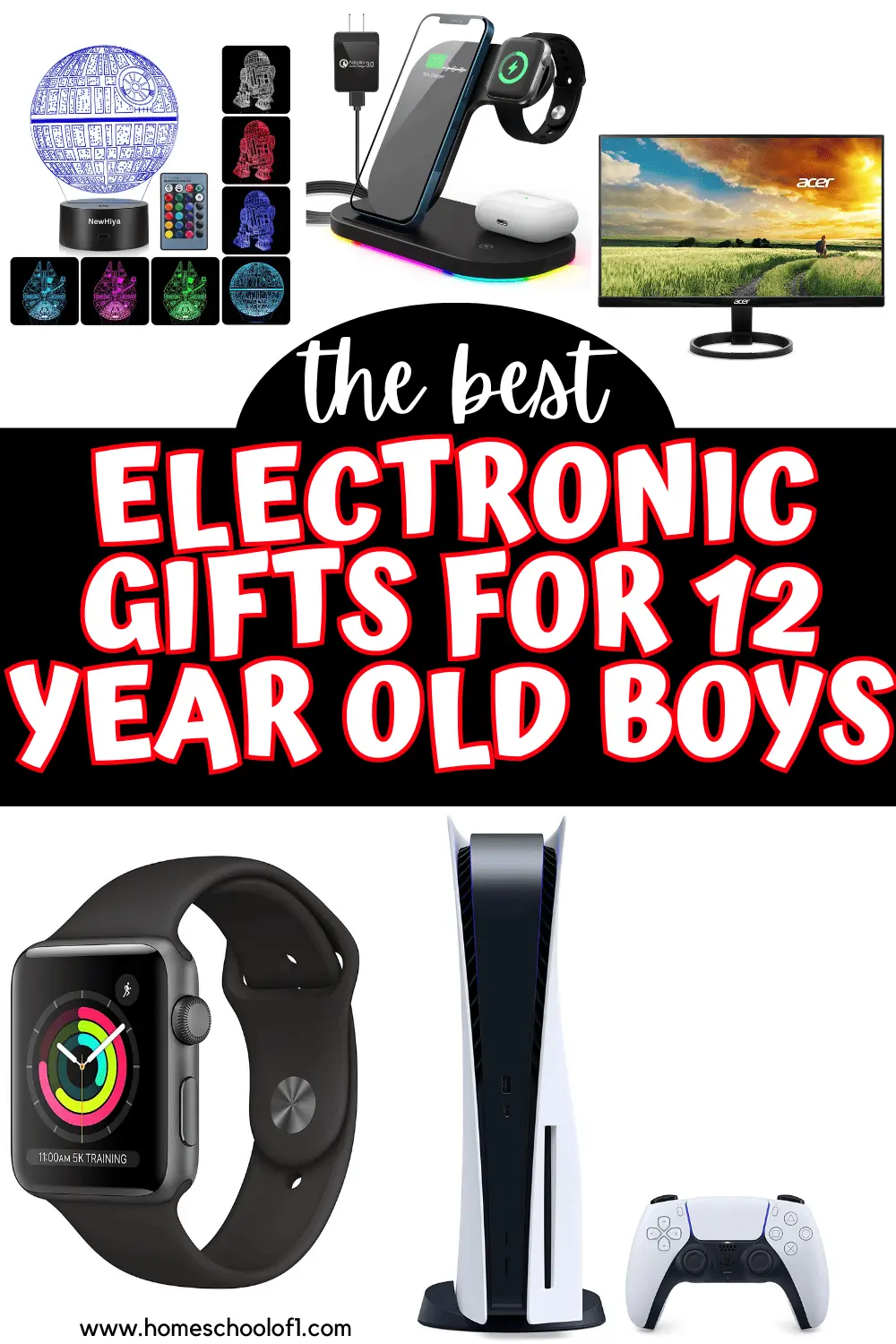 Bring the excitement of technology into your 12 year old boy's Christmas with these top-notch electronic gifts.
From immersive lighting to cutting-edge devices, these gifts are sure to capture his interest and provide hours of enjoyment.
Whether he's a gamer, a gadget enthusiast, or a Star Wars fan, these electronic presents will make his holiday season unforgettable.
Transport him to a galaxy far, far away with a 3D illusion Star Wars light. This unique decor piece is perfect for adding a touch of Star Wars magic to his room.
Consider the Apple I Watch for a tech savvy 12 year old who's ready to explore wearable technology. It's a versatile device that offers features like health tracking, notifications, and more.
Elevate his gaming and entertainment experience with a high-quality computer monitor or TV. This gift is perfect for enhancing his gaming setup or creating a captivating entertainment hub.
Keep his devices organized and charged with a convenient wireless charging station. This 3-in-1 solution is a practical and stylish addition to his bedroom or workspace.
The Nintendo Switch is a gaming console that offers a versatile gaming experience. It can be played both on a TV and as a handheld device, providing access to a wide range of games suitable for different ages and interests.
If he's an avid gamer, the Playstation 5 console is the ultimate gift. With impressive graphics and a library of games, it's a sought-after item that's sure to bring him joy.
Other gift guides for boys
Discover the perfect presents for boys of various age groups with our curated collection of gift guides.
If you are looking for the best gifts for 12 year old girls check out this new blog post.
What are your favorite gifts for 12 year old boys? Let me know in the comments below.
Last Updated on 9 September 2023 by homeschoolof1