25 Best Halloween Books for Preschoolers
Explore the captivating world of Halloween books for preschoolers, where colorful tales and friendly characters come together to make the holiday season even more enchanting for the littlest readers.
Halloween activities for kids, paired with engaging Halloween books, offer young children the perfect blend of fun and learning as they embark on imaginative journeys into the enchanting world of the holiday.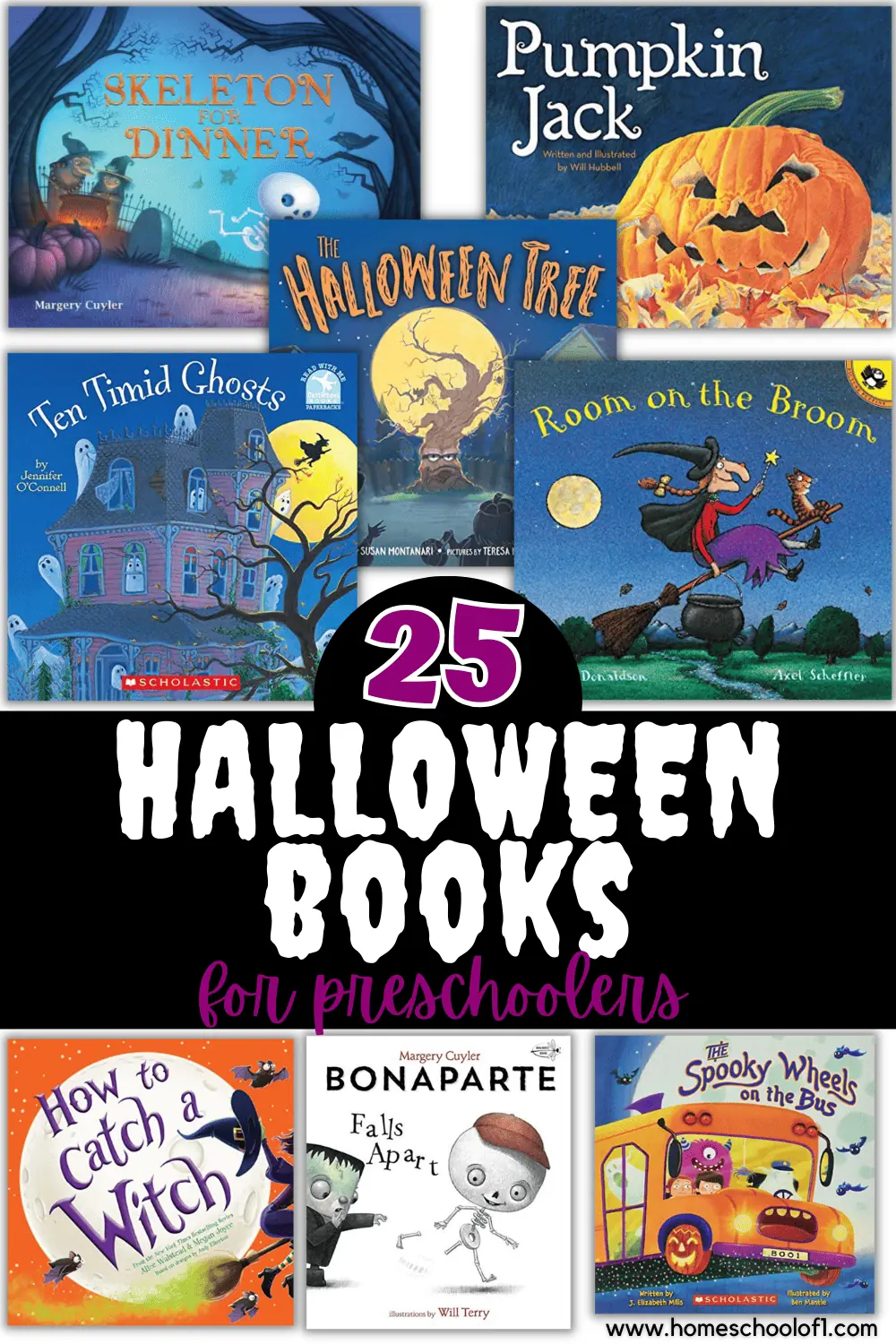 **There may be affiliate links in this post. You can read my full disclosure at the bottom of the page.**
Halloween activities to pair with your Halloween book
These Halloween activities can add depth and engagement to your preschooler's reading experience. Making the holiday season even more special and memorable.
After reading about characters in costumes. Encourage your child to design their own Halloween costume based on their favorite book character.
Pair a pumpkin-themed book with pumpkin decorating. Let your preschooler paint or decorate pumpkins, bringing their favorite book characters to life.
Pick a Halloween-themed craft project to do after reading. Create spooky spiders, ghosts, or bats to decorate the house.
Turn your child's favorite Halloween book into a puppet show. They can act out the story with homemade puppets.
Read a book with nature themes and then go on a garden scavenger hunt to find leaves, sticks, and other items to create spooky art.
After reading a book with a Halloween party theme. Organize a mini party with your preschooler and their stuffed animals or toys.
Print out free Halloween coloring pages related to the books you've read and let your child color them. This can be a relaxing post-reading activity.
Engage in sensory activities like making slime or playing with Halloween sensory bins after reading a book with sensory elements.
Best Halloween books for kids
Halloween is a magical time for children, filled with costumes, candy, and imaginative adventures. For preschoolers, this holiday offers a perfect opportunity to explore the whimsical and slightly spooky side of the season through enchanting picture books.
In this book list for kids, we've gathered a selection of our favorite Halloween books that will captivate the youngest readers with their charming stories, colorful illustrations, and playful themes.
From friendly skeletons and curious rabbits to groovy cats and lovable bears, these books offer a range of Halloween experiences that will spark joy and creativity.
There is a mix of read aloud books, picture books, board books, interactive books, counting books, and more.
Last Updated on 29 September 2023 by homeschoolof1