Free Pumpkin Patch Scavenger Hunt
Are you picking pumpkins this fall with your little ones? If so you are going to love our free pumpkin patch scavenger hunt.
Fall is my absolute favorite season, and there's nothing quite like the joy of heading to the pumpkin patch with loved ones. Especially when you have this free pumpkin patch scavenger hunt in hand.
Scavenger hunt printables are such a great way to have fun and explore nature. They not only add an extra layer of excitement to your pumpkin picking trip but also make the experience even more memorable.
Put your wellies on, grab a clipboard, and have fun searching for scarecrows, pumpkins, and more this autumn.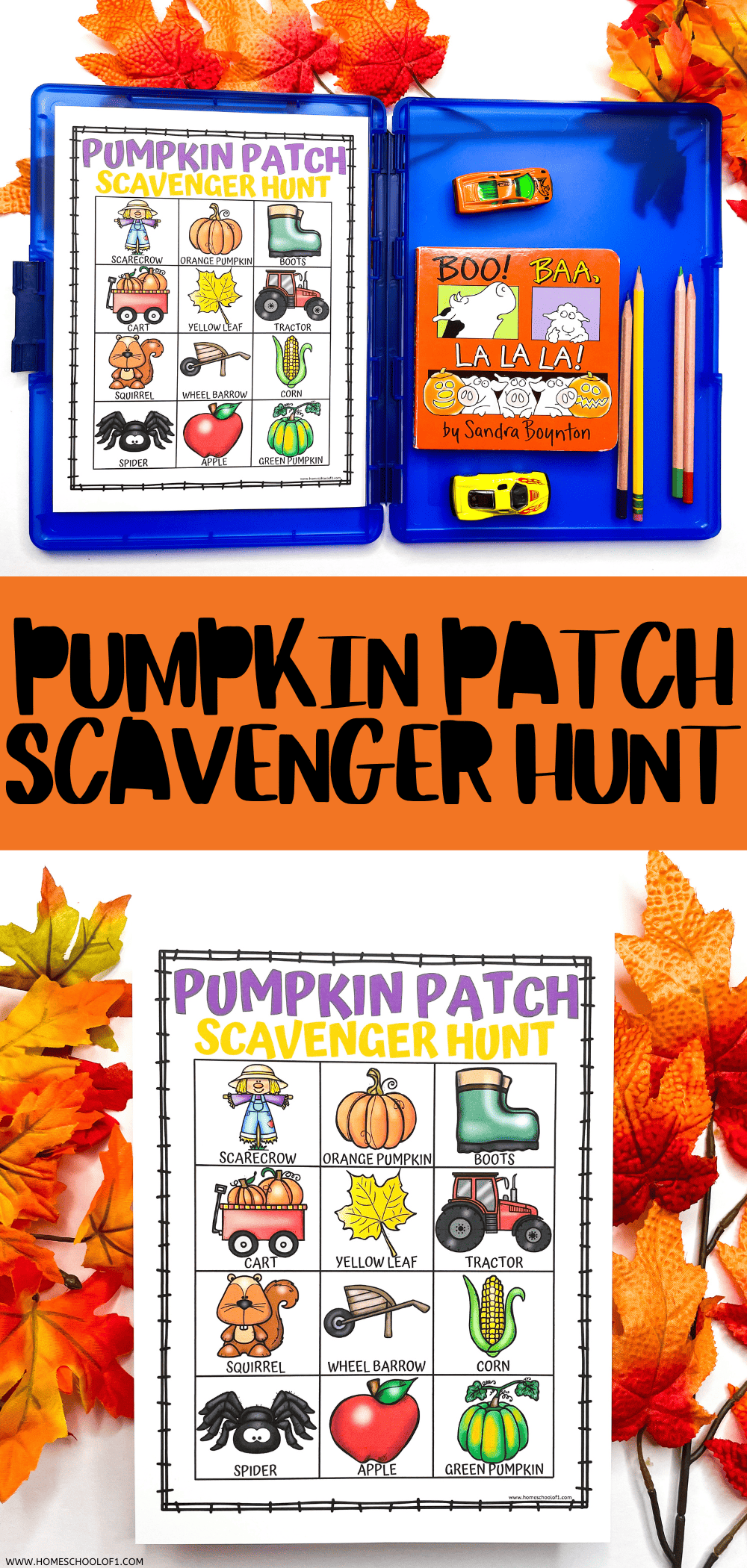 **There may be affiliate links in this post. You can read my full disclosure at the bottom of the page.**
What to find on the pumpkin scavenger hunt
There are 12 fall items to find while you are out at the pumpkin patch.
Spider (learn more about spiders with our free parts of a spider worksheet.)
Wheelbarrow
Cart
Squirrel
Boots
Yellow leaf (learn all about leaves with our free leaves coloring pages.)
Orange pumpkin (continue the fun with our pumpkin bingo free printable.)
Tractor
Scarecrow
Corn
Apple (have fun with our free Johnny Appleseed coloring pages.)
Green pumpkin
How to play the pumpkin scavenger hunt
This scavenger hunt to play at the pumpkin patch is free to print but for personal use only. Scroll to the bottom of the page to get instant access to the pdf file.
Print the scavenger hunt on cardstock, or you can even laminate it if you are worried about it getting wet.
Grab a clipboard, we love to use a storage clipboard so you can keep the hunt inside along with pens, and some snacks for the kids. It has been a life changer, in fact, we have a spare one we keep in the car just in case!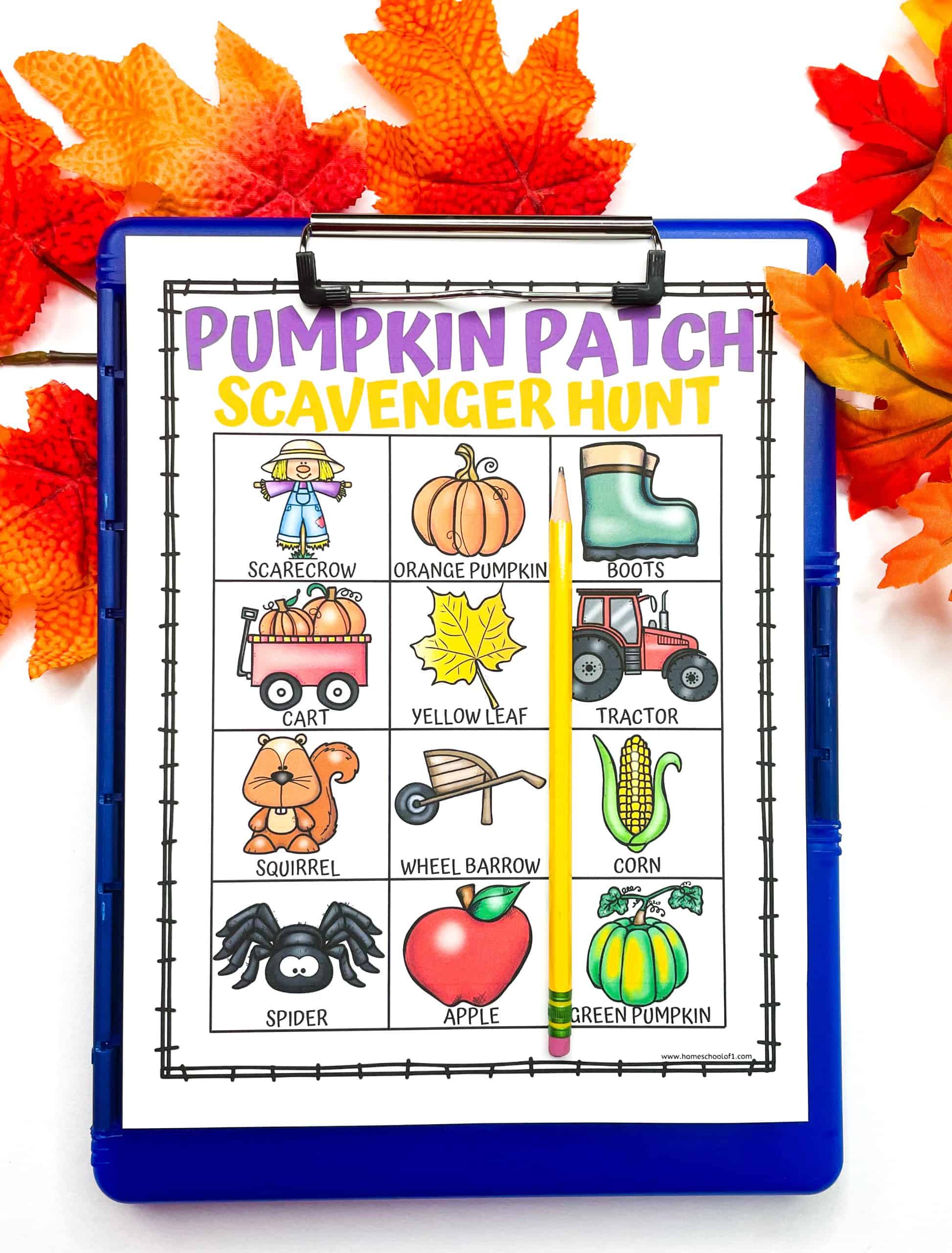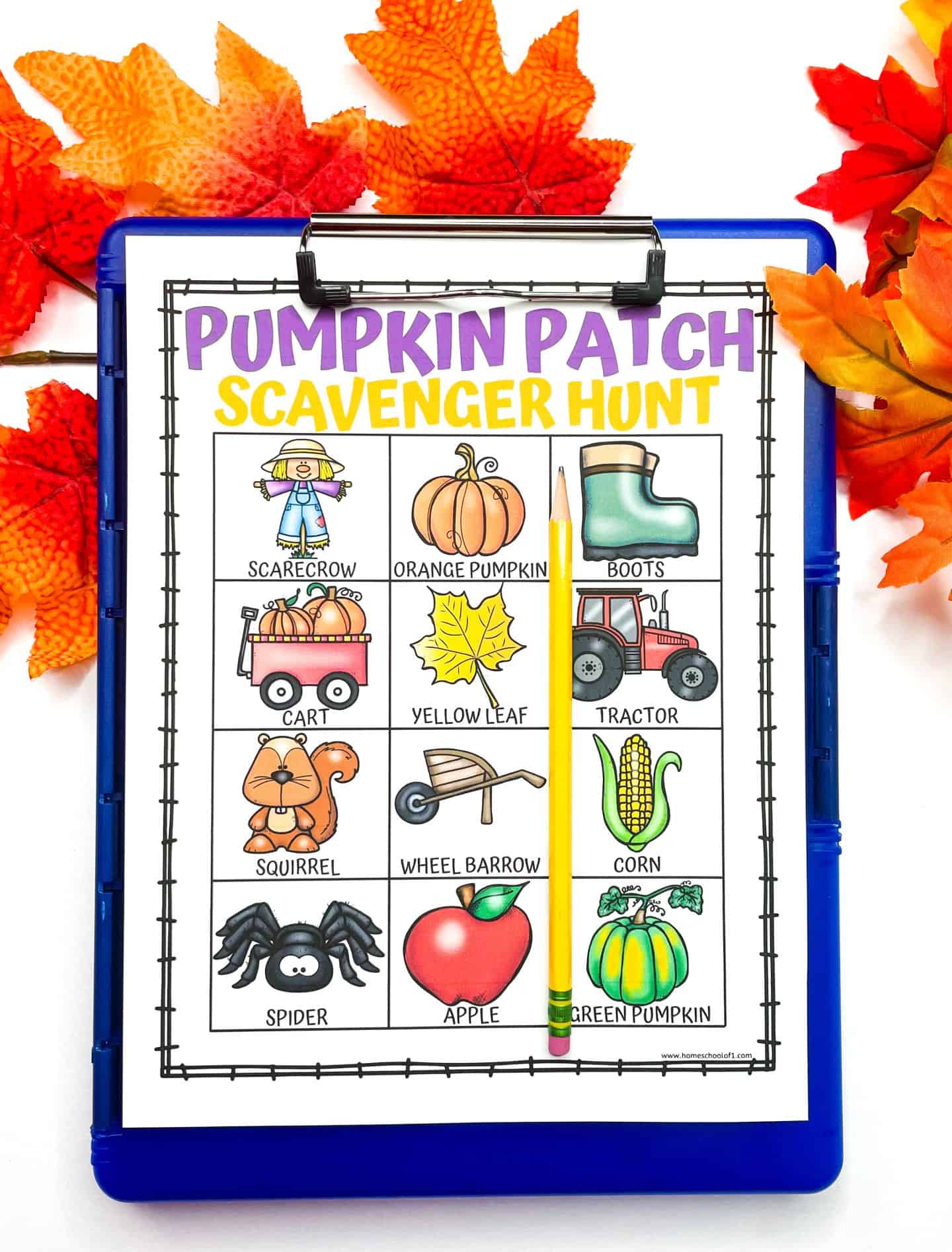 Once you reach the pumpkin patch, make sure everyone has their scavenger hunt sheets and pens ready.
Briefly explain the rules of the scavenger hunt to the participants. Let them know that the goal is to find and check off as many items as they can from the list while exploring the pumpkin patch. You can set a time limit for added excitement or simply let participants enjoy the hunt at their own pace.
Give the signal to start the hunt, and watch as participants eagerly search for the items on the list. Encourage them to use their observation skills and explore every nook and cranny of the pumpkin patch.
As participants find each item on the list, they should mark it off on their scavenger hunt sheet. You can use different colored markers or stickers to make it more visually appealing.
After the allotted time (if you set a time limit), or when everyone has found as many items as they can, reconvene at a designated meeting point. You can discuss the items found, share stories of your discoveries, and see who found the most items.
Celebrate the successful scavenger hunt with a small prize for participants, such as a small pumpkin or some Halloween-themed treats. Make it a fun and memorable experience for all.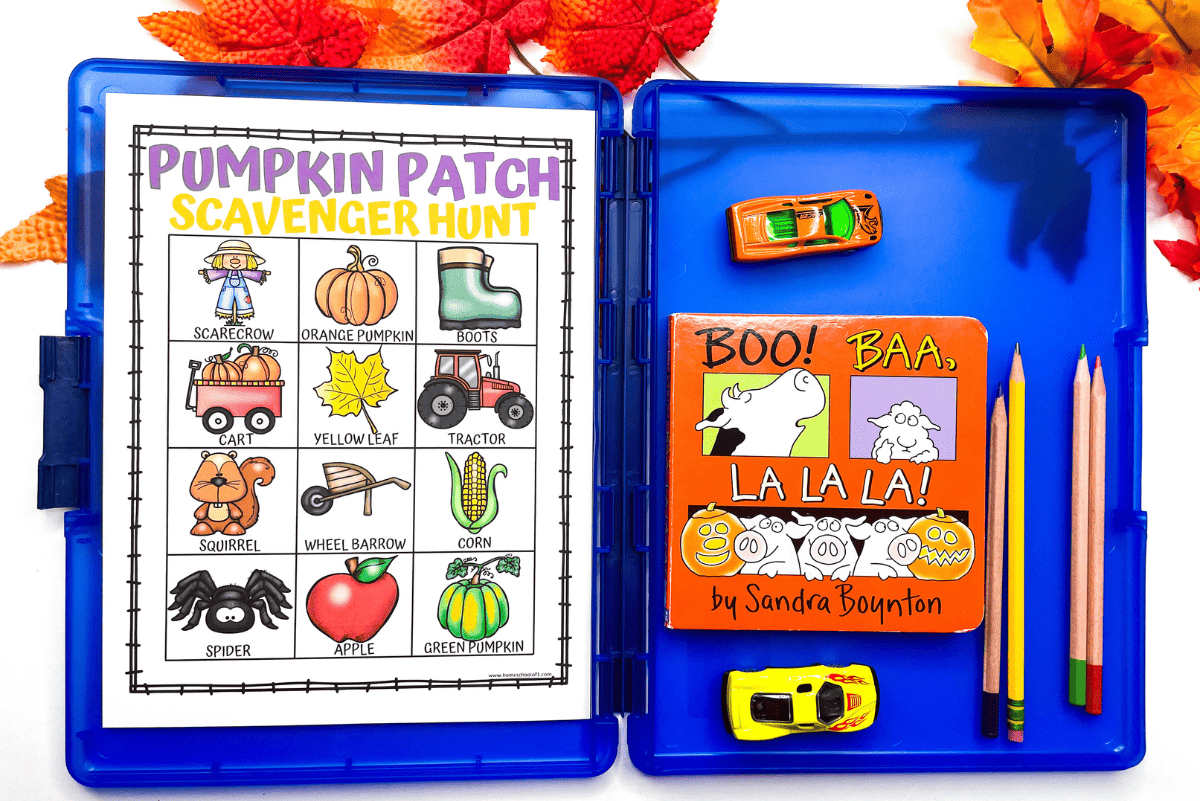 Additional pumpkin activities
A Pumpkin life cycle coloring page is a fantastic educational and creative activity for children. This coloring page not only allows kids to have fun with colors but also teaches them about the growth stages of pumpkins. Helping them understand the fascinating process from seed to fruit.
Pumpkin mad libs is an entertaining word game that combines creativity with a love for pumpkins and autumn. This activity involves filling in the blanks with different types of words. Such as nouns, verbs, adjectives, and more, to create a hilarious and often nonsensical story.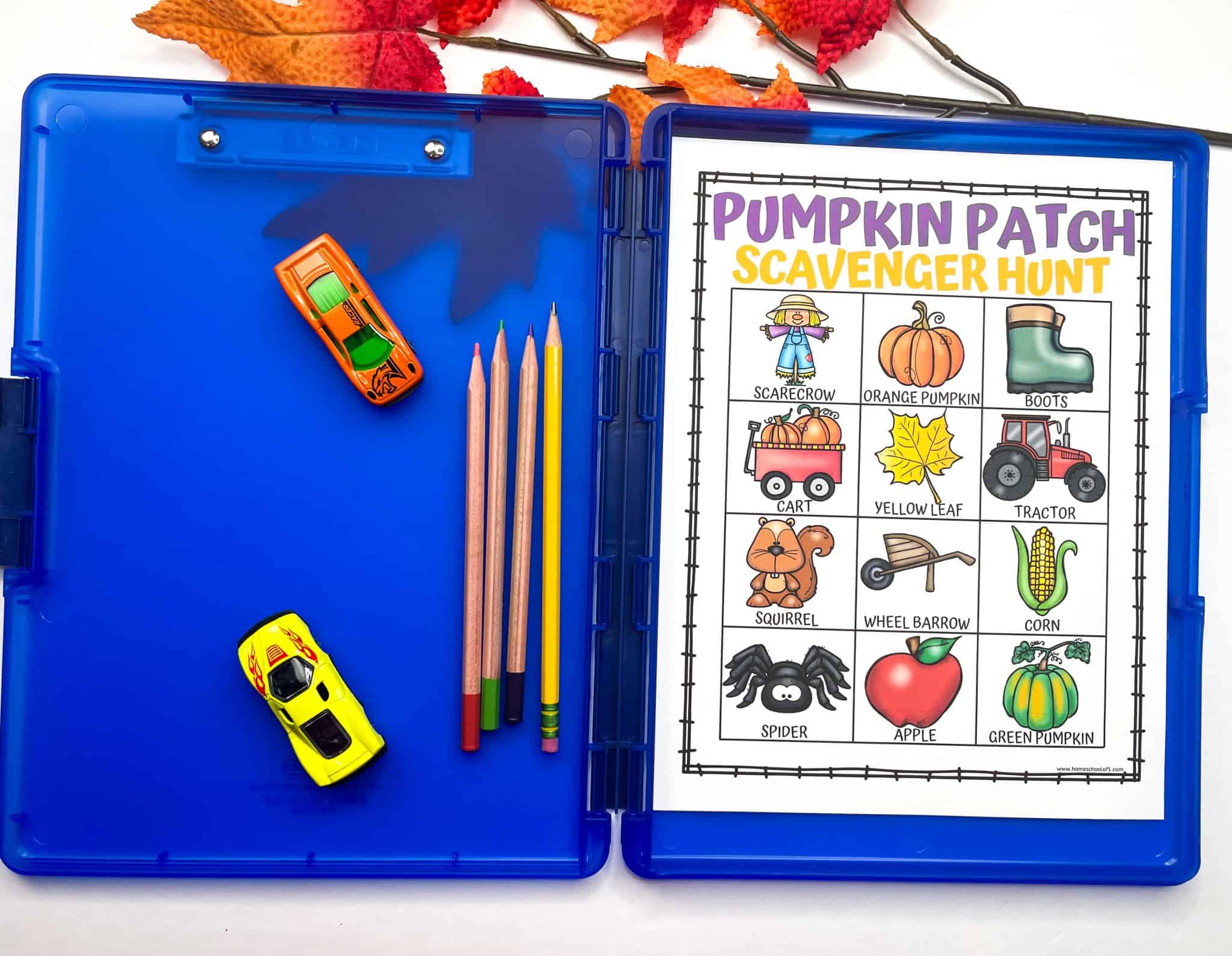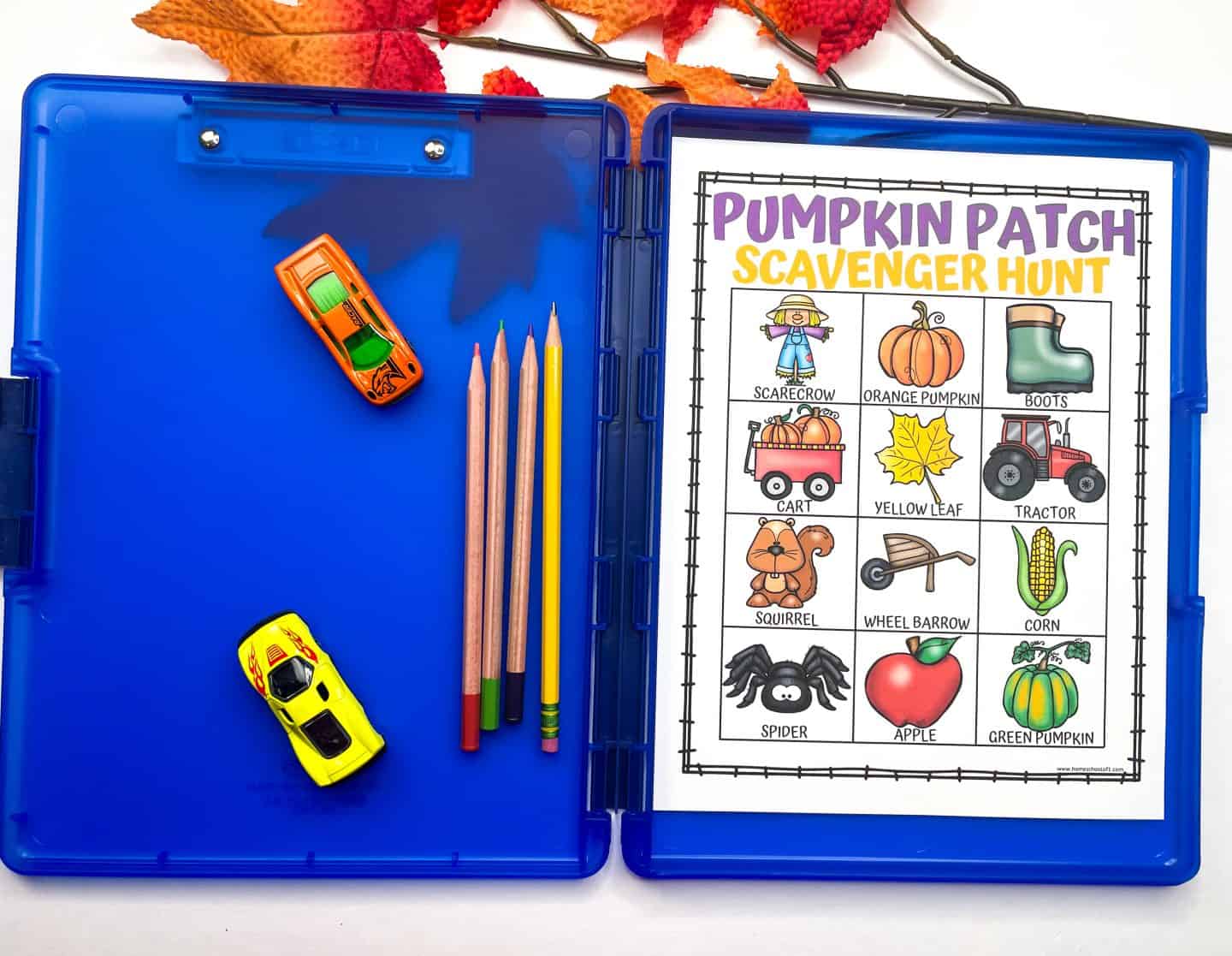 Life cycle of a pumpkin worksheets offers a structured and educational way for students to learn about the growth stages of pumpkins.
Have even more fun with a Halloween treasure hunt!
Books about pumpkins
Have fun learning about pumpkins with our favorite pumpkin books for kids:
How Big Could Your Pumpkin Grow?
The Pumpkin Book
Pumpkin Day at the Zoo
The Happy Pumpkin (First Seasonal Stories)
The Biggest Pumpkin Ever
Too Many Pumpkins
Tips for downloading the free files
Below you will see a large sign-up box where you need to add your name and email address, and press I NEED THIS NOW!
Within minutes you will be sent the free PDF directly to your email address, so you can print it out and start using it immediately.
Sometimes emails get a little wonky, so if you can't see it, please check your spam folder where I am sure it is hiding.
Download the free printable pumpkin scavenger hunt
Make sure you choose the correct paper size and click on the shrink to fit button. All of our free printables for kids work better when printed on cardstock (this is the one we use and love.)
Last Updated on 30 October 2023 by homeschoolof1