Beautiful Feet Books Review: Learning Through Literature
Early American History from Beautiful Feet books has quickly become a firm favorite in our homeschool. Carry on reading for our honest Beautiful Feet Books review.
Learning through literature is actually something we only discovered about 6 months ago, and I now can't imagine another way to learn history. We have tried dry, boring workbooks, and reading textbooks, but Beautiful Feet has re-engaged his love of history.
Learning American history is so important to us, we are studying it for about 18 months in our homeschool. We have already spent 6 months in grade 6 and are continuing for grade 7 too.
When it comes to history the more books you can read the better. This is probably why history is our second favorite subject, as my son just loves to read.
Early American History from Beautiful Feet Books is easy to use, engaging, and full of fun activities. Carry on reading for our review of Beautiful Feet Books homeschool curriculum.
Carry on reading for our exclusive Beautiful Feet promo code at the bottom of the post.
**Disclosure: I was compensated for my time to write this post. As always, all thoughts and opinions are my own. I only share resources that I would use with my own family and those that I believe other homeschool families will enjoy. There may be affiliate links in this post.**
Beautiful Feet Books is featured in our best homeschool curriculum for high school.
Beautiful Feet Curriculum – Early American History
Early American History is a full one-year homeschool history curriculum for students in grades 7-9. However, if you are not in those grades, no problem as Beautiful Feet books offers learning through literature curriculums for students K-12.
Beautiful Feet Books is a secular homeschool curriculum and has quickly made it into our top 8 favorites.
What is included in Early American History?
1 Teacher Guide
1 Map
16 Books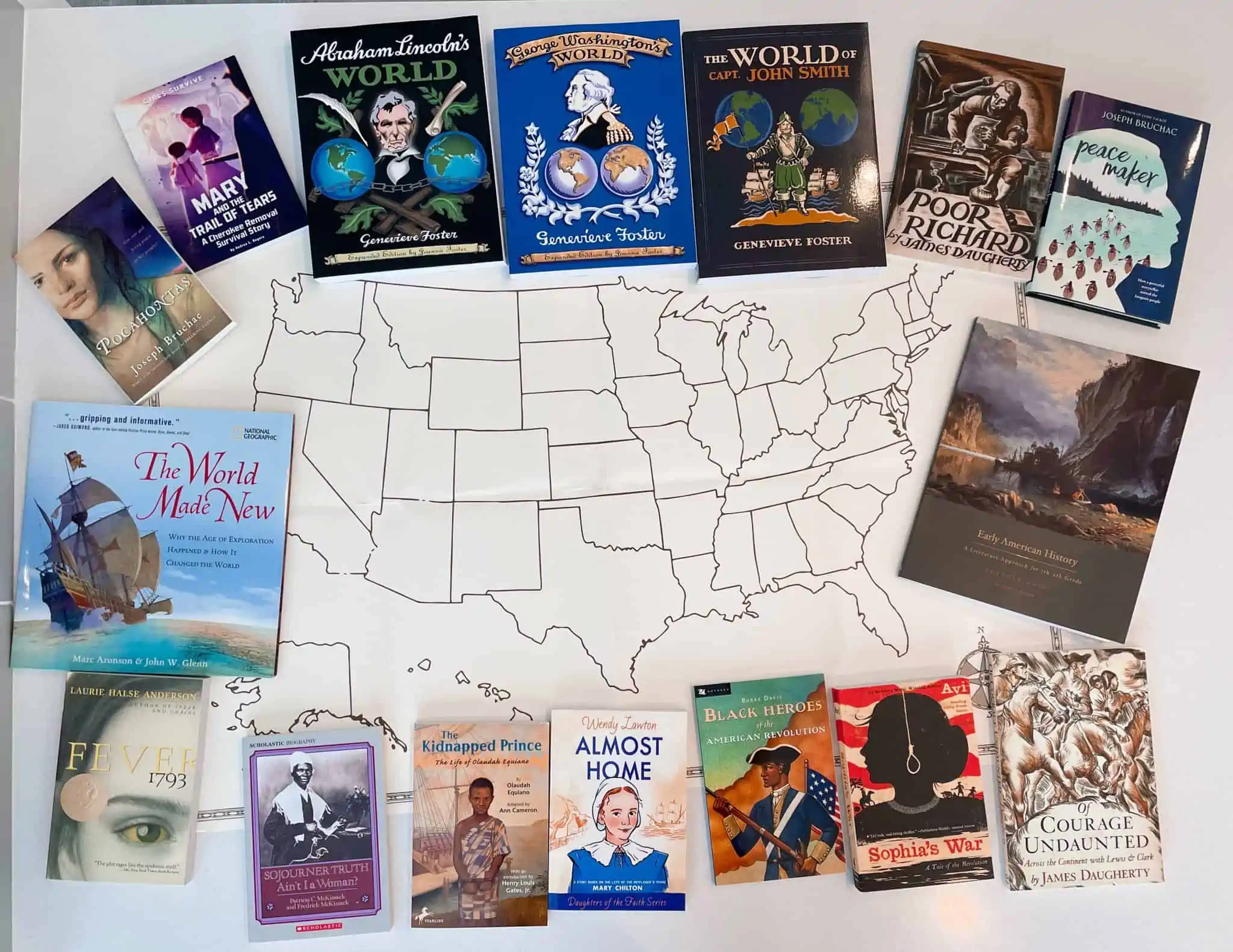 If you already have some of the books (surprisingly we only had Carry on Mr. Bowditch) then you can customize your order and take them out and it reduces your cost. You can take out a maximum of 5 books, which I absolutely love, especially for us book lovers.
Teacher Guide
The teacher guide is of excellent quality, in fact, at the very first glance I thought it was one of the reading books.
The guide is broken down into six sections:
The Indigenous Peoples of North America and First Encounters
The Early Colonial Period (1607-1706)
The Later Colonial Period and the French & Indian War (1706-1776)
The Revolutionary War 1776-1783
The Young United States 1783-1864
Within each section, there are the books to read that are included in the curriculum. But even more than that, they have additional books that you and your child may enjoy and a little about them.
There are character connections where your children learn more about hospitality, perseverance, and more. Suggested online resources, research topics, activities, and creative writing ideas.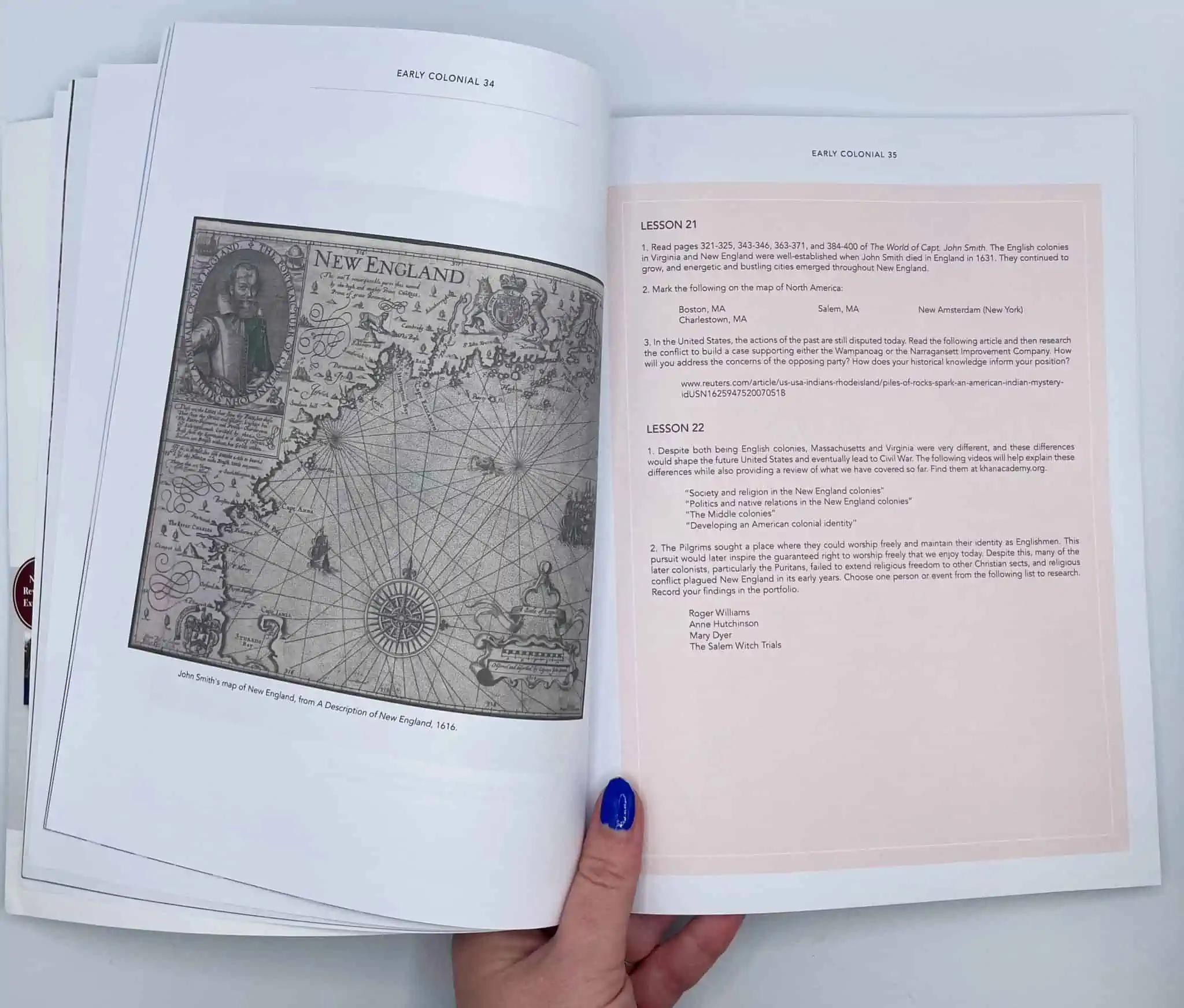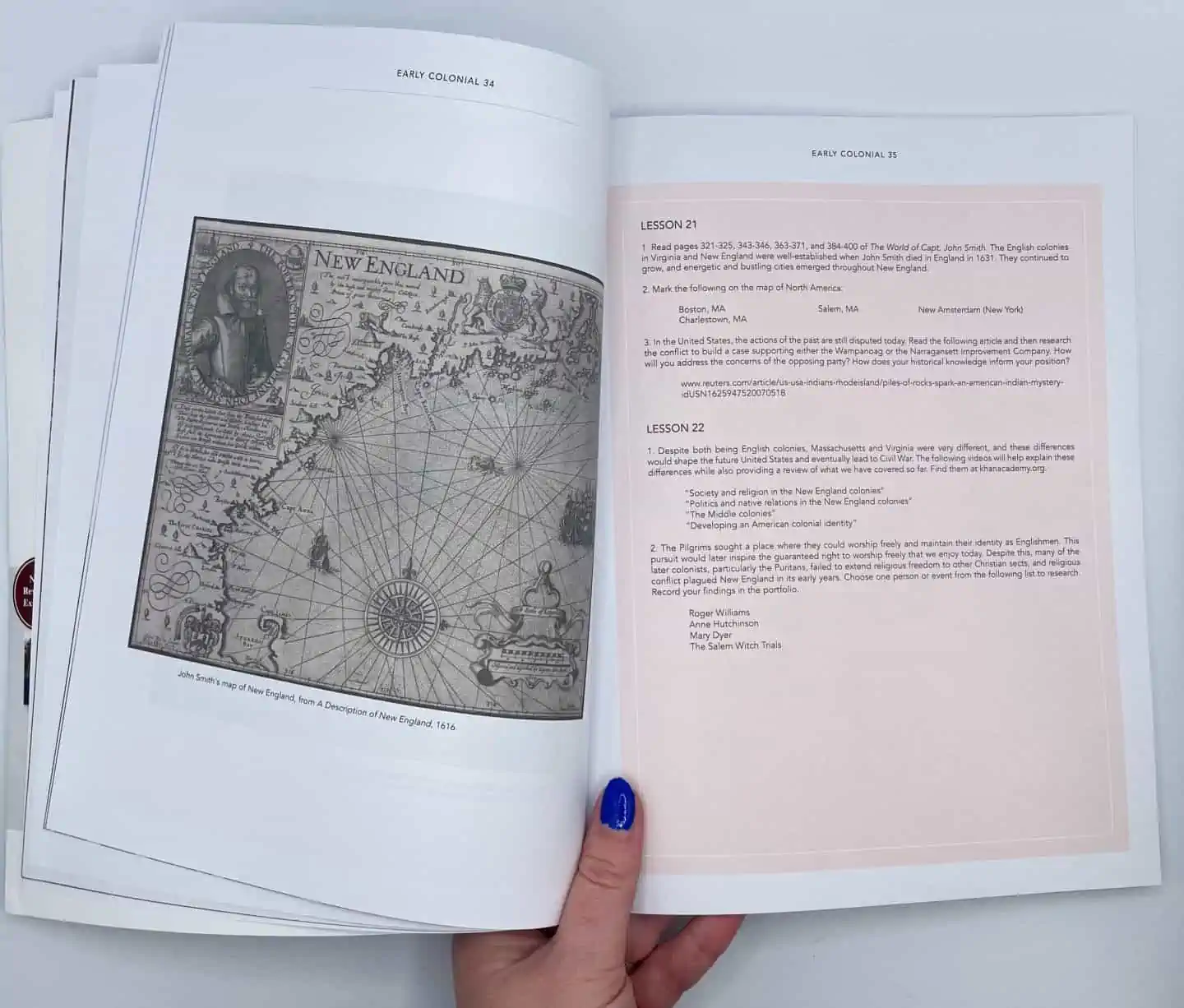 Beautiful Feet Books were clearly written with homeschoolers in mind. I love that they give you additional resources to use if your child gets really engaged with a topic. I don't have to scour the library or the internet for appropriate resources, they have done the hard work for me.
There are 82 lessons included in the Beautiful Feet teacher guide and they recommend 2-3 lessons per week for a one-year study. As we enjoy history we study it every day, so when we are not doing the lessons we will do some of the fun activities.
Learning Through Literature
I always know a curriculum is going to be good the minute it arrives. Why? Because my son either goes through everything smiling, or just kind of grunts at me!
So the package arrived and his little eyes lit up as he rummaged through the box. He piled all 16 books high and gave them a ranking based on the cover!
Sophie's War was ranked the highest so he started reading it immediately. Was this the first book to read? No. Did I stop him? Hell no!
According to the teacher guide, Sophie's War should be read when they are studying the Revolutionary War.
But for some reason, it really caught his eye. He devoured the book in two days and very quickly went on to read Fever 1793.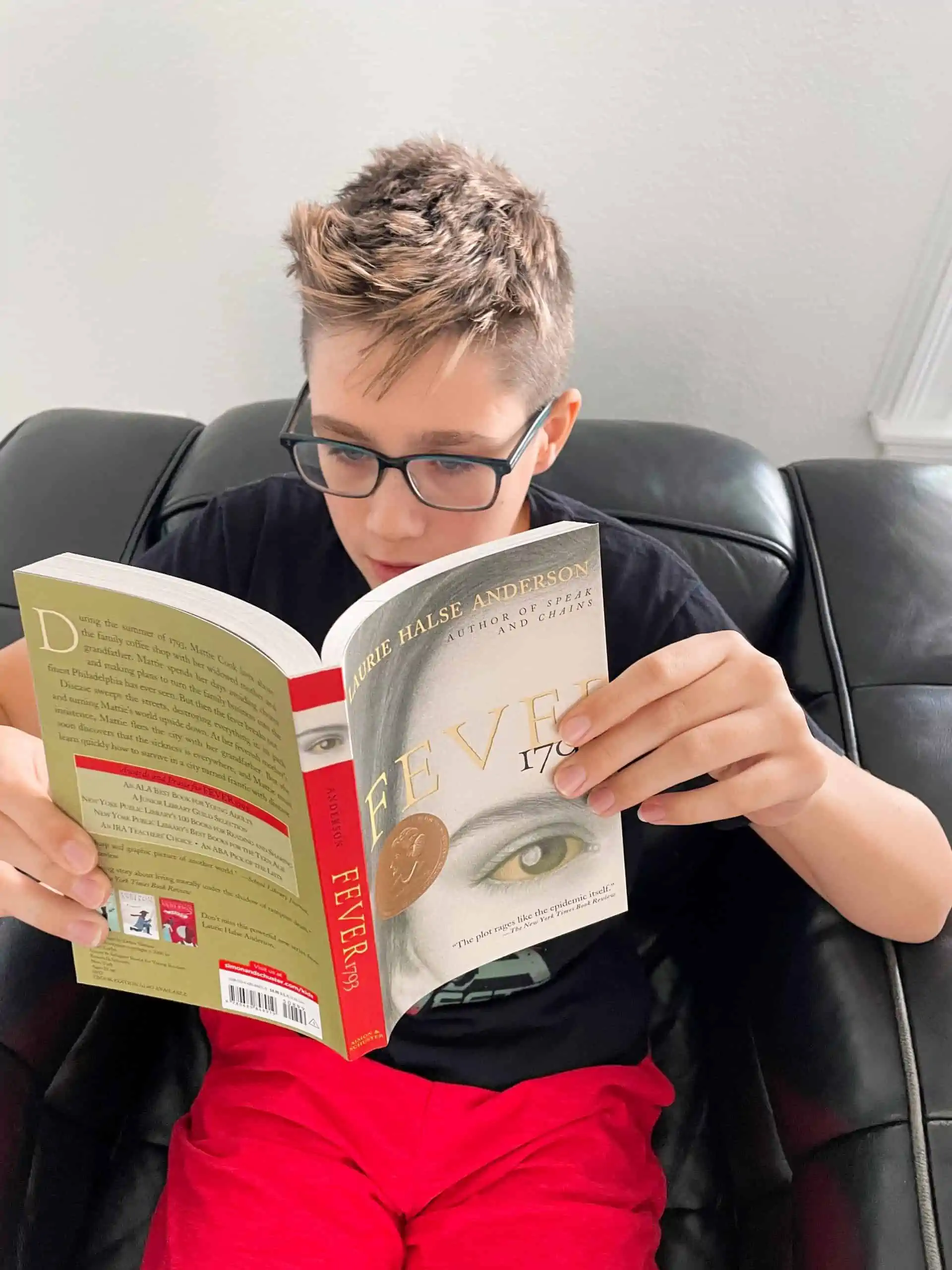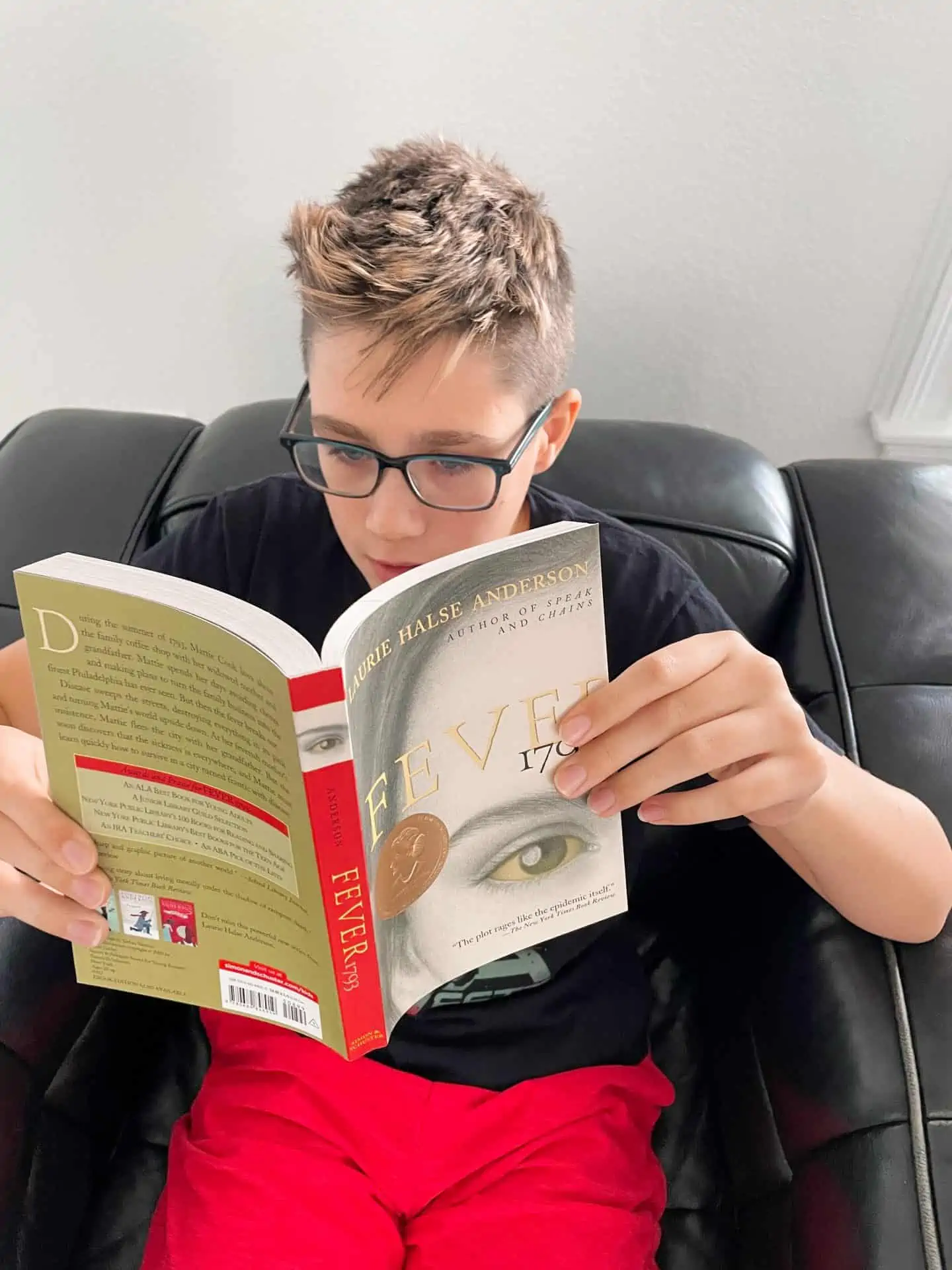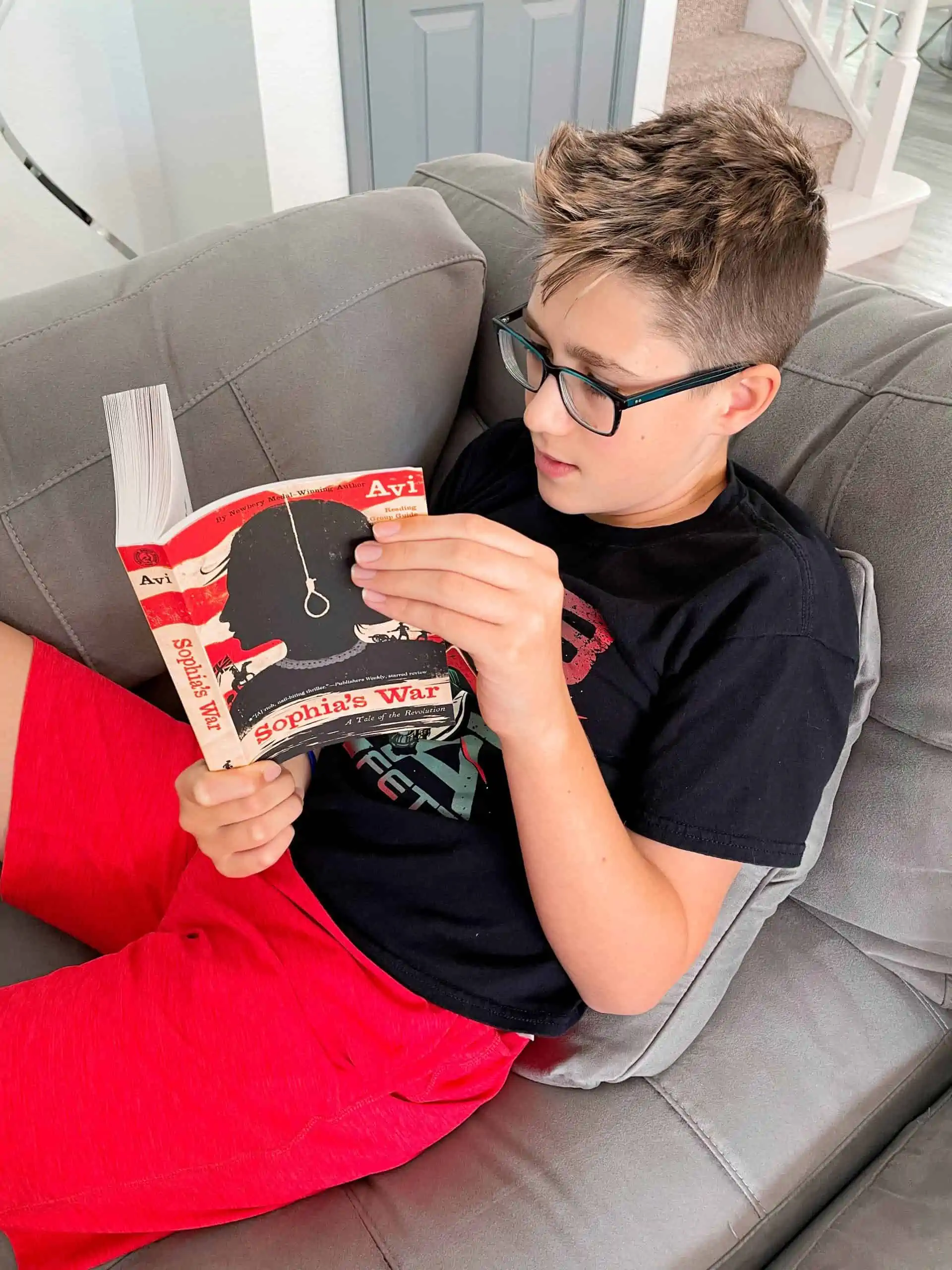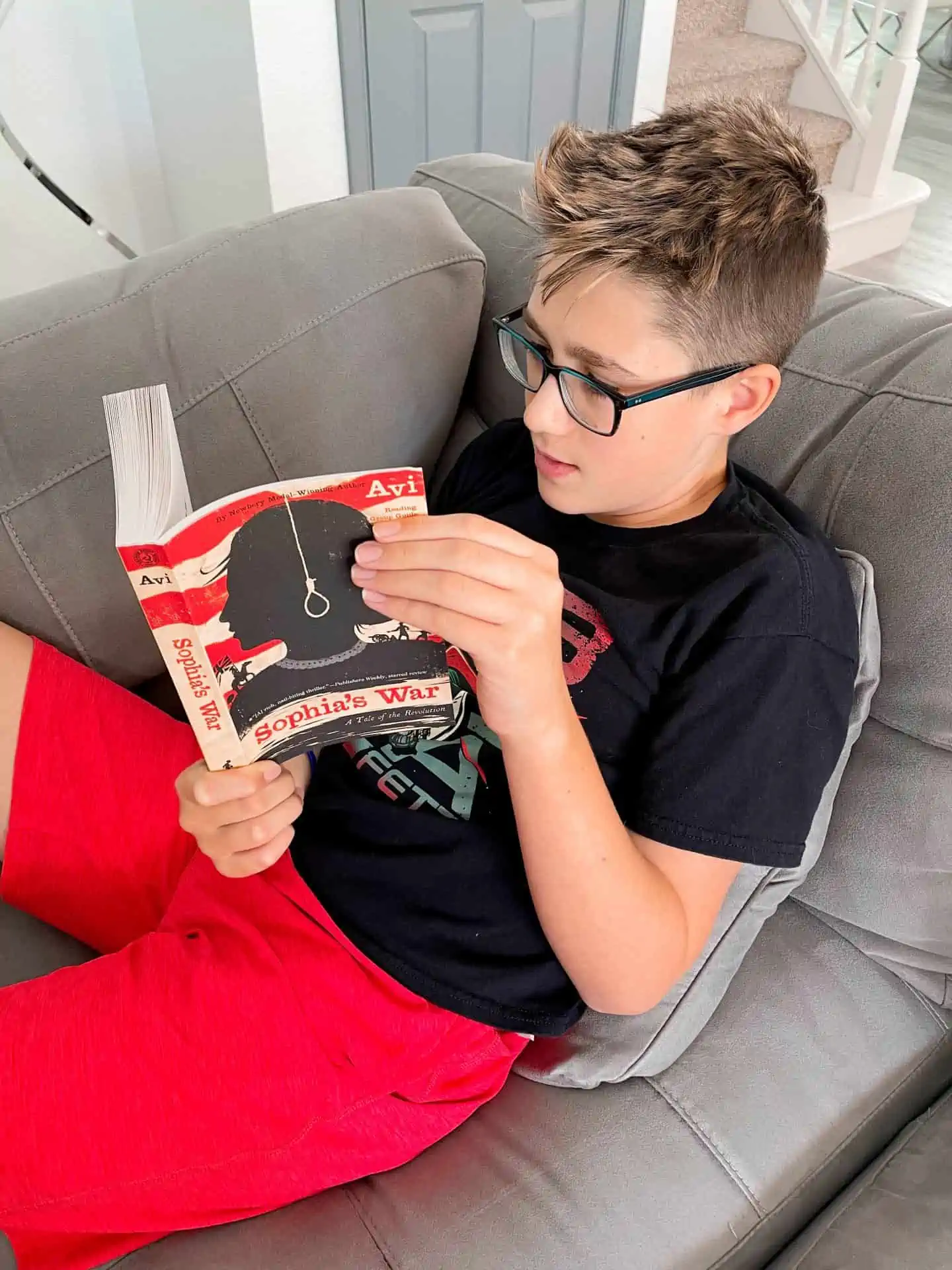 The lessons we actually do in order, mainly for my sanity. Although he pretty much does it independently, I like to know how far of a curriculum he has done. So it makes sense to do that part in order.
We are really enjoying updating the map of America too, for now, it is in a folder as we are updating it regularly. However, when we have finished we are going to hang this on his bedroom wall.
Beautiful Feet Books Reviews
We both highly recommend Early American History Beautiful Feet Books and here is why:
The teacher guide is excellent and contains everything you could possibly need. There are the lessons of course, but I particularly love the additional resources. Freddie especially enjoyed building Jamestown in Minecraft.
The reading books are really engaging.
My favorite book was the World of Captain John Smith (published by Beautiful Feet Books). It had images of prominent people alive at different stages of his life. As he was from England, we had studied a lot of these people already. For example Guy Fawkes (see how we celebrate Bonfire Night) and William Shakespeare (see our top tips on introducing Shakespeare the fun way!) Also, check out our top 10 favorite Shakespeare books for kids.
Freddie's favorite books were Peace Maker, Sophia's War, and George Washington's World. I am laughing a little while writing this as I have just asked him what his favorites were and he spent about an hour changing his mind, and really wanted to add them all! Seriously, I am so impressed with the book choices, and more importantly, so is Freddie.
We both really enjoyed plotting points on the extra large map. When the map is completed it will be added to Freddie's bedroom wall. It has certainly helped us learn where places are in America.
The lessons are bite-sized and are written to the child and not the teacher. As we are in middle school we have started doing more and more independent learning, and Beautiful Feet Books support this method of learning.
I love the fact that if you already had a book you can customize your pack.
The price is incredibly reasonable. For the 16 books, plus the extra-depth map, plus the very in-depth teacher guide, it is under $230.
Check out Early American History for yourself today I promise you will not regret it.
If you are looking for even more homeschool curriculum reviews check out all of the others we have reviewed over the years.
If you are not looking for a literature based curriculum see what other homeschool history resources we recommend.
What other Beautiful Feet history programs are there?
Beautiful Feet have the following history curriculums for kids of all ages:
Early American History Primary Pack for K – 3rd grade
Early American Intermediate Pack for 4th – 6th grade
Early American History for middle school and high school
Ancient History
Medieval History
World History
Check out all of the history courses from Beautiful Feet Books here.
Beautiful Feet Promo Code
I am delighted to share an exclusive Beautiful Feet Books promo code with you. Use code CB2023 and you will receive FREE shipping no matter what the order size is.
I think you are also going to enjoy our top 10 homeschool history books.
We also love this homeschool literature curriculum learning language arts through literature.
Last Updated on 10 September 2023 by homeschoolof1