Best Homeschool Algebra Curriculum & I Can Prove It!
The best homeschool algebra curriculum is Teaching Textbooks Algebra 1. It is the best, and I can prove it!
Algebra 1 is the first high school math subject and it can be a little daunting to start. Everything the kids have done previously in math has led to this moment.
You need to find the best algebra curriculum that not only helps them learn new concepts but also provides an opportunity for review.
In this post, I am going to go into detail about why Teaching Textbooks is the best Algebra 1 homeschool curriculum. And why you should try it today for free.
**Disclosure: I was compensated for my time to write this post. As always, all thoughts and opinions are my own. I only share resources that I would use with my own family and those that I believe other homeschool families will enjoy. There may be affiliate links in this post.**
You can read our detailed Teaching Textbook review to see how we used it at the beginning. Or carry on reading to see how we ended the year with an improved grade.
When should you take Algebra 1?
Algebra 1 is typically taken in grade 9, depending on the requirements of the school district. In most cases, students take Algebra 1 after completing pre-algebra and before moving on to geometry.
However, the exact timing of when to take Algebra 1 may vary depending on the student's individual readiness and academic goals. Some students may be ready to take Algebra 1 earlier, while others may benefit from additional preparation before beginning the course.
As you are homeschooling your child, you have more flexibility in determining when to introduce Algebra 1. It's important to consider your child's math skills and readiness when making this decision.
My son completed Algebra 1 halfway through his 7th grade. He took the free placement test with Teaching Textbooks just to check, but I knew he was ready.
Ultimately, the decision of when to take Algebra 1 should be based on the student's individual needs and goals. A strong foundation in Algebra 1 is essential for success in higher math, so it's important to ensure that your student is ready and adequately prepared before beginning the course.
Homeschool Algebra 1 with Teaching Textbooks
Teaching Textbooks is not only the best algebra curriculum for homeschooling it is the most affordable.
The cost for a 12-month enrollment is only $72.95, this also allows a 3-month pause option if you are going on vacation.
What is even better is that you can try it for free. You will get the first 15 lessons as a free trial, and if you like it these will transfer to your subscription. No need to do them again.
There is an example of one of the interactive videos, and there is a free placement test.
Teaching Textbooks is an app that can also be used offline, the computer automatically grades the work. But, if your child prefers to do their math on paper, you can do that too. There is an answer key so you can mark their work.
In fact, I am so happy about this as my son changes his mind as often as he changes his socks.
He probably completed about 40% of TT on paper, and the rest online. When he had completed the lesson on paper he still had to add his answers to Teaching Textbooks, but it was super quick.
There is a downside to doing it this way though. The benefit of using the app is that the children will get to see if their work is correct or incorrect immediately as it prevents them from practicing incorrectly. Also, when getting a problem incorrect, the ability to see how it was solved immediately gives reinforcement through additional teaching.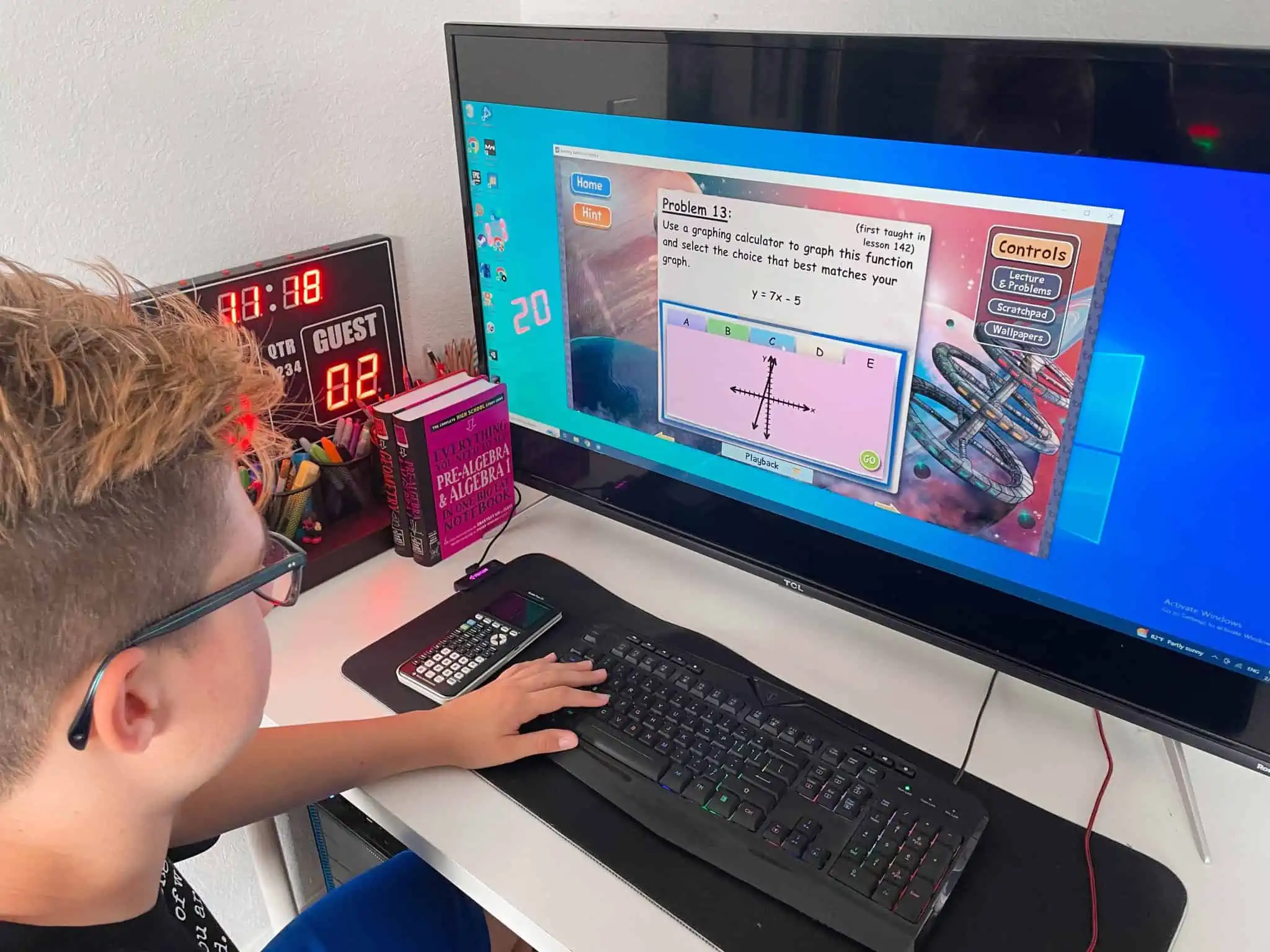 What makes Teaching Textbooks the best homeschool algebra curriculum?
Apart from the increased grade year over year through using TT there are a number of other reasons it is the best:
It is the most affordable
It does ALL of the gradings, allowing us homeschool moms to focus on other things
It has regular hints when the children are taking the lessons
You can, if you prefer, print out the lessons
You can complete the lessons on the go, either using a PC, laptop, tablet, or even a smartphone
There is a teacher video for every single lesson
If needed there is even a tutoring service
Both kids and parents love it
There is a 15-lesson free trial, with no credit card required
Certificate of completion.
On completion of Algebra 1, you can print out the grade book and I recommend you do. But just a bit of warning it is 11 pages long. You can also download the certificate of completion.
I have spoken to other homeschool moms who have also used Teaching Textbooks with their high schoolers. Not one person had anything negative to say.
Homeschool Testing with Homeschool Boss
Every year, for my sanity, my son takes a standardized test from Homeschool Boss. See why we love map testing for homeschoolers in our detailed review.
NWEA map testing is an adaptive achievement and growth test which you can take up to 3 times a year, in the fall, winter, and spring.
We personally only use it once a year in the winter, straight after the Christmas break. We opted to do it that way so that if we needed to change a curriculum we could halfway through the year.
Math Map Test: Proving that Teaching Textbooks Algebra 1 is the best!
Below is a table I received from Homeschool Boss showing my son's math grades in grades 6 and 7. (He also does the science, language arts, and reading test too.)
As you can see my son's grade improved significantly, as did his percentile score.
This is 100% due to his Teaching Textbooks Algebra 1 and of course his hard work!
| | | | |
| --- | --- | --- | --- |
| GRADE | RIT SCORE | PERCENTILE | SEASON |
| 7 | 248 | 91 | Winter 2022-2023 |
| 6 | 236 | 84 | Winter 2021-2022 |
If you feel that your child isn't progressing in algebra, I absolutely recommend giving Teaching Textbooks a try. Even if you are in the middle of a math curriculum you have nothing to lose by giving Teaching Textbooks a try.
It is completely free! You will receive the first 15 lessons for free. I urge you to try it for free today.
Last Updated on 12 August 2023 by homeschoolof1