Best Map Testing For Homeschoolers with Homeschool Boss
As we are wanting to finish grade 6 early and jump straight into 7th grade, I wanted to do some standardized testing. See why we love map testing for homeschoolers with Homeschool Boss.
I know I have a bright child, and that is one of the reasons I decided to homeschool in the first place. But actually, I have no idea where he sits with his peers.
Please don't get me wrong, I have not decided to do map testing to compare my son with anyone else, as neither of us needs that level of validation.
The reason we decided to do a homeschooling test was that I know when he gets to college he will have to start testing. But I wanted to get him prepared now!
I have heard from lots of other public school moms who tell me that they learn to test, and they have tests every week!
That to me is ridiculous, but going forward we will continue to use these mapping tests once or twice a year. Probably when we think about going to the next grade.
**There may be affiliate links in this post. You can read my full disclosure at the bottom of the page.**
Standardized Tests for Homeschoolers
We opted to do all the subjects, so math, reading, English language, and science through Homeschool Boss. Going forward we will continue to do all subjects annually but leave science out if we test again in the year.
The benefits of taking a map standardized test in your homeschool depend on the child. Although for us there are the following benefits, there are plenty of disadvantages too which I will discuss afterward.
College preparedness. The main reason we decided to do standardized testing.
Helps with planning our secular homeschool curriculum.
Identifies areas that need more focus.
Ensures children are meeting educational standards.
Can be used for year end homeschool evaluation depending on your state.
If you can use as your homeschool evaluation another benefit is you don't need to keep a really detailed portfolio,
Carson-Dellosa Spectrum Test Prep Workbook, Grade 4
Spectrum Test Prep, Grade 7
Spectrum 7th Grade Test Practice Workbooks All Subjects,
Spectrum Test Prep, Grade 6
Cons of Map Testing Homeschool
Puts a lot of stress on children.
It is not entirely accurate as it is just one test on one day, and we all know that things can change day to day.
We didn't prepare at all for the test, but if we had a disadvantage would be teaching to test (as they do in public schools).
Does not instill a natural love of learning into children.
Homeschool Boss Map Test
NWEA mapping tests are the best-standardized adaptive tests and are the most up-to-date.
The online homeschool testing is administered remotely over the phone via Homeschool Boss.
You call the number provided on the day and time that testing is scheduled for and you can start testing in minutes. (What I also loved is they sent me about 3 emails reminding me of the tests, and detailed instructions.)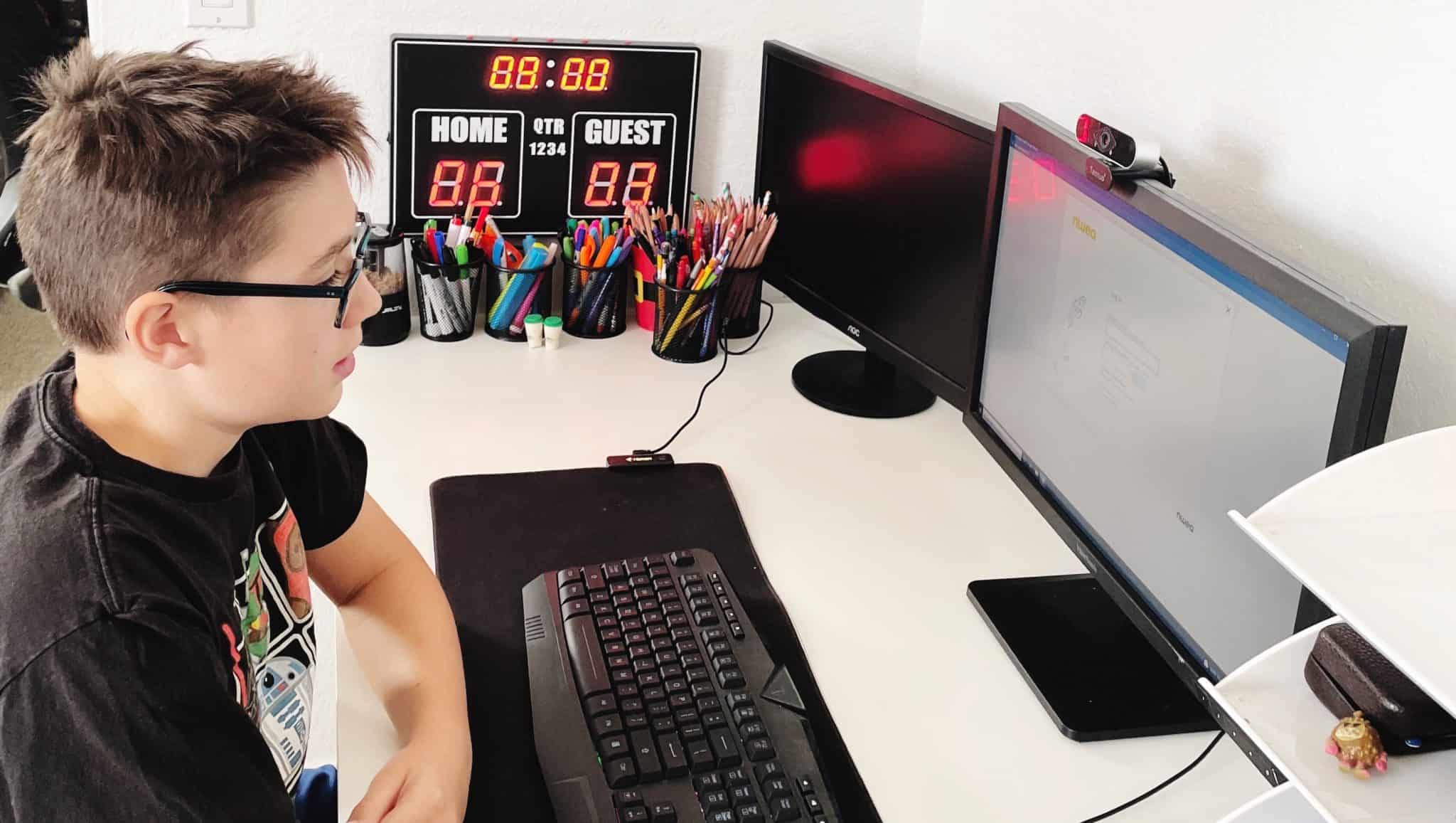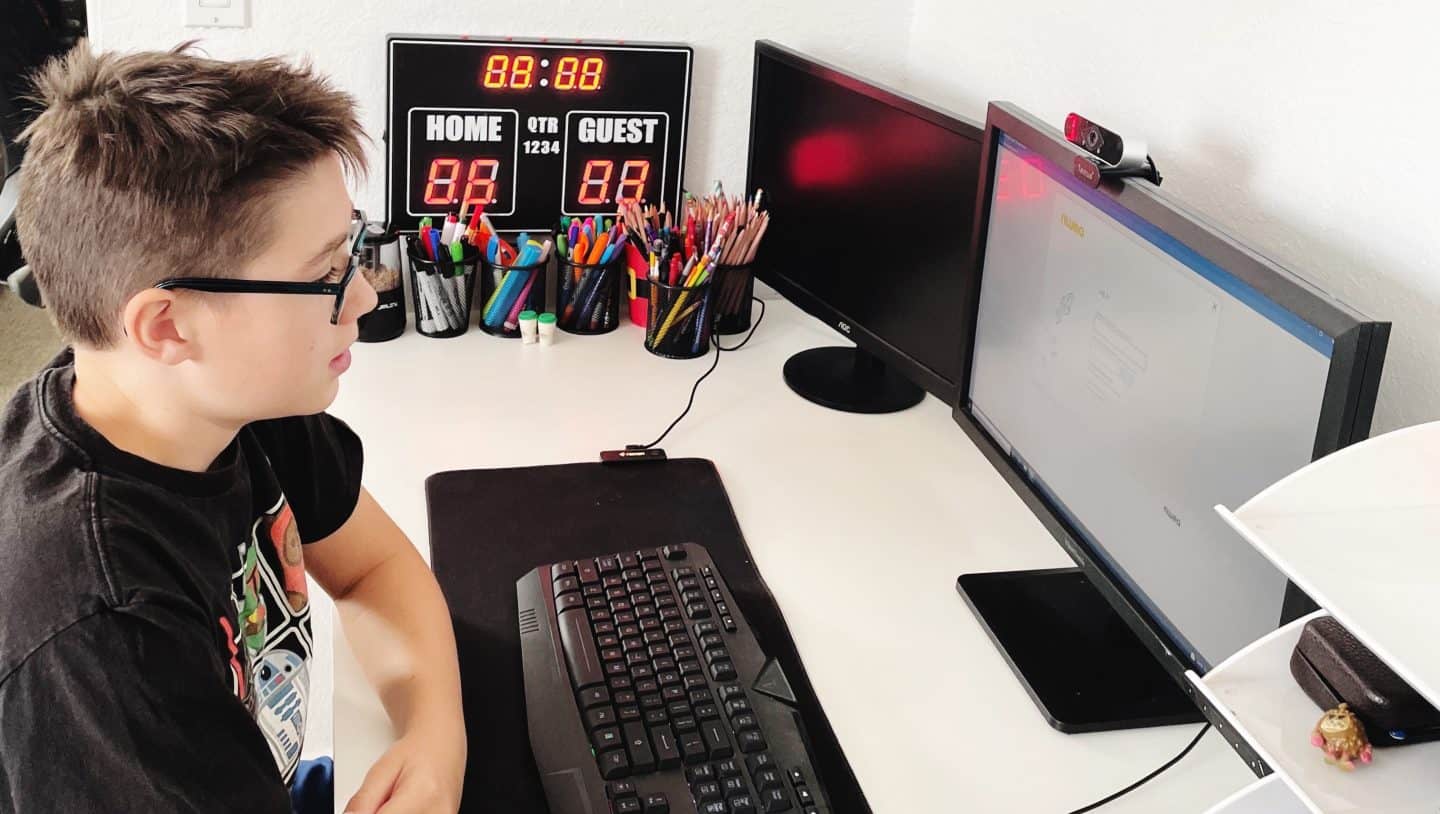 They are taken at home on your own computer or IPAD and are not timed.
The average time to take each of the tests is 45-60 minutes. But it took my son 1 hour and 47 minutes to complete grade 6 math and much longer for reading.
If you want to know what our 6th grade homeschool curriculum looks like take a look here. We have now written our 7th grade homeschool curriculum so see what we will be using this year.
There were approximately 53 adaptive questions for all four subjects.
He did have a few breaks with all of the tests.
On the first day of testing, he definitely got a little stressed out. But he calmed down after the first say 10 questions.
By the time it had finished and we got his raw results he was completely fine, in fact, he enjoyed it. Although he did call me once to tell me that he must have got a question wrong as the question he was working on was too easy!
They recommend not doing testing on the same day, and so we opted for Monday – Thursday for our tests. We also went for the earliest time, as Freddie works better in the morning.
Homeschool Boss
When the adaptive test is complete you will get your basic results.
The raw results are just that.
Homeschool Boss does give you the NWEA Research 2020 Comparative Data, but, at first glance, I didn't get it.
In fact, I was concerned that he had done really badly. I emailed Homeschool Boss and within 10 minutes she had put our mind at rest, and he was where we would have expected, above grade level.
Within less than 24 hours of completing each test, we received a DETAILED report showing how he did.
This was so helpful to decide what areas we needed to work harder on. But also it confirmed to me that he was ready for the next grade.
Now when I said detailed I really meant it, the report is roughly 40 pages per subject! Of course, I didn't print it all out for our records, in fact, I only printed out 5 pages (for all 4 subjects).
For homeschool record keeping tips check out our latest post.
Below is a sample score report that you will receive.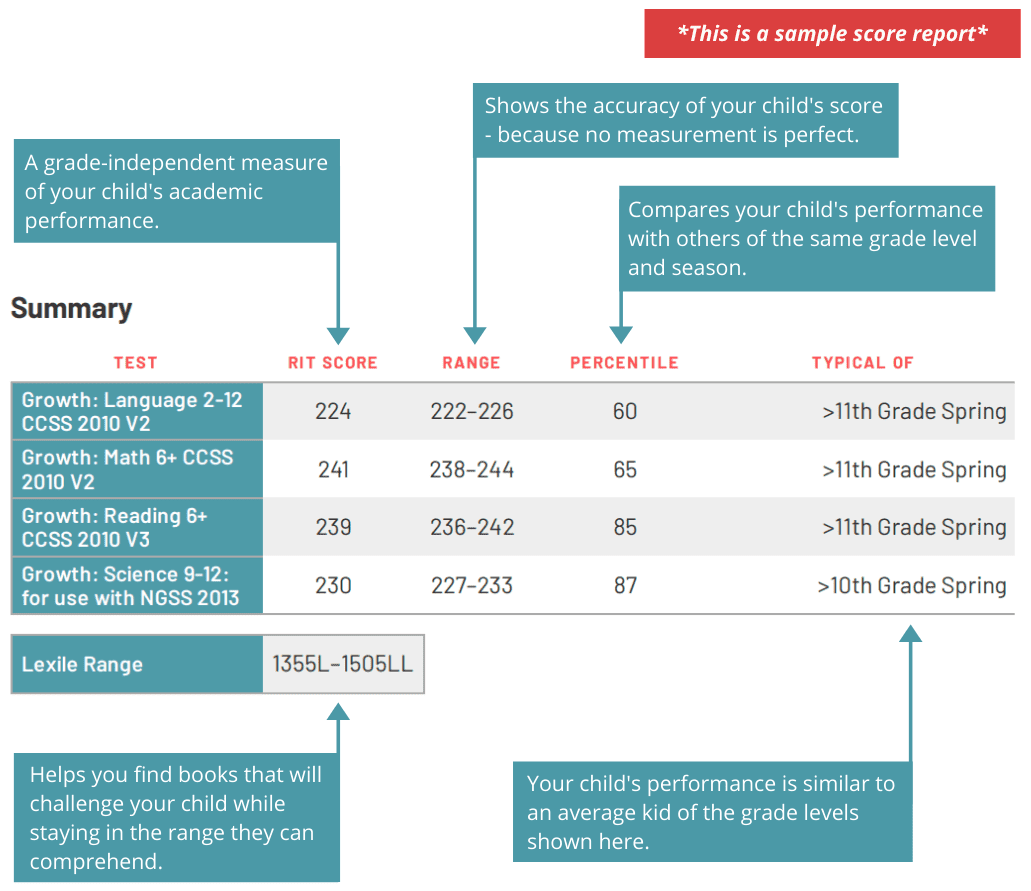 The graph below shows how your child compares with other students in their grade.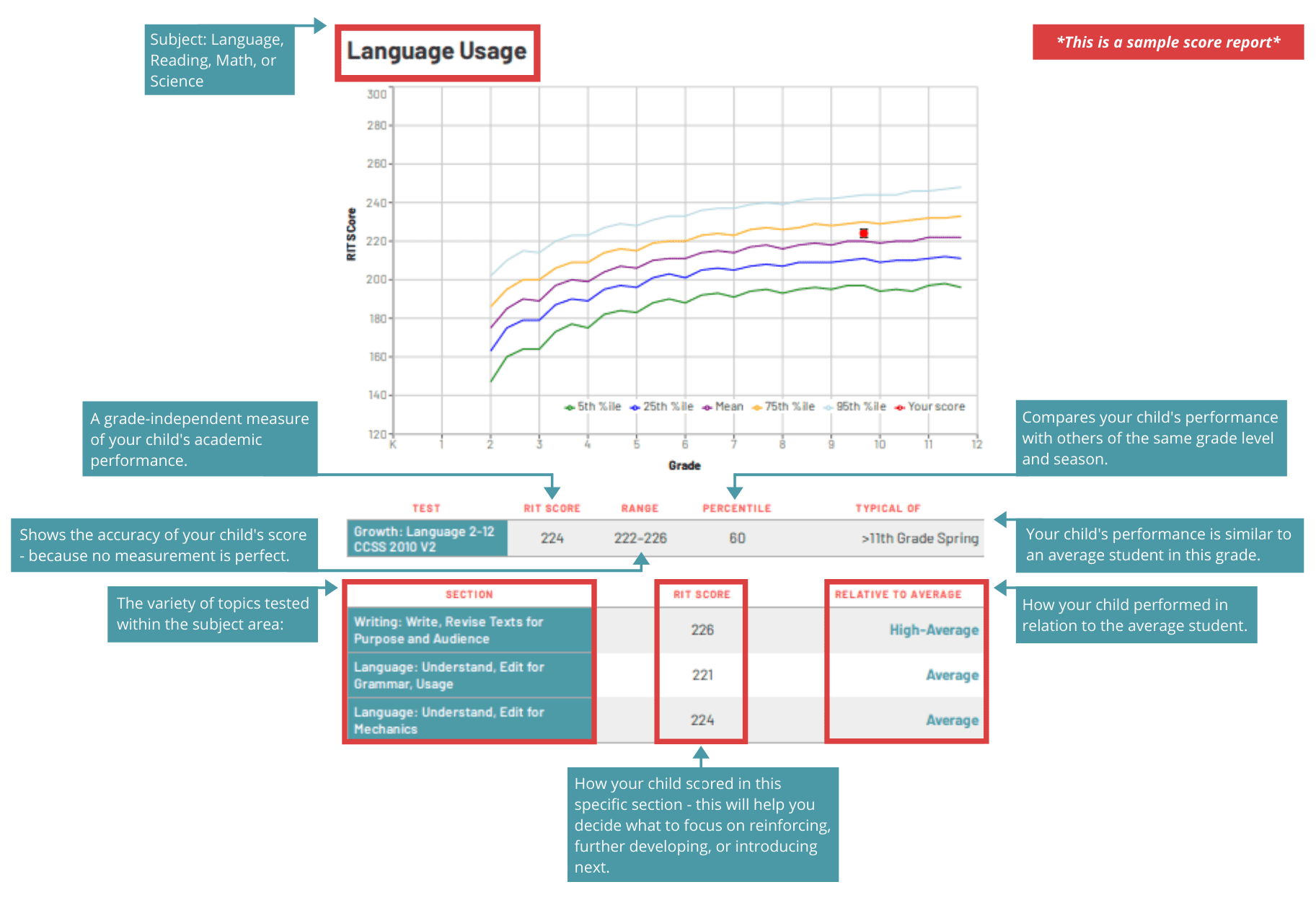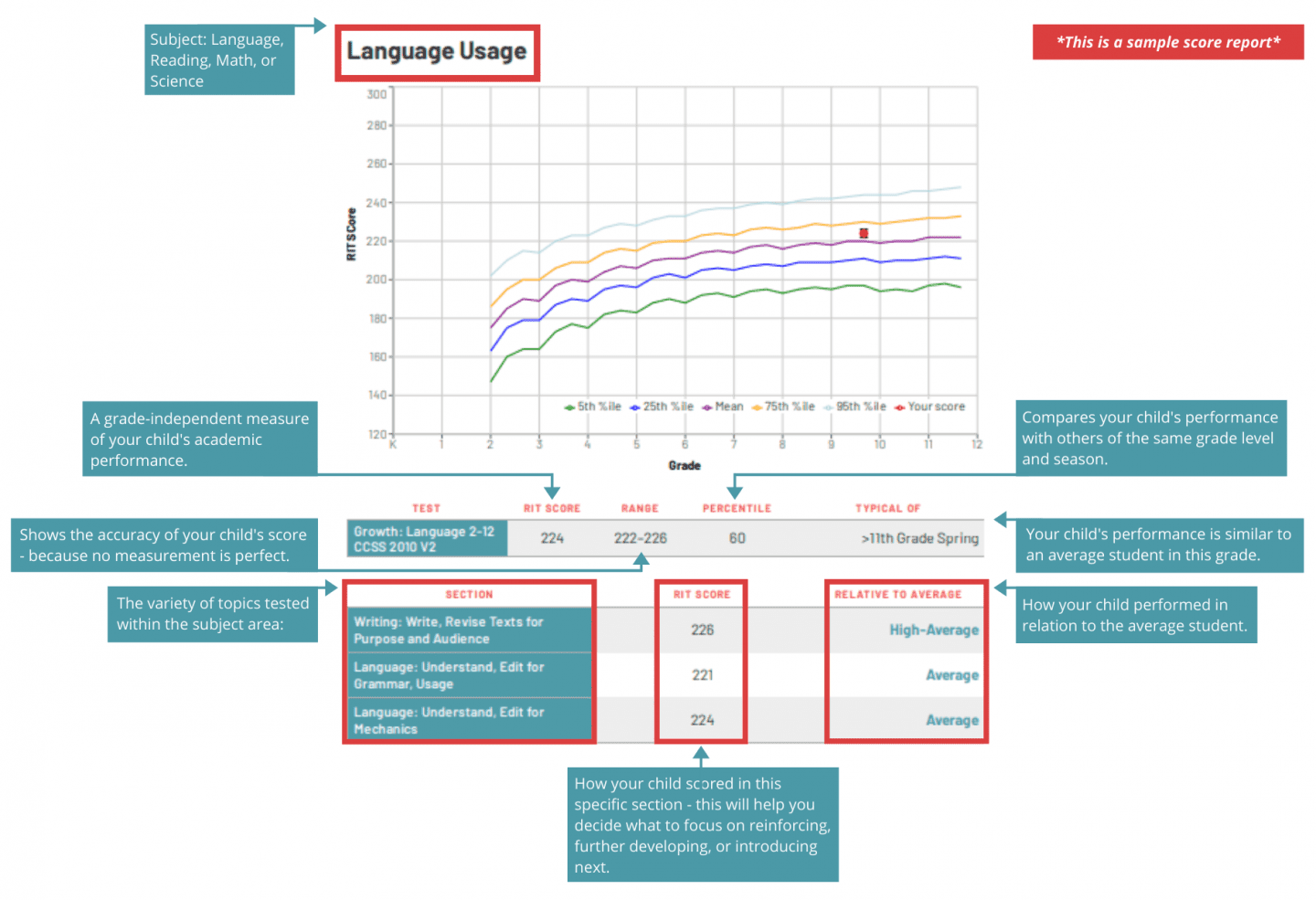 Testing with Homeschool Boss was very easy, and the communication via email, telephone, and the online chat was excellent.
How much does map growth testing cost?
The mapping tests are not cheap though.
It costs $60 for math and reading, plus an extra $10 for English language and an extra $20 for science. This is the option I took, but, I think going forward I will pay for the yearly subscription which is $162.
This includes 3 x reading and math tests plus an extra $10 for English language and $20 for science.
Map Testing Preparation
On our first mapping tests that he has just taken we did zero test preparation. This was intentional, I wanted to know how much information he already knew.
If I am honest it has just been Christmas and his birthday so I didn't want to overwhelm him. But, when we come to test again (we are going to do this at least twice if not three times a year going forward.) we will "revise".
There are many ways you can do this:
Test Practice Workbooks from Spectrum, if you have not used their workbooks before you have been missing out. They are absolutely excellent. We have used lots of them for different grades and subjects, so I am also confident these test practice workbooks will be as good. They have these books in all grades from grades 1 – 8.
Khan Academy for math. Type in the RIT scores and it gives you questions that match your child's level.
Can you use Map Testing for Annual Evaluation?
We are in Florida which is a relatively easy state to homeschool in, we have the following options for our annual evaluation:
An individual evaluation by a Florida-certified teacher of your choice.
Any nationally normed student achievement test administered by a certified teacher of your choice.
A state student assessment test.
A psychological evaluation.
Any other method mutually agreed upon by the parent and the superintendent.
If you are not sure about what requirements there are in your state check out HSLDA.
Last Updated on 2 July 2023 by homeschoolof1