KiwiCo Atlas Crate Review: The Best Geography Subscription Box
We absolutely love subscription boxes and we love to travel. So finding a great geography subscription box was super important.
During the travel restrictions of late, we have tried numerous geography subscription boxes and the KiwiCo Atlas crate subscription is the best.
**Disclosure: I was compensated for my time to write this post. As always, all thoughts and opinions are my own. I only share resources that I would use with my own family and those that I believe other homeschool families will enjoy. There may be affiliate links in this post.**
The KiwiCo Atlas crate is a geography subscription box aimed at children aged between 6 and 11 years old.
This monthly box is the best way children can learn about the countries and cultures of the world.
They will learn about the country with a travel book, have fun with related STEAM projects, and even cook a traditional dish from the country.
If you are looking for slightly older children see which KiwiCo crate we recommend for teens and tweens.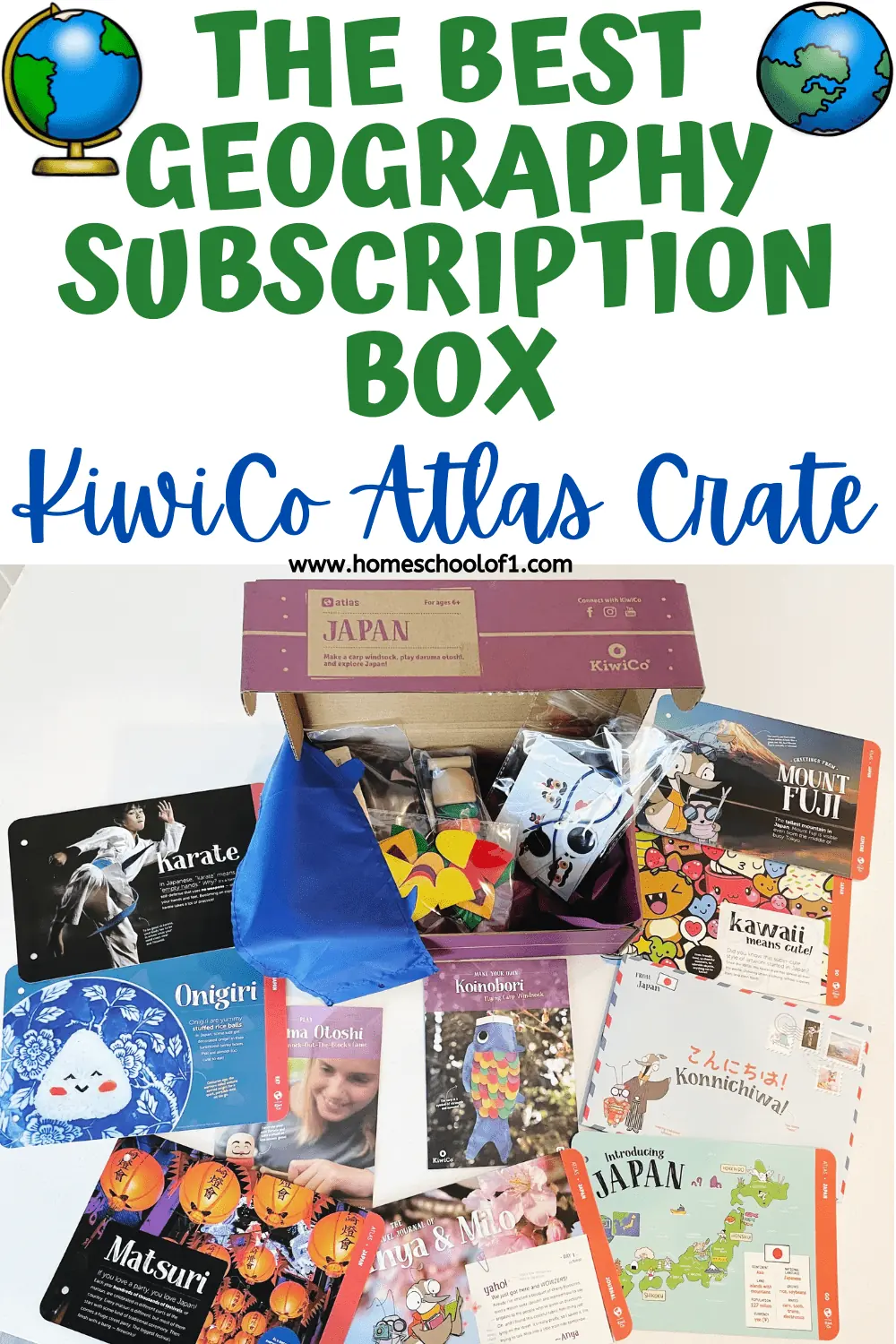 Why should you buy a geography subscription box?
Ordering a geography subscription box is a much cheaper way to introduce children to a new country and culture. But there are several other reasons why you might consider buying a child a geography subscription box:
Educational Value
If you homeschool a geography subscription box is a great way to add hands-on activities to your geography curriculum.
Understanding different cultures, traditions, and perspectives can broaden kids' understanding of the world. It can also help them develop empathy and respect for others.
Learning about different countries and cultures can also enhance their language skills. As they may be exposed to new languages and ways of communication.
Kids may also gain a better understanding of historical events and how different countries and cultures have contributed to the world.
Encourages Curiosity and Exploration
Learning about different places and cultures can spark a child's sense of wonder and curiosity.
This can encourage them to explore and learn more about the world beyond their own backyard.
Critical Thinking and Problem-Solving Skills
The activities included in a subscription box can help children develop important cognitive skills.
They can also be a fun way to challenge themselves and build confidence.
Family Time
Parents and children can work together to complete the activities and learn about different parts of the world. This can help strengthen family bonds and create lasting memories.
Overall, a geography subscription box can be a great way to introduce children to the world around them. Encourage curiosity and exploration, and provide a fun and educational activity for families to enjoy together.
The KiwiCo Atlas crate is going to be the box the kids (and you) look forward to each month.
What makes Kiwico Atlas Crate the best travel subscription box?
We have tried over 25 different subscription box companies over the years, and KiwiCo is the best.
This geography subscription box was as excellent as all of the others we have reviewed (see all at the bottom of the post.)
The KiwiCo Atlas Crate is aimed at children between the ages of 6 and 11 years old. But older children will still enjoy them.
Today I am sharing with you our review of the Japan crate.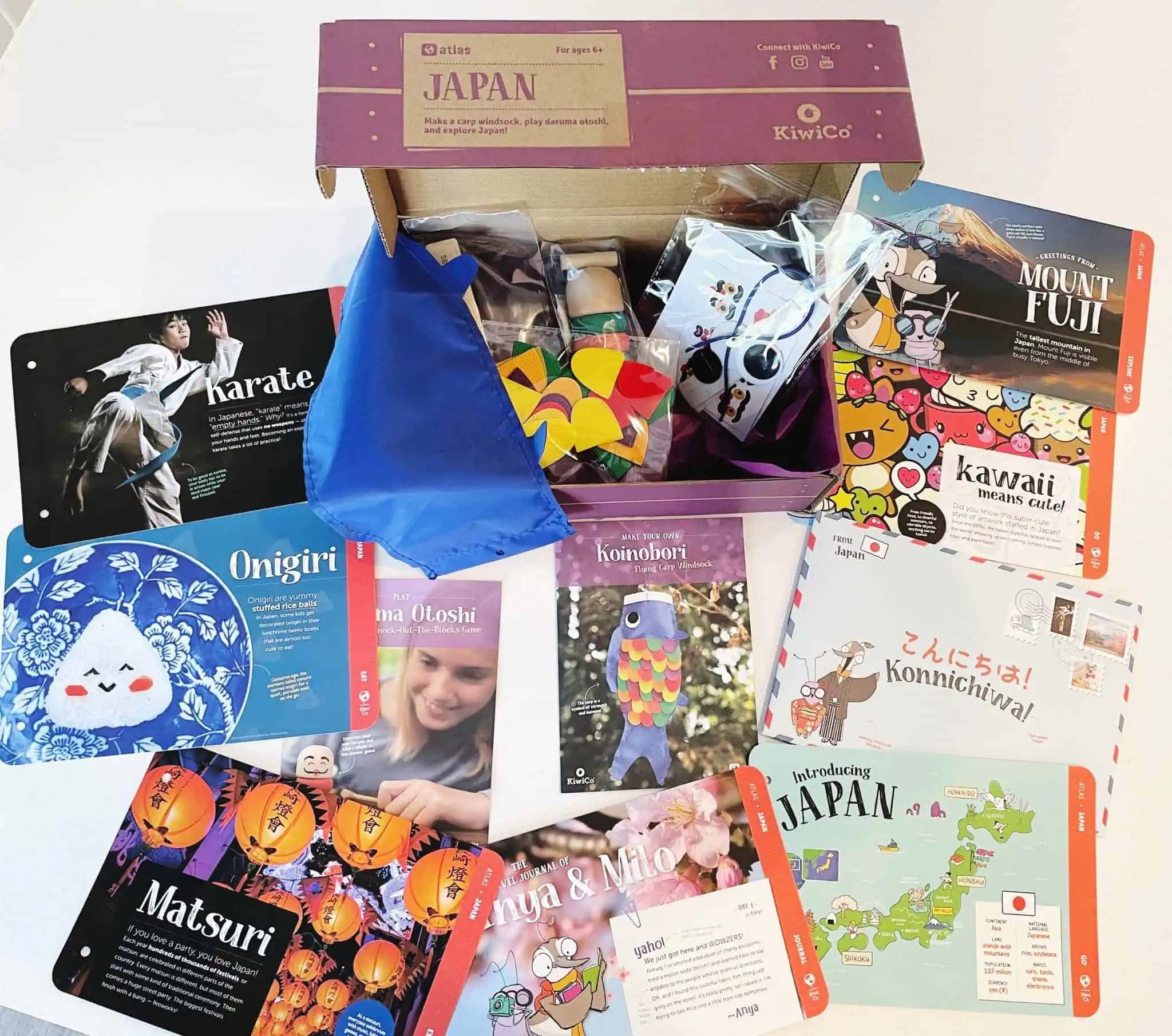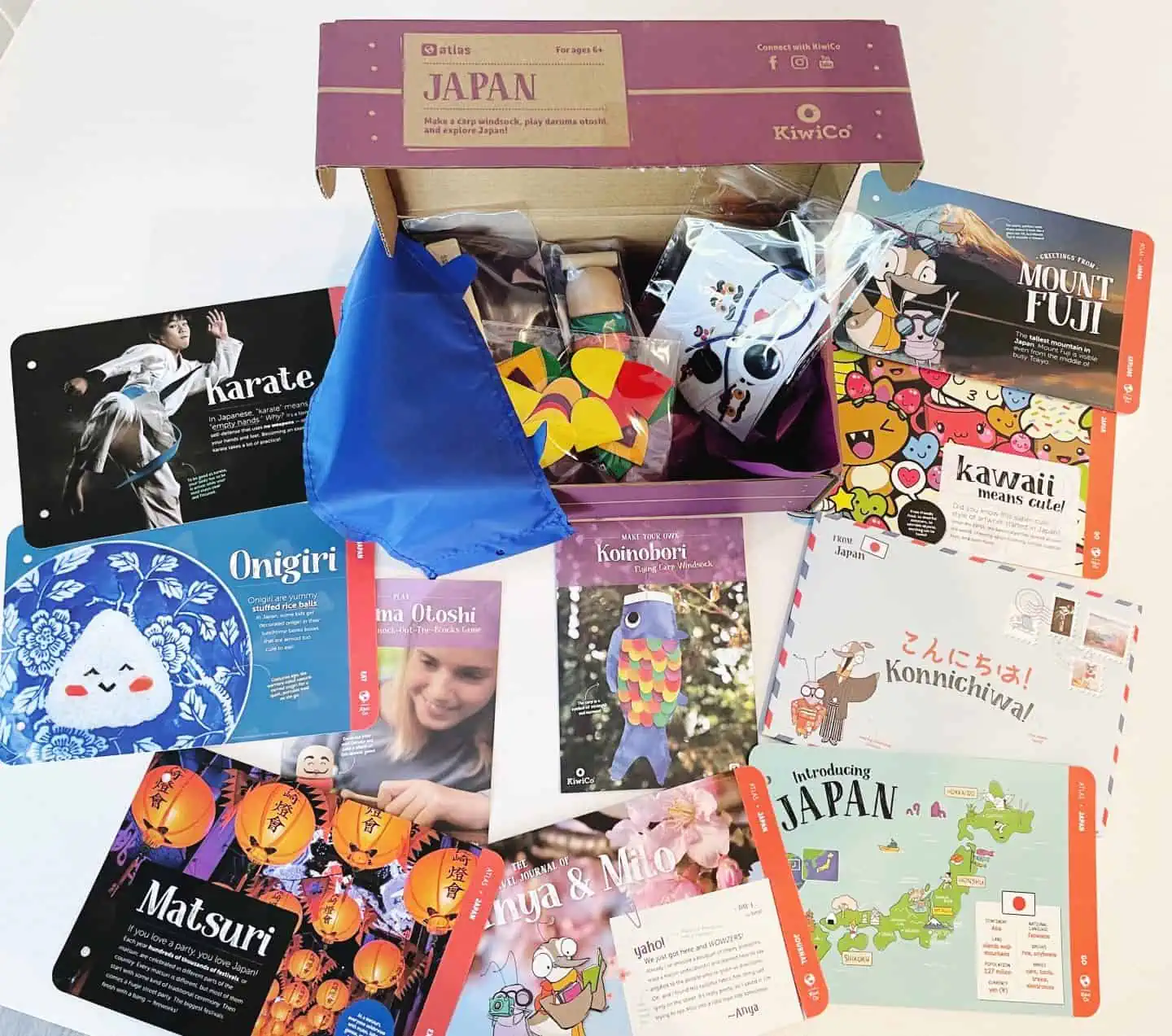 KiwiCo Atlas Crate Review: Japan crate
We were overjoyed when we received the Japanese crate as my son is using a Japanese homeschool curriculum. We are also planning on traveling to Japan next year, so this box was perfectly timed.
I went to Japan when I was 15 and stayed with a Japanese family for a couple of weeks so I was as happy as my son to receive this box.
What is included in the Japan crate?
Make your own koinobori – a flying carp windsock
Play a knock-out-the-blocks game called daruma otoshi
Make onigiri which are stuffed rice balls
Learn some karate moves
Learn how to draw kawaii
Learn about Japan and read some interesting facts
A travel journal of Anya & Milo, and get to see what adventures they got up to in Japan.
Learn about Mount Fuji
Explore Japanese festivals called matsuri.
Learn more about the continent with our free Asia worksheets.
Daruma Otoshi
Daruma is the top piece with a face based on Daruma dolls, which is a symbol of good fortune in Japan.
Otoshi simply means dropped.
The knock-out-the-blocks game seen below was so much of a hit in our home that my son plays with it constantly.
There is nothing to build with this game, apart from adding a funny face. The classic Japanese game is so simple to play, all you need to do is knock each of the blocks starting with the bottom one without toppling the tower.
If you knocked out all of the blocks and only the head remains you win!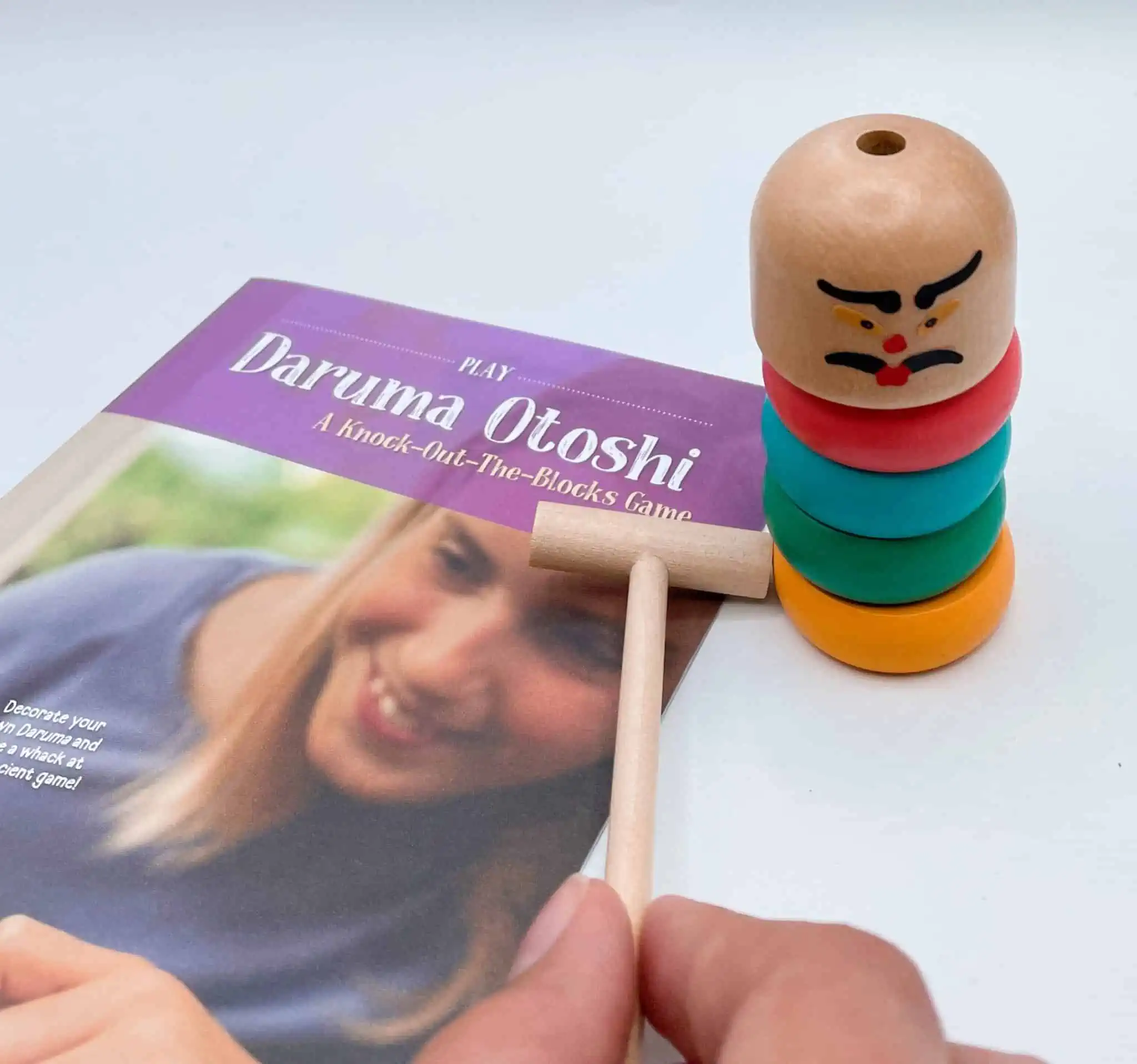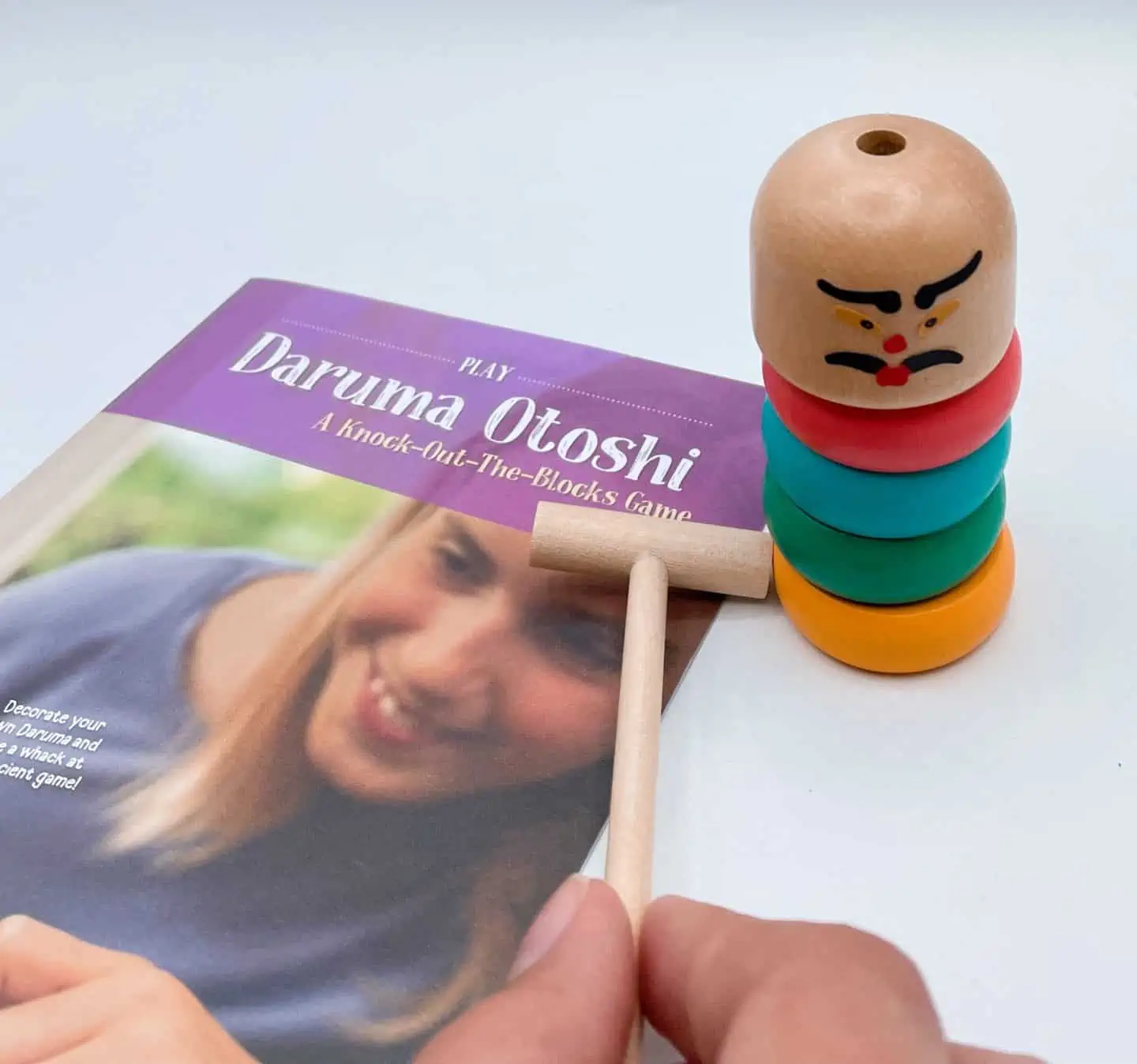 Koinobori – Flying Carp Windsock
Flying koinobori and just one of of the ways that Japanese people honor children and wish them strength and courage on Children's Day.
Children's Day is a public holiday in Japan that takes place on May 5th and is the final celebration in Golden Week. It is a day set aside to respect children's personalities and to celebrate their happiness.
These koinobori are seen flying outside family homes on Children's Day.
You receive everything in the box to create this wonderful flying carp windsock, and it is so much fun.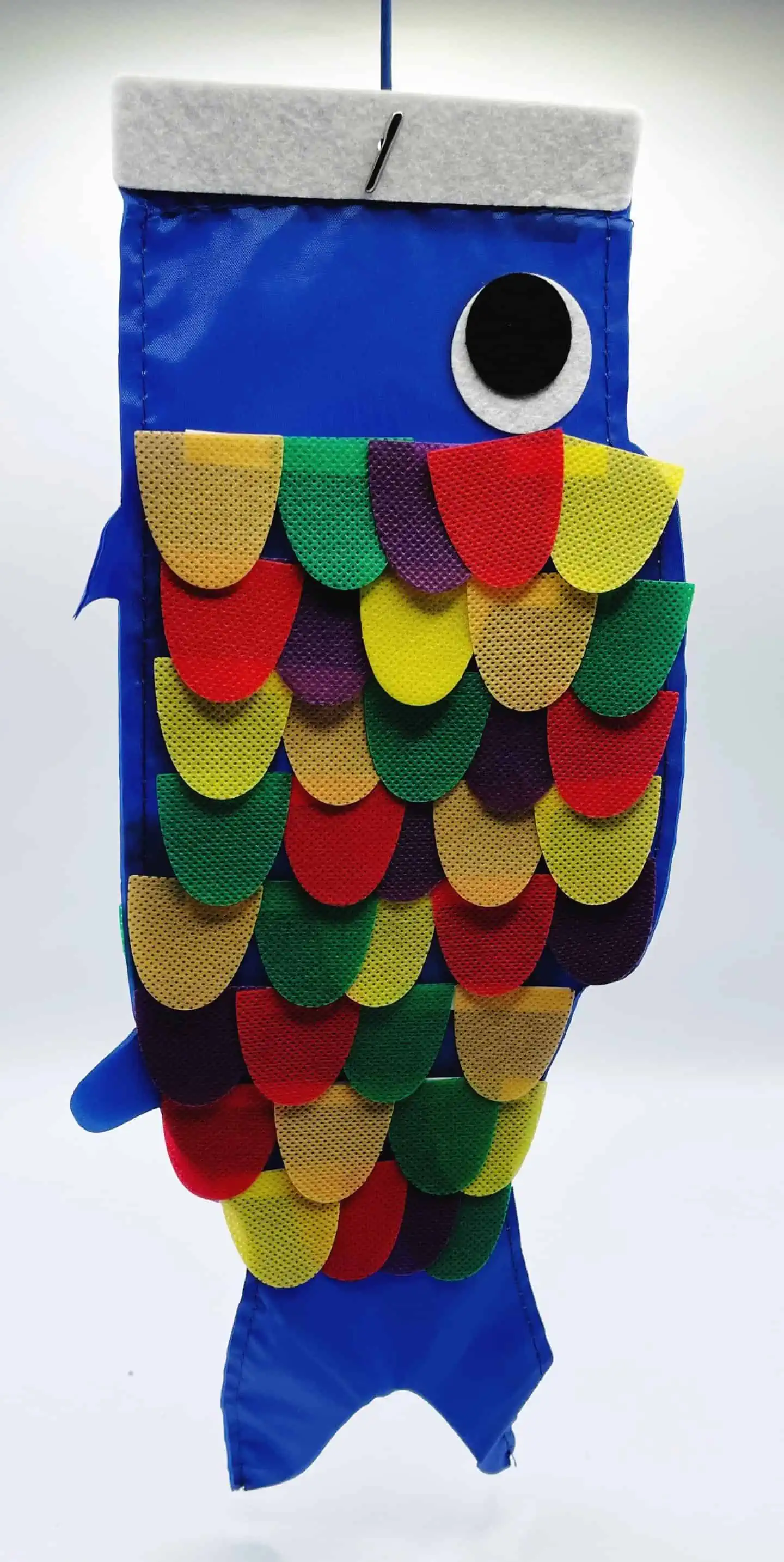 Was the KiwiCo Atlas Crate worth the money?
Absolutely, this geography subscription box is probably my favorite box of them all.
Not only does it come with really interesting facts about the country, but the activities are excellent. We both smiled so much when we were doing it. And our desire to visit Japan has increased tenfold. I just wish it wasn't a 15-hour flight!
The regular cost of the Atlas crate is only $18.50 per month (if you get an annual subscription) and is delivered free of charge. But you can also get 50% off your first month with my code HOMESCHOOL.
Other KiwiCo Reviews:
If you are looking for even more geography gifts for kids you are going to love these ideas.
Last Updated on 12 July 2023 by homeschoolof1