13 Best Homeschool Math Curriculum That Are Secular
We don't hide the fact that we love math, yes I know that makes us strange, but we all really do! Here are the best homeschool math curriculum resources that you are all going to love.
If you're searching for the best secular homeschool curriculum for math, you're in luck!
Our blog post highlights the 13 best options for homeschoolers seeking a secular approach to math education.
These curriculums cover a range of grade levels and math subjects, from elementary arithmetic to high school calculus.
They also offer a variety of teaching methods, including online courses, textbooks, and hands-on activities.
Over the years we have used all of the homeschool math curriculum featured in this list. Therefore I am confident, that you will find the one you love.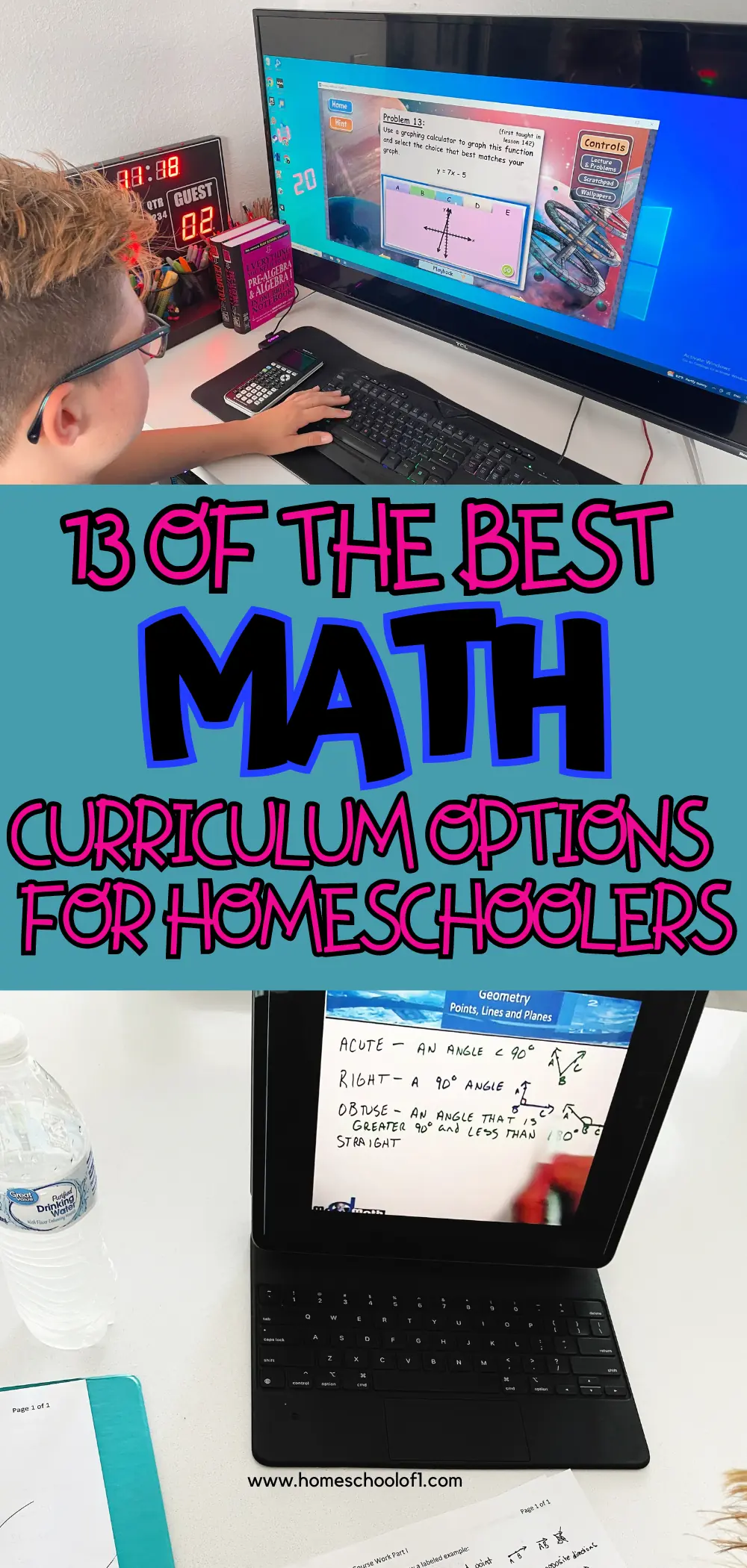 **There may be affiliate links in this post. You can read my full disclosure at the bottom of the page.**
In what order do you take high school math?
In homeschool, you can of course take math in whatever order suits your needs. However, a common progression for high school math courses in the United States is:
Algebra 1. Usually taken in 9th grade, this course covers the basics of algebraic equations, functions, and graphing.
Geometry. Typically taken in 10th grade, this course focuses on the properties and relationships of points, lines, angles, and shapes.
Algebra 2. Usually taken in 11th grade, this course builds on Algebra 1 concepts, introducing more advanced algebraic functions, equations, and topics.
Pre-Calculus. Typically taken in 12th grade, this course prepares students for college-level calculus by introducing advanced algebra, trigonometry, and other mathematical concepts.
Calculus. Often taken in the first year of college, this course covers the study of continuous change and is typically the highest level of mathematics taken in high school.
Of course, this is just a common sequence, and some students may take a different path based on their interests and goals.
For example, my son is 13 and has just started geometry after completing Algebra 1 a couple of weeks ago. If he were in public school he would be in 7th grade, and not even doing pre-algebra.
If you need some help on how to make math fun for middle school check out our top tips.
Homeschool Math: Building a Strong Foundation
Choosing the right math curriculum for homeschooling is a big decision. It can affect how well your child learns and their future opportunities.
Math is like the language of science. It's not just about numbers; it's also about thinking, solving problems, and using logic. Having a good grasp of math is crucial for doing well in many subjects and in the real world.
Homeschooling allows you to teach in a way that suits your child. The right math curriculum can match your child's learning style, pace, and strengths. This can make learning more effective.
Math is useful in many jobs and further education. From being an engineer or scientist to an artist or even an accountant, math skills are important. The math curriculum you pick shapes your child's path to these opportunities.
A good math curriculum helps your child feel confident. When they understand math and can solve problems, they feel good about their learning abilities.
Math is not just for school; it's a part of everyday life. A good curriculum connects math to other subjects and real life situations.
Math curricula use different ways to teach. Some use pictures and visuals, others focus on hands-on activities, and some use technology. You should choose one that fits your child's style of learning.
Math isn't just about math; it teaches life skills like budgeting, time management, and thinking critically. A good curriculum should do more than just memorizing facts.
Homeschooling lets you adapt your teaching. If your child is good at something, you can challenge them more. If they're struggling, you can provide extra help. Your curriculum should be flexible for these changes.
What is the best math homeschool curriculum?
There is certainly no one size fits all and if you don't like one, or, it only works for a year, change it.
In fact, for the last 3 years, we have changed every year. Not because we didn't like the math curriculum we had chosen it just wouldn't have worked for the following year.
We have used most of these math curriculums over the years. And these really are the very best homeschool math programs you will find.
They are ordered in grade level from the one we are currently using. My son is currently taking high school geometry.
Mr. D Math
Mr. D Math is an exceptional online math program catering to middle and high school grades, providing both live online classes and self-paced options.
Their approach simplifies complex principles and promotes a hands-on learning experience that sets them apart from other curricula.
We've chosen Mr. D Math for our geometry homeschool curriculum, and it's our top pick for homeschool math education.
We're so impressed that we're considering sticking with it all the way through college.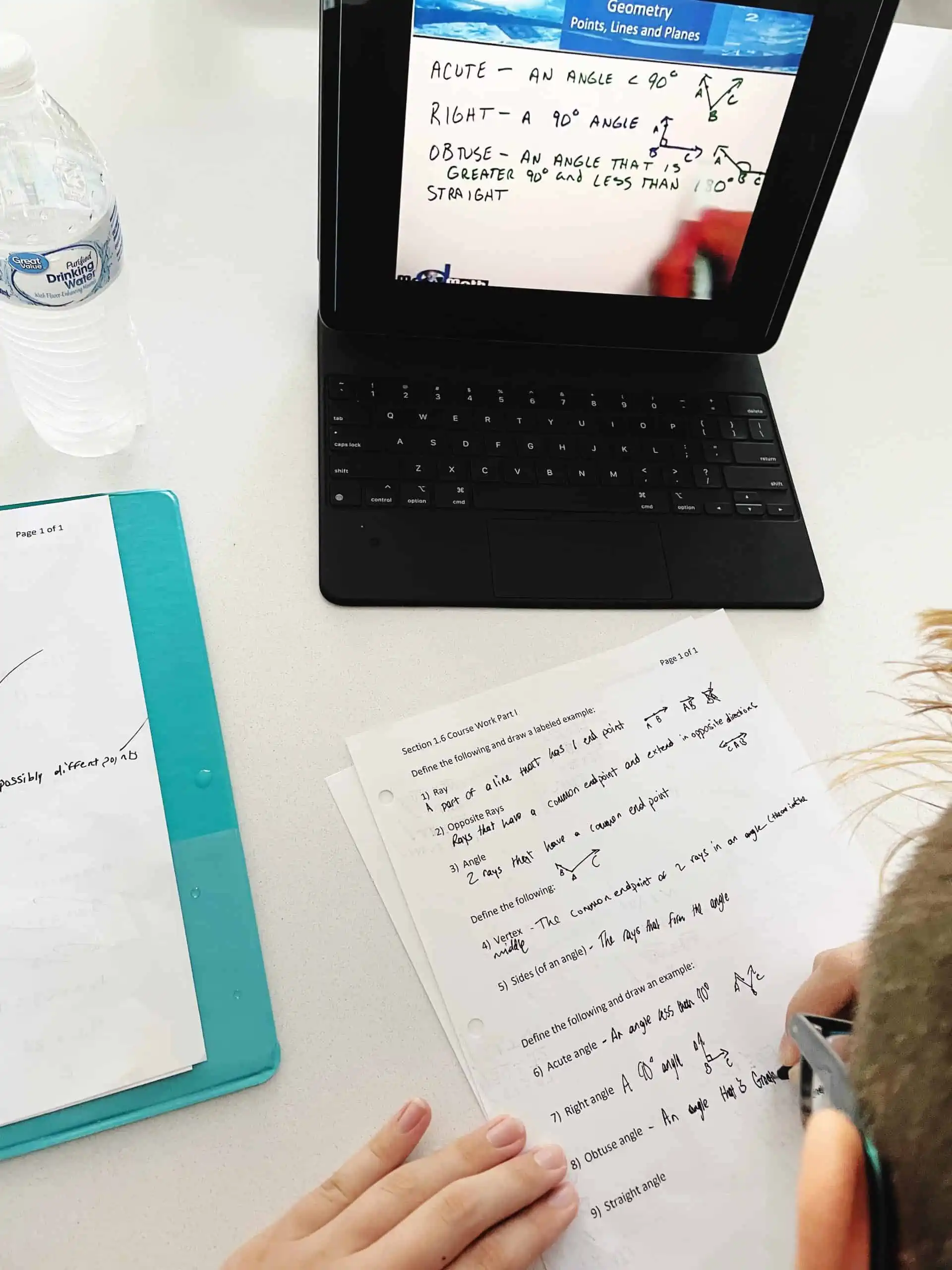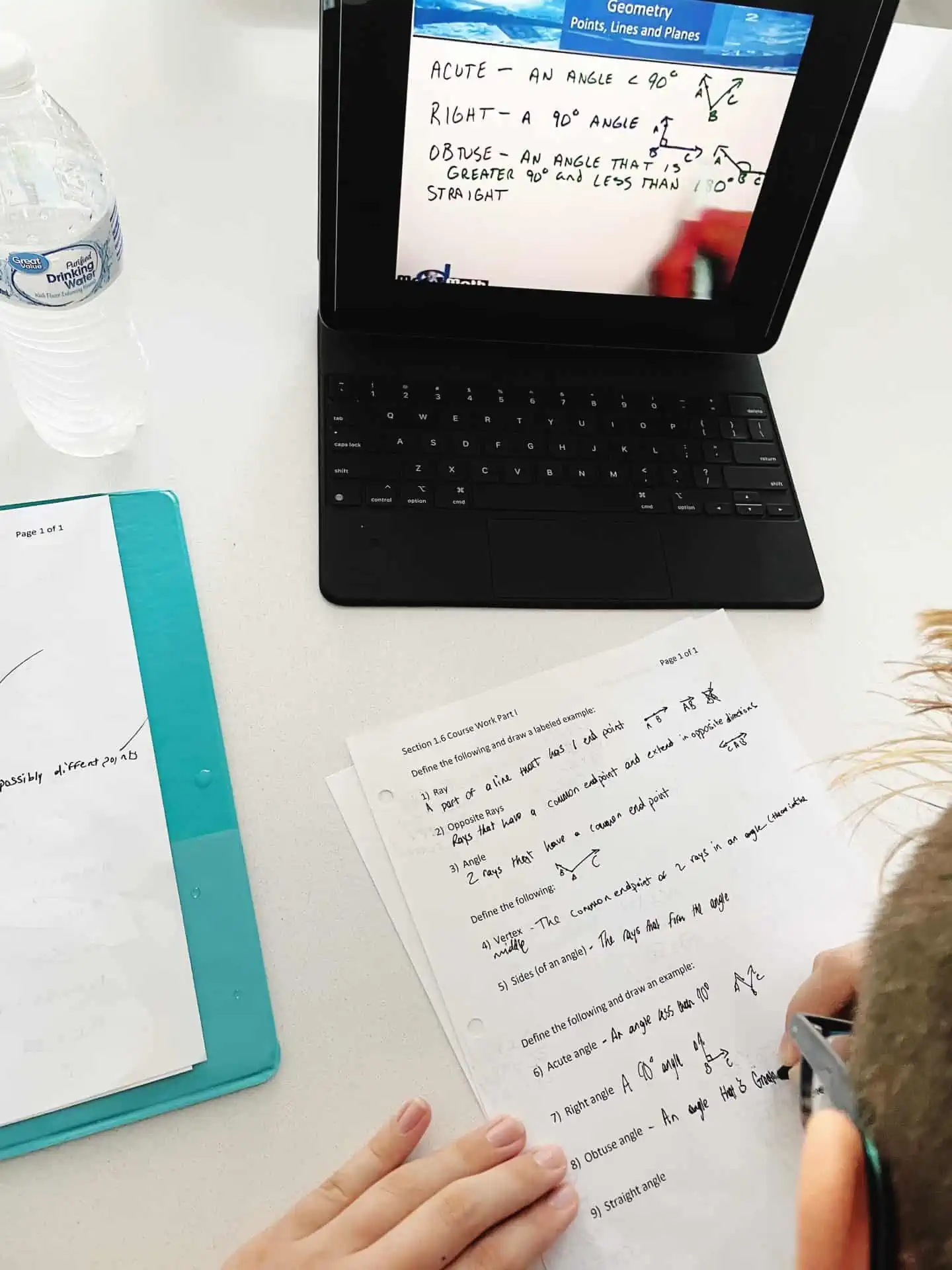 What truly stands out is that Mr. D Math goes beyond math education; we've also found their homeschool economics curriculum and self-paced Mr D ASL course to be fantastic additions to our learning journey.
For a comprehensive review of Mr D Math, check out our latest blog post.
Teaching Textbooks
Teaching Textbooks is an online curriculum designed for students in grades 3 to 12.
We recently came across it and decided to use it for Algebra 1.
You can find our in-depth Teaching Textbooks review, which explains why we genuinely appreciate this resource.
They also offer a free trial of the first 15 math lessons for you to explore.
Currently, we're using it as a crucial part of our 7th grade homeschool curriculum. Although we initially started online, we now prefer the printable worksheets and then input the answers online.
Teaching Textbooks is featured in our best homeschool curriculum for high school.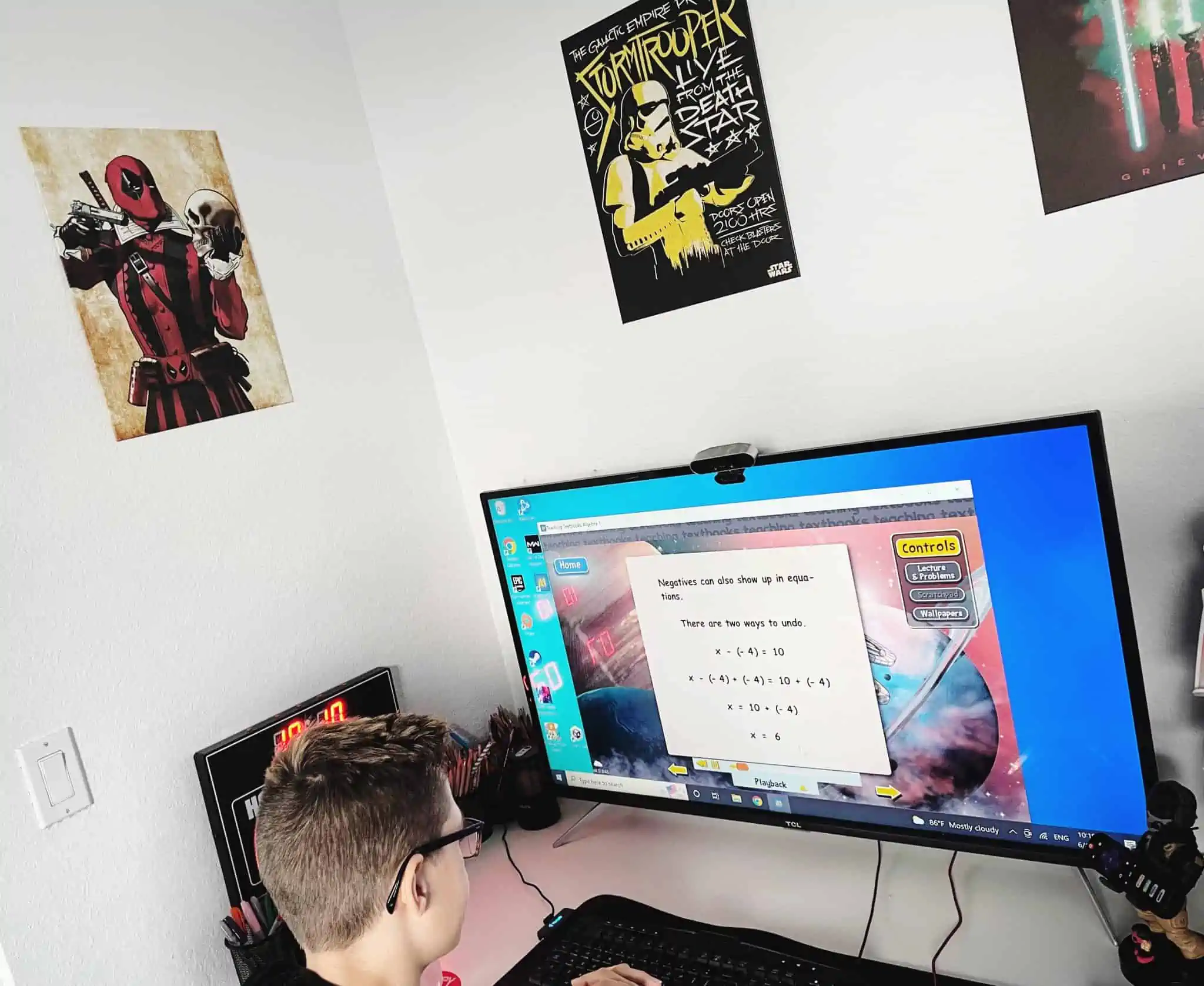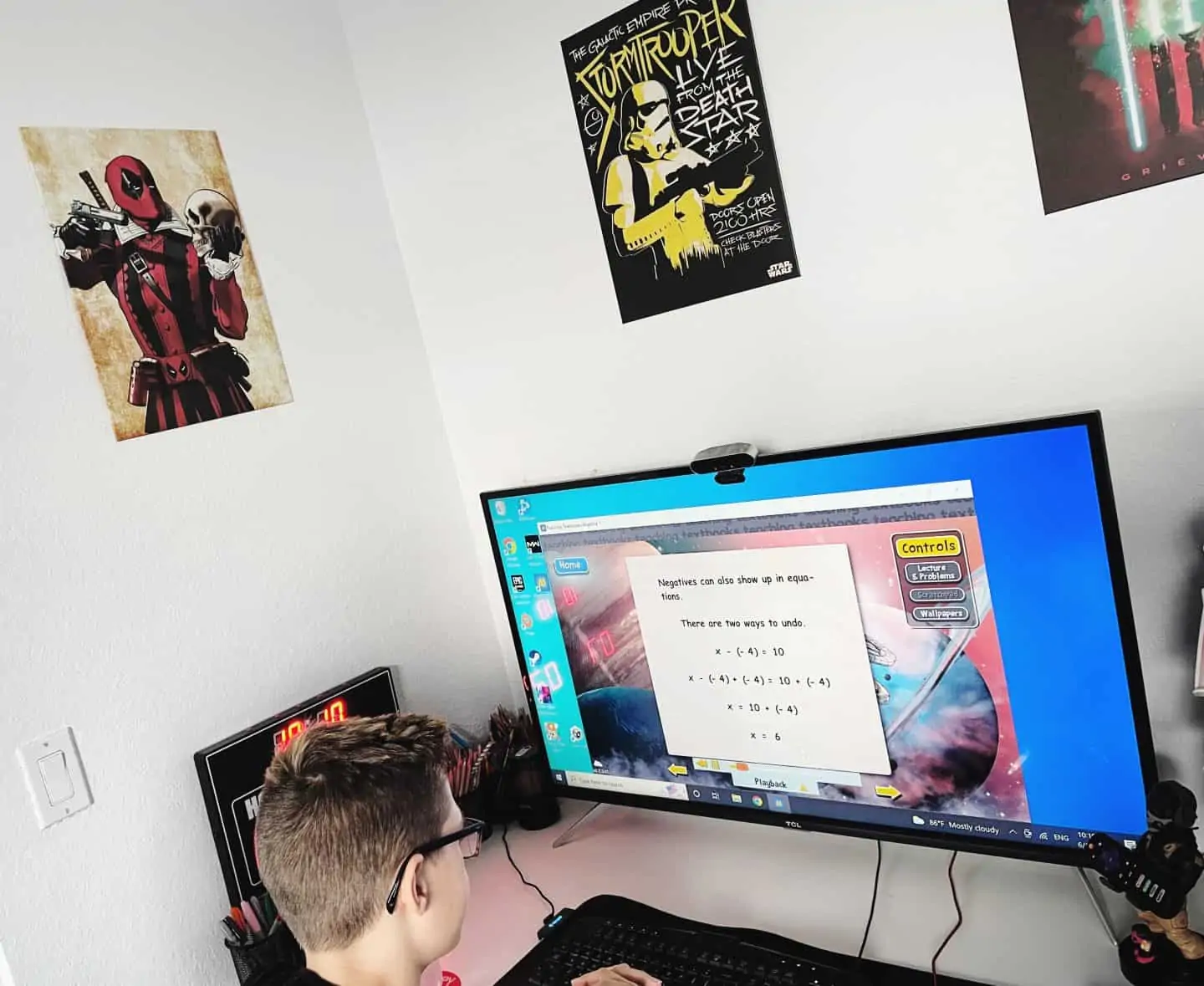 Beast Academy
Beast Academy is for children aged 8-13, however, it is definitely aimed at gifted students.
You can either do the workbooks, online, or both. As we do a lot of online work we opted for the books only and are very happy with them.
The workbooks are not your typical books and are very much like a comic book.
We are working at grade 5 level, he could have gone into pre-algebra but at age 11 I thought I would keep him in 5th grade.
I am so glad I did, as although he is fine with this, it certainly is the most challenging math program we have done.
If you have a child who struggles with math, I would definitely start at least 2 grades lower.
It is the best 6th grade homeschool curriculum for gifted students or kids that love math.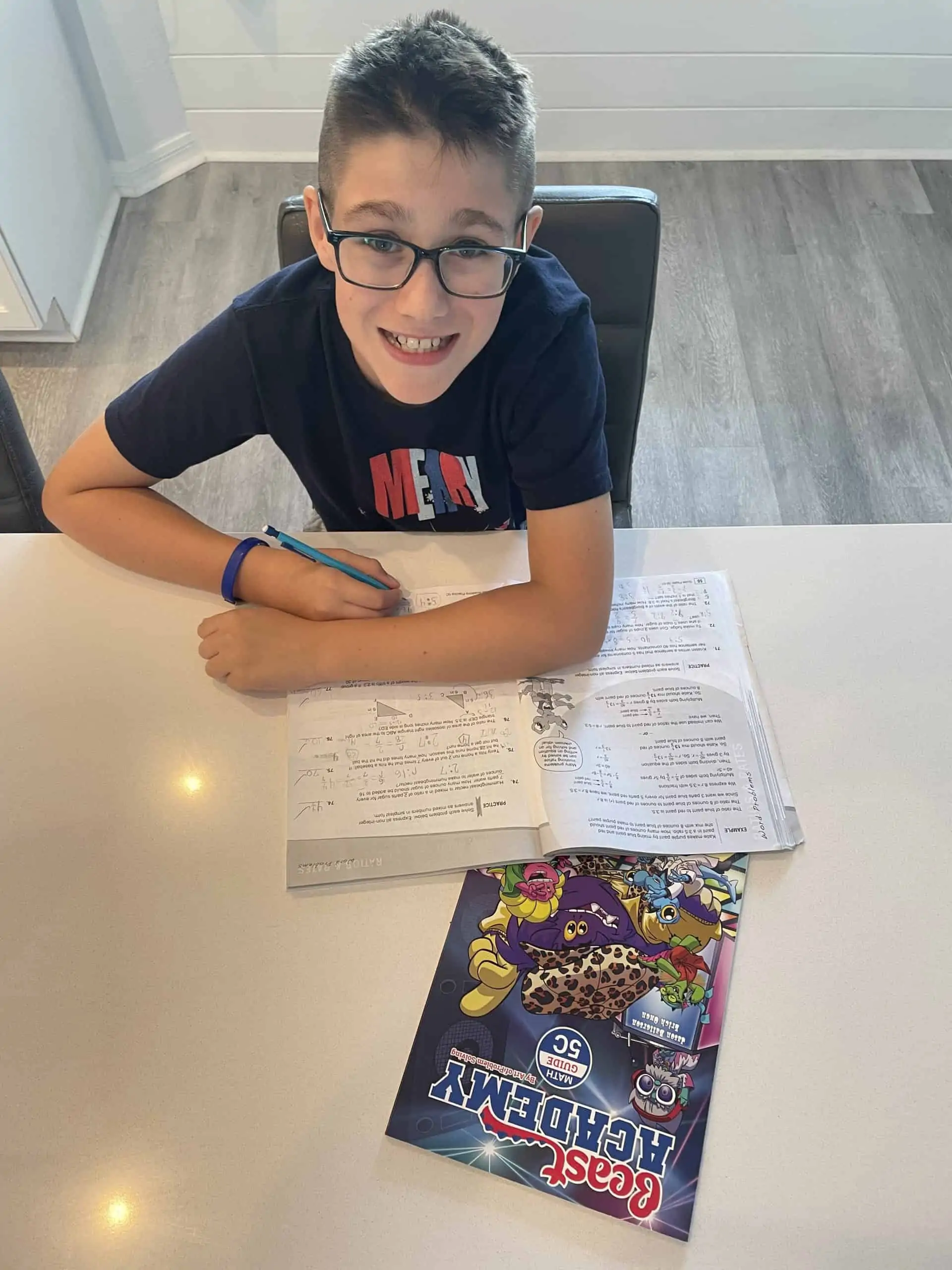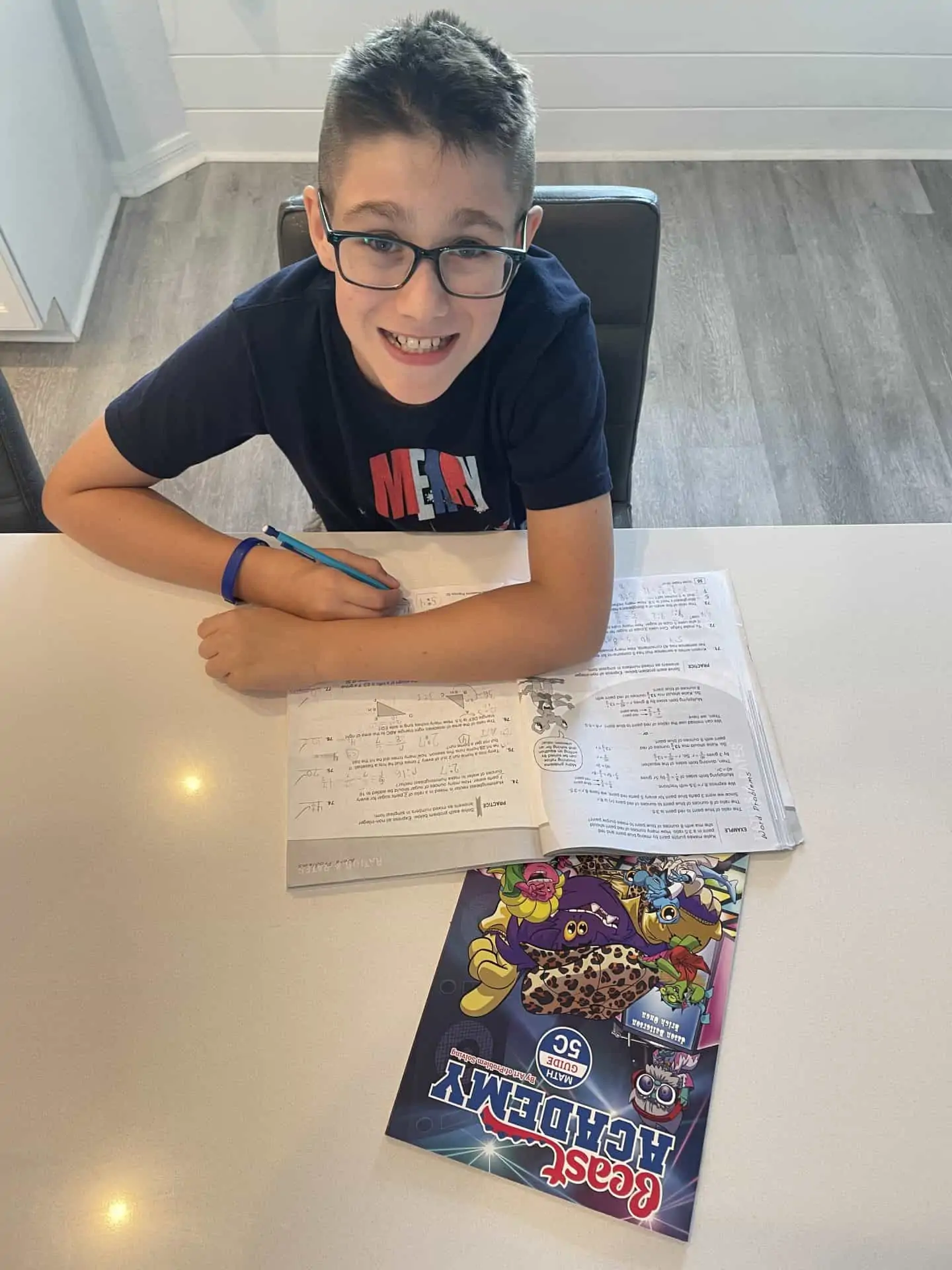 There are placement tests you can take, however, which I definitely recommend.
Beast Academy also has some offline free math games that are a great way to spend your Friday afternoons!
IXL
IXL is a fantastic interactive curriculum for Math and English, covering grades K-12. What sets IXL apart is its real-time diagnostic testing, ensuring that students work at their individual skill levels.
We found it particularly valuable for math in the earlier years, allowing children to excel in certain areas while receiving additional support in others, all at the right grade levels for each subject.
We also love the IXL math workbooks too.
What's even better than that is if you click on my link you will get 20% off. To read our full and detailed IXL reviews check out our latest blog post.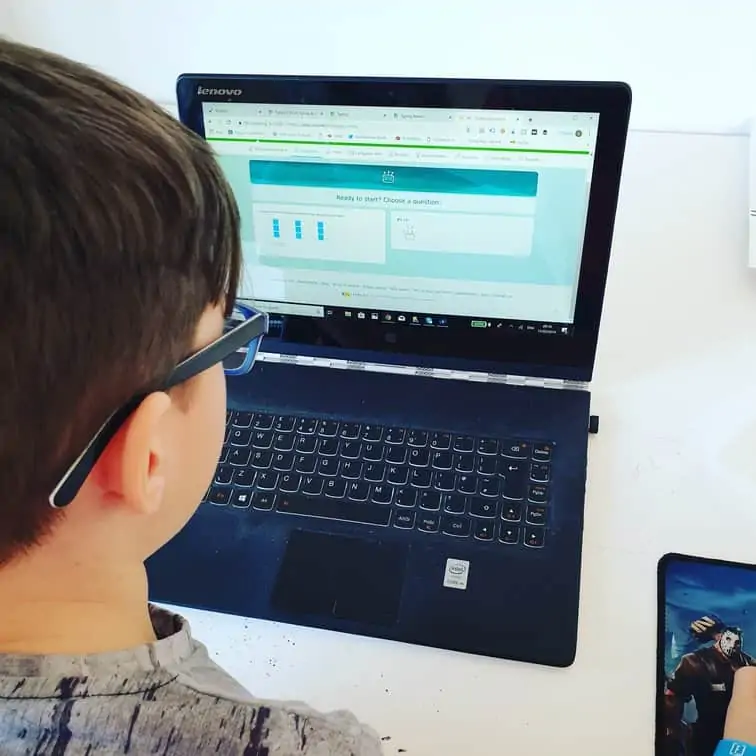 Saxon Math
The Saxon Math homeschool program teaches math step by step, making sure you really understand one part before moving on to the next.
It breaks down mathematical concepts into smaller, manageable parts, ensuring homeschool students fully grasp each aspect before moving on to the next.
Continuous practice and review of previously learned topics are integral to the program, deepening the student's understanding of math over time.
Supplementary materials, such as student fact cards, are provided to enhance basic arithmetic skills, making this curriculum a comprehensive and confidence-building choice for homeschooling families.
Singapore Math
Singapore math is an innovative math curriculum originating from Singapore that emphasizes a deep understanding of mathematical concepts through a visual and concrete approach.
It promotes the mastery of foundational math skills by focusing on problem-solving skills and critical thinking rather than rote memorization.
The curriculum is known for its use of visual models and bar diagrams, enabling students to develop a strong foundation in math and excel in problem solving.
Math U See
Math U See is a popular math curriculum known for its unique and hands-on approach to teaching mathematics. It emphasizes a concept-based learning method, ensuring that students grasp the fundamental ideas behind mathematical concepts before moving on to more complex topics.
The program provides a systematic and structured approach to math education, with a strong focus on mastery through consistent practice.
One of the standout features of Math-U-See is its use of manipulatives, such as blocks and other physical aids. Which helps students visualize and understand abstract mathematical concepts. This tactile approach is especially beneficial for kinesthetic and visual learners.
CTC Math
CTCMath is a versatile math program suitable for students of all ages, making it a valuable resource for homeschoolers.
The platform offers a free trial, and homeschooling families can benefit from a significant discount, making it an affordable option.
One standout feature of CTCMath is its instructional videos that precede each lesson, providing clear and engaging explanations to enhance students' understanding of math concepts.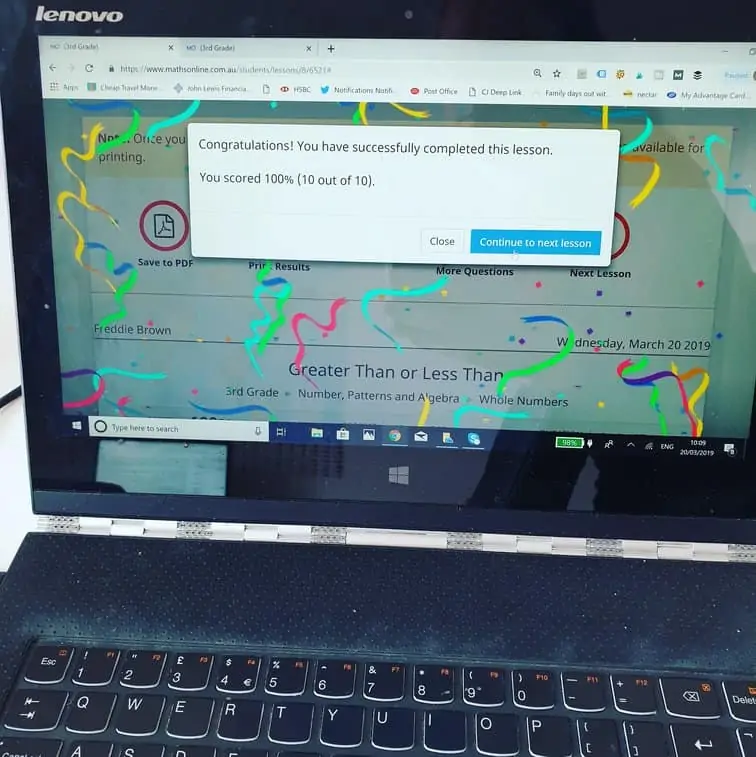 For more information, you can read our comprehensive review of CTC Math.
Spectrum Math
Spectrum is a series of math workbooks designed to reinforce and practice key math concepts for students in various grade levels, from kindergarten to middle school.
Each workbook offers a diverse range of exercises and activities, covering essential math topics such as arithmetic, geometry, algebra, and more.
With its clear and straightforward presentation of math problems, Spectrum Math is a useful resource for supplementary practice and skill-building in both homeschooling and traditional classroom settings.
Math Mammoth
Math Mammoth is a popular math curriculum known for its comprehensive and straightforward approach to mathematics education.
Created by a math educator, Maria Miller, the curriculum offers a mastery approach learning system that focuses on building a deep understanding of mathematical concepts.
Math Mammoth provides a wide range of materials for various grade levels, making it a versatile choice for homeschoolers and educators seeking a well-structured and accessible math program.
Horizons Math
Horizons Math is a popular math curriculum designed for students from preschool to 6th grade.
It offers a comprehensive and spiral approach to mathematics education. Covering a wide range of topics and emphasizing mastery through regular review and practice.
With its engaging and colorful workbooks, Horizons Math is a favorite among homeschooling families and traditional school settings. Providing a structured and effective way to develop mathematical skills and understanding.
Check out our favorite free homeschool curriculum too!
Khan Academy
Khan Academy's math curriculum is highly regarded for its alignment with Common Core standards. Ensuring that it provides a solid foundation in mathematics education that complements traditional school curricula.
The platform covers a wide range of math topics, from elementary concepts to advanced subjects, making it an excellent resource for homeschoolers and traditional students alike.
What sets Khan Academy apart is its interactive approach to learning, which includes video lessons, practice exercises, and personalized progress tracking to help students grasp mathematical concepts at their own pace.
Whether you're looking for extra practice or a full math curriculum, Khan Academy is a valuable resource for learners seeking to build a strong foundation in math and beyond.
EDPlace
EdPlace is a highly regarded UK-based curriculum that covers subjects such as mathematics, English, and science, catering to students from K-10. While there is a free option available, it does come with limitations in terms of access to resources and features.
Despite not being initially designed for homeschooling, many families have found EdPlace to be an excellent choice due to its comprehensive coverage of UK curriculum standards.
If you're exploring the best homeschooling programs UK, it's worth considering EdPlace alongside other recommended options for a well-rounded education.
Last Updated on 25 November 2023 by homeschoolof1